Mount Pinatubo Guide: Our Hike Experience & Travel Tips
Mount Pinatubo is a beginner-friendly scenic hike we embarked on with some friends. We must admit that our Pinatubo trail was a bit of a challenge for non-mountain climbers like us. But the sweat, dust, dirt, and muscle aches were all worth it!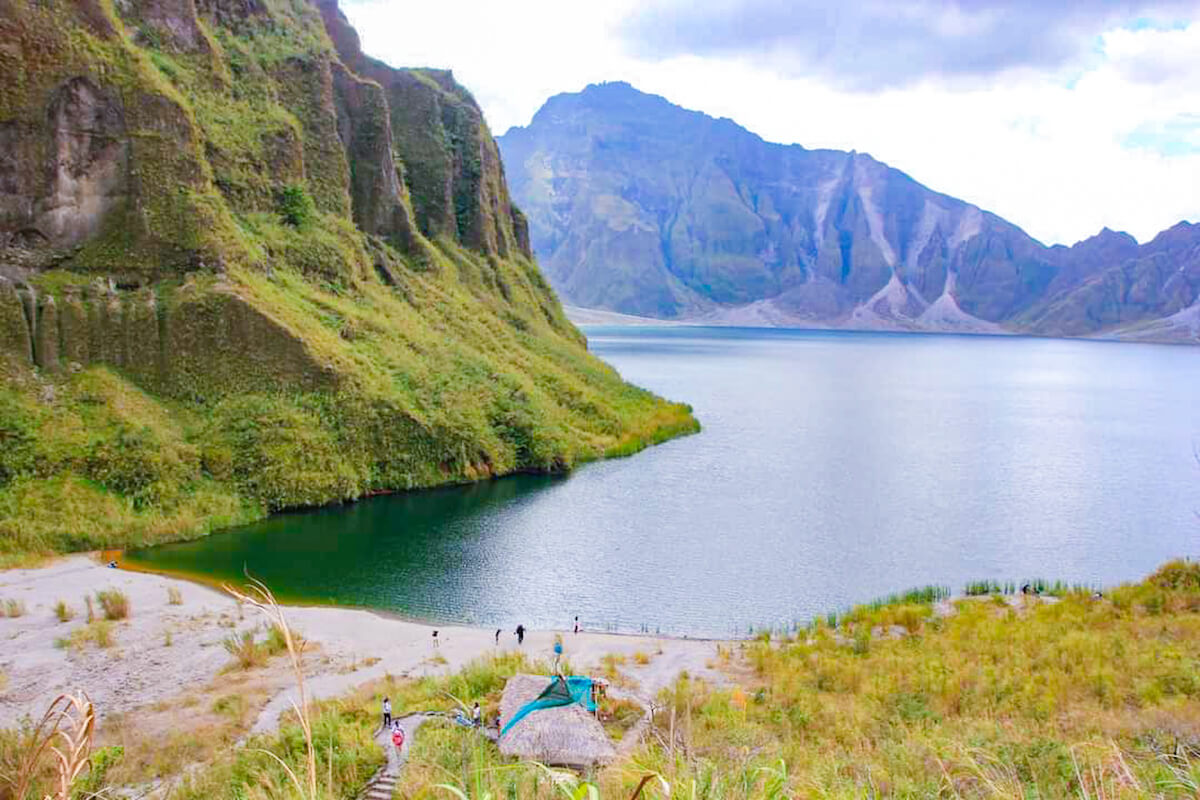 If you're looking for an exciting outdoor adventure with your barkada (friends), go for a Mount Pinatubo tour. We'll share with you our Mount Pinatubo hiking experience as well as travel tips so you'll be guided when it's your turn to take on the challenge.
Why is Mount Pinatubo famous?
Mount Pinatubo is an active volcano, specifically a stratovolcano, bordering the provinces of Tarlac, Pampanga, and Zambales in Central Luzon. It became famous after its disastrous eruption in 1991, which took hundreds of lives and affected people's homes and livelihood.
Today, Mount Pinatubo is top tourist spot in the Philippines and a popular hiking destination from Manila. Crossing the vast lahar field on a 4×4 vehicle and hiking up the scenic crater lake are the main tourist draws of Mount Pinatubo.
How do I get from Manila to Pinatubo?
Mount Pinatubo is located in Botolan, Zambales. To reach the starting point of the trek in Sta. Juliana, Capas, Tarlac, it takes approximately two to three hours from Metro Manila.
To get there, you may take the following transport options:
By public transport
If you want to commute from Manila to Mount Pinatubo, you can take any bus that goes to Capas, Tarlac. You can ride from any bus terminal in Pasay or Cubao. Alternatively, you may also hop on a bus bound for Pangasinan, Baguio, or Ilocos, and inform the bus driver or conductor that you'll get off at Sta. Juliana in Capas, Tarlac.
When you reach Capas, Tarlac, you can take a jeepney or tricycle to Sta. Juliana Tourism. The tourism office will assist you in booking your Mount Pinatubo tour including the 4×4 vehicle ride.
By car
If you opt to drive your own car, you can pass by NLEX, and take the SCTEX/Clark Airport exit. Follow the exit going to Dolores and merge to MacArthur Highway. Drive straight until you reach Sta. Juliana in Capas, Tarlac. For easy navigation, you may pin Capas Satellite Tourism Office in Google Maps or Waze.
Tip: For a hassle-free trip, why not join a Mt. Pinatubo tour instead? This already includes roundtrip transfers from Manila, admission fees, environmental fees, 4×4 ride, and hike to the crater with a professional guide.
How long is Mt. Pinatubo tour?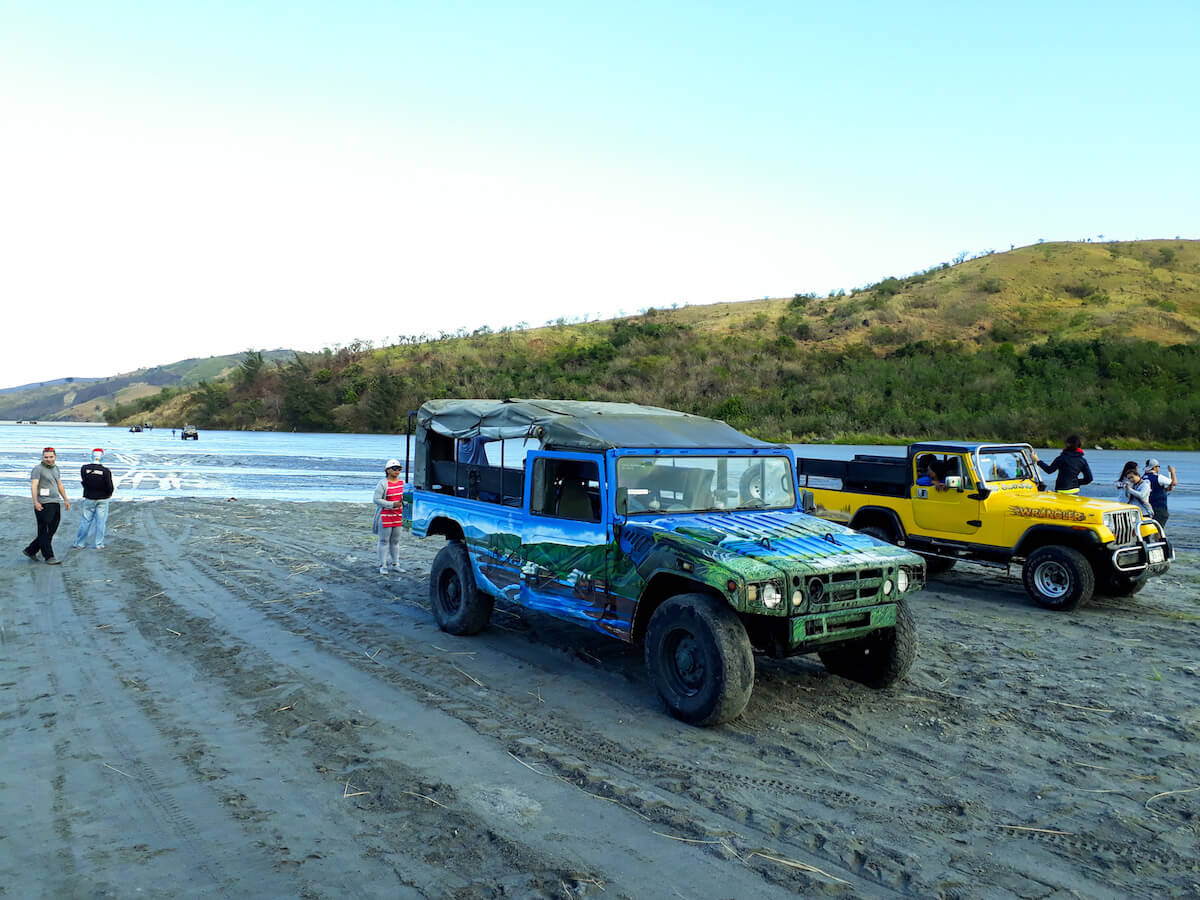 It takes three to four hours to complete a Mt. Pinatubo tour (one-way). It includes a 4×4 ride across the lahar field for one hour, and a trek to the crater lake for about two hours, depending on your pace.
Overall, you need to spend an entire day to finish your Mt. Pinatubo tour from Manila. Please see sample itinerary below so you have an idea on how long it takes to actually complete a Mt. Pinatubo tour.
Sample Mount Pinatubo itinerary
3am – Depart from Manila
5.30am – Arrival at the base of the 4×4 ride
6am – Start of 4×4 ride
7.30am – Arrival at the foot of Mt. Pinatubo and start of trek
10.30 – Arrival at the crater lake
11am – Lunch break
12.30pm – Start of descent
2pm – Aeta Village (if time permits)
3pm – Ride the 4×4 back to the base
5pm – Clean self and cool down
6pm – Depart for Manila
9pm – Arrival in Manila
Our Mount Pinatubo experience
When we arrived at the base camp, we took a quick breakfast and attended a brief orientation before commencing our official Mount Pinatubo tour.
Our 4×4 ride to Mount Pinatubo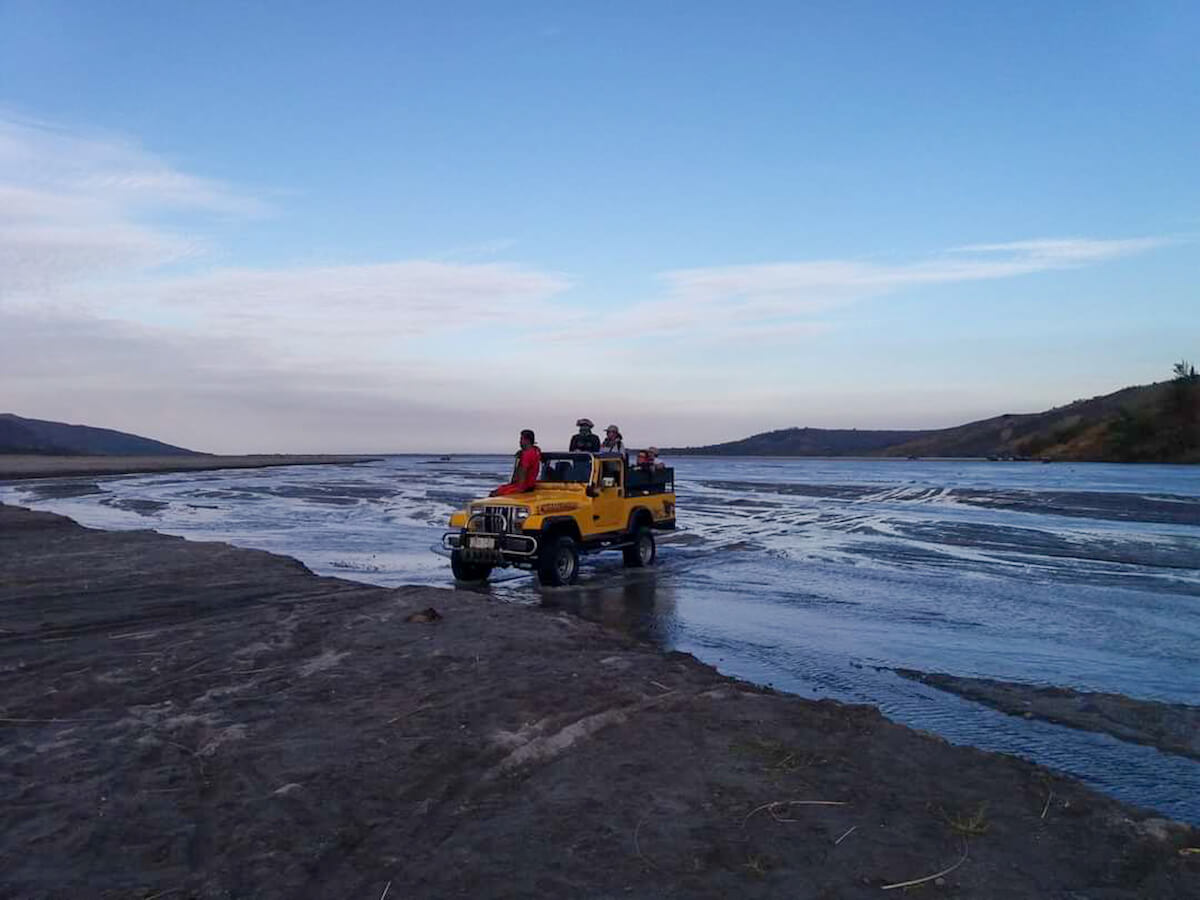 After the orientation, we then hopped on our assigned 4×4 vehicles and traveled across the expansive Pinatubo lahar field, which is considered one of the largest lahar fields in the world.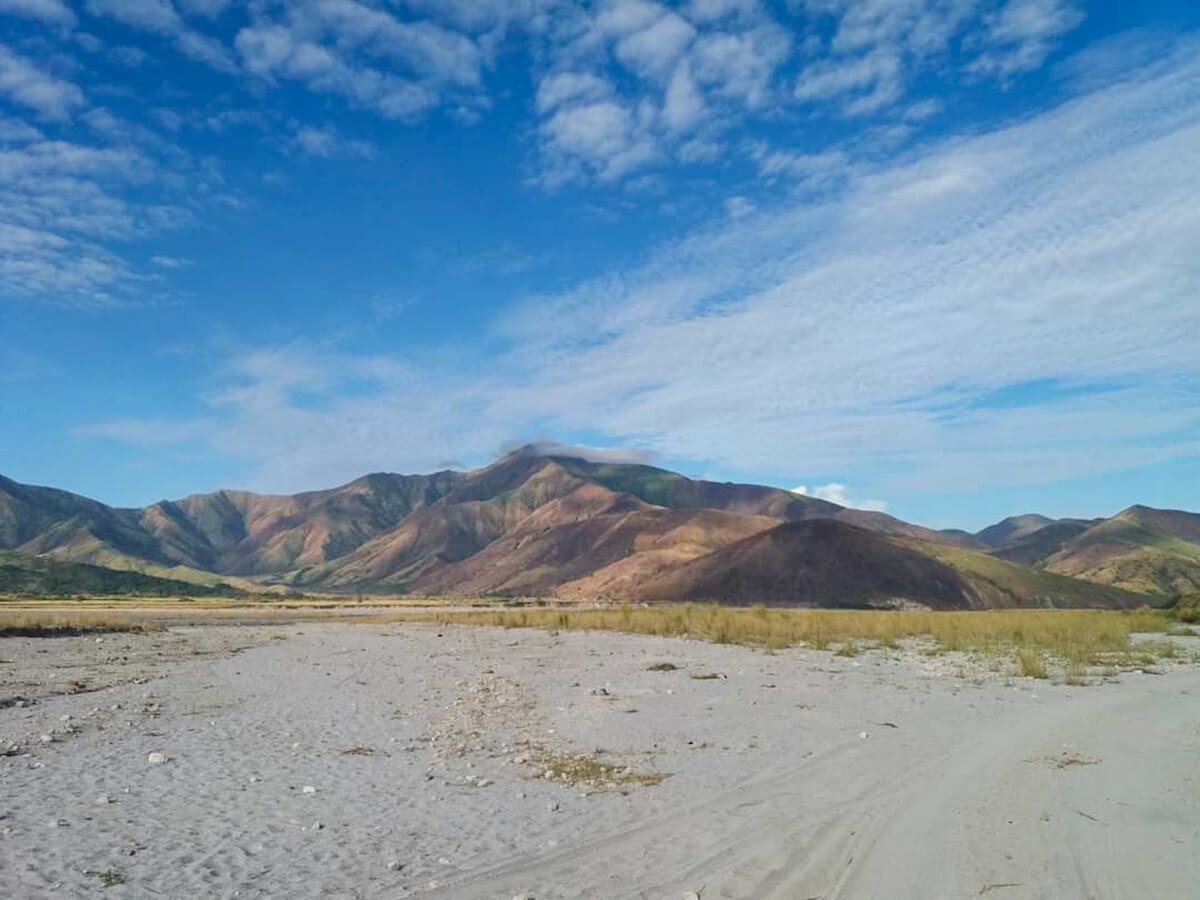 The scenery looked like it came straight out of a painting. Don't you think?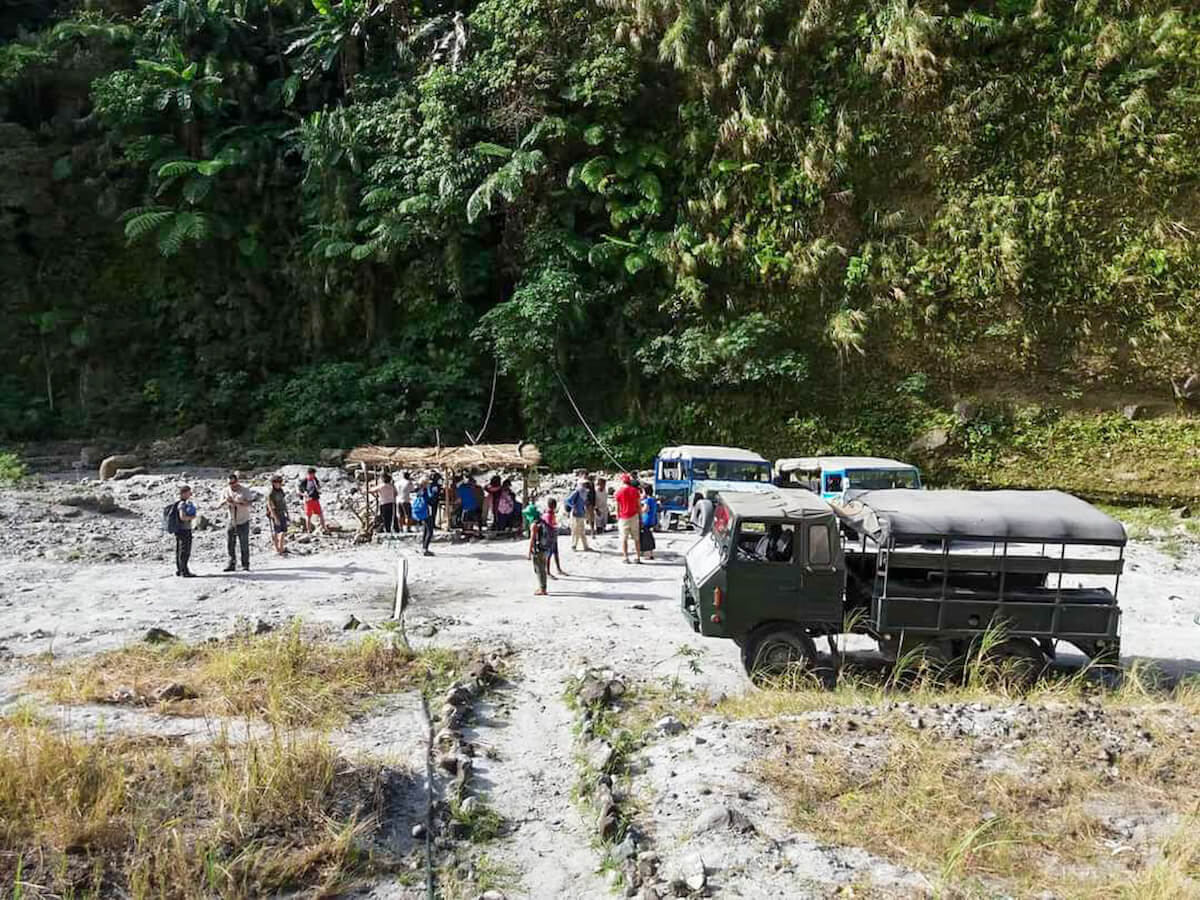 We endured an hour of dust and bumps, and finally reached the foot of Mt. Pinatubo where we started our two-hour trek to the crater lake.
Start of our Mt. Pinatubo trek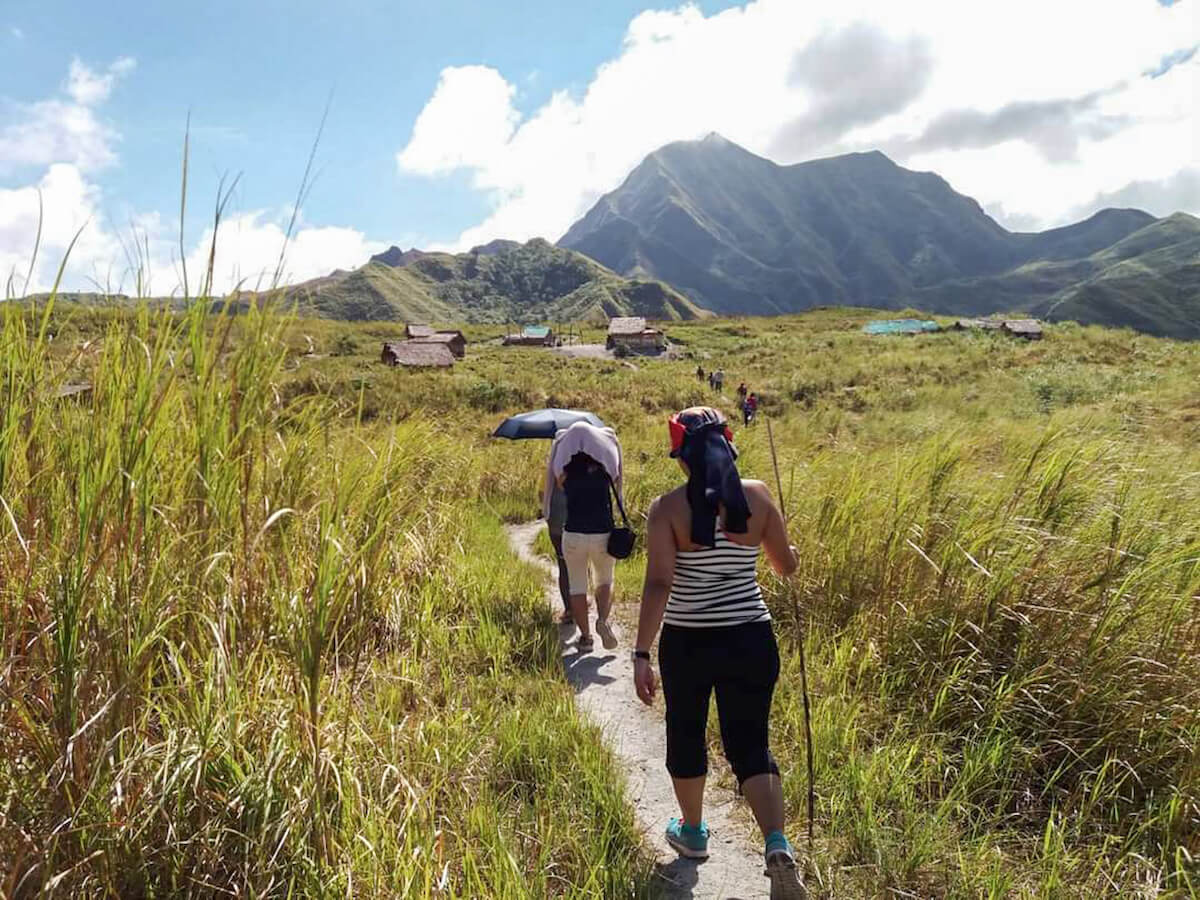 We made a quick stop at the Aeta Village to meet and greet the indigenous Filipinos who inhabit the mountains of Zambales and other parts of Luzon.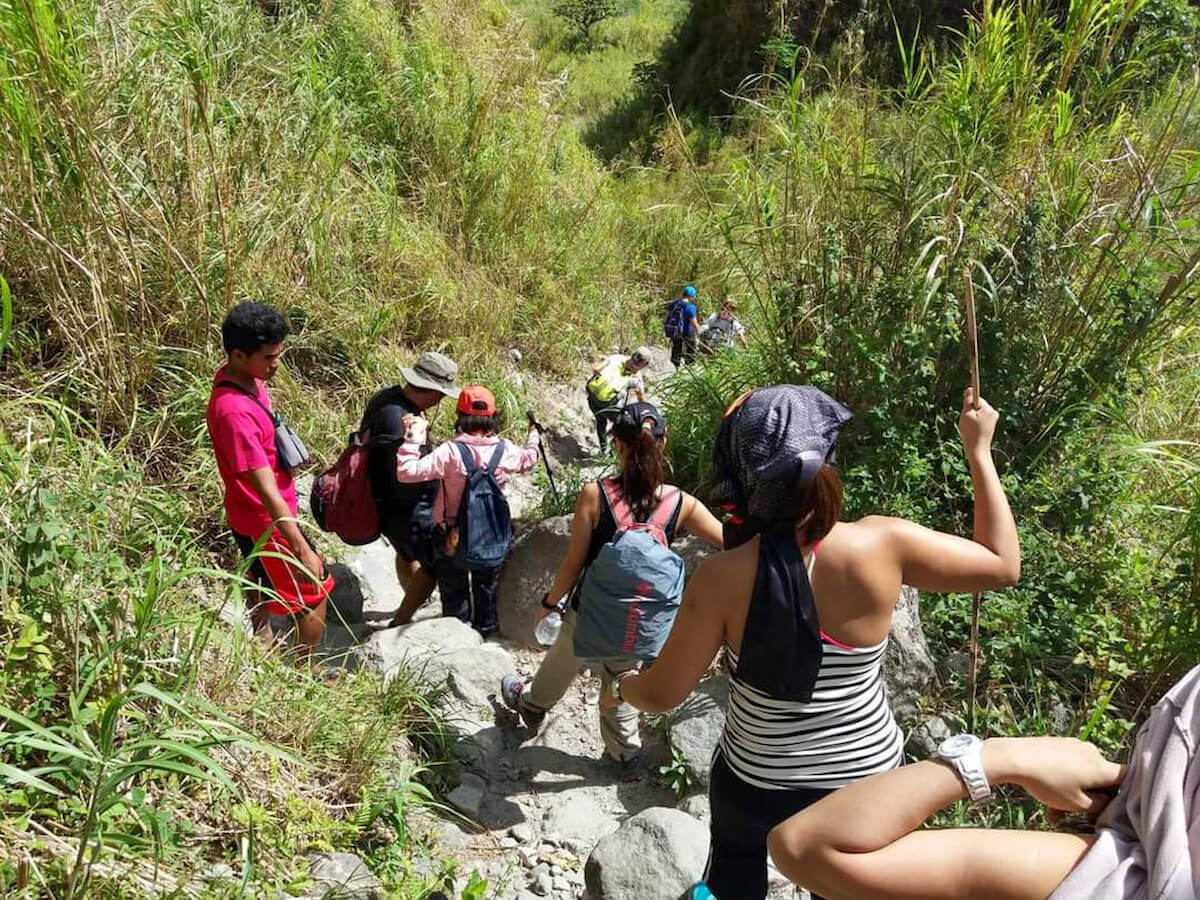 We treaded on steep, rocky paths.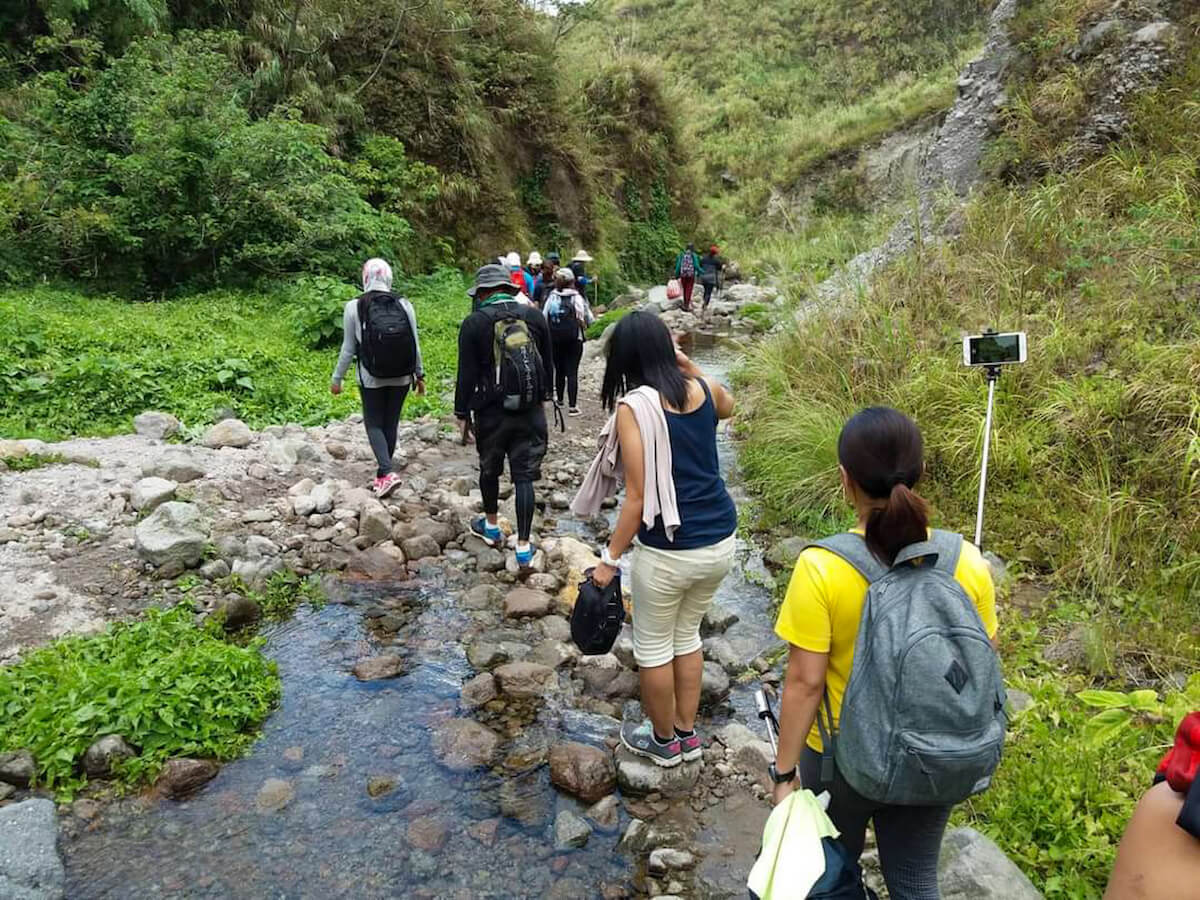 And crossed small rivers and waterways.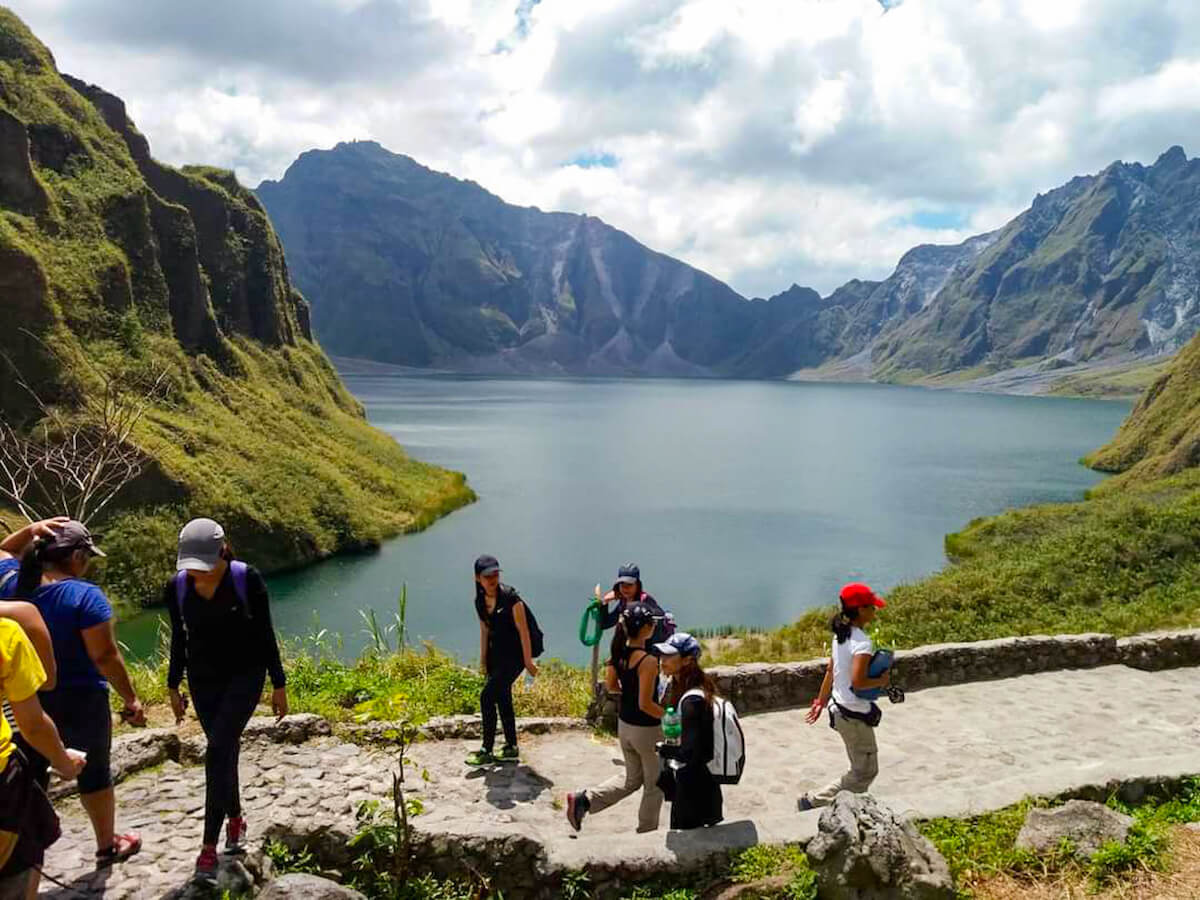 Finally, we reached the crater lake after a strenuous two-hour hike. Look at that breathtaking view!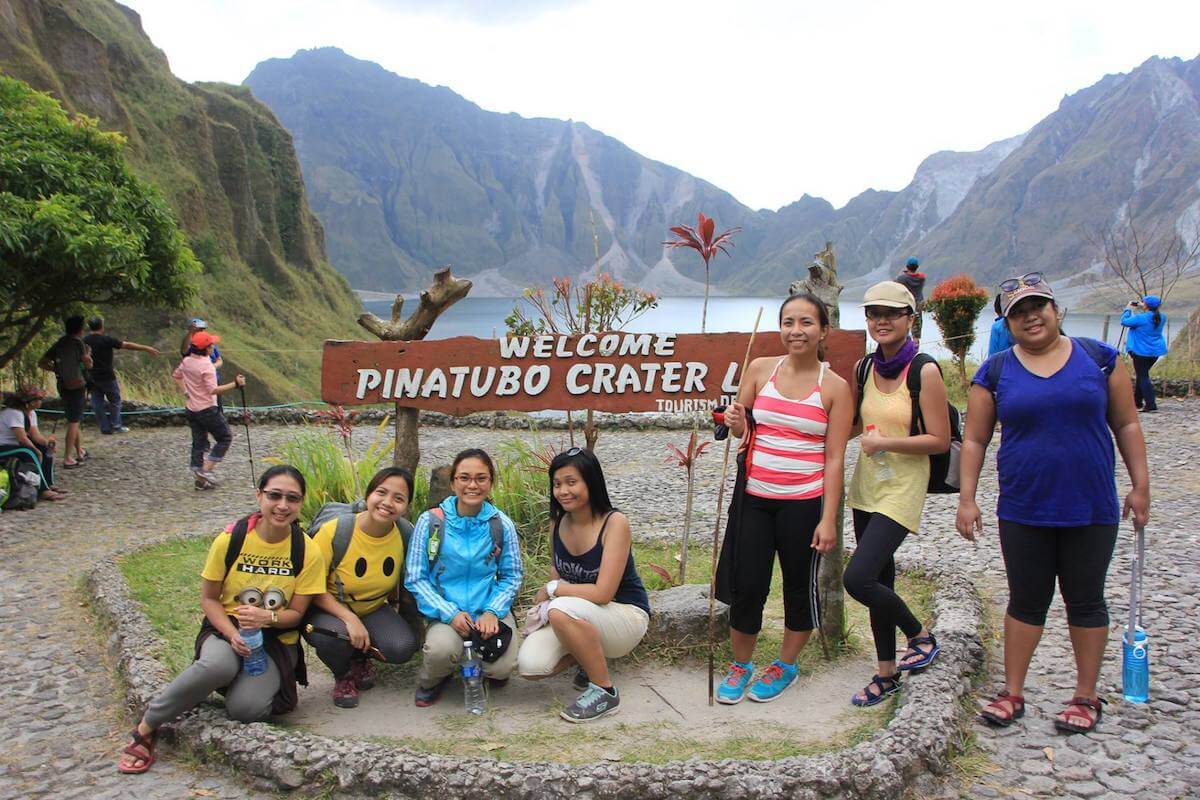 Of course, a photo op here is a must! We also had our lunch and stayed for a bit for more sightseeing.
For safety reasons, swimming and boating at the Pinatubo crater lake are prohibited.
Time to go home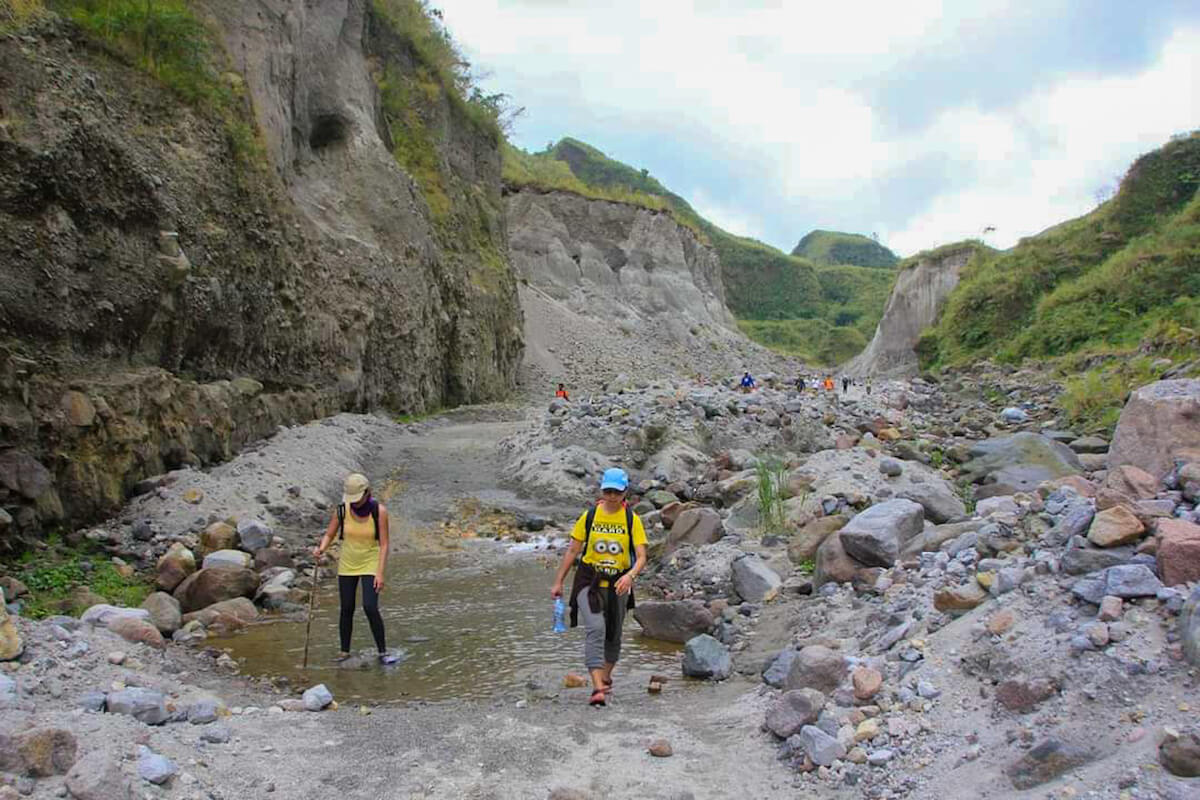 Then, it was time to descend. We made a few stops to rest and recover. We reached the foot of Mount Pinatubo mid afternoon and hopped on the 4×4 ride again to go back to the base camp.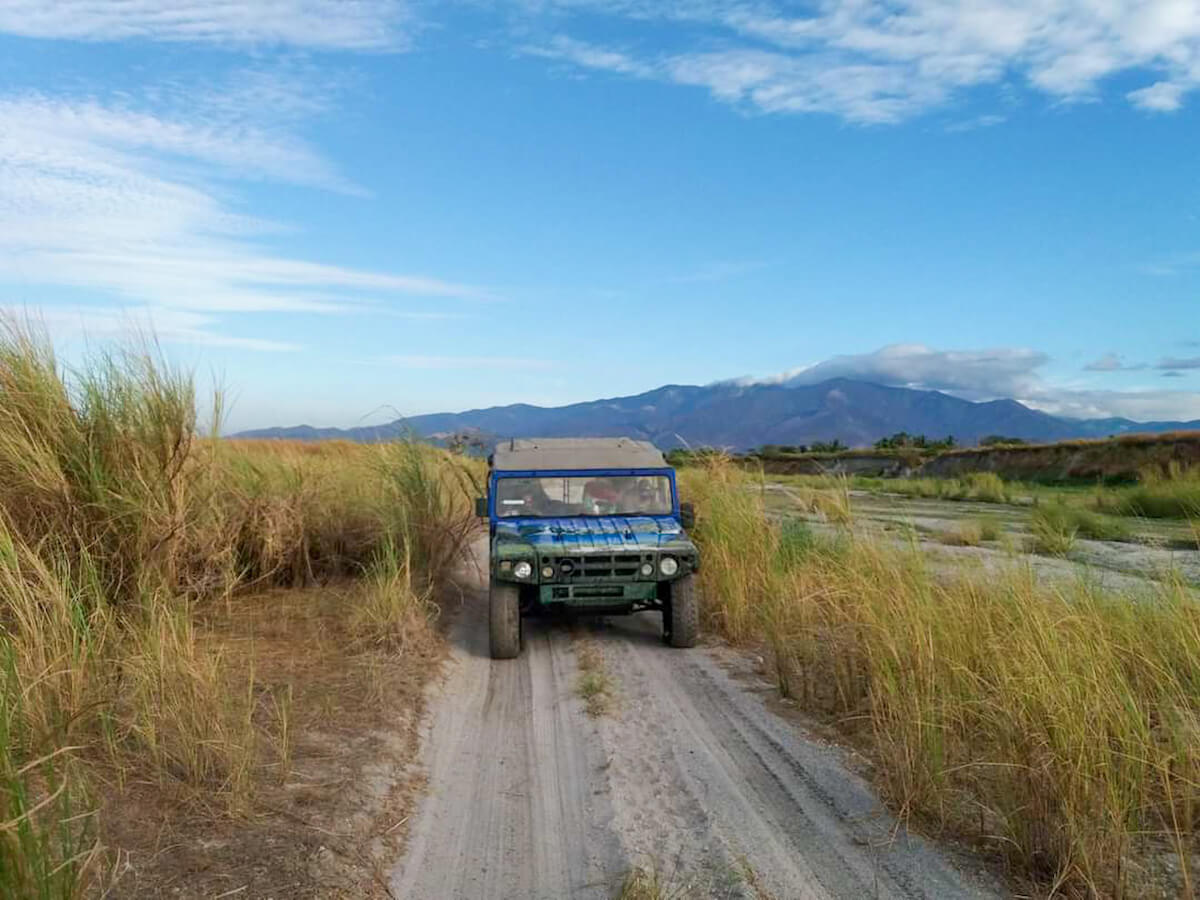 We had to go through another hour of rough road until reaching the base camp where we cleaned ourselves, changed clothes, and cooled down before heading back to Manila.
We survived and arrived safe and sound!
Is Mt. Pinatubo easy to climb?
Yes, it is relatively easy to climb Mt. Pinatubo even for beginners like us. However, this hiking activity is not recommended for those with serious medical conditions, pregnant women, PWDs, and even young children.
The lahar field is really dusty which could trigger any respiratory problems like asthma and allergic rhinitis. The long hours of trekking on rocky and slippery slopes could also be a challenge to young children, pregnant women, PWDs, and those with cardiovascular problems.
While Mt. Pinatubo is beginner-friendly, it is definitely not family-friendly. So, you should consider all these when attempting to climb Mount Pinatubo.
Travel tips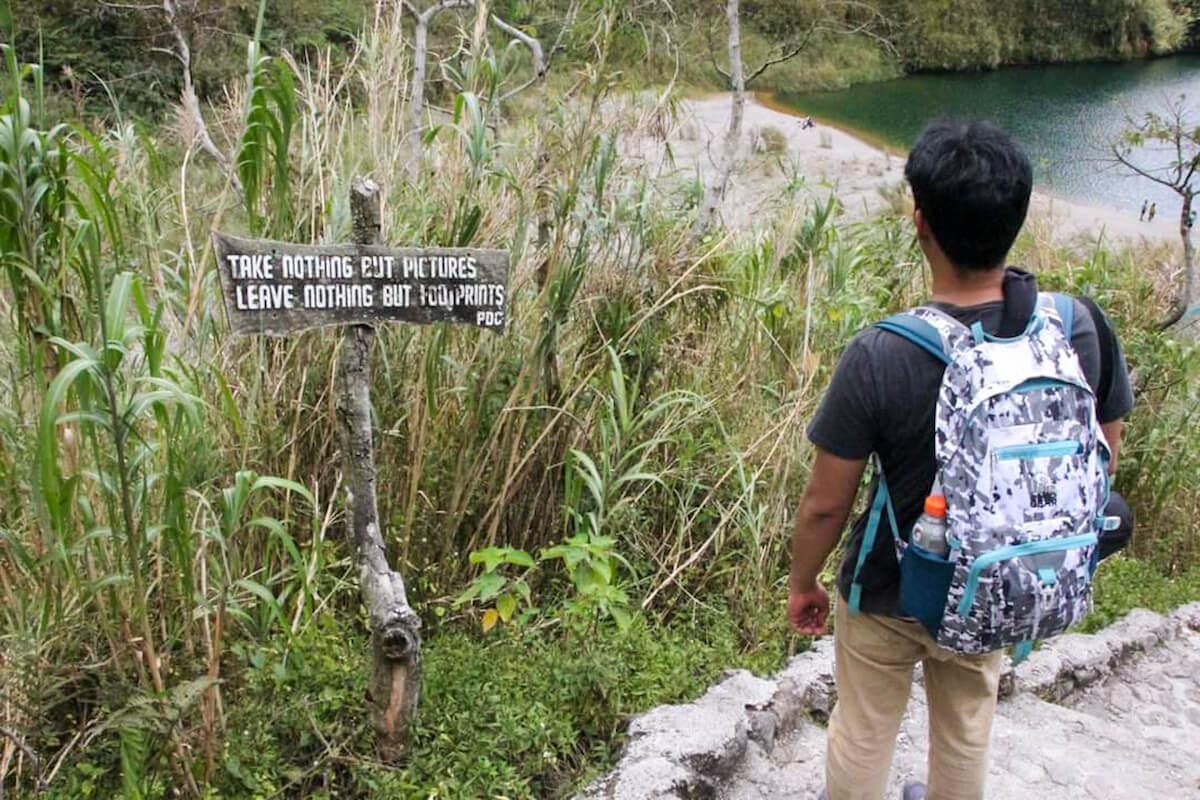 As it is an outdoor activity, it is best to wear an outfit good for hiking such as dri-fits, shirts, shorts, leggings, and trekking shoes.
Wear face masks to prevent yourself from inhaling the lahar particles.
Put on sunscreen to protect your face and skin from the sun.
Wear sunglasses to protect your eyes from the dust.
Bring some trail food and water to stay hydrated.
Bring some toiletries so you can clean yourself after the hike.
Bring a towel and extra clothes so you can change after.
You'll be crossing some mini rivers, so you can bring waterproof bags and waterproof phone pouches if you wish.
Listen to the orientation before the hike and follow the health and safety protocols.
Follow your tour guide and never veer too far away from your group.
As the signage says, "Take nothing but pictures. Leave nothing but footprints."
Would we recommend climbing Mount Pinatubo?
If you are physically fit with no serious medical condition, we'd say go for it! The feeling of conquering this beauty of a disaster is incomparable and truly one for the books.
While we got so exhausted after our Mt. Pinatubo tour, the overall experience was priceless – from the breathtaking landscape to the kind people we met.
Want to level up your experience in the Philippines? Join in the fun at these Philippine festivals and use these basic Filipino words and phrases as you interact with the locals.