23 Famous Philippine Festivals & Fiestas to Celebrate Every Year
Want to experience more fun in the Philippines? Time your travel to the Philippines during these Philippine festivals and fiestas to immerse in the rich culture and heritage of the Filipino people. From religious festivities to historic events, here's a list of the most famous festivals in the Philippines you can look forward to celebrating every year.
Religious festivals in the Philippines
1. Sinulog Festival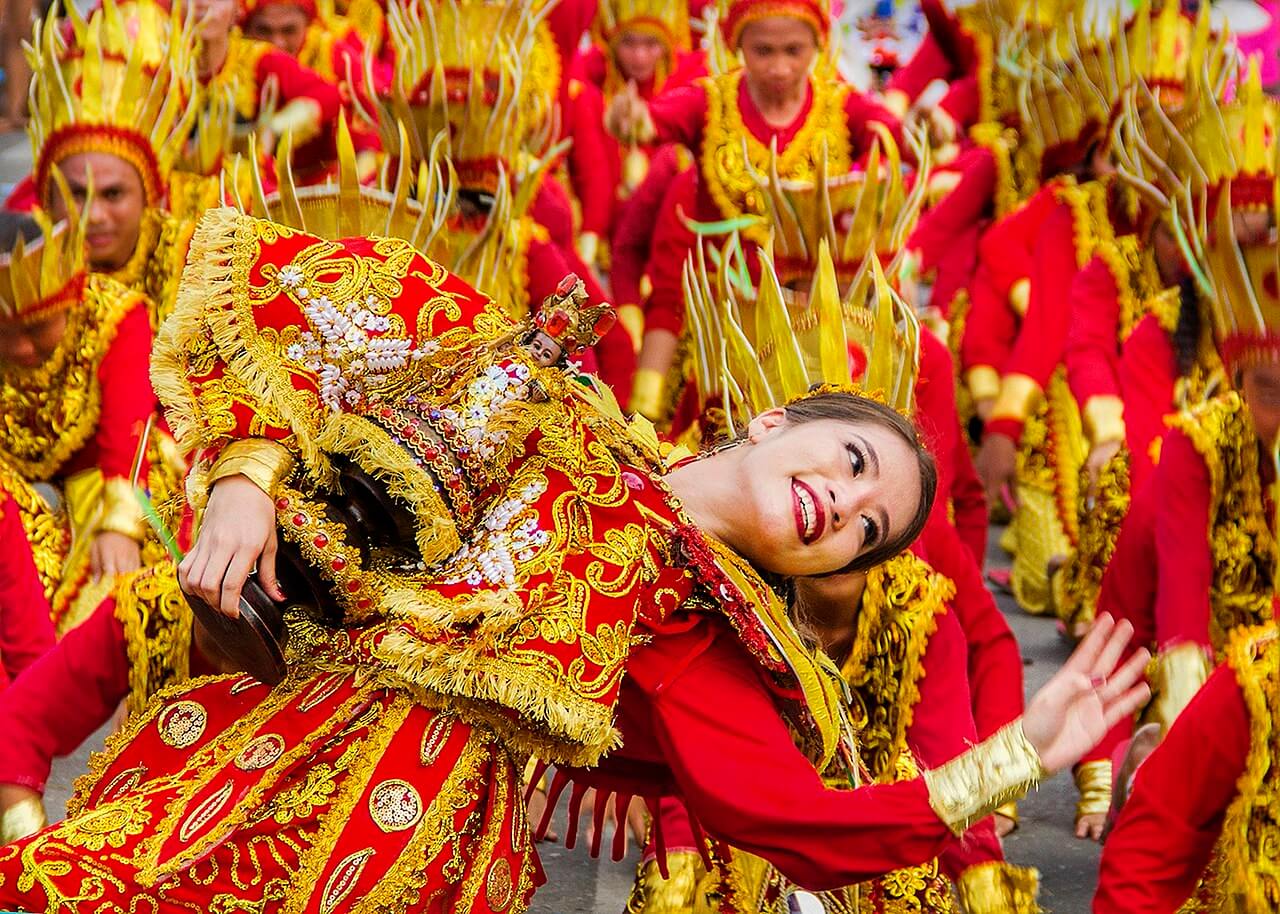 When: Third Sunday of January
Where: Cebu City
Sinulog is an annual religious festival honoring Sr. Sto. Niño. It is considered one of the biggest and grandest Philippine festivals. On the third Sunday of January, the city is filled with music, street dancing, parties, food, and more!
And while you're in Cebu, why not visit these top Cebu tourist spots and indulge in local Cebu delicacies including the famous Cebu lechon?
2. Feast of the Black Nazarene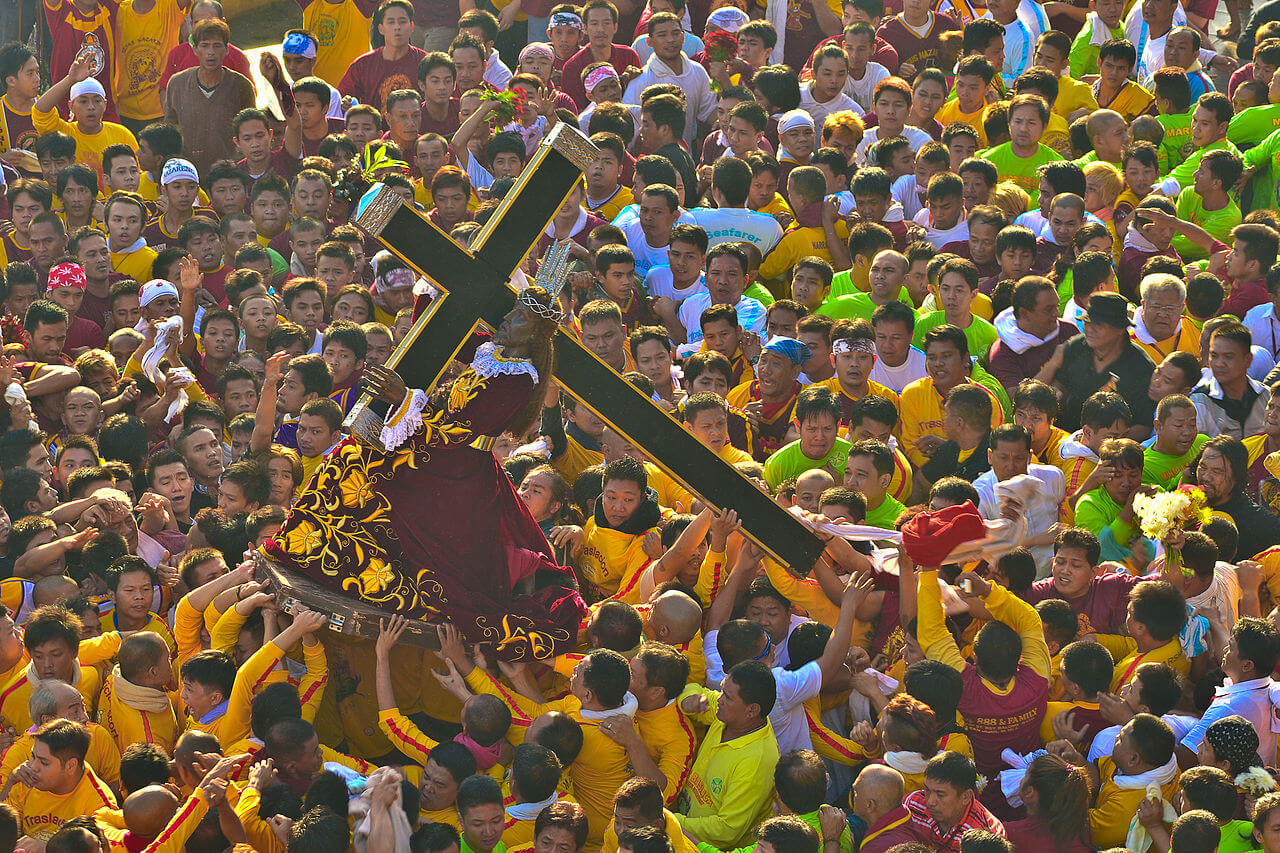 When: January 9
Where: Quiapo, Manila
This religious feast is celebrated in the heart of Manila, Quiapo. The Black Nazarene is believed to be miraculous, that's why thousands of devotees come here to participate in the annual Traslación. Some brave souls even climb up the float to touch the statue and wipe their towels.
3. Ati-Atihan Festival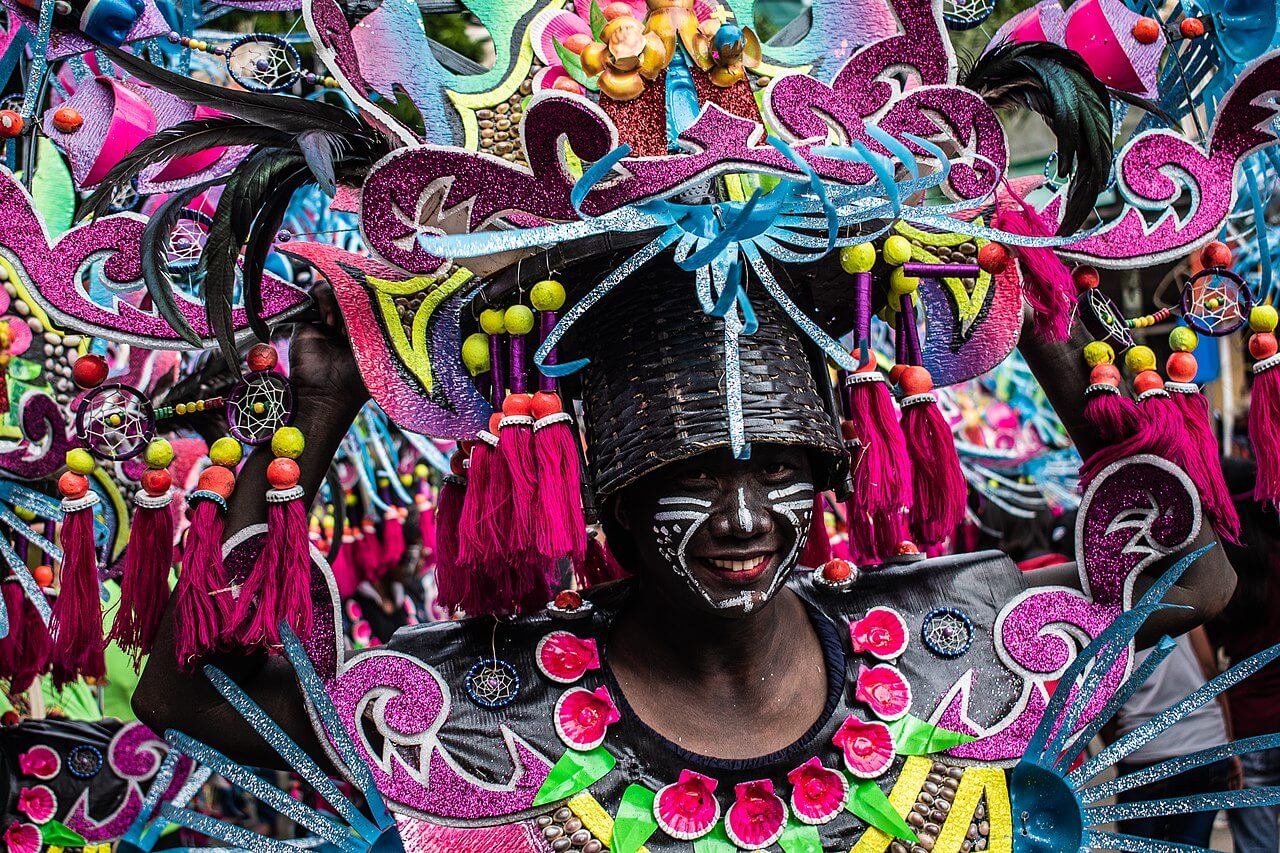 When: Third week of January
Where: Kalibo, Aklan
Another religious festival in the Philippines in honor of Santo Niño is Ati-Atihan Festival in Kalibo, Aklan. During this Filipino festival, street dancers in tribal costumes smear themselves with soot to look dark and be like the natives that once lived in Aklan. When the procession starts, you'll hear drums and whistles followed by the chant, "Hala Bira!".
4. Dinagyang Festival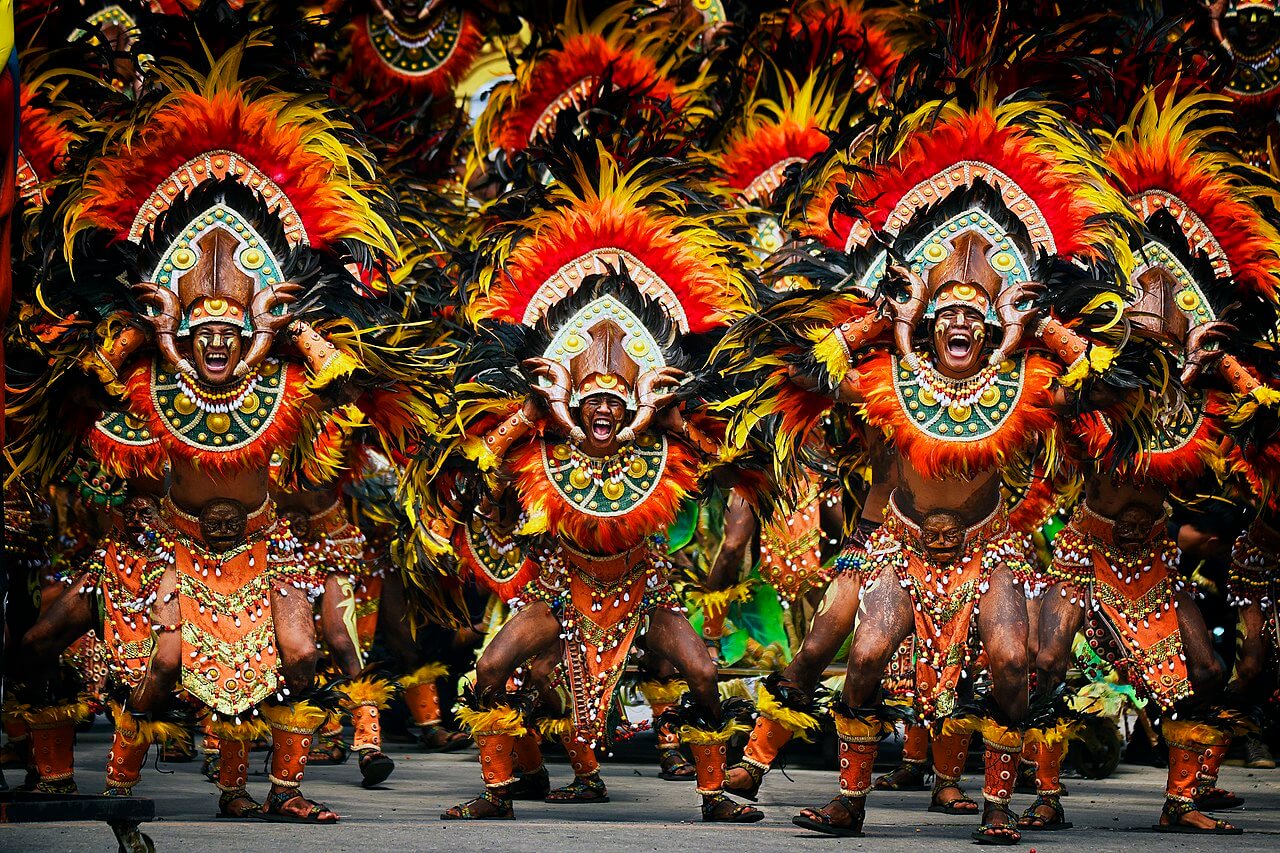 When: Fourth Sunday of January
Where: Iloilo City
Dinagyang Festival is one of the most famous religious and cultural Philippine festivals. Aside from honoring the Sto. Niño, it also celebrates the pact between the datus (chiefs) and the locals. You'll be treated to stunning performances, lively music, and a festive atmosphere during the grand celebration on the fourth Sunday of January.
5. Moriones Festival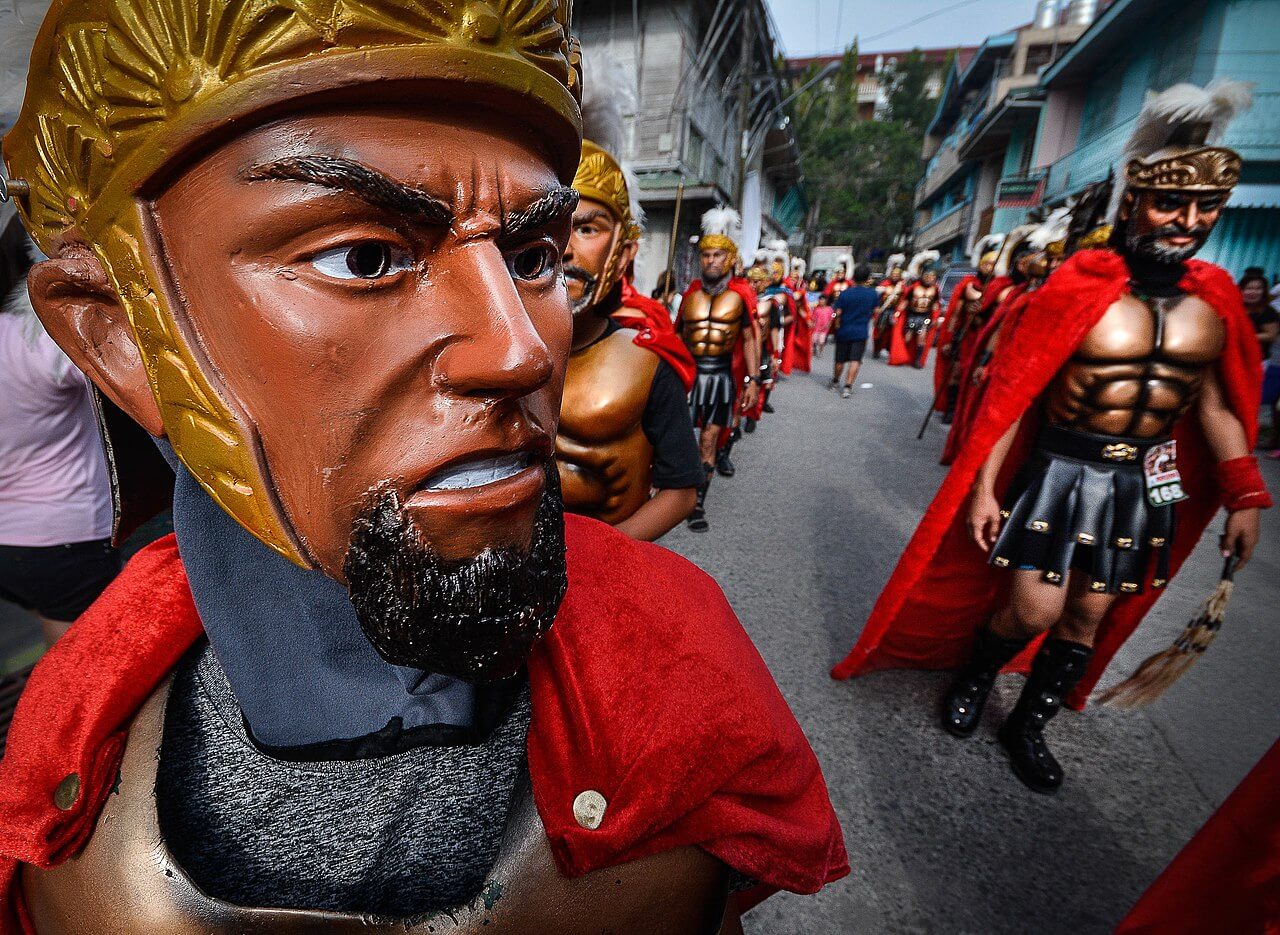 When: Holy Week
Where: Marinduque
Celebrated in Marinduque during Holy Week, Moriones Festival is another famous religious festival in the Philippines. You'll see men wearing masks called "moriones" to embody the story of Longinus, the blind Roman soldier who speared Jesus Christ. His eyesight was believed to be healed by the blood from the side where Jesus was pierced.
6. Pintados-Kasadyaan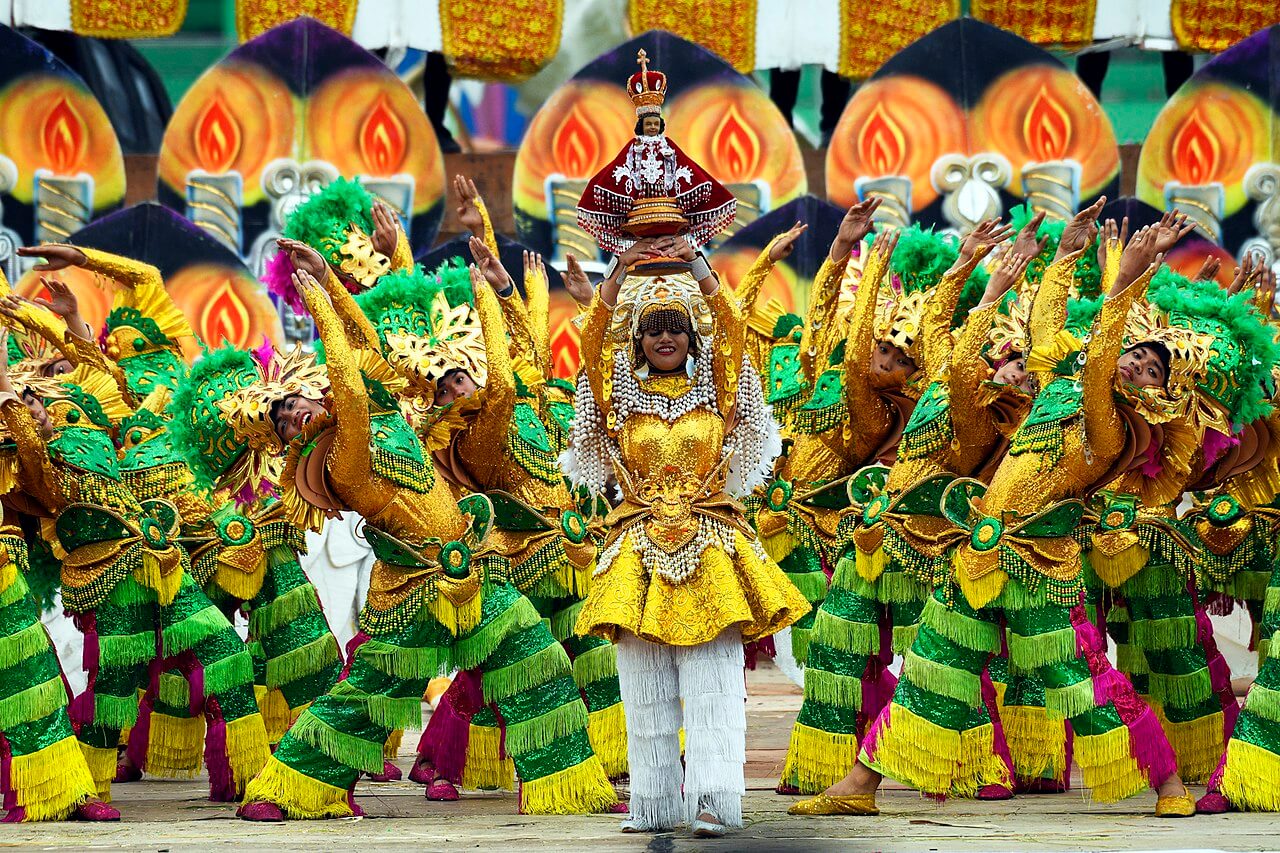 When: June 29
Where: Tacloban City, Leyte
Also known as Pintados Festival, this cultural and religious event is held annually in Tacloban City to honor Sr. Santo Niño. It is based on the body-painting traditions of the ancient tattooed warriors called "pintados".
7. Peñafrancia Festival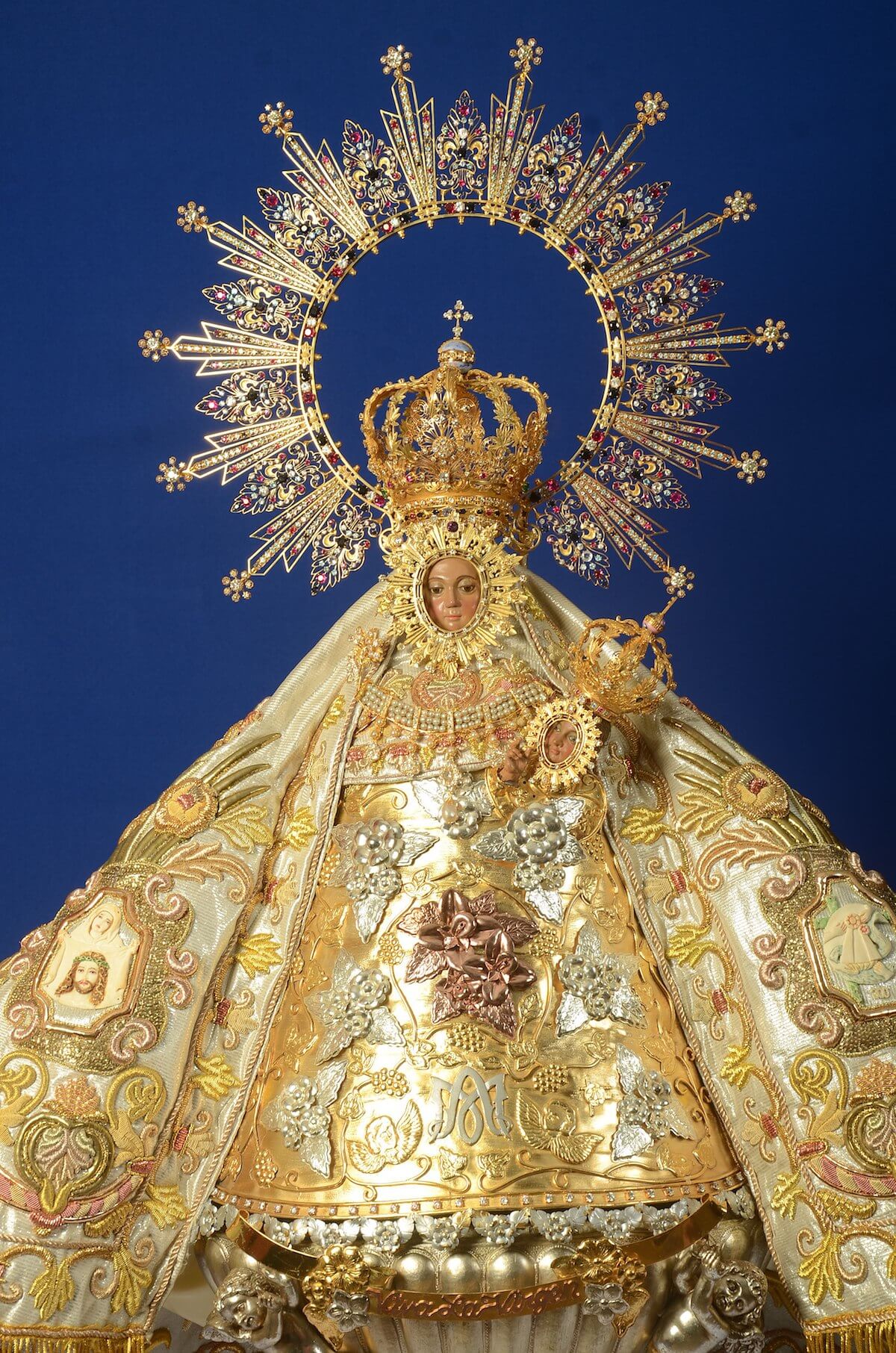 When: Third Sunday of September
Where: Naga City, Camarines Sur
This is one of the grandest religious festivals in the Philippines, and Asia's biggest Marian event. It honors the patroness of Bicol, Nuestra Señora de Peñafrancia. On the feast day, there is a fluvial parade where the Virgin is carried on a float traversing the Bicol River.
8. Zamboanga La Hermosa Festival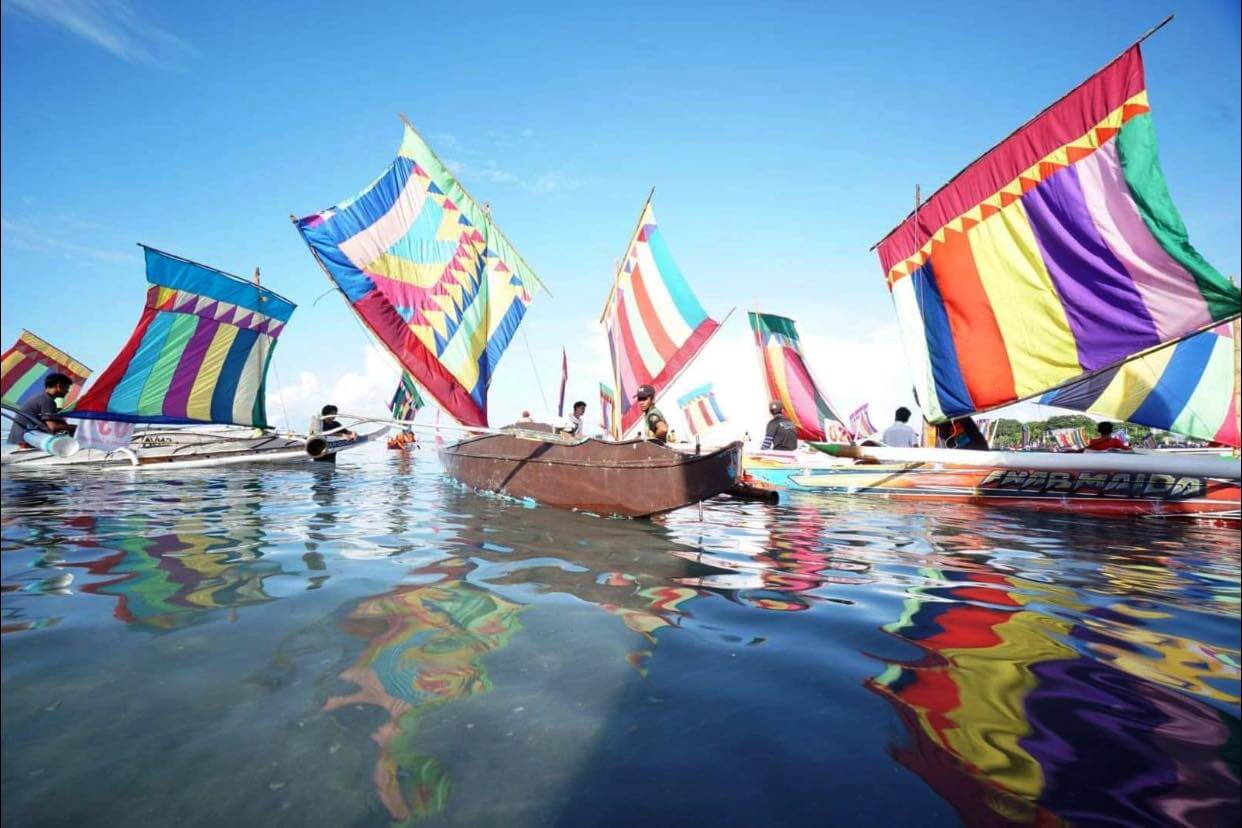 When: October
Where: Zamboanga City
Celebrated every October in Zamboanga City, Zamboanga La Hermosa Festival or Hermosa Festival is one of the oldest Philippine festivals. It honors the Nuestra Señora del Pilar (Our Lady of the Pillar). Aside from the street dance competition, concerts, and trade fairs, the much-awaited event here is the Regatta de Zamboanga, where colorful vintas (traditional outrigger boats) of Zamboanga race against each other to win.
Philippine festivals that celebrate culture and history
9. Masskara Festival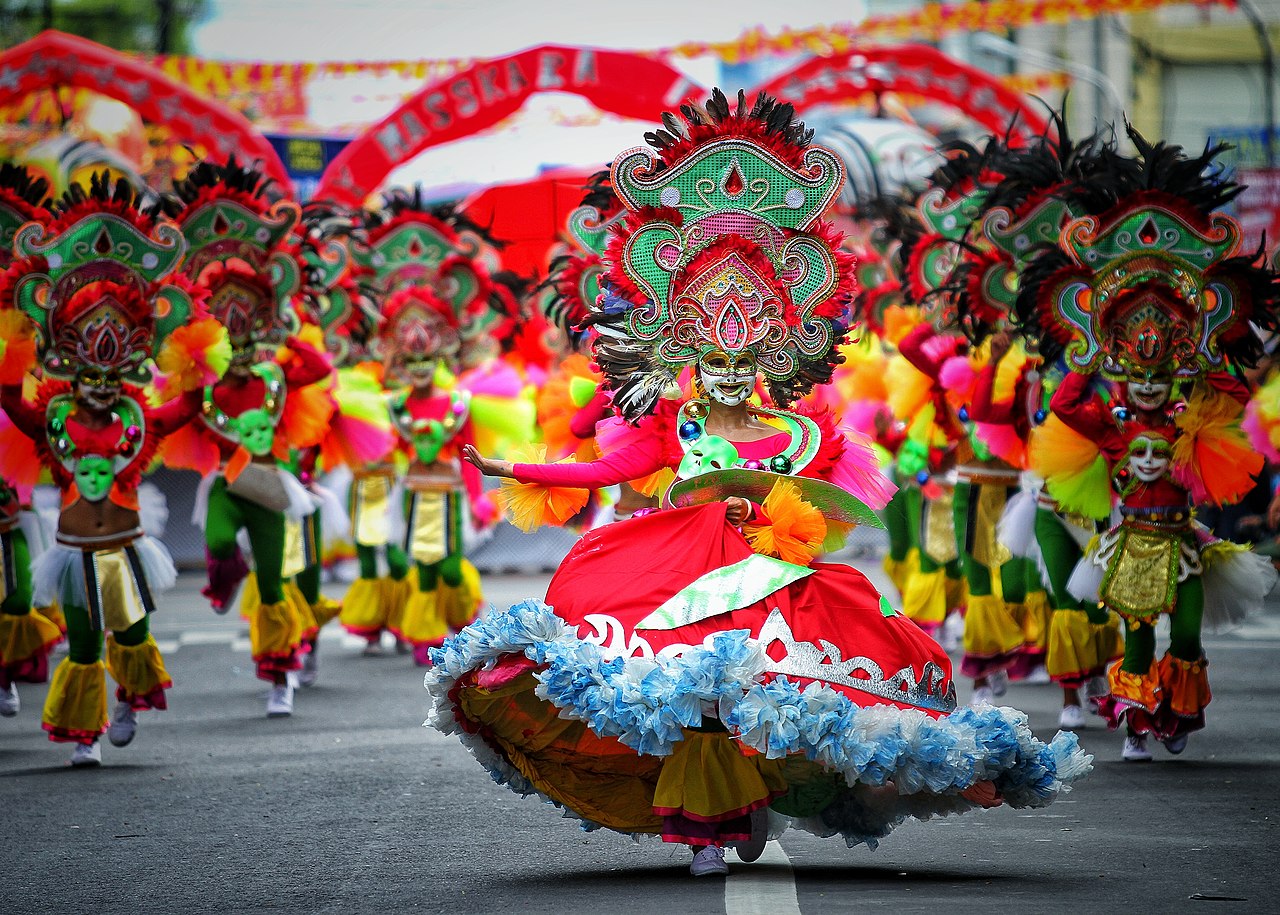 When: Fourth Sunday of October
Where: Bacolod City
Masskara Festival is a huge celebration in Bacolod City every fourth Sunday of October. During the grand parade, street dancers wear attractive costumes and masks that reflect the joy of its people, making it known as the "Festival of Smiles".
10. Kadayawan Festival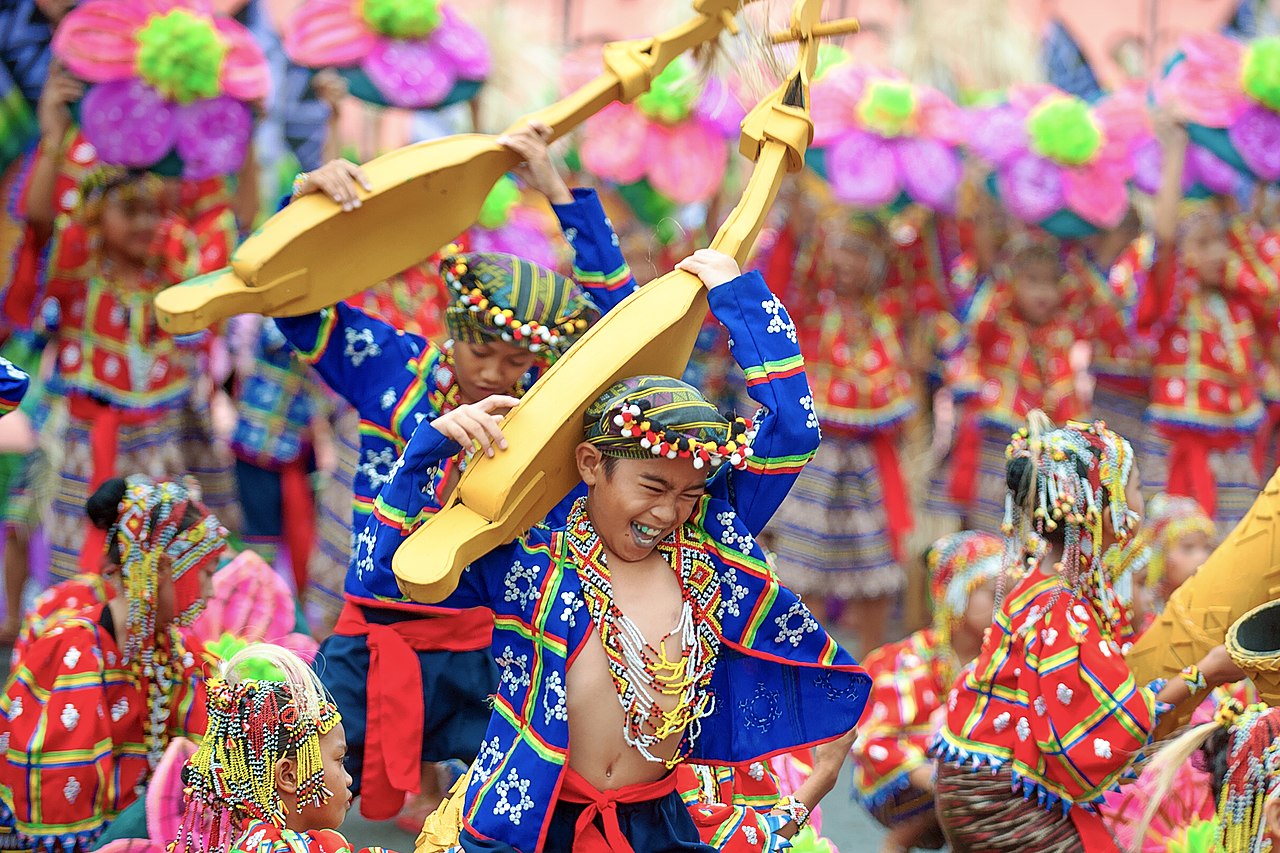 When: Third week of August
Where: Davao City
This famous festival in Davao City is an annual celebration of basically everything about life — from nature and harvest to culture and tradition. During the festivities, different communities in Mindanao showcase their heritage through street dancing in vibrant costumes.
11. Kadaugan sa Mactan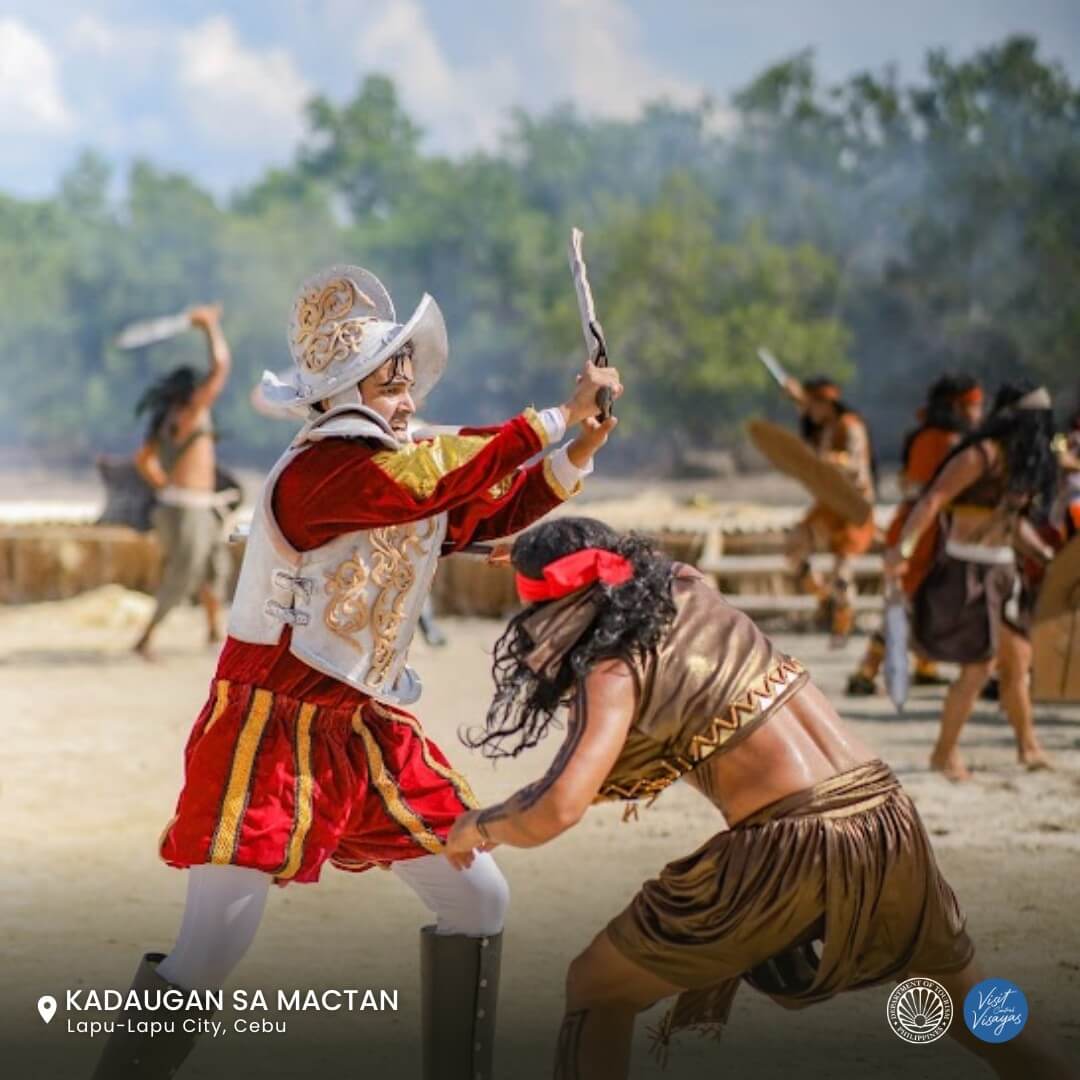 When: April 27
Where: Mactan, Cebu
Performed every April 27, Kadaugan sa Mactan is the annual re-enactment of the Battle of Mactan along the coast of Mactan Island. This historic event pays tribute to Lapulapu, the former chieftain of Mactan and the first Filipino hero who, together with his men, fought against the foreign invaders led by Portuguese explorer Ferdinand Magellan.
12. Sarakiki-Hadang Festival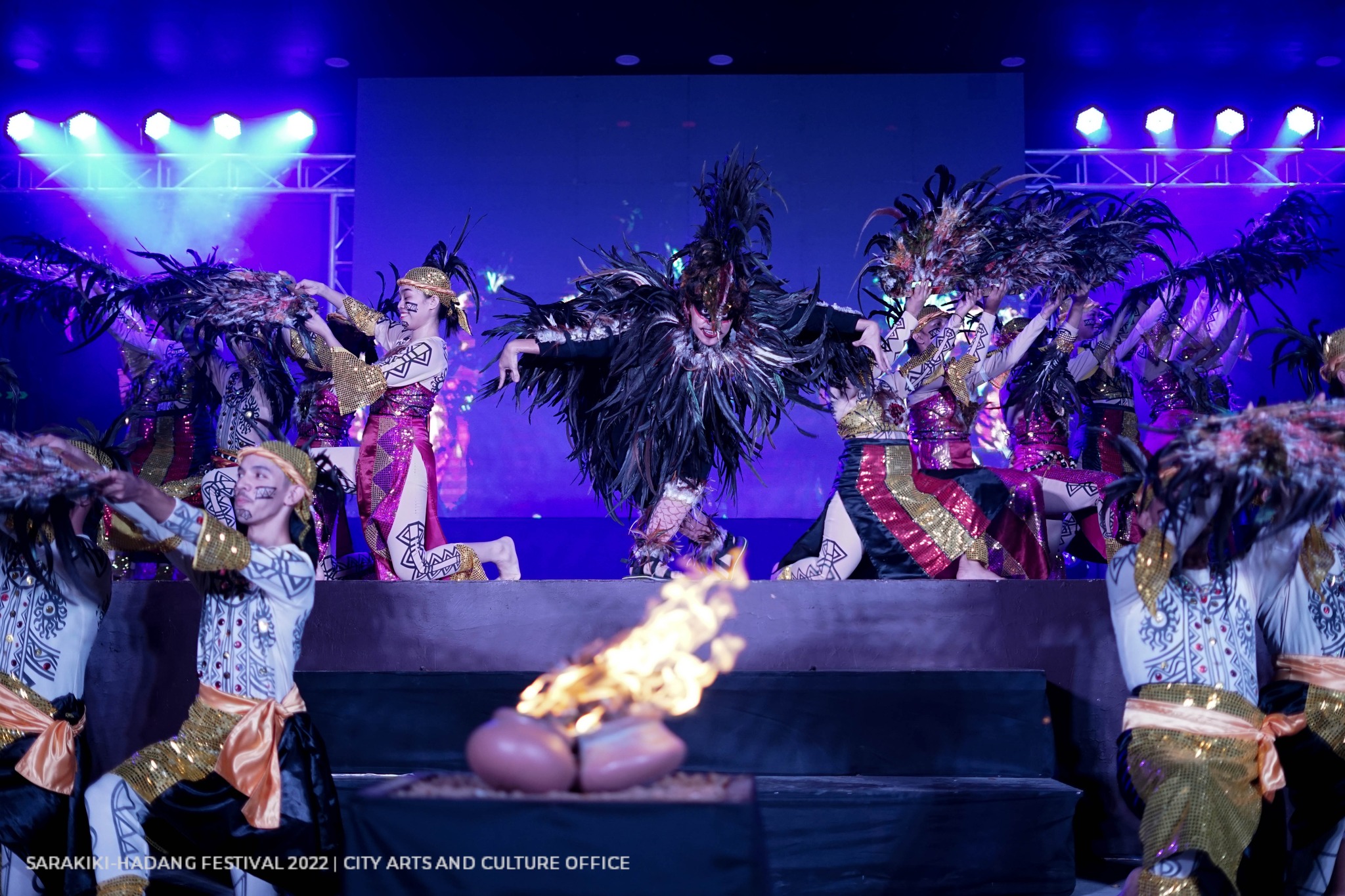 When: September 1-8
Where: Calbayog City, Samar
Celebrated on the first week of September, Sarakiki-Hadang Festival in Calbayog City, Samar is one of the prestigious festivals in the Visayas region. Aside from the range of activities, the main highlight of the festival is the street dancing where performers wear manok (chicken) costumes as they dance to the beat of traditional Samareño instruments.
13. Sinadya sa Halaran Festival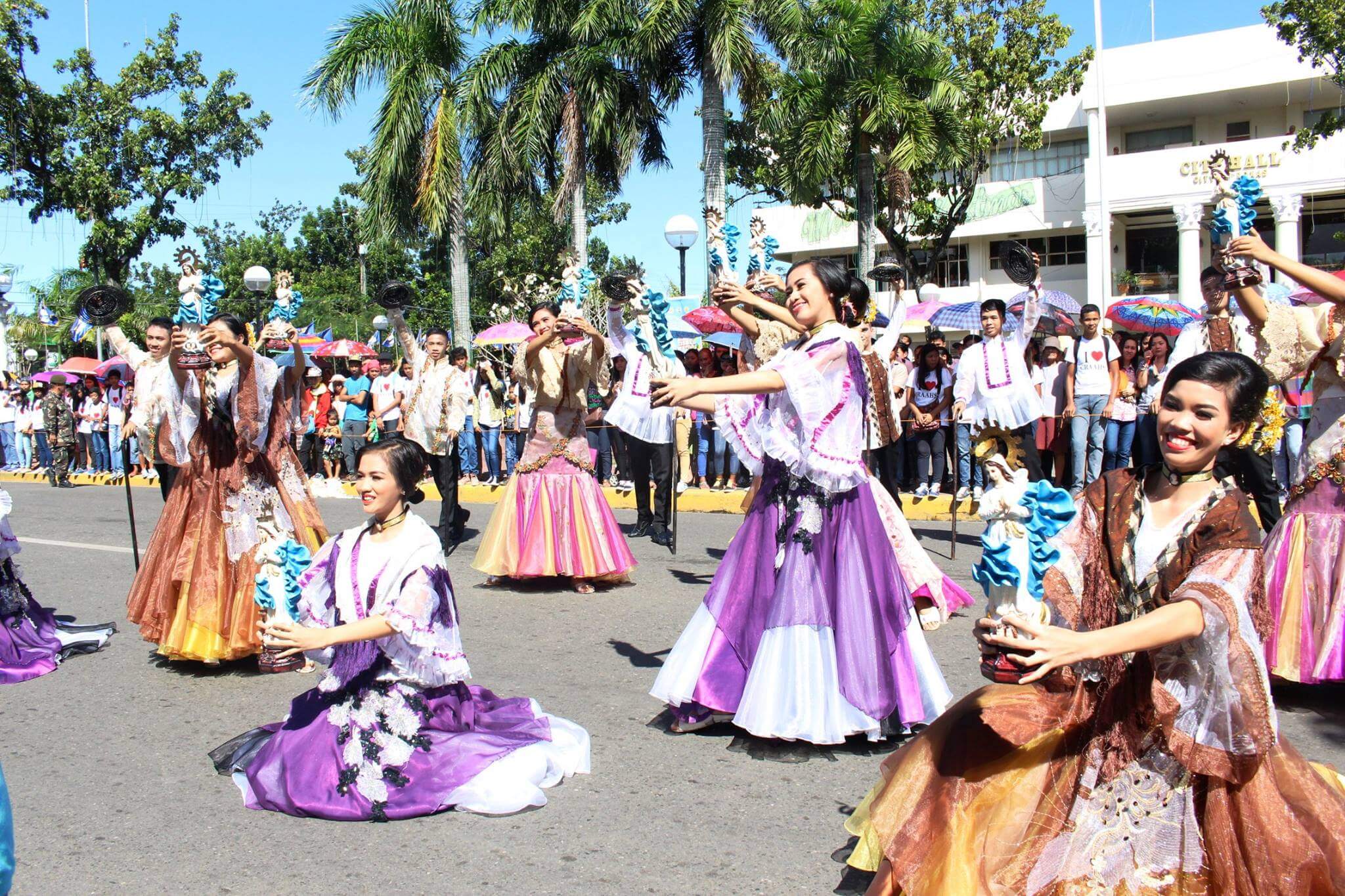 When: December 4-8
Where: Roxas City, Capiz
Sinadya sa Halaran is a famous festival in Capiz featuring the rich culture and history of Capizeños. Spectators look forward to the dance parade, fluvial parade, beauty pageant, agri-aqua trade fair, and fireworks show.
14. Kasanggayahan Festival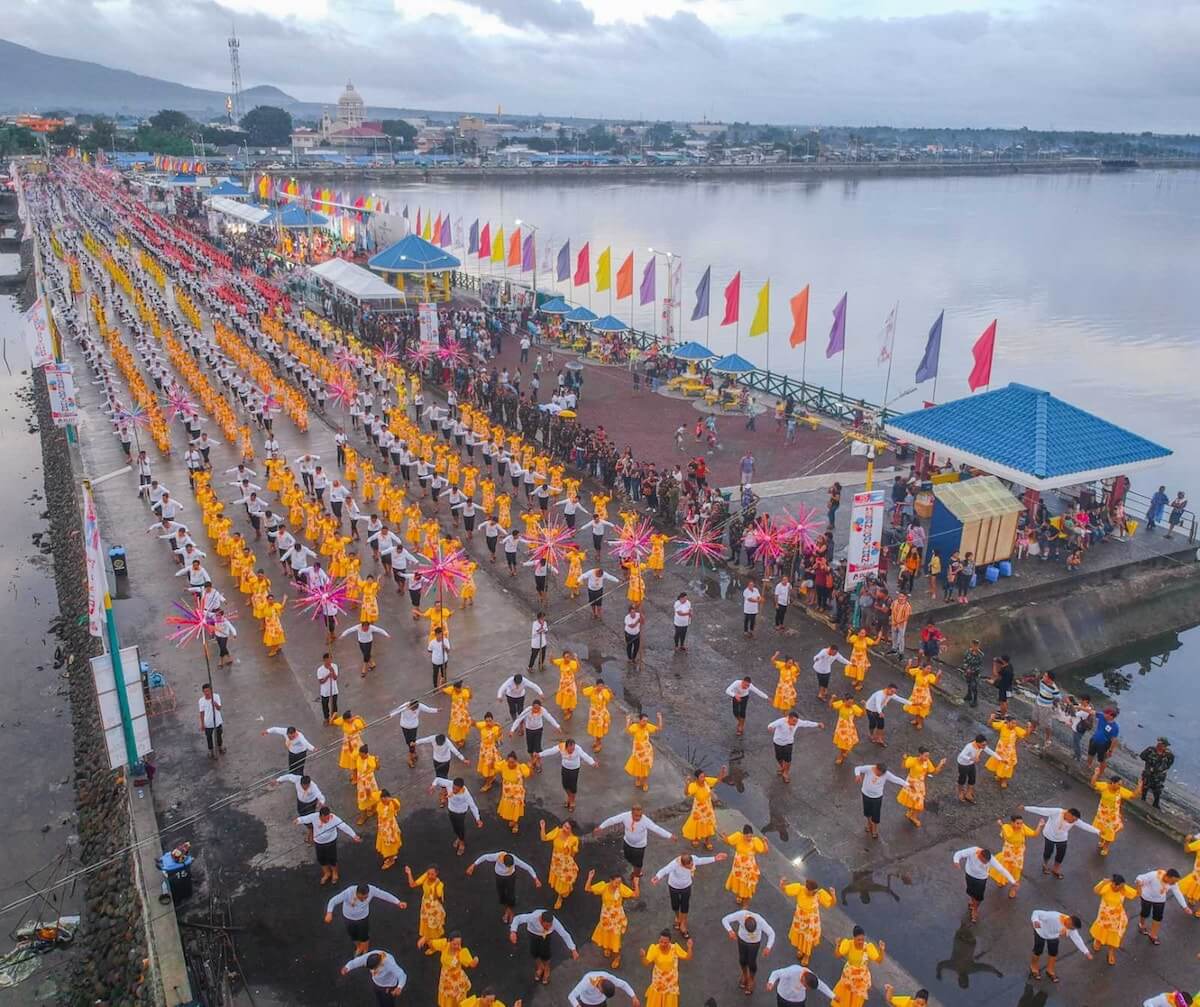 When: October
Where: Sorsogon, Sorsogon
Kasanggayahan means "prosperity and happiness", and the festival itself is the founding anniversary of Sorsogon.
Fun fact: At the 2019 Kasanggayahan Festival, Sorsogon won the first Guinness World Record for the Largest Filipino Folk Dance when 7,127 dancers performed the Pantomina Sa Tinampo along the Rompeolas baywalk.
15. Catandungan Festival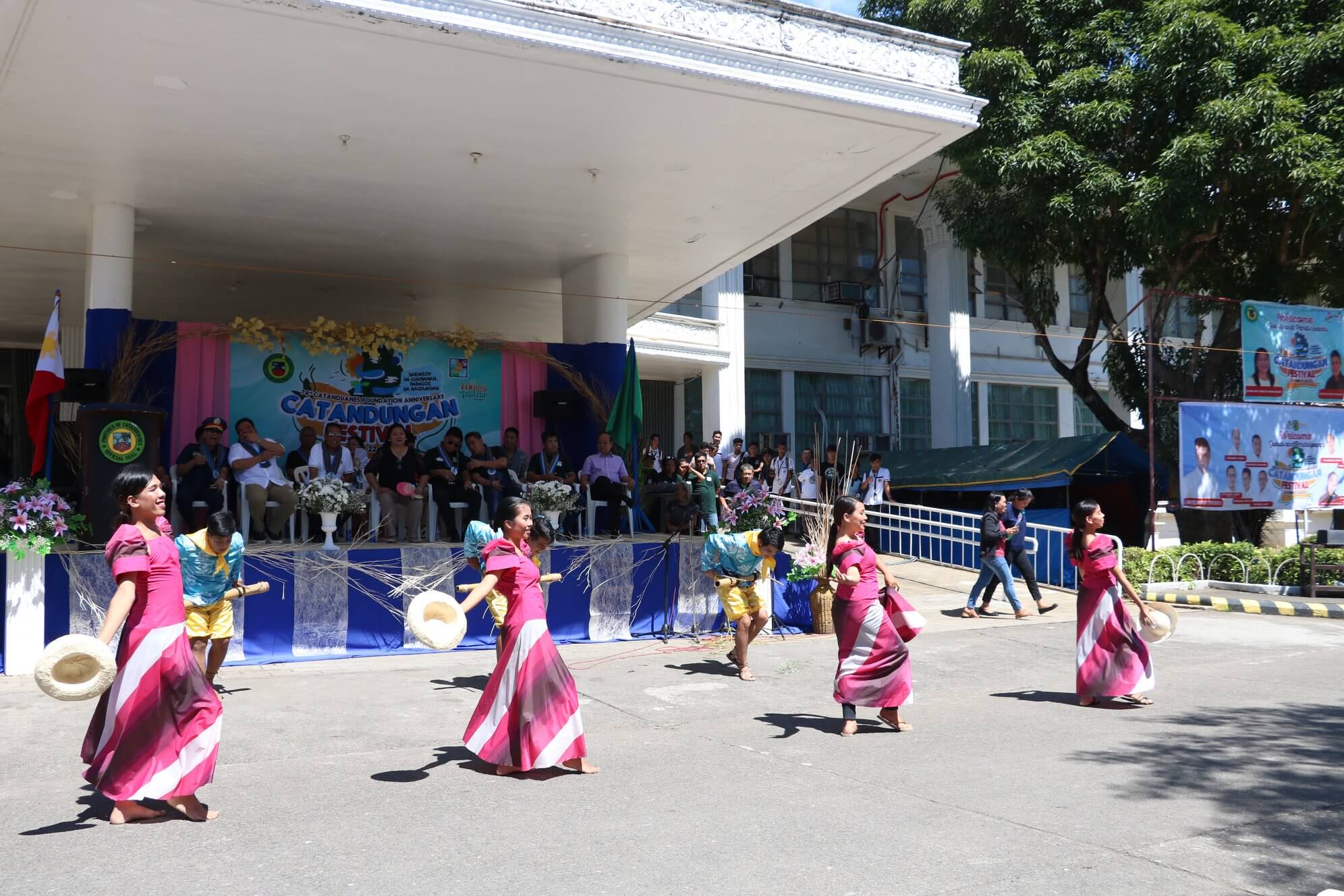 When: Third weekend of October nearest October 24
Where: Virac, Catanduanes
Catandungan Festival is both a cultural and religious festival commemorating the independence of Catanduanes as a separate province from Albay. Activities during the celebration include a beauty pageant, Pantomina folk dance, photo exhibits, and tours.
16. T'boli Tribal Festival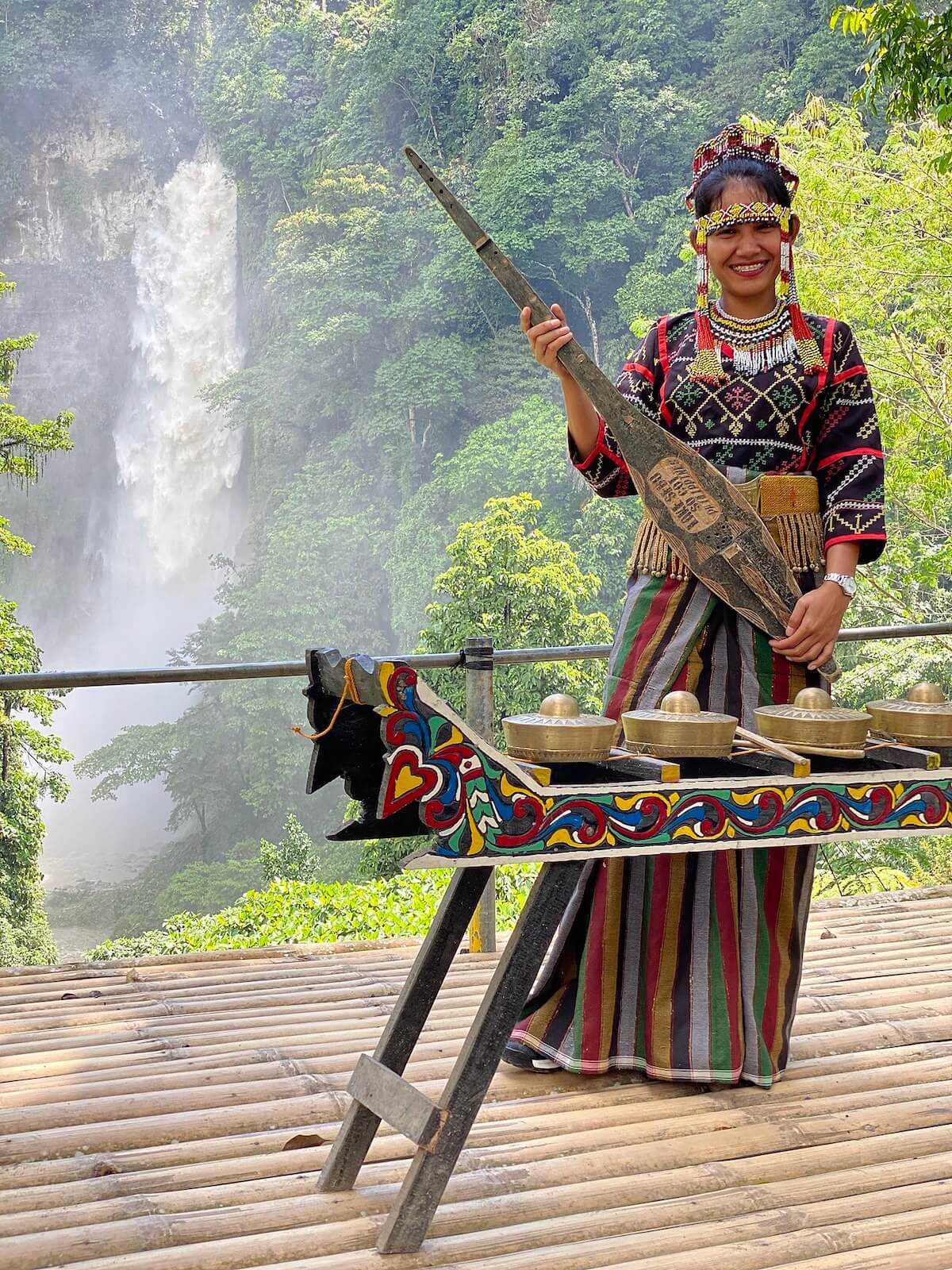 When: Third week of September
Where: South Cotabato
Also called Lemlunay, T'boli Tribal Festival is a thanksgiving festival held in Lake Sebu, South Cotabato. It is a gathering and a celebration of the rich heritage of the major ethnolinguistic tribes in the province including the T'boli, the Manobo, the Ubo, the Kalangan, the Tasaday, and the Maguindanao.
Philippine festivals that celebrate local products and harvest
17. Pahiyas Festival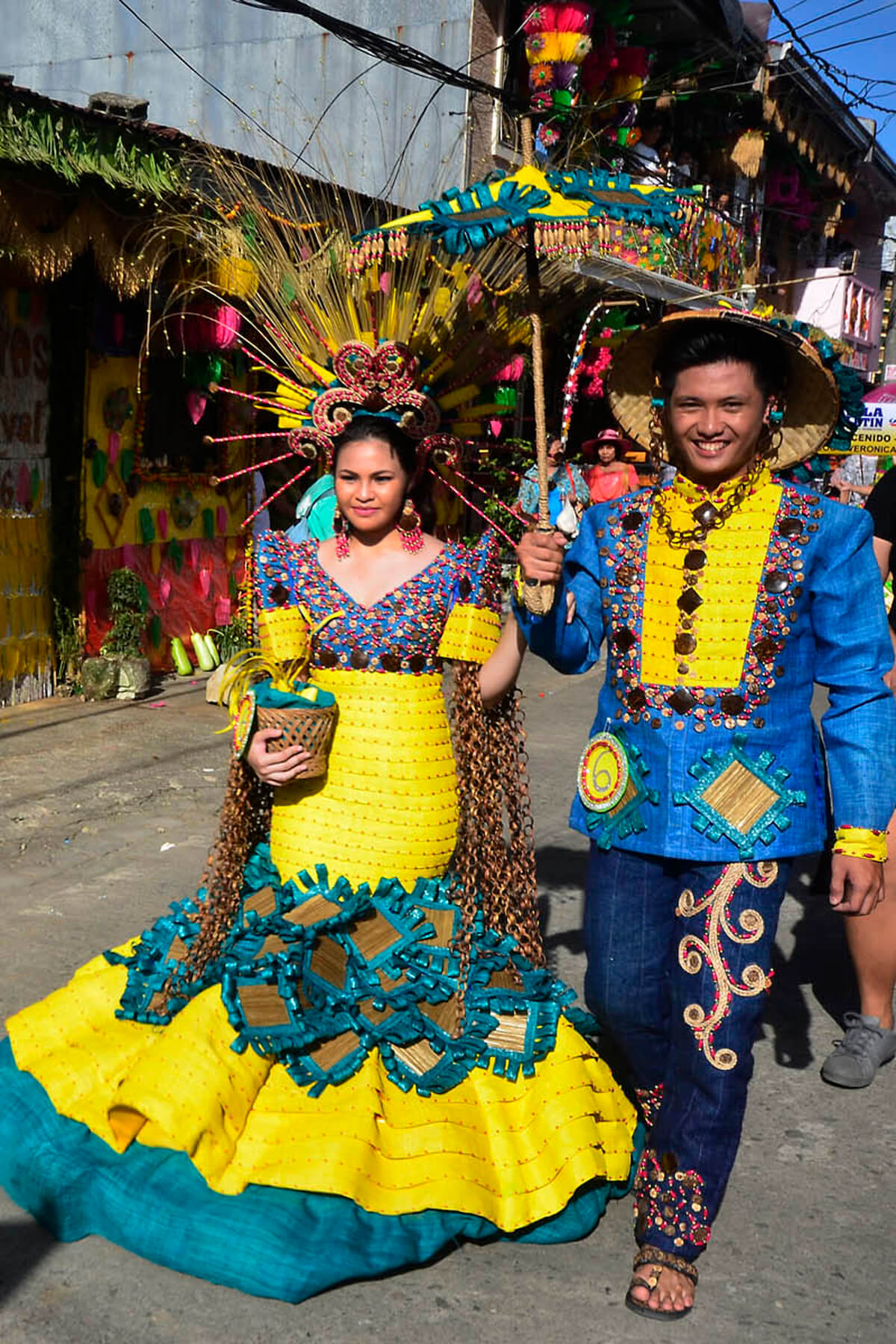 When: May 15
Where: Lucban, Quezon
Officially called the Lucban San Isidro Pahiyas Festival, it is one of the grandest and most colorful harvest festivals in the Philippines. It honors San Isidro de Labrador, the patron saint of farmers. During this fiesta in the Philippines, the locals decorate their homes with fruits, vegetables, flowers, and other local produce, making them visually appealing masterpieces.
18. Lanzones Festival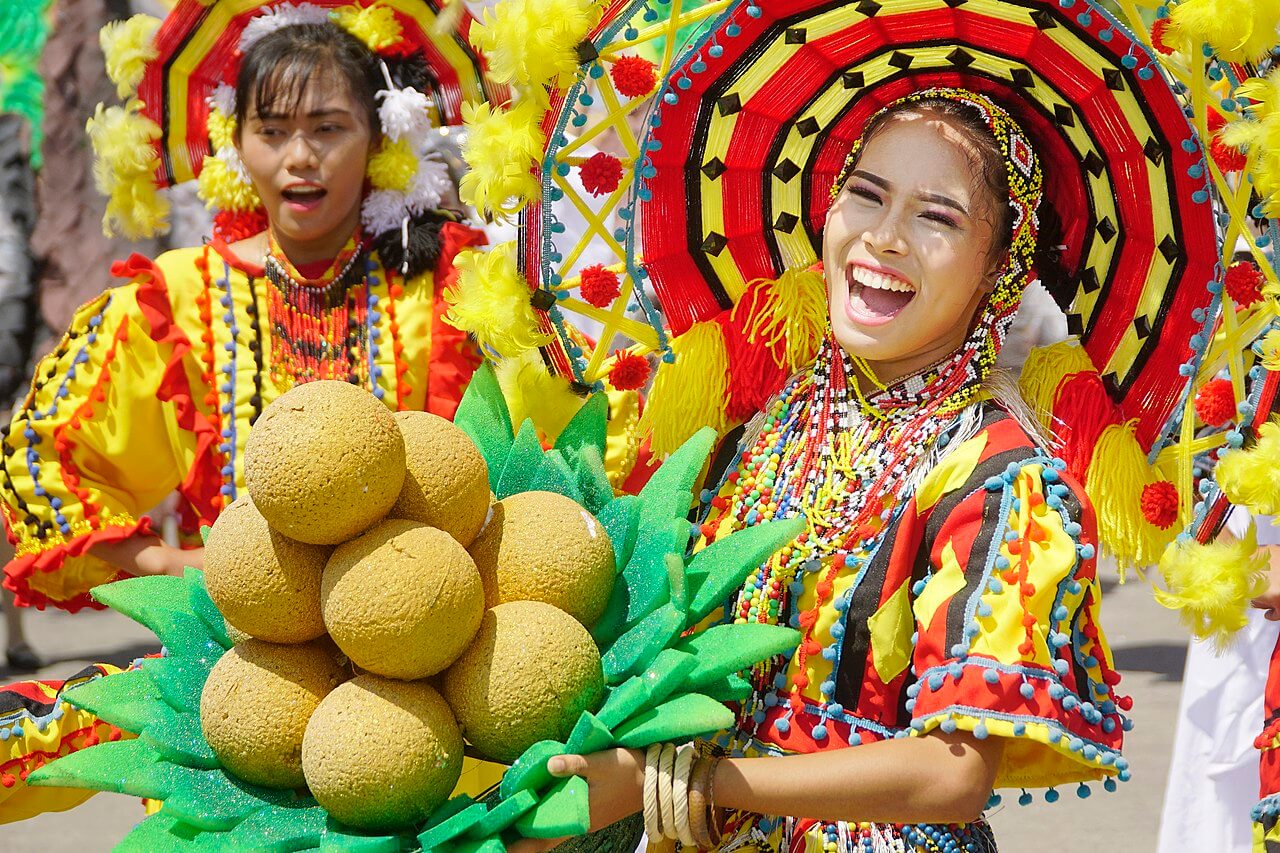 When: Third week of October
Where: Mambajao, Camiguin Island
From the name itself, you'll already know that the festival celebrates the lanzones fruit, which is one of Camiguin's most important crops, putting them on the tourism radar. During this fruit festival, street dancers wear alluring costumes adorned with lanzones fruits or leaves.
19. Panagbenga Festival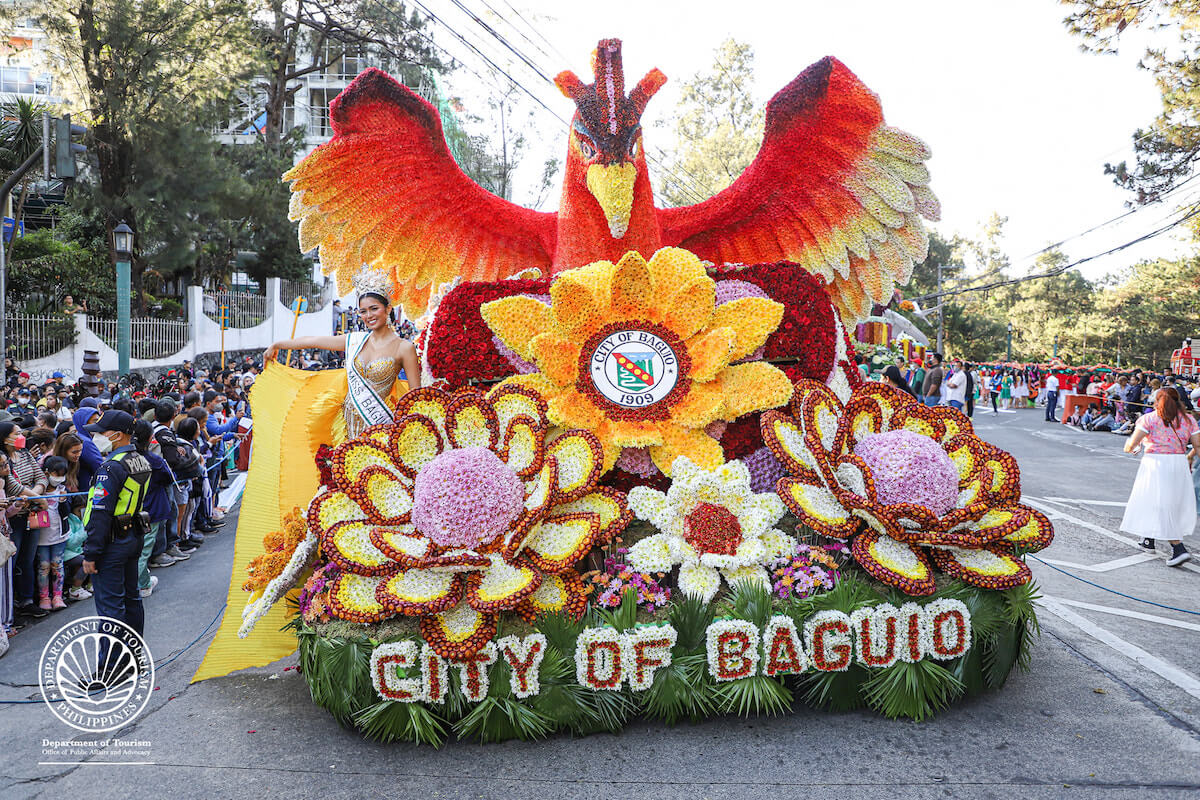 When: February
Where: Baguio City
This is a month-long flower festival in Baguio City to honor the season of blooming. During the parade day, spectators are treated to visually striking floats covered with different species of flowers and plants.
20. Tuna Festival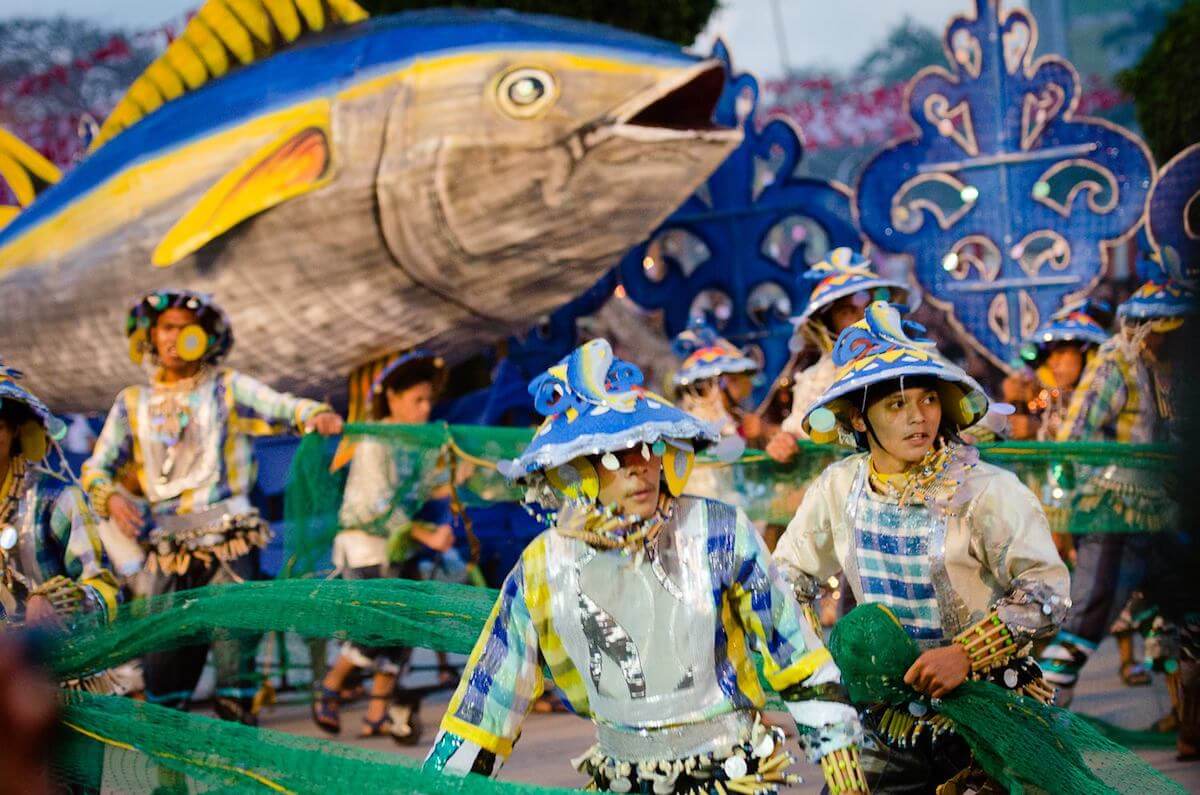 When: First week of September
Where: General Santos City
Tuna Festival celebrates the bountiful harvest of tuna, GenSan's popular product. At this Filipino festival, you'll be treated to lively performances by dancers wearing beautiful tuna-themed costumes and props.
21. Sagingan Festival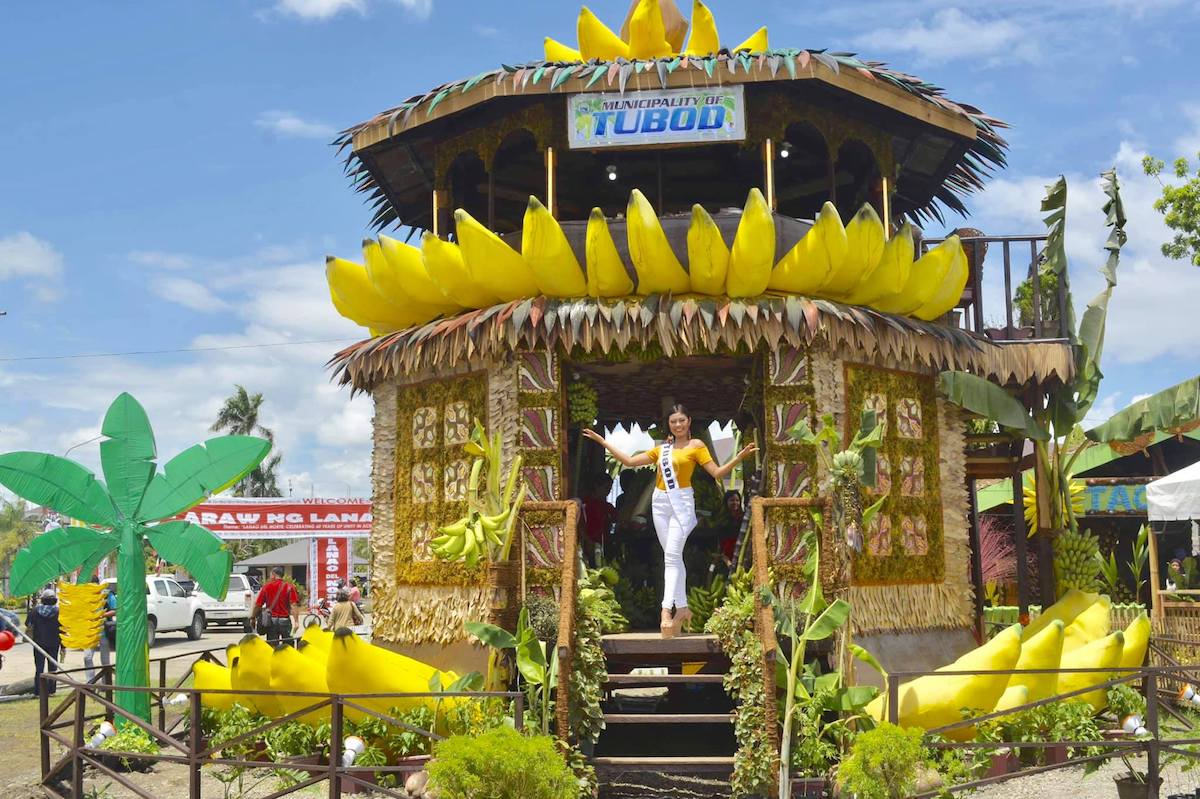 When: October 16-17
Where: Tubod, Lanao del Norte
Saging means "banana" and you can very well tell that this festival is centered on this yellow fruit, from the decorations to the street dance costumes and props. Sagingan Festival is in honor of the patron saint of farmers San Isidro Labrador.
22. Banigan-Kawayan Festival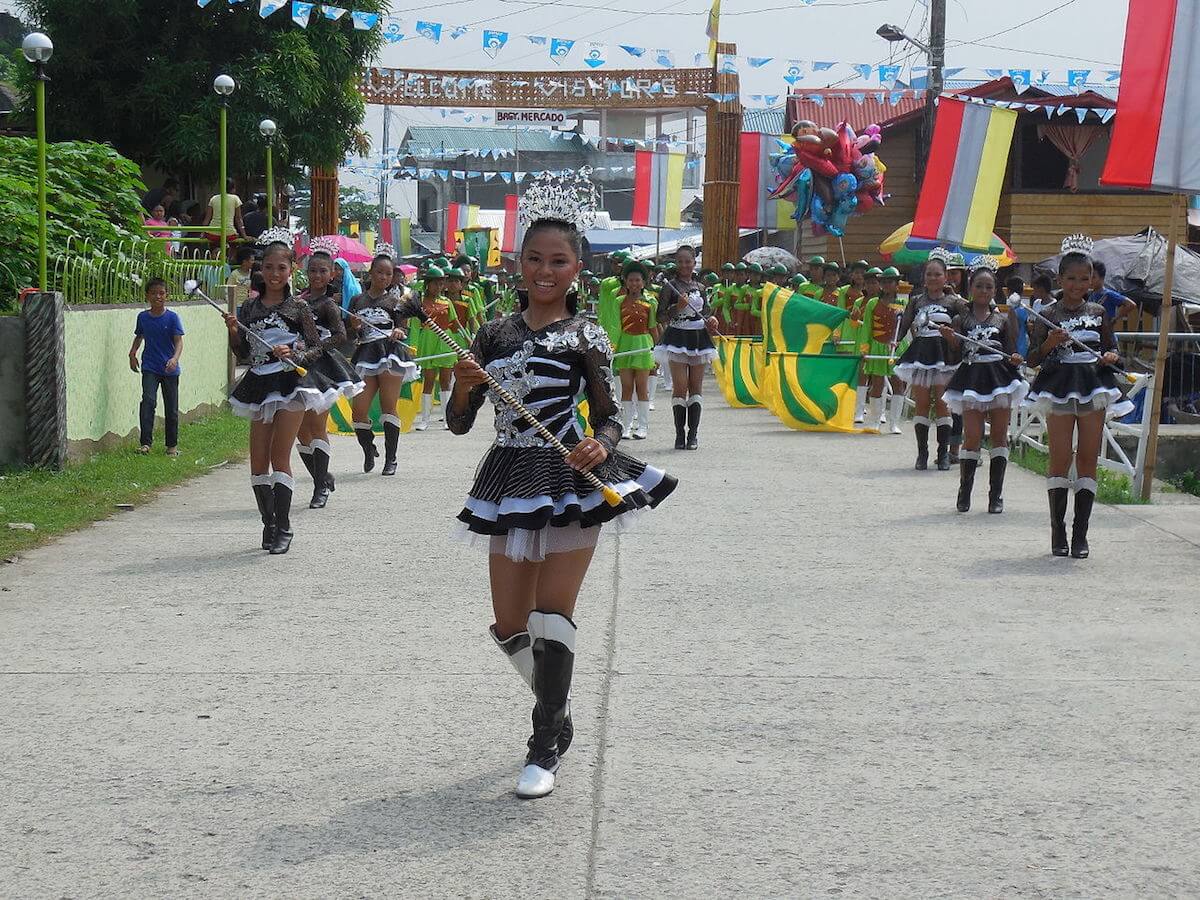 When: September 29
Where: Basey, Samar
Banigan-Kawayan Festival celebrates local crafts banig (hand-woven mat) and the kawayan (bamboo) in Basey, Samar. Expect to see these crafts being showcased at the annual street dance parade.
23. Giant Lantern Festival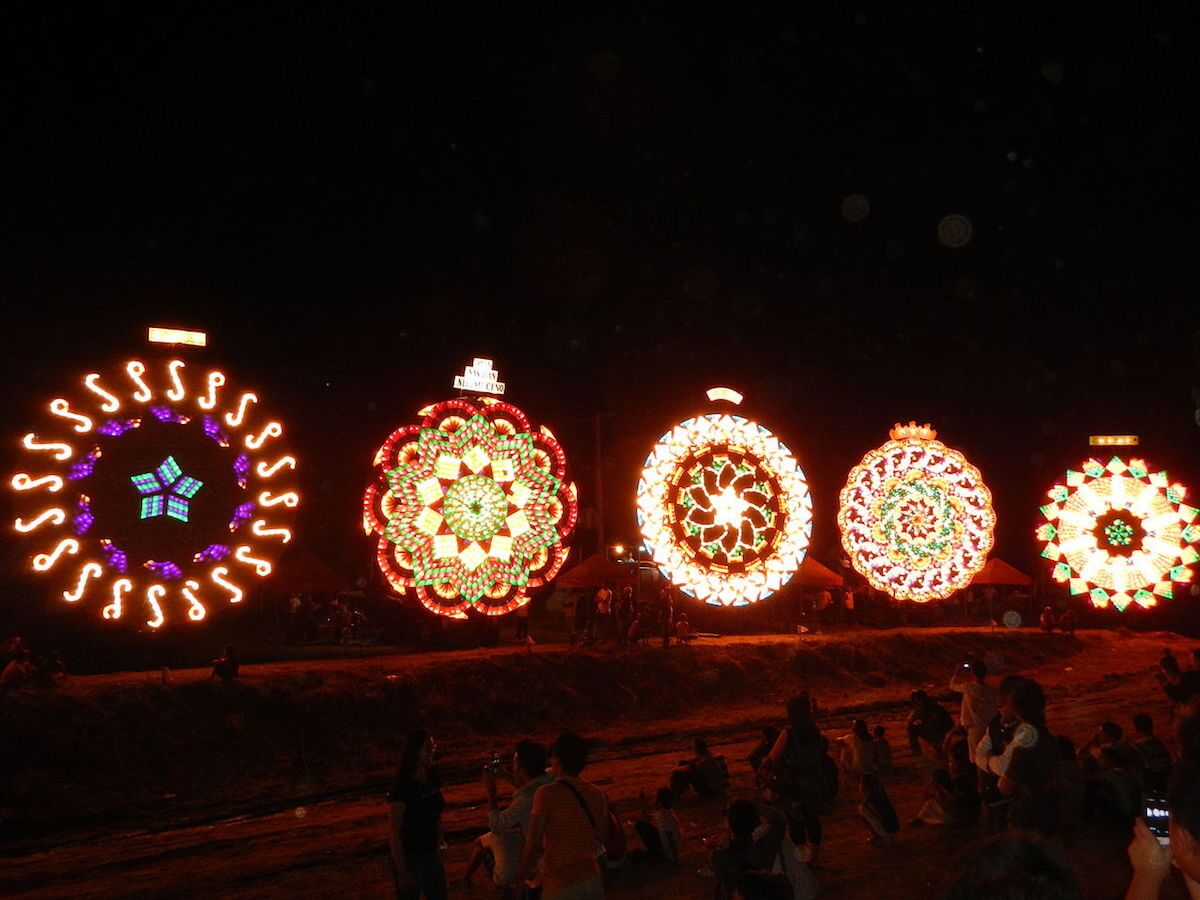 When: mid-December
Where: City of San Fernando, Pampanga
Every Christmas season, we all look forward to seeing lanterns illuminating the streets, houses, and establishments. The City of San Fernando in Pampanga is taking lantern-making seriously with its Giant Lantern Festival. With its popularity, the city earned the moniker as the "Christmas Capital of the Philippines".
So, which of these Philippine festivals or fiestas do you want to experience? Feel free to let us know on our social media channels: Facebook, Instagram, Twitter, or Youtube.