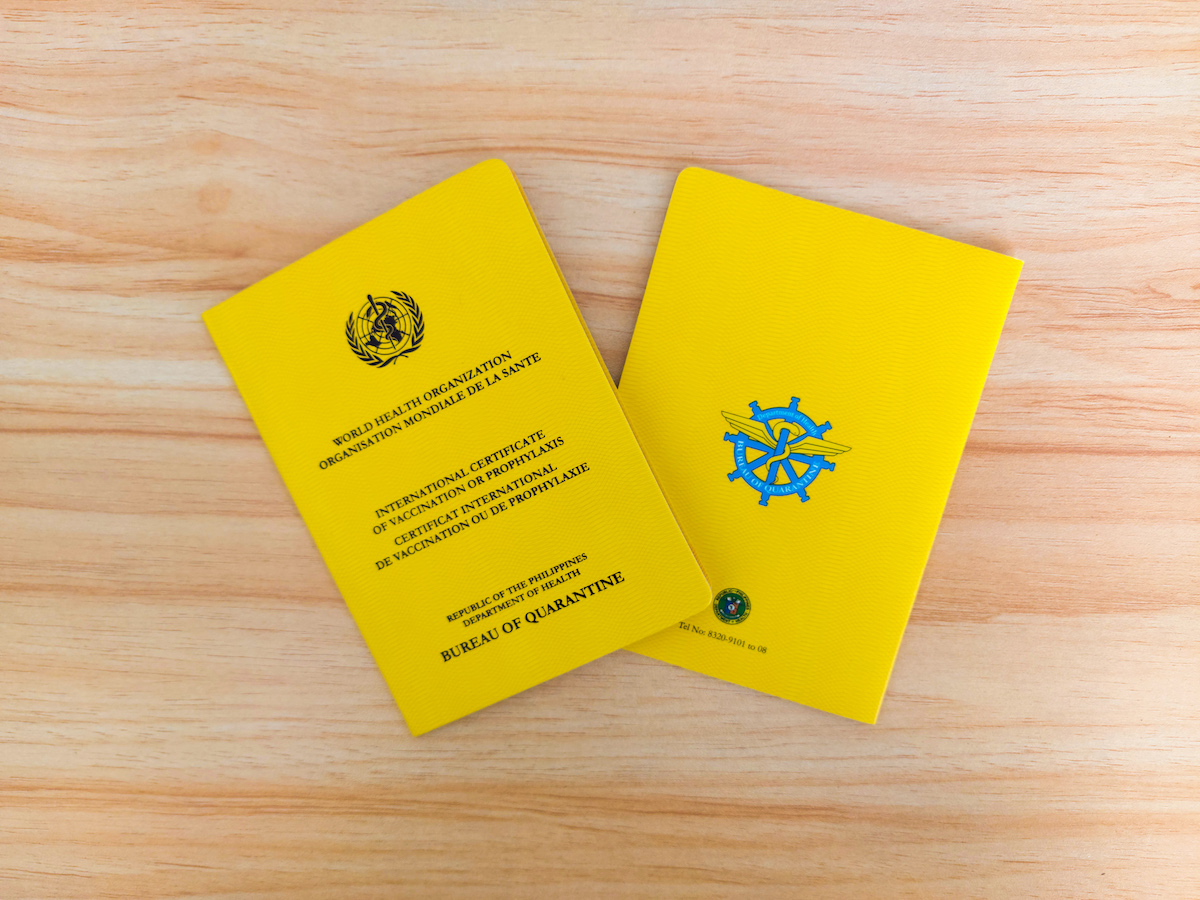 How to Get Your BOQ International Vaccine Certificate in the Philippines
With the vaccination rollout across the globe, many countries are starting to open up for travel. Some countries require a kind of vaccination passport so that they can verify if you are already fully vaccinated and be allowed entry.
After we were fully vaccinated in August 2021, we tried to get our International Certificate of Vaccine for COVID-19, which is also like a Philippine vaccine passport. While some might disagree that this should not be the case, we don't have control on how other countries would implement their restrictions so we decided to get one just in case we need it later for future travels.
Also read: VaxCertPH: How to Get Your Online Vaccine Certificate in the Philippines


Steps to apply for International Certificate of Vaccination Philippines: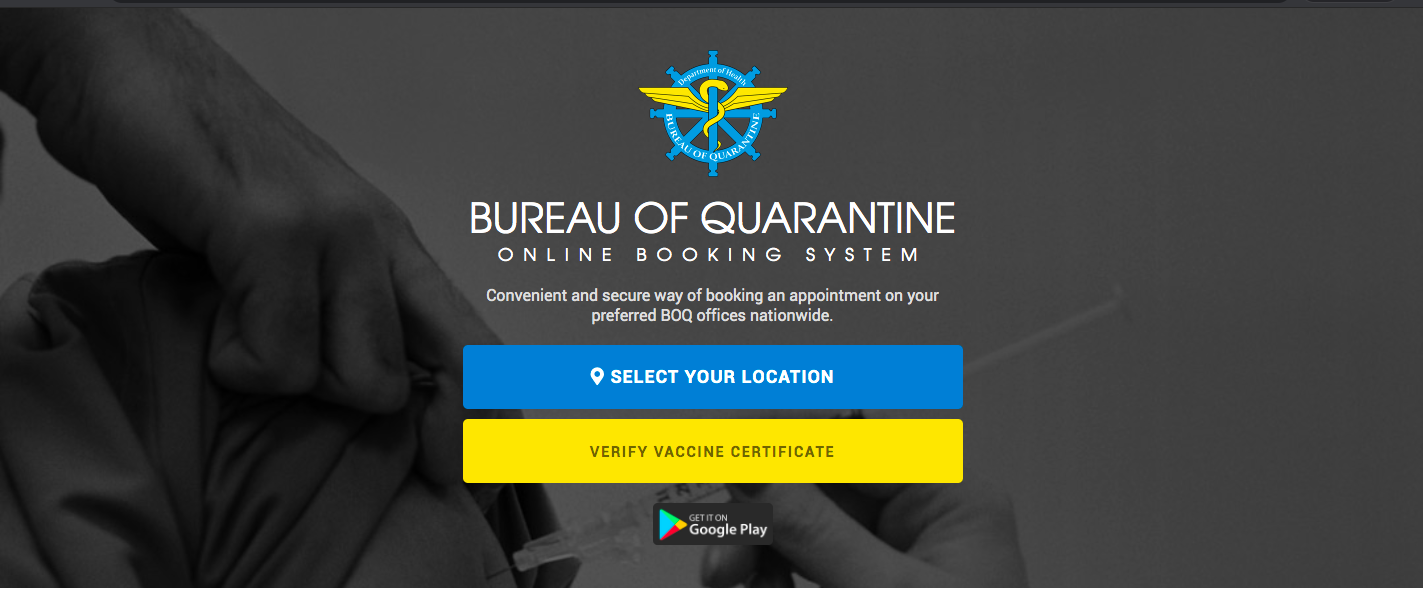 Visit https://icv.boq.ph and click "SELECT YOUR LOCATION".
Step 2: Choose preferred branch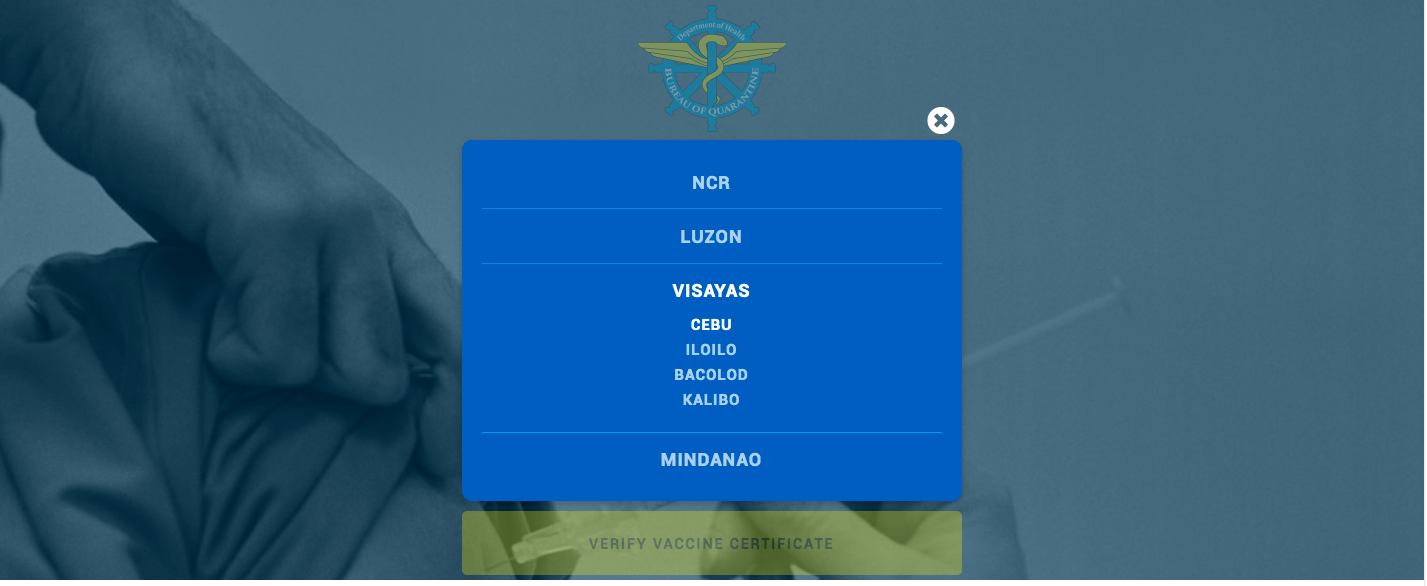 There are several branches to choose from. Select the branch nearest you. Since we're from Cebu, we selected Visayas and then Cebu.
If there is no branch near your place, do check out the website from time to time as BOQ has been opening up more and more branches nationwide. In fact, when we checked several weeks before, there were still no branches in Bacolod and Kalibo, but now they are available.


Step 3: Book an appointment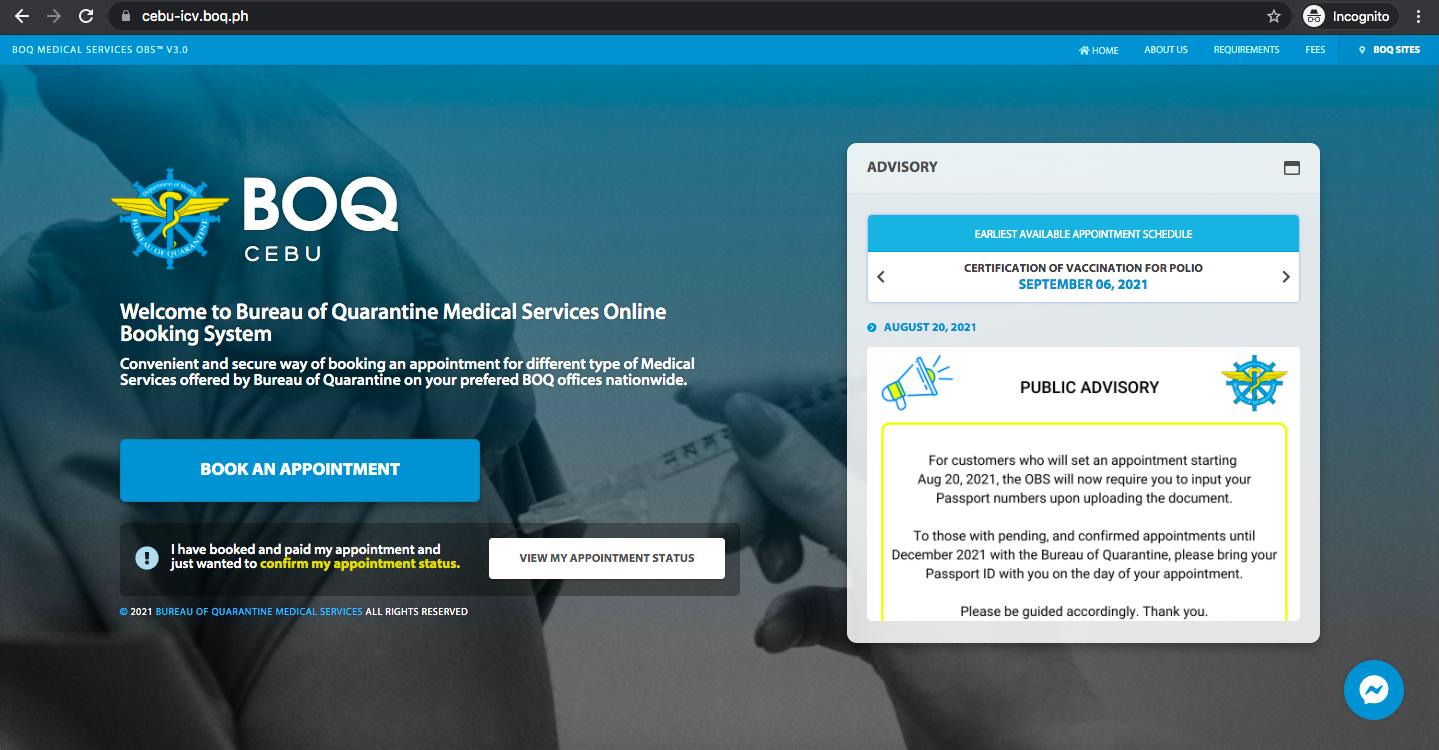 Click "BOOK AN APPOINTMENT". Then, read the Terms & Privacy Policy and click on "I Agree to the Terms & Privacy Policy of this Website".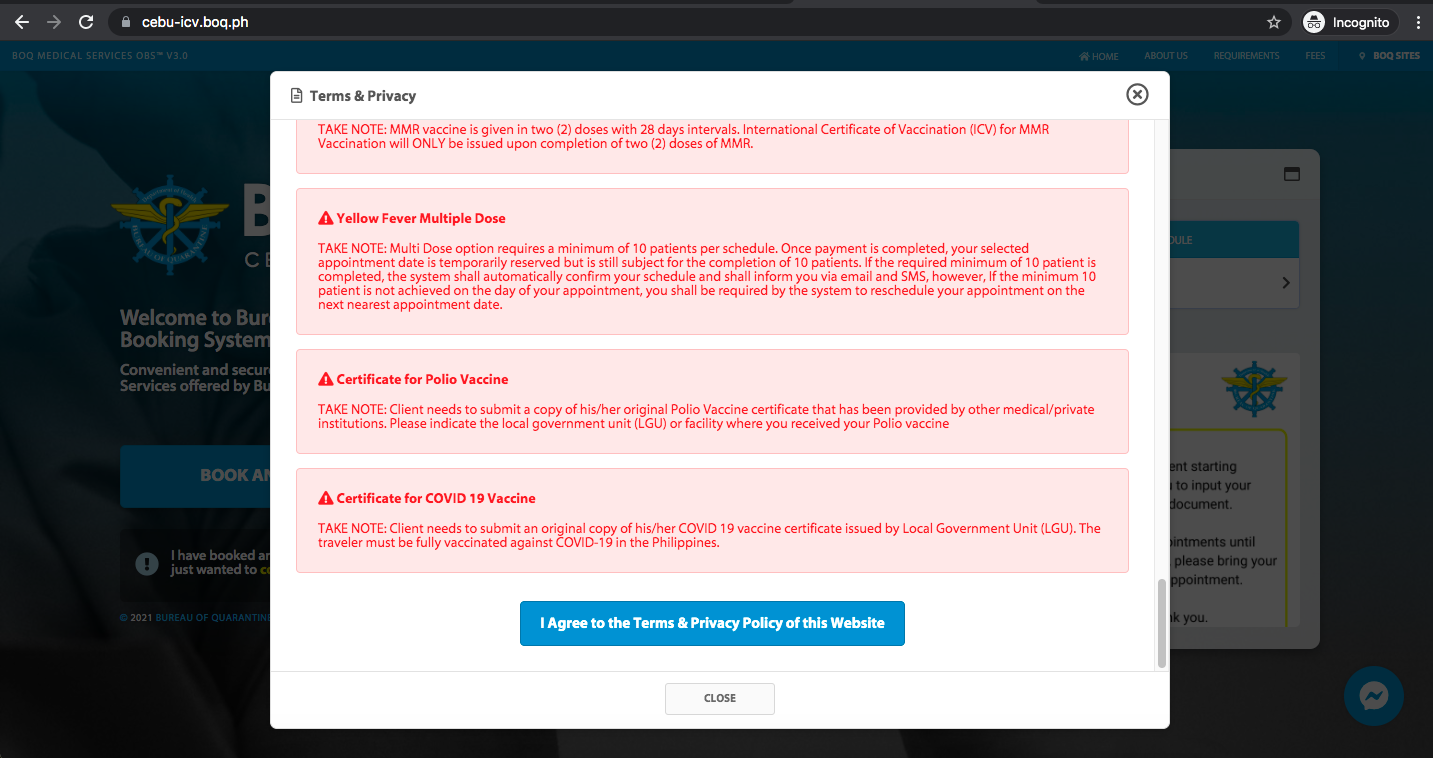 Step 4: Input your email address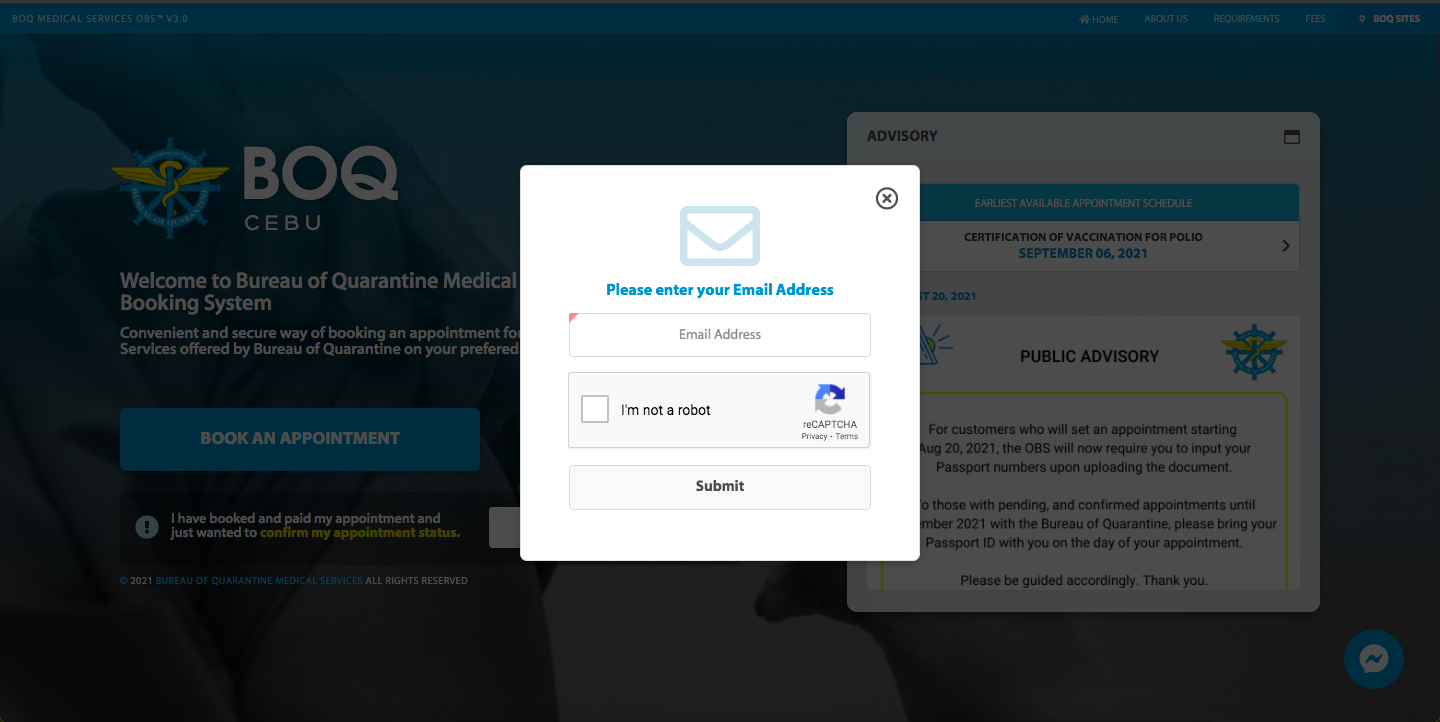 Input your Email Address and tick "I'm not a robot" before clicking on "Submit".
Step 5: Select the service category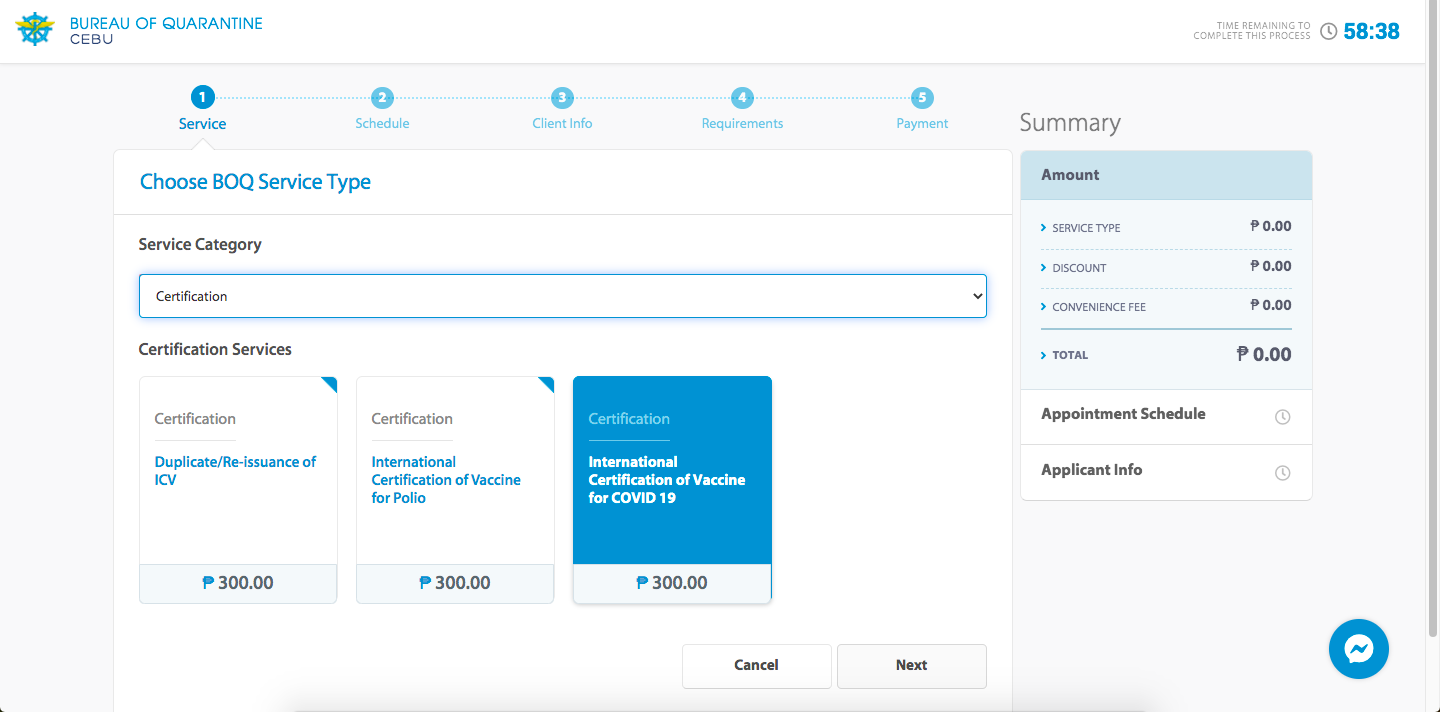 Select Certification and click "International Certification of Vaccine for COVID 19" (₱300).
Step 6: Choose your appointment date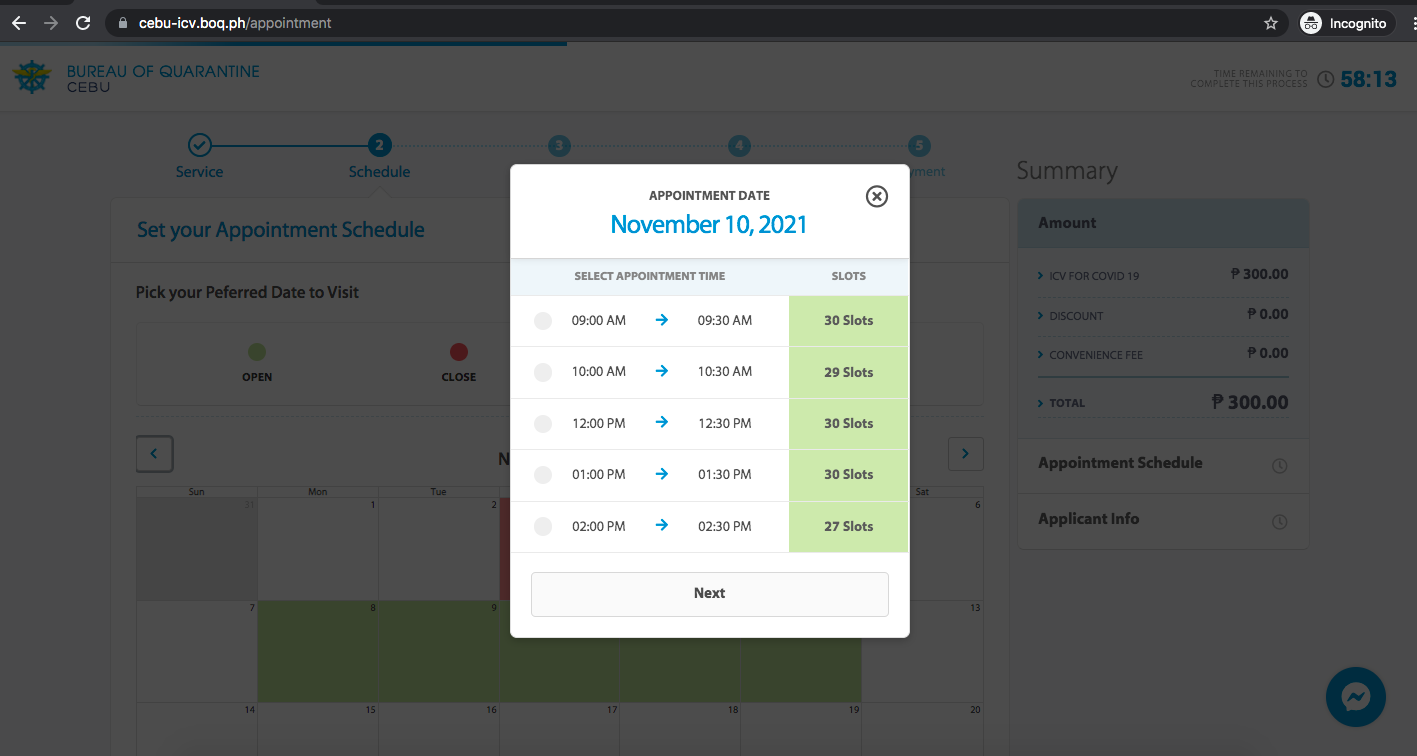 Appointment schedule starts from 9am to 2pm, and there are 30 slots every 30 minutes. The appointment slots get filled easily so we suggest that you set your appointment as soon as possible if you have plans to travel in the future. Just to give you an idea, we registered on 2 Sep 2021 and the available slots are only in November, at least for the Cebu branch where we will get our BOQ vaccine certificate.
Step 7: Fill-up your personal information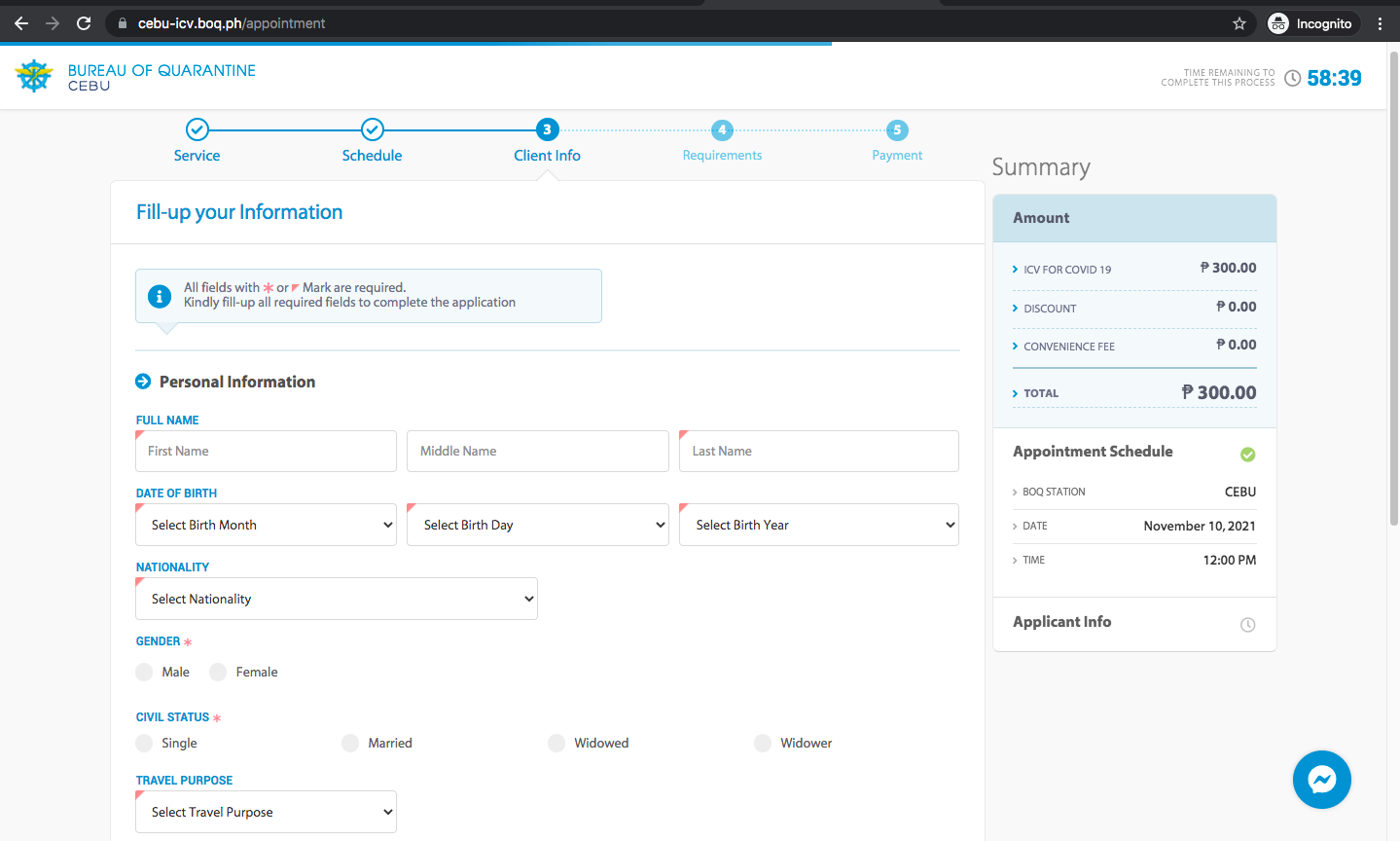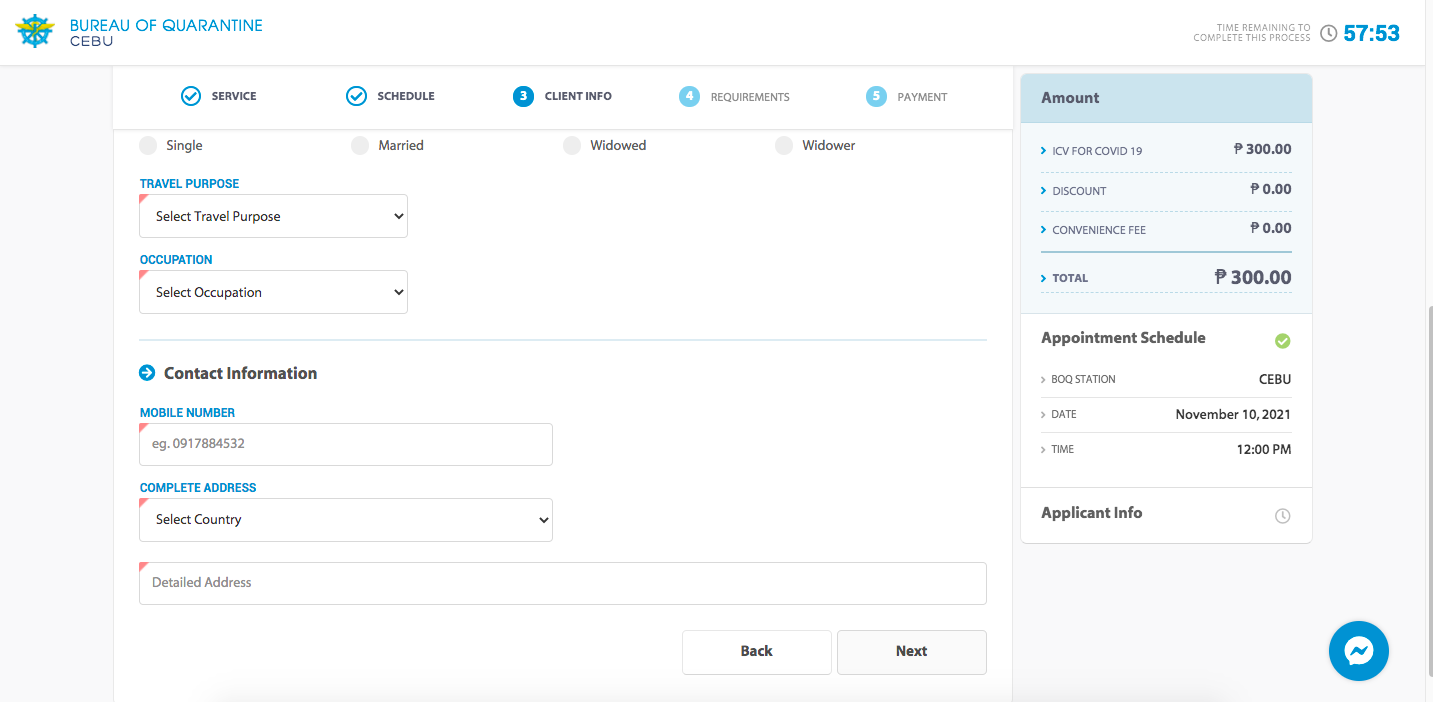 Fill-up the needed personal information including name, birth date, nationality, civil status, travel purpose, occupation, mobile number, and address. Please make sure that your personal details are all correct and updated. Double-check the information before proceeding to the next step.


Step 8: Submit your requirements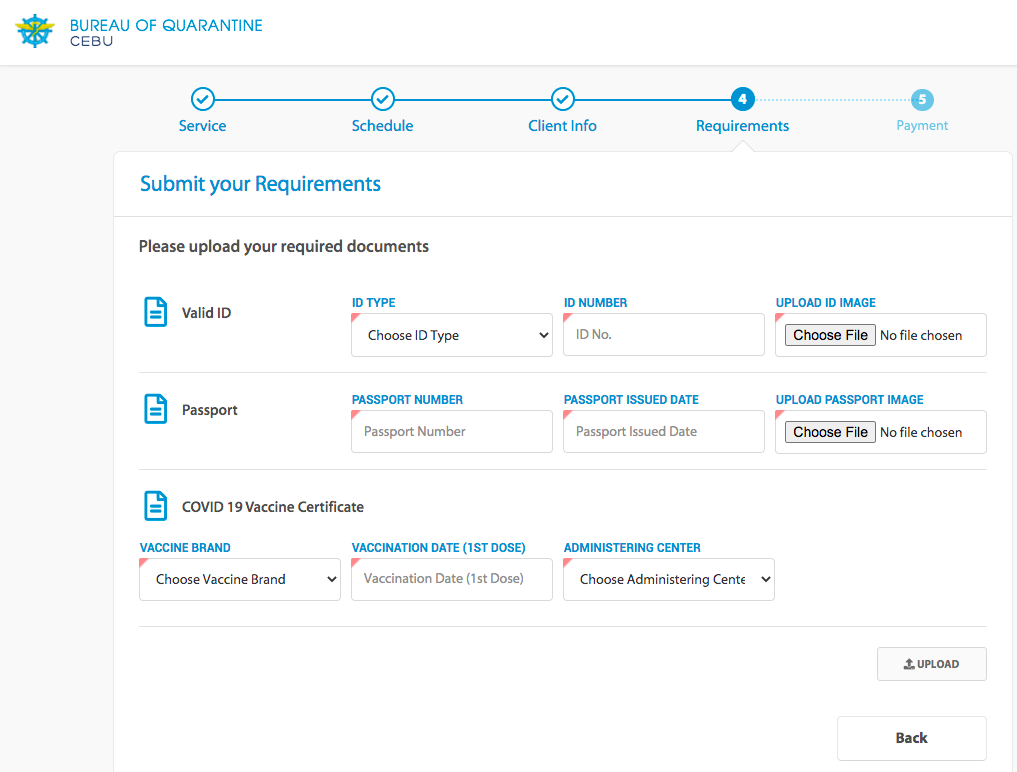 Please upload the required documents including one (1) Valid ID, Passport, and COVID-19 Vaccine Certificate.
Valid ID's:
PRC ID
Passport ID
TIN ID
Voters ID
GSIS ID
ACR/ICR
SSS/UMID
Drivers License
Additional notes:
For the passport, please make sure that it has your signature.
For our application, we used our UMID ID.
Also read: DFA Passport Renewal 2021: Requirements & Steps for Easy Application
Step 9: Pay the fees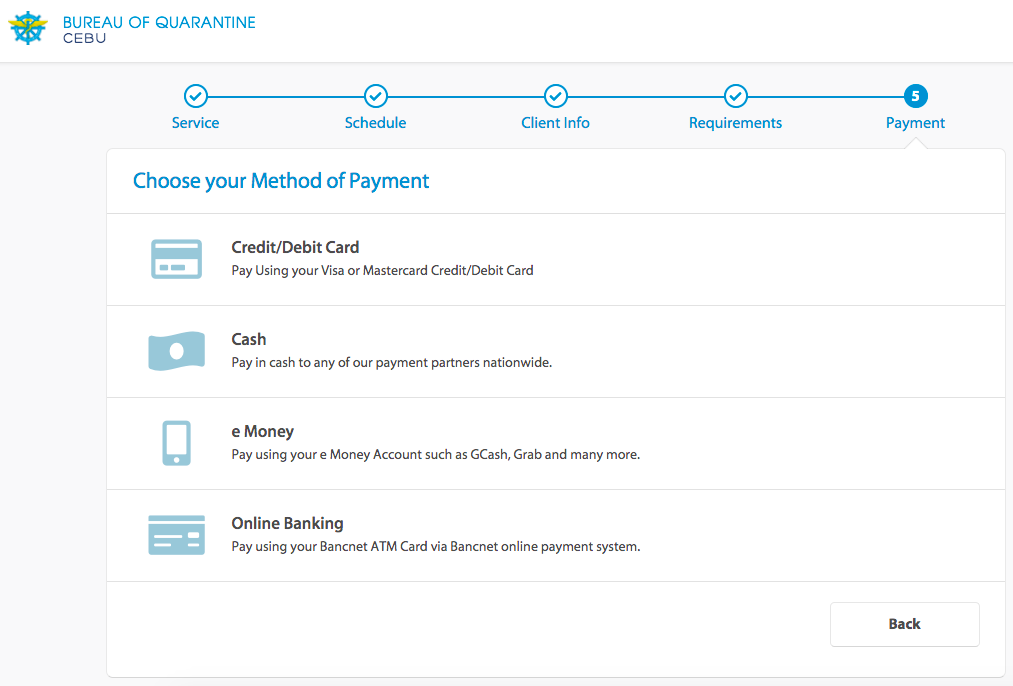 To pay for your vaccine certificate Philippines, there are several payment options such as Credit/Debit Card, Cash, e-Money (e.g. Gcash, Paymaya) and Online Banking. For our own application, we selected Credit/Debit Card. Additional ₱70 is added as "Convenience Fee". We paid a total of ₱370.
Step 10: Get your appointment confirmation

After payment, you will be redirected to a page with a QR code and Transaction ID. The QR code/Reference Number is handy when checking your appointment status. You can also keep a copy by clicking on "Print Receipt".
Step 11: Go to the BOQ branch on your appointment day
Proceed to the Bureau of Quarantine (BOQ) on your appointment schedule, and take note of the following reminders: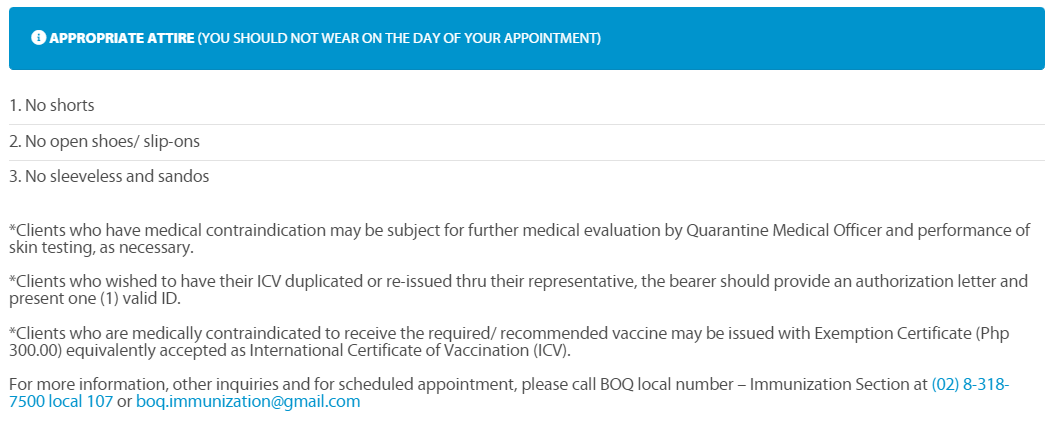 Step 12: Claim your BOQ international vaccine certificate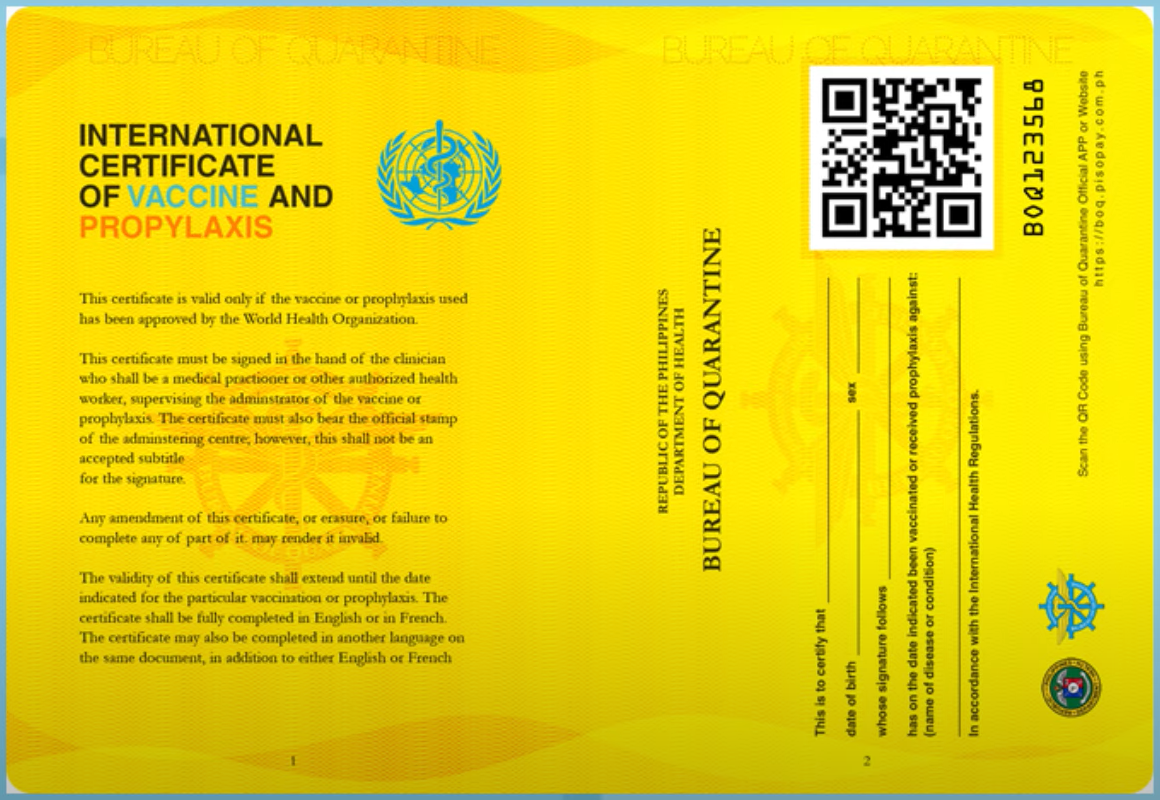 We finally got our International Certificate of Vaccination Philippines recently. Here are some of our tips and reminders:
Don't forget to bring your COVID-19 vaccination card.
Prepare your passport number or keep a digital copy of your passport because BOQ will ask for your passport number.
Have a pen in case BOQ asks you to fill out a slip prior to entry just like what we experienced.
Wear comfortable, presentable clothes. Remember that shorts, open shoes / slip-ons, and sleeveless are NOT allowed.
Bring some water in case you need to wait for a long time. We waited for about an hour before we finally got our BOQ vaccine certificate.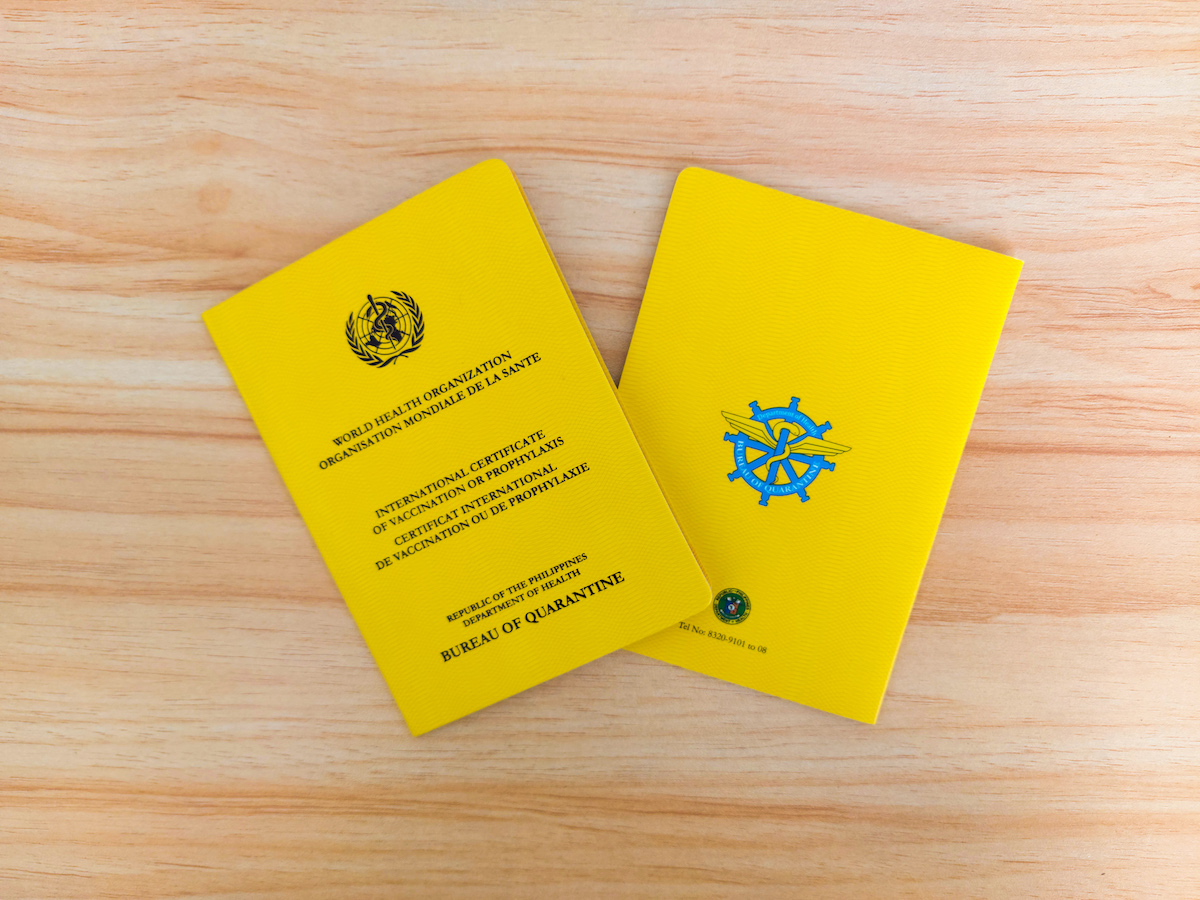 Watch this video by Pisopay on How to Book an Appointment to BOQ OBS:
Hope you find this vaccine certificate Philippines guide useful! Feel free to let us know how it goes when you get your yellow BOQ vaccine certificate, too!
*All screenshots above taken from the Bureau of Quarantine Online Booking System.