DFA Passport Appointment Guide 2023: Requirements & Steps
Note: Philippine passport application or renewal is strictly by DFA online appointment basis only. Applicants are advised to check the health and safety protocols of the local government unit (LGU) prior to booking a DFA passport appointment online. Visit the Office of Consular Affairs website for the latest advisories and updates.
---
Traveling abroad soon? Securing your Philippine passport is the first step to fulfilling your dream of traveling the world, whether to visa-free countries or top travel destinations like Korea, Japan, and Australia.
Even though my Philippine passport will only expire after a year, I decided to renew it earlier to avoid complications in my future travels. The passport validity is now 10 years anyway, so I no longer have to max out my passport down to the last 6 months.
Tip: If you already have an existing passport, make sure that it has at least 6 months validity prior to your trip. You could be questioned or held at the immigration if it is less than 6 months. You don't want that to happen, so you should process your Philippine passport at least a year prior to its expiry. Yes, better safe than sorry!
The Philippine passport application or renewal is now easy. In fact, you can schedule a DFA appointment online any time. To make things simpler, I've broken down the DFA passport requirements and steps for you.
And, if you're traveling overseas soon, you may want to check our VaxCertPH guide and BOQ vaccine certificate guide.

DFA passport requirements 2023
Make sure that you secure the following DFA passport requirements before you decide to go to the nearest Department of Foreign Affairs (DFA) branch for your Philippine passport application or renewal.
For first-time DFA passport application
Accomplished DFA Passport Application Form
One (1) original and one (1) photocopy of PSA Authenticated Birth Certificate on Security Paper. Please take note of the additional requirements for married females who are using their spouse's last name:
Original and photocopy of PSA Authenticated Marriage Contract on Security Paper or Report of Marriage
Local Civil Registrar Copy is required if PSA Birth Certificate is unclear or not readable
One (1) valid ID and one (1) photocopy (see list of valid IDs for Philippine passport application)
Confirmed DFA online appointment (see steps below)
See complete list of DFA passport requirements for new applicants.
For DFA passport renewal
Current Philippine passport

Photocopy of your Philippine passport data page

For change of name, original PSA authenticated documents such as:
Marriage Contract

Annotated Birth Certificate

Annotated Marriage Contract

Death Certificate of Spouse
Confirmed DFA online appointment — which brings us to the next steps below!
See complete list of DFA passport renewal requirements.
Part 1: DFA passport appointment
Step 1: Schedule your DFA online appointment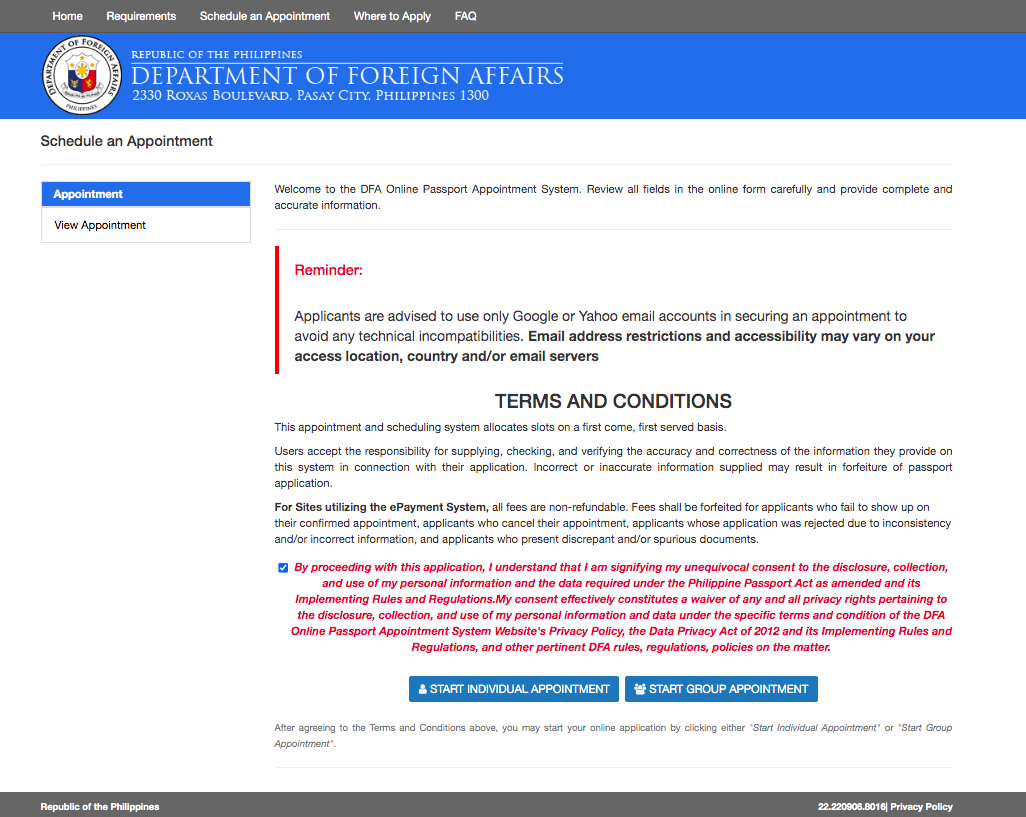 Go to DFA Passport Appointment Portal to schedule your DFA passport appointment. 

Read and review the

Terms and Conditions

and scroll to the bottom. 

Tick the checkbox if you have read and understood the information.

Click the

Start Individual Appointment

OR

Start Group Appointment

if you want to apply for more than one person.
Step 2: Input your personal information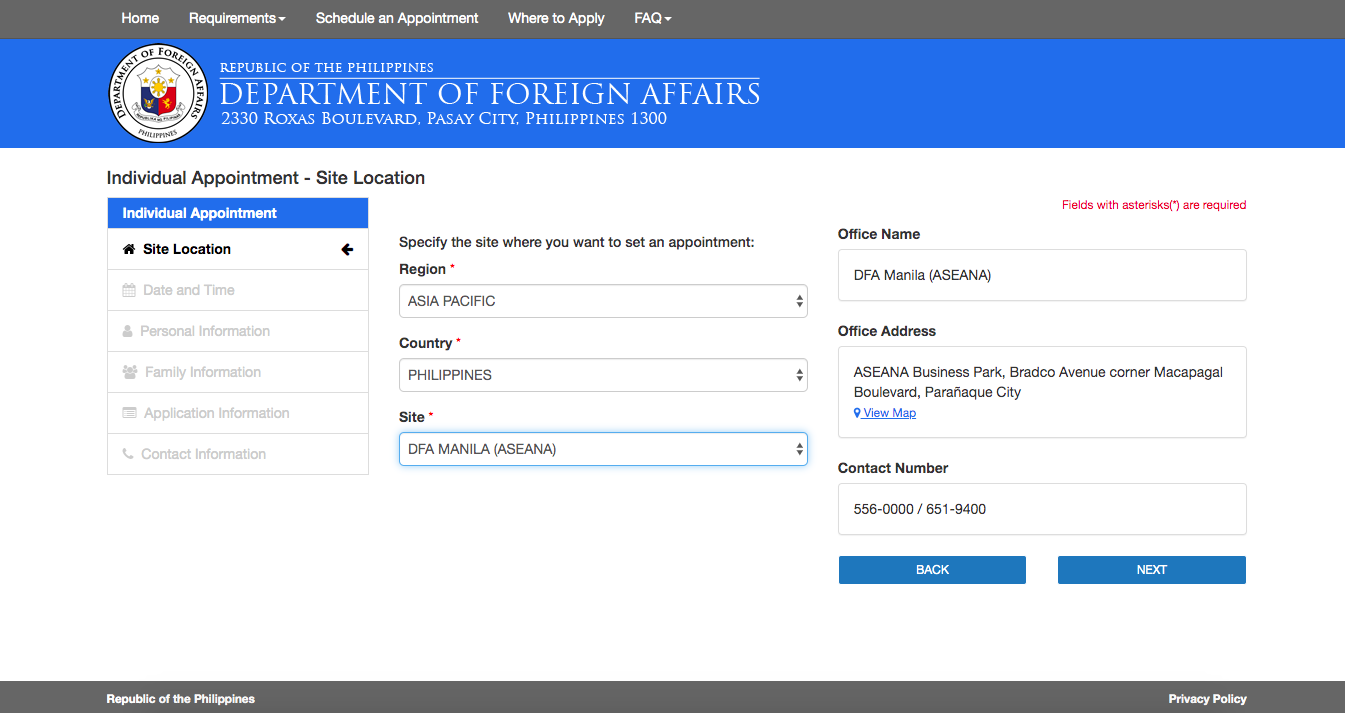 Whether you're applying individually or with a group, make sure that all information you key in are correct. Double-check everything because any error or discrepancy may result in delay or rejection of your Philippine passport application.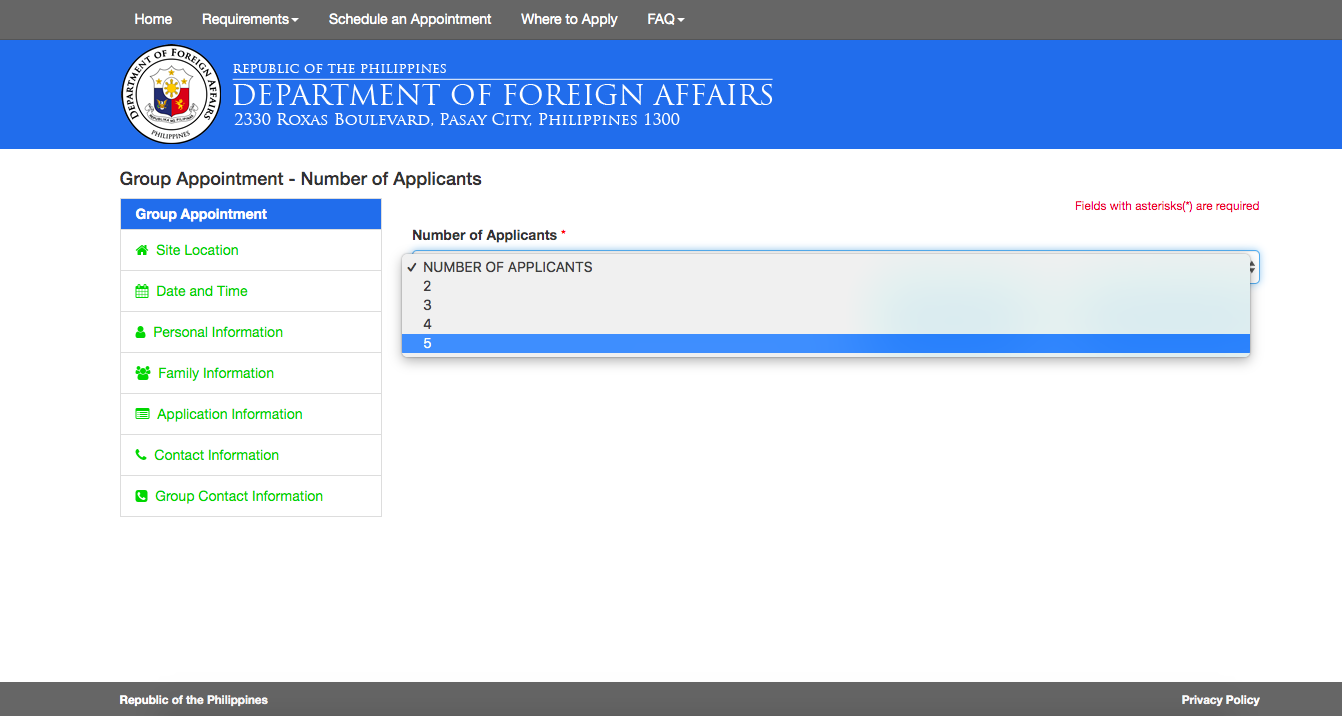 If you selected Group Appointment, you will be asked for the number of applicants. You can schedule up to a maximum of 5 applicants only. Click next after your selection.
2.1 Select the DFA site location for your appointment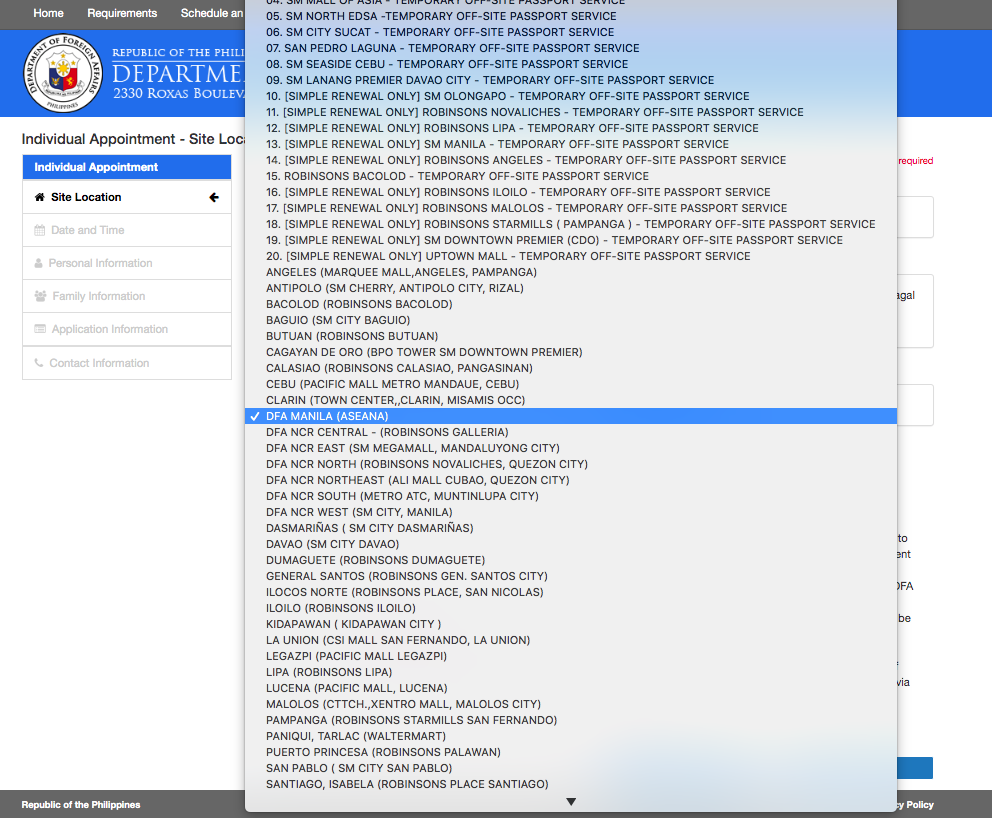 As for me, I opted for DFA NCR Northeast (Ali Mall) as it was the nearest site from where I was based at the time of my Philippine passport renewal. Do note that DFA online appointment available slots will differ for each location, so you might want to check the other locations if you want to schedule your DFA appointment on a specific date. As of writing, there are still many DFA online appointment available slots for the DFA MANILA (ASEANA) branch.
DFA Metro Manila branches:
ASEANA

SM Megamall, Mandaluyong City

Robinsons Novaliches, Quezon City

Ali Mall, Cubao, Quezon City

METRO ATC, Muntinlupa City

SM CITY, Manila
For Cebu, you may schedule your DFA Cebu appointment here:
Pacific Mall Metro Mandaue, Cebu

SM Seaside City Cebu – Temporary Off-site Passport Service located on 3F Mountain Wing (main)
After selecting your preferred DFA site, click next. 
2.2 Select your DFA online appointment schedule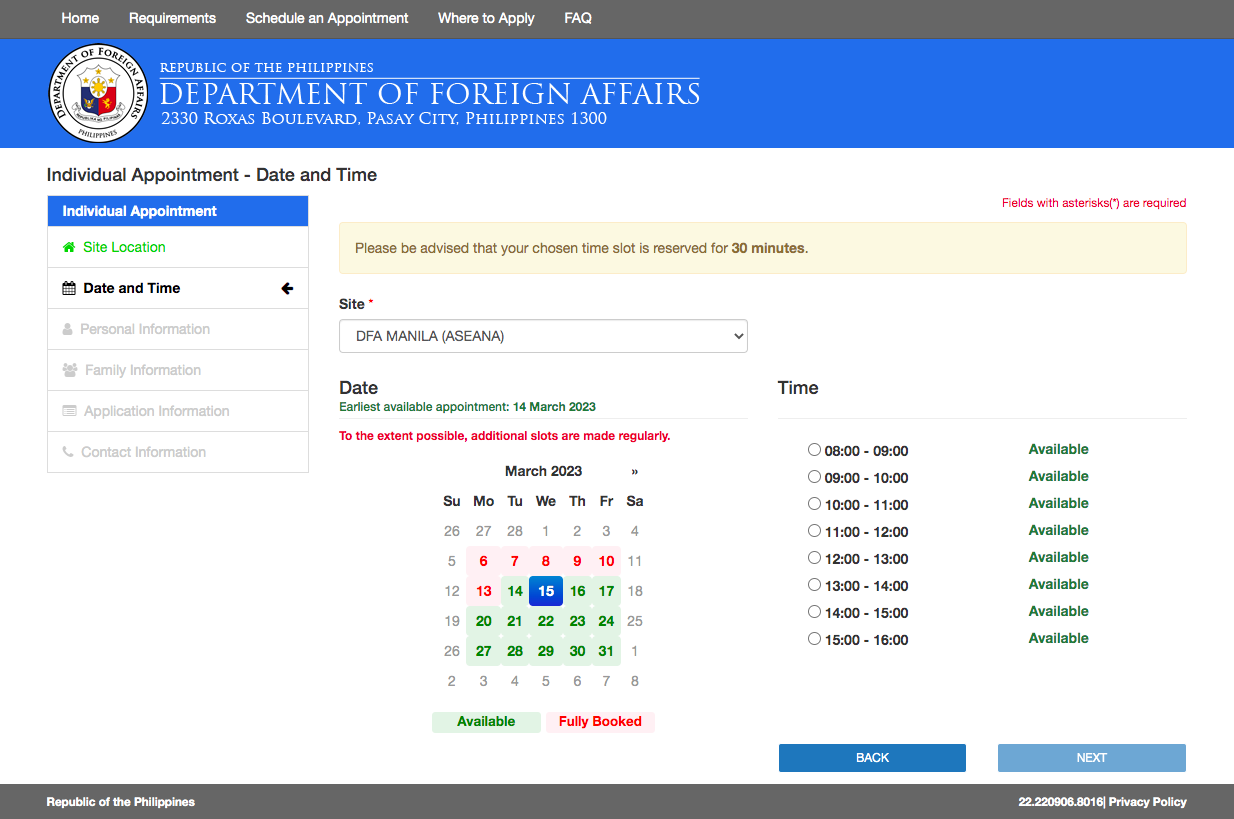 You will have to select the Date and Time of your DFA passport appointment. The green ones are the available dates for DFA online passport appointment.
2.3 Input your personal information and other information in the next pages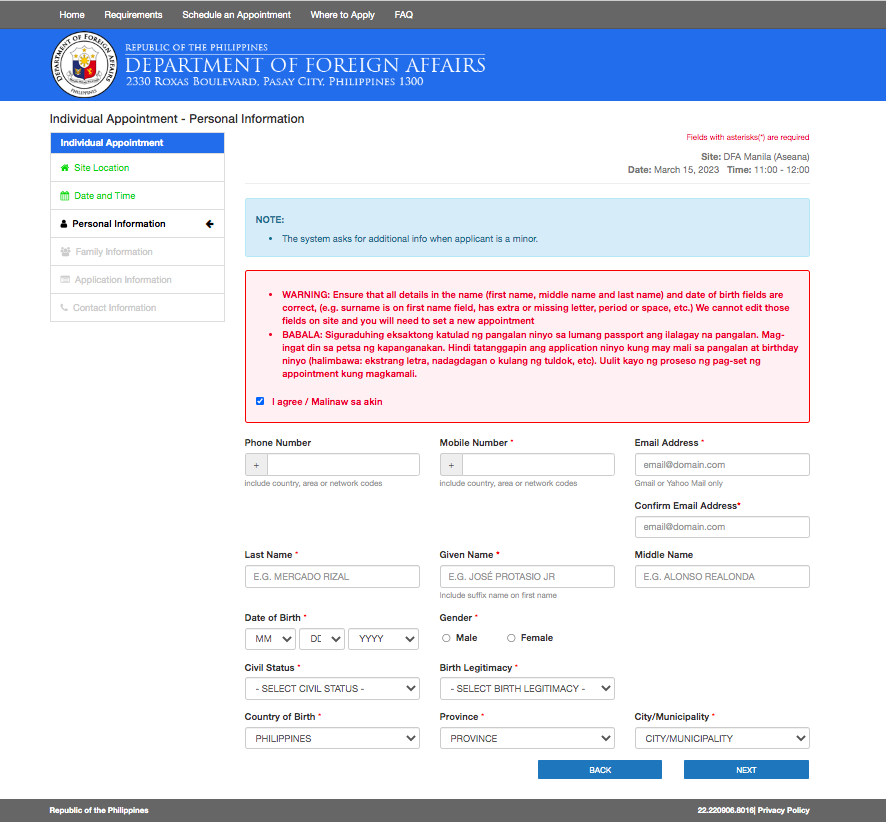 Next steps are already simple and straightforward. Complete each page and click next:
Personal Information

Family Information

Application Information

Contact Information

Group Contact Information
Tip: Ready your current passport because you will need some of the information there.
Step 3: Wait for the email confirmation and pay the Philippine passport application fee

After completing your DFA passport online application, appointment@passport.gov.ph will send you an email with your reference number and payment instructions.
Philippine passport fees 2023:
₱950 (regular) up to 12 business days

₱1,200 (expedite) up to 6 business days (within Metro Manila) and 7 business days (outside Metro Manila)
*You will have to pay the price of ₱350 as penalty for lost and mutilated ePassport.
Please take note of the following:
You only have 24 hrs to pay for your Philippine passport application.

There is an additional price of ₱50 as convenience fee.

Take note of your reference number and proceed to any of the following outlets to pay:

Robinsons malls and supermarket

LBC

eBiz

Perahub

USSC

Truemoney

Villarica

711

ECPay outlets

Bayad Center or Bayad Center app
*For group applications, fees must be paid individually.
Step 4: Print your DFA passport requirements and documents
After paying the application fee within 24 hours, you will get an email confirming your successful DFA appointment. A PDF file is attached containing some important reminders, steps at data capturing site, completed Philippine passport application form, and electronic receipt. Print all the attached DFA passport requirements in an A4 paper and bring them on your DFA appointment schedule.
Part 2: Personal appearance for your DFA appointment
What to wear on your DFA passport appointment day
DFA has a strict dress code so you should dress appropriately during your DFA appointment day. See our tips below:
Wear clothes that cover your shoulders.

Do not wear revealing outfits such as those with plunging necklines, sleeveless, spaghetti, halter, tube, and other see-through tops.

Shorts and mini skirts are also not allowed.

Avoid wearing slippers and sandals — it's best to wear closed shoes.

Do not put on heavy make-up as DFA might ask you to remove it during photo-taking.

Necklaces, earrings, piercings, as well as eyeglasses and coloured contact lenses, will also have to be removed when taking your passport photo.
Step 1: Go to the selected branch on your DFA appointment schedule
Bring all your DFA passport requirements on your DFA appointment day. Arrive at least 30 minutes before your scheduled time to give you some leeway.
Step 2: Get your priority number
Approach the guard and wait for your turn to enter the site. Present your printed A4 documents and identification card (ID) at the verification counter. You will be given a priority number.
Step 3: Submit your passport documents
Wait for your number, and present your verified application form and requirements to the processor. You will be given another priority number for the encoding section.
Step 4: Have your data encoded and passport photo taken
When your number is called, proceed to the encoding counter. Your photo will then be taken and you will be asked to double-check your encoded data. You will receive a claim stub with the tentative date of passport release.
Step 5 (optional): Pay for courier
You may opt to have your passport delivered to you through the assigned couriers inside the site. I had my passport delivered via LBC for ₱150.
Step 6: Wait for your Philippine passport release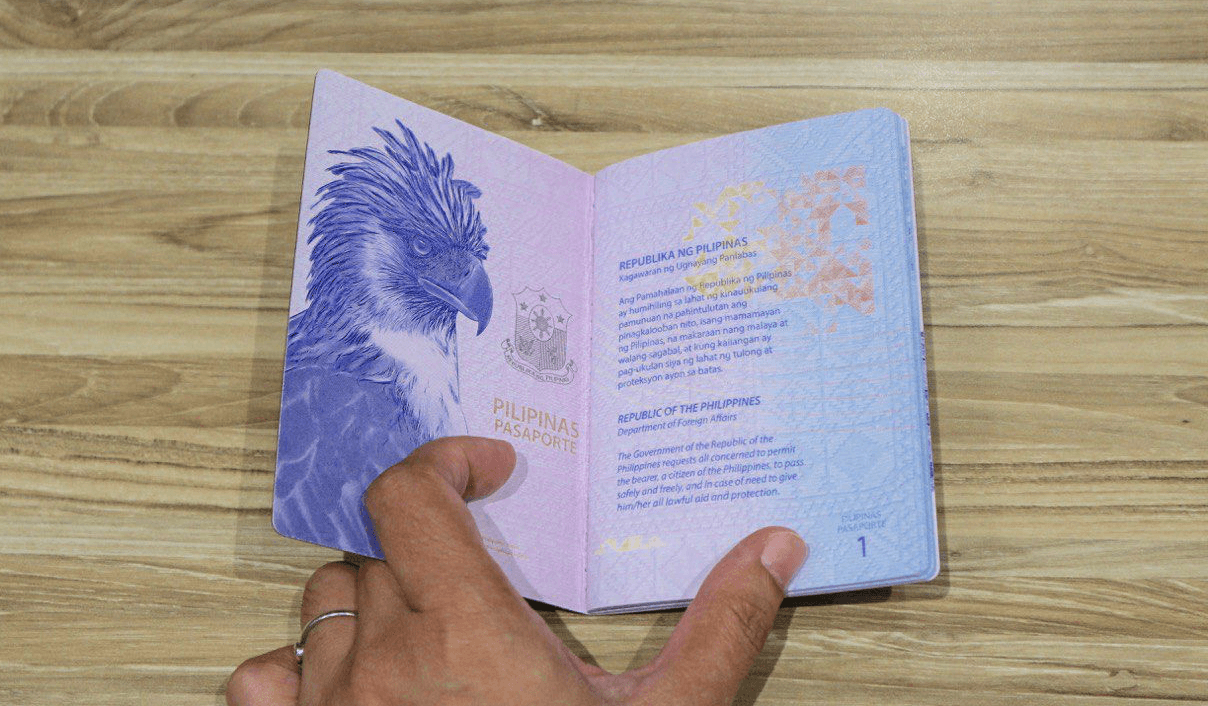 The processing time for Philippine passport application and renewal may vary. It could take up to 15 working days, depending on your location. Thankfully, I got my Philippine passport after 7 working days only.
The DFA passport application or renewal process is no longer as tedious as it was in the past. While it still took more than two hours for me to process at Ali Mall branch, the final waiting time was definitely faster compared to when I processed my first Philippine passport a few years back.
Already have your Philippine passport and ready to travel abroad? Visit these visa-free countries for Filipinos or apply for a Korean visa, Japan visa or Australia visa. So, where to next?
---
This article was originally published in Feb 2020, but updates were made to ensure accuracy and reliability of information. All DFA online appointment screenshots above were taken from DFA's official passport appointment system.