27 Best Korean Street Food in Seoul & Where to Buy Them
Whenever we visit Seoul, South Korea, we never fail to indulge in its wide array of mouthwatering Korean street food. In fact, with so many options, we're always torn on which ones to eat every time we start our food trip in Myeongdong, Insadong, and Hongdae, which are some of the most popular street food hubs in Seoul.
We'll save you the headache so we listed down our favorite Korean street food in Seoul — from the must-try main dishes to filling snacks and sweet treats. Meokja! 먹자! (Let's eat!)
Tip: Explore Seoul at night on this guided food tour where you'll join fellow foodies on a mission to immerse in Seoul's hipster hangouts. ARMYs will also love it since this food tour follows a trail where BTS had a photoshoot. Sounds like so much fun!
Must-try Korean street food in Seoul
1. Tteokbokki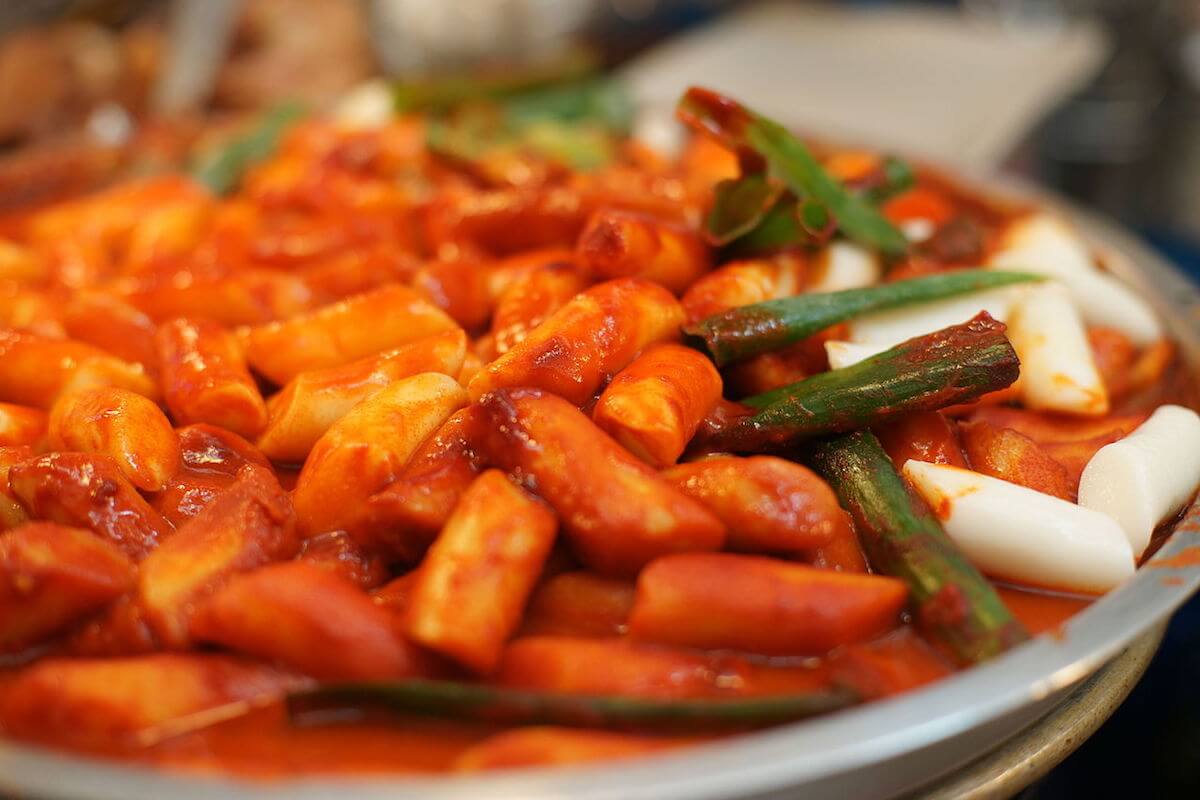 Tteokbokki (떡볶이) is one of the most popular Korean street food, if not the most popular. You've probably seen it featured in many K-dramas where the characters crave for it and buy it from street food stalls. This famous Korean dish is made of chewy cylinder-shaped rice cakes called garaetteok (가래떡) simmered in a slightly sweet yet spicy sauce.
If you're wondering whether tteokbokki is spicy, we'd say it is spicy to those who aren't into spicy food like us. Depending on where you buy it, the level of spiciness could range from mild to extra spicy.
Where to buy tteokbokki: Every Korean restaurant would most likely have tteokbokki in their menu, but you can easily find food carts in Myeongdong and Hongdae selling this ever-popular Korean street food.
2. So-tteok so-tteok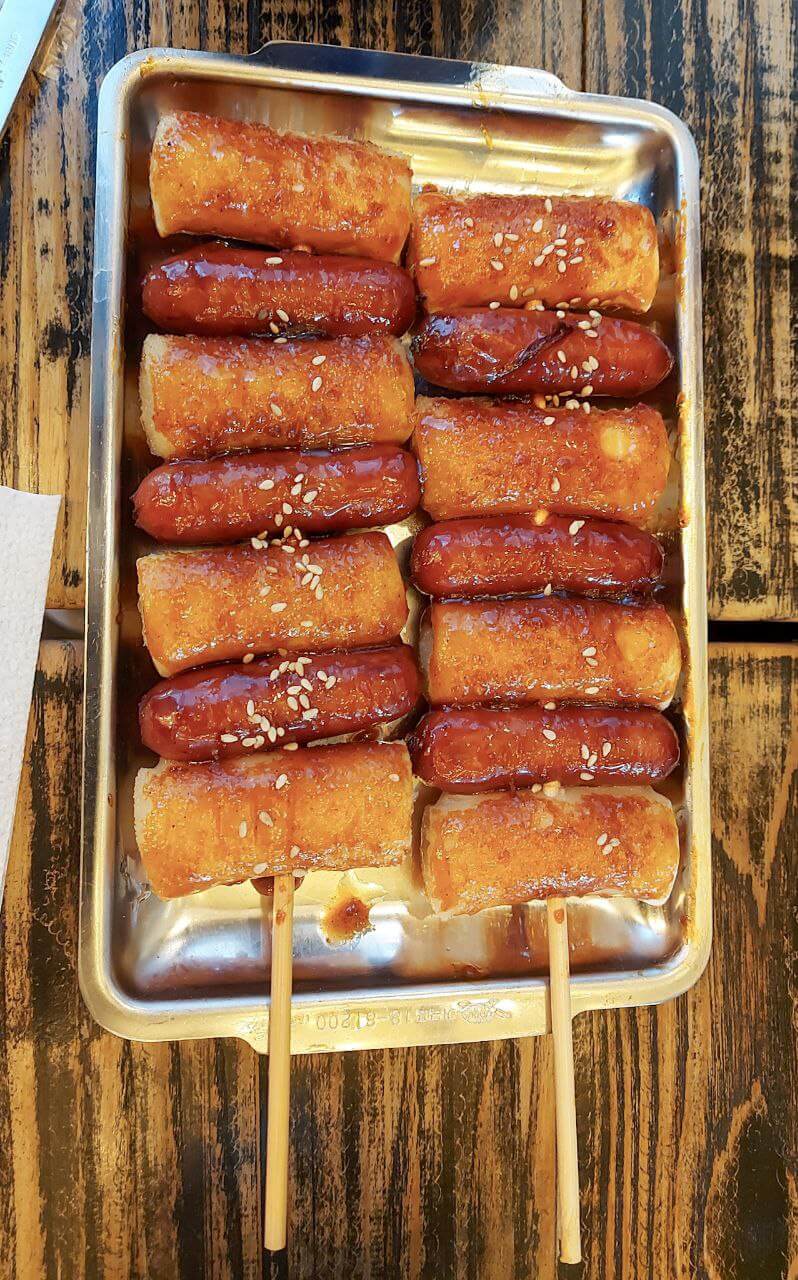 We initially thought this was tteokbokki but in sticks. Apparently, our friend who lives in Korea now told us that this one's a different kind called so-tteok so-tteok (소떡소떡). The name is a combination of "so" from sausage, and "tteok" from garaetteok (가래떡), which are the same rice cakes used in tteokbokki.
This popular Korean street food is just basically skewered rice cakes with sausages. Despite its seemingly spicy look because of its reddish color, it is not very spicy at all. It surely passed our low spicy tolerance!
Where to buy so-tteok so-tteok: Like tteokbokki, you can order it in most Korean restaurants but you should easily spot it in Myeongdong and Hongdae. We ordered ours from BBQ Chicken & Beer in Myeongdong.
3. Odeng or Eomuk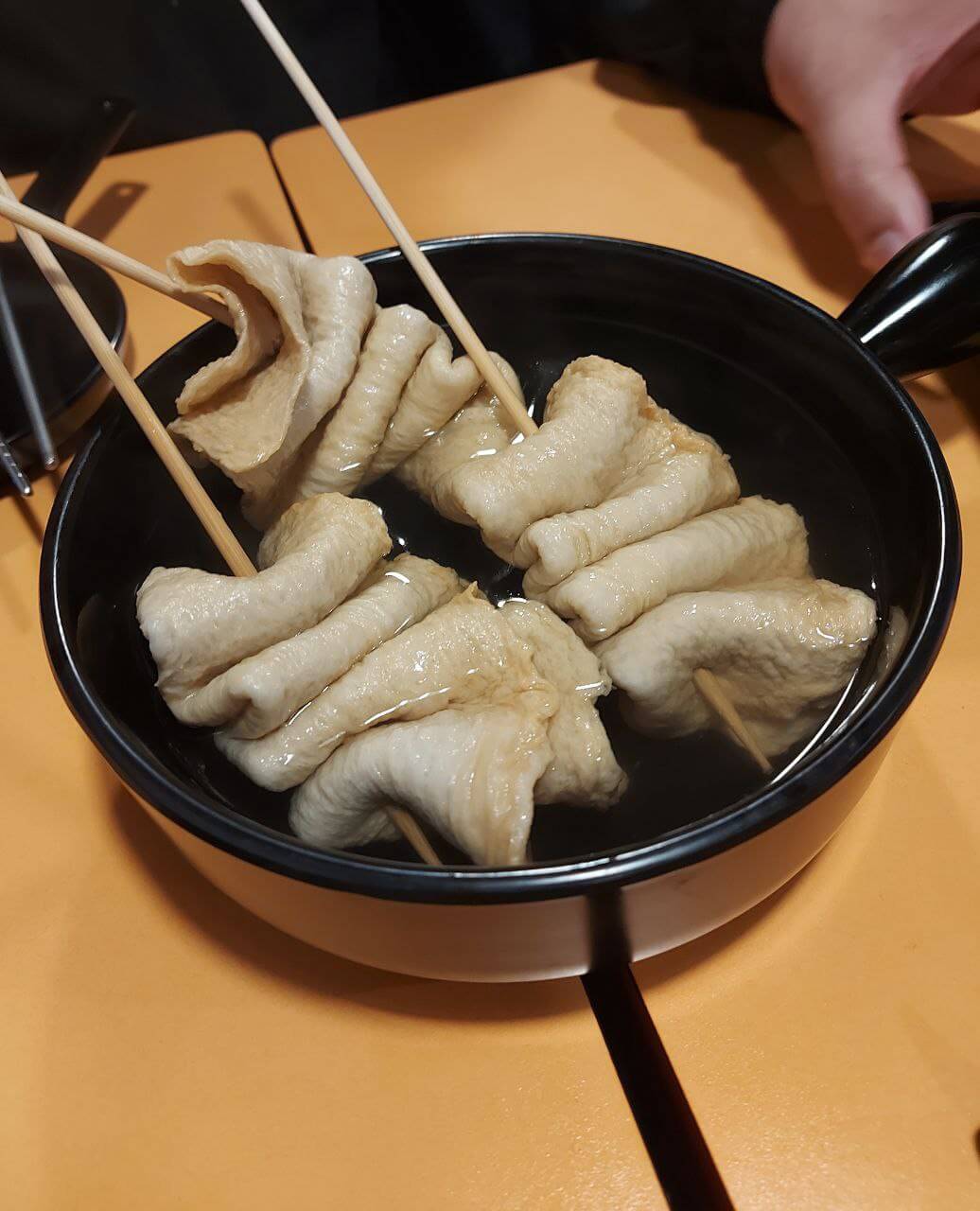 Odeng (오뎅), also called eomuk (어묵), is easily one of our top favorite Korean street food. In fact, we crave for it everytime we visit Korea during the cold seasons because the broth itself satisfyingly warms our bodies.
This Korean fish cake is made up of mashed fish and other ingredients that create the dough, which is then skewered and boiled in a broth. As fans of anything that has soup, we're giving it a thumbs up!
Where to buy odeng or eomuk: You'll be surprised to find it almost everywhere in Korea but you should easily buy one from the street food carts in Myeongdong or in any pojangmacha (tent bar) in Seoul.
4. Mandu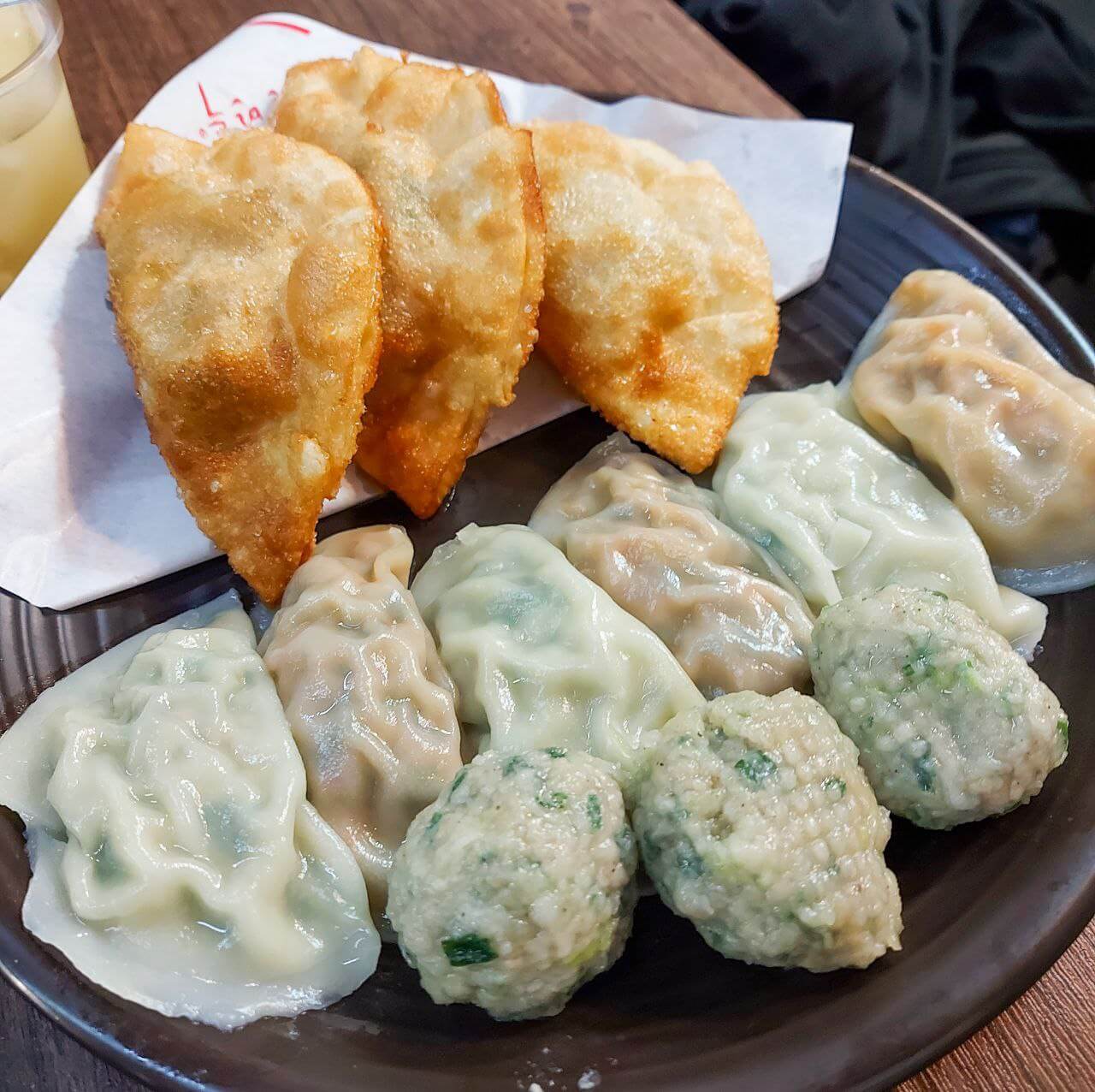 Mandu (만두) are the Korean version of dumplings like the gyoza of Japan. These Korean dumplings are stuffed with a savory filling called so (소), which is usually made of minced meat and vegetables like bean sprouts, carrots, and onions. Mandu are also usually dipped in soy sauce with vinegar for added flavor.
We love mandu so much that we tried the different kinds, from steamed to deep fried. Just thinking about our mandu feast makes us drool already.
Where to buy mandu: Like other Korean street food, you can order mandu in most Korean restaurants and food carts in Seoul, but we had ours at Bukchon Son Mandu Sinchon No. 2, which was highly recommended by our friend.
5. Kimbap or Gimbap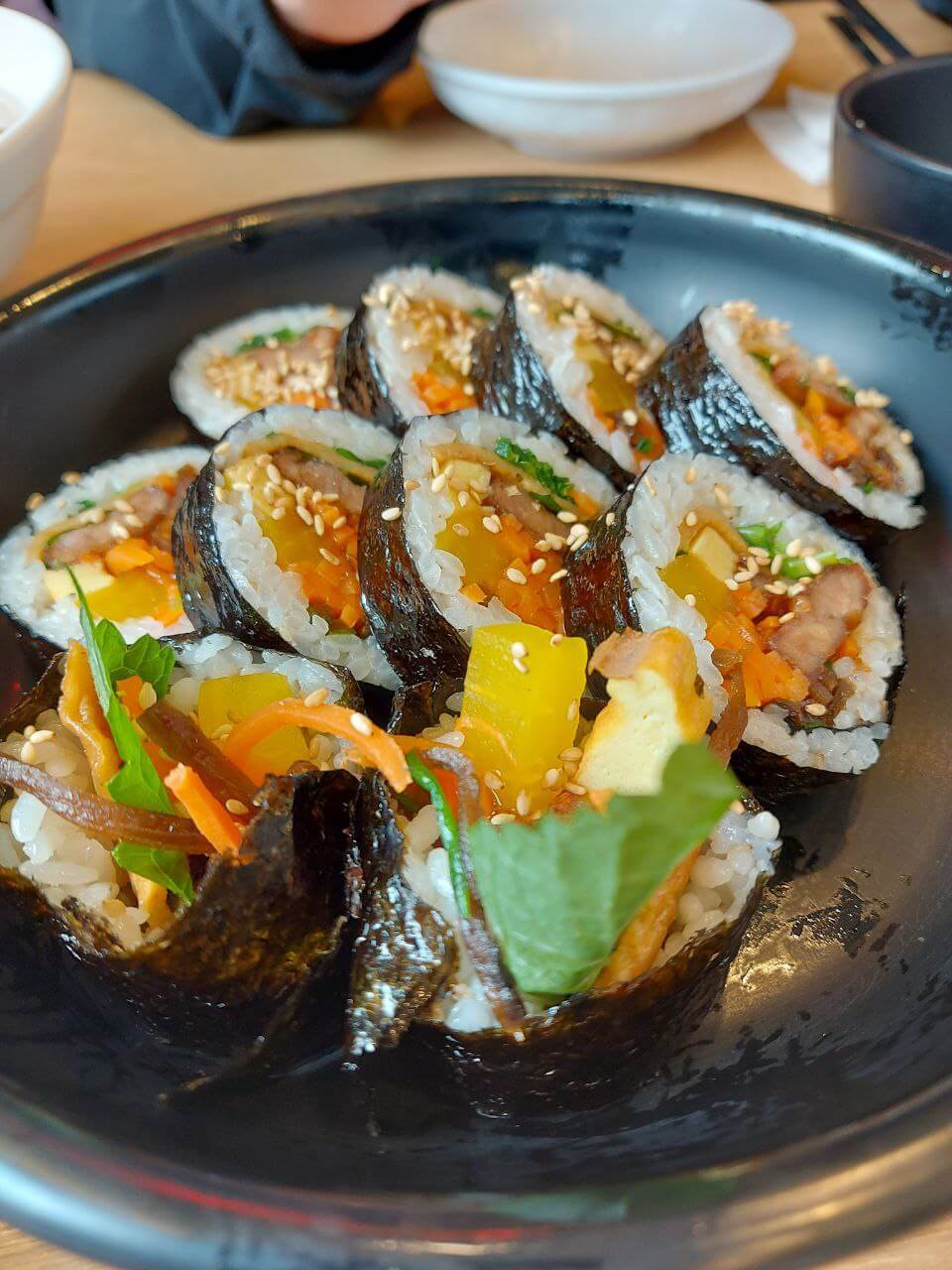 Kimbap or gimbap (김밥) is a Korean seaweed rice roll with different fillings including meat, eggs, carrots, and radish, and often sprinkled with sesame seeds. Kim or gim (김) means seaweeds while bap (밥) means rice. It's like the Korean version of sushi rolls or California maki.
We're not really fond of sushi or maki so we didn't have high expectations when we tried kimbap in Seoul. But we were pleasantly surprised at how filling and delicious they were, especially when our friend brought us to Ssada Gimbab in Hongdae, which specializes in this Korean dish.
Where to buy kimbap or gimbap: Kimbap is a popular to-go food you can easily buy at convenience stores. But if you want to try some best-tasting kimbap, you can go to Ssada Gimbab near Hongdae Station.
6. Samgak kimbap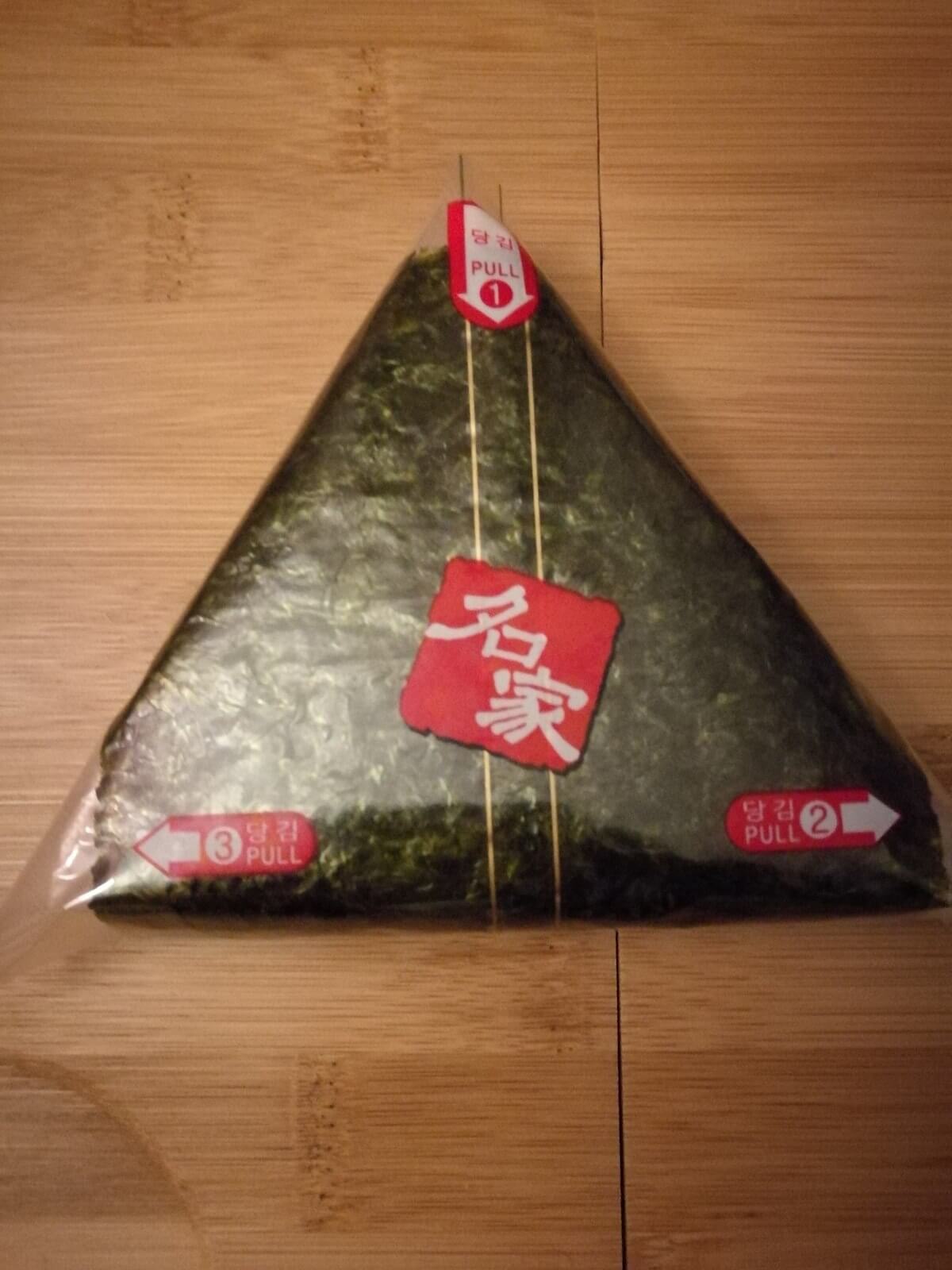 Samgak kimbap (삼각김밥) is basically called triangle kimbap because of its obvious triangle shape. It is usually filled with rice, meat, and various vegetables wrapped in a dried seaweed. It's a filling Korean food often featured in Kdramas where the characters just grab it while on the go.
We haven't personally tried it yet but we'll surely do when we get back to Korea.
Where to buy samgak kimbap: It is another popular to-go food you can buy at any convenience store in Korea.
7. Dakgangjeong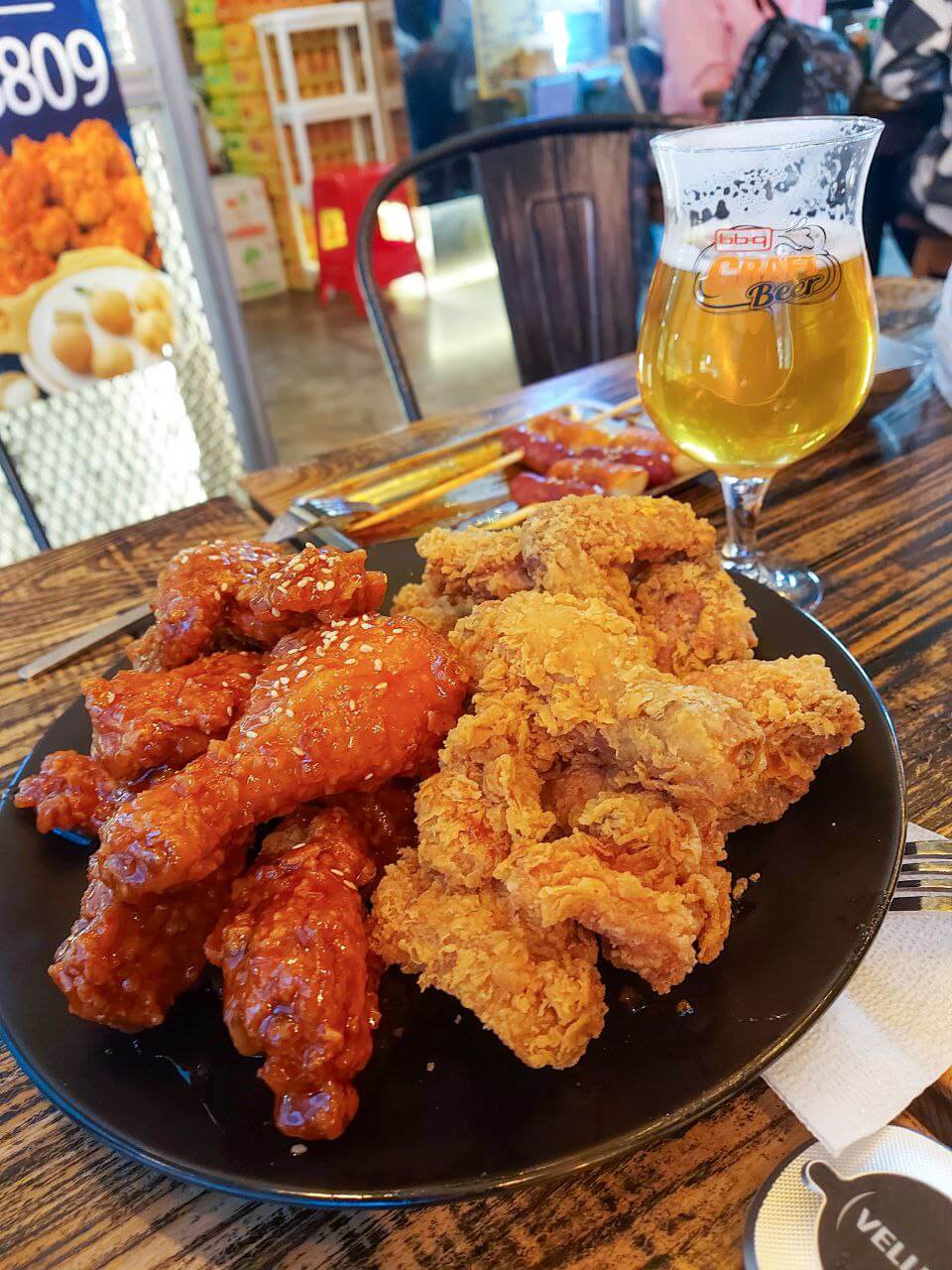 You don't have to go to Korea to taste KFC, and we mean Korean fried chicken. In fact, there are many Korean food chains and restaurants serving this popular Korean dish in many parts of the world. Even in our home country, there's tons of Korean chicken stores springing up, but we made sure to try the best-selling authentic Korean fried chicken on our trip to Korea.
It's really different — the Korean fried chicken's freshness, crispiness, and burst of flavor are on a different level here. So, we highly recommend that you try for yourself!
Where to buy Korean fried chicken (KFC): One of the popular Korean food chains selling Korean fried chicken is BBQ Chicken & Beer. It has several branches in Korea but we tried the one in Myeongdong. Tip: Go a little earlier than the usual eating period as the store gets really packed with local and foreign customers alike.
8. Japchae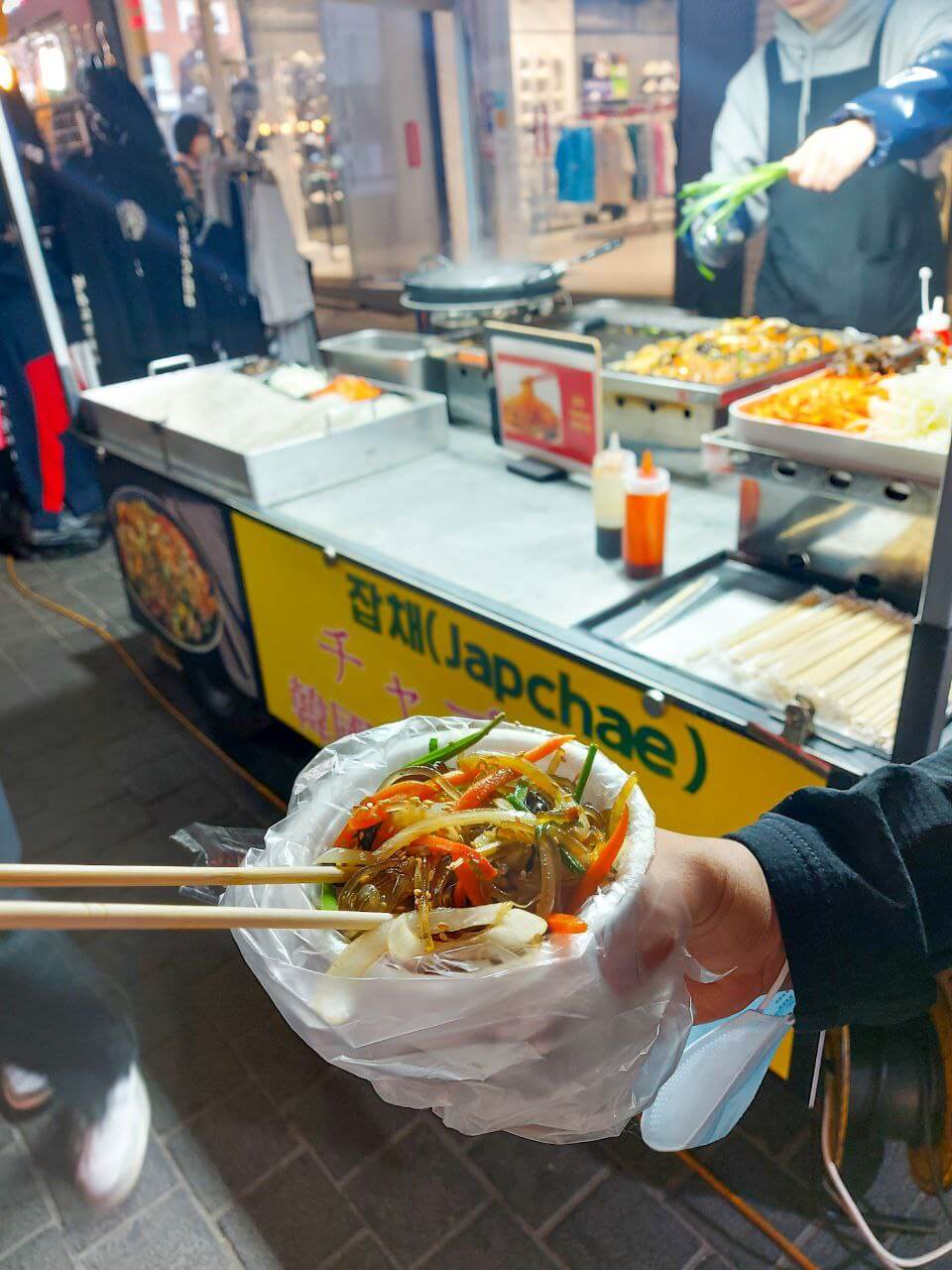 Japchae (잡채) exactly means mixed vegetables, which are the ingredients of this popular Korean street food with glass noodles as the main component. The glass noodles are mixed with several vegetables including sliced carrots, onions, spinach, and mushrooms.
We'd say japchae is more or less similar to bee hoon or bihun in other Asian countries, but it's a little sweeter in taste.
Where to buy japchae: We bought a bowl of japchae in Myeongdong.
9. Twigim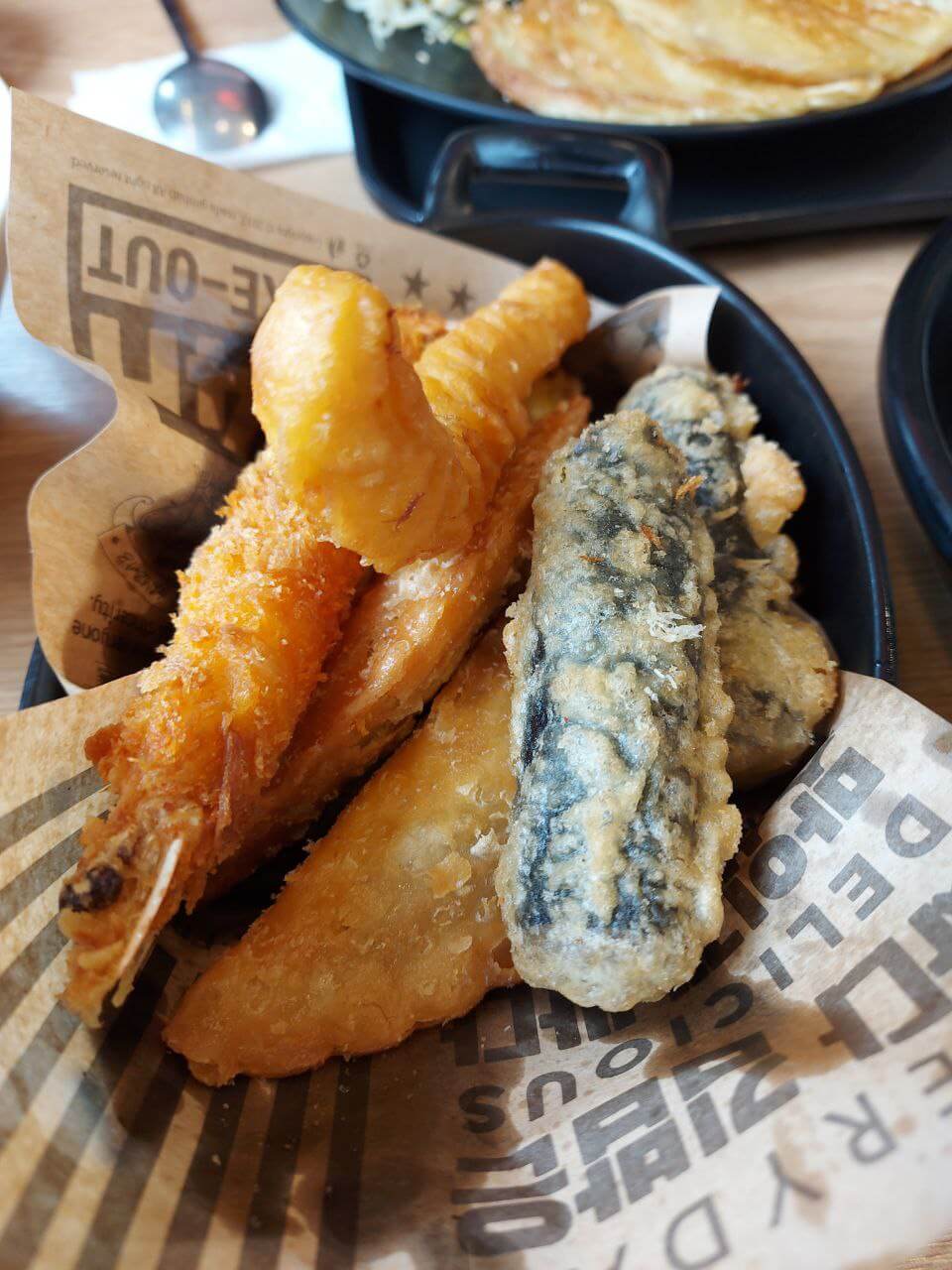 Twigim (튀김) is the Korean term for fried food or snack. It is more like the Korean version of the tempura, in which shrimp and various vegetables like potatoes, onions, and carrots are deep-fried in a light batter.
You may eat twigim right away or dip it in a sauce to complement its flavor and texture. We really like fried food so this one made it to our list of the must-try Korean street food in Seoul.
Where to buy twigim: There are many food carts around Seoul selling a variety of twigim, but we had it together with kimbap at Ssada Gimbab near Hongdae Station.
10. Sundae or soondae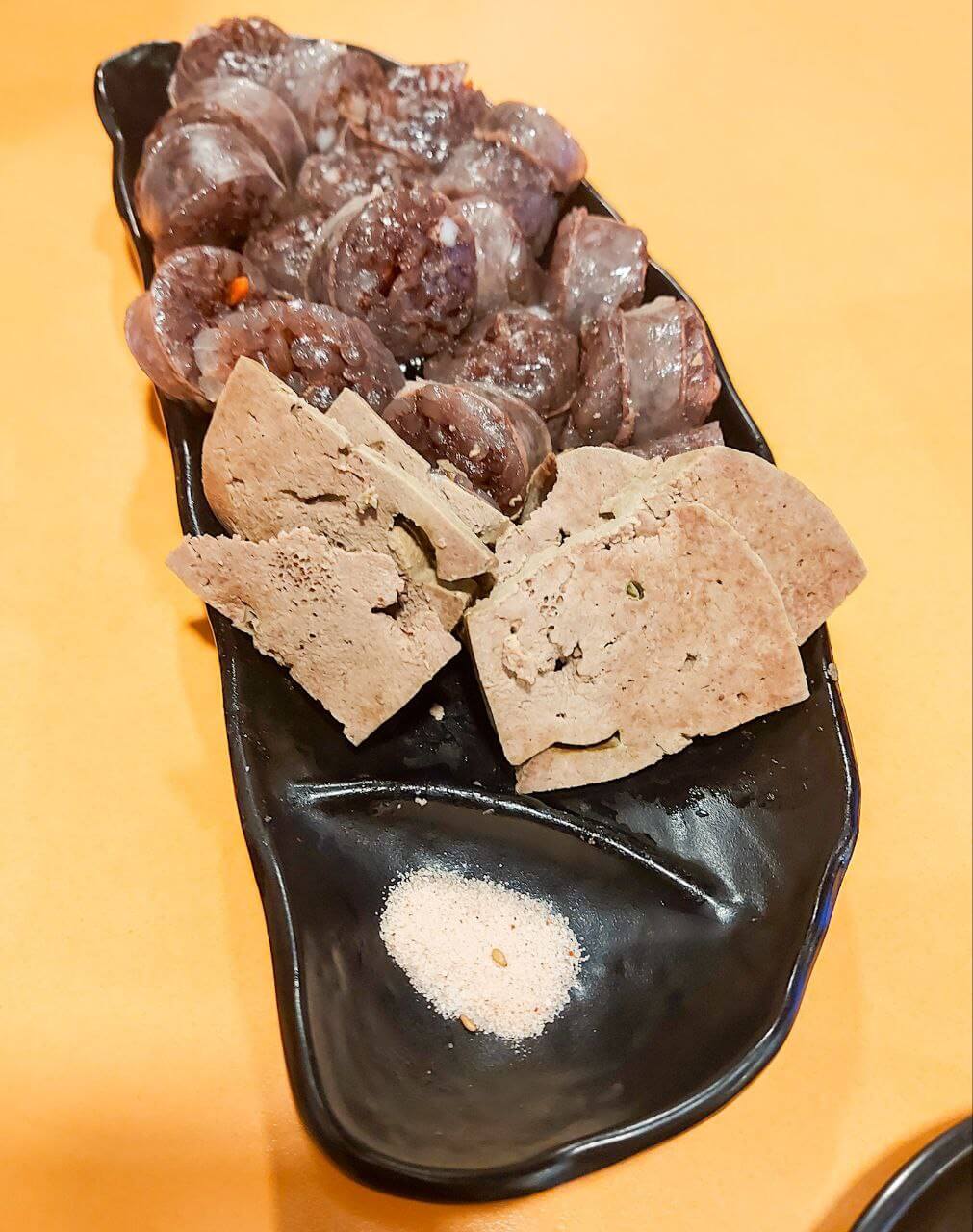 Sundae or soondae (순대) is a Korean blood sausage in which pig or cow's intestines are stuffed with dangmyeon (당면) or glass noodles, rice, and pig's blood.
We can compare it to the Filipino dinuguan (pork's blood stew) but in sausage form. We personally found it a bit odd since we're used to this taste in soup form. But it's definitely worth a try for a taste of the local street food in Korea.
Where to buy sundae: Unlike the other popular Korean street food in Seoul, sundae is a bit more specific to find. We tried it in 홍대삭 연희동점 (Hongdaesag Yeonhuidongjeom), a pojangmacha (tent bar) in Seodaemun-gu in Seoul. You can also go to Sillim-dong Sundae Town, an entire area specializing in this Korean dish.
11. Dakkochi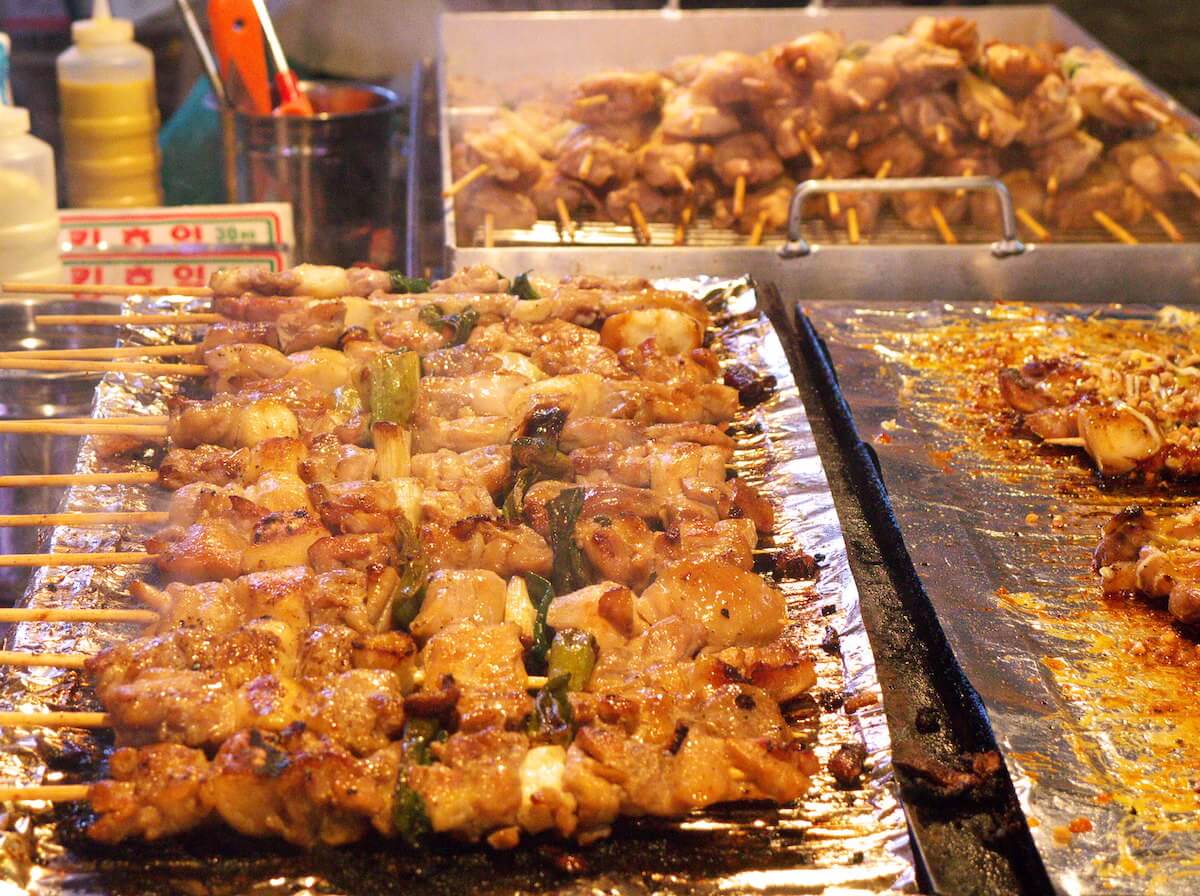 Dakkochi (닭꼬치) is basically Korean chicken barbecue where the chopped pieces of chicken on a skewer are grilled or cooked with a flame torch.
To be honest, we didn't find it very special since we can always eat barbecue anywhere anyway. However, this one's really filling, and we couldn't resist it after getting famished while exploring Myeongdong.
Where to buy dakkochi: We easily spotted a food cart selling dakkochi in Myeongdong.
12. Pajeon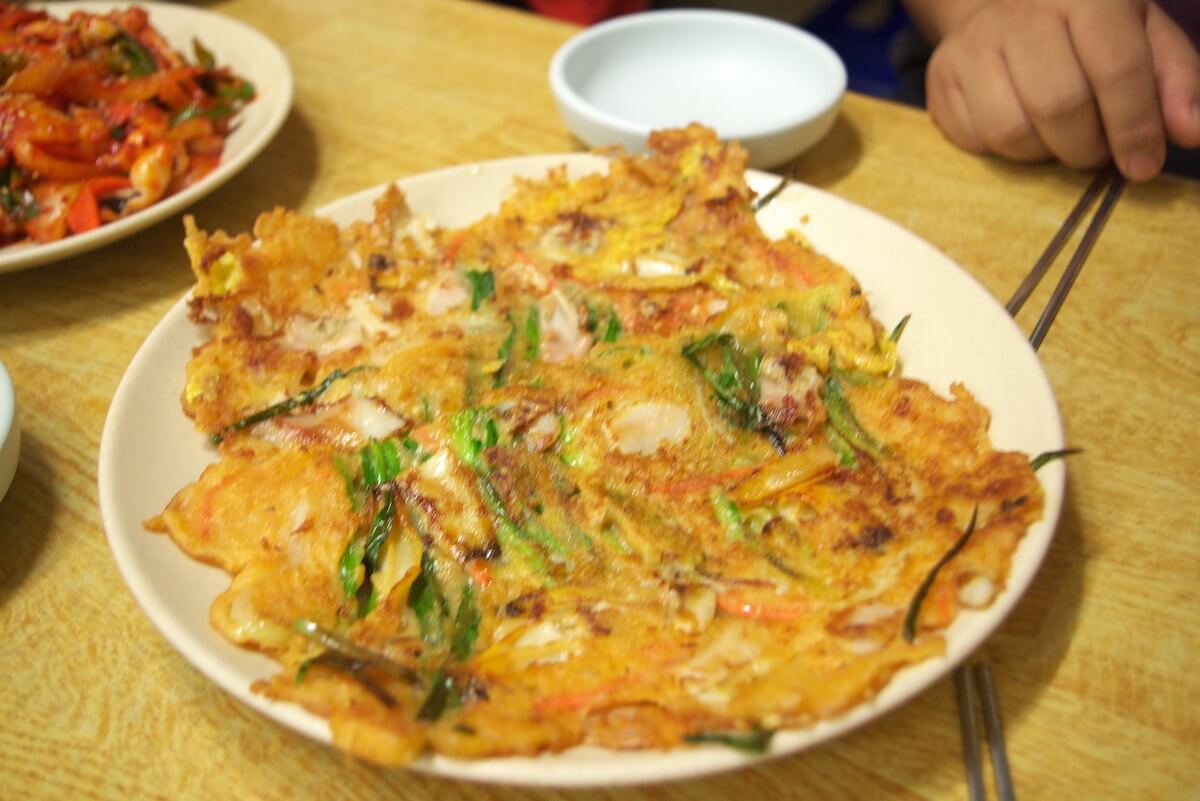 Pajeon (파전) is a Korean dish with scallions or green onions called pa (파) as it's main ingredient. It is commonly known as the green onion pancake made from a batter of egg and flour mixed with scallions and other ingredients such as pork, beef, kimchi, or seafood.
We couldn't remember where we specifically ate pajeon in Korea but it sure is appetizing like our favorite Filipino egg torta (omelet).
Where to buy pajeon: Go to Pajeon Alley near Hoegi Station, it is a small street where you can buy some of the best pajeon in Seoul.
Korean street food as filling snacks
13. Hotteok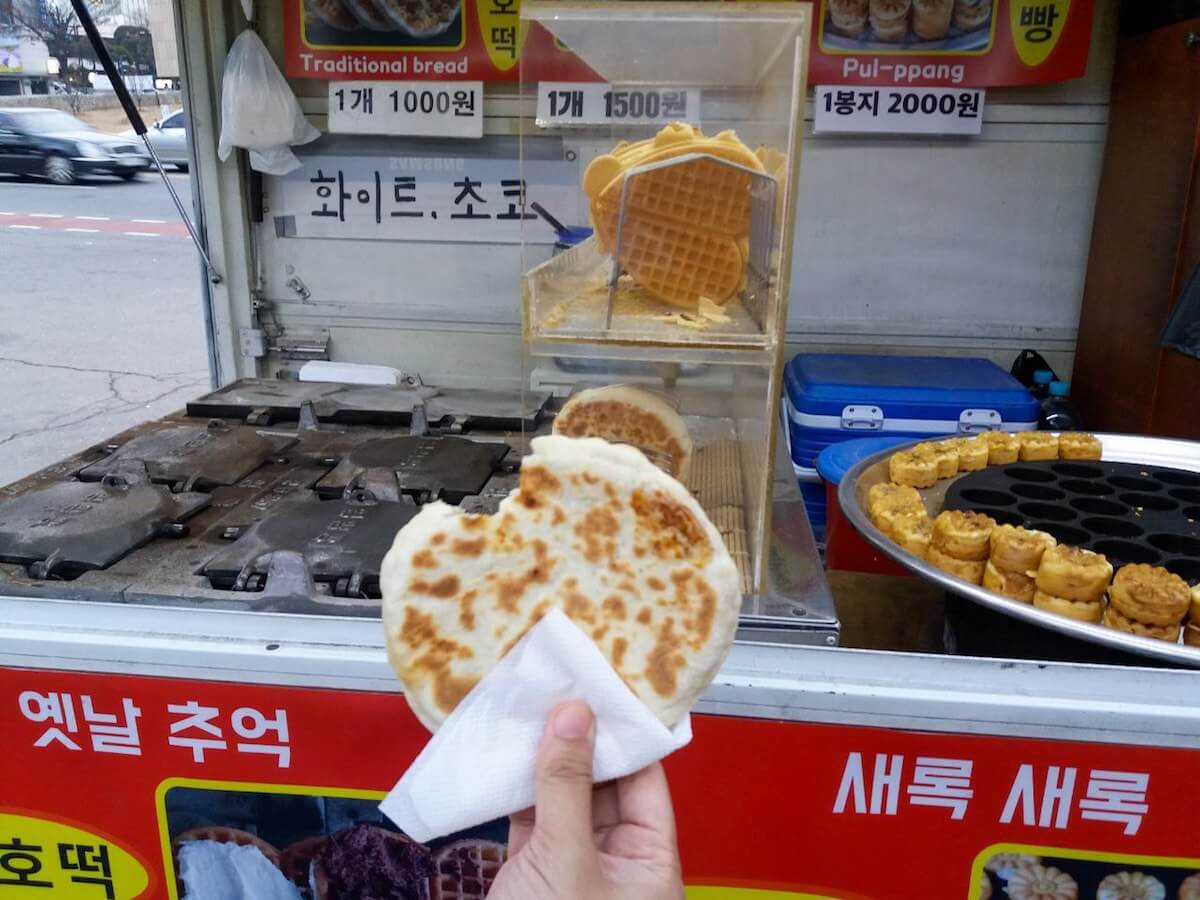 If you love sweet pastries, you should try hotteok (호떡), a traditional Korean pancake filled with sugary syrup. The yeasted dough makes the bread soft but its way of cooking gives it the crispy texture on the outside.
When we tried it, it made us think like we're eating piyaya (muscovado-filled flatbread) in the Philippines but with distinct differences.
Where to buy hotteok: We randomly saw this hotteok food cart outside Gyeongbokgung Palace, but we're pretty sure you can easily find it sold in food alleys or streets across Seoul.
14. Bindaetteok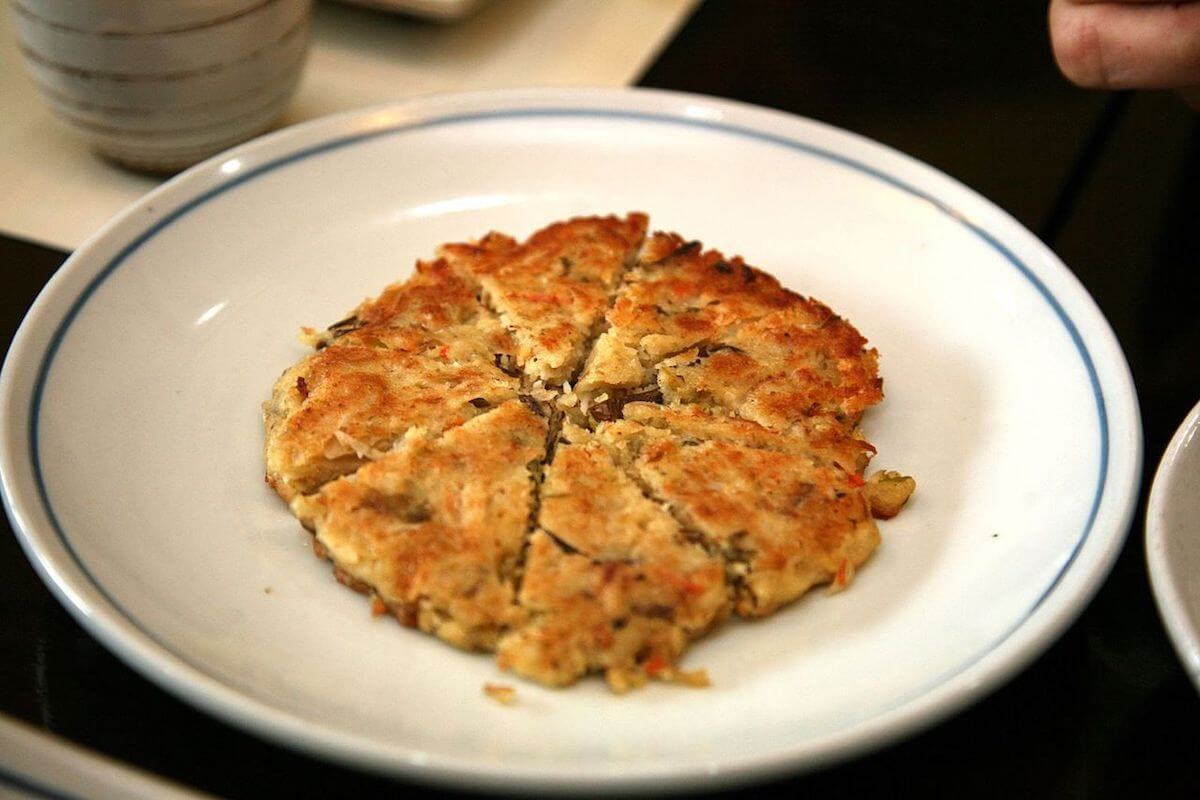 Another popular Korean street food in Seoul is bindaetteok (빈대떡), a type of Korean pancake made of ground mung beans mixed with meat and vegetables. It is then pan-fried, forming a crispy round shape.
We haven't had the chance to try this famous street food in Korea but we'll definitely come back for it.
Where to buy bindaetteok: The best place to buy bindaetteok is Gwangjang Market, but you can easily find it being sold in streets and markets around Seoul.
Tip: Sign up for this Gwangjang Market food tour and immerse yourself in Korea's local food scene. It's a fun and unique way to sample authentic Korean street food including bindaetteok, tteokbokki, sundae, gimbap, and so much more!
15. Gamja hot dog or tokkebi hot dog
Another popular Korean street food that's been featured in K-dramas is the gamja hot dog or tokkebi hotdog, also known as the Korean corn dog. In its classic form, this satisfying Korean snack is basically just a hot dog wrapped in a thick rice flour batter. There are other versions with fries and ramen noodles as toppings.
We couldn't resist buying this Korean snack, especially when we're already feeling a bit peckish.
Where to buy Korean corn dogs: As they're largely popular, you can find corn dogs in streets and markets around Seoul. We got ours in Myeongdong.
16. Gyeran-ppang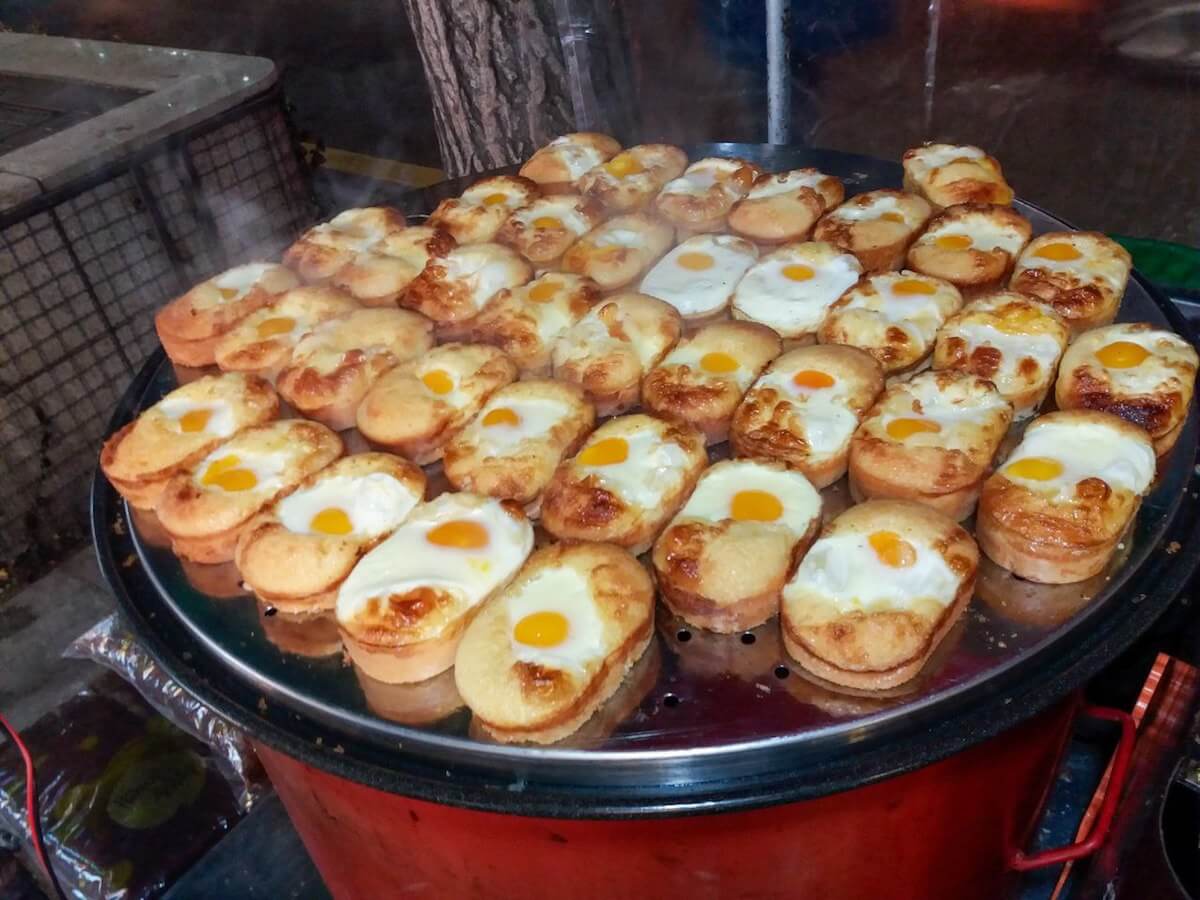 When we were strolling the streets of Seoul, we noticed this appetizing Korean street food. We didn't know what it was at the time but we bought it anyway because it sure looks delicious. We later found out that it was gyeran-ppang (계란빵), which was exactly what we thought it was basing on its appearance – an egg bread.
Gyeran (계란) means "egg" while ppang (빵) means "bread", so yes it's a small fluffy loaf of bread with a whole egg. It's truly one of our favorites, and we recommend that you try it when in Korea.
Where to buy gyeran-ppang: We found a food cart selling this near Seoul City Hall, but there's also plenty in Insadong and other streets in Seoul.
17. Gukhwa-ppang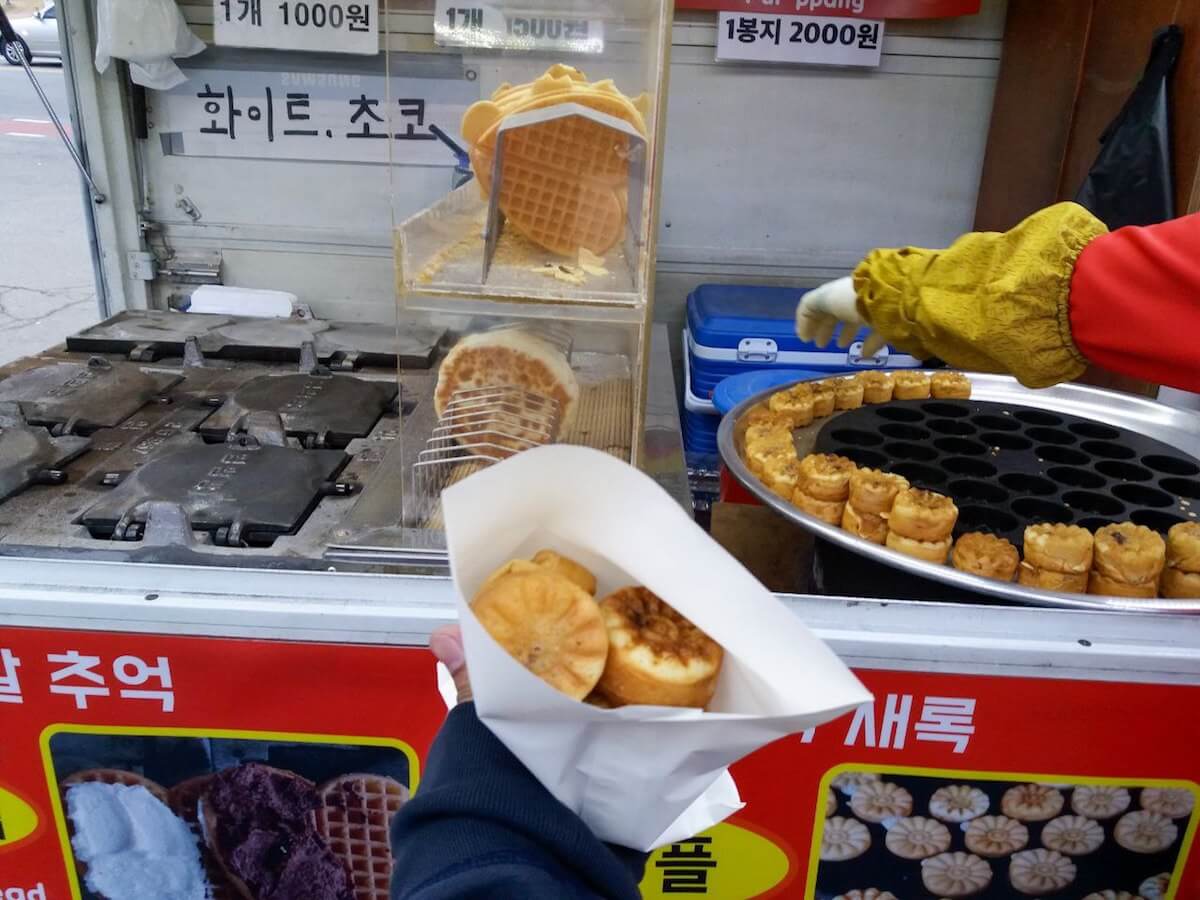 Just like gyeran-ppang, gukhwa-ppang (국화빵) is another type of ppang (bread) that is named after its chrysanthemum flower shape. It is filled with a sweet red bean paste, which complements the puffy bread.
We can't get enough of these yummy treats. And yes, we recommend you try them when exploring Seoul.
Where to buy gukhwa-ppang: It's the same food cart where we bought hotteok, which we found outside Gyeongbokgung Palace. You can also easily find this anywhere since it's a famous Korean snack.
18. Bungeo-ppang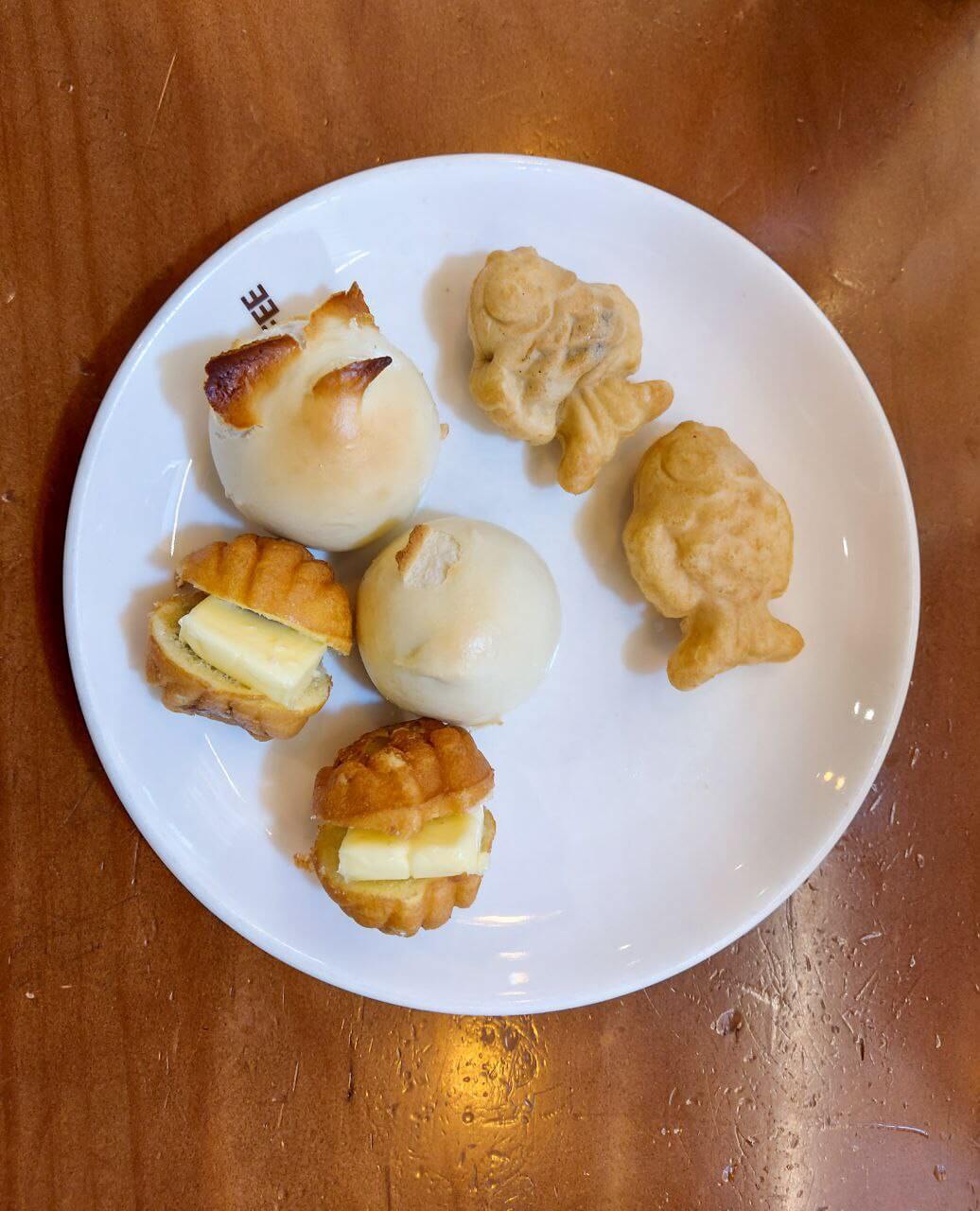 Bungeo-ppang (붕어빵) is another type of bread or pastry named after its shape, which is obviously a fish. Same with gukhwa-ppang, it has some sweet fillings usually made of red bean paste.
We bought this set of Korean pastries including bungeo-ppang at MEGA Coffee in Hongdae. We paired them with iced Americano. Yum!
Where to buy bungeo-ppang: It's fairly easy to find this Korean sweet snack from food carts around Seoul, but as mentioned, we got this set from MEGA Coffee in Hongdae.
19. Kkwabaegi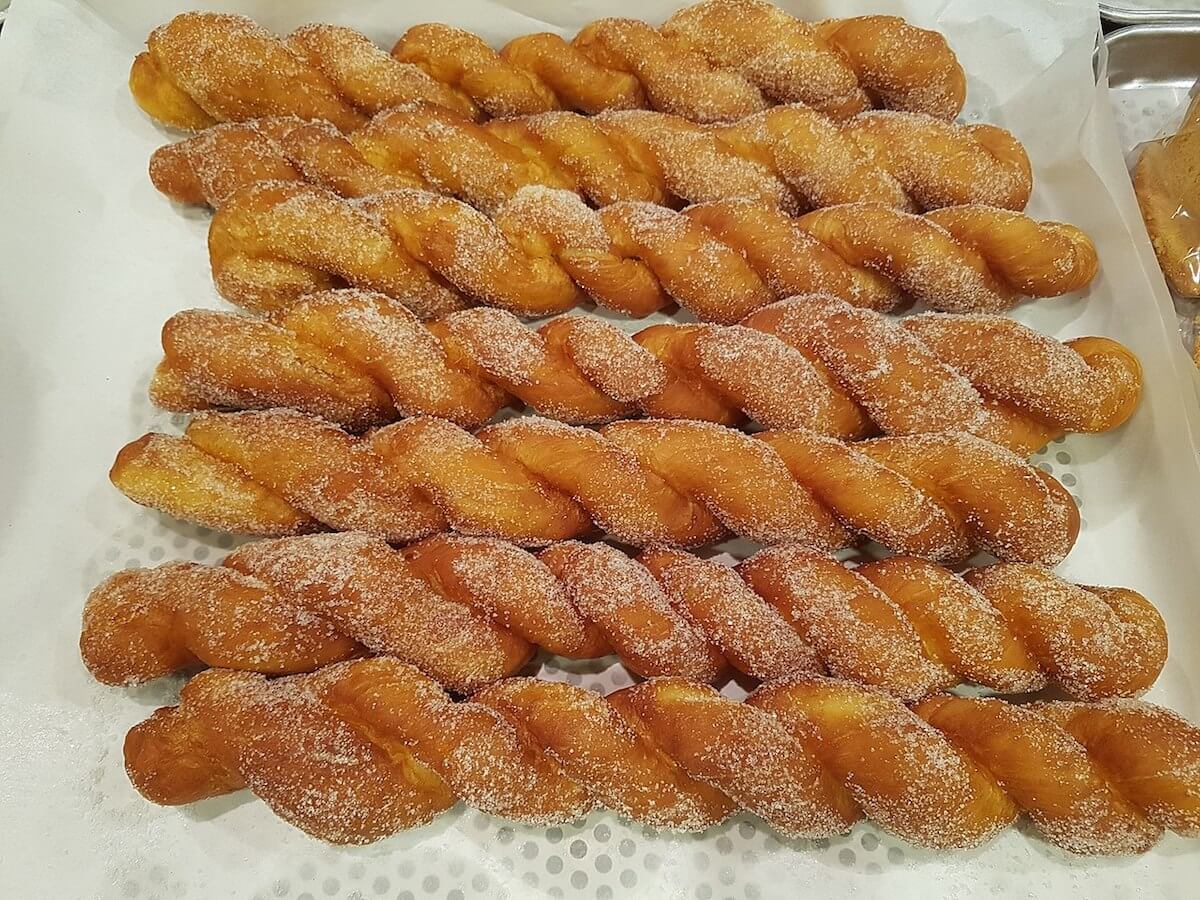 Kkwabaegi (꽈배기) looks very familiar to us since we have a similar pastry in the Philippines called "siakoy". The appearance looks exactly the same so we're curious if the taste is the same as well.
We didn't chance upon this popular Korean twisted doughnut so we're going to hunt this down on our next visit. We'll update this, of course!
Where to buy kkwabaegi: The best place to sample kkwabaegi is Gwangjang Market, but we reckon you can find this in other food alleys in Seoul just like the other popular Korean street food.
20. Gun-goguma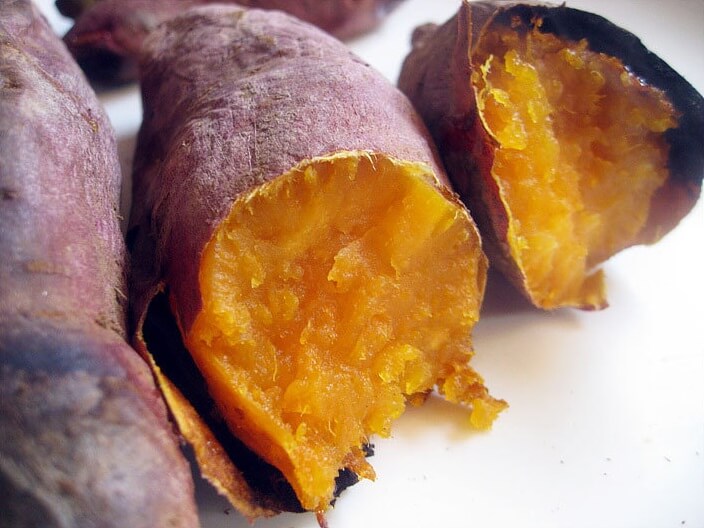 We're no stranger to gun-goguma (군고구마) or roasted sweet potato since sweet potatoes are also quite popular in our home country. However, the one in Korea is cooked differently as it's roasted in a type of drum can. In the Philippines, it's usually boiled or deep fried with brown sugar.
We also didn't find gun-goguma while in Korea but we'll surely try it when we're back.
Where to buy gun-goguma: As this Korean street food is popular, especially during winter, you can find them in various streets in Seoul.
21. Gunbam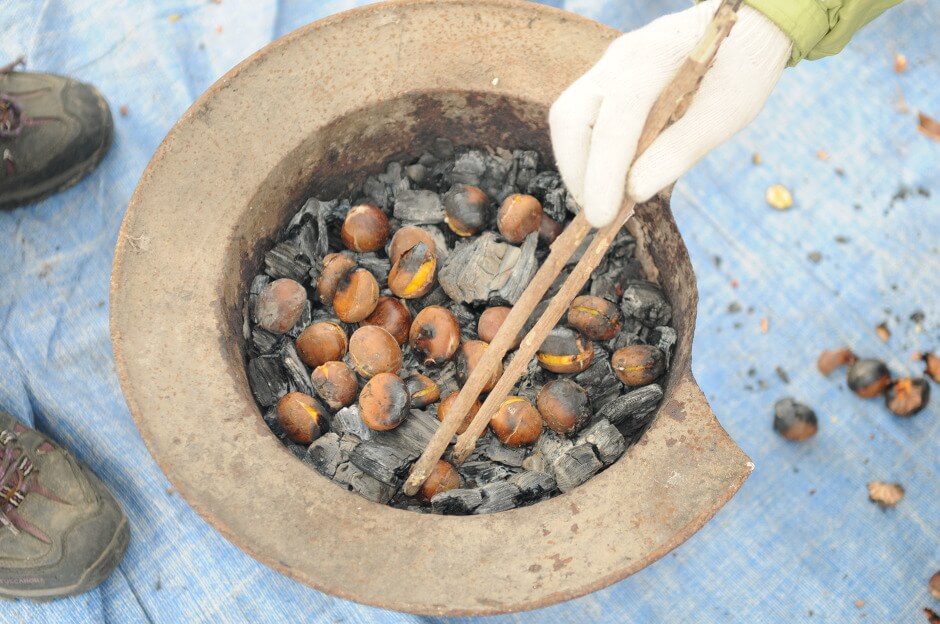 Gunbam (군밤) or roasted chestnut is another well-loved street food in Korea, especially during the cold season, from late autumn to winter. We're sure you've also seen these Korean snacks in K-dramas.
Unfortunately, we cannot describe its taste because we haven't tried it yet, but we'll do next time, we promise!
Where to buy gunbam: When you stroll the streets of Seoul during the cold season, you'll randomly chance upon vendors selling these popular winter treats. They're most likely sold in markets, too.
22. Tornado potatoes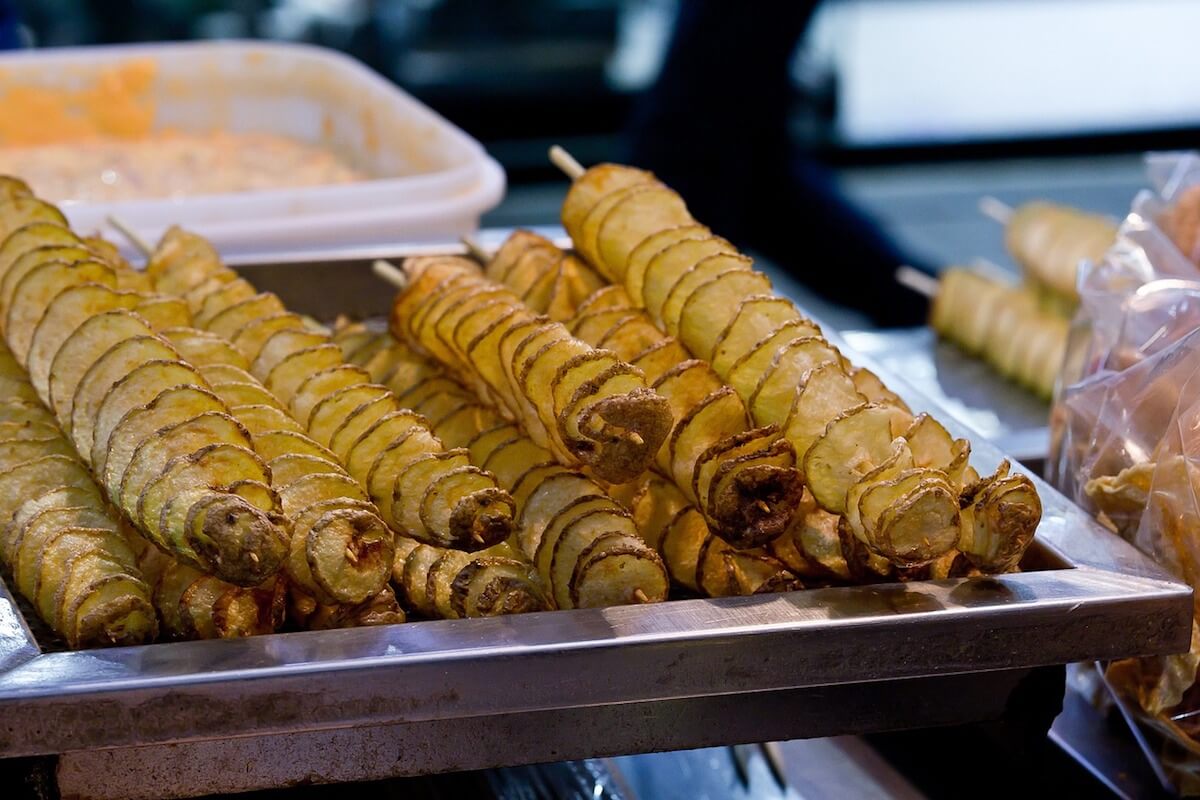 Tornado potatoes are not really unique for us since we also saw these in the night markets of Taiwan. However, this Korean snack still deserves a spot on this list simply because it's really tempting to buy one once you lay your eyes on it. Who can resist fried potatoes with a twist? We sure can't!
Where to buy tornado potatoes: There's plenty of food carts in Myeongdong selling these flavorful spiral cut potatoes.
Korean street food as sweet desserts
23. Yakgwa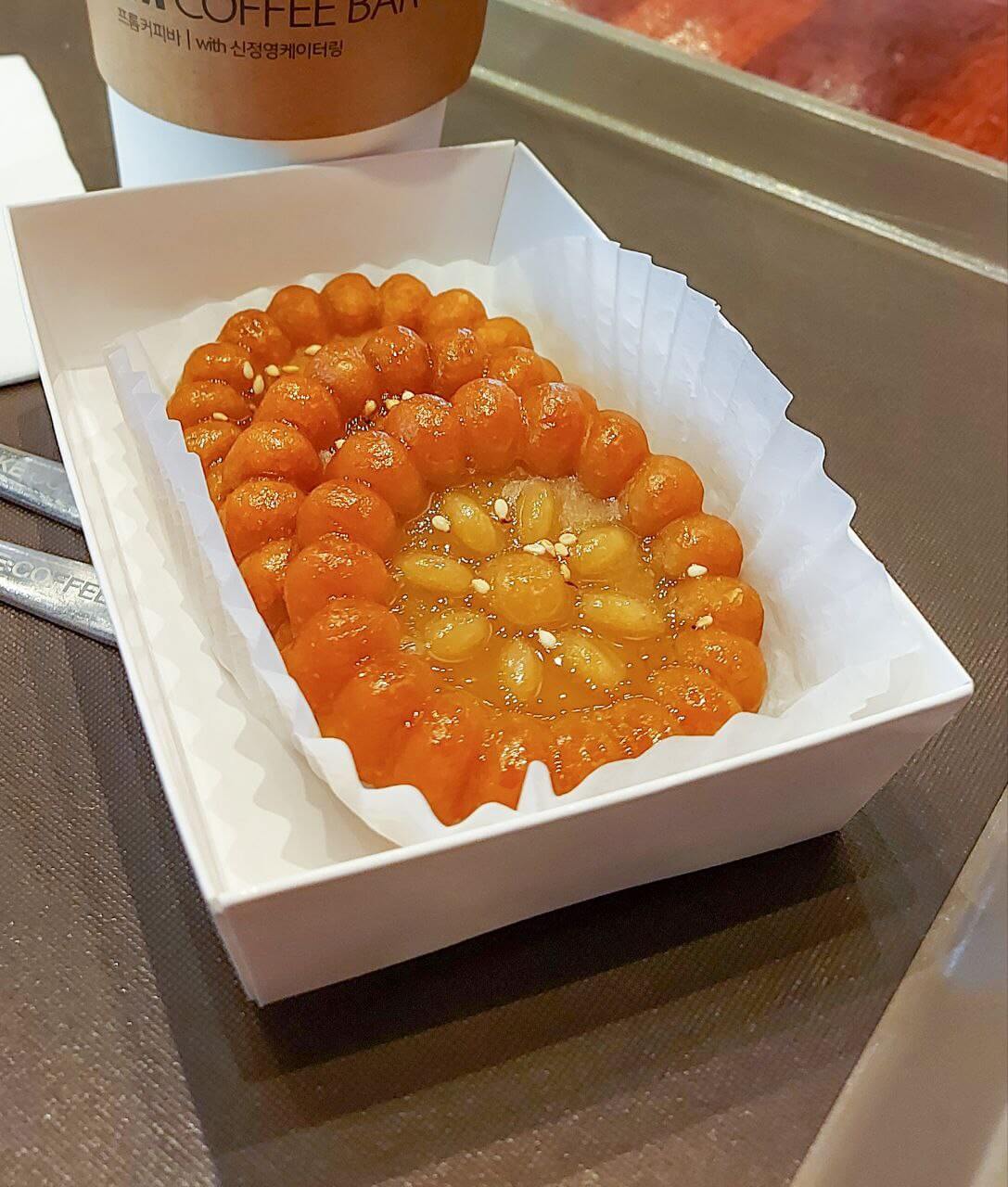 Yakgwa (약과) is a Korean honey biscuit made even more popular by the K-drama Alchemy of Souls (2022). The main character Jang-Uk loves this traditional Korean snack, which is a wheat-based confection coated with honey-ginger syrup.
Initially, we thought the taste was a little peculiar, but the more we bit into it, the taste got better, especially when paired with hot coffee.
Where to buy yakgwa: It can be bought anywhere, especially from convenience stores. We got ours from a random cafe named From Coffee Bar just across the old KBS building in Seoul's Digital Media City.
24. Kkul-tarae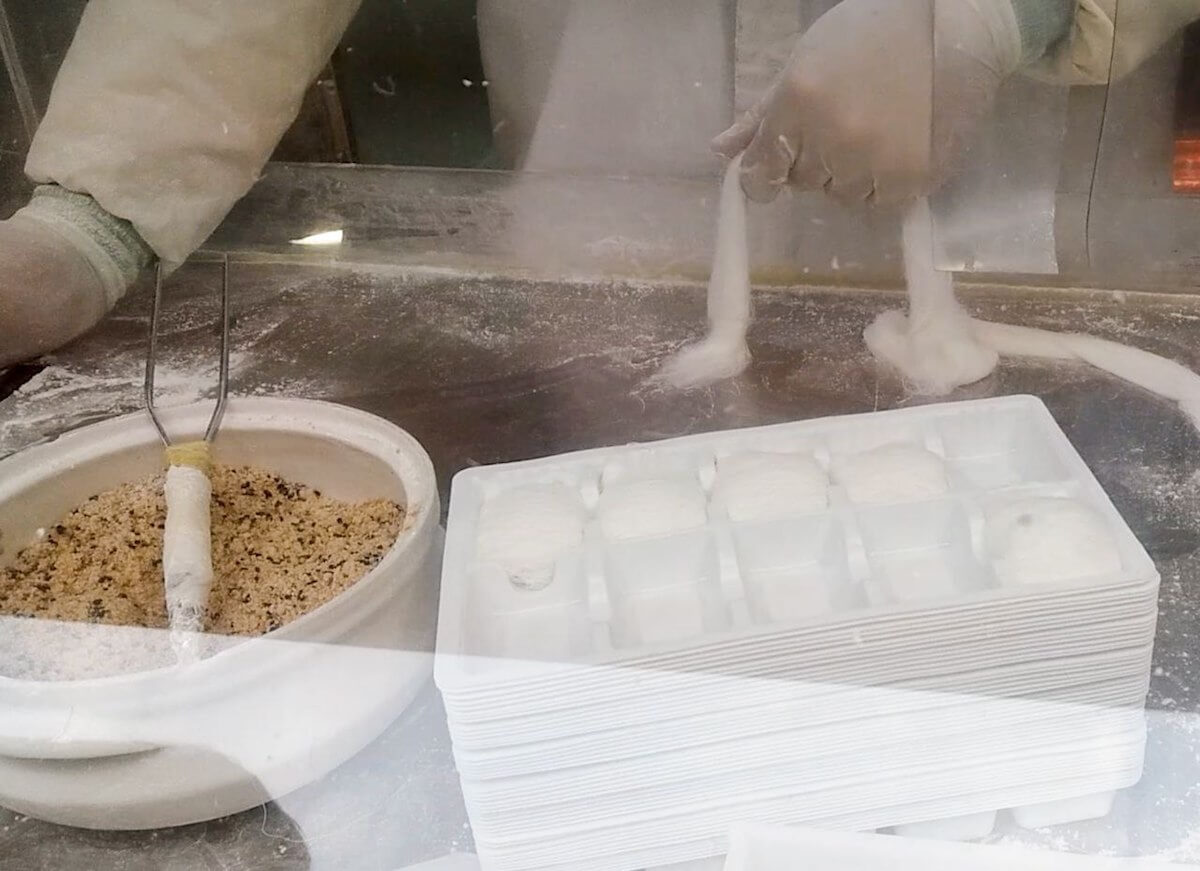 Kkul-tarae (꿀타래), also known as dragon's beard candy, is a popular Korean traditional dessert made with honey, which is repeatedly stretched and pulled into thin strands while being mixed with glutinous flour. After which, the strands are rolled and filled with ground peanuts.
Our Airbnb host took us to Insadong so we can witness the unique process of creating this Korean candy. The peanut filling complemented well with the candy's sweetness.
Where to buy kkul-tarae: We bought ours from Insadong but we also saw food carts selling these sweet treats in Myeongdong.
Tip: Taste traditional Korean food and desserts on this Insadong art and food tour. With a professional guide, you'll learn more about the food and culture of Insadong in a fun, interactive way.
25. Tanghulu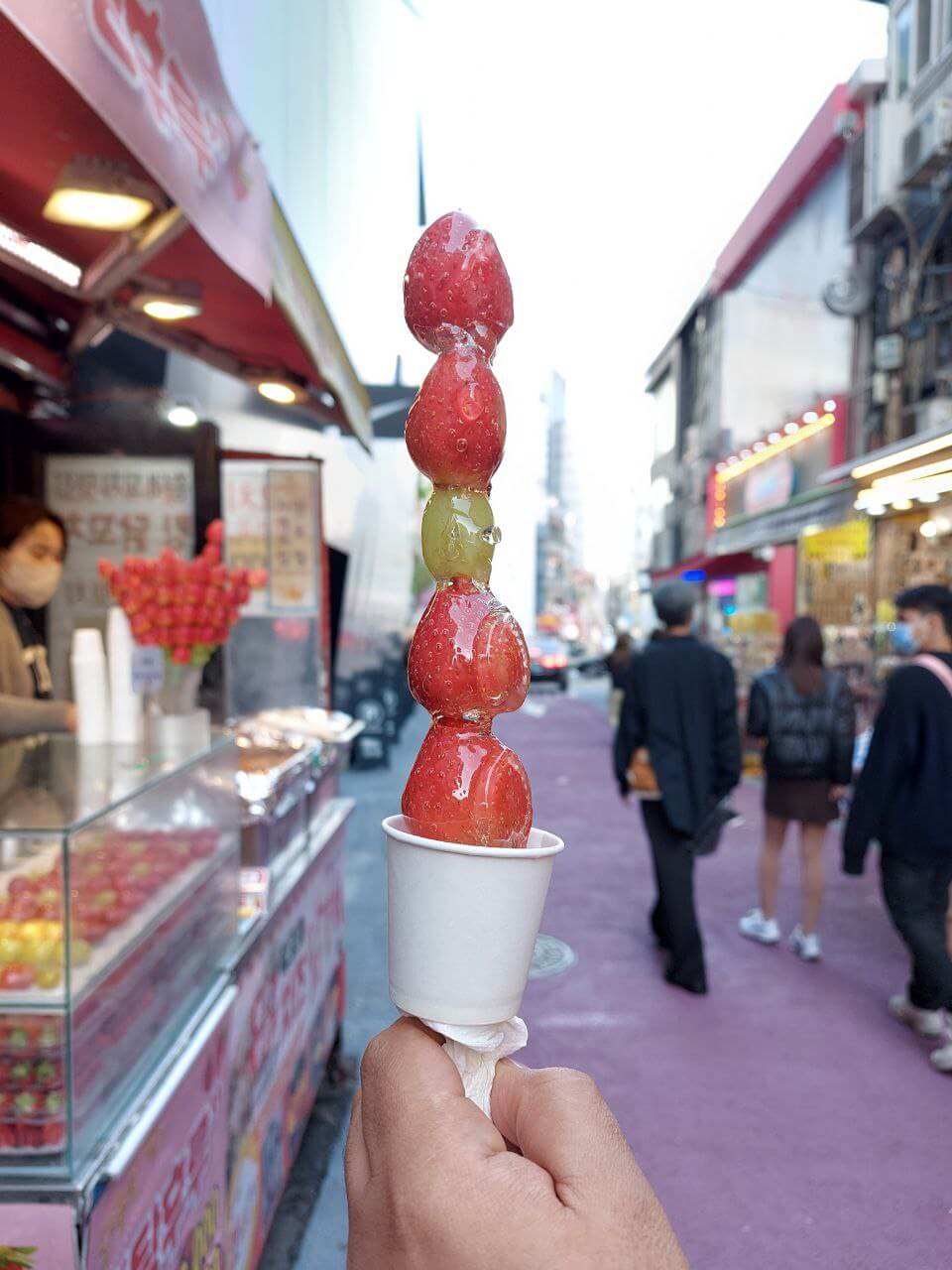 Tanghulu (탕후루) or candied fruit skewer is quite popular in Seoul. In fact, it has become a craze and a lot of young adults line up to buy this sweet treat. The candy coating, which is made of hardened sugar syrup, is sweet, but the fruits inside, usually strawberries, are a bit sour, balancing out the overall sweetness.
For us, it was just okay, but it is something that you should try at least once to satisfy your curiosity.
Where to buy tanghulu: As it is quite popular, you can easily spot food carts selling it anywhere in Seoul, but we tried it in Hongdae.
26. Soft-serve ice cream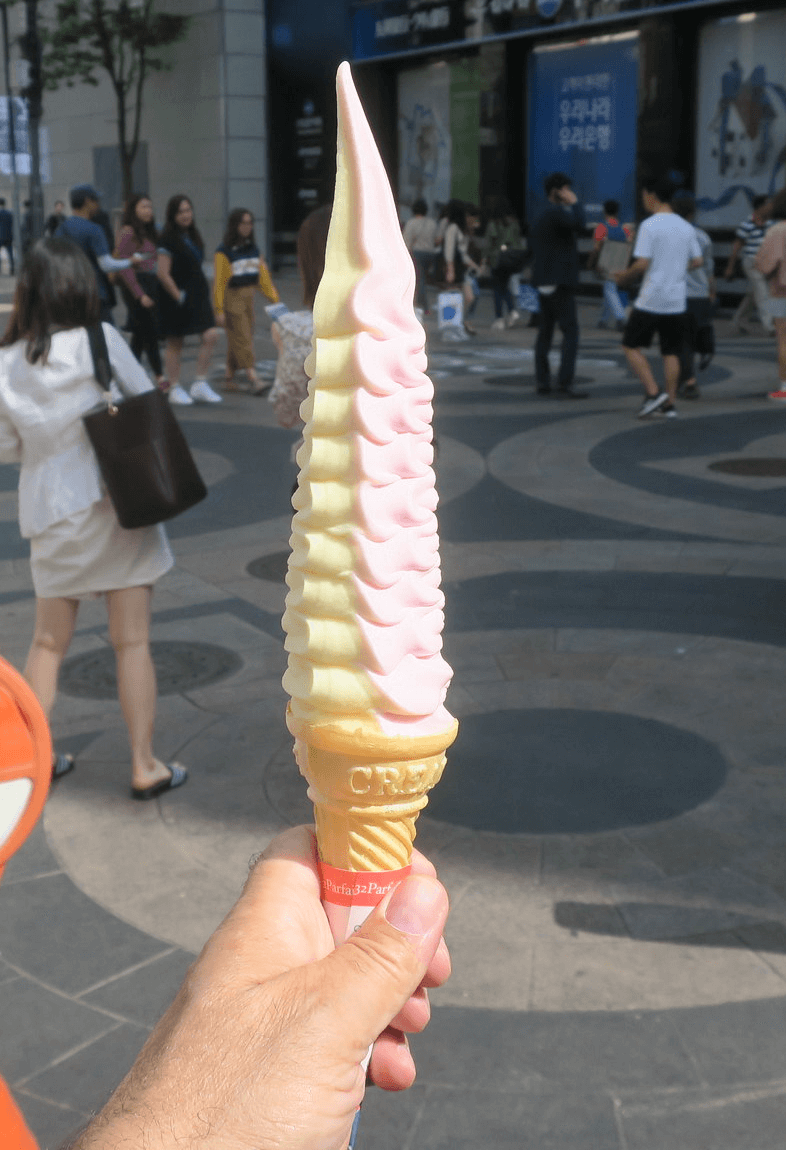 We included this soft-serve ice cream on this Korean street food list because it's a popular cold dessert in Seoul, particularly in Myeongdong. Nothing really spectacular about it — just like any other soft-serve ice cream, it's sweet and creamy with different flavors.
After tasting all the street food in Korea, we're sure you'll want something to wash it all down. Don't you?
Where to buy soft-serve ice cream: The best place to buy this is Myeongdong, definitely.
27. Korean banana milk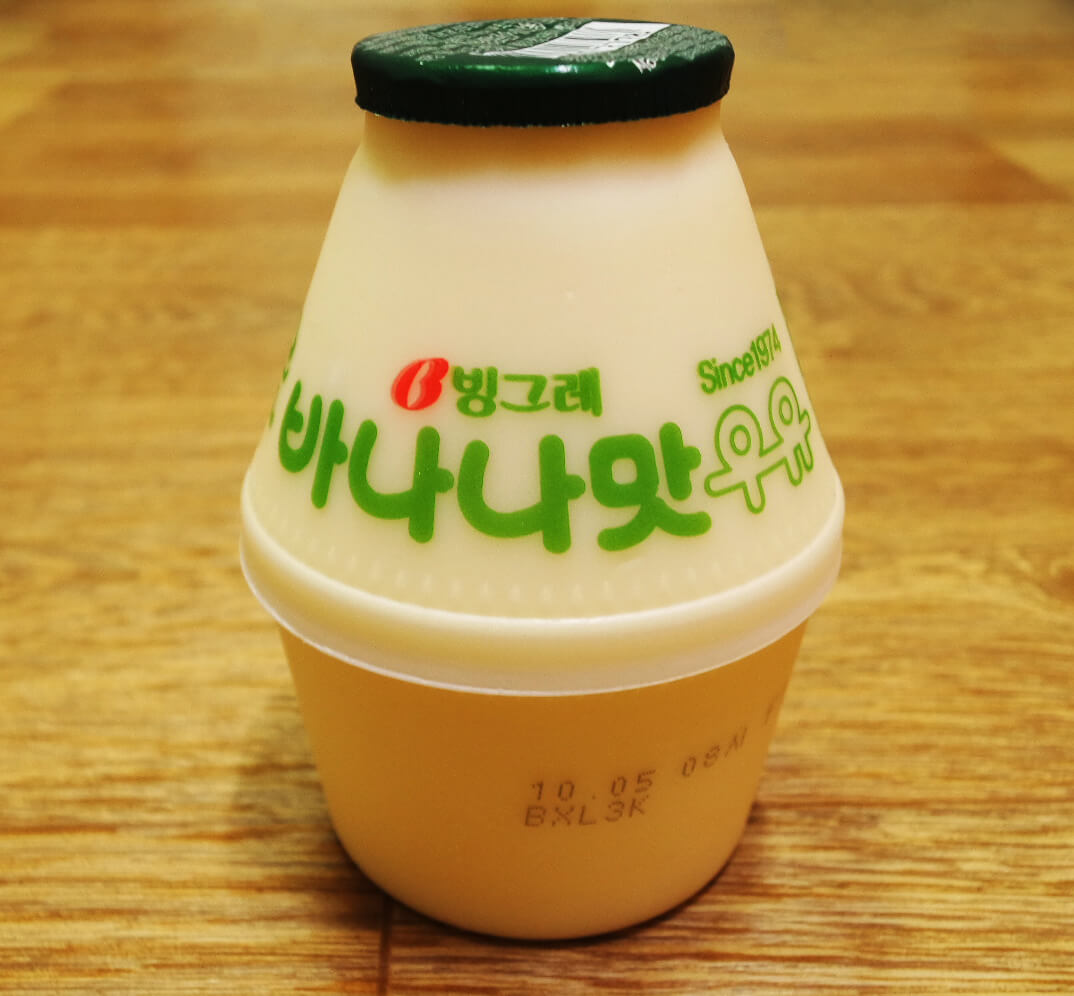 We added Korean banana milk (바나나 우유) in this list because it's a popular convenience store drink that is often featured in K-dramas and a must-try when in Korea. This famous drink is sold by Binggrae, a well-known food and beverage company in South Korea.
To put simply, the taste is like sweet milk with a banana flavoring. But even though the description is quite simple, once you start drinking, you'll find yourself going back to the convenience store to buy more. And that's what happened to us!
Where to buy Korean banana milk: You can easily buy this from any convenience store in Korea.
That's all for now! We'll be on the hunt for more Korean street food when we travel to South Korea again.
Did we miss your favorite street food in South Korea? Hit us up on our socials: Facebook, Instagram, Twitter, and YouTube.
You may also want to read our Korea souvenirs list, Korea spring itinerary, Korea winter itinerary, Lotte World guide, and N Seoul Tower guide if you're planning your Korea trip soon.