Attractions in Kuala Lumpur: 8 Must-Visit Spots in Our KL Itinerary
Plotting your itinerary could be such a pain in the ass if you're caught up in a tyranny of choice. There are too many attractions in Kuala Lumpur worthy of your time, but we've come up with a list of the must-visit. Our KL itinerary is jam-packed with major cultural attractions that can all be visited in just a day. Now your problem is solved.
Here are top attractions in Kuala Lumpur to add in your itinerary:
1. Batu Caves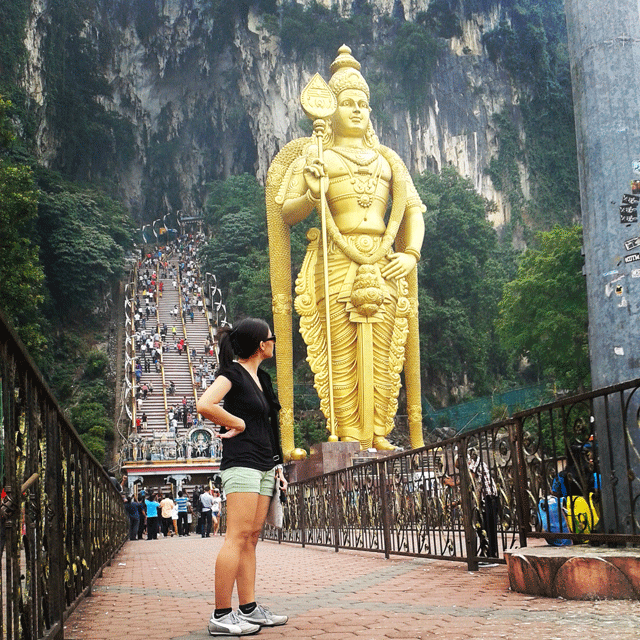 Our day started off at Batu Caves. It is one of the most visited attractions in Kuala Lumpur, and one of the most famous Hindu shrines outside India. The limestones inside Batu Caves are said to be 400 million years old. When we arrived at the entrance, visitors from different parts of the world were all eager to take photos of the staggering statue of Lord Murugan, the Hindu god of war.
A friendly reminder (applicable not only in Batu Caves but to the rest of the religious and sacred places): Avoid wearing skimpy shorts or revealing outfits. It's a Muslim country so we have to respect their ways. I was too naive when I went there so don't follow me. If you're wearing shorts in Batu Caves, there's a corner that lets you rent a piece of cloth to cover your legs for RM 5 (approx. PHP 70).
How to Get There:
As reference point it would be best to start at KL Sentral. Going to Batu Caves from KL Sentral is quite simple. Just line up at KTM Komuter ticket booth and you can get the ticket directly to Batu Caves. The train station is just next to Batu Caves.
2. Chinatown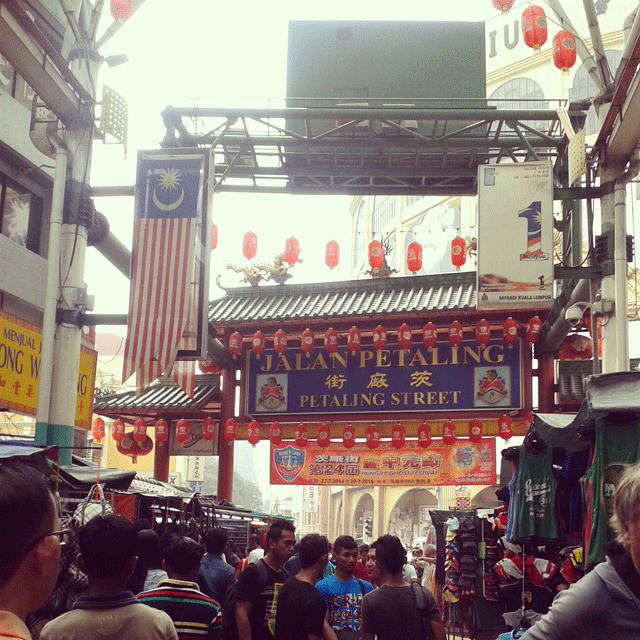 One of the interesting things to do in KL is haggling at the vibrant Chinatown. There are many stalls and vendors who are always willing to drop their prices for you.
Tip: Be firm with your decision. If you feel that the price is way too expensive than its value, then walk away and find another stall selling the same item. It may seem mean and offensive but you'd be surprised to end up buying at the first store. Most of the vendors will try their best to meet the price you're willing to pay.
How to Get There:
Going to Chinatown (Petaling Street) from KL Sentral is quite easy too. Just get a token to Pasar Seni, which is really close to Chinatown. Exit the station, go straight and look for Hotel Geo. From Hotel Geo, turn right and look for Jalan Hang Lekir, which should intersect with Jalan Petaling or Petaling Street.
3. Sri Maha Mariamman Temple of Dhevasthanam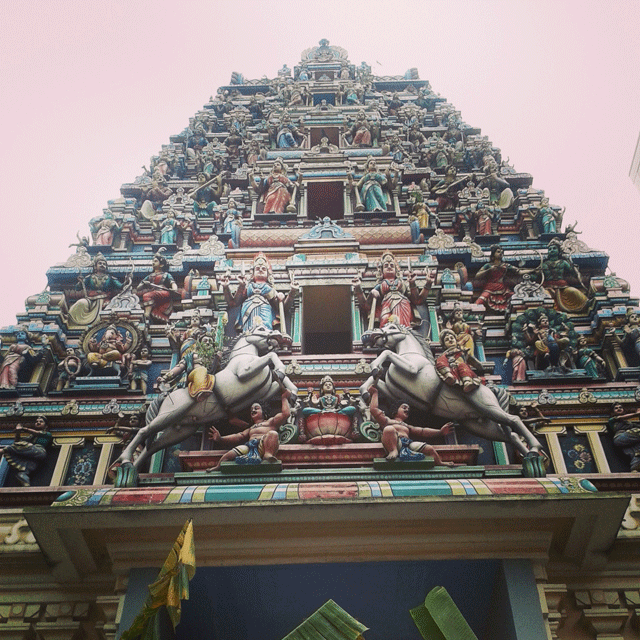 The oldest and richest Hindu temple in KL, Sri Maha Mariamman Temple provided a place of worship for early Indian immigrants. It is now considered a cultural and national heritage of Malaysia. The temple gets very crowded and lively on Deepavali festival, an ancient Hindu festival of lights usually celebrated on the months of October and November.
Reminder: You can't use your footwear inside the temple. Leave your sandals, slippers and shoes at the temple's entrance.
How to Get There:
This temple is really close to Petaling Street. On your way to Petaling Street from Pasar Seni, assuming you are taking Jalan Hang Lekir, turn right on the street just before Petaling Street and you should find it on the second block.
4. Central Market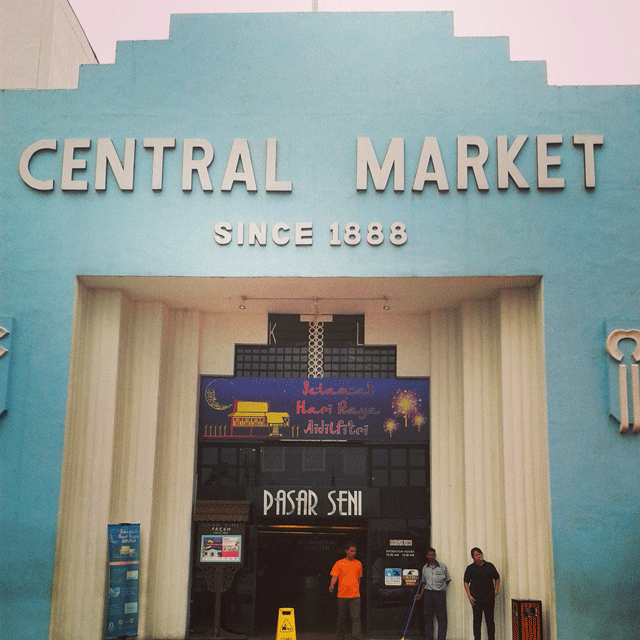 It is still a market place like Chinatown except that the stalls and stores are contained in one air-conditioned building. I personally like the place as it temporarily provided me relief after suffering from the scourging heat when we strolled around the nearby Chinatown and Sri Maha Mariamman Temple.
How to Get There:
Chinatown and Central Market are quite close that you can actually walk from the former to the latter. From Hotel Geo, the Kasturi Walk should be visible, and beside the Kasturi Walk is the Central Market.
5. Dataran Merdeka / Merdeka Square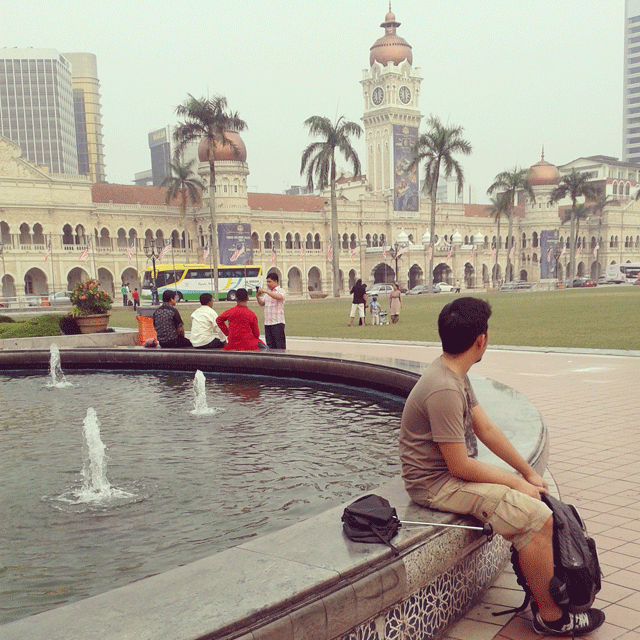 The most challenging trek of all. We lost our way to Merdeka Square as the map says it's just a few blocks away from the Central Market. We decided to walk, had our own pace and followed the map. I felt like I was Dora the Explorer on the hunt for a treasure that is impossible to find. Thirty minutes turned one hour. One hour turned two hours and we're still endlessly walking. We reached a small Indian community which has an odd atmosphere.
We asked a couple of people there but they turned their backs even before we tried to approach them. Something's not right. After more than two hours of walking, we almost reached the point of giving up but we never did. After all, we advocate the strong will to "chill and travel" despite the temper-testing, mentally draining and physically exhausting conditions we have to face in our adventures.
Why weren't we able to find this famous center of government in Kuala Lumpur? What went wrong with Reuben's unrivalled sense of direction? We later found out that people we tried to ask were not familiar with the place called "Merdeka Square" instead they recognized "Dataran Merdeka". So that's it. That simple Malay word "dataran" saved us from totally destroying our trip.
We went back to the Masjid Jamek train station to seek refuge. The worth mentioning security guard from the nearby OCBC bank gave us the correct way to Merdeka Square. Alas, we reached the destination with knees trembling but still highly motivated. I must say that the place is just too majestic to miss. Learn from our experience and follow the directions carefully so you won't go through the same torture.
How to Get There:
From KL Sentral, get a token to Masjid Jamek station which is next to Pasar Seni. Look for the exit where the OCBC Bank is located. From OCBC (Jalan Tun Perak), just go straight and on the first crossing turn left to Raja Street (Jalan Raja), then go straight. You should be able to find Merdeka Square. If in doubt try to ask the OCBC guard, he was really good at giving us directions.
6. KL City Gallery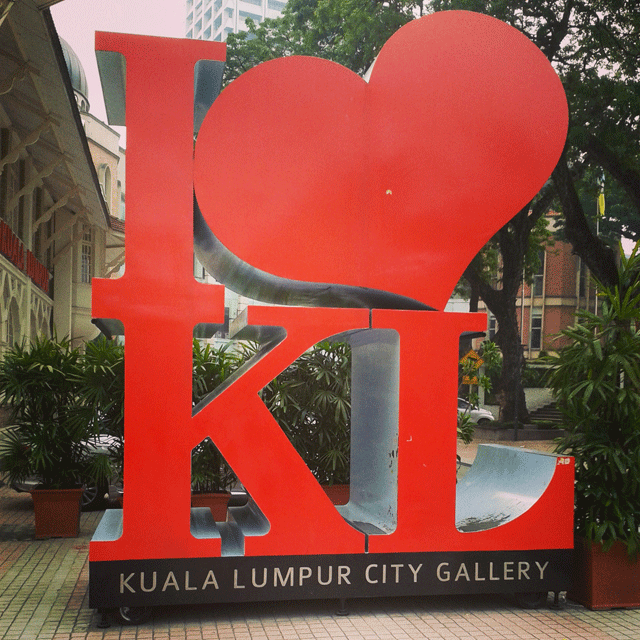 The best things in life are free. Yes, you've read it right. KL City Gallery's admission is for FREE. It is the best place to learn about the history and cultural foundations of Kuala Lumpur. The short audio-visual presentation inside the gallery makes you admire the good governance and excellent urban planning of Kuala Lumpur which earned its right in Asian economy and tourism.
How to Get There:
The KL City Gallery is just next to Merdeka Square. It is also across the Textile Museum. From Merdeka Square, just follow Raja Street (Jalan Raja) and you should find it on the next block. Just look for the I (Heart) KL and the City Gallery should be beside it.
7. Masjid Jamek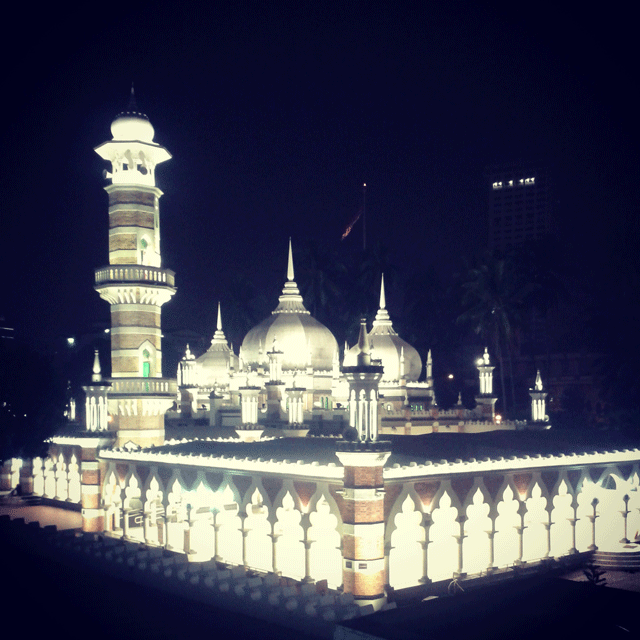 Masjid Jamek is one of the oldest mosques in Kuala Lumpur. Its architecture is Moorish, Indo-Saracenic or Mughal inspired. It is even more attractive at night as the mosque's beautiful radiance at the heart of KL's busy streets immediately steals anyone's attention.
How to Get There:
From the Masjid Jamek Station you should be able to see the mosque.
8. KLCC Petronas Twin Towers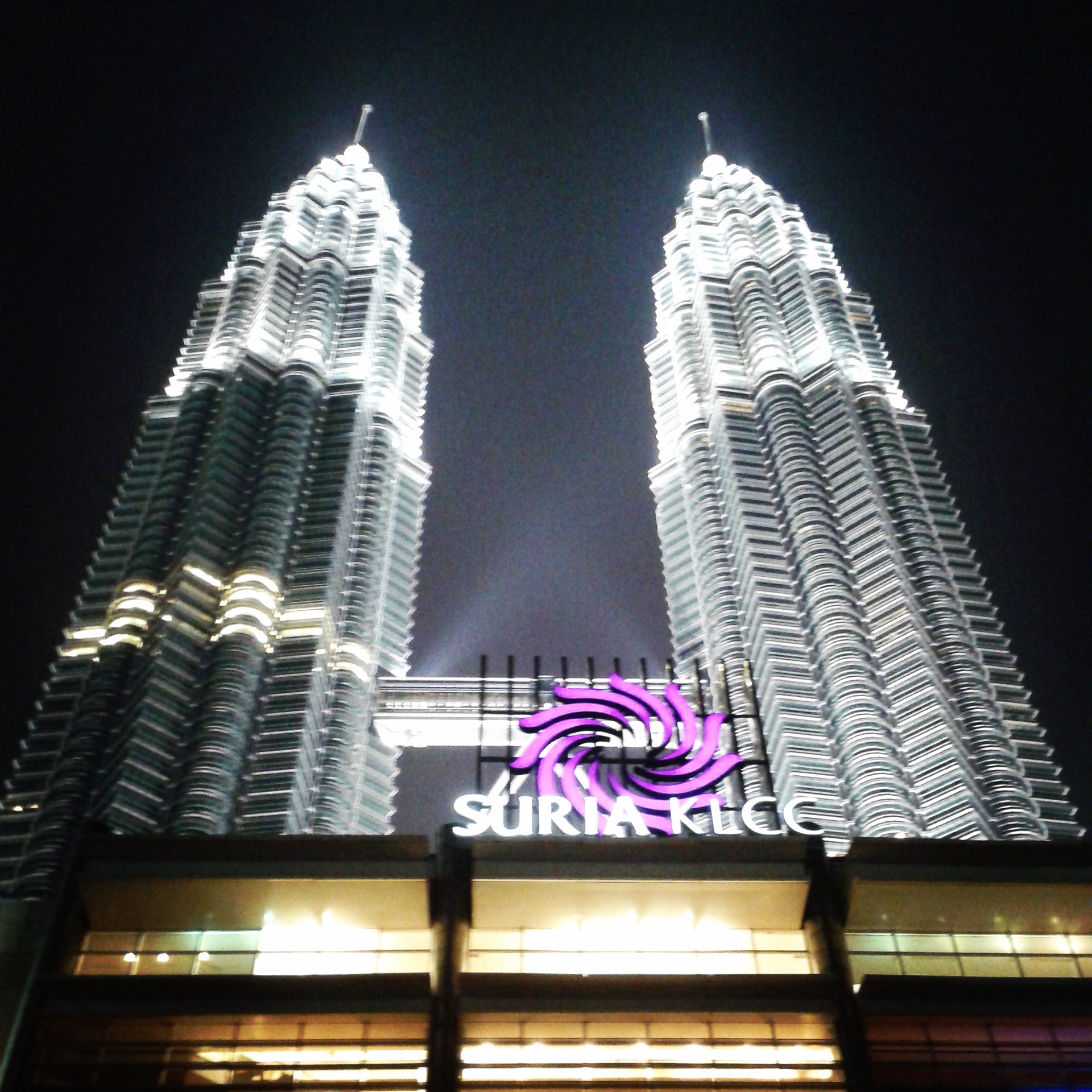 The Petronas Twin Towers in KLCC used to be the highest structure ever built by man until the record was broken by Burj Khalifa in Dubai. Despite not holding the record for the highest building now, the stunning icon still continues to attract tourists from all over the world. You can't leave KL without taking a signature pose here.
How to Get There:
From Masjid Jamek you should be able to get on a train directly to KLCC. Just line up and buy a token to KLCC. The KLCC station is just in the same area where the Petronas Towers are located.
Other famous attractions in Kuala Lumpur:
Unfortunately, we ran out of days to explore other great attractions in Kuala Lumpur. We only had 2 days to experience the interestingly diverse culture and industrial wonders of Kuala Lumpur. If given more days, we would also like to visit these attractions:
Little India
Also known as Brickfields. It is hailed as a "Divine Location" since a number of ancient religious structures are found in the area.
KLCC Aquarium
With different species of marine life, kids will surely enjoy an excursion to KLCC Aquarium. It is strategically located inside KLCC mall. Be sure not to miss the last admission at 7:00 PM.
Bukit Bintang
A shopper's paradise and the entertainment district of KL.
Sunway Lagoon
Malaysia's multi-park destination consisting of a water park, amusement park, wildlife park, extreme park and scream park.
Putra Mosque
Also known as the Pink Mosque. It is built with rose-tinted granite and can accommodate up to 15,000 worshipers.
Putra Bridge
It is the main bridge in Putrajaya. With its three-deck structure and unique architecture, it attracts local and foreign visitors.
Here's our video to inspire you even more:
Have anything to contribute to the list? Feel free to drop your suggestions on our Instagram (@chillandtravelofficial) or Twitter (@chillandtravel).
Related Posts:
Travel Guide to Genting Highlands
2 Days 3 Nights Kuala Lumpur Itinerary