Canyoneering in Cebu: Our Thrilling Experience + Survival Tips
I couldn't quite remember the total number of jumps we did during our canyoneering in Cebu. Maybe 7? 8? I don't know. All I can ever remember is that it's nerve-wracking but super fun. Mixed emotions actually. I was not in my best physical condition when we did this canyoneering adventure. I only had 1 hour of sleep because my body clock wasn't used to waking up early. It's used to staying up late and waking up late. (reasons!)
So much with the rationalization of my FAILURE. Yes, I failed to do the last and highest jump – a staggering 28-feet cliff is no joke. According to my friends who were brave enough to do it, it's like your survival instincts would kick in but your brain cannot process it quick enough, and the next thing you know, your body already succumbed to the gravitational pull, but your soul is left behind.
"Mura ug mahabilin imong kalag!" in Cebuano.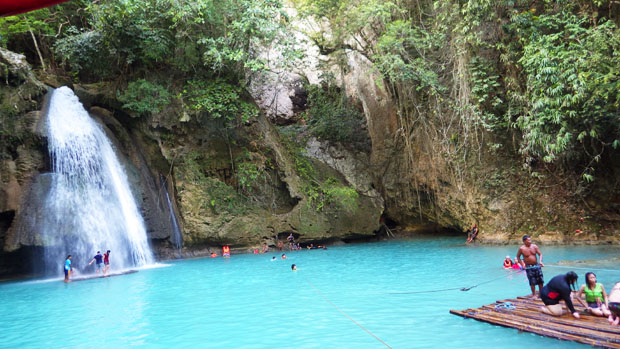 It's really one heck of a grand adventure. Because we're having so much fun, we didn't notice the hours that passed. We started at around 8:00 AM and we finished at around 2:00 PM. The trip normally lasts for about 4 hours but ours was 6 hours because we were a huge group of 17 people. I didn't even feel the real hunger until our lunch was served at Kawasan Falls, the endpoint of the whole journey.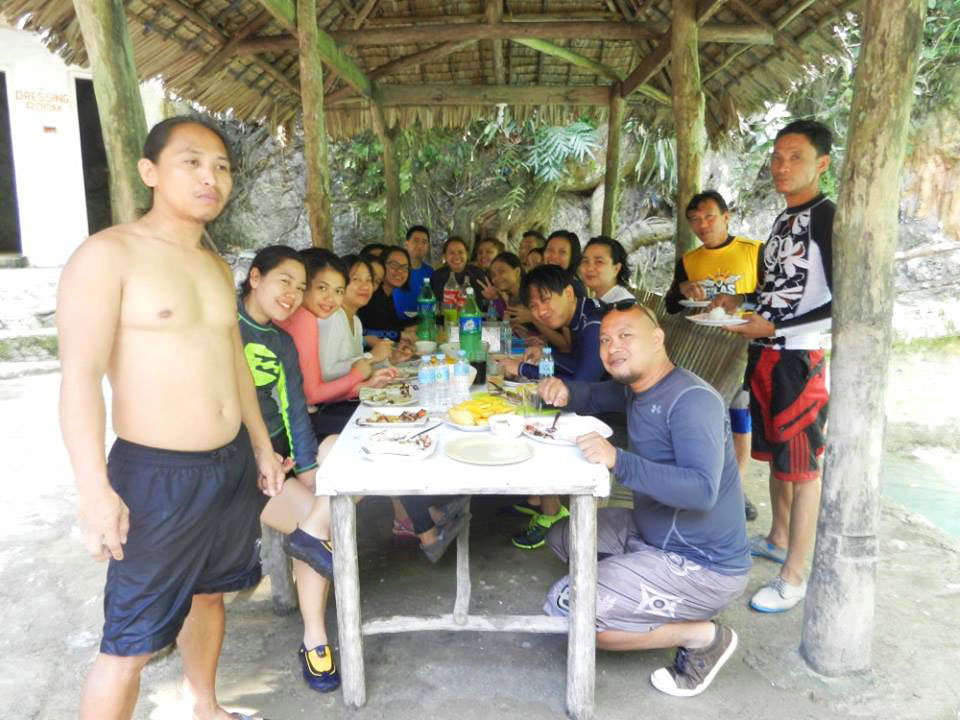 Canyoneering travel tips
1. Travel time and meeting Place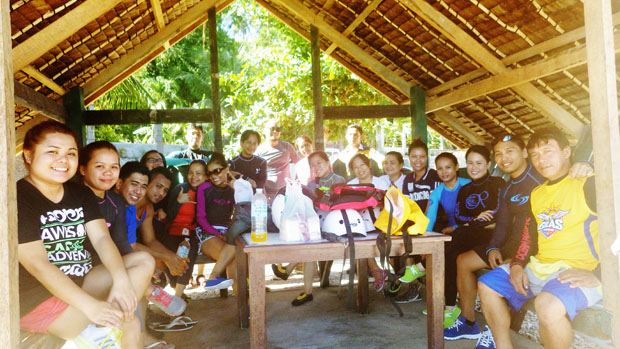 Be on time. Land trip from Cebu City to Badian is approximately 3 hours. Meet up place would most likely be in Sto. Tomas de Villanueva Church or in La Playa Beach Resort.
2. Ideal number of people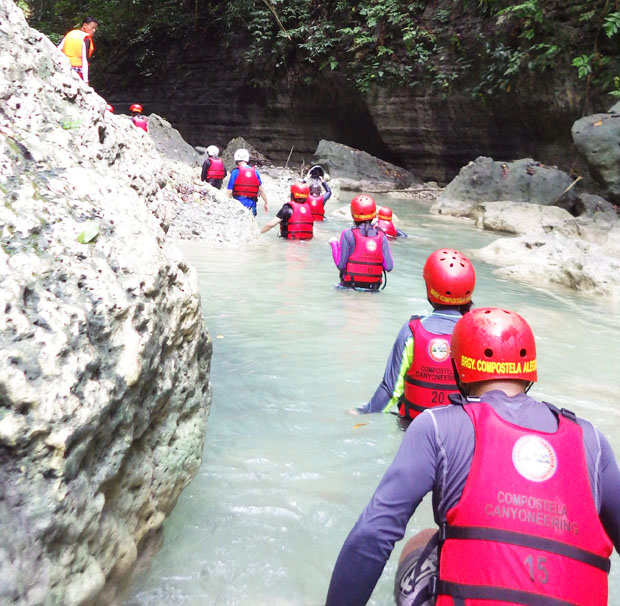 If you're a big group, say 15 or 20, it's recommended that you divide yourselves into smaller groups (4-6 people) so it's easier for you to count your members and watch over each other.
3. What to wear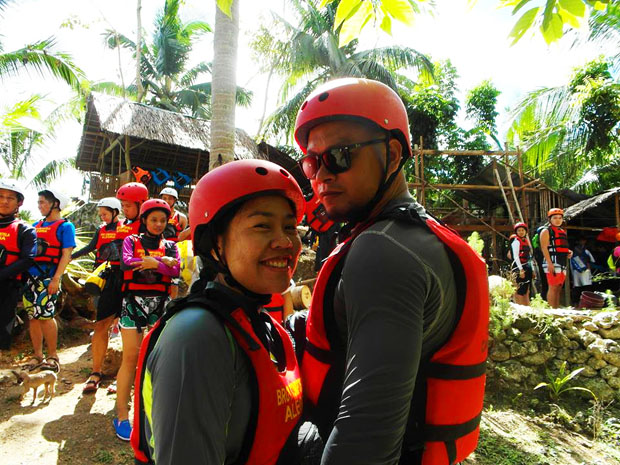 Wear quick dry clothes and trekking shoes or aqua shoes when canyoneering in Cebu. I would suggest you wear trekking shoes more than aqua shoes because I lost my left aqua shoe due to the strong rapids. Make sure your footwear is comfortable and good for long hours of slippery trek.
4. Safety gear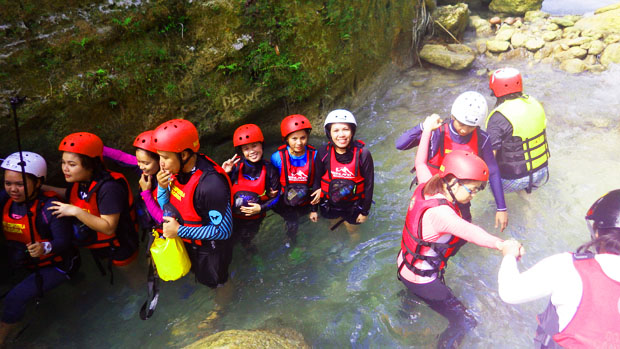 Always wear the safety gear. Helmets and life vests are a must. Don't attempt to remove them during the trip. I tell you, the trail is slippery. I slipped and fell once and if you're that clumsy, you might get more than that.
5. Physical preparation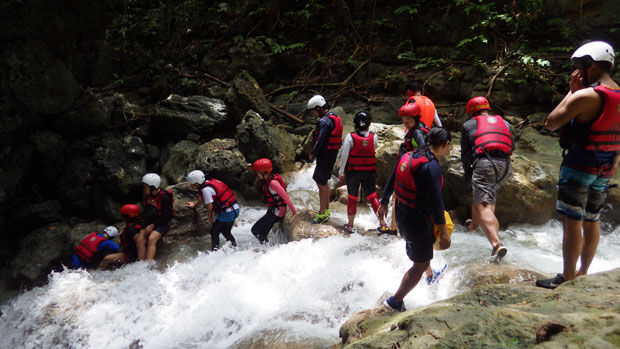 Have enough sleep a night prior to the activity. You wouldn't want to end up like a walking zombie. Would you?
6. Be brave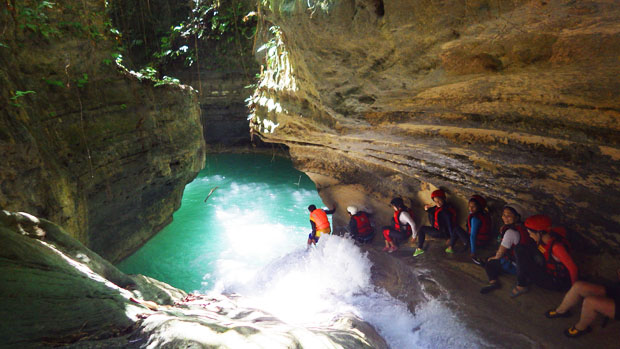 I'm certain you would want to back out when you approach the first jump. I totally understand – it's 18-feet high! Just think of the money you spent for this trip only for you to quit. Winners don't quit! You have no other option but to let go and conquer your fears. I did it and there's no reason for you not to! The only jump you'd have option not to do is the last 28-feet jump which I mentioned earlier. Be brave and do it! Don't be like me.
Watch the 2 videos below to see the real action:
Video edit by Reuben
Video edit by JM
* * *
I think this sums up everything! If you're done with canyoneering in Cebu, why don't you conquer the other top Cebu tourist spots?
This canyoneering adventure wouldn't be possible without Highland Adventures, our official canyoneering tour guide. They have the best gears and guides to keep you safe all throughout the whole activity. You may check their website or Facebook page.
I would also like to thank TripZilla, especially Dina, the head editor, for encouraging me to write this article: 20 Reasons Why Travelling to the Philippines is a Total Waste of Time. It's so trending, I feel like an instant celebrity in the Philippines! Haha! Kidding aside, this article paved the way for me, my sister Jackie and my friends to be invited to a canyoneering trip by Highland Adventures, courtesy of Mr. Mike Muñoz. How cool is that!?