Hundred Islands Pangasinan Guide: Itinerary, Things to Do & Tips
With its diverse ecosystem, abundant marine life, azure waters, pristine beaches, and picturesque landscape, Hundred Islands in Pangasinan is truly a nature lover's paradise! As it is an easy day trip from Manila, many families and barkadas (groups of friends) come here to escape the city life and commune with nature.
We've been to Hundred Islands twice already, and each visit is a totally different experience. Who wouldn't be amazed at over a hundred islands sprawling across a protected area along the Lingayen Gulf? It's indeed a top Philippine tourist spot and a natural wonder you ought to see at least once in your life! And we've created this guide to help you plan your trip.
What is the Hundred Islands known for?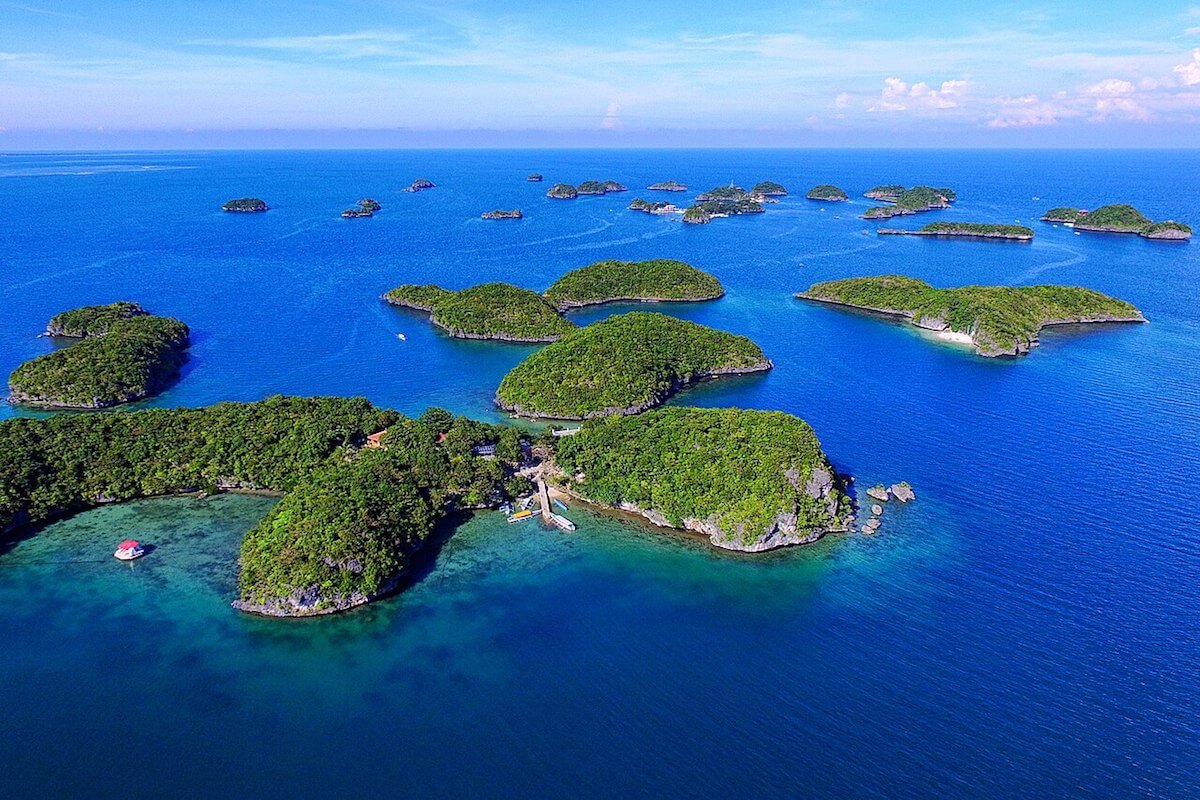 From the name itself, you already have a hint that Hundred Islands National Park is known for its whopping number of stunning islands — 123 during high tide and 124 during low tide to be exact. Aside from island hopping, which is the top activity here, you can do more outdoor adventures such as swimming, kayaking, jet skiing, parasailing, ziplining, helmet diving, and camping.
How many islands can you visit in Hundred Islands?
Although there are over a hundred islands spread across an area of 1,844 hectares, only the following islands were developed for tourism: Governor's Island where you can find the PBB house, Quezon Island, Marcos Island, Children's Island, and Lopez Island. The rest are uninhabited and you can only marvel at them while island hopping.
How much is the Hundred Islands entrance fee?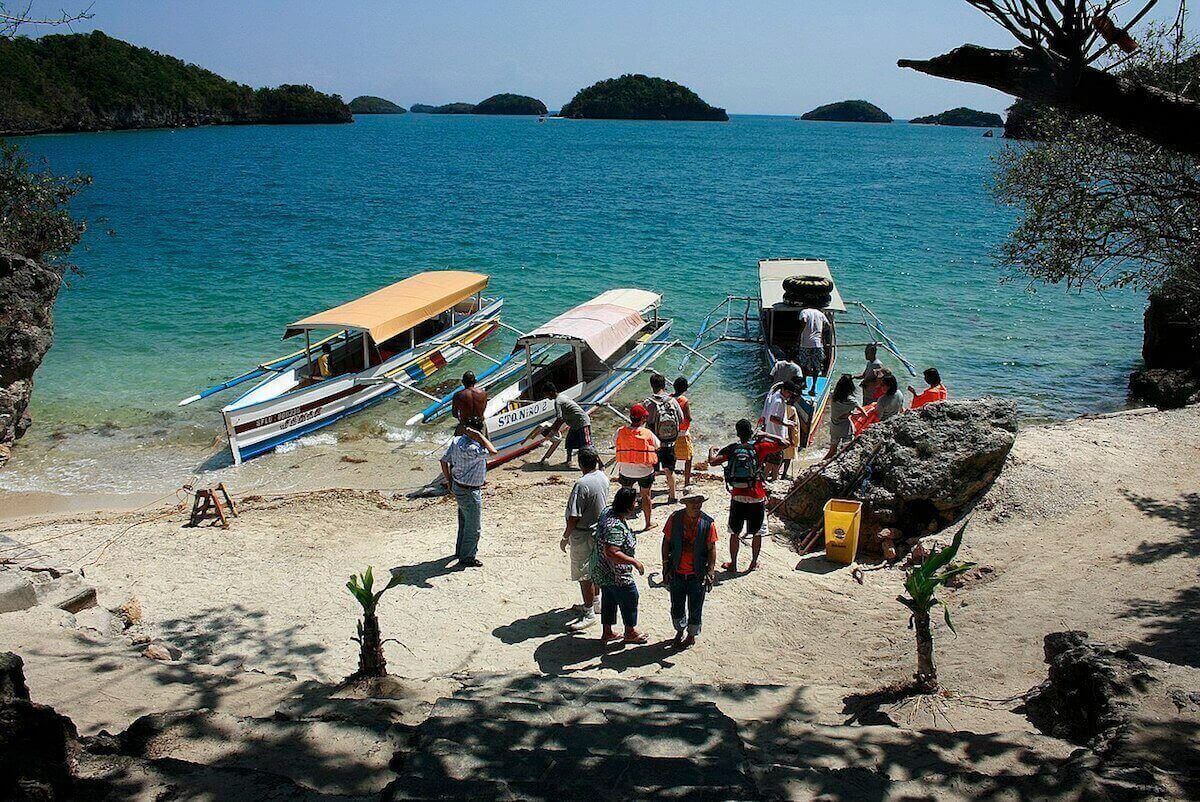 Depending on the type of tour, there are different entrance fees to pay in Hundred Islands. Please see price list below:
Hundred Islands entrance fees 2023
| | | |
| --- | --- | --- |
| Type of Fees | Day Tour Rate | Overnight Rate |
| *Environmental Fee | ₱60 | ₱120 |
| *Entrance Fee/IPAF | ₱30 | ₱30 |
| *Insurance Fee | ₱10 | ₱10 |
| Total Registration Fee | ₱100 |  ₱160 |
Notes:
The registration fee already covers the environmental fee, entrance fee, and insurance fee.
Children 5 years old and below are free of charge.
Senior citizens and PWDs get a 20% discount on environmental and entrance fees.
How much is the island hopping boat rental in Hundred Islands?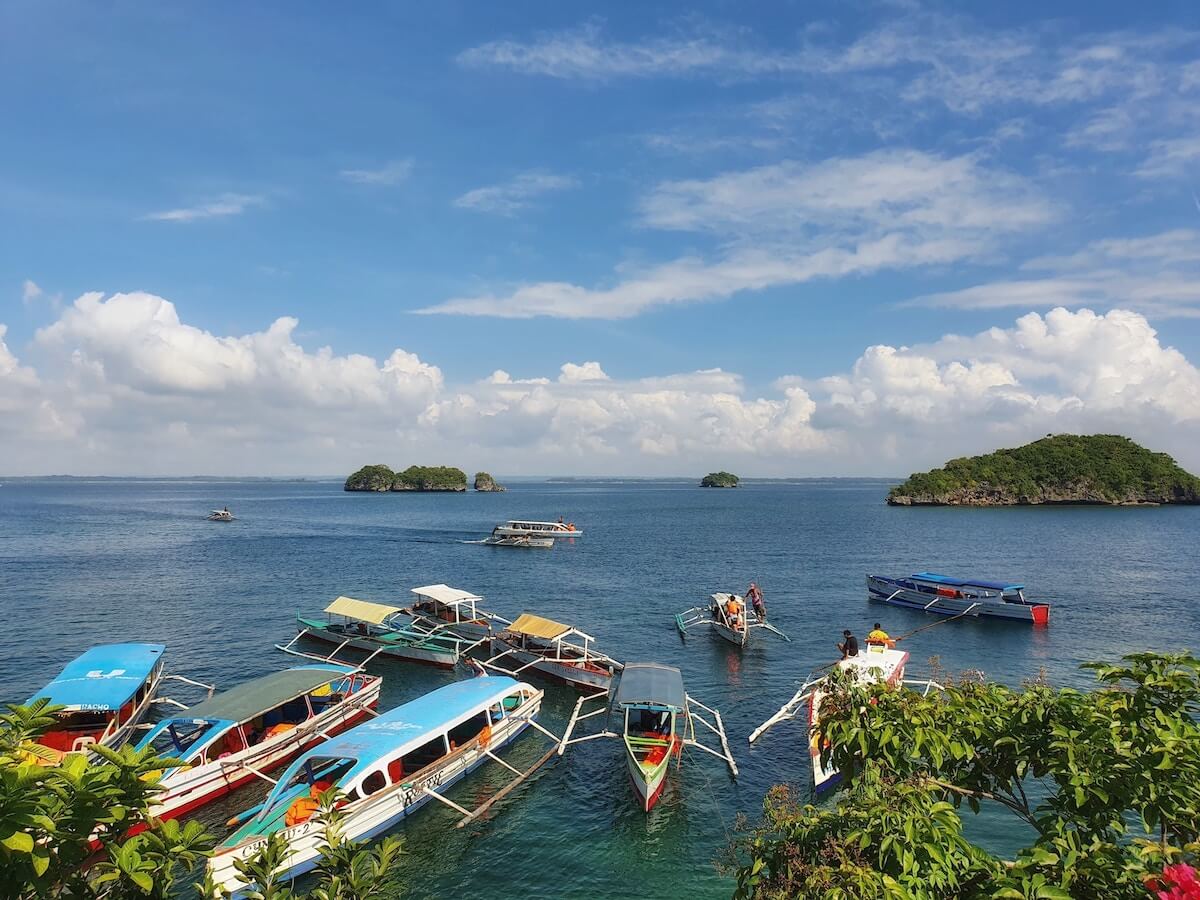 Depending on the number of people, there are different Hundred Islands island hopping boat rental fees. Please see price list below:
Hundred Islands boat rental fees 2023
| | | |
| --- | --- | --- |
| Tour Size | One-Day Tour | Two-Day Tour |
| Small (1-5 pax) | ₱1,400 | ₱3,000 |
| Medium (6-10 pax) | ₱1,800 | ₱3,800 |
| Big (11-15 pax) | ₱2,000 | ₱4,500 |
Notes:
How to get there
Hundred Islands is located in Alaminos City in the Province of Pangasinan in the Ilocos Region of the Philippines. It is approximately five hours by land travel from Metro Manila, and about three hours from Clark, Pampanga. To guide you in your navigation, you may pin the Hundred Islands Tourism Office in Google Maps or Waze.
To reach Hundred Islands, you may take the following transport options:
By bus
If you want to commute from Manila to Hundred Islands, you can ride a bus that goes to Alaminos City, Pangasinan. You may proceed to the following bus terminals and ride any of these buses:
Cubao Terminal: Victory Liner, Five Star Bus Inc., and Dagupan Bus, Inc.
Pasay Terminal: Five Star Bus Inc.
Trinoma Terminal: Five Star Bus Inc.
Avenida Terminal: Philippine Rabbit
*Bus fares from Manila could range from ₱300 to ₱427, depending on the bus type. You may check Victory Liner's Terminal Guide if you want to know the current bus fare from Cubao.
By car
If you opt to drive your private vehicle, take the NLEX – SCTEX and exit Luisita, Tarlac, following the Camiling route. From Camiling, you'll pass by San Clemente in Tarlac, then to Sual in Pangasinan. Continue driving until you reach Alaminos City in Pangasinan.
Once you reach Alaminos City, Pangasinan, you can then take a tricycle or drive to Don Gonzalo Montemayor Wharf in Brgy. Lucap and proceed to the Hundred Islands Tourism Office. The officers will assist you in booking your Hundred Islands tour including your boat rental and entrance fees.
Tip: To make your trip to Hundred Islands easier, you may want to join a Hundred Islands Pangasinan Day Tour. It already includes a guided tour to Hundred Islands, roundtrip transfers from Manila, admission fees, environmental fees, insurance, and a life jacket.
Sample Hundred Islands itinerary
4am – Depart from Manila
10am – Stopover for breakfast
11am – Arrival in Hundred Islands
12nn – Lunch
1pm – Continue with island hopping tour
– Quezon Island
– Marcos Island
– Children's Island
– Governor's Island
– Lopez's Island
4pm – Depart from Alaminos
10pm – Arrival in Manila
Things to do in Hundred Islands
There's definitely more to Hundred Islands than mere sightseeing. Here are the top activities to do here:
1. Island hopping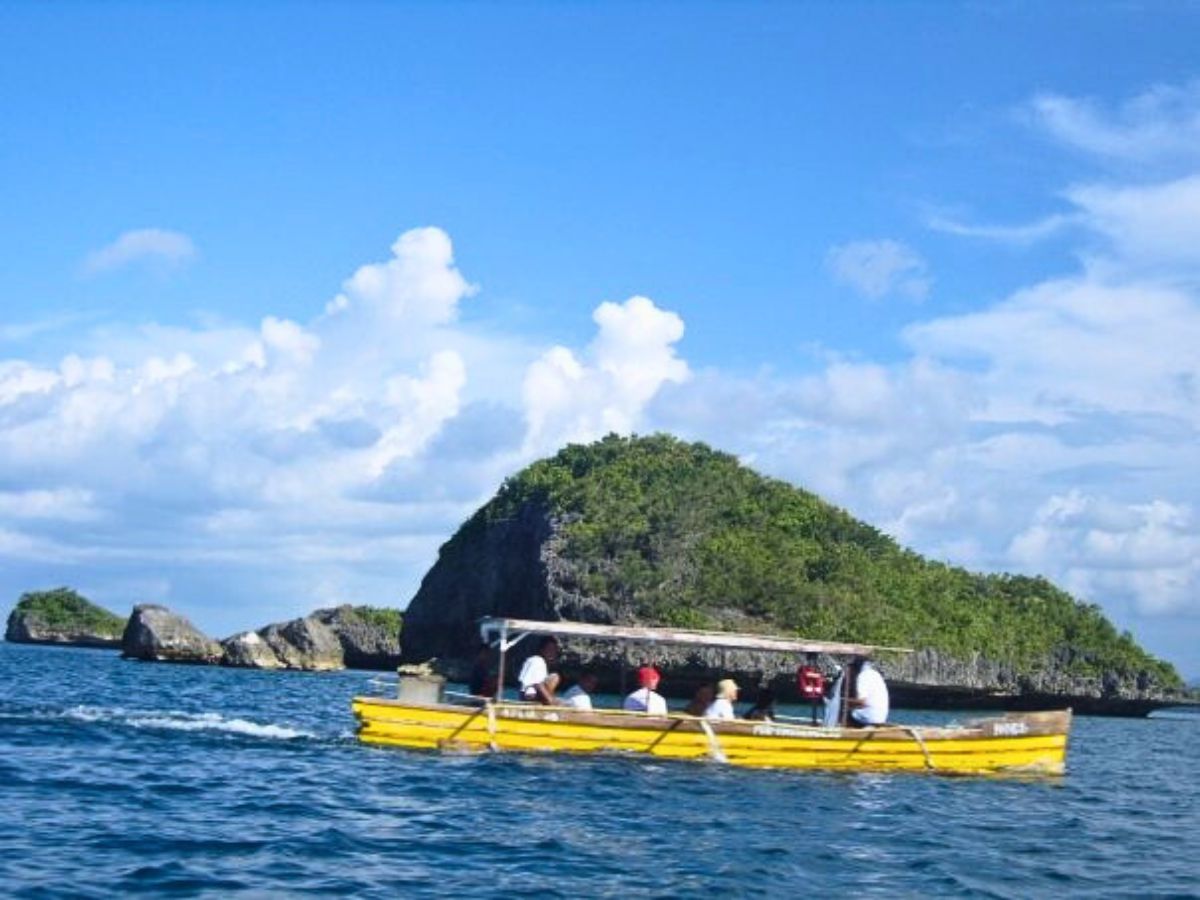 Of course, every Hundred Islands experience starts with island hopping. Our assigned banca (outrigger boat) toured us around the national park where we visited the taklobo (giant clam) sanctuary and passed by some uniquely shaped islands like Turtle Island and Crocodile Island.

We also stopped by the tourist islands including Quezon Island where we saw Manuel Quezon's big statue, and Governor's Island where we had fun picture-taking outside Bahay ni Kuya (Pinoy Big Brother House). We also entered the Cuenco Cave near Children's Island.
Overall, our island hopping experience was so fun and memorable!
2. Swimming and snorkeling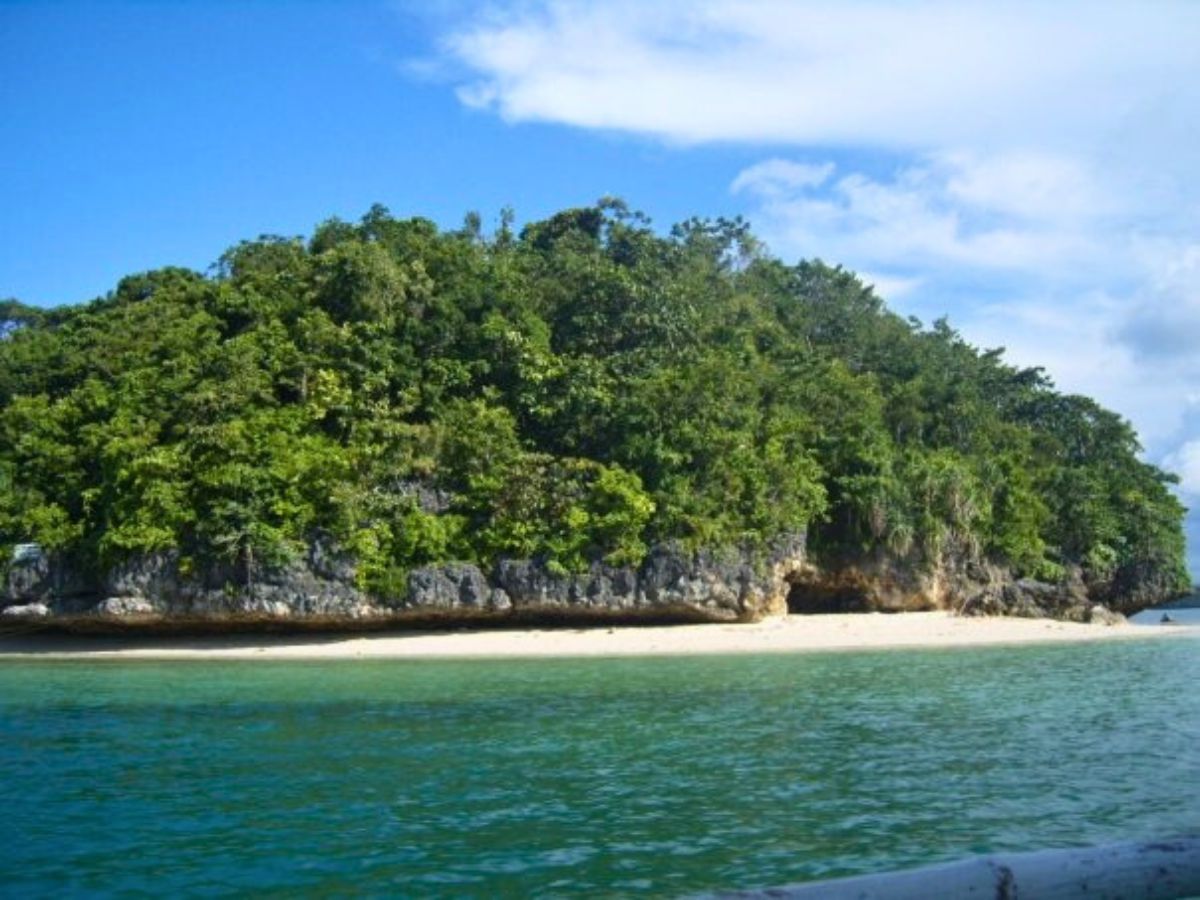 If you're wondering whether you can swim here, yes, you can, but there are only designated swimming areas. If you want to go snorkeling, you may rent a snorkeling gear for ₱250 per set.
3. Kayaking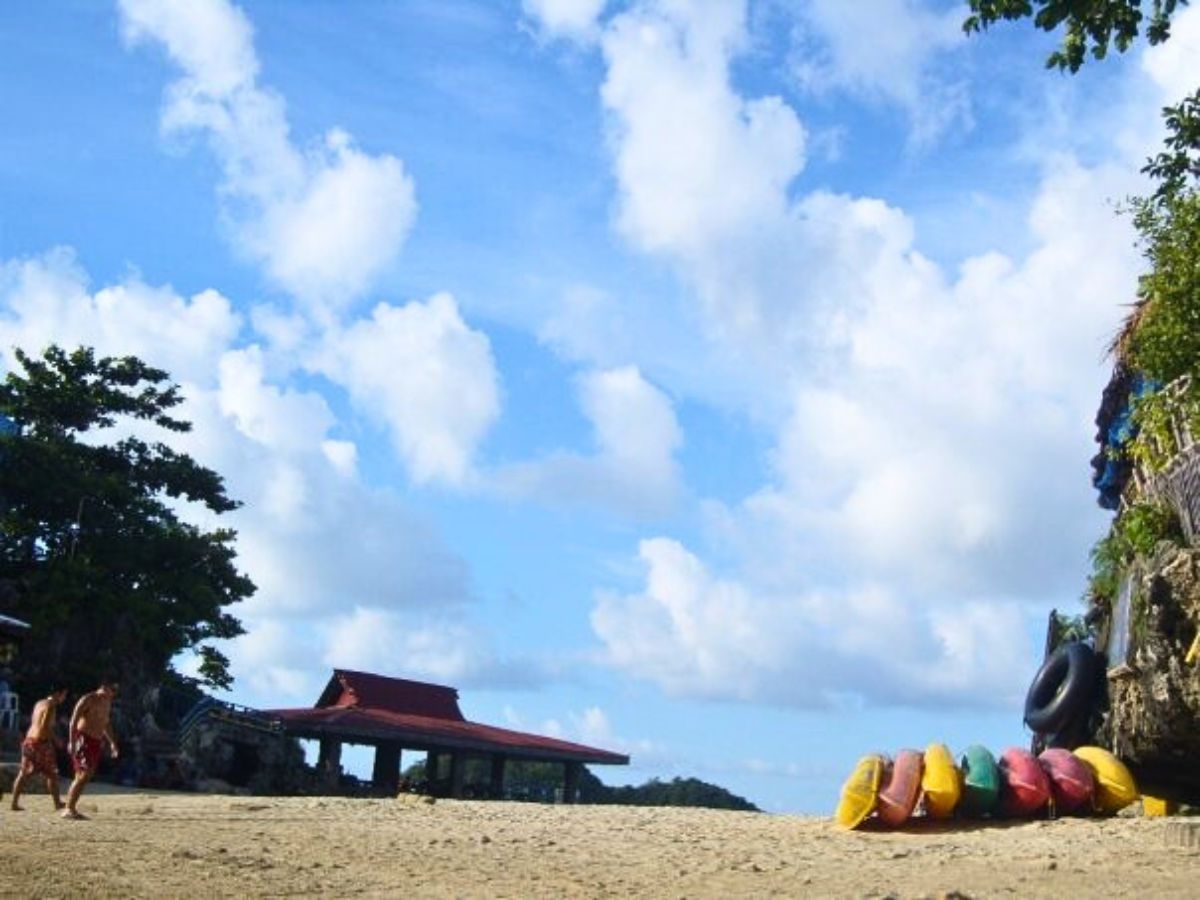 There are also kayaks available for rent if you wish to go kayaking around the area. The kayak rental rate is ₱250 per hour, good for two people.
4. Ziplining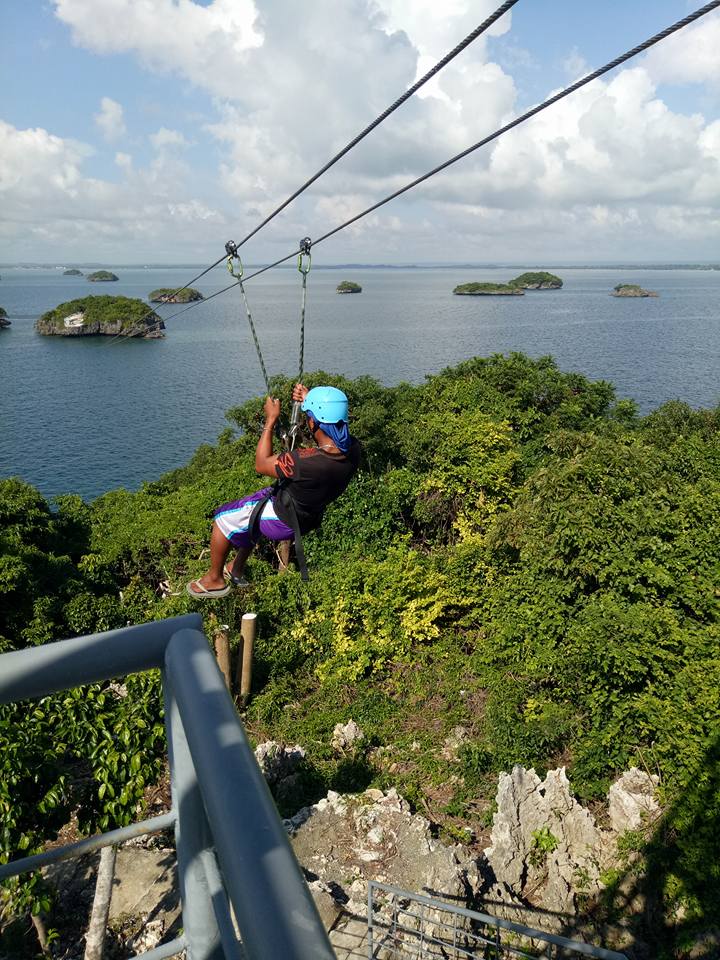 Kick your Hundred Islands experience up a notch by ziplining over a scenic landscape. The experience is truly breathtaking!
Ziplining rates are as follows:
Governor's Island (546 meters) = ₱250 per jump
Lopez Island (345 meters) = ₱250 per jump
Quezon Island (120 meters) = ₱100 per pax
5. Helmet diving
Go underwater and say hello to your marine friends through helmet diving. The dive lasts for 20 minutes and costs ₱400 per person.
6. Overnight stay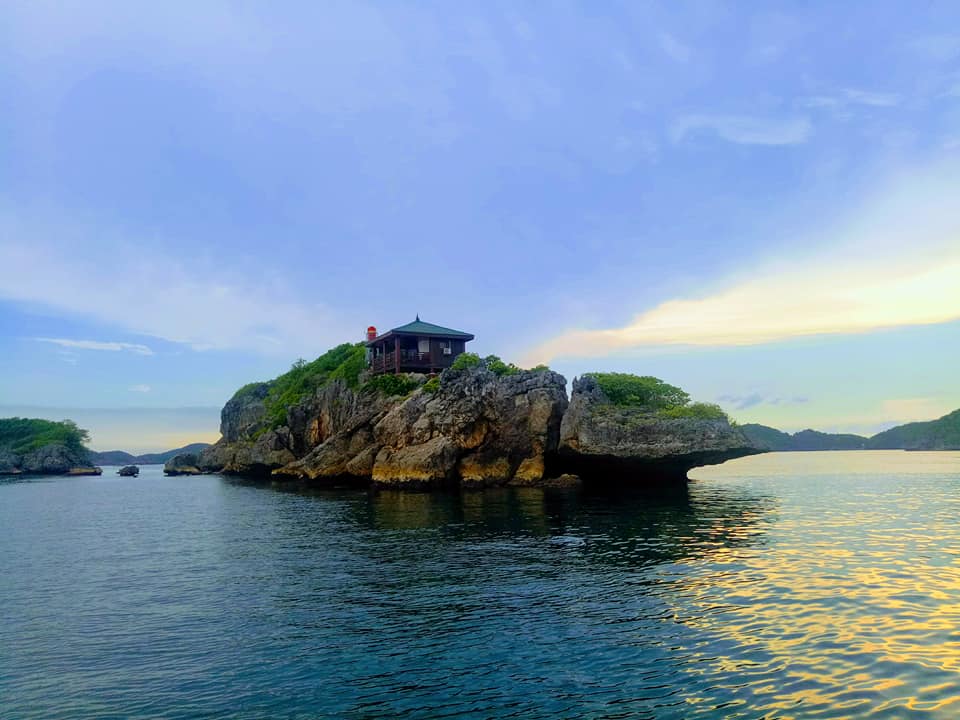 If one day is not enough for you to enjoy the beauty of Hundred Islands, then consider an overnight stay by camping or renting one of the guest houses.
You may rent a tent for ₱400 but you also need to pay ₱200 for the tent space or pitching fee. The non-aircon guest house costs ₱5,000 per night while an aircon one like the PBB House costs ₱10,000 per night.
You may refer to this list of Hundred Islands rates, but be sure to contact the Alaminos City Tourism and Cultural Affairs Office as the rates are subject to change and availability.
Travel tips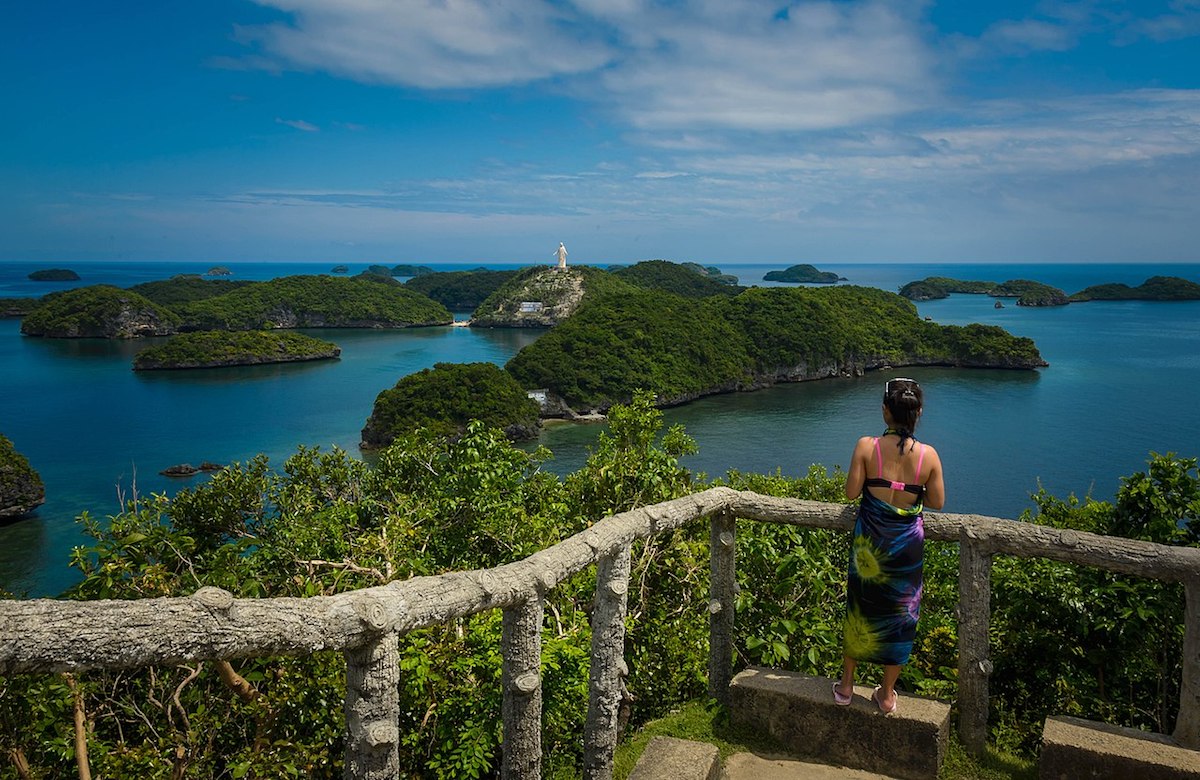 As you'll mostly be outdoors, wear something comfortable that's also ready for a beach getaway.
Use reef-friendly sunscreen if possible.
Bring some snacks and drinks in case you feel famished along the way.
You may bring extra clothes if you want to swim or do water activities.
If you want to protect your mobile phones and other gadgets, we recommend using waterproof bags.
Follow the protocols set by the tourism office.
Respect your tour guide and stay close to your group.
Do not leave any trash and keep the environment clean at all times.
Is Hundred Islands worth visiting and would we recommend it?
Yes, it is worth visiting, especially if you love nature and the outdoors. However, if you easily get tired of long trips, a day tour may not be ideal for you. We suggest that you stay near the area for a night like we did. We actually spent a night in one of the budget-friendly accommodations in Alaminos City so we didn't have to rush home.
But if you don't mind the long land travel, go for a Hundred Islands day tour as it's convenient and more practical since you won't have to pay for a place to stay in Pangasinan.
So, when are you planning to check Hundred Islands off your travel bucket list?
After Hundred Islands, why not continue your adventure to the Ilocos Region and visit Vigan City and Ilocos Norte? Be sure to pick up some useful Ilocano words and phrases before you get there!