N Seoul Tower Guide 2023: Our Experience, Tickets & Tips
Perched on Namsan Mountain, Namsan Seoul Tower or N Seoul Tower is a famous attraction in Seoul where you can take in the beauty of nature and see sweeping panoramic views of the city. The tower itself is actually a functioning radio wave tower which is still broadcasting signals for Korean media companies like KBS, SBC, and MBC up to now.
Namsan Seoul Tower became even more popular over the years as it's been featured in many K-dramas including our all-time favorites Boys Over Flowers (2009), My Love from the Star (2013), The Legend of the Blue Sea (2016), Hotel Del Luna (2019), and Itaewon Class (2020).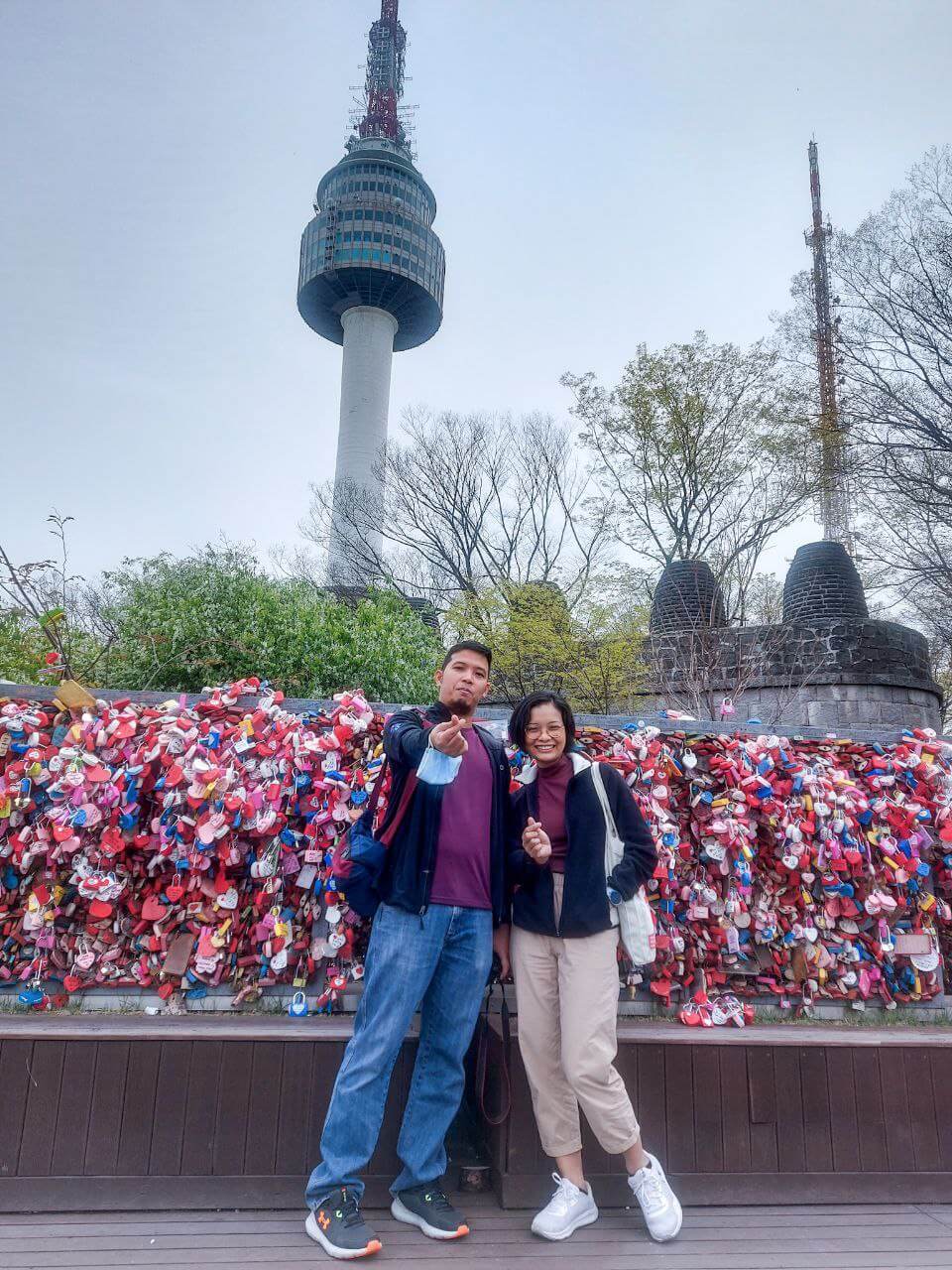 Many K-drama fans flock to N Seoul Tower to relive the kilig (romantic) scenes. And as avid K-drama fans ourselves, we regretted not visiting it on our winter trip to South Korea. So, this time, we made sure to add it to our Korea spring itinerary.
We're so lucky to have a fellow K-drama enthusiast friend who didn't mind going back to N Seoul Tower for the N-th time (pun intended) just to let us experience this iconic Seoul landmark.
Now, allow us to share our N Seoul Tower experience — from the Namsan cable car ride and love locks up to the observatory tower itself.
N Seoul Tower tickets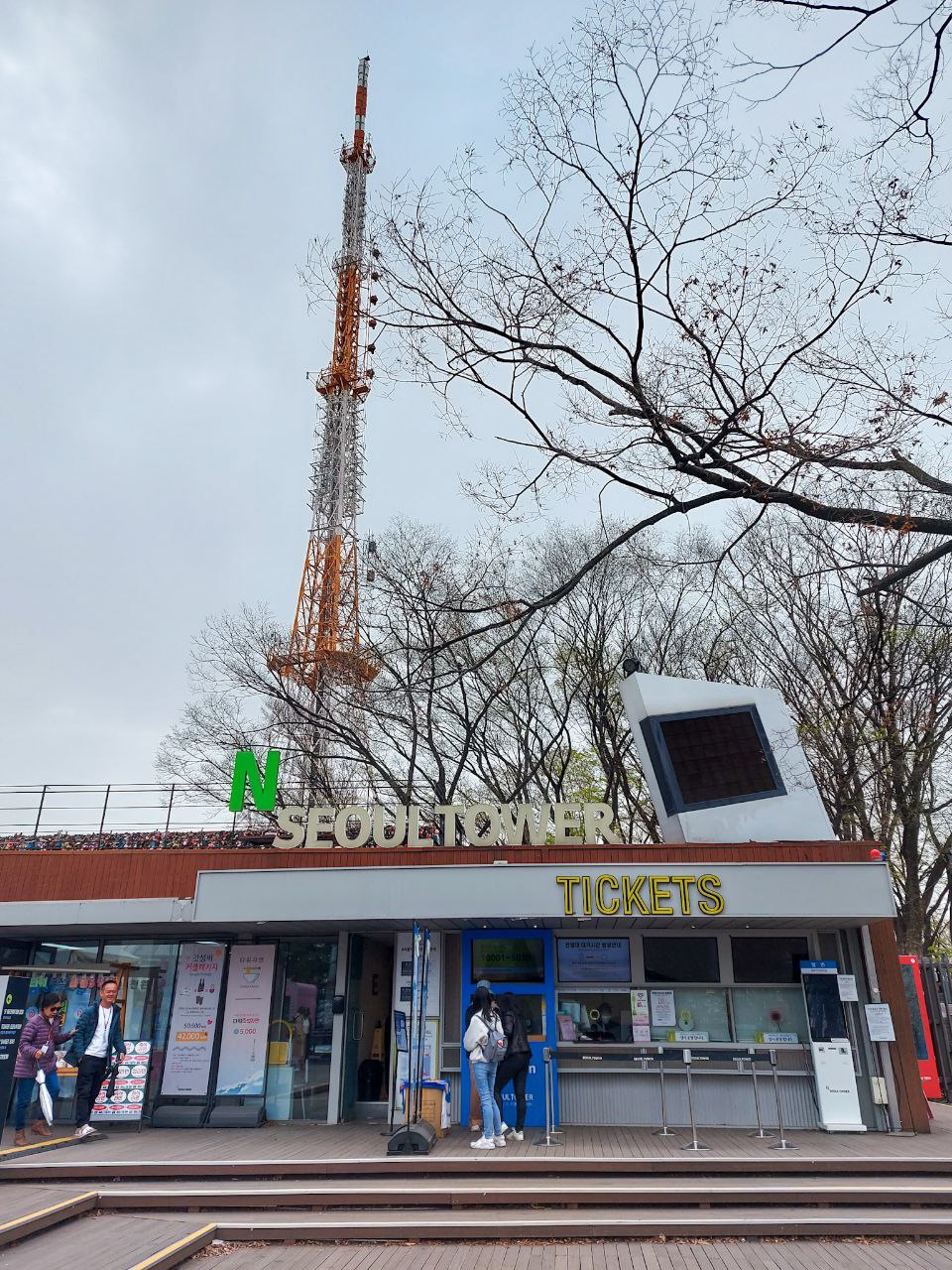 N Seoul Tower entrance fees 2023
Here are options to buy your N Seoul tickets:
You can get your N Seoul Tower ticket on Klook for ₩18,900 (₱800 / S$14.25) if you want to access the observatory only. You may also avail of other packages that are inclusive of the cable car ride and other bundles like padlocks and meal sets.
Notes:
You have to present your Klook e-Voucher and exchange it for a physical ticket at the Observatory Deck Entrance of N Seoul Tower PLAZA 5F.
Children two years old and below are free to enter the attraction.
Tip: Save more when you buy the Klook Pass Seoul! This special pass gives you access to top Seoul attractions including N Seoul Tower, Lotte World, Everland, and many more! For example, if you pick those 3 attractions, it'll cost you more than ₱4,000 if you buy them individually. But if you buy the Klook Pass Seoul 3 Attraction Pass, you'll only pay ₱2,496.
 
Option 2: Waug
You may also get your ticket on WAUG for ₩10,000 (₱419 / S$7). It is the number one activity booking platform in Korea so you're guaranteed to get the best price for activities and tours in Seoul and beyond.
Option 3: Onsite
If you want to buy onsite, you can get your tickets on the first floor of the N Seoul Tower plaza and at the lobby of the information desk. However, you may have to queue and wait, especially when there are many visitors during your visit.
Also, the N Seoul ticket price is ₩21,000 (₱887.92 / US$15.69) for adults and ₩16,000 (₱676.61 / US$11.95) for children and seniors, which are relatively more expensive than buying the tickets online.
Namsan Seoul Tower operating hours
N Seoul Tower is open daily but the operating hours vary during weekdays and weekends:
10.30am to 10.30pm (Weekdays)
10am to 11pm (Weekends & Holidays)
Do note that the operating hours may change depending on factors such as weather and maintenance. Be sure to check the updated schedule before your visit.
How to get there
N Seoul Tower is located at 105 Namsangongwon-gil, Yongsan-gu in Central Seoul, South Korea.
To get there, you may take the following public transport:
By bus:
Take the Namsan Sunhwan Shuttle Bus No. 01 and alight at Namsan Yejang Bus Transfer Parking Lot. Then, transfer to Nam Mountain Shuttle Bus.
By train + cable car:
If you want to ride the cable car going to N Seoul Tower, you should first take the subway to Myeong-dong Station (Line 4). Exit 3 and find the Pacific Hotel. Follow the street on the right side and walk for about 10 to 15 minutes uphill until you reach the cable car boarding point. This was what we opted on our trip.
Namsan Tower floor guide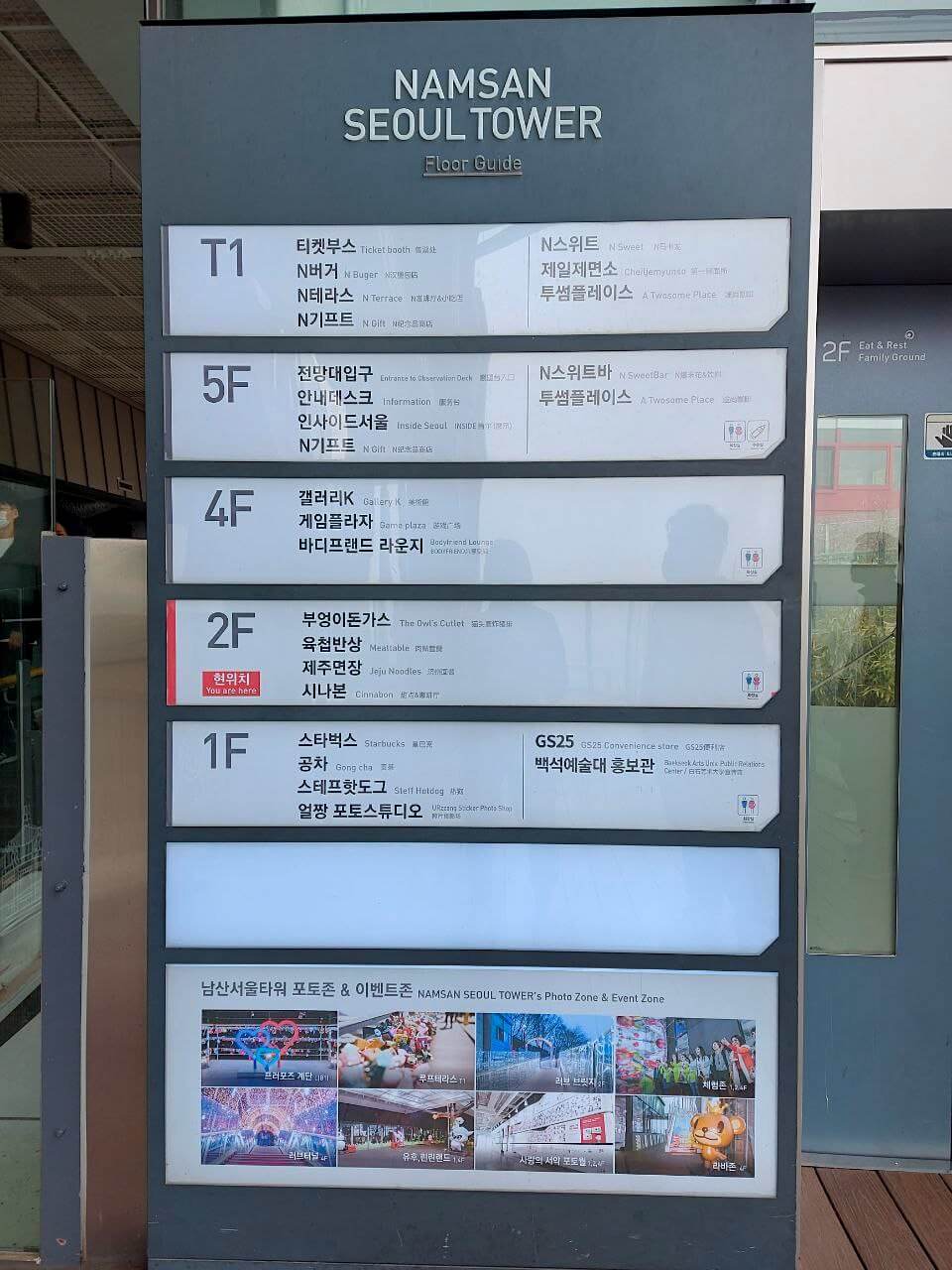 View the N Seoul Tower map and get acquainted with the different sections, attractions, and shops here. We recommend that you do your planning ahead so you don't waste your time navigating the area.
Our actual experience
We took the cable car to Namsan Tower and here's our experience:
On our way to Namsan cable car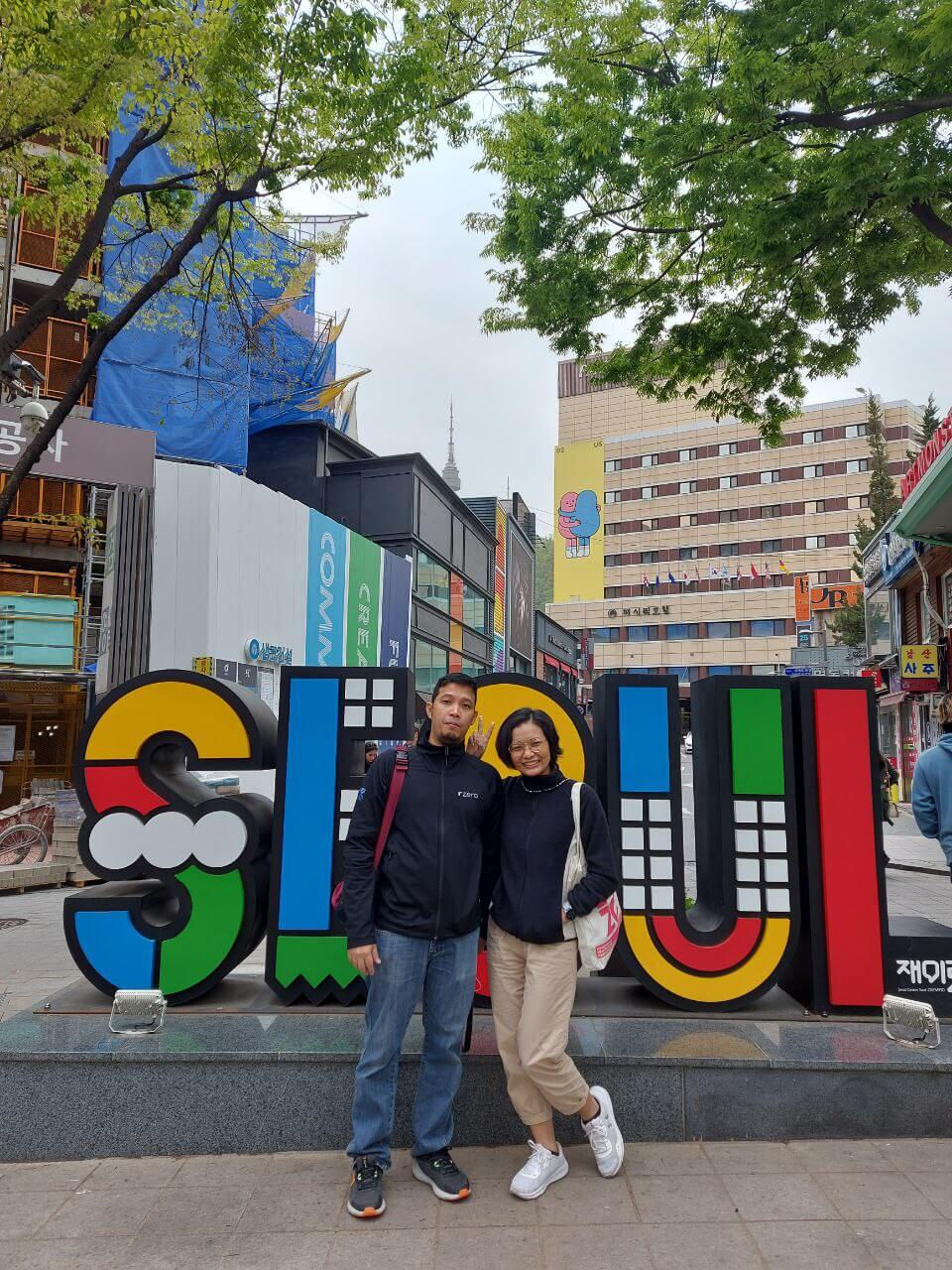 After exiting Myeong-dong Station, this colorful Seoul sign welcomed us. At the back of it, you'll find the Pacific Hotel (light brown building) where you'll start your walk to Namsan Seoul Tower cable car.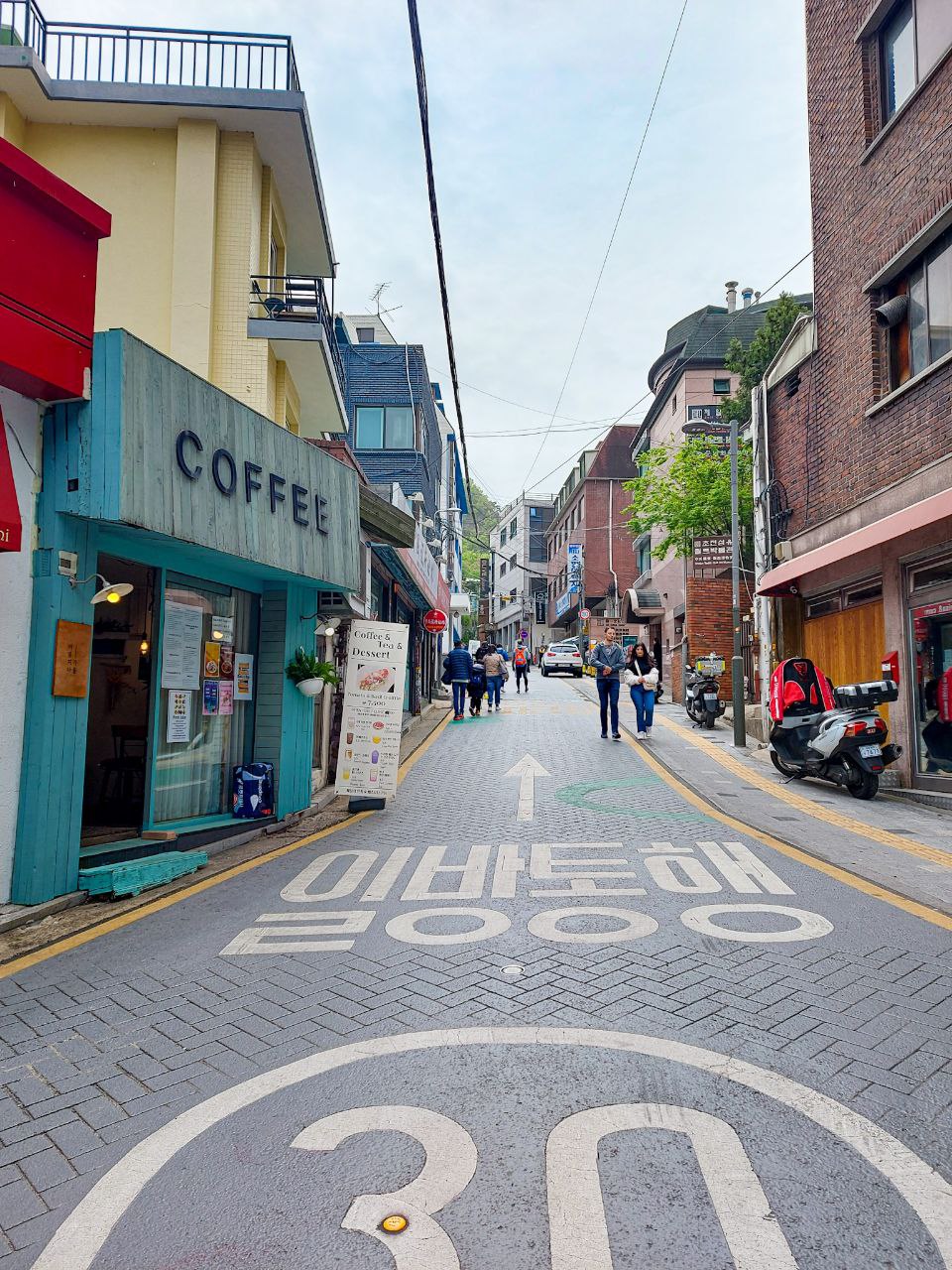 Our knees were not so prepared for the semi-uphill walk, but we saw some cool cafes, guest houses, and artisan shops along the way. It was worth it, after all!
Finally, we arrived after a 15-minute mini-cardio walk.
Our N Seoul Tower cable car ride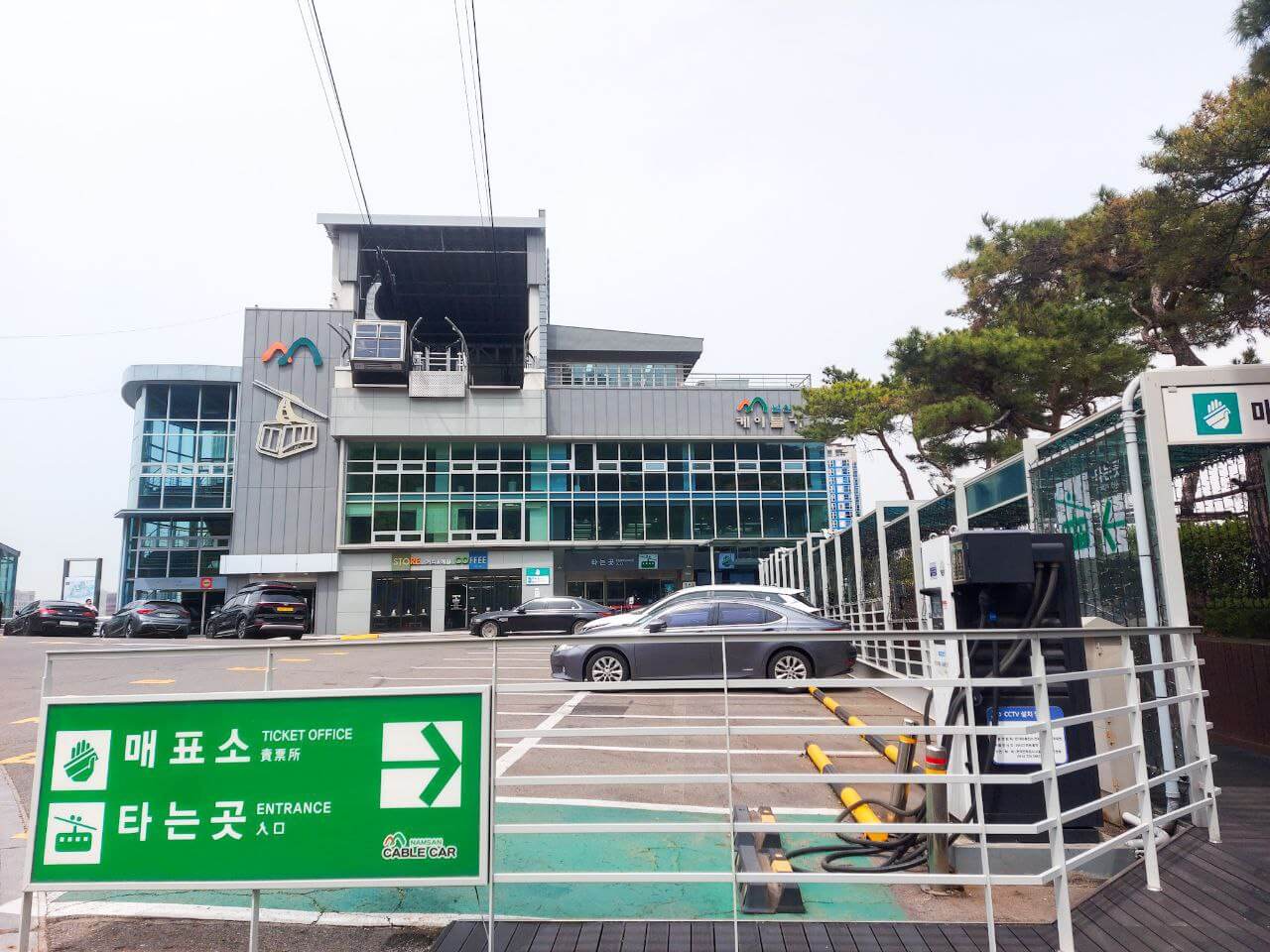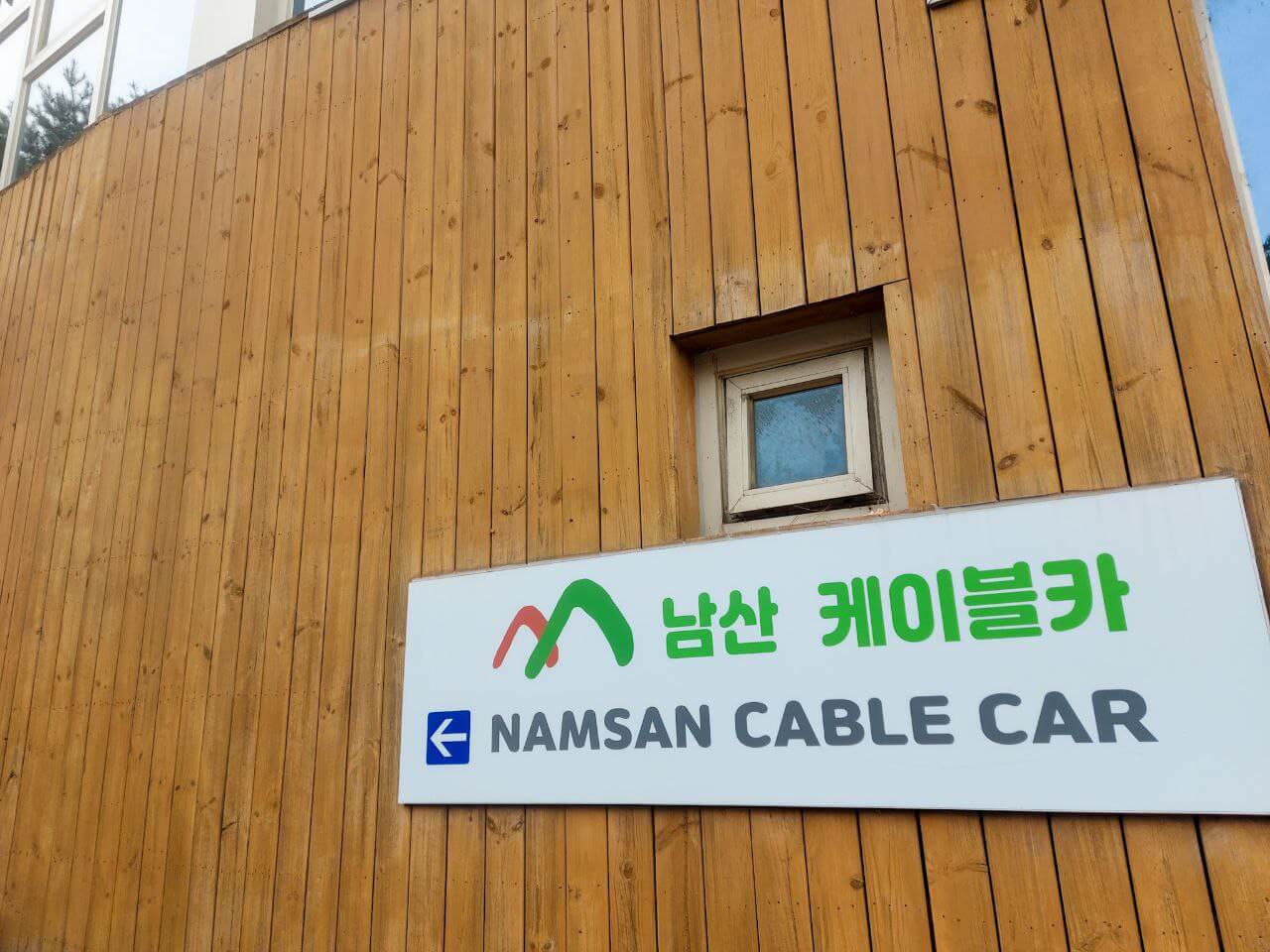 We got our tickets and waited for our turn to ride the cable car.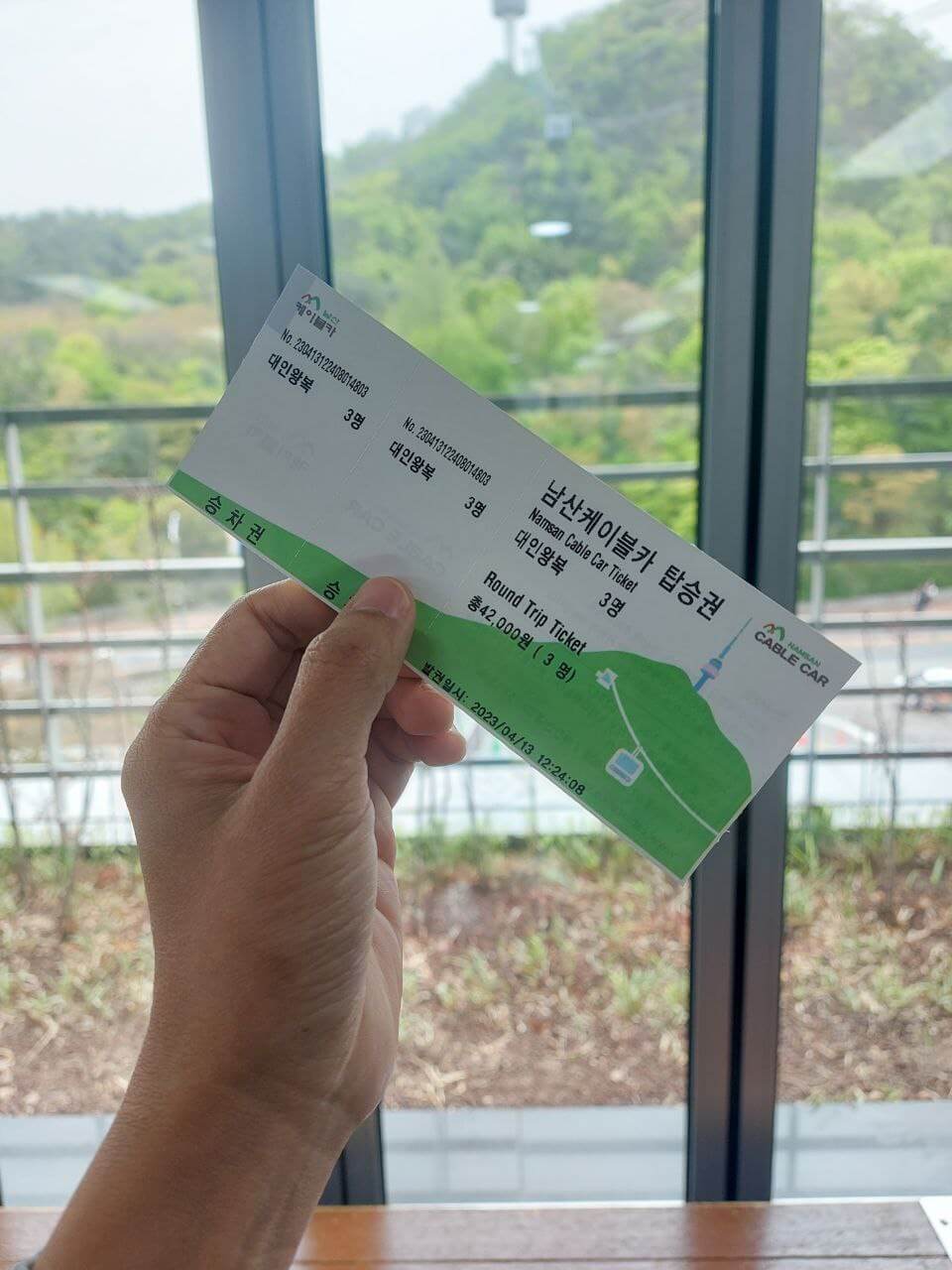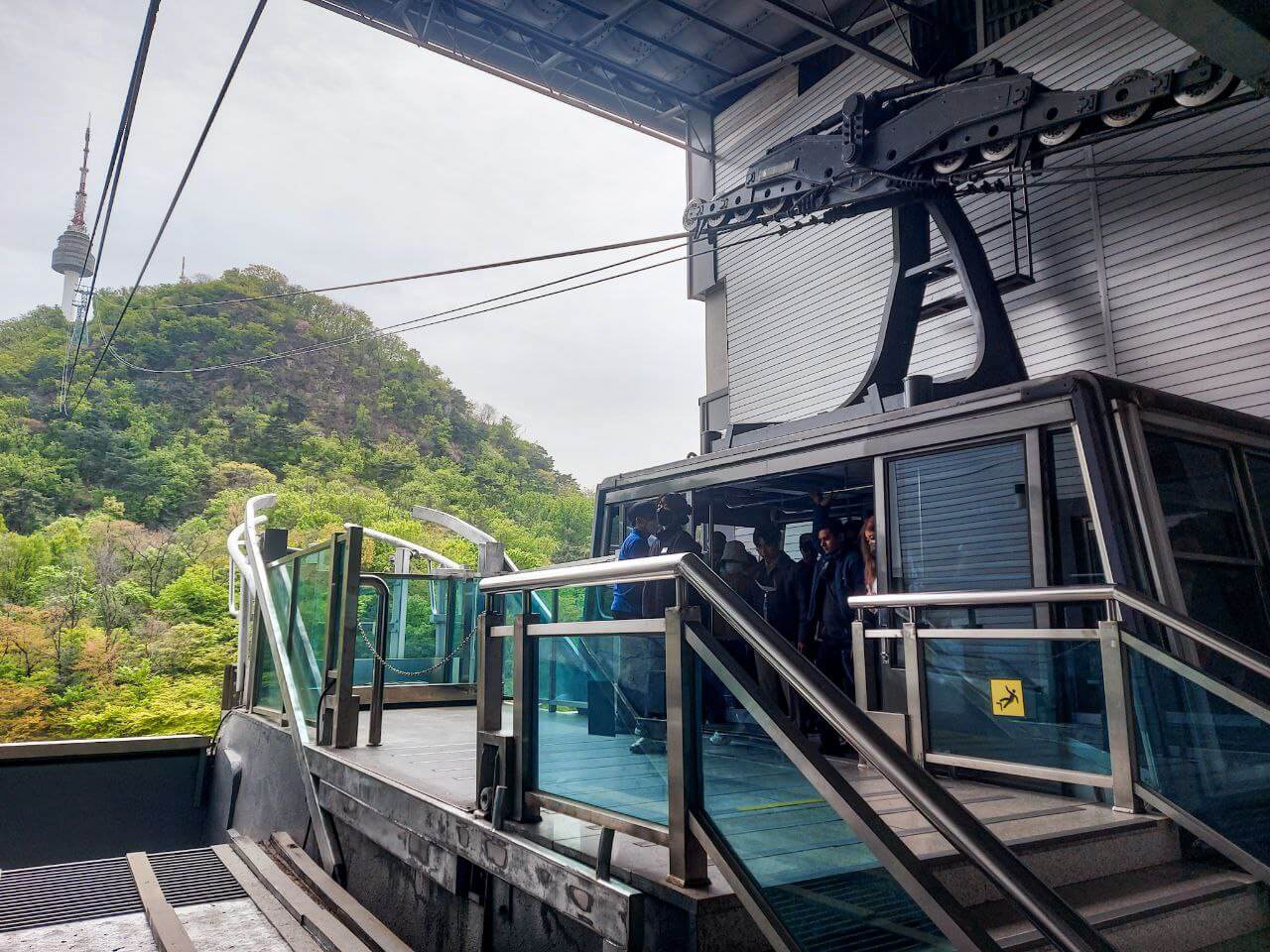 And up we went!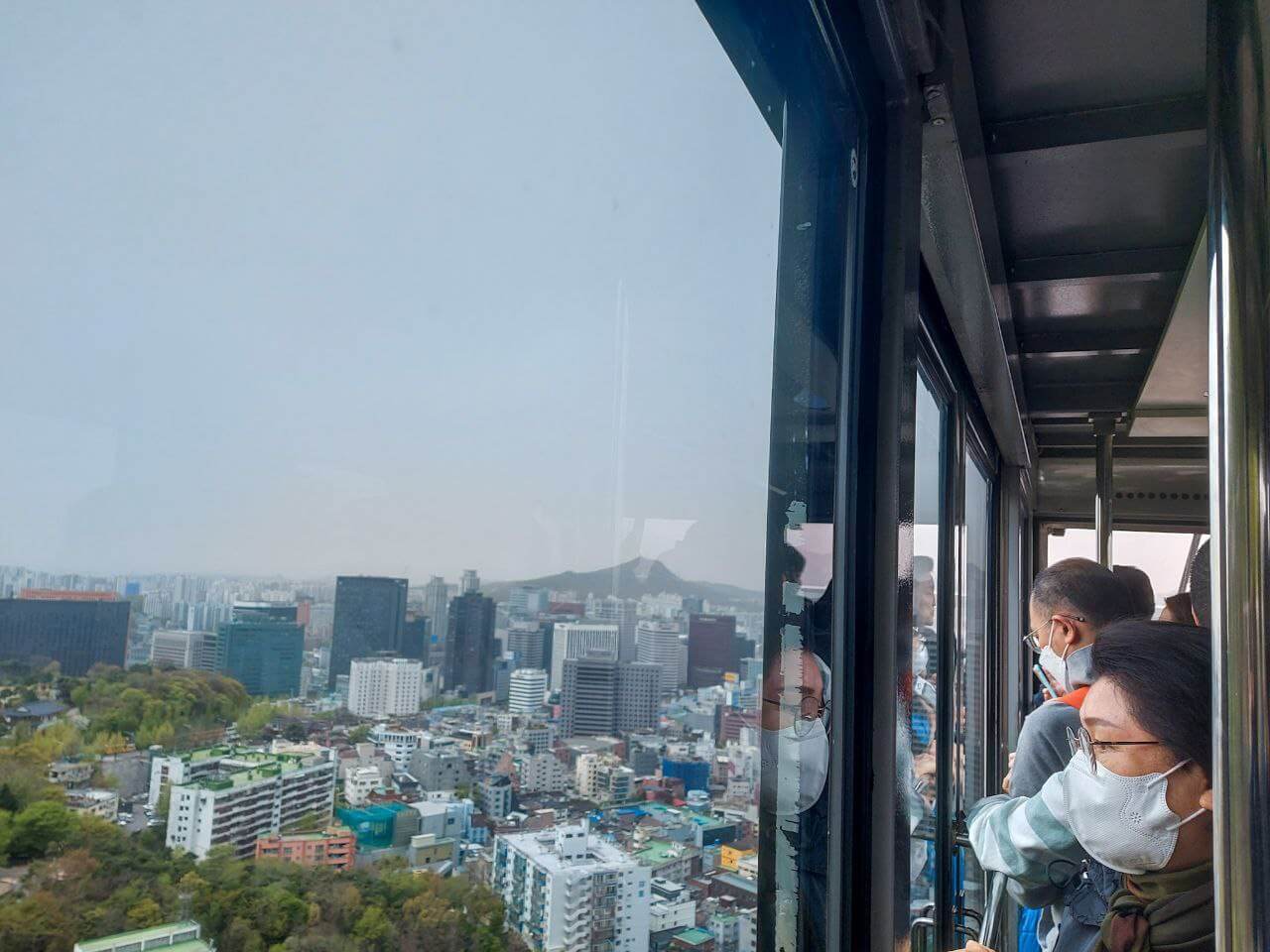 Exploring the love locks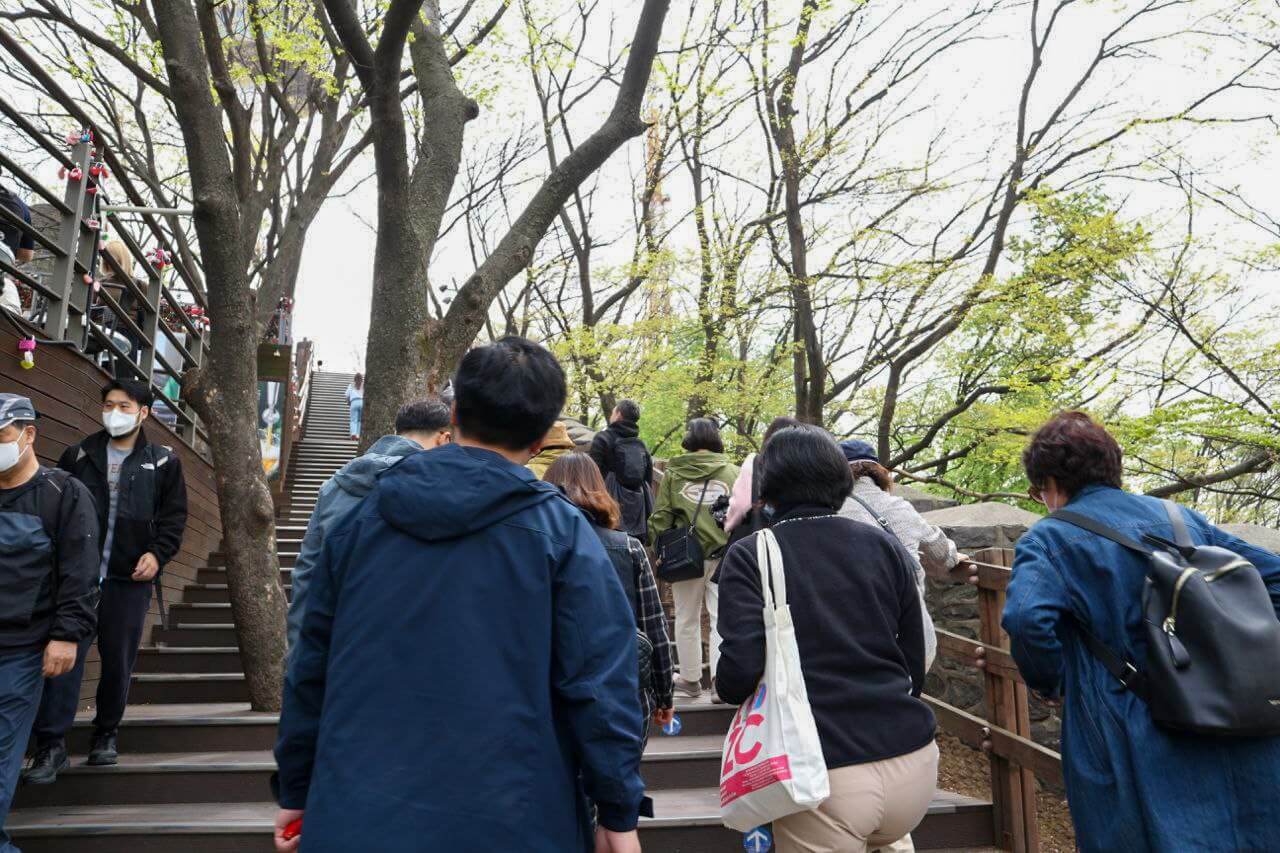 When we arrived, we went up the stairs to check out the famous N Seoul love locks first. You can see them just outside the actual tower. You can either choose to explore the love locks area before entering the observatory or vice versa.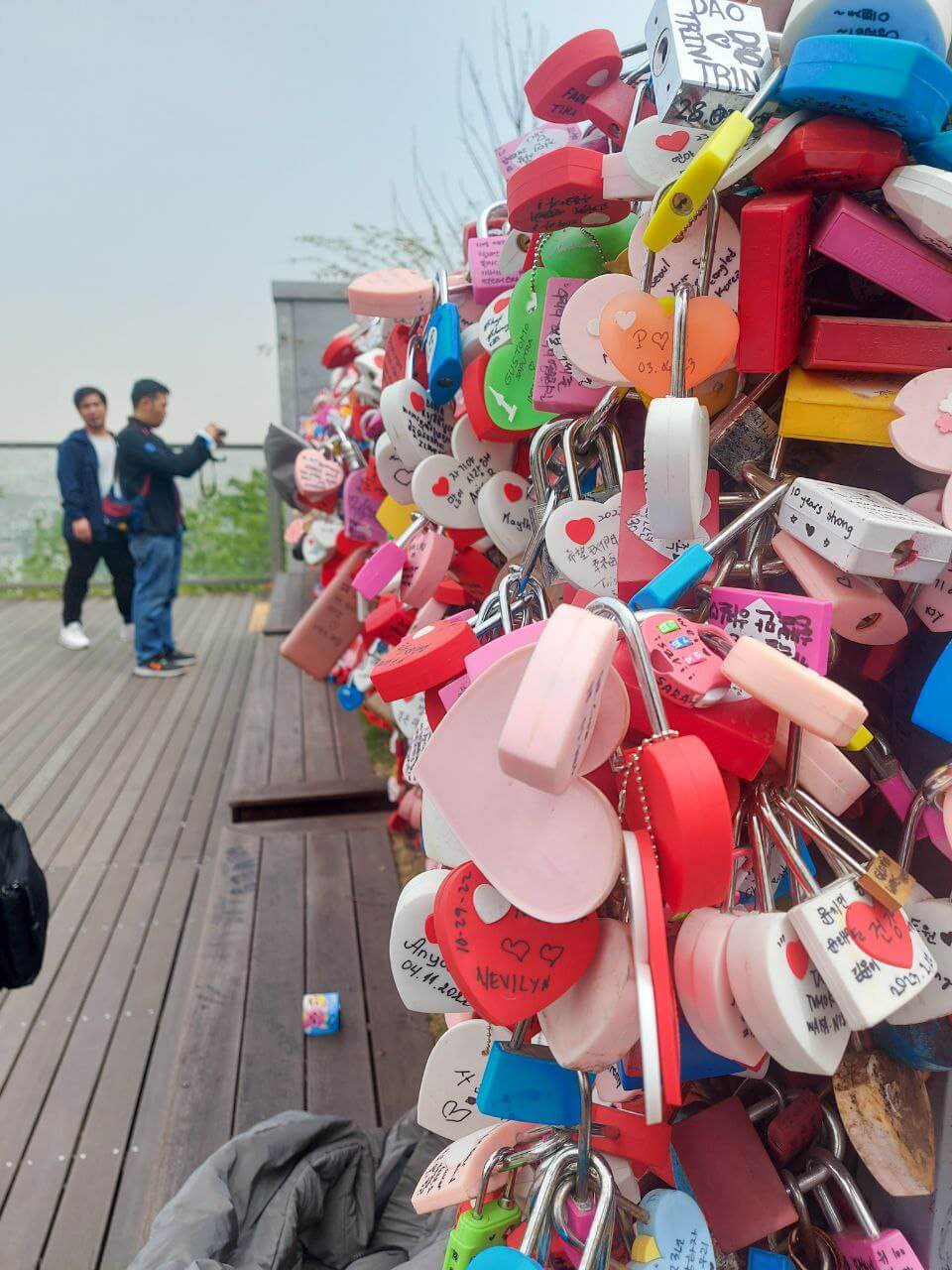 We saw thousands of padlocks on the walkway walls, benches, and even on lamp posts. We wondered how people got to put padlocks on the lamp posts, though.
Legend has it that when couples lock a padlock here and throw away the key, their love will be locked forever. Do you believe in it? May forever ba talaga? (Is there really a forever?) You better test it by coming here with your one true love. *winks*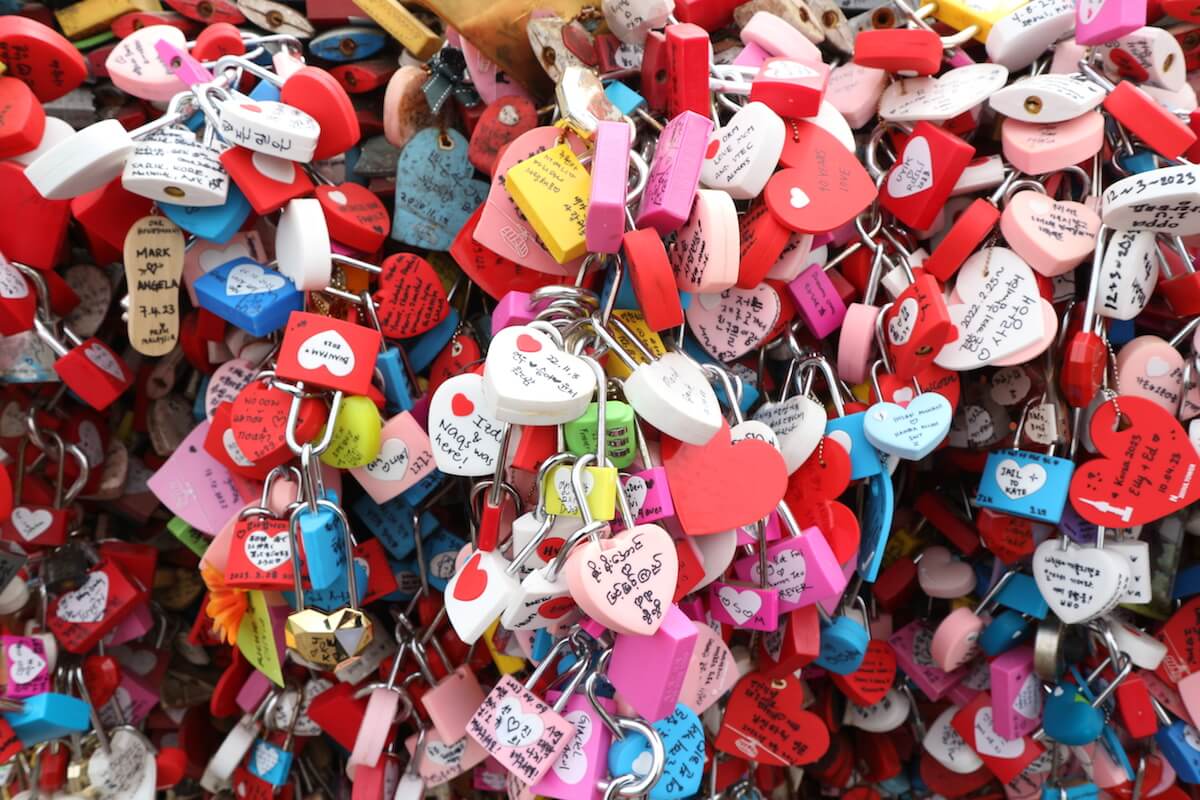 We spotted some padlocks with sweet messages and promises of love — some we find romantic, others a bit too much? Haha!
Going up the observatory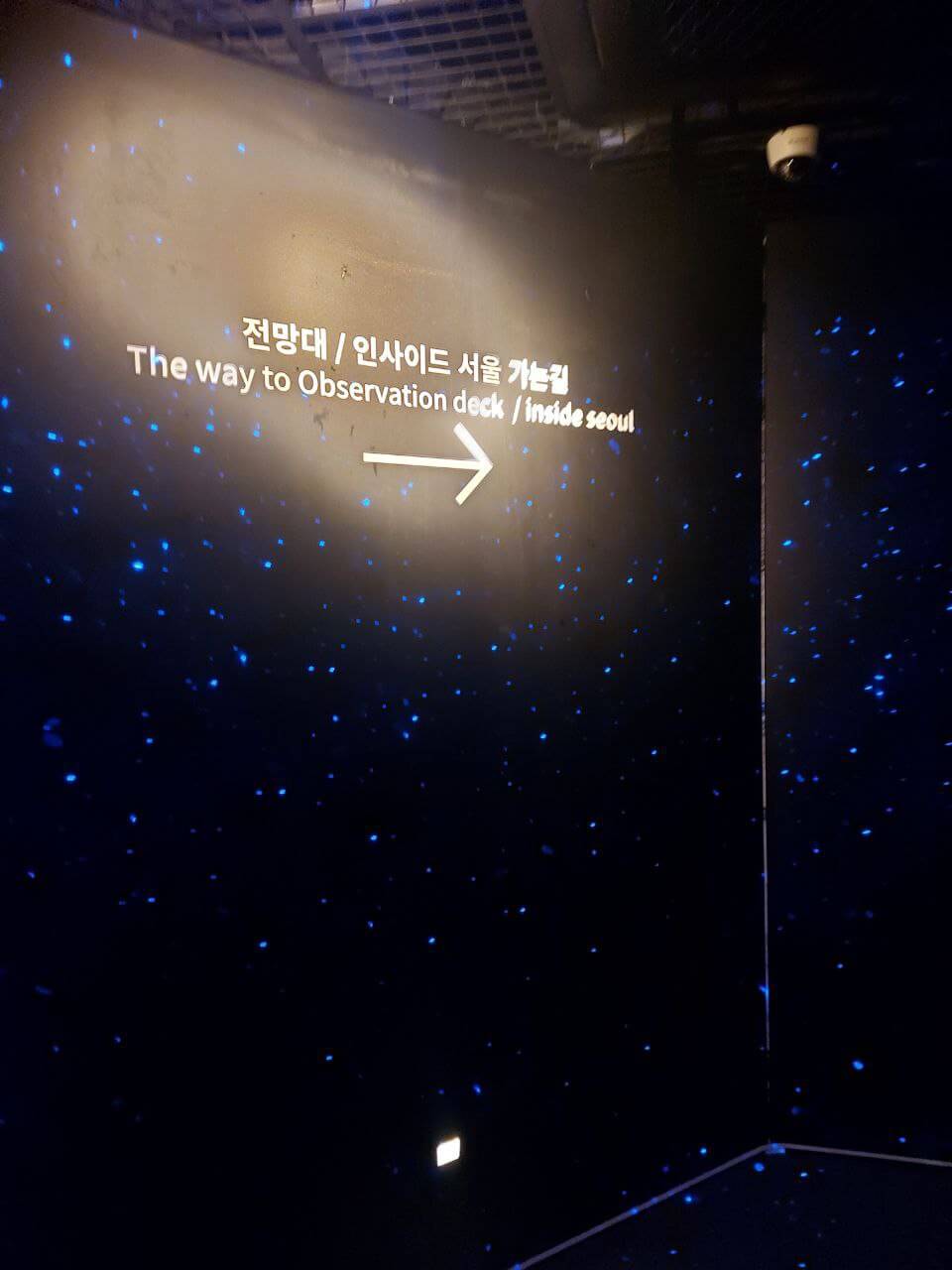 While waiting for the elevator that'll take us to the observatory, there's this media art space featuring Korean culture and art in a kaleidoscope of colors. You have to see it for yourself!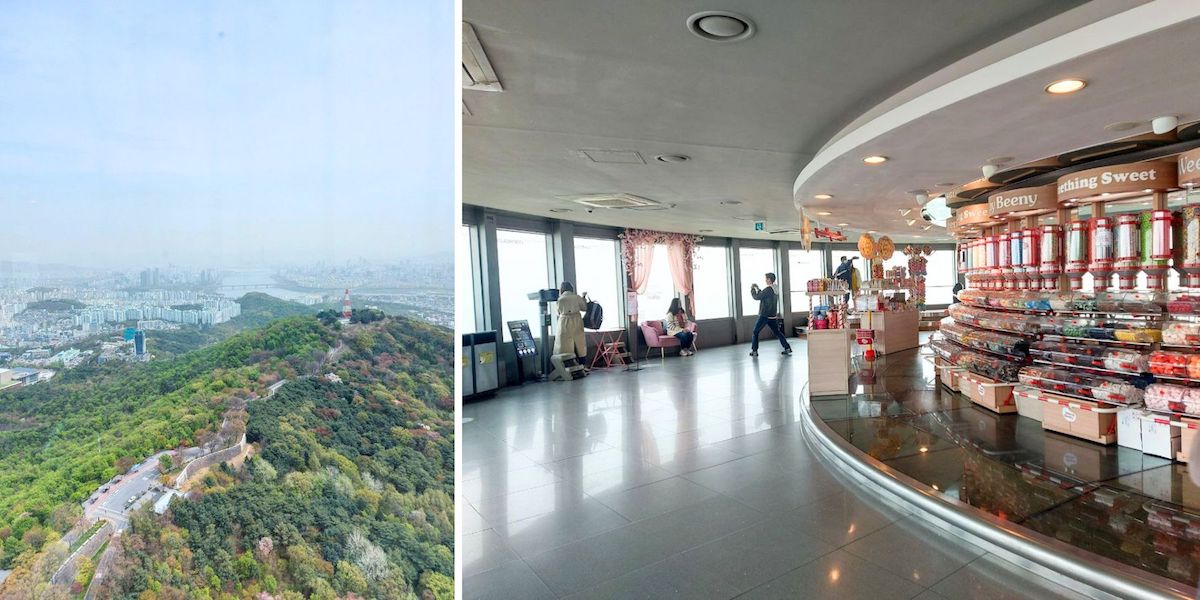 We finally reached the observatory! Here, we saw a breathtaking 360-degree view of Seoul and the surrounding area. There are also shops selling sweet treats and souvenirs.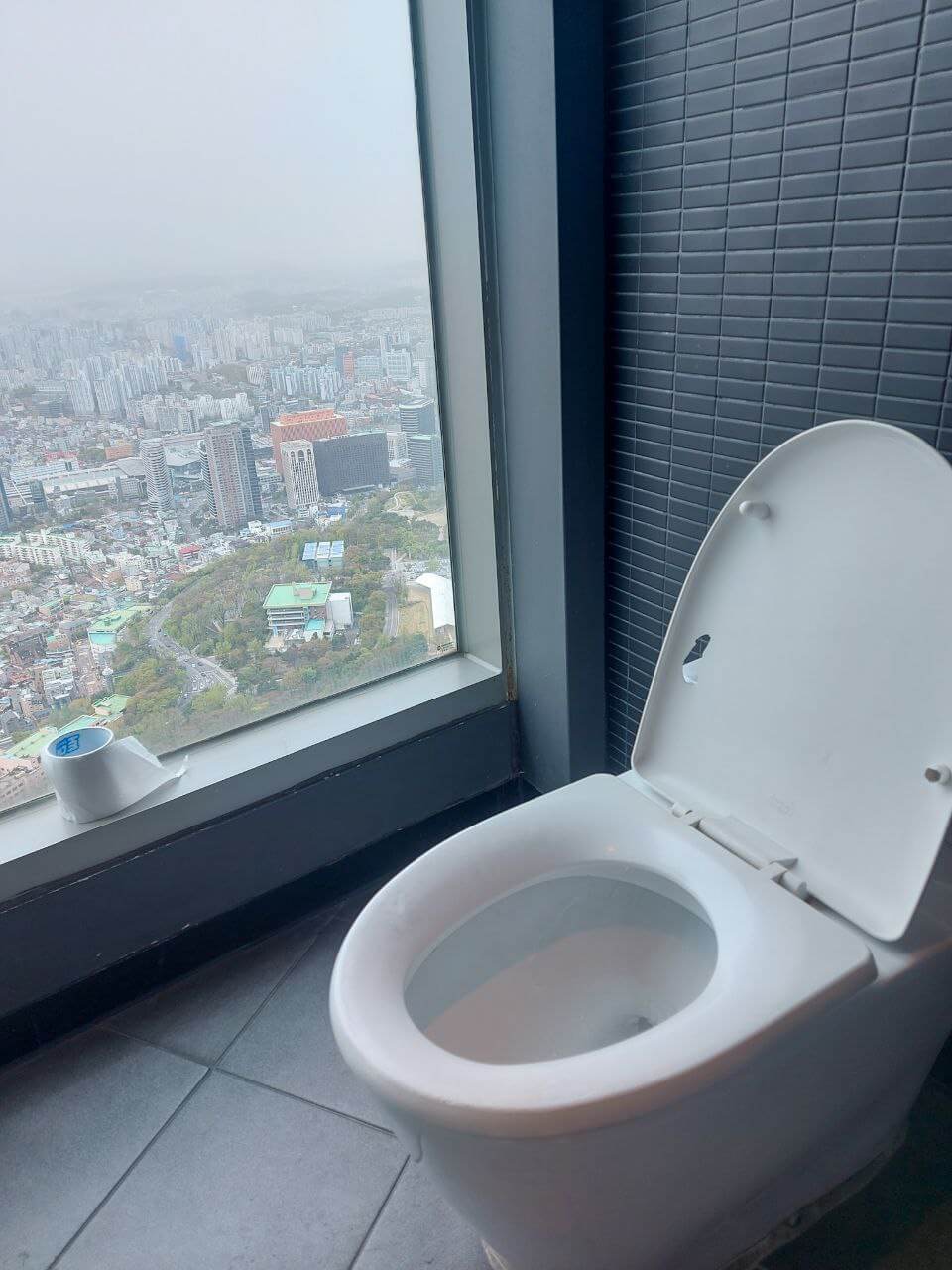 How often can you find a toilet with a view? The toilets here have transparent glass windows that let you see stunning views from above. This is by far the most IG-worthy toilet we've ever used!
You may find it awkward at first, but trust us, no one can see you at such a high altitude.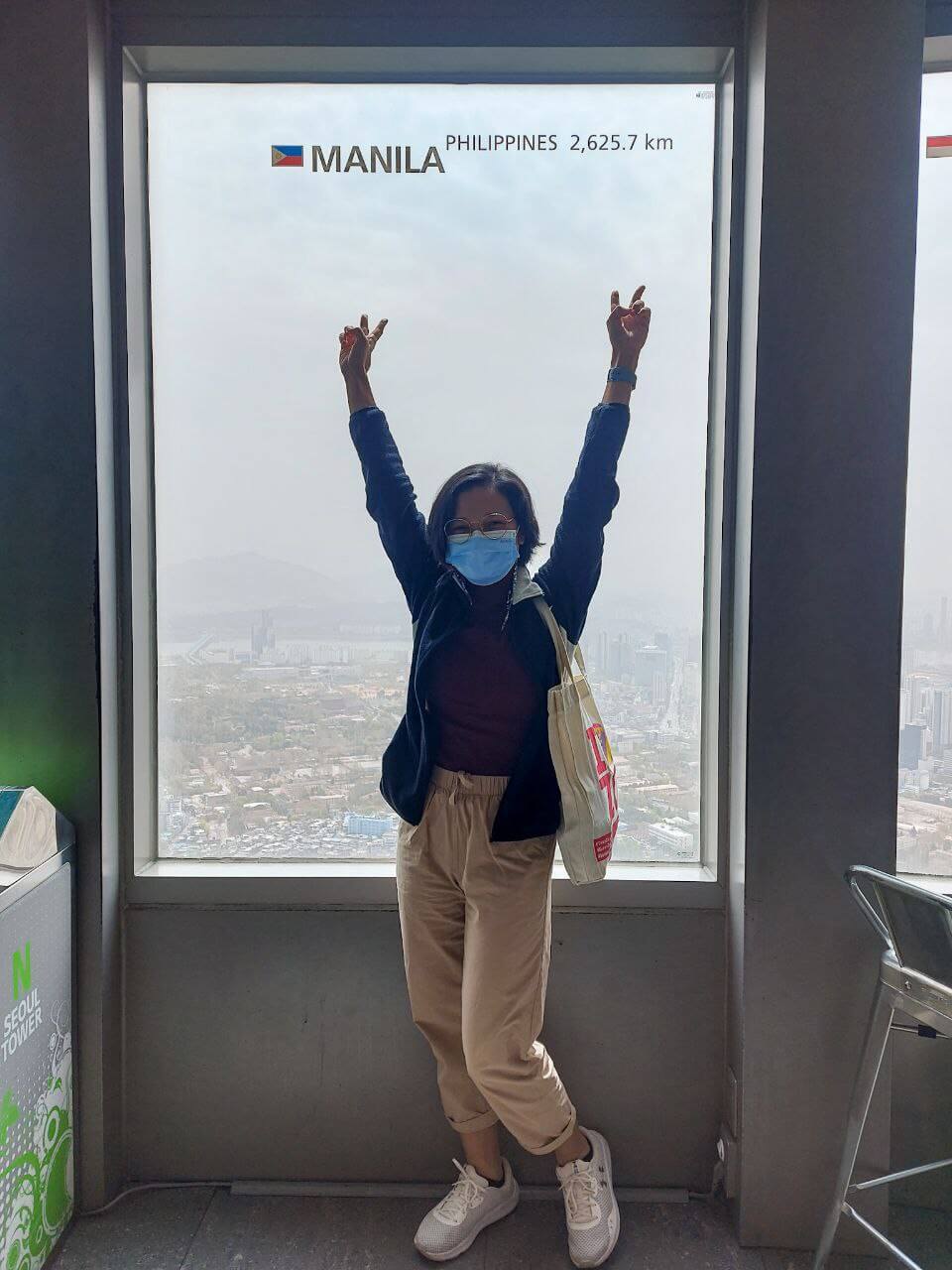 On the glass panels of the observatory, you'll find some capital cities and their distance from N Seoul Tower. Cool, right? Of course, we had to look for our very own Manila, Philippines.
Dining at N Seoul Tower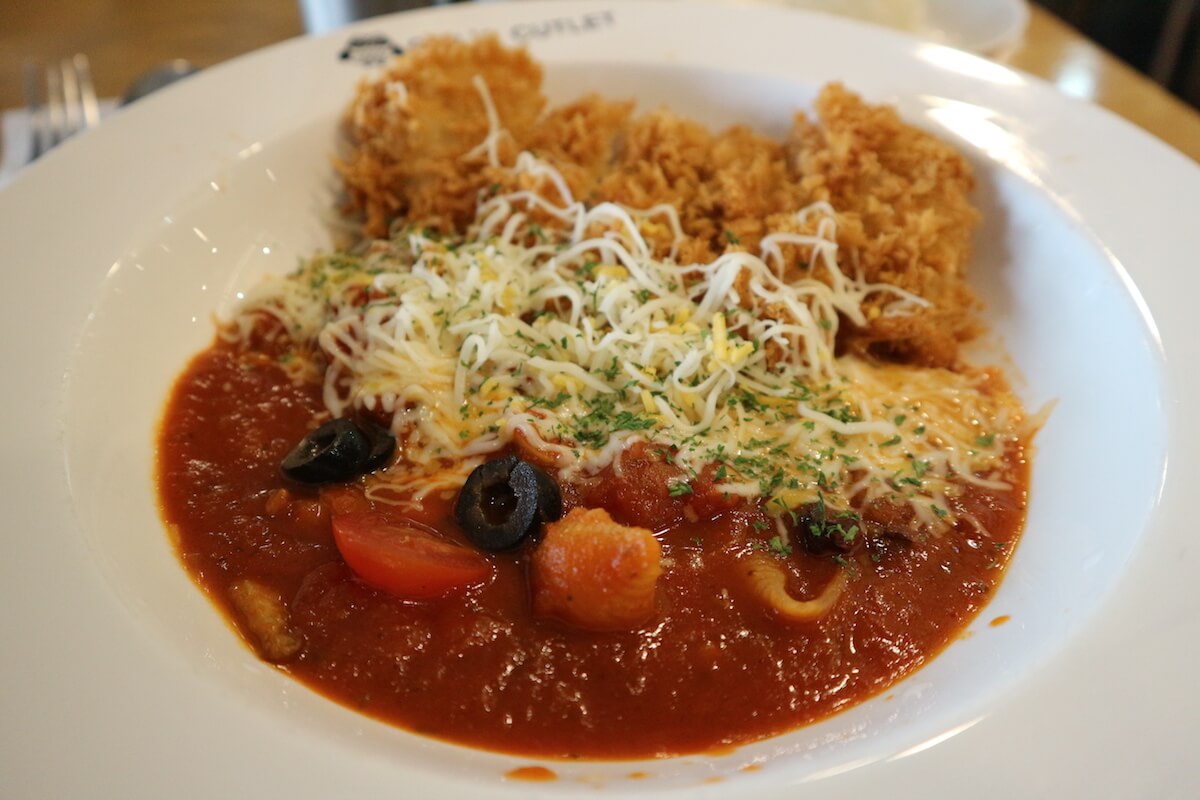 If you're already feeling peckish, you can eat at any of N Seoul Tower cafes and restaurants. As for us, we had lunch at Owl's Cutlet and ordered different flavors of donkkaseu (pork cutlet). Yum!
As always, it's Kevin's treat. We really don't know how to repay him for everything.
Friendly reminders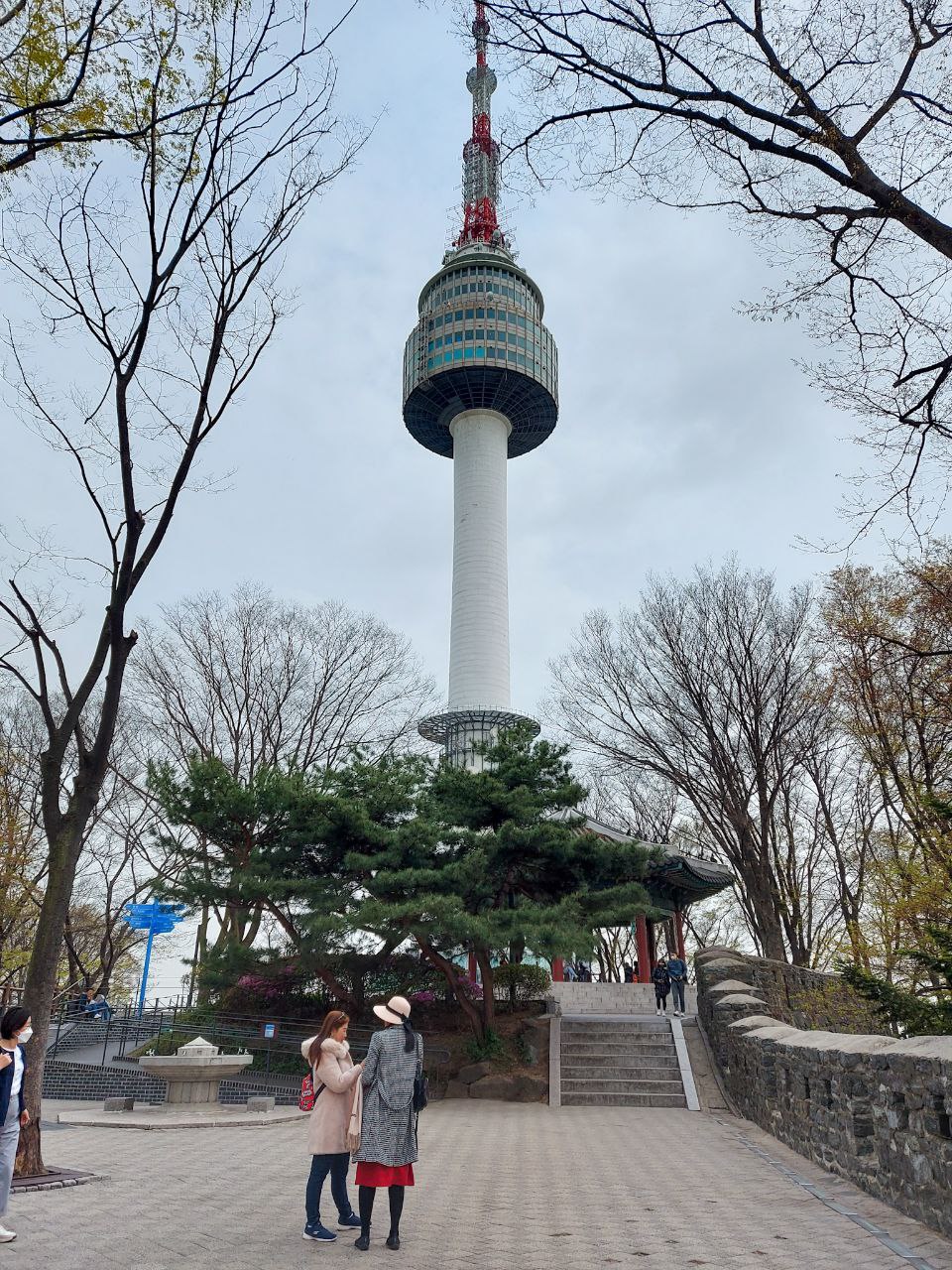 You'll be walking most of the time, so make sure that you wear a good pair of shoes and comfy clothes fit for the season. We came here in spring, and it was still windy and freezing cold so we had to layer up.
Expect to spend at least 3-4 hours to fully enjoy this top attraction in Seoul.
Food and drinks are not allowed inside, but you may eat at any of the cafes and restaurants or have a picnic at the square in front of the Palgakjeong pavilion.
Pets are also not allowed inside Namsan Seoul Tower.
Smoking is strictly prohibited as it is within the National Parks Act.
That's it! We'll leave the rest to your own exploration. 즐기세요 (Jeulgiseyo)!
If you are already planning your Korea trip, check out our Korean visa guide for Filipinos or Korean visa in Cebu, Lotte World guide, Korean street food list, and Korean souvenirs list for some inspiration.
*Special thanks to Kevin, our good friend who went the extra mile to take us to N Seoul Tower and other parts of Seoul we haven't explored before. 고마워요 (Gomawoyo)!