How to Pay Pag-IBIG Online for Self-Employed Members
Are you a freelancer, self-employed professional, or independent contractor who wants to pay your voluntary Pag-IBIG monthly contribution? We've created this guide on how to pay Pag-IBIG online, especially for freelancers and digital nomads like us who are always on the go.
We understand how tedious it is to voluntarily pay government-mandated contributions such as SSS, PhilHealth, and Pag-IBIG, so we're making it simple for you.
Pag-IBIG contribution 2023
So, how much should you pay for your Pag-IBIG monthly contribution?
As of 2023, the Pag-IBIG monthly contribution is set at ₱100. This is a fixed amount for all Pag-IBIG members including self-employed professionals and freelancers.
You can pay higher than ₱100, especially if you plan to get a loan or want to save more. Read more FAQs about the Pag-IBIG Regular Savings Program.
Steps on how to pay Pag-IBIG contribution online
Do note that if you were previously employed, you need to change your membership category to voluntary membership. Download this Member's Change of Information Form (MCIF) and go to the nearest Pag-IBIG branch to have it changed. Once your membership category is changed, you can already start paying your Pag-IBIG contribution online.
Step 1: Log in to Virtual Pag-IBIG online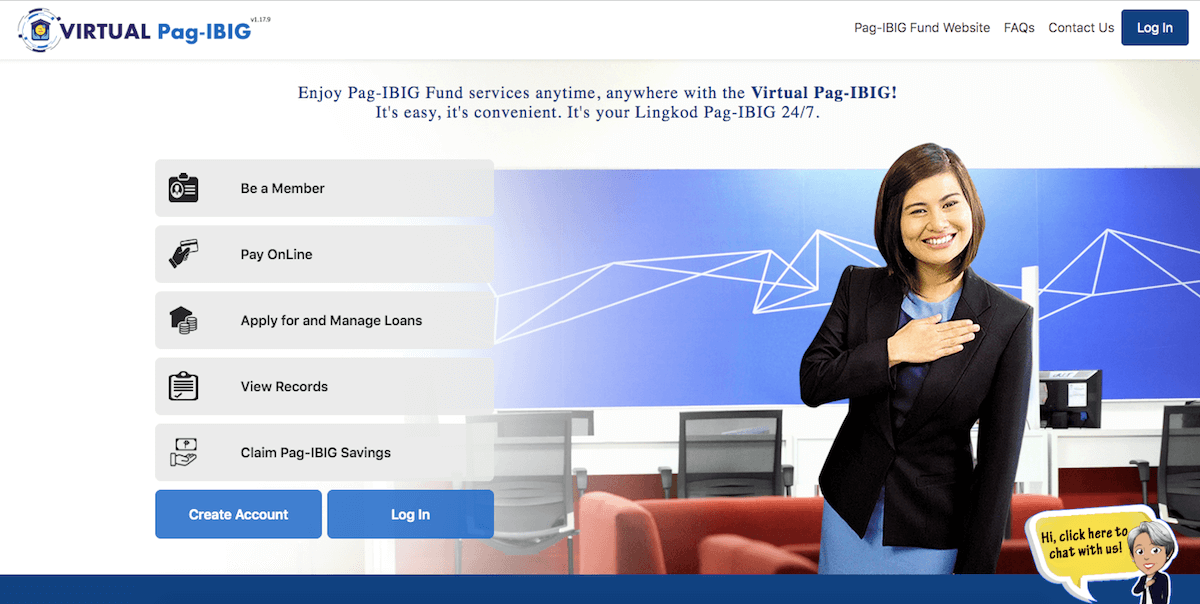 Go to the Virtual Pag-IBIG member portal and log in to your account.
If you don't have a Virtual Pag-IBIG account yet, click "Create Account". Be sure to prepare the following before creating your Pag-IBIG online account:
Pag-IBIG Membership ID or MID (12-digit number)
Active mobile number to receive your One-Time Pin (OTP)
Active email address to receive your temporary password
Two (2) valid government ID photos
Selfie photo with your valid ID
Step 2: Go to Regular Savings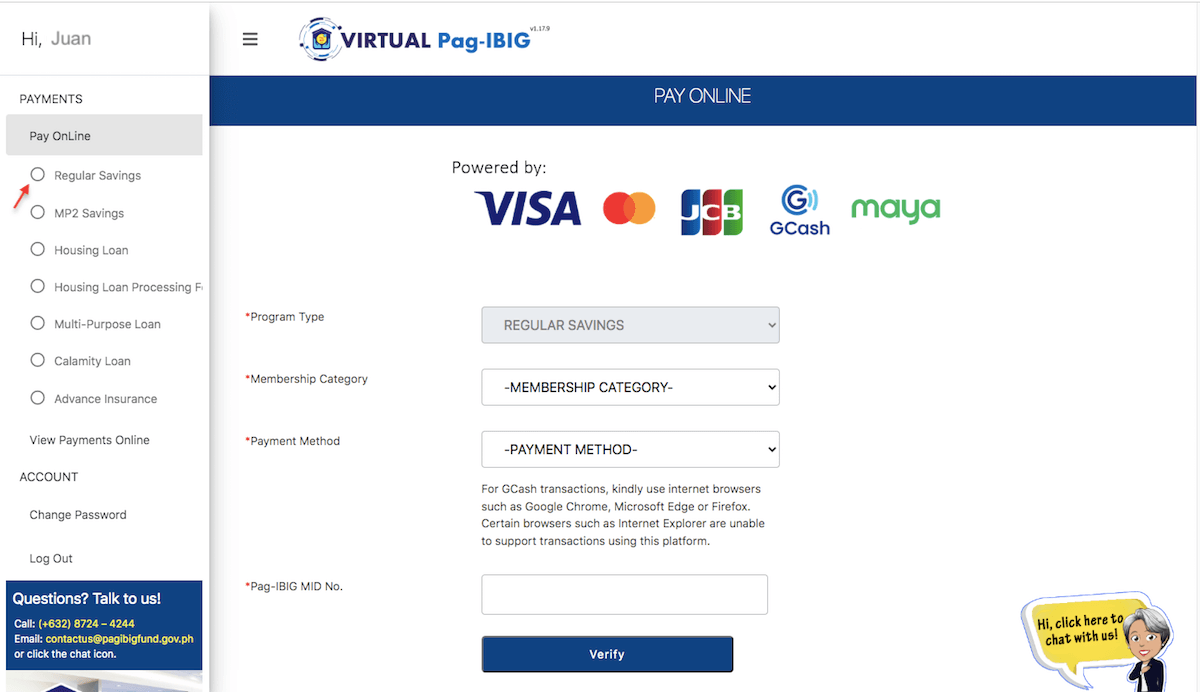 Under PAYMENTS, click "Pay Online". Then, "Regular Savings". You will be redirected to a page where you need to fill in some payment details.
Step 3: Fill in the payment details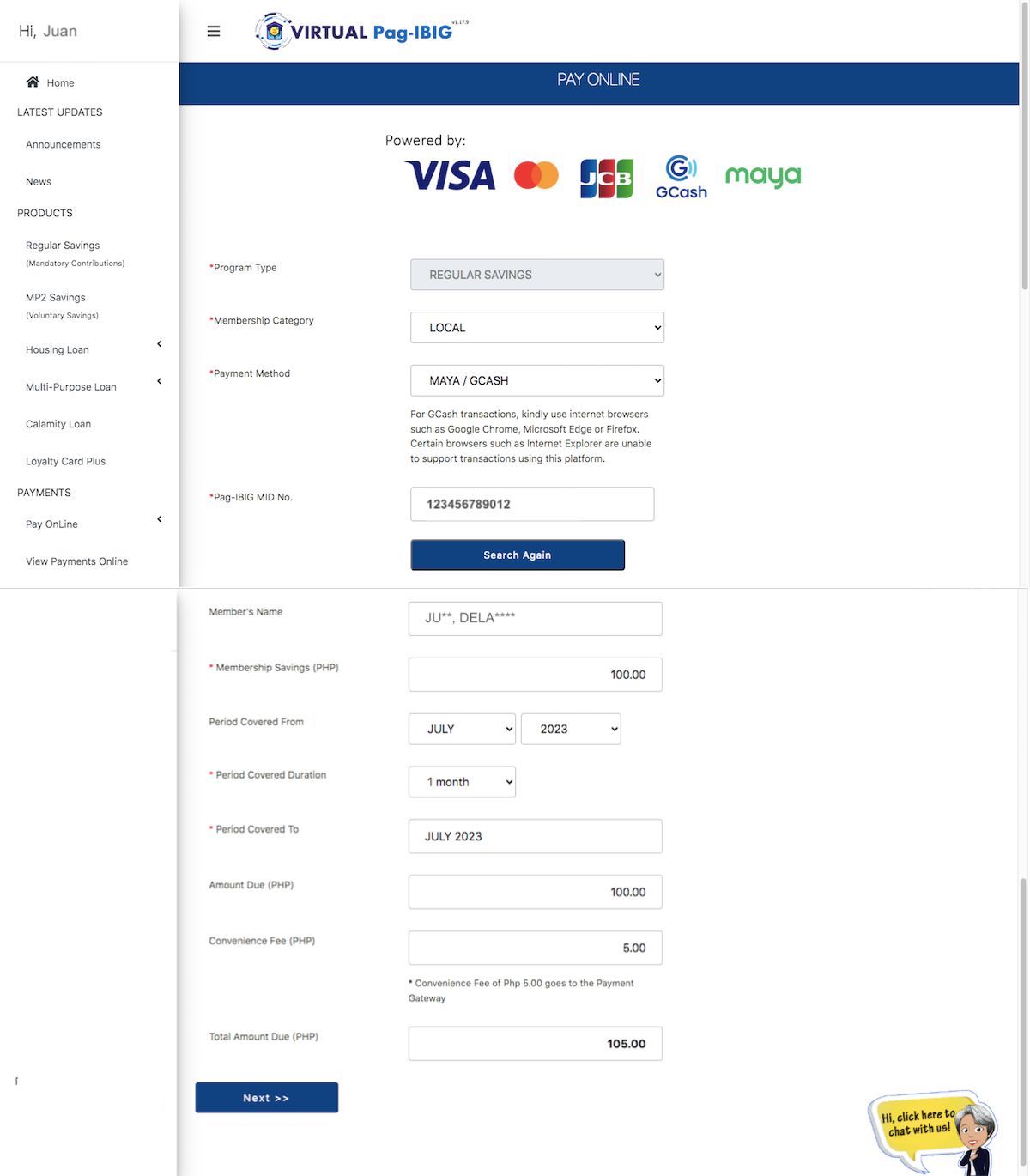 Complete the following fields:
Membership Category
Payment Method
Pag-IBIG MID No. (Click "Verify" after you typed your MID. It will verify and autofill your Member's Name)
Membership Savings (Enter the amount of your Pag-IBIG contribution)
Period Covered From
Period Covered Duration
Period Covered To
After putting all the information, it will show your Amount Due, Convenience Fee, and Total Amount Due.
Click "Next" after reviewing everything.
Step 4: Provide your billing address and contact information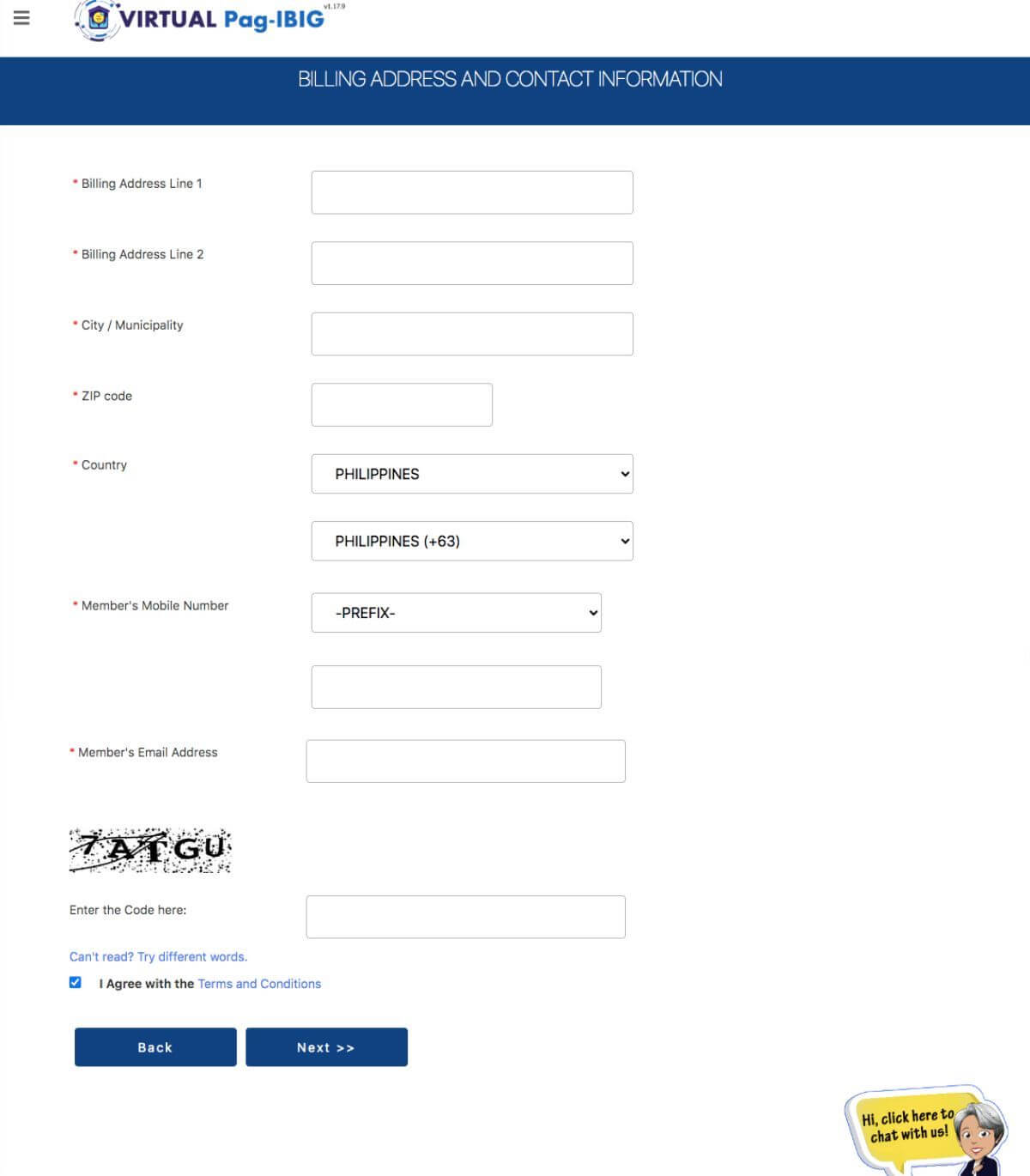 Input your Billing Address, Mobile Number, and Email Address. Then, enter the CAPTCHA code, tick "I Agree with the Terms and Conditions", and click "Next".
Step 5: Review the payment summary
After you input your details in the previous steps, you will see your Pag-IBIG monthly contribution payment summary. Review everything before you click "Proceed".
Step 6: Pay your Pag-IBIG contribution online

Depending on what you chose as your payment method, you will be redirected to the respective payment platforms.
If you choose the credit or debit card, you will be asked to provide your card number. If you picked Maya or GCash, you will be asked to log in to your respective e-wallet accounts.
Take note of the following convenience fees:
Maya / GCash – ₱5
Credit / Debit Card – 1.75% of the total amount
Tip: If you are only paying for one month of Pag-IBIG contribution, we suggest that you use your credit or debit card as you will only pay a convenience fee of ₱1.75, which is 1.75% of ₱100. However, if you opt to pay a higher amount or cover more months, we suggest that you choose GCash or Maya since you will only pay a flat rate of ₱5 as a convenience fee.
That's basically all the steps on how to pay Pag-IBIG online.
Since you're paying your Pag-IBIG self-employed contributions, why not pay your SSS contributions and PhilHealth contributions online, too?
If you found this Pag-IBIG online payment guide useful, please share it with your friends. Let's also connect on Facebook, Instagram, Twitter, and Youtube.
*Screenshots taken from Virtual Pag-IBIG.