10 Best Cebu Cafes for Specialty Coffee, Desserts & More!
To say that Cebu is a food capital is an understatement. Besides lechon and native delicacies, Cebu is home to a number of interesting cafes for your next gastronomic adventure.
From the homegrown coffee shops that brew the best coffee to local cafes that serve mouth-watering desserts, here's our list of the best cafes in Cebu. Happy cafe-hopping!
Tip: Don't have your own car for your cafe-hopping or food trip in Cebu? Get a private car with an experienced chauffeur who will take you from one place to another according to your itinerary. It's reliable and super convenient!
Best homegrown coffee shops and cafes in Cebu
1. Good Cup Coffee Co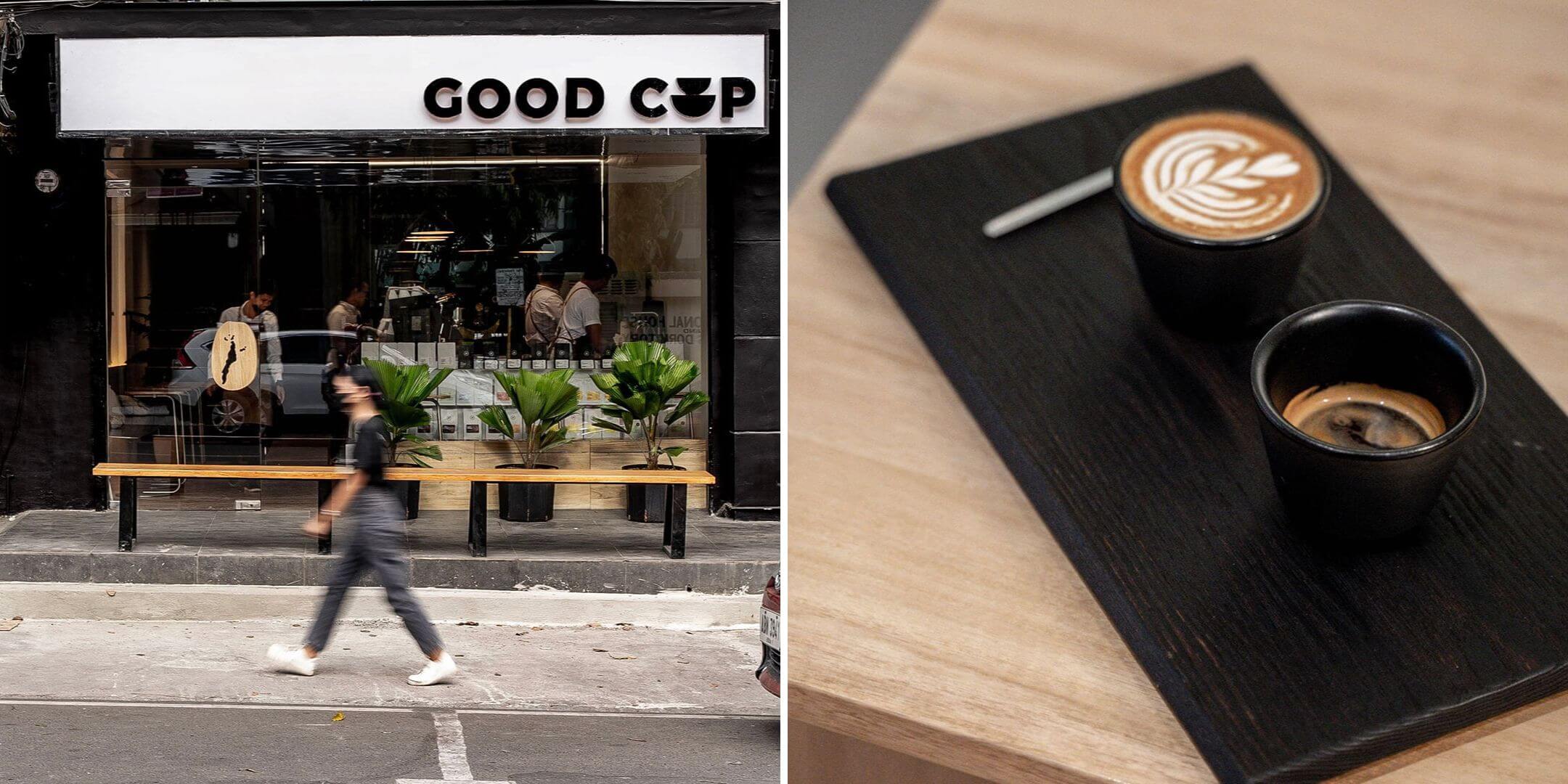 Feeling like there's a hole in your heart? Lighten up your day with a cup of coffee at the Good Cup Coffee Co. This local Cebu cafe near Velez College is an expert at brewing the right concoction of specialty coffee that satisfies every coffee lover.
If you want to enjoy your coffee at home, buy their freshly roasted beans, particularly their best-selling Brazil Cerrado, and practice your inner coffee connoisseur. We're also huge fans of their signature cold white, which we always stock up when there's a promo.
Address: Door 3, Diez Building, F. Ramos Street, Cebu City, Cebu
Website: goodcup.ph
Facebook: Good Cup Coffee Co.
Instagram: @thegoodcupcoffeeco
2. Abaca Baking Co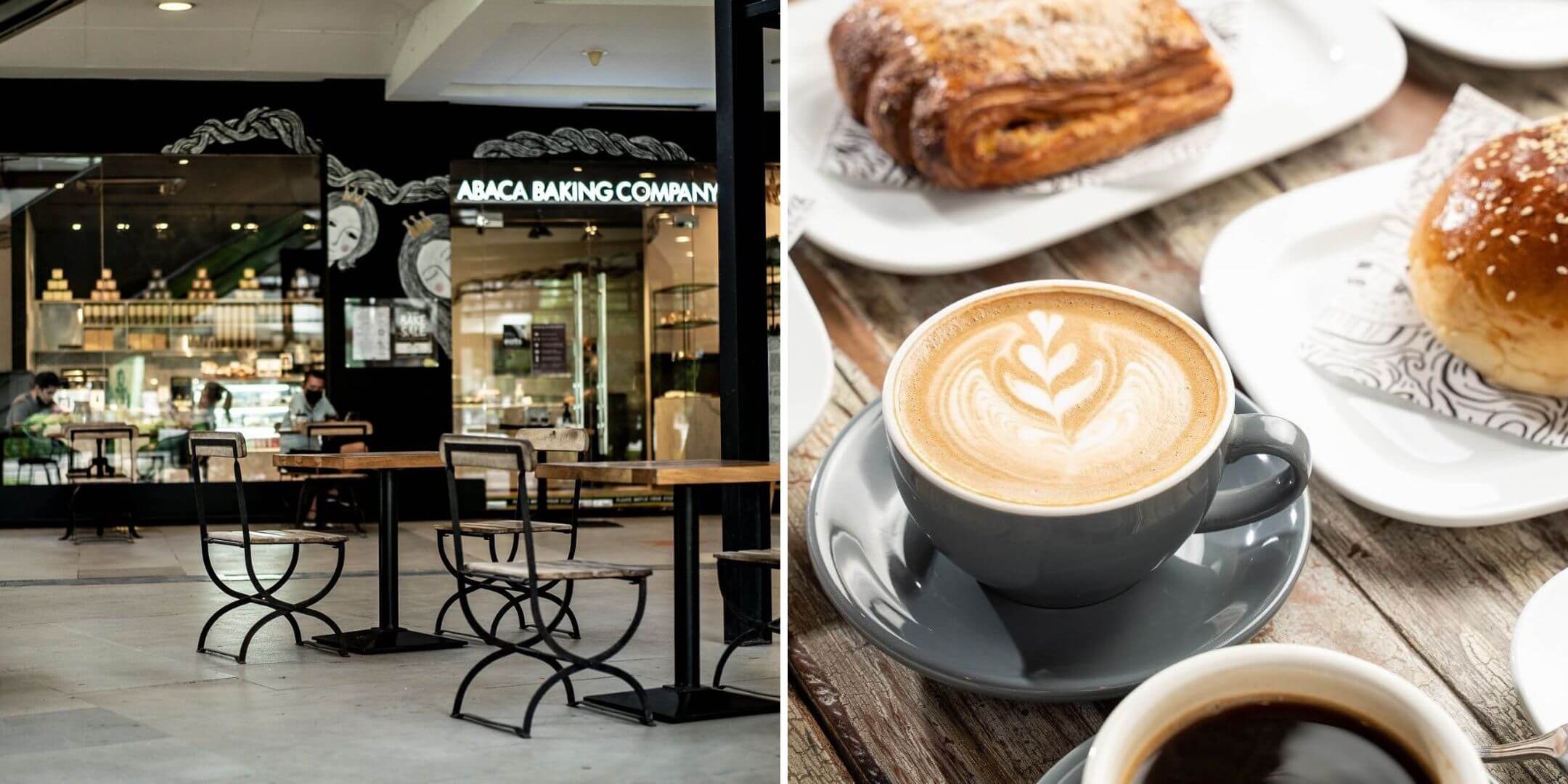 Need a good cup of coffee before going to work? Or want to take a break from the daily hustle and bustle? Abaca Baking Co can get you a good coffee fix to let you power through the day.
Abaca Baking Co is a locally grown chain of coffee shops in Cebu that serves good quality coffee and delightful pastries. We specifically love their cheese Danish paired with hot latte. It's easy to find an Abaca cafe because it has branches in main business hubs and shopping malls in Cebu.
Address: Metro Cebu (Branches: Crossroads, Robinsons Galleria, Robinsons Cybergate, Paseo Arcenas, Baseline, Ayala Cebu & Rustans, TGU Tower, Filinvest Zone, SM City & Seaside)
Website: theabacagroup.com
Facebook: Abaca Baking Company
Instagram: @abacabakingco
3. Bo's Coffee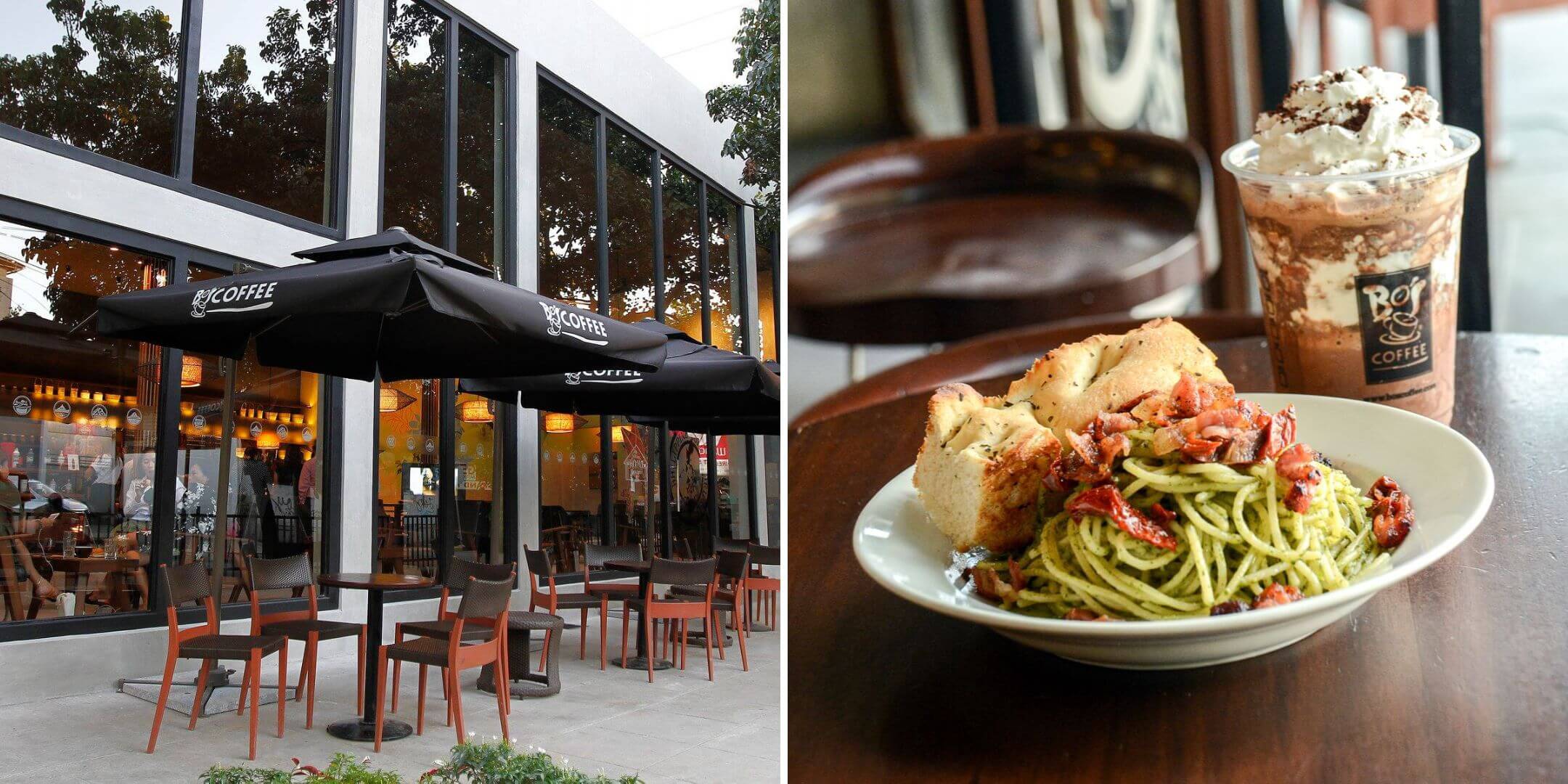 Before coffee shops started popping up in Cebu, there's already Bo's Coffee. One of the oldest homegrown coffee shops in Cebu, it has been serving daily doses of coffee since 1996. This local cafe also offers tasty cheesecakes. One of our favorites is the dulce de leche cheesecake which is best paired with a cup of hot cappuccino or Americano.
You can easily find Bo's Coffee in many parts of Cebu, especially in malls, business districts, and tourist areas. In fact, they have over a hundred branches all over the Philippines.
Address: Metro Cebu (Branches: Ayala Center Cebu, SM City Cebu, IT Park, and many more. Check their store locator.)
Website: boscoffee.com
Facebook: Bo's Coffee
Instagram: @boscoffee
4. Dragonfly Cafe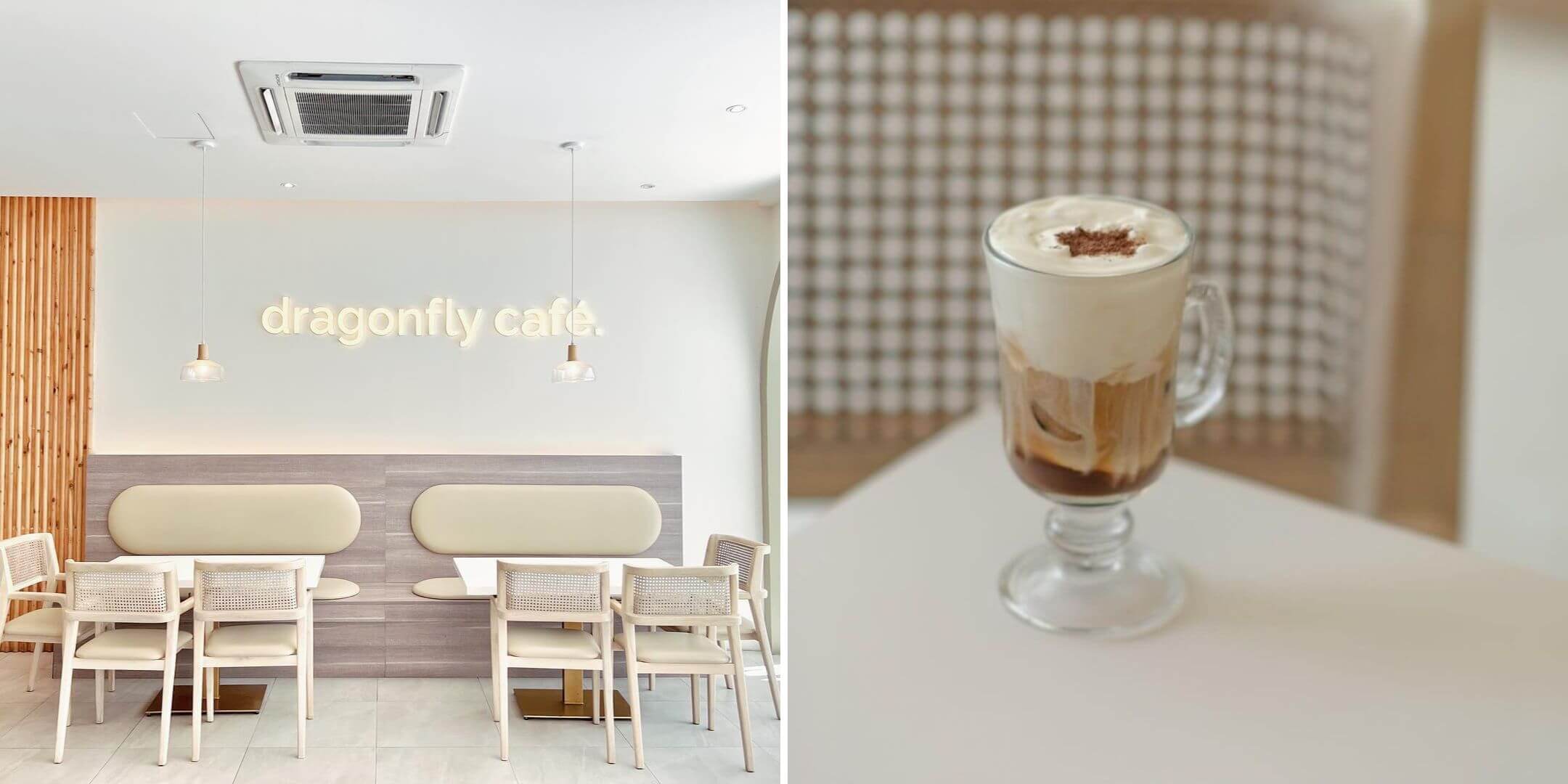 One of the new Cebu cafes, Dragonfly Cafe serves a variety of unique coffee creations and desserts. Some of their interesting drinks include their misugaru latte and mango lassi. But we keep coming back for their cafe latte and ube halaya cake.
The cafe's white minimalist ambiance allows you to get in the groove for creativity and productivity, which is why many patrons come here to study, work, or simply chill out.
Address: Ground Floor, Bonifacio District, F. Cabahug Street, Cebu City, Cebu
Facebook: Dragonfly Café Cebu
Instagram: @dragonflycebu
Best Cebu cafes for brunch and more!
5. Anthony's Cafe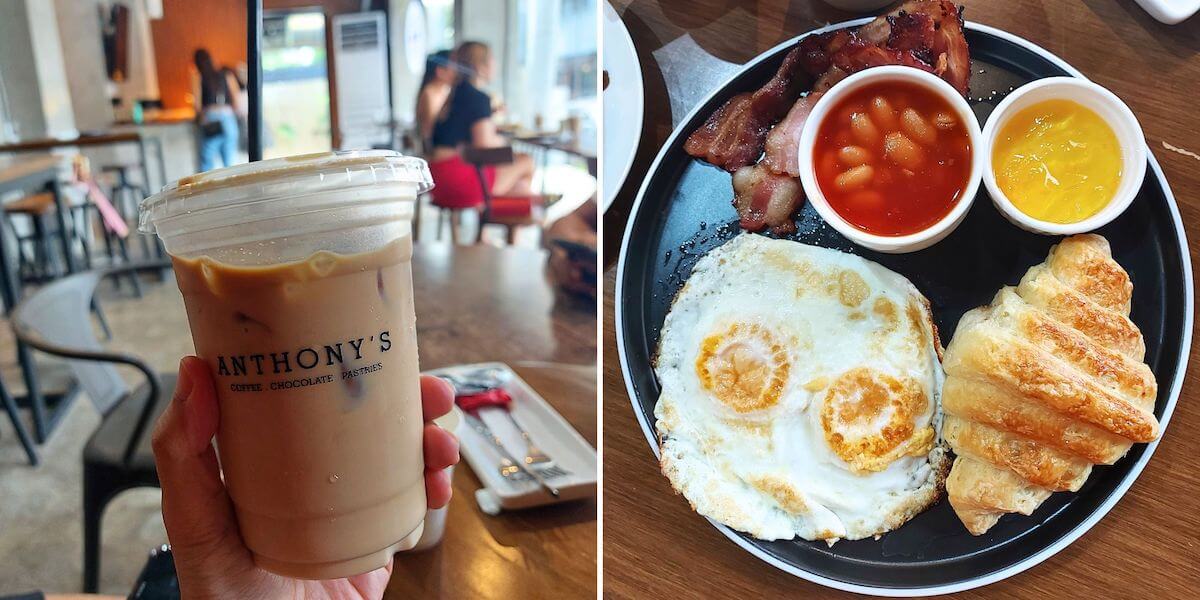 Tucked away in a quiet neighborhood in Cebu City, Anthony's Cafe serves coffee, desserts, and meals. Since it's a little bit hidden away from the busy streets, you can surely enjoy your food and coffee in peace.
We went there after our badminton game to try their croissants, but we were delighted to find out that they also have brunch options which are relatively cheaper compared to other cafes in Cebu.
Address: Pres. Quezon Street, Cebu City, Cebu
Facebook: Anthony's Cafe
6. The Daily Grind (TGD)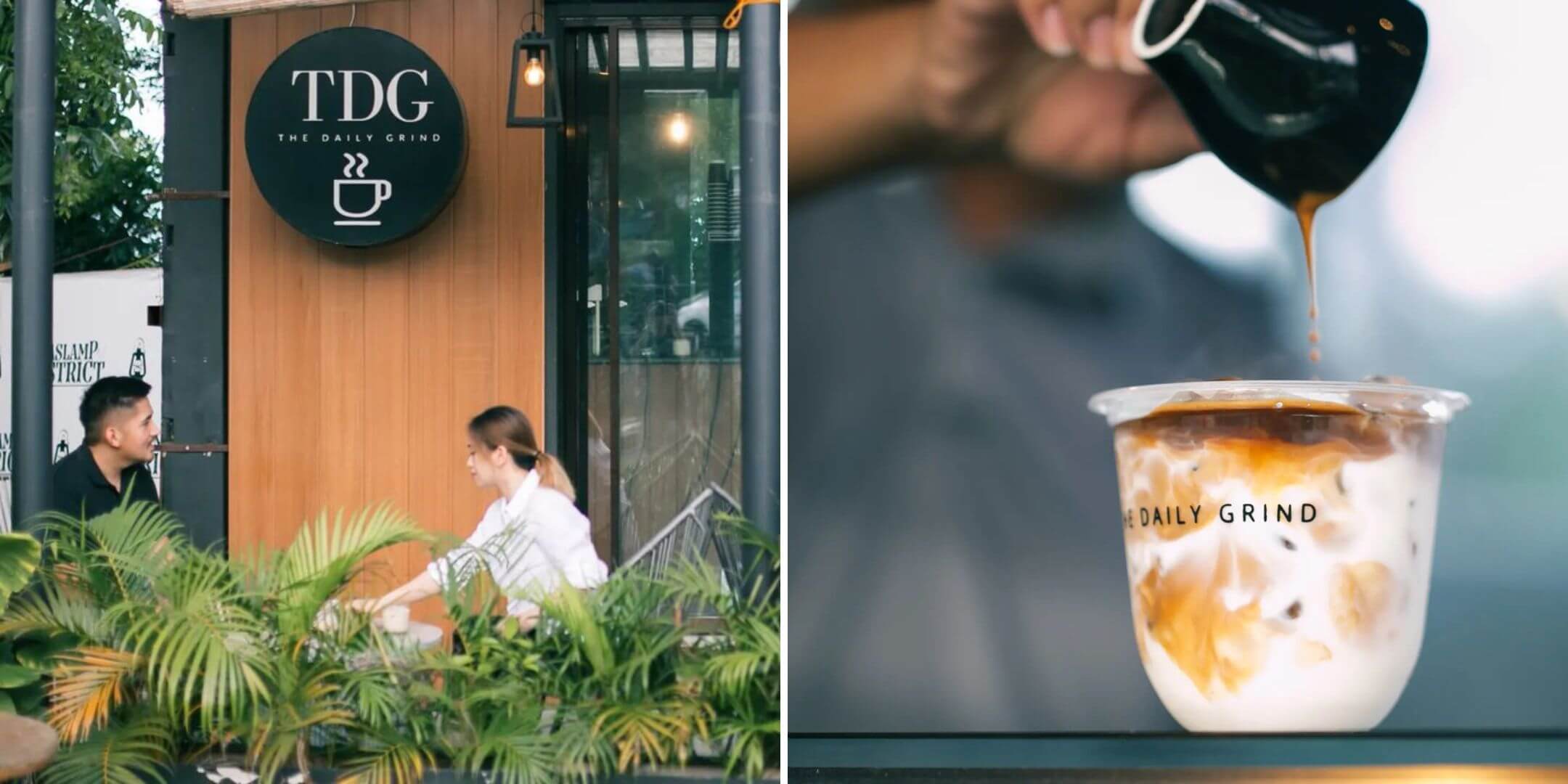 Another hidden coffee shop in Cebu, The Daily Grind or TDG Cafe serves a good set of meal options, and of course, coffee.
We highly recommend that you try their signature iced cafe latte. We were pleasantly surprised that it was creamy with the right amount of sweetness that does not overpower the coffee itself.
Address: Metro Cebu (Branches: TDG Cebu in Pres. Roxas St., Kasambagan; TDG Mandaue in Springwood District; TDG Gaslamp District in Lower Busay)
Facebook: The Daily Grind
Instagram: @tdgcafe
7. Drip and Draft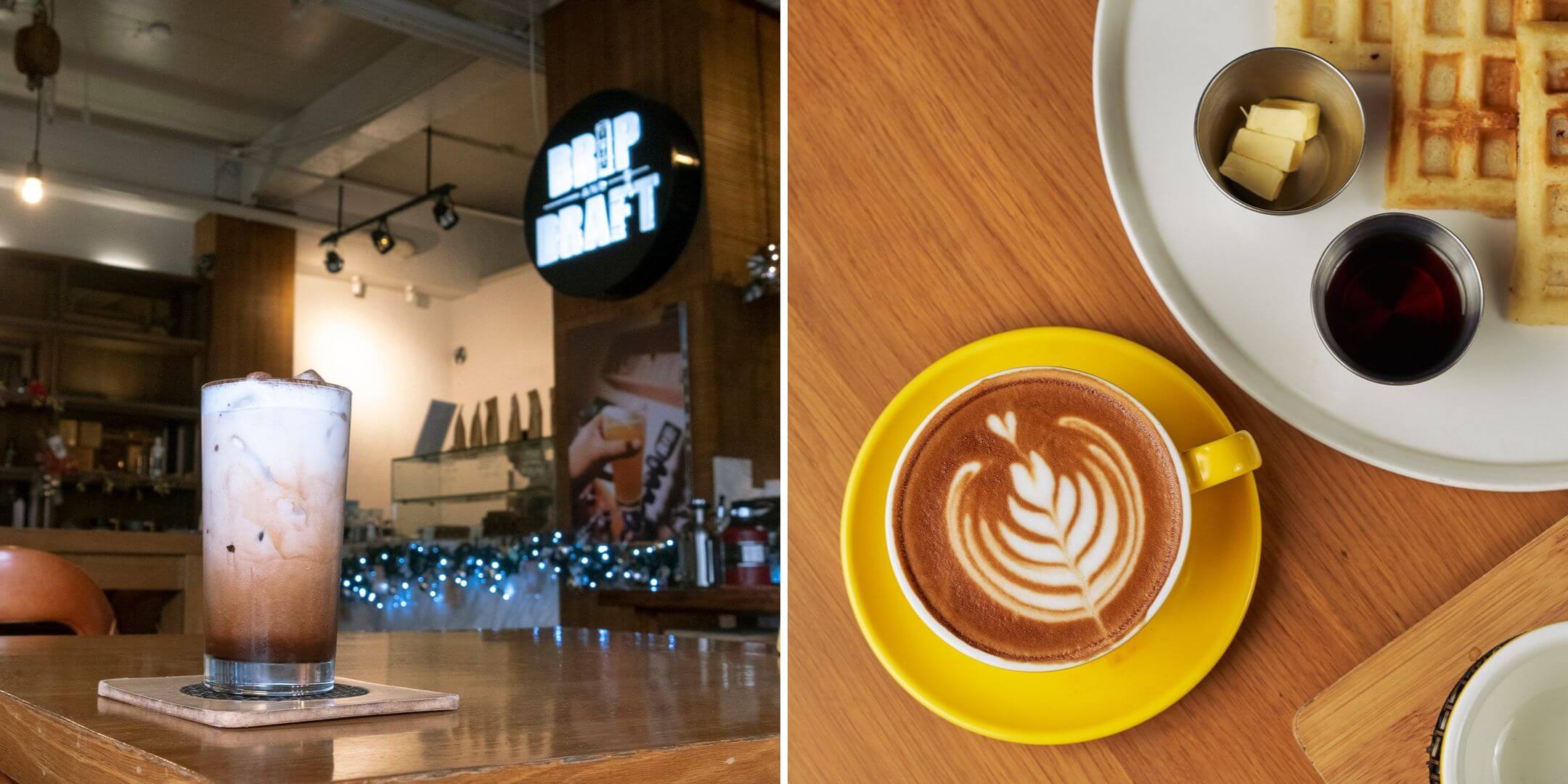 A meeting of two worlds, Drip and Draft serves good coffee and… you guessed it, draft beer! It is a cozy place to start your day with coffee and top it off with beer. Or vice versa, whichever you prefer.
Aside from coffee and beer, this Cebu cafe also serves pasta, desserts, and meals. Their premium bacon is a must-try! The cafe also has a small function room if you're looking for a place to conduct small meetings or get some privacy.
Address: Streetscape, Paseo Saturnino, Cebu City, Cebu
Facebook: Drip and Draft
Instagram: @dripanddraft
8. Tightrope Coffee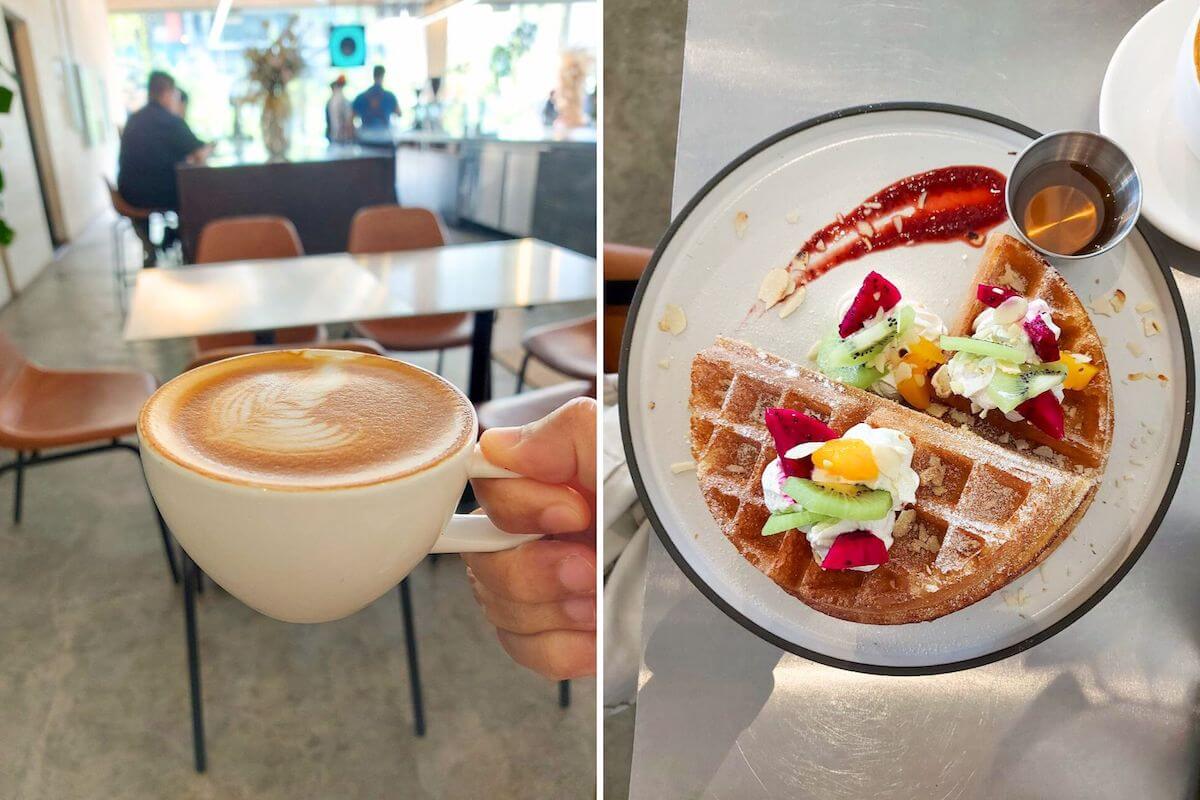 One of the more popular cafes in Cebu, Tightrope Coffee is known for its industrial interior with an open coffee bar serving third-wave specialty coffee. Our favorite is definitely their iced Spanish latte. The cafe also offers some hearty meals like torikatsu and beef tapa as well as pastries like French toast, croissants, and waffles.
Even though their menu is on the pricier side, it is still worth visiting once in a while if you're looking for a cafe in Cebu that lets you chill while sipping a cup of good-quality coffee.
Mabolo Branch: M. L. Quezon Avenue, F. Cabahug St, Cebu City, Cebu
Velez Branch: 101-102 Velez Medical Arts Bldg., V. Ranudo St., Cogon Ramos, Cebu City, Cebu
One Paseo Branch: One Paseo, Paseo Saturnino, Cebu City, Cebu
Facebook: Tightrope Coffee
Instagram: @tightropecoffee
9. Sip Cafe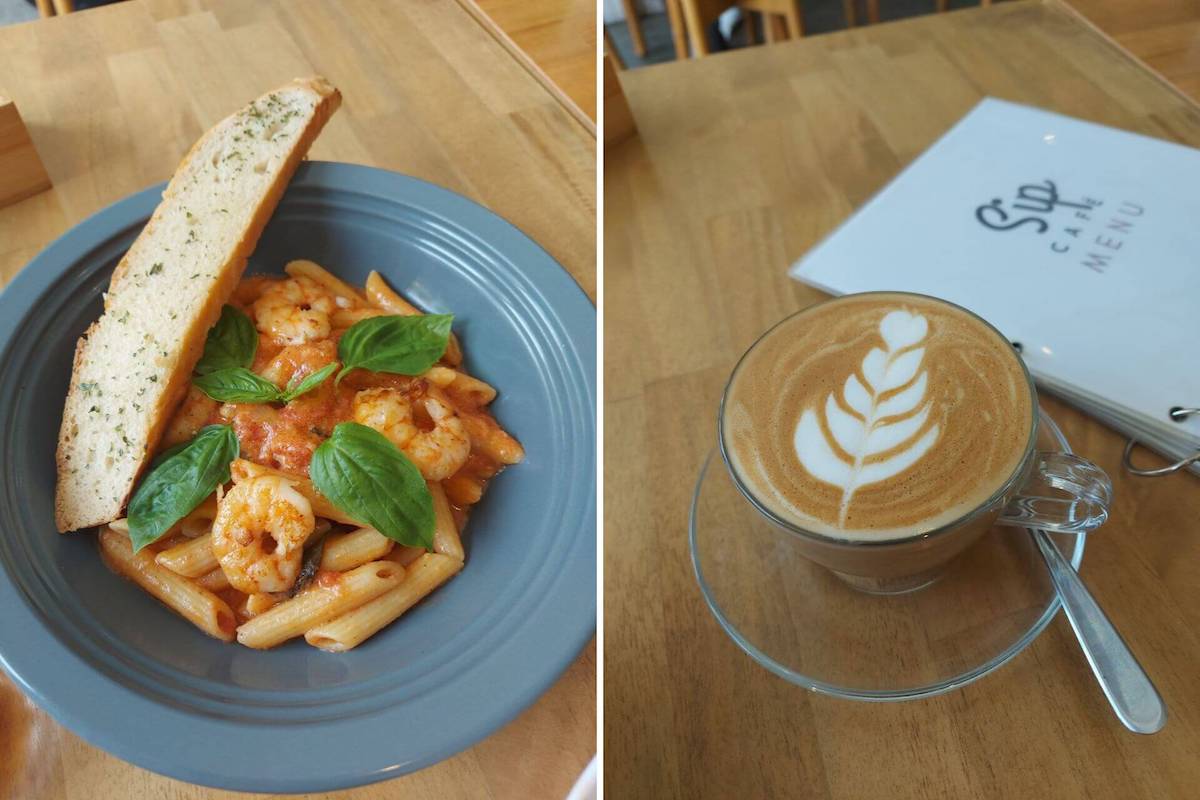 Sip Cafe prides itself as Cebu's first lifestyle cafe where you can shop and dine in an aesthetically pleasing space. While this is not the case for all its branches, we'd say that overall, this IG-worthy cafe is a must-visit not only for its ambiance, but also for its great food.
In fact, it serves classic Filipino meals such as housemade beef tapa and garlic bangus, and different kinds of milk tea. We keep coming back for their parma rosa and garlic parmesan chicken paired with iced or hot cafe latte.
Address: Streetscape Mall, Banilad; Camia Bldg, Capitol Site; Piazza, Talamban
Facebook: Sip Café
Instagram: @sipcafe_ph
10. Kermit's Cebu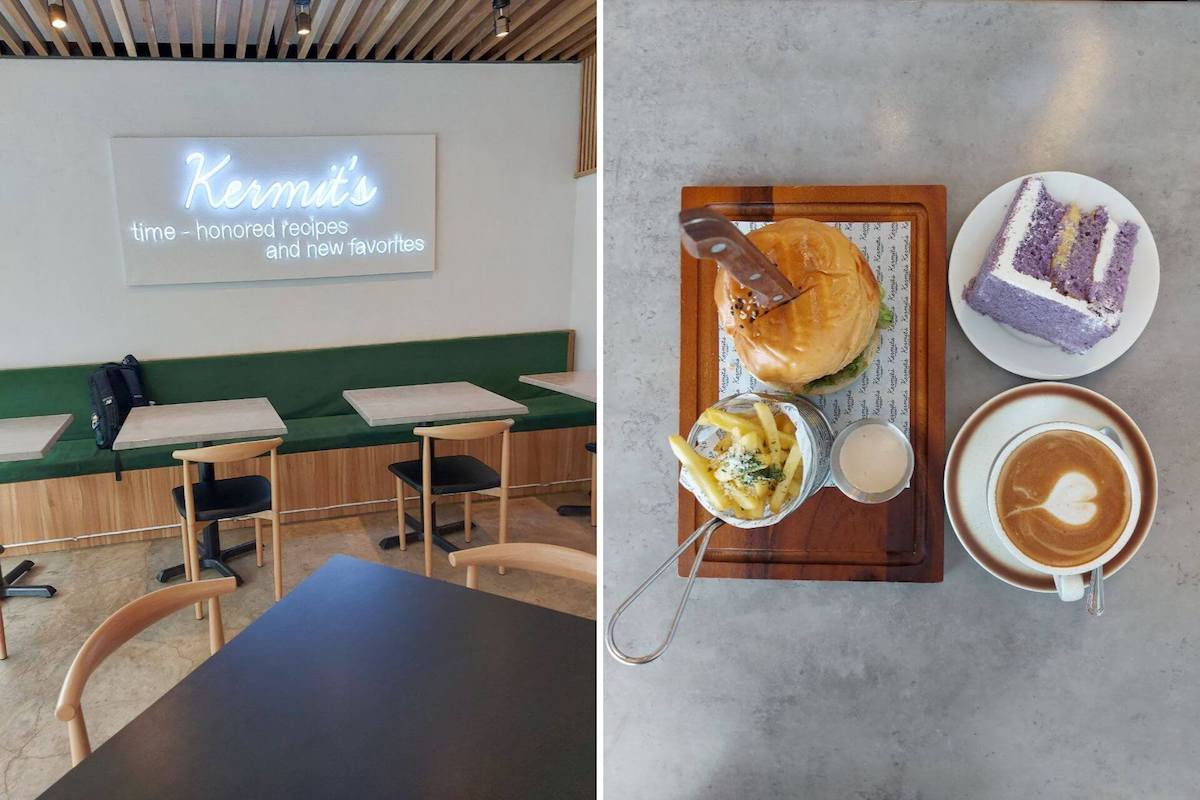 Originating from Bantayan Island, Kermit's Cebu is known for their delicious cakes with a variety of flavors including mango, ube, berry, and salted caramel. Their brazo de mercedes is also a must-try. You should pair these sweet treats with coffee, of course!
This famous Bantayan pastry shop now has a newly opened cafe in the capital city of Cebu. Here, you can sample not only their signature cakes but also some local delights like Kermit's burger and their take on the classic Visayan dish humba, which are all our favorites.
Bantayan Branch: B. Rodrigues Street, Bantayan Island, Cebu
Cebu City Branch: Bonifacio District, Faustina Center, F. Cabahug Street, Cebu City, Cebu
Facebook: Kermit's Cebu
Instagram: @kermits2000
So, which of these coffee shops and cafes in Cebu will you visit next? If you've already tried all these Cebu cafes, you may want to hit up these Busay cafes, too!
Did we miss some of the best Cebu cafes you love? Let us know on our social media channels: Facebook, Instagram, Twitter, and YouTube so we can feature them next time.