12 Busay Restaurants & Cafes with Picturesque Views
Can't get enough of the local Cebuano food? Take your Cebu food trip to a higher level (quite literally) by going to the mountain barangay of Busay, along the Transcentral Highway. The road will lead you to awe-inspiring landscapes and scenic areas. If you simply want to chill and dine with a view, take your pick from our list of overlooking Busay restaurants and cafes.
Tip: If you want to explore some top attractions in Busay such as the Temple of Leah, Tops Cebu, and Sirao Garden, you can book a private transfer so you won't have to worry on how to get there. It could get a little difficult to access these Cebu tourist spots because of the steep, winding road up the mountain.
Reminder: Don't forget to check the respective social media pages of these Busay restaurants and cafes for the latest operating hours. Some of them may change depending on travel restrictions and holidays.
Top Busay restaurants and cafes with breathtaking mountain views
1. Serenity Mountain Cafe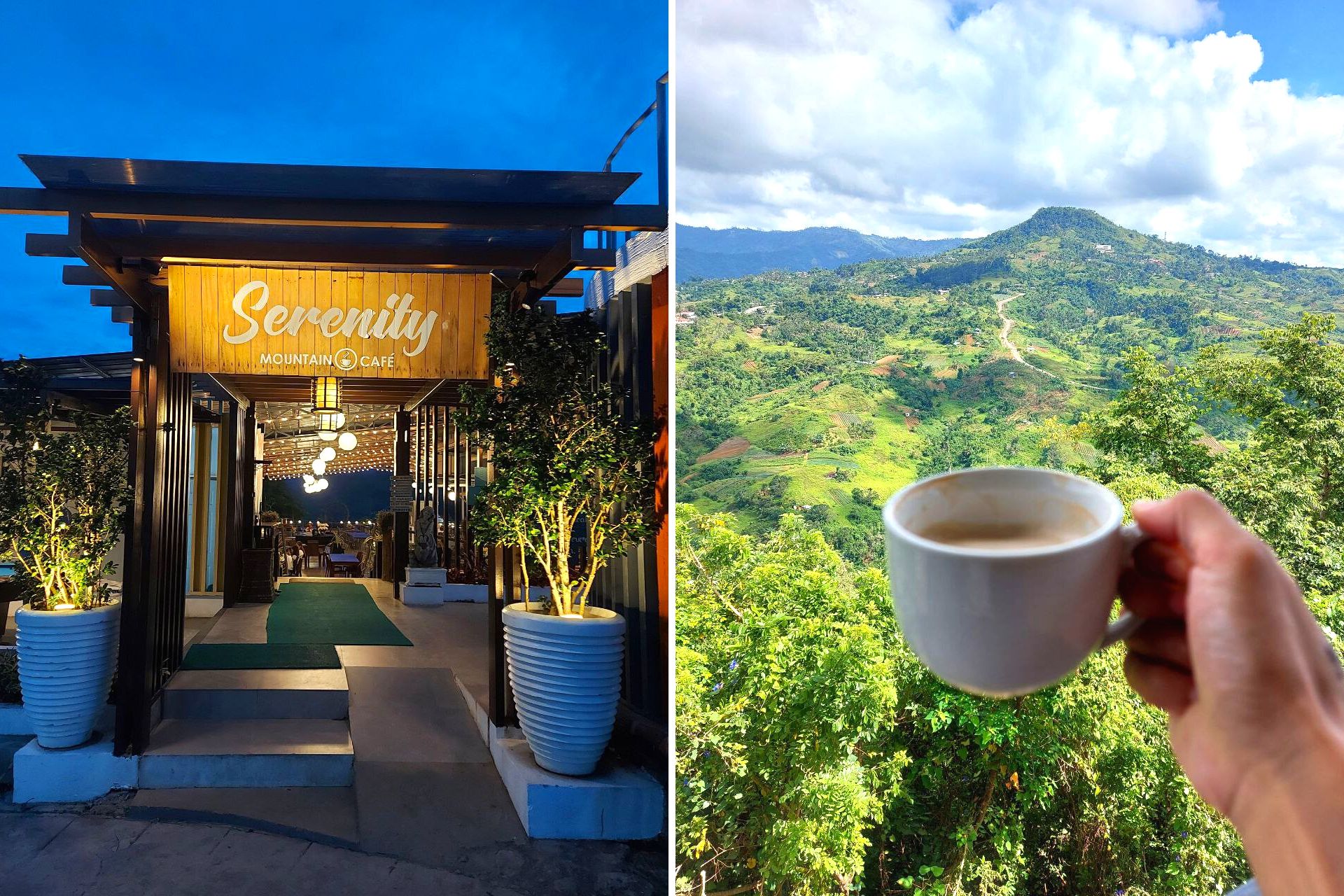 Serenity Mountain Cafe tops our list of must-visit cafes in Busay. We've visited it several times already, and each time, it didn't disappoint.
As the name suggests, it's a place to find "serenity" as it sits on top of a mountain with panoramic nature views. Here, we were treated like VIPs by the friendly staff and were spoilt for choice with its wide selection of good food and drinks. Our favourites include shrimp salad, beef salpicao, crispy pata, and their special ube pie paired with a cup of hot latte.
And did you know you can actually spend a night here? The cafe is part of the Serenity Farm and Resort that offers different resthouses for couples, friends, and families. It's truly an all-in-one destination for those who want to escape the busy city life.
Address: Sitio Tiguib, Brgy. Malubog, Busay, Cebu City, Cebu
Facebook: Serenity Mountain Cafe
Instagram: @serenitymountaincafe
2. Liel's Kitchen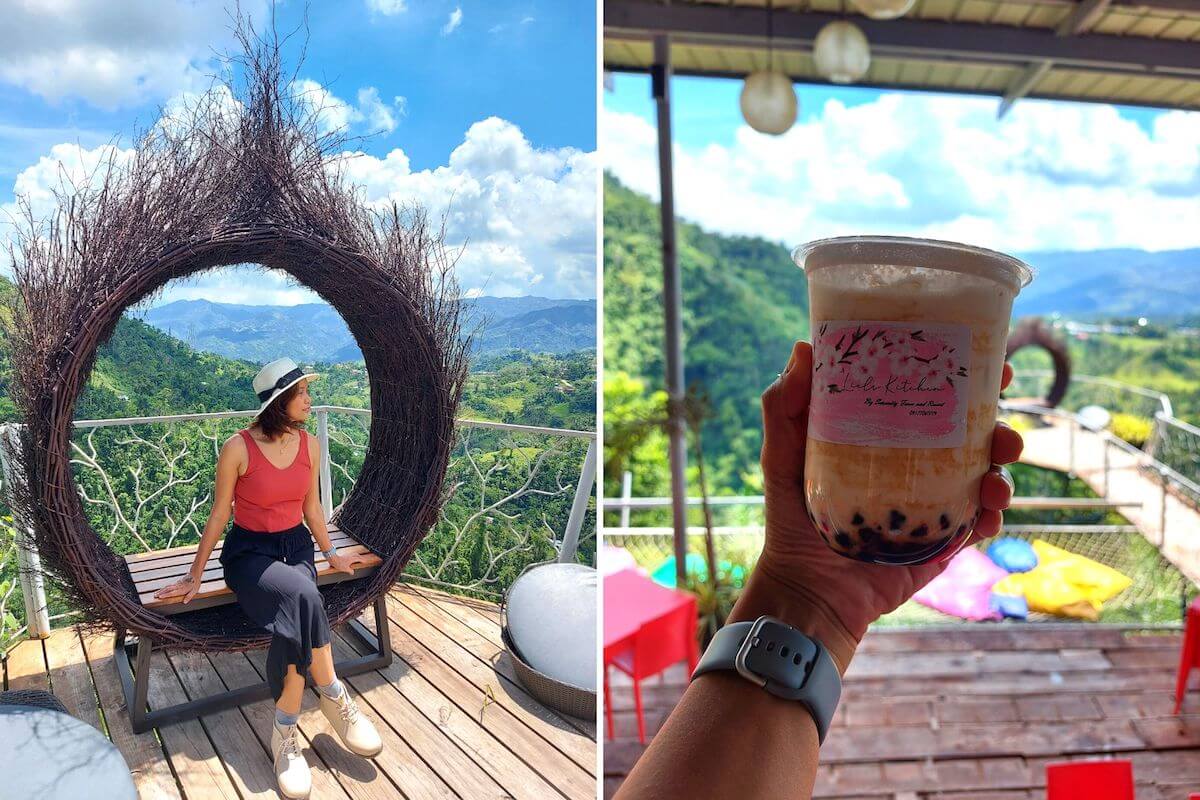 Another Busay restaurant located within Serenity Farm and Resort is Liel's Kitchen. It serves modern Japanese cuisine and smoothie bowls.
We had lunch here and tried their ramen, gyoza, and milk tea. We can say that we truly had a satisfying meal. Not to mention every corner here is Instagrammable with picturesque mountain views.
Ready your #OOTDs and strike a pose at their Bali-esque nest and hanging gazebo with colorful bean bags.
Address: Serenity Farm and Resort, Sitio Tiguib, Brgy. Malubog, Busay, Cebu City, Cebu
Facebook: Liel's Kitchen by Serenity Farm and Resort
Instagram: @lielskitchen
3. Charlie's Cup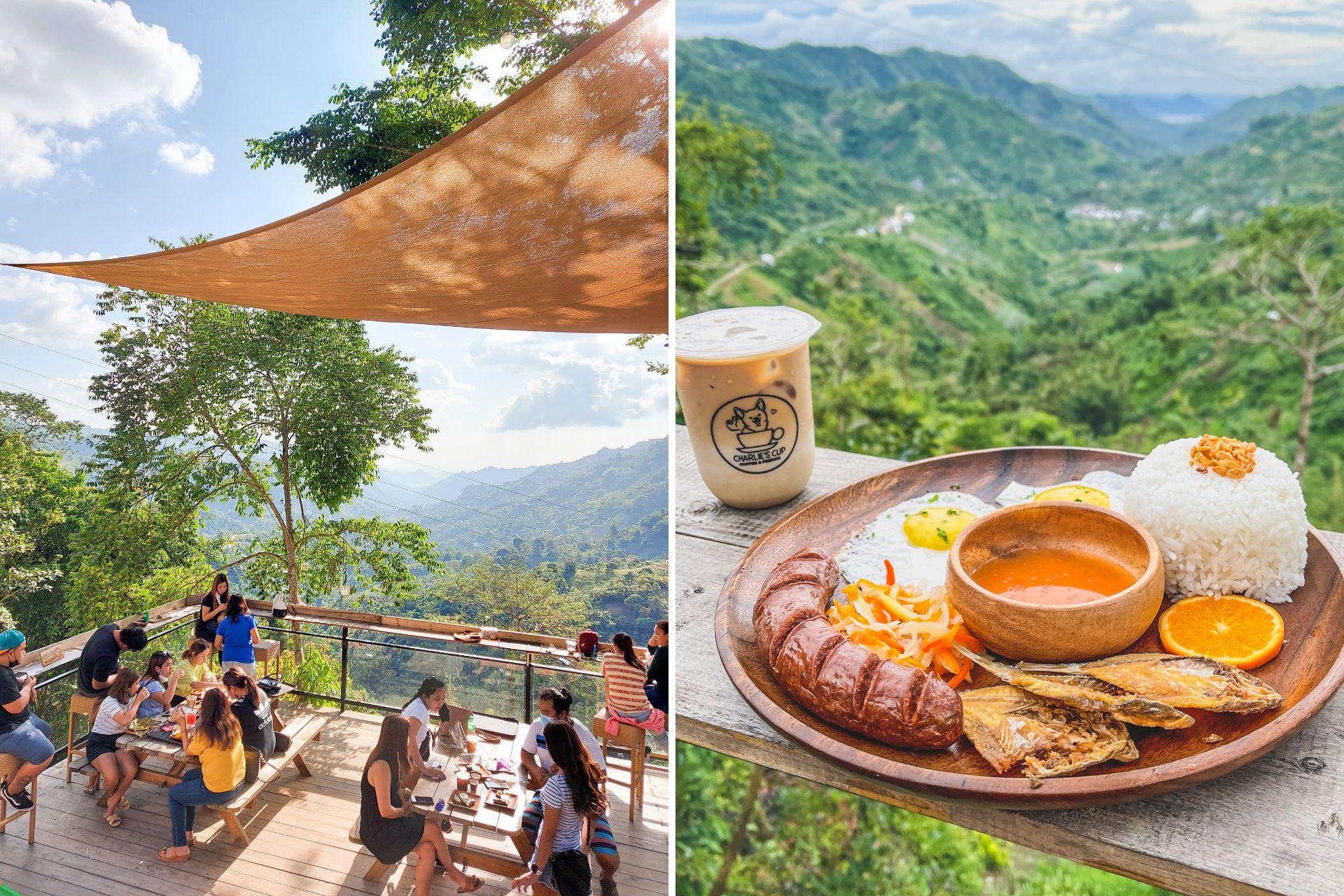 We visited Charlie's Cup at the height of the pandemic, and we must say, it gave us the needed breath of fresh air. Though the drive going there is a bit long, about 40-50 minutes from the city proper, the amazing views and comfort food that await you here will certainly make up for it.
They have all-day breakfast meals, snacks, and drinks like coffee and milk tea. We suggest that you check their menu ahead to save time. We tried their suman with latik, ube halaya cake, yema cake, spam fries, cookie, and iced latte. All so yummy!
And fur parents would be happy to know that this roadside cafe is pet-friendly. As you have probably guessed, Charlie's Cup is named after the owner's corgi dog Charlie.
Address: Transcentral Highway, Sitio Inaad, Brgy. Tabunan, Cebu City, Cebu
Facebook: Charlie's Cup
Instagram: @charliescup
4. Outback Servo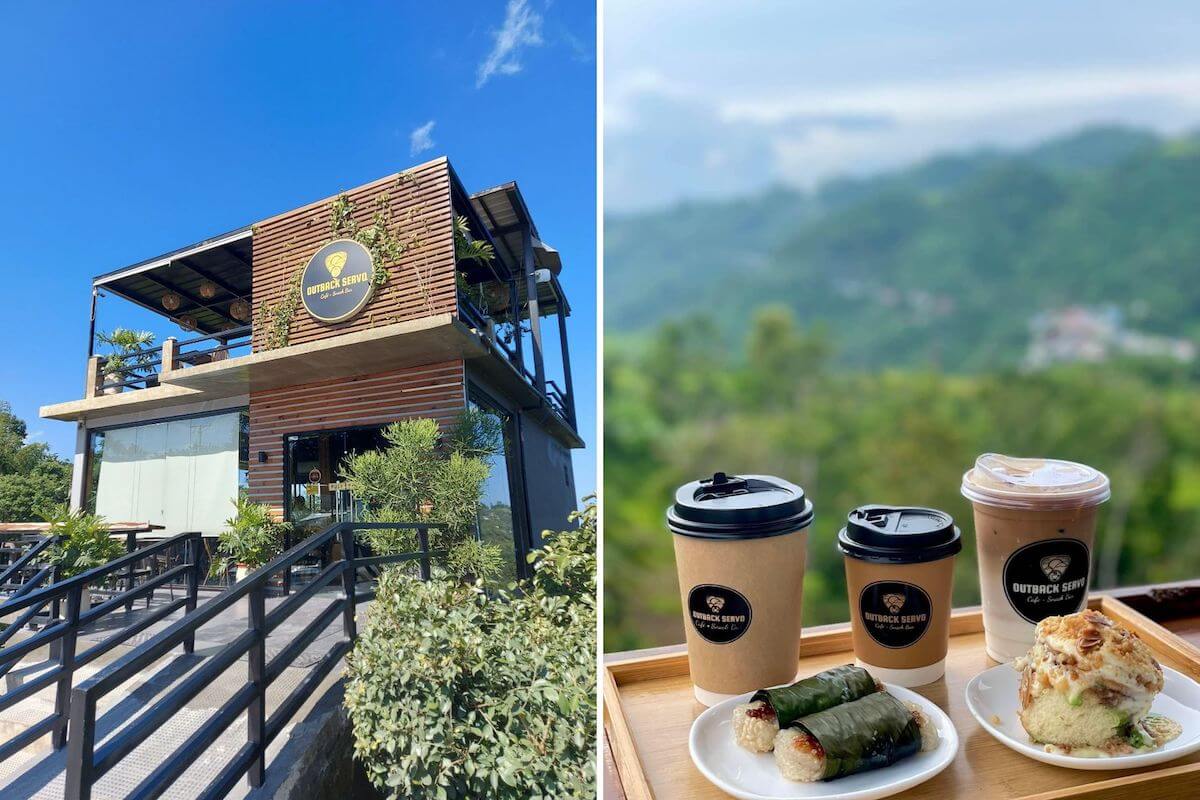 We always pass by Outback Servo on our road trips to Busay. At first, we thought it was a steakhouse as the name and modern industrial exterior gave us that impression.
When we finally managed to dine here with friends, we were surprised that it's actually a cafe offering delish brunch meals, Filipino food, salad, burgers, sandwiches, pasta, and of course, coffee.
We tried their special Servo humba, fried chicken bucket, and ube thick milkshake, and we must say, they were yummy enough to meet our expectations. We will surely come back for their house specials and desserts.
Address: Ipil-ipil, Brgy. Babag II Rd, Cebu City, Cebu
Facebook: Outback Servo
Instagram: @outbackservo
5. 21 Kilometers Coffee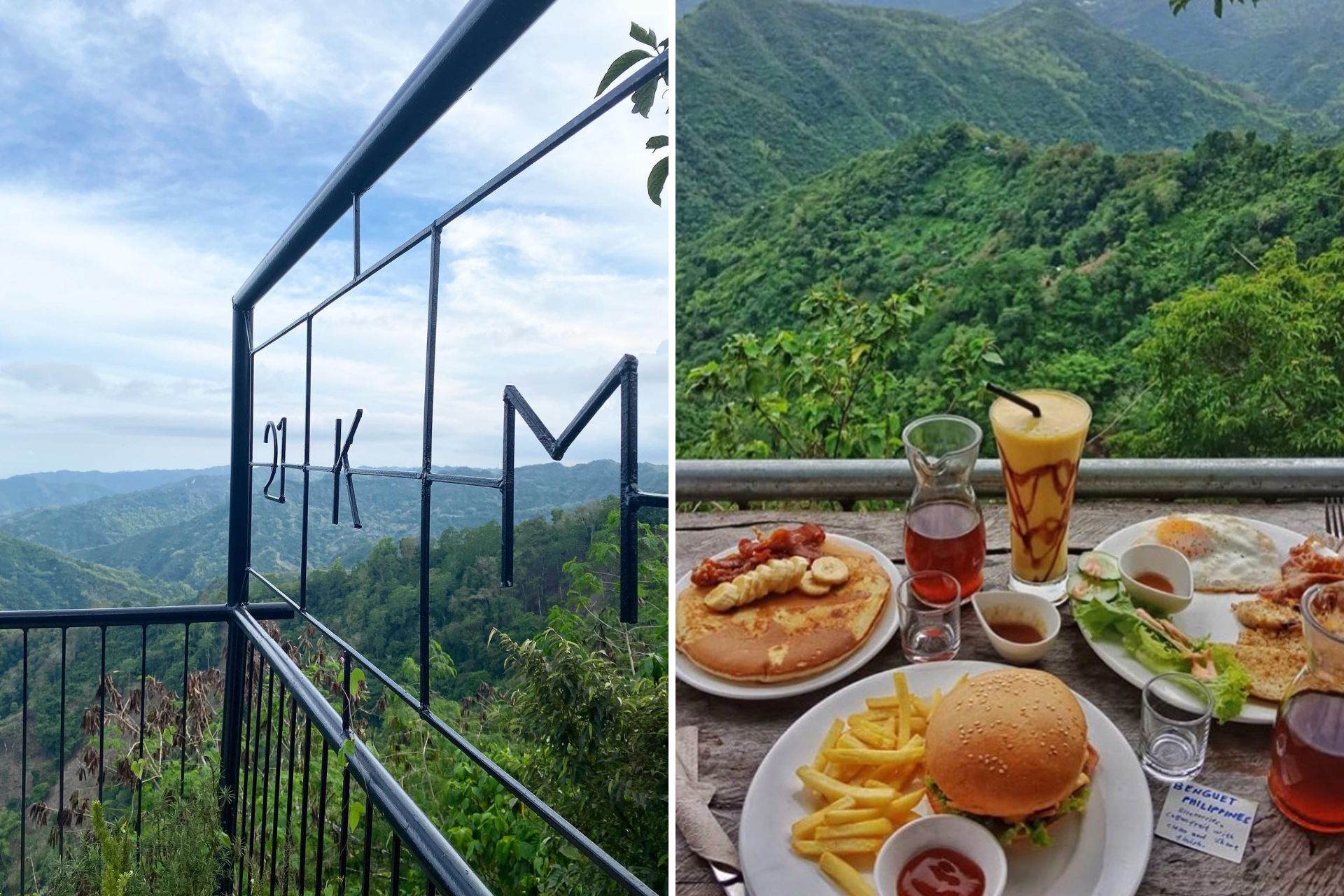 21 Kilometers Coffee takes pride in their specialty coffee, some of which are sourced from different parts of the Philippines like Benguet. They also serve all-day breakfast meals and snacks.
They are highly rated for their good coffee and expert baristas. So, if you're looking for the perfect place to sip your cup of java with a view, this is it.
The cafe is also a popular pitstop for cyclists and bikers who brave the challenging trails in Busay. And yes, it is located exactly 21 kilometers from the city center, thus the name.
Address: Transcentral Highway, Cantipla 1, Brgy. Tabunan, Cebu City, Cebu
Facebook: 21 Kilometers Coffee
Instagram: @21kilometerscoffee
6. Adventure Cafe and Zipline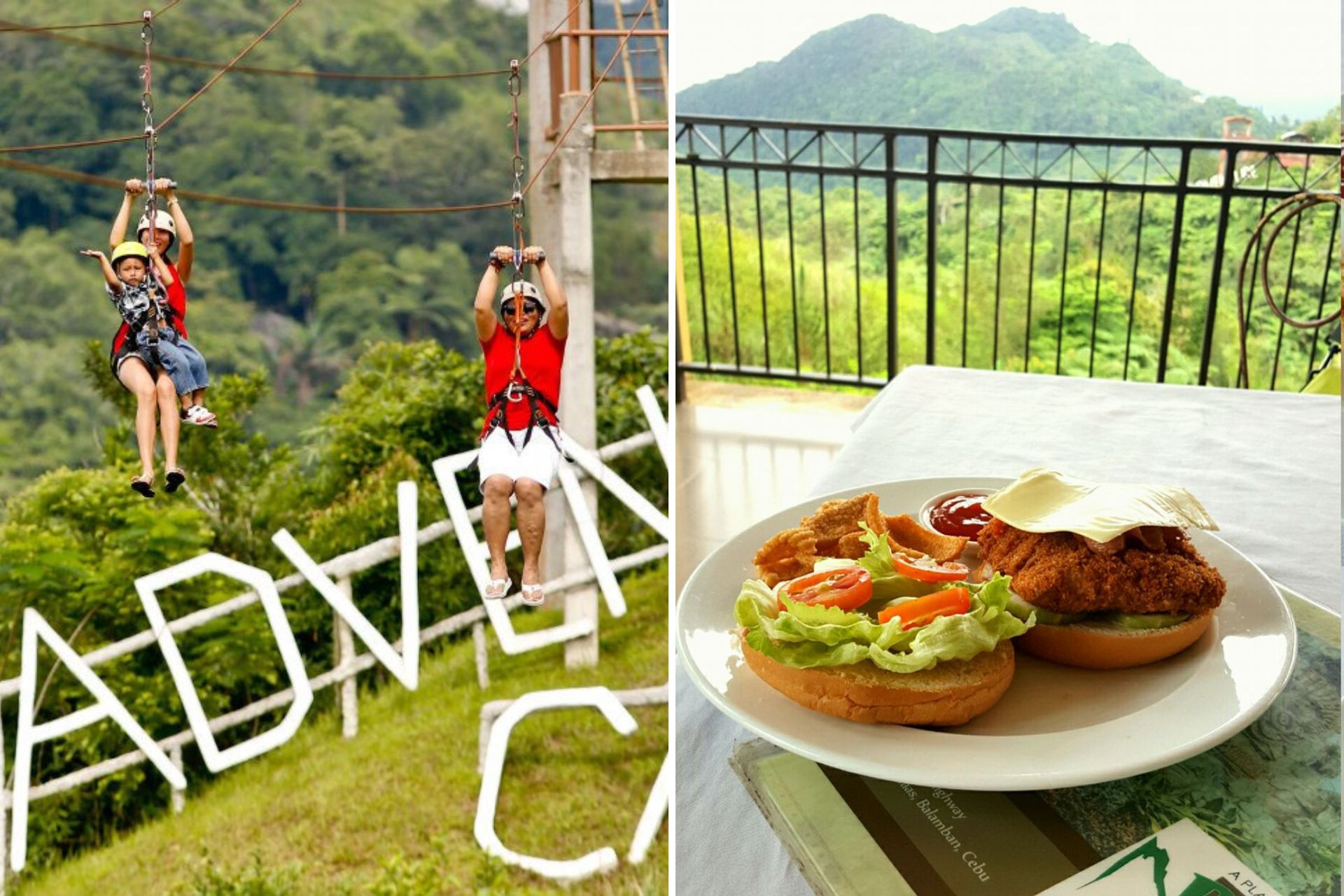 Looking for an adrenaline rush? Adventure Cafe and Zipline is the place to be. There is no need for an introduction. From the name itself, you will already know what you're up for in this mountain cafe.
Zipline over trees and astounding landscape as you feel the fresh air touching your face. Then, chill at the cafe with some hearty snacks and drinks.
As of writing, there is no entrance fee, but you have to pay ₱205 each for the zipline ride (₱200) and environmental fee (₱5). The place can also be rented out for events like company outings and weddings.
Address: Transcentral Highway, Brgy. Gaas, Balamban, Cebu
Facebook: ADVENTURE CAFE
Busay restaurants and cafes with panoramic city views
7. Balay sa Busay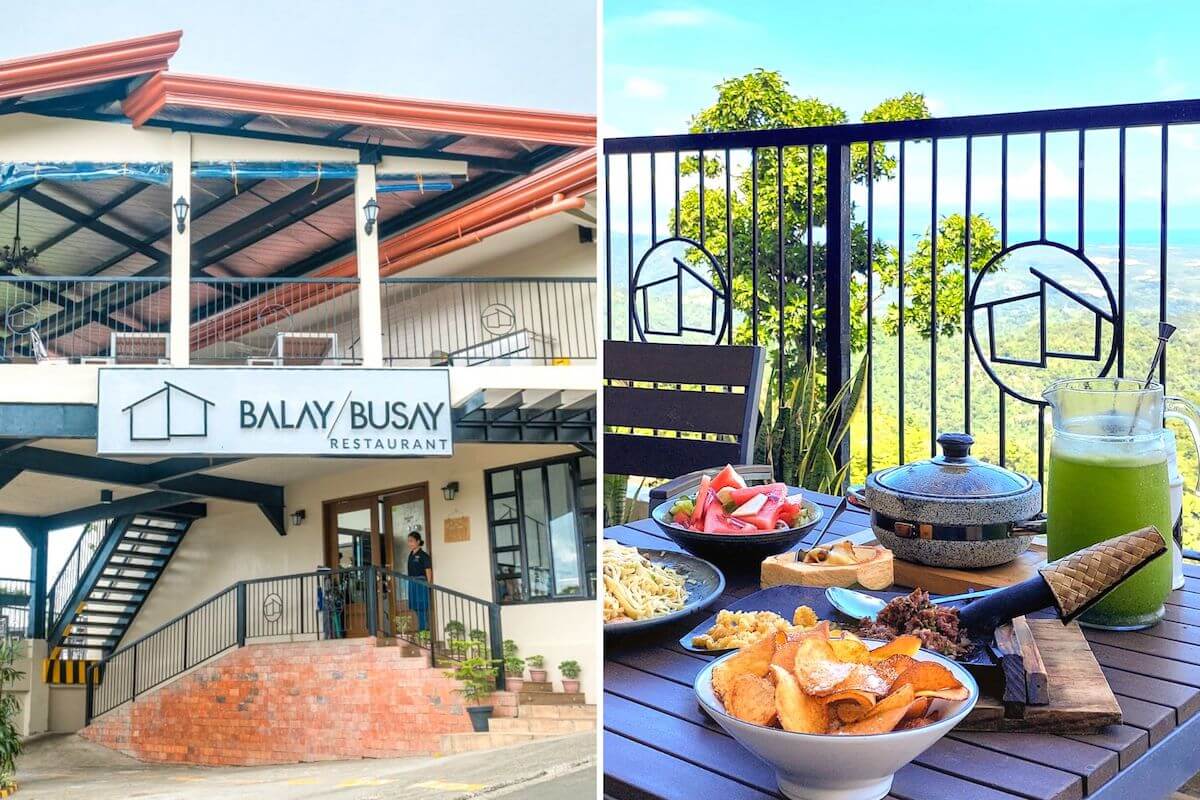 Balay is the Cebuano term for "home", and Balay sa Busay lives up to its name by providing customers a true Cebuano home serving sumptuous local cuisine. For mains, try their crispy pata, sizzling pochero, and adobong Binisaya. For desserts, sample their sizzling biko, palitaw yema, and shakoy with chocolate.
Just thinking about all these delicious food makes us drool. We can't wait to be back to try the rest on their menu.
Just so you know, this Busay restaurant easily gets full, especially on weekends when families gather. So, we recommend that you contact them ahead to reserve a table.
Address: Tops Road, Cebu City, Cebu
Facebook: Balay Sa Busay
Instagram: @balaysabusay
8. La Parisienne SKY (formerly La Vie in the Sky)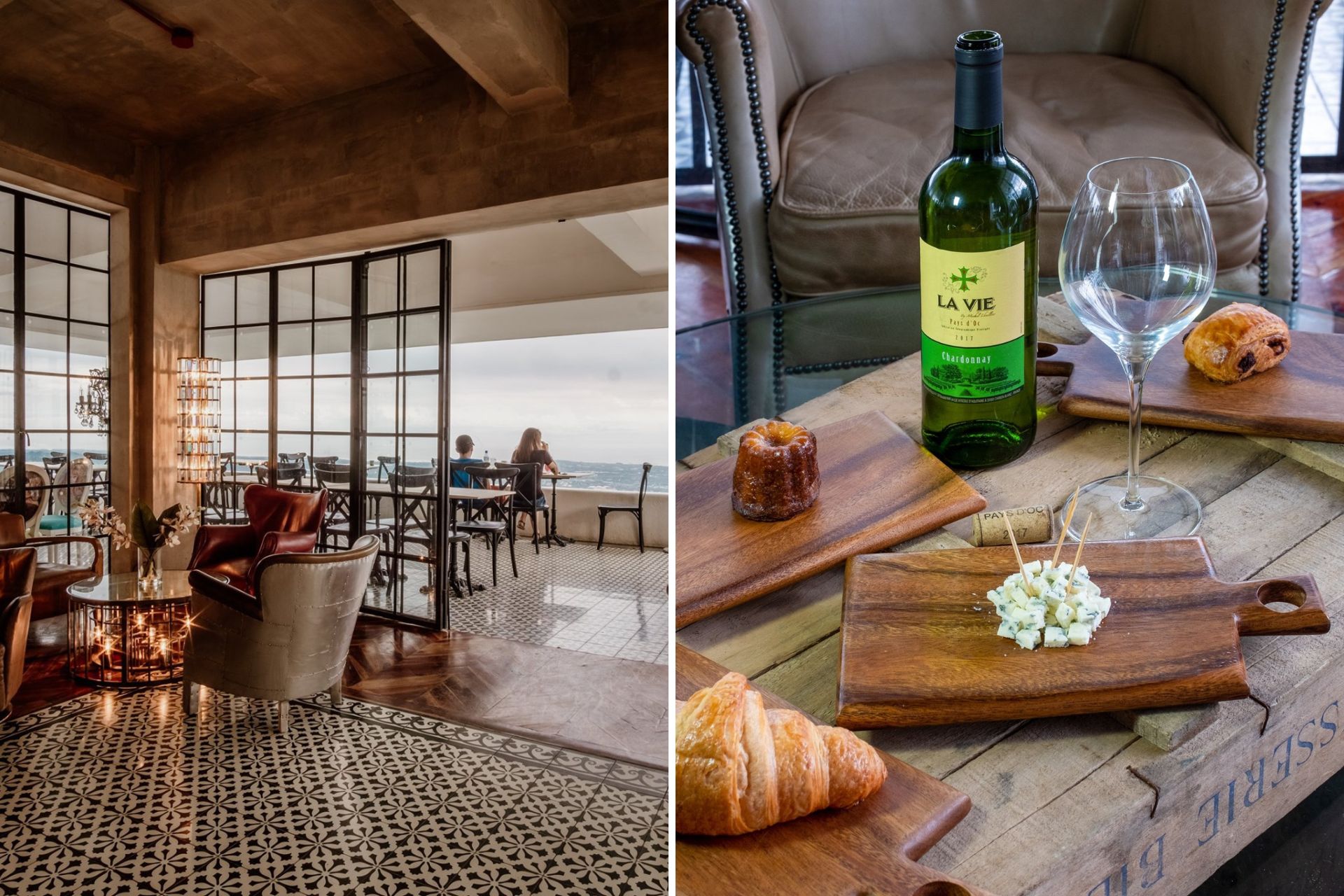 [UPDATE]: As of 15 June 2023, there is an ongoing dispute about the La Vie brand including La Vie in the Sky. Their original social media pages have since been taken down, but they have created new social media pages under a different brand name La Parisienne SKY.
Situated along Tops Road, where Tops Lookout is also located, La Parisienne SKY (formerly La Vie in the Sky) is one of the most elegant Busay restaurants. People come here not only for its sweeping city views but also because of its French bistro vibes and IG-worthy corners.
Though they didn't serve any coffee when we came here, we enjoyed their good selection of wine, gelato, and pizza.
Do note that La Parisienne SKY charges a ₱100 consumable entrance fee per person. They also have other branches in the metro including La Parisienne CEBU along Gorordo Avenue in Lahug, and La Parisienne MACTAN in Lapu-Lapu City. So, if you ever want to experience a slice of Paris in Cebu, you know where to go.
Address: Tops Road, Cebu City, Cebu
New Facebook: La Parisienne SKY
New Instagram: @laparisiennesky
9. Top of Cebu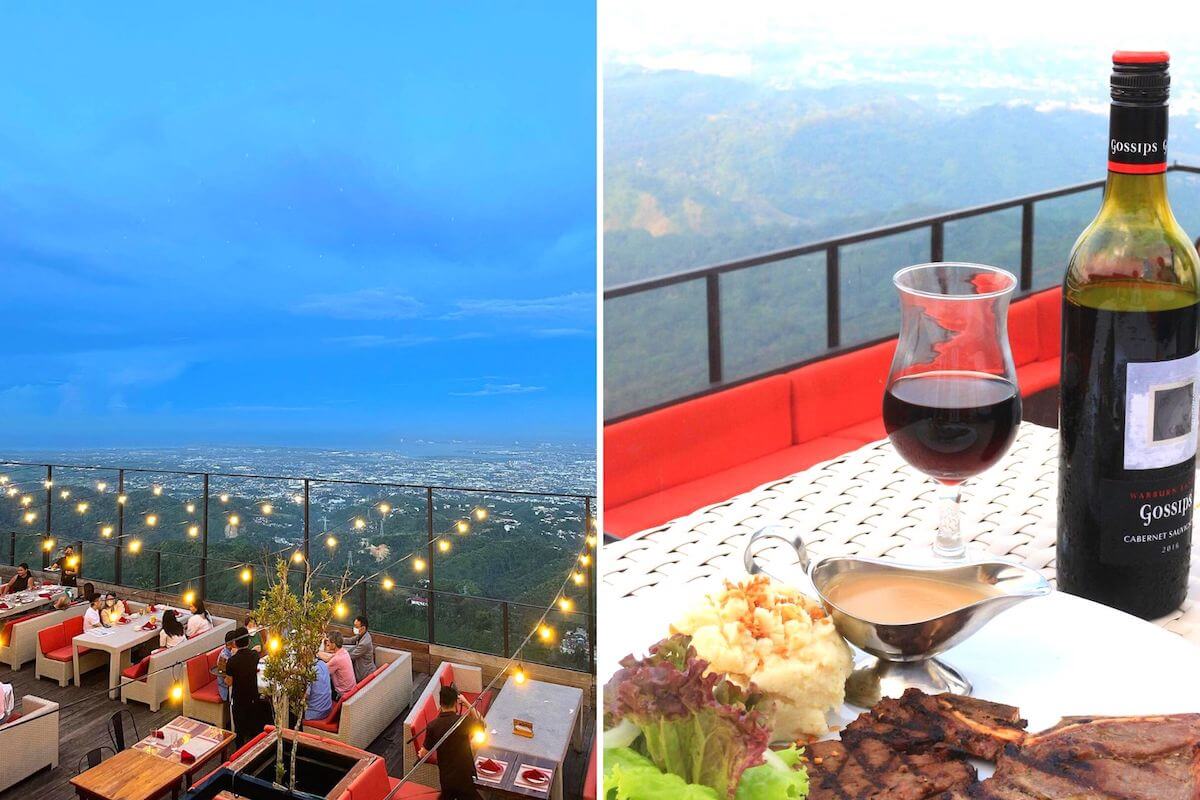 Also along Tops Road after La Vie in the Sky is Top of Cebu Restaurant. It serves a range of Filipino food including sizzling bulalo ala pobre, pancit de Cebu, pochero de Cebu, and sisig rice. Don't forget to indulge in their featured halo-halo, too!
This overlooking Busay restaurant is located right next to the Tops Lookout, so why not bring the whole family or barkada here after your sightseeing?
Did you know that Top of Cebu is owned by Pages Holdings Inc.? It is the same company behind many famous Cebuano food brands including one of the best Cebu lechon House of Lechon, Mooon Cafe, Lantaw Native Restaurant, and Thirsty, among many others. You are assured that they know the Cebuano food business very well.
Address: Tops Road, Cebu City, Cebu
Facebook: Top of Cebu
Instagram: @topofceburestau
10. Fabio's – Busay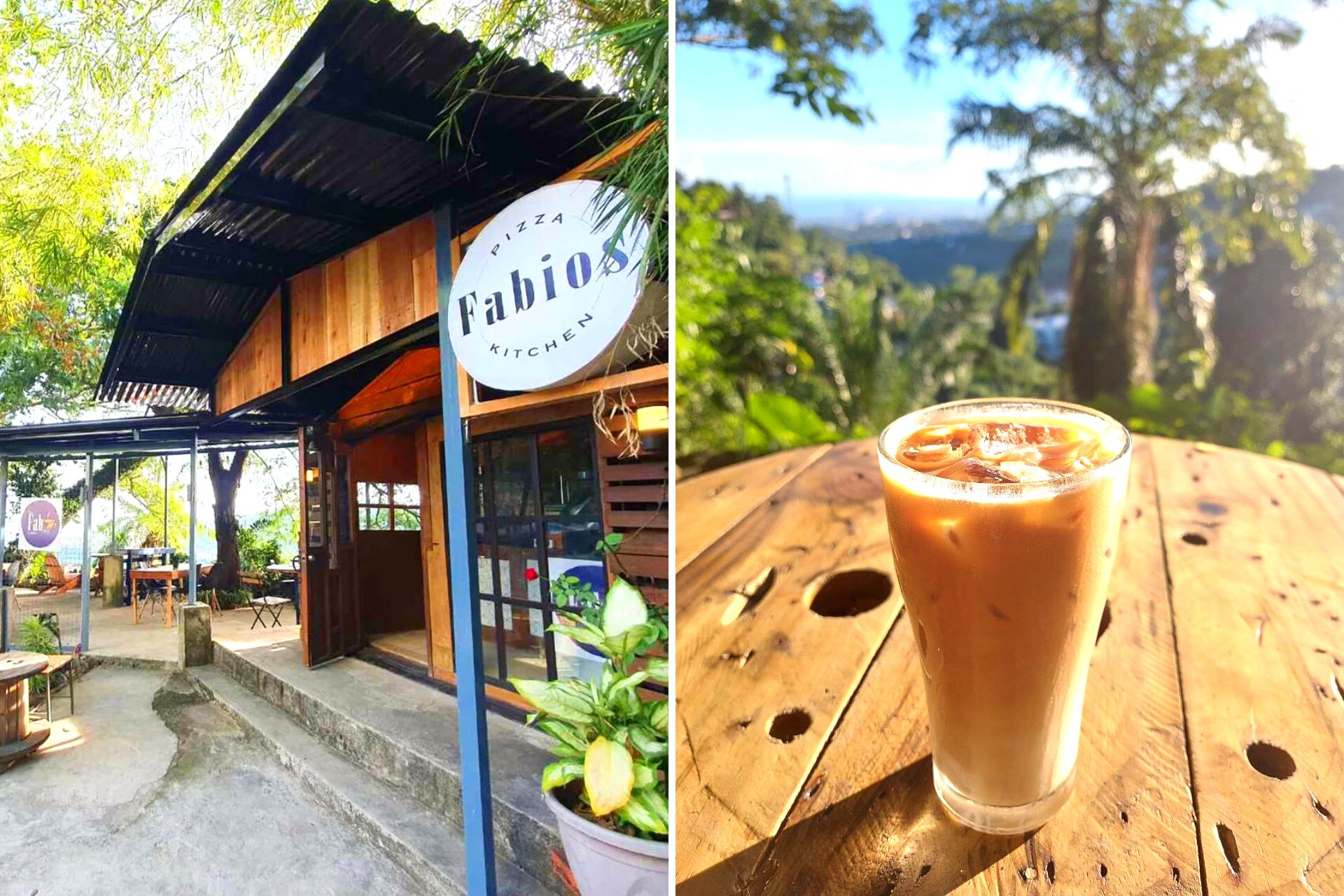 Just 15 minutes drive from the metro, Fabio's – Busay is hard to miss when cafe-hopping in Busay. You can easily spot this quaint cafe in Busay as it is just along the main road, before Maria Luisa Busay exit.
We just confirmed that Fabio's Busay took over Crate Cafe's location. According to them, Fabio's and Crate Cafe were originally sister establishments, but have now merged into one ownership under Fabio's FabCup brand.
Needless to say, the overall ambiance, the delish food and drinks, and even the overlooking views are still pretty much the same. We tried their Hawaiian pizza and carrot macapuno cake paired with a glass of iced latte as we waited for the spectacular sunset.
Address: Veteran's Drive, Lower Busay, Cebu City, Cebu
Facebook: Fabio's – Busay
Instagram: @fabios_kitchen_ph
11. Dolce Cafe Cebu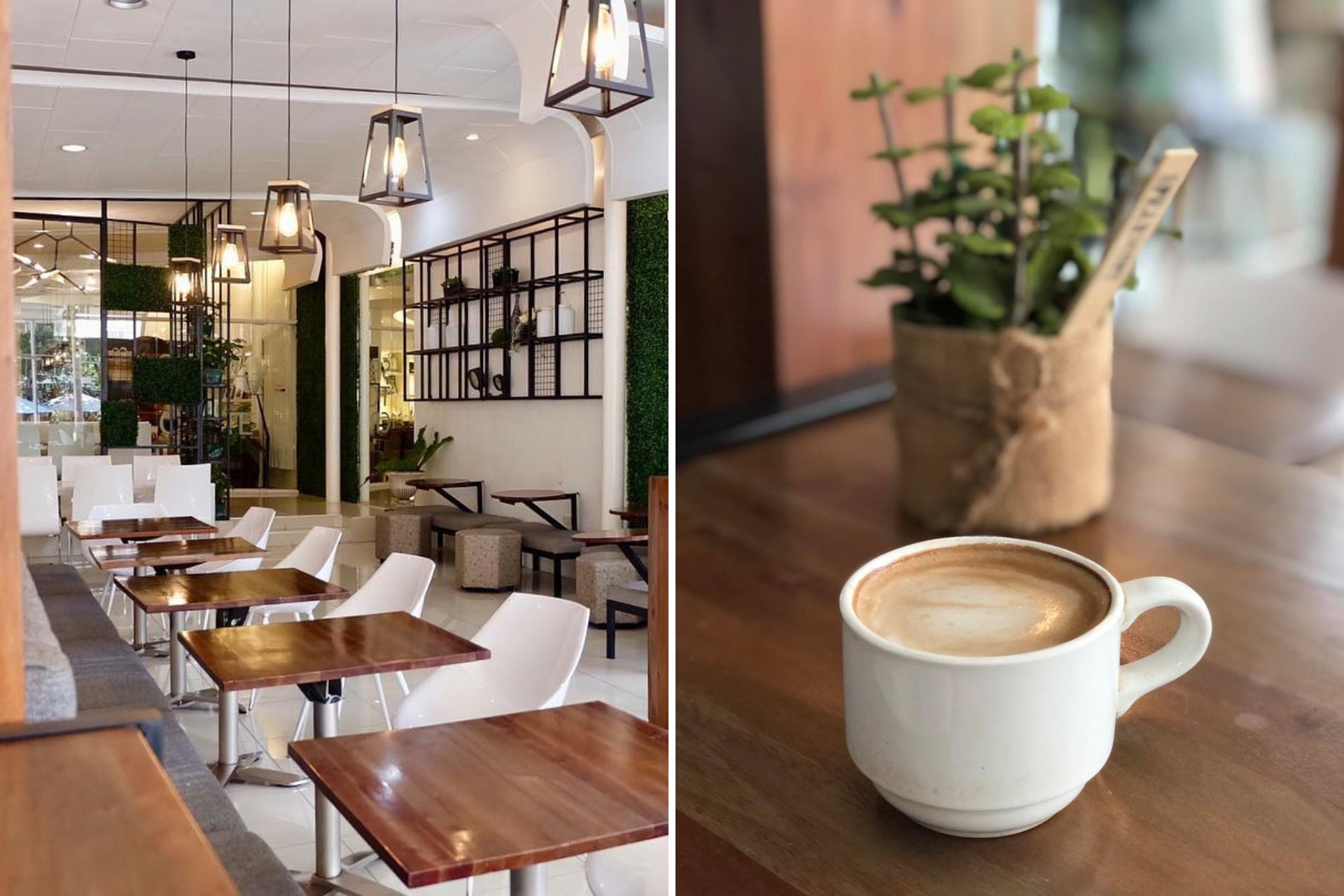 Dolce Cafe Cebu is not new to the coffee scene in Cebu. In fact, they are proud of their artisan coffee and sweet treats. Dolce means sweet in Spanish so you can already imagine the selection of sweet desserts specialised by the cafe. Try their best-selling Toblerone Cake and Matcha Mousse best paired with a cup of hot cappuccino or latte.
You might probably ask why Dolce Cafe Cebu is included on this list when it doesn't have views like the rest. Well, they used to. There was an al fresco area where you can see a relatively good view of the city. Still, the cafe is worth hitting up even without it. Plus, it's the nearest Busay cafe for your coffee crawl in Metro Cebu.
Address: Panorama Heights, Nivel Hills, Brgy. Lahug, Cebu City, Cebu
Facebook: Dolce Cafe Cebu
12. ORI Izakaya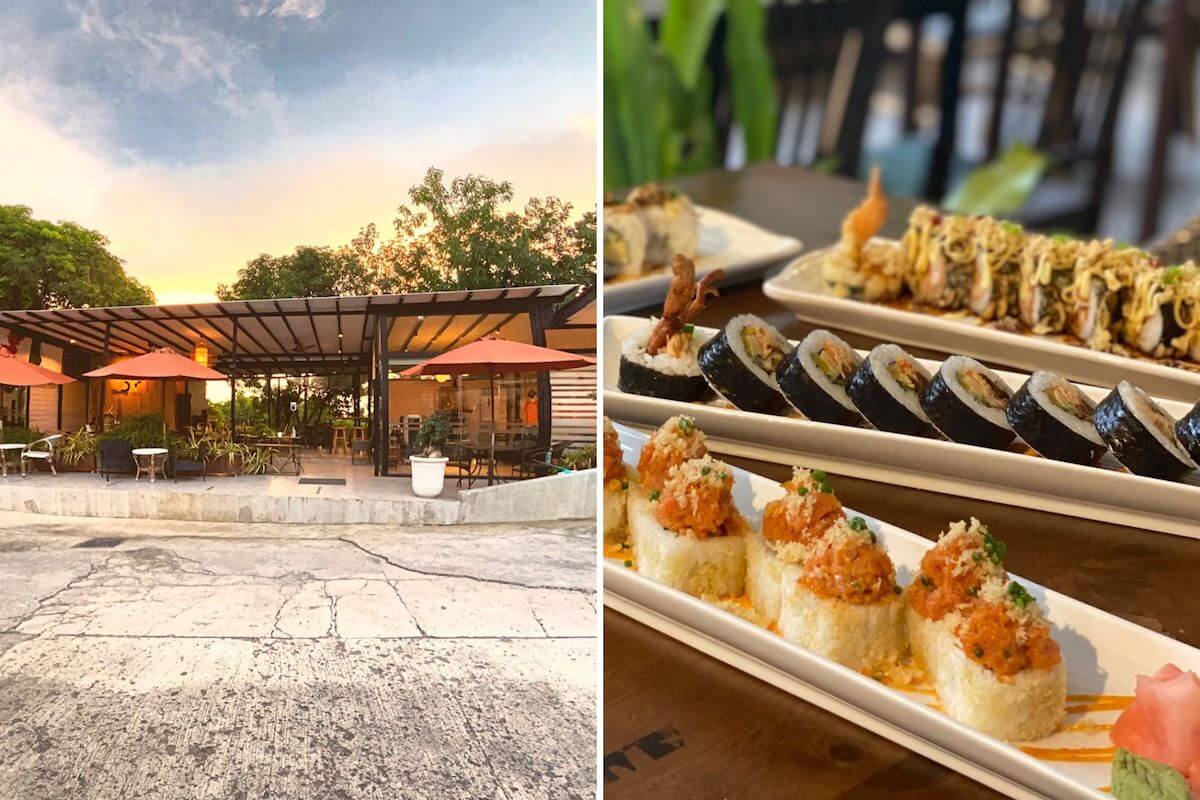 Craving for some Japanese food? Head over to ORI Izakaya, which is right beside Dolce Cafe Cebu.
This Busay restaurant serves traditional Izakaya comfort Japanese food such as katsudon, gyudon, ramen, udon, tempura, signature rolls, and many more. We specifically like their ebi (prawn) tempura paired with a hot bowl of tonkotsu ramen.
The site used to be Dolce Cafe's al fresco area, but now you can enjoy the city view while savoring your favorite Japanese food. It's worth visiting if you don't want to go too far up the mountains of Busay.
Address: Nivel Hills, Brgy. Lahug, Cebu City, Cebu
Facebook: ORI Izakaya
Instagram: @ori.izakaya.ph
That sums up our list of the must-try Busay restaurants and cafes for your next Cebu food trip. Here's our map showing the route from the nearest (ORI Izakaya) to the farthest (Adventure Cafe):
Did we miss your favorite Busay restaurants and cafes? We'd be happy to check it out so let us know on our social media channels: Facebook, Instagram, Twitter, or YouTube.