My Japan Visa Application Approved — Here are 5 Steps for Filipinos
[UPDATE]: Since 11 Oct 2022, Filipinos can already enter Japan for tourism purposes. Japan already lifted its travel restrictions and quarantine requirements for countries on the blue list, including the Philippines. Do note that this may change from time to time depending on the COVID-19 situation.
See details of Japan's travel ban and border restrictions and visit the official website of the Embassy of Japan in the Philippines for the latest travel updates.
---
Yay! You don't know how happy I was when I got my Japan tourist visa. It only took three (3) working days for me to claim my Philippine passport with an attached single-entry Japan tourist visa. I know how overwhelming it is to complete the Japan visa requirements, especially for first-timers. So, I've come up with an easy-to-follow Japan visa guide for Filipinos who wish to travel to the Land of the Rising Sun!
Tip: Secure your JR Pass for Whole Japan before your trip so you can explore Japan without worries. The JR Pass includes unlimited rides on JR lines including railways and buses across Japan. And, it'll be delivered to you for FREE!
Step 1: Know your visa type and gather your Japan visa requirements
There are actually a number of Japan visa types, each with different sets of Japan visa requirements. As for me, I applied for a Japan visa for Tourism (Individual Travel).
Japan tourist visa requirements that I submitted are:
My Philippine Passport (with more than 6 months validity)
Japan Visa Application Form
Photo  (4.5cm × 3.5cm, with white background and taken within 6 months)
PSA Birth Certificate (issued within one year)
Daily Schedule in Japan (download this Schedule of Stay form)
Bank Certificate
Cover Letter to explain my Japan visa application without ITR
Certificate of Employment (optional)
See complete list of Japan visa requirements for tourism (short-term) purposes.
Step 2: Fill out the Japan visa application form
Download this new Japan visa application form and fill out the required fields such as complete name, date of birth, place of birth, sex, nationality, passport number, etc.
Sample Japan visa application form provided by the Japan Embassy: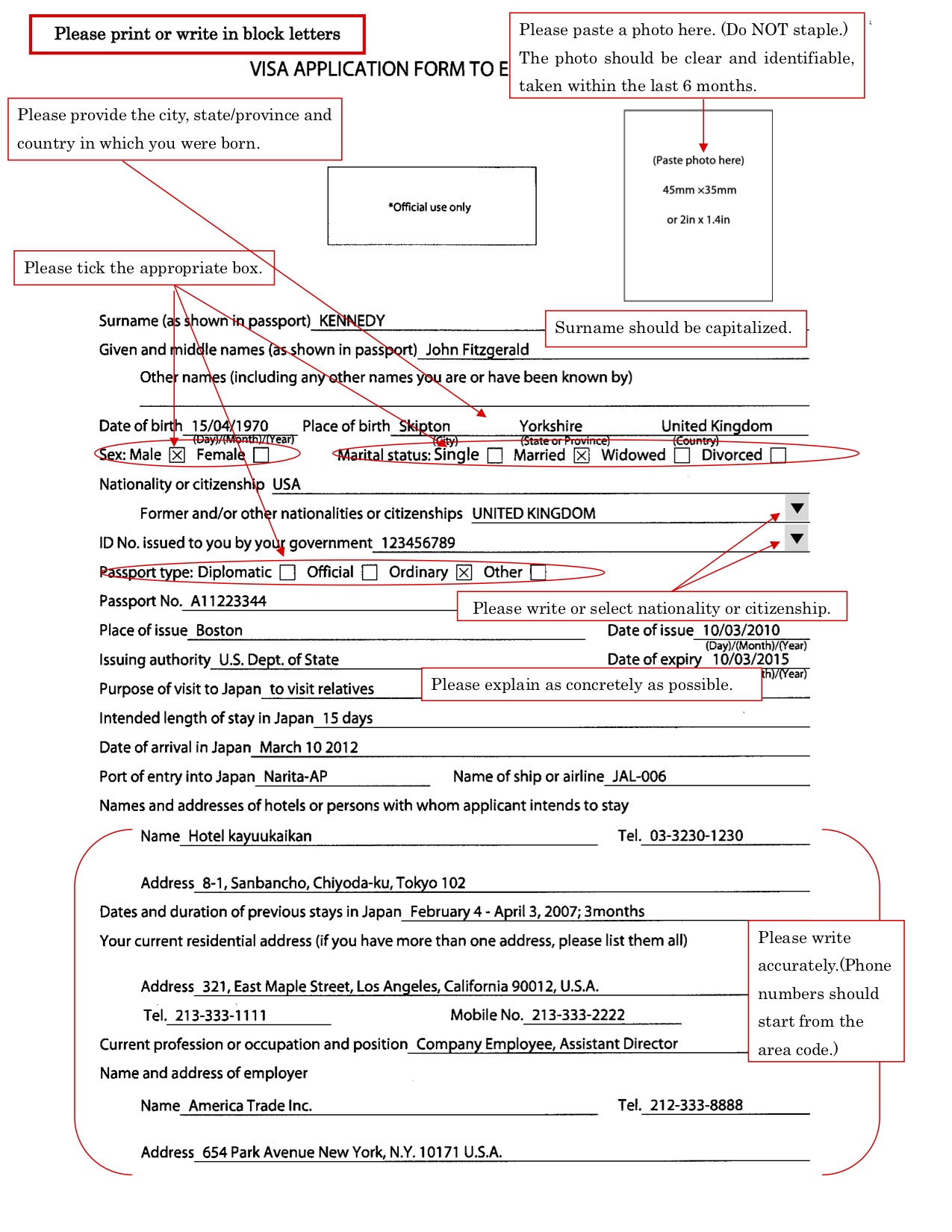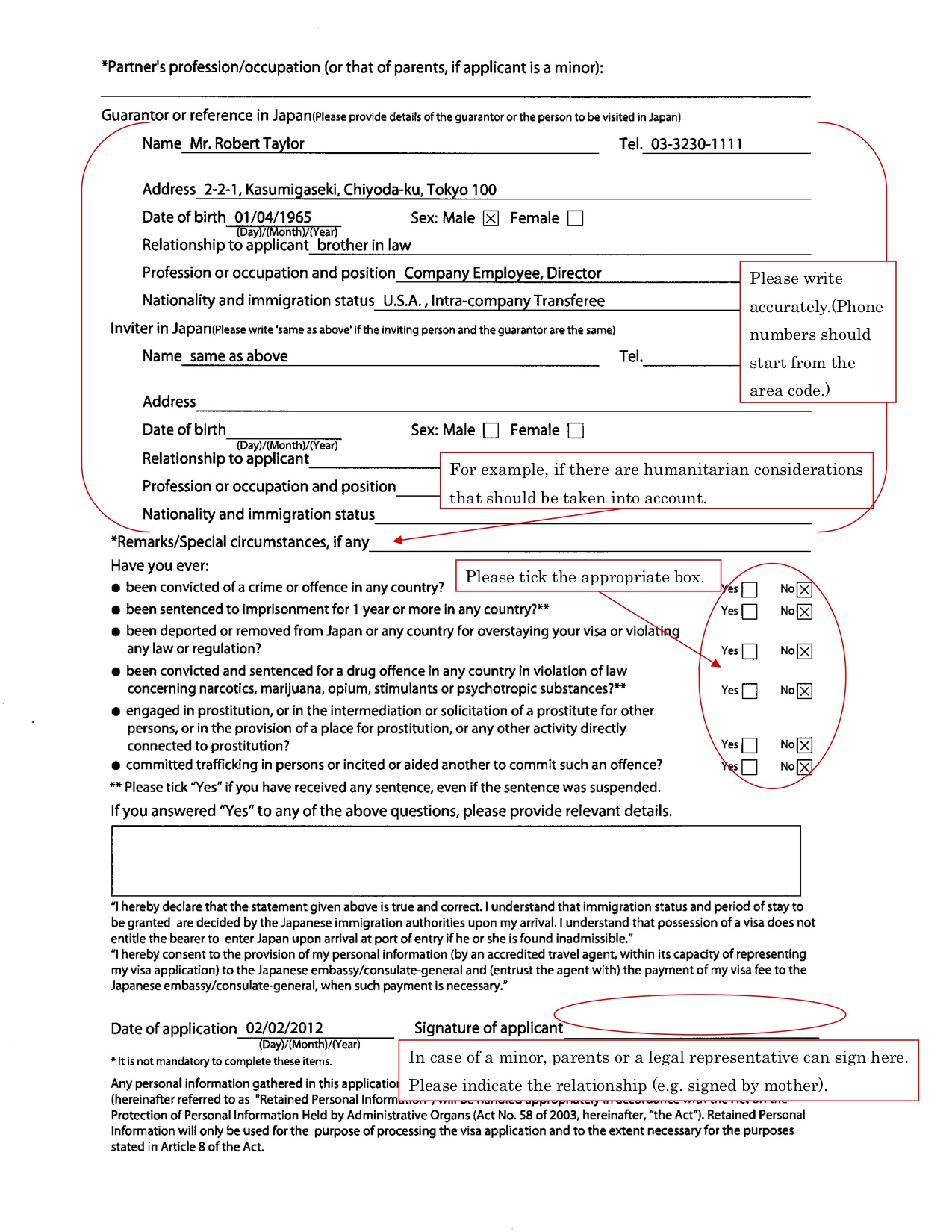 Step 3: Submit your Japan tourist visa requirements to an accredited travel agency
Submit your Japan visa requirements to any of the accredited travel agencies in the Philippines. As for me, I chose RELI Tours & Travel in SM Megamall since this was the nearest location by the time I applied for my Japan visa. They have 6 branches in Metro Manila: SM Megamall, SM Mall Of Asia, SM Southmall, Hotel Dusit Thani, ANTEL, and Lucky Chinatown.
Once you are in the travel agency office, get a priority number and wait for your turn. A travel agent will then thoroughly check your Japan visa requirements and ask for clarifications when needed before you pay the Japan visa handling fee.
Step 4: Pay the Japan visa fees
Actually, the Japan visa fee for Filipinos is gratis, meaning it is FREE. What you will be paying is the agency's handling fee, which varies from ₱800 to ₱2,000, depending on the travel agency and visa type. RELI Tours & Travel charges ₱950 for a single entry or multiple entry Japan tourist visa without guarantor (1-B), and ₱2,000 for those visiting friends and distant relatives in Japan (1-A).
Step 5: Wait for the Japan visa processing time and claim your passport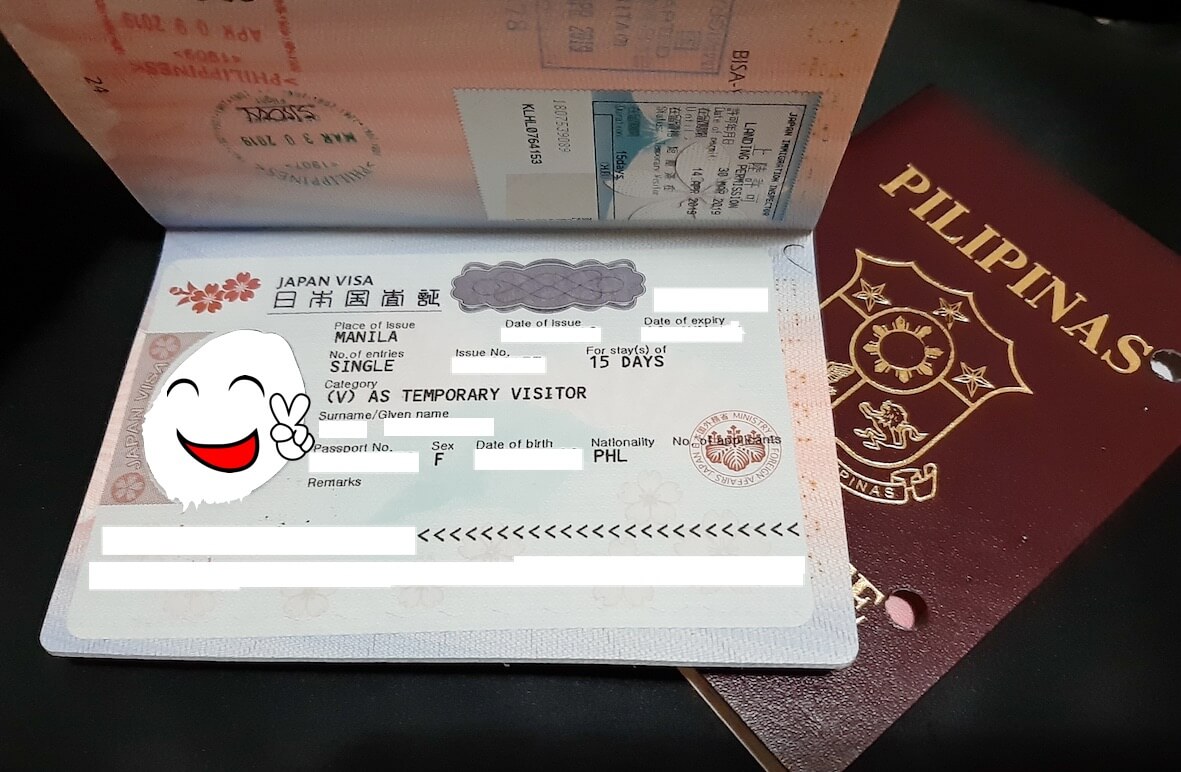 The estimated Japan visa processing time takes about five (5) working days. Surprisingly, the travel agency texted me that my passport was ready for pick up after three (3) working days from my date of application.
Read our tips on how to increase your chances of visa approval.
Japan visa FAQs (Frequently Asked Questions):
1. Can someone process my Japan visa application on my behalf?
If you are unable to process your own Japan visa, you may ask someone to apply for you given he or she has an authorisation letter with your signature and ID as proof. Direct family members such as parents and siblings can also process your Japan visa without an authorisation letter.
2. Do travel agencies offer courier services for my Japan visa?
Yes, some travel agencies offer a courier service for your Japan visa. RELI Tours & Travel has this option. Please check their Japan visa courier service for more information.
3. Are flight tickets and hotel bookings needed?
Proofs of confirmed flights and accommodations are not required for your Japan visa application, but they can be part of your supporting documents. Also, you will have to indicate your planned airline and hotel addresses in the application form even though you haven't made any bookings yet.
Tip: You can reserve your Japan accommodation from Klook or Agoda. Some hotels offer flexible cancellation arrangements where you can cancel your booking free of charge. So if your Japan visa gets denied, you can be at ease knowing you haven't spent anything on your hotel bookings yet.
4. What other supporting documents can I submit?
Other supporting documents you may submit are credit card statements, proof of owned properties or businesses, a cover letter, and certificate of employment.
5. Should I buy a JR Pass ahead and submit it as one of my supporting documents?
The Japan Rail Pass or JR Pass is not a required document. I would recommend that you buy it once your visa is approved. As the train system in Japan is quite expensive, it is ideal to buy the JR Pass before you enter Japan and NOT before your Japan visa application.
Tip: Klook offers different kinds of JR Passes, but if you intend to cross different regions in Japan, I suggest that you buy the JR Whole Japan Rail Pass (Consecutive 7, 14, or 21 Days). We somehow regretted not purchasing the JR Pass online before travelling to Japan. It could have minimised our total travel cost in Japan.
6. If I completed all requirements, will this guarantee my approval?
Submission of complete requirements does not guarantee the issuance of your Japan visa. However, this will give you higher chances of approval.
7. If my Japan visa requirements are incomplete, will I get denied?
Not all the time. Some applicants still get approved with incomplete documents. It is a case-by-case basis.
8. Can I still apply for a Japan visa without ITR (Income Tax Return)?
Yes you can. Just like what I did, you can write a letter of explanation on why you have no ITR for your Japan visa requirements. See my Japan visa without ITR sample letter of explanation. Also, here's how I got my Korean visa without ITR for your reference.
9. Can I DIY my Japan visa application?
No. All Japan visa applications must be coursed through an accredited travel agency. Here is a complete list of accredited travel agencies by the Japan Embassy.
10. Can first-timers apply for a multiple-entry Japan visa?
Yes. First-timers may apply for a multiple-entry Japan visa if eligible. Check out the multiple-entry Japan visa requirements for tourists.
11. When should I apply for a Japan visa prior to my travel period?
While the Japan visa processing time can only take up to five (5) working days, it is safe to apply for your Japan visa a month or two prior to your intended travel dates.
12. Will there be an interview?
In some instances, you may be called for a personal appearance, especially when the embassy has clarifications about your application.
13. When can I follow up on my application?
You may follow up on your application if your passport has not been returned after more than a week. Get an 8-digit acceptance number from your travel agency and inquire about the status of your Japan visa application at the embassy itself.
14. Can I get back my Japan tourist visa requirements after the application?
No. All submitted documents will not be returned to you regardless of the outcome.
15. If I get denied, when can I apply for a Japan visa again?
You can only re-apply after six (6) months.
16. Can I still make an appeal to reconsider my Japan visa application?
The Embassy of Japan in the Philippines clearly states that you can only re-apply for the same purpose after six (6) months. However, I found a Japan visa appeal story in 2017 wherein the applicant appealed in less than a month. She transferred to a different travel agency, and submitted a letter of appeal and additional supporting documents such as confirmed flights, hotel booking, and guarantee letter. Do note that as of this writing, there are no recent accounts saying that an appeal is plausible.
There you have it. I hope you find my Japan tourist visa guide useful. Good luck in your Japan visa application! Let us know how it goes by connecting with us on Facebook, Instagram, Twitter, and Youtube.
By the way, before you travel to Japan, be sure to secure your Japan SIM card or pocket WiFi.
---
Disclaimer: While I was granted a single-entry Japan tourist visa on my first application, this does not guarantee the same outcome for your Japan visa application. It is still on a case-by-case basis. I highly suggest that you complete your Japan tourist visa requirements set by the Embassy of Japan in the Philippines to avoid any complications.