Nami Island Guide 2023: Tickets, Things to Do & Where to Stay
Nami Island is a top tourist destination in South Korea every K-drama fan should visit!
Yes, as K-drama lovers ourselves, we had to add it to our Korea winter itinerary. We explored this popular K-drama filming location in December, during the winter season in Korea. But they say, it exudes a totally different charm every season — may it be winter, spring, summer, or fall.
We can't wait to be back to see its scenic beauty in another season.
Why is Nami Island famous?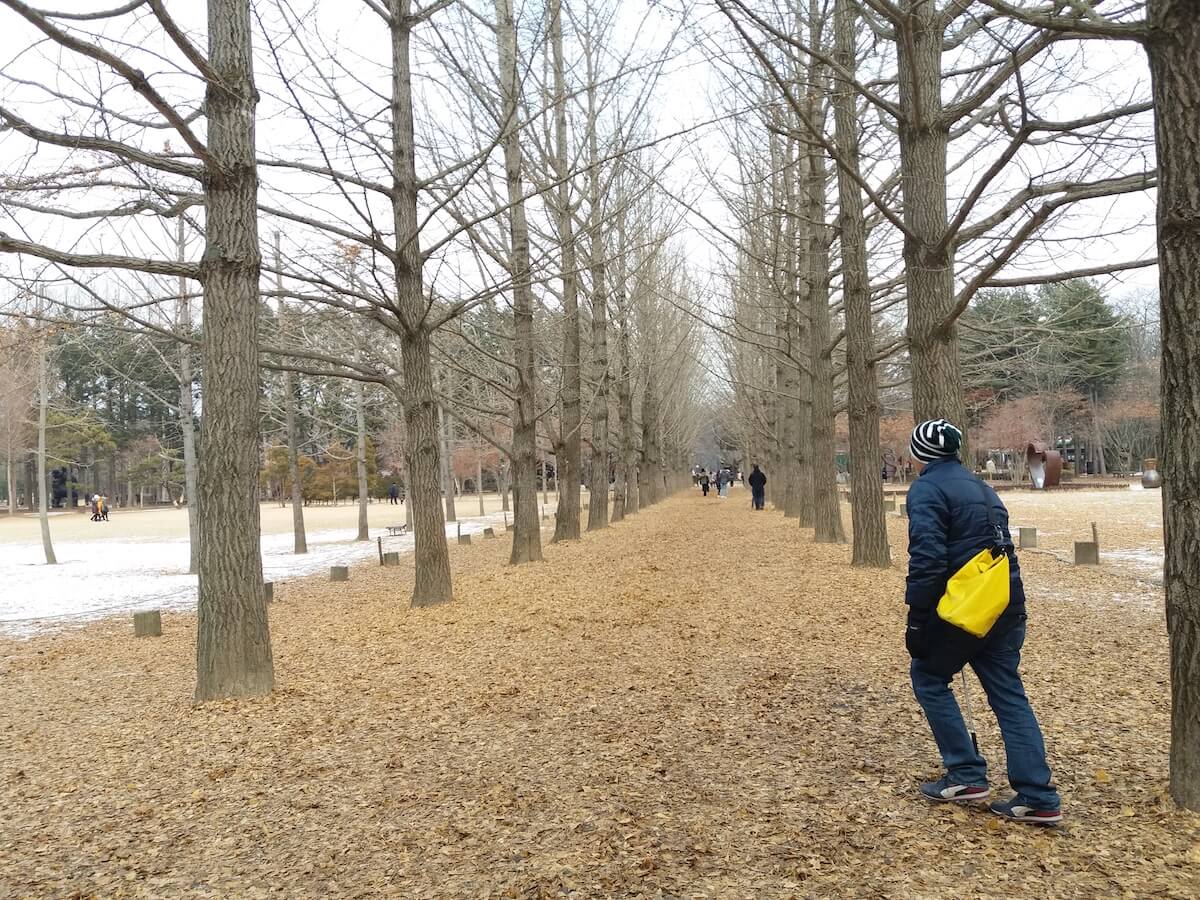 Nami Island has been featured in many popular K-drama series including Winter Sonata (2002), Hi Bye, Mama! (2020), and When My Love Blooms (2020). But Winter Sonata starring Choi Ji-woo and Bae Yong-joon really put this crescent-shaped islet to the tourist map, making it a must-visit romantic destination in South Korea.
Fun fact: Did you know that Nami Island declared cultural independence from South Korea on 1 March 2006, officially calling itself the Naminara Republic (나미나라공화국)? It even has its own flag, currency, and passport! This move was made not because of defiance, but to further boost tourism. Mind-blowing, right?
How much is Nami Island entrance fee?
There are different entrance fees depending on your age group. It's also interesting to note that Nami Island entrance fees are called Naminara Republic VISA Fees.
Please see updated entrance fees and ferry schedule below:
Nami Island entrance fees 2023
| | | |
| --- | --- | --- |
| Type | VISA Fee (Entrance Fee) | Age Group |
| Regular | ₩16,000 [BUY TICKET] | Adult |
| Discount | ₩13,000 [BUY TICKET] | Seniors (above 70 years old) and Middle to High School Students |
| Special | ₩10,000 [BUY TICKET] | Children 3 years old to Elementary School |
| FREE | – | Children under 3 years old |
Nami Island ferry schedule 2023
| | |
| --- | --- |
| Time | Frequency |
| 8am – 9am | Every 30 mins |
| 9am – 6pm | Every 10 – 20 mins |
| 6pm – 8pm | Every 30 mins |
Notes:
The visa fee already includes the round-trip ferry tickets and entrance fee.
Naminara Republic is open daily all year round including holidays.
During Fridays, Saturdays, Sundays, and holidays, the first ferry departs Gapyeong Wharf at 7.30am and the last one at 9.30pm.
Be sure to check Naminara Republic's official website for the most updated operating schedule.
Tip: Make your trip hassle-free by joining a Nami Island Tour inclusive of round-trip transfers from Seoul and admission fees. Plus, you get to visit other Korea attractions of your choice including Petite France, Garden of Morning Calm, Alpaca World, Legoland, and more!
How to get there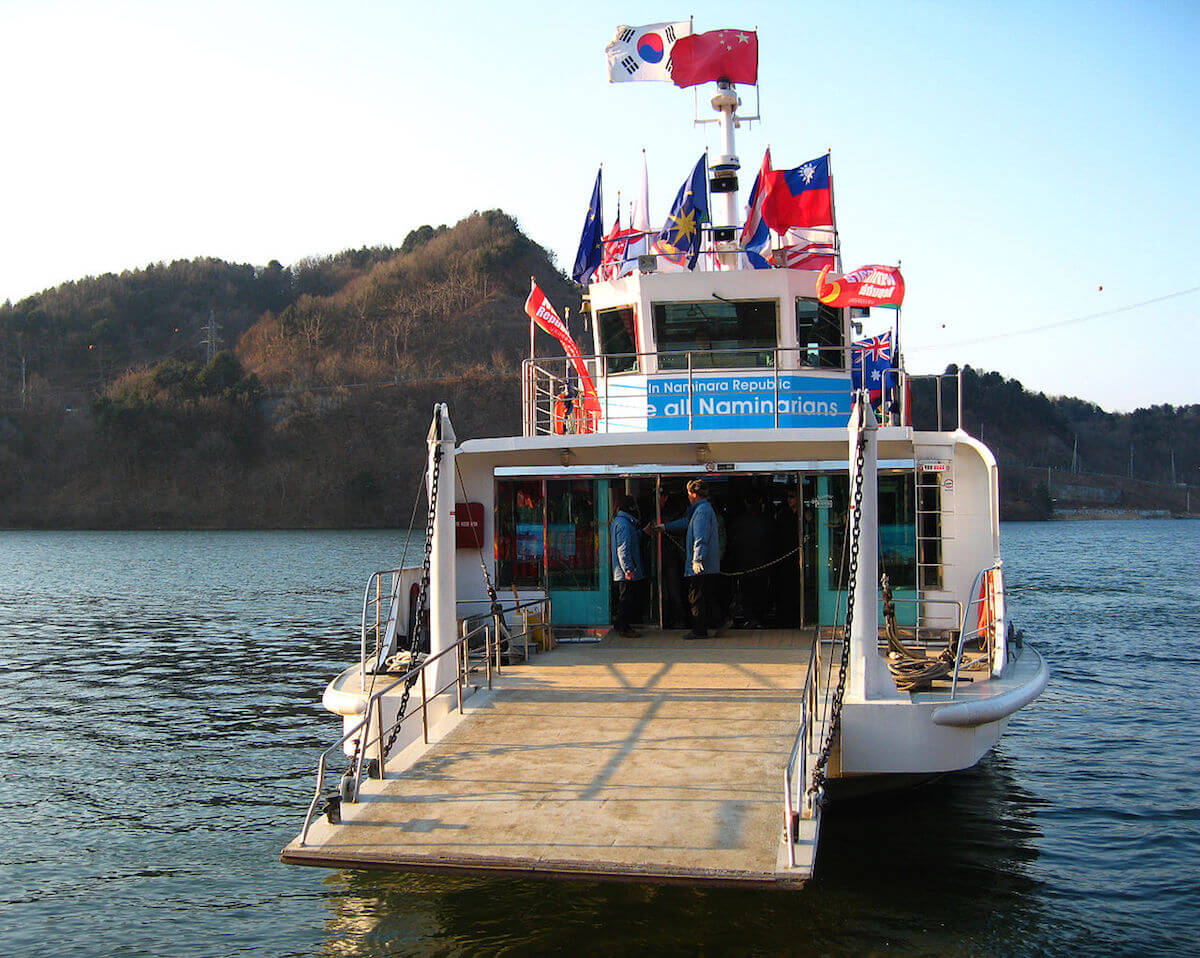 Nami Island is situated in 1, Namiseom-gil, Chuncheon-si in South Korea's Gangwon Province. From the Korean capital city of Seoul, it takes around one to two hours to reach Nami Island, depending on what mode of transport you'll take.
If you want to know how to get to Nami Island from Seoul, you can consider the following transport options:
By train
The fastest way to get there is by taking the train from Seoul. From Yongsan, Cheongnyangni, or Chuncheon Station, take the ITX-Cheongchun train to Gapyeong Station. Or, from Sangbong, take the Gyeongchun Line to Gapyeong Station.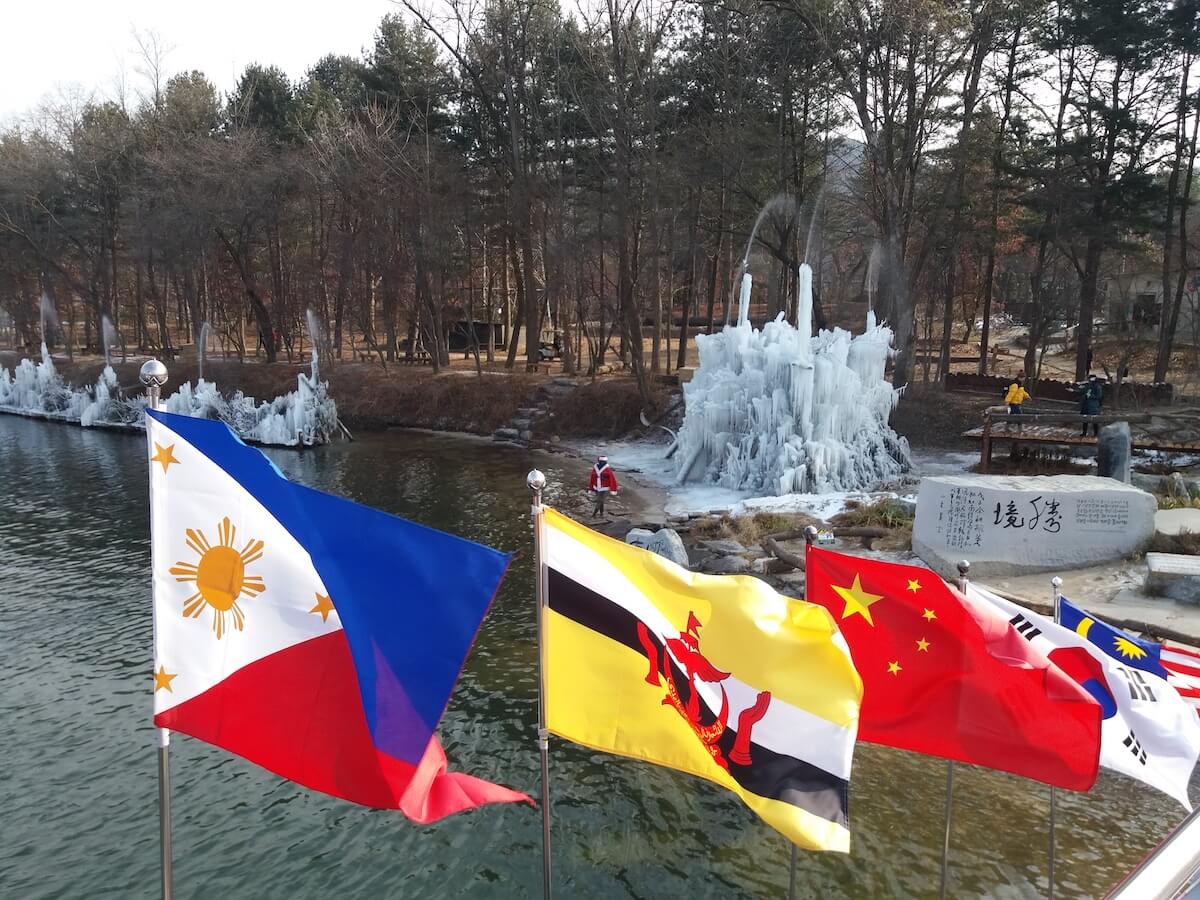 Once you reach Gapyeong Station, you can walk for 1.5km or about 20 minutes to Gapyeong Wharf where you take the ferry to Nami Island. If you don't want to walk, you may take a cab or bus going to the ferry wharf.
By shuttle bus
For more convenience, you may want to take the shuttle bus from Seoul to Nami Island. Pick-up and drop-off locations in Seoul are Hongik University Subway Station, Myeongdong Station, and Dongdaemun History and Culture Park (DDP) Station.
The shuttle bus will also drop by Petite France Village and Italian Village, which is great if you wish to visit these attractions, too.
Top things to do in Nami Island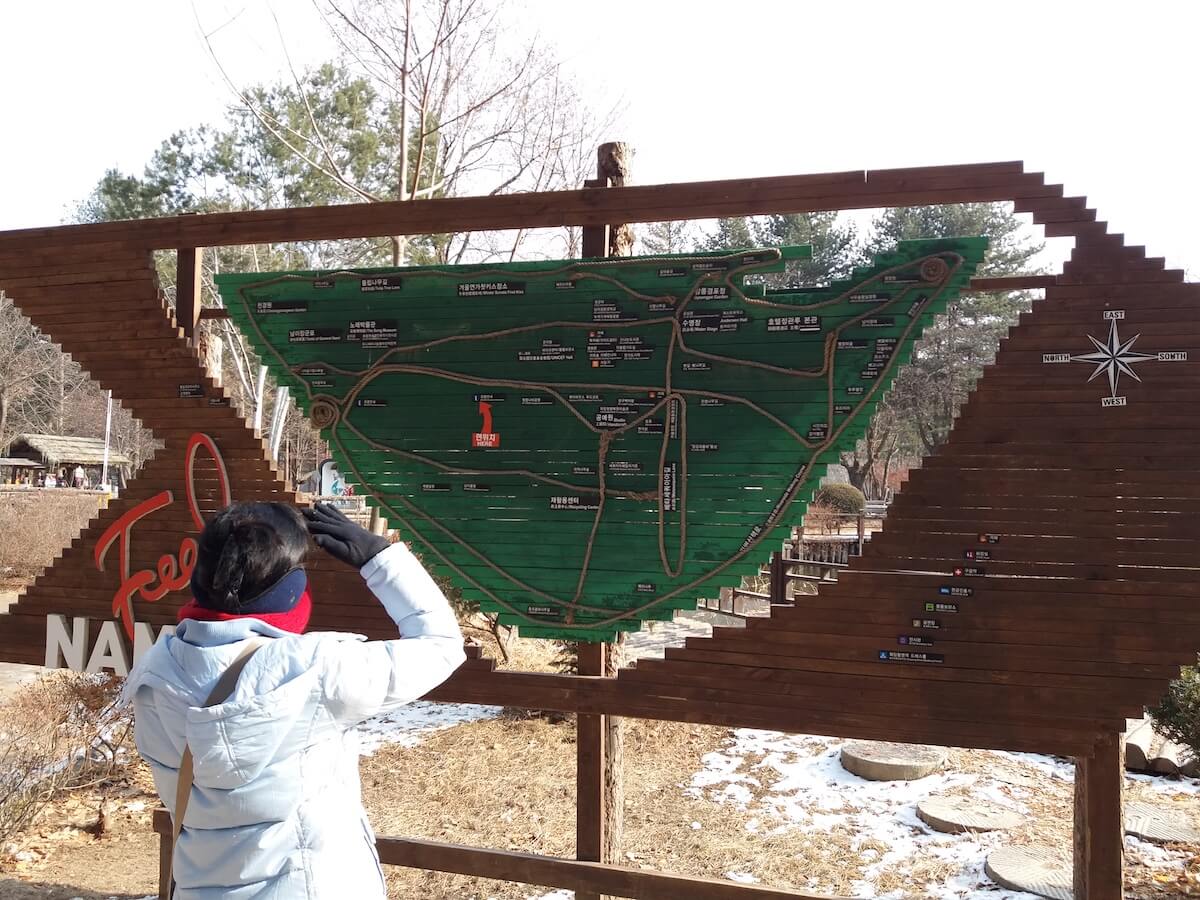 Tick these Nami Island activities off your list:
1. Walk on pathways as you take in the beauty of nature
The first thing to do here is to walk around and simply enjoy nature. This little slice of paradise spans over 400,000 sqm, which you can actually explore on foot.
2. Rent a bike and cycle past breathtaking scenery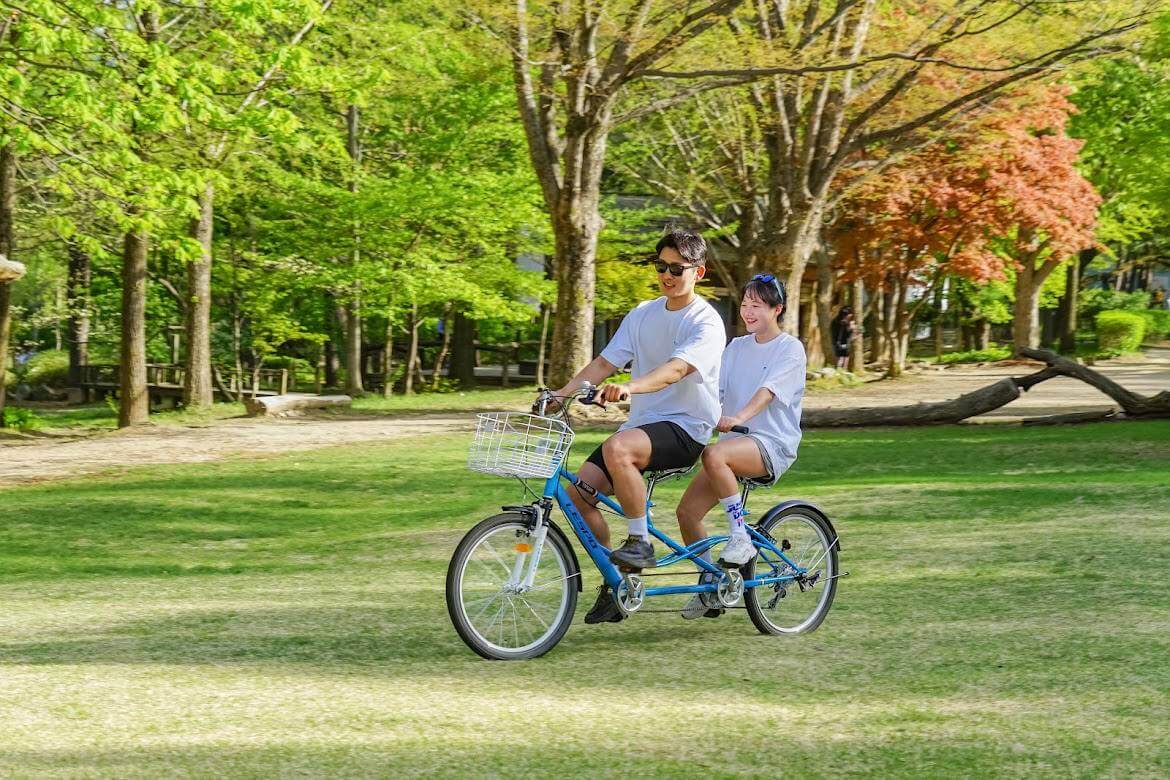 If you don't want to walk all the time, rent a bike and explore the island on two wheels. This is a different kind of experience that'll give you the romantic K-drama feels.
3. See the Winter Sonata filming spots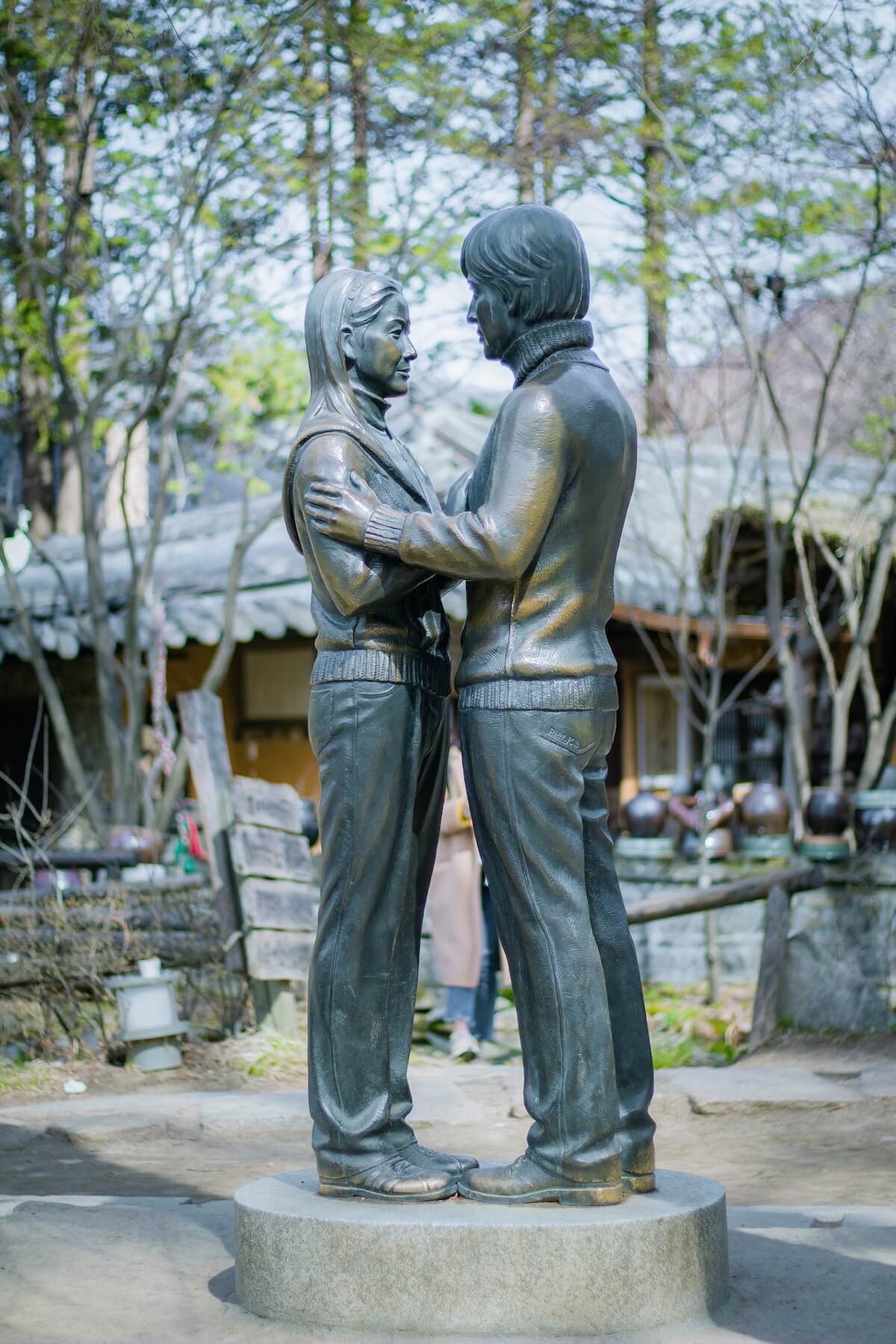 What's a Nami Island trip without visiting the actual Winter Sonata filming spots? Relive your favorite scenes on the picturesque Metasequoia Lane and see the iconic statue dedicated to this K-drama that popularized the island.
4. Do a photoshoot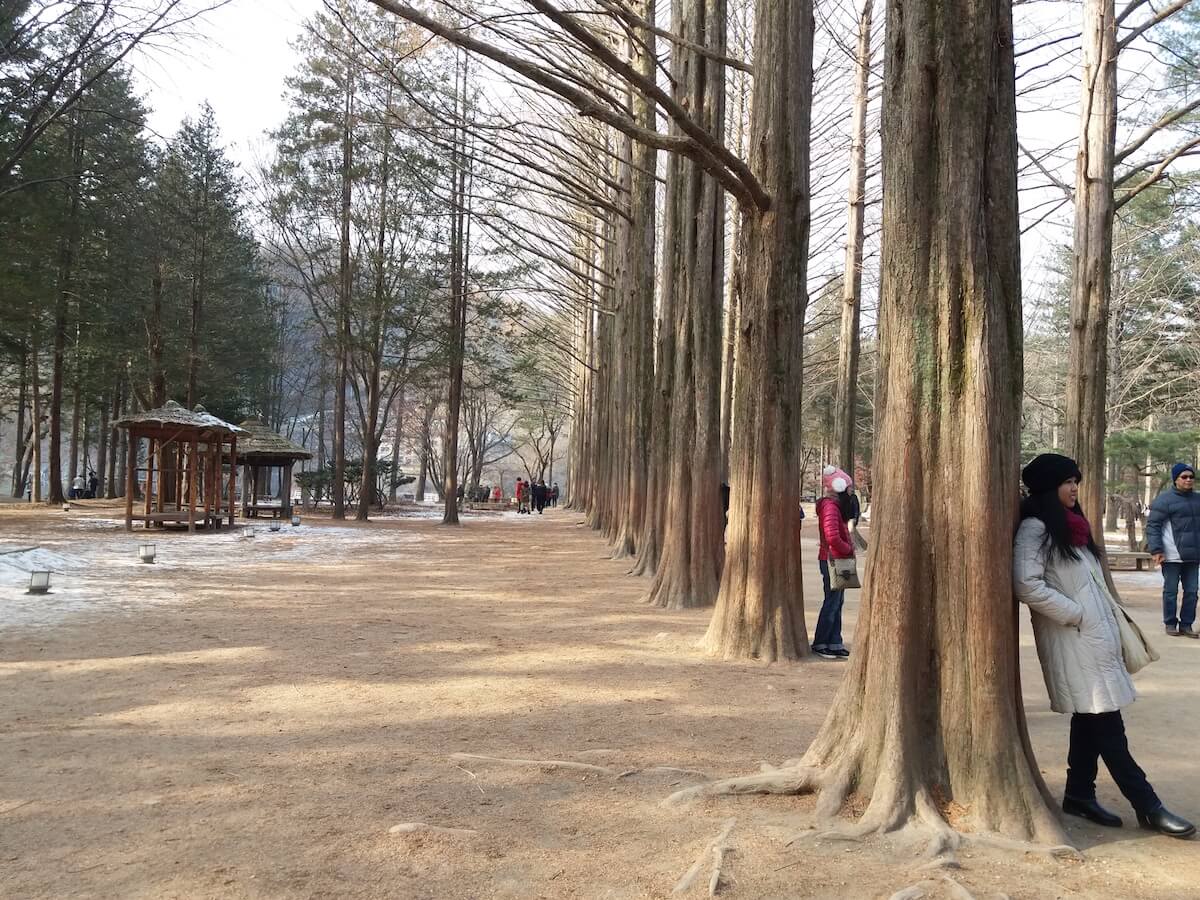 Of course, don't forget to strike a pose and go on a photo op. Nami Island is a postcard-worthy destination so take as many photos and memories as you wish.
5. Chill in a cafe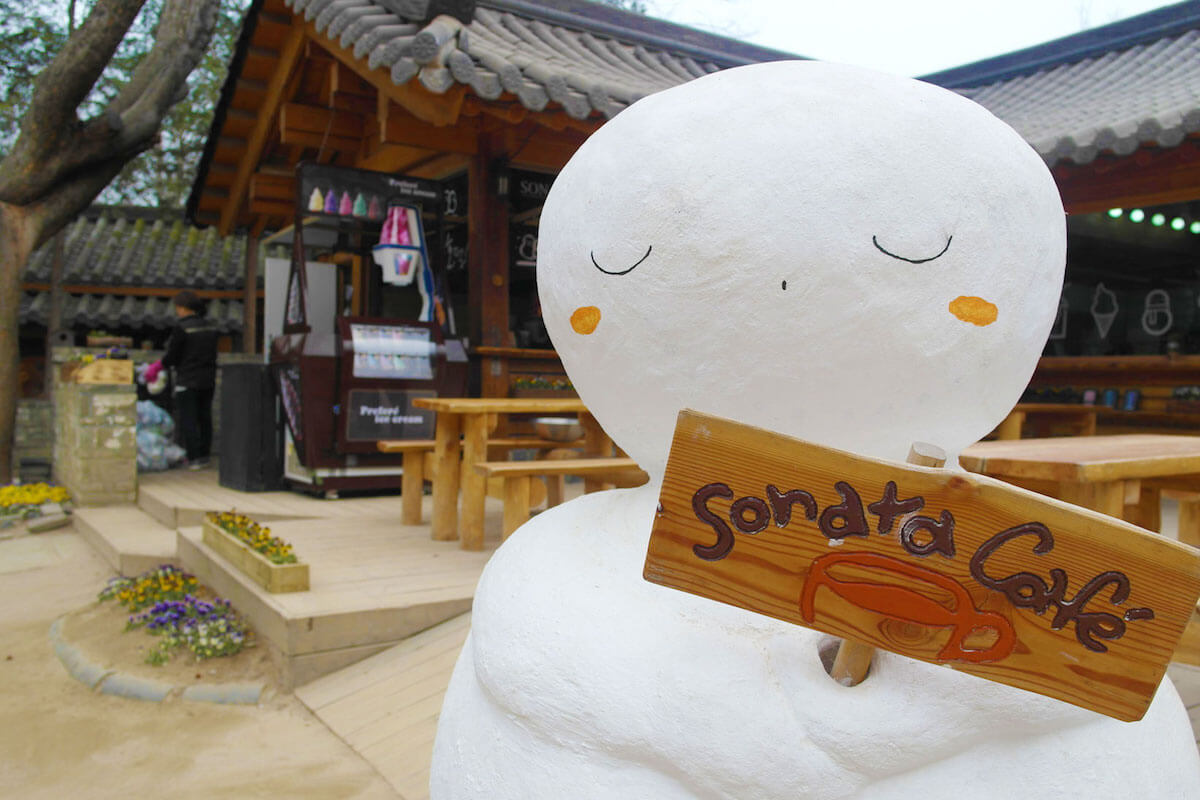 Take a break and chill in any of the cafes here including Sonata Cafe, Snow Cafe, Book Cafe, Swing Cafe & Bakery, and Tea House Chadam. Indulge in Korean pastries and snacks and sip a cup of coffee or tea.
6. Take a side trip to nearby attractions
Nami Island is an easy day trip from Seoul, which you can already explore for a few hours. In fact, others say they're done exploring the island in 30 minutes. But for us, we'd say you can dedicate a good 3 to 4 hours here.
After our morning exploration, we still had time to side trip to the nearby Elysian Ski Resort. Other attractions near Nami Island you may consider visiting are Garden of Morning Calm, Petite France, Italian Village, Alpaca World, Eobi Valley, Cheongyang Alps Village, Rail Bike, and LEGOLAND Korea.
Tip: You may want to sign up for this Nami Island day tour and this winter strawberry picking tour, which will let you experience more of Gangwon province and nearby areas.
Where to stay in Nami Island
While you cannot stay on the island itself, you can consider staying in Gapyeong so you can visit other tourist attractions in the area. Here are some accommodations to choose from: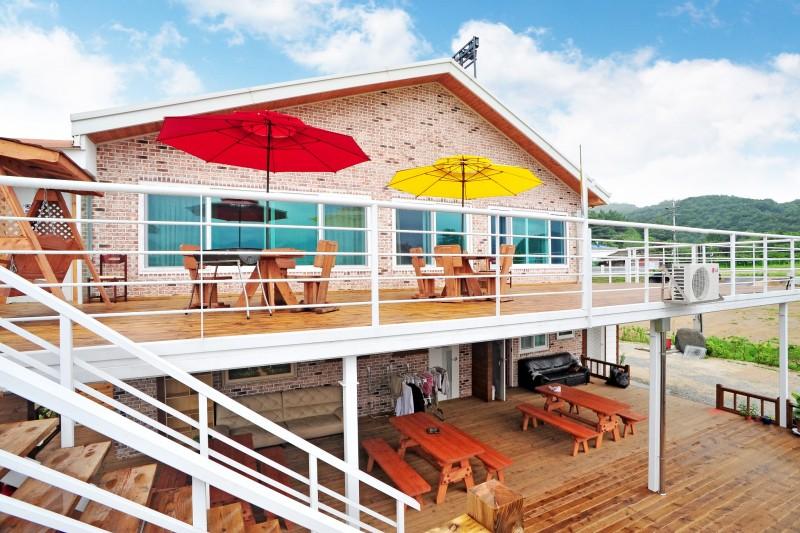 If you are looking for a budget-friendly accommodation near Nami Island, stay at Gapyeong Namisum Rivera Pension. It has a car park and BBQ facilities and is highly rated by guests for its proximity to Nami Island. In fact, it is just a walking distance from the ferry terminal.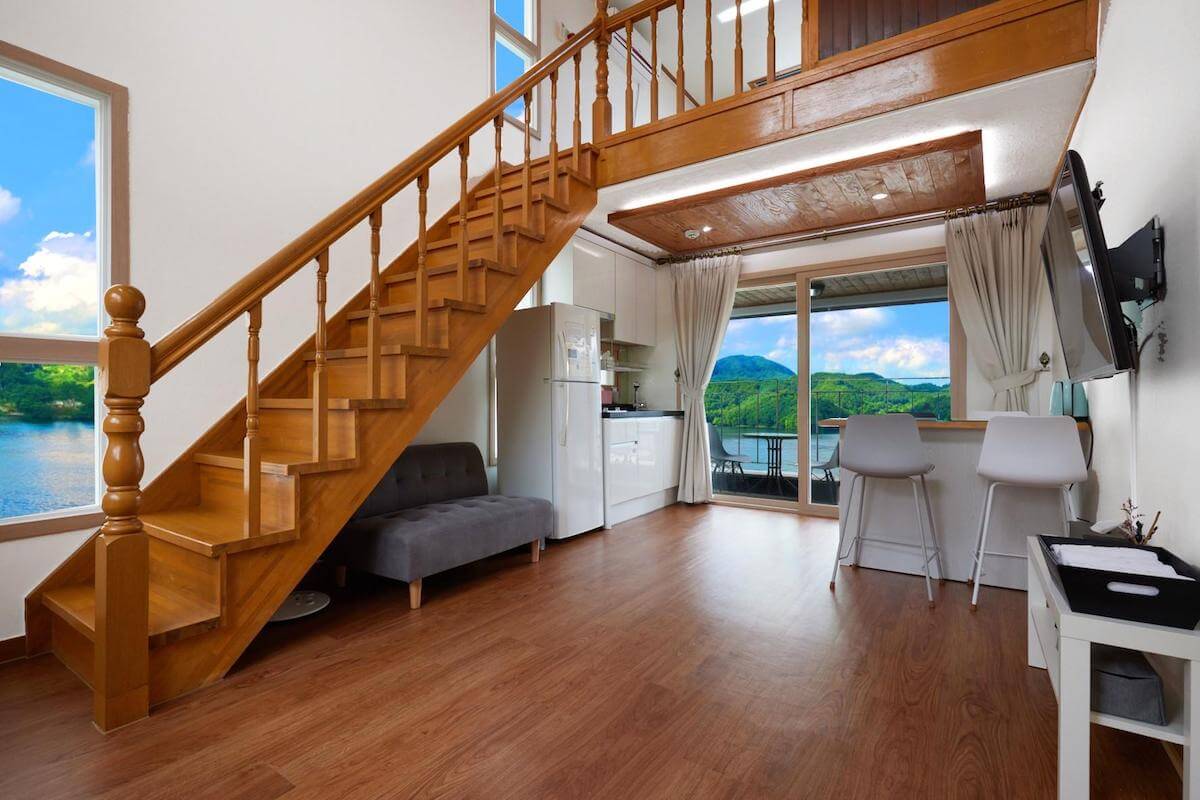 You'll get the needed rest and relaxation at Gapyuong Sae-Nae-Dong Spa Pension with its stunning views and spa facilities located within the pension itself. It also has a car park, in-house BBQ facilities, and WiFi in all rooms.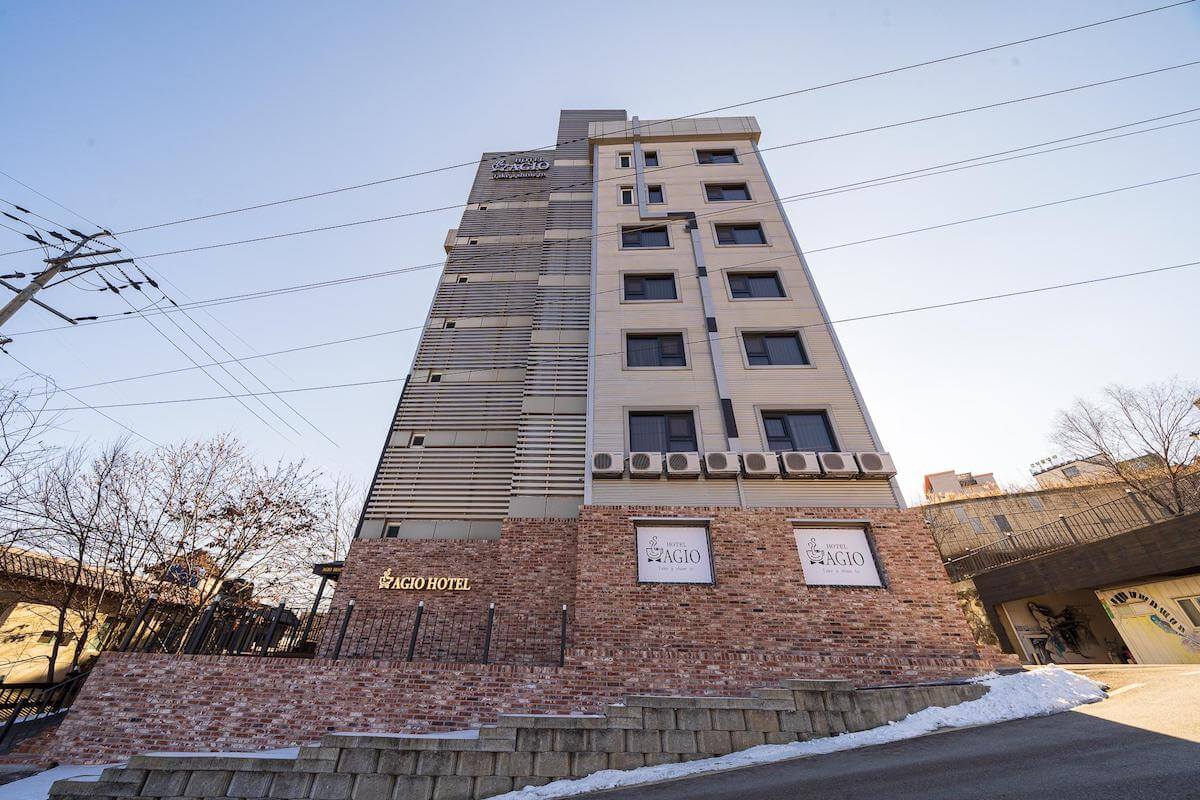 Gapyeong Agio Hotel is highly rated by guests for its strategic location, clean rooms, and friendly staff. Stay in this hotel if you are looking for modern comforts not too far from Nami Island.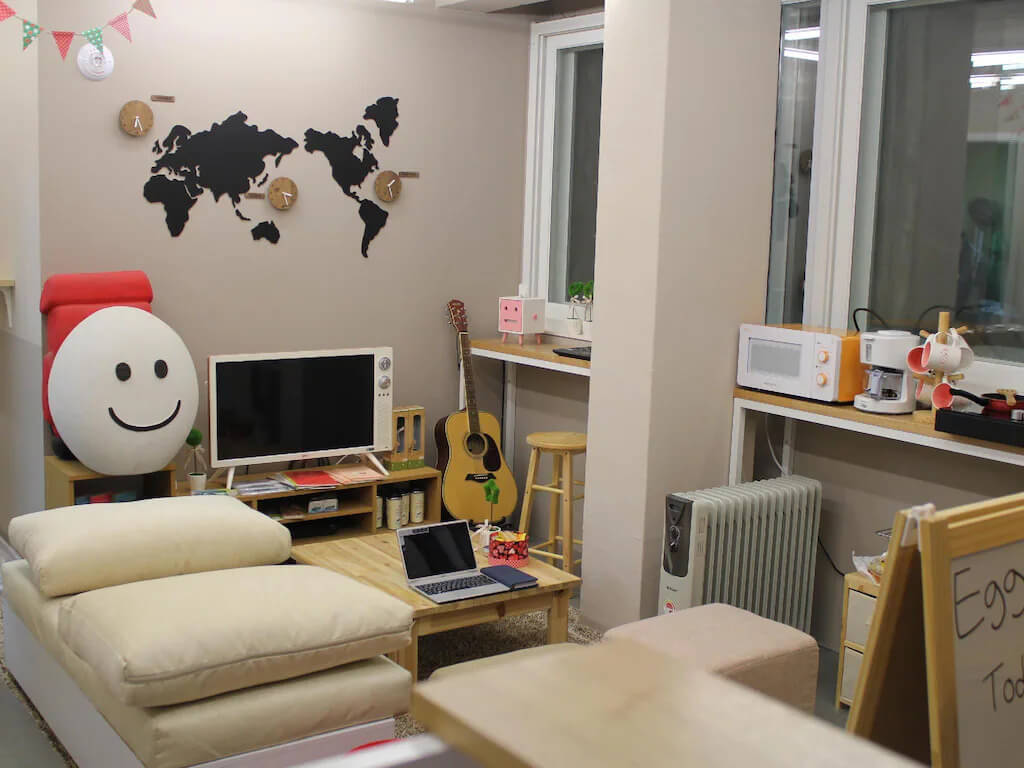 Egg House Namisum Guest House is perfect for families and big groups as they have a range of leisure facilities including karaoke rooms, children's playground, and canoes. The guest house also has a restaurant and an in-house shared kitchen if you want to cook your meals.
So, is Nami Island worth going?
Yes, Nami Island is worth going if you are looking for an idyllic destination outside Seoul to relax with nature and create memories with your loved ones. If you love K-drama and breathtaking scenery, you'll surely enjoy Nami Island like we did.
Planning your Korea trip? Be sure to secure all these Korea travel essentials:
You might also be interested to read our Korea itineraries and guides:
Have fun in Korea! Feel free to connect with us on our socials: Instagram, Facebook, Twitter, and YouTube if you have more tips or recommendations.