Experiencing Spring in Korea: Our 5-Day Itinerary & Tips
After our Korea winter trip, we promised to come back to witness the country's beauty during the spring season, which typically lasts from March to May.
We finally made it happen this year in the company of our local friends, who showed us many parts of Korea we hadn't seen before.
Now, let us share with you our 5-day Korea spring itinerary with travel tips if you want to experience spring in Korea like we did.
Tip: Enjoy 4G/LTE unlimited data in Korea with Klook's [eSIM]. No need for a physical sim in Korea — a QR code will be emailed straight to you so you don't have to worry about internet connectivity while in South Korea.
Things to prepare and travel tips before your Korea spring trip
1. Philippine passport – Your Philippine passport should have at least six months of validity before your travel dates. If not, make sure to renew it first.
2. South Korea tourist visa – You may read our Korean visa guide for Filipinos, Korean visa in Cebu guide, and Korean visa guide for self-employed Filipinos for your reference in applying for your Korean tourist visa.
3. Hotel booking – You need your accommodation address and contact details for your Korean visa so you can initially pick a hotel on Klook or Agoda. Some hotels offer free cancellation so you can easily cancel or rebook for free.
4. Flight tickets – The Korean embassy does not advise that you book your flights before applying for a visa. Get your flights when your Korean visa is already approved.
5. T-Money Card – It's best to buy your T Money Card ahead so you won't have to worry when you arrive at the airport. You can use this card to pay for trains, bus, and convenience stores.
6. Q-CODE (Korea) – Get your Q-CODE before traveling to South Korea. You will need to present this QR code when arriving at the airport in Korea.
7. eTravel QR Code (Philippines) – You also need to get your eTravel QR Code at least 72 hours before your departure or arrival in the Philippines.
8. Travel insurance – Not mandatory but highly recommended. We got AXA's Smart Traveller insurance on our spring trip to Korea.
9. Clothes for spring season – If you are wondering what to wear during spring in Korea, a two-layer clothing would be enough like a shirt with a jacket. However, it could get a little chilly at night, so it's best to bring an extra layer like a down jacket and a scarf.
Our planned 5-day Korea spring itinerary
Do note that this Korea spring itinerary was adjusted based on the attractions that we didn't explore on our first trip to Korea. Also, we really intended to experience more of Seoul this time instead of squeezing in a lot of Korean destinations. We'll reserve them for next time.
Day 0: Arrival in Seoul
– 8.35pm: Arrival at Incheon Airport
– 9.40pm: Check-in: Hotel The Artist Dongdaemun
– 10pm: Explore the neighborhood + late night dinner
– 11pm: Settle down + sleep
Day 1: N Seoul Tower
– 10am: Meet up at the hotel lobby
– Namsan Cable Car and N Seoul Tower
– Do Bong Soon Cafe
– Itaewon
– Legit chicken and beer in Myeongdong
Day 2: Hongdae
– 12pm: Check-out: Hotel The Artist Dongdaemun
– Transfer to Benikea Hotel Kakao
– Hongdae
– Pochangmacha in Hongdae
– Ewha Womans University
– Peter Pan in Yonsei University
– Samgyupsal in Sinchon
Day 3: Lotte World
– Lotte World
– Blue Bottle in Gwanghwamun
Day 4: Other parts of Seoul
– 10am: Brunch with Amy
– Other Seoul attractions we haven't explored
Day 5: Souvenir shopping
– 12nn: Check-out: Benikea Hotel Kakao
– Lunch + chill + pasalubong (souvenir) and skincare shopping
– 5pm: Prepare for flight back home
– 6pm: Incheon Airport + dinner
– 9.35pm: Flight back to Cebu
Our actual experience during spring in Korea
We made our itinerary very flexible so we can just adjust as we go. All thanks to our friend Kevin who efficiently planned out most days of our itinerary and made suggestions so we could save on time, energy, and costs.
Let us take you on our exciting spring journey in Seoul and beyond.
Day 0: Arrival in Seoul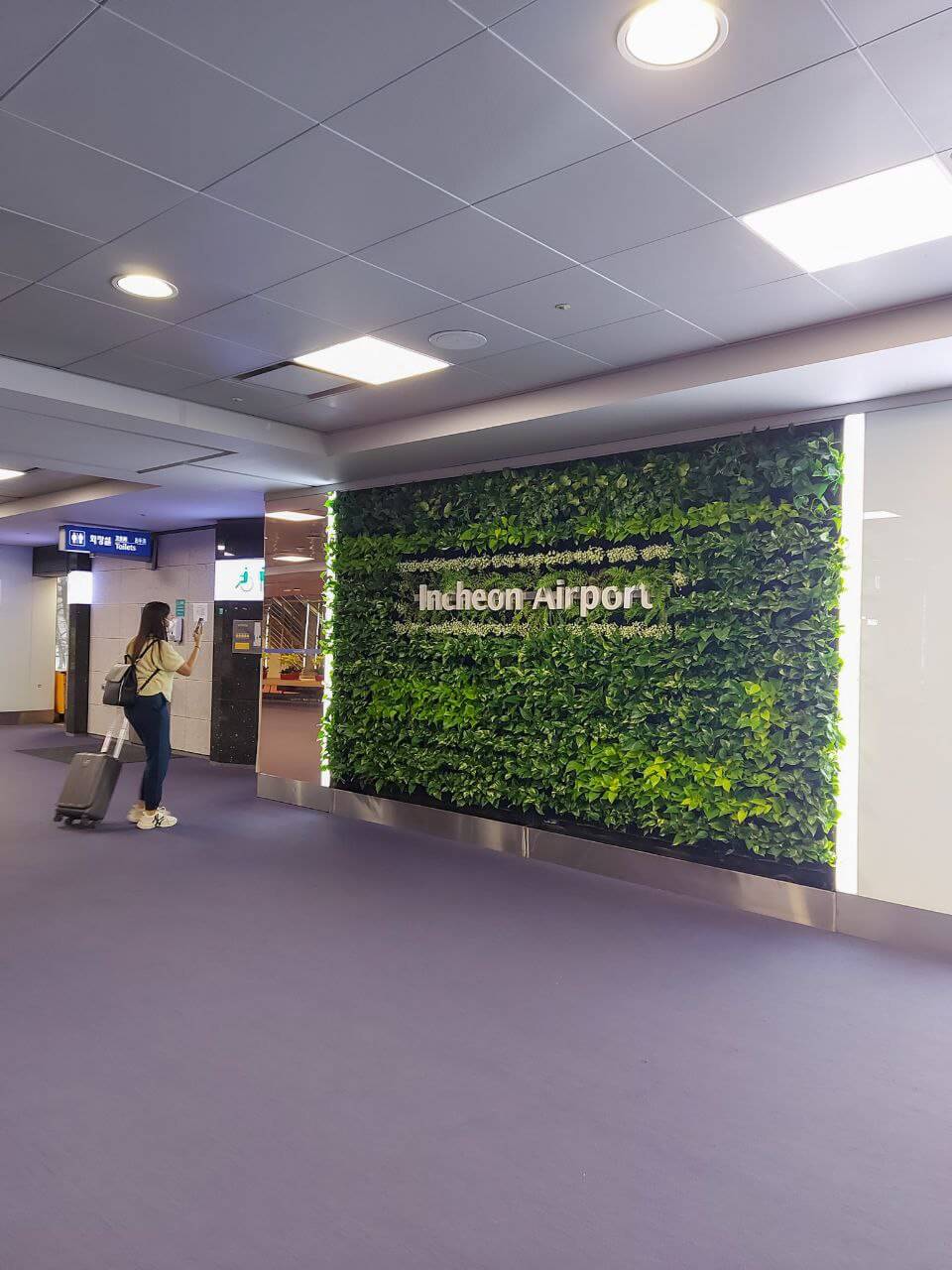 We touched down at Incheon Airport around 8.20pm (Korea time) but we didn't anticipate the transfers involved and the queue at the immigration counter. We got out at around 9.30pm and met our friend Kevin who welcomed us to Korea. Because we were so busy catching up, we didn't notice the time so we missed our scheduled train to Seoul — our very first travel blooper. We just laughed it out and took the next train.
It took us an hour or so to reach Dongdaemun from Incheon Airport via train. We then checked in at Hotel The Artist Dongdaemun and had late snacks at Lotteria before we called it a day.
Day 1: Seoul's top tourist spots
Our first day was pretty packed with top attractions and activities which we recommend you add to your Seoul itinerary, especially if it's your first time in Korea.
N Seoul Tower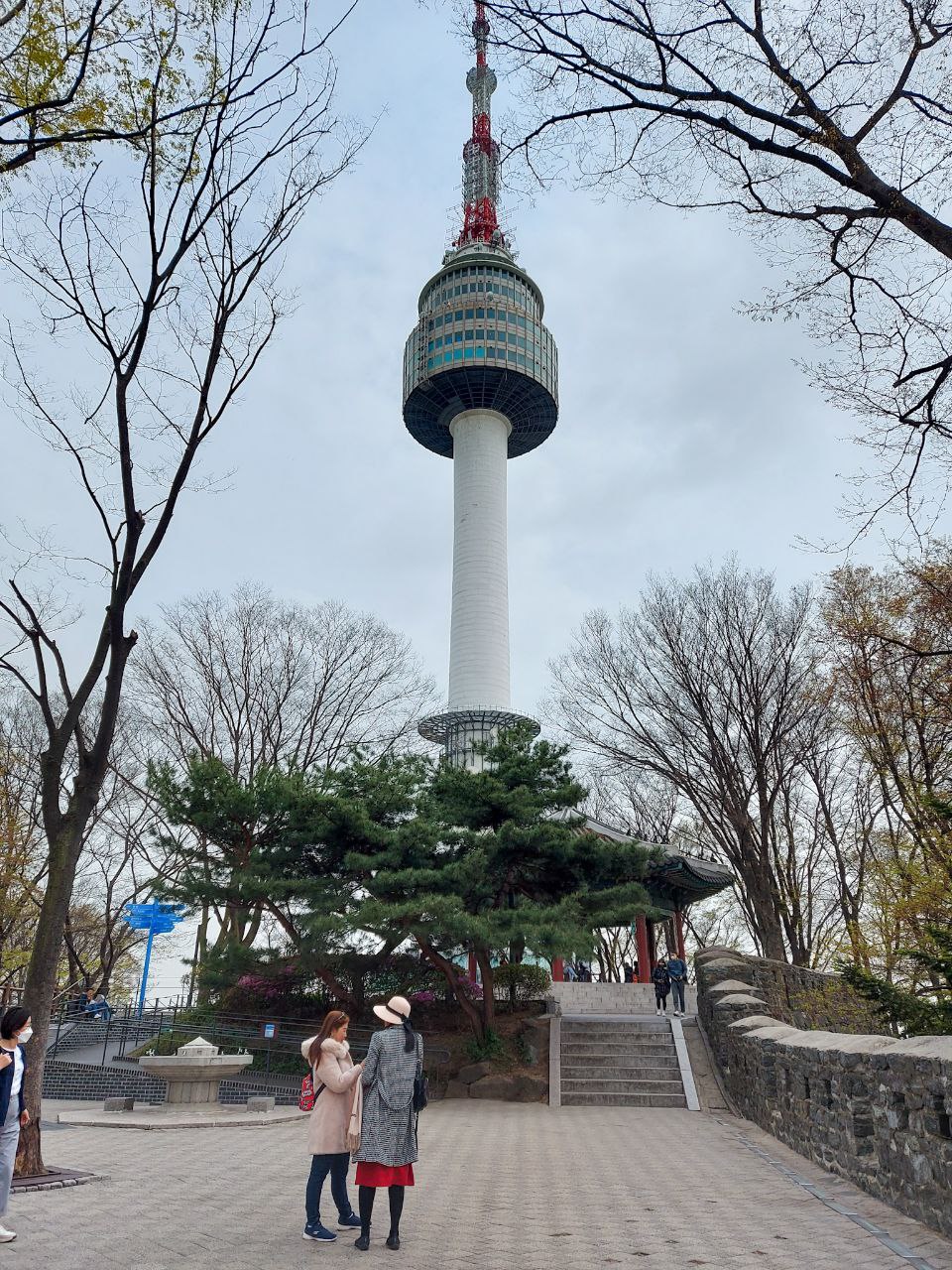 First on our itinerary was N Seoul Tower. This iconic Seoul landmark is a popular filming location for many K-dramas including our favorites Boys Over Flowers (2009), My Love from the Star (2013), and Itaewon Class (2020).
Again, our friend arranged everything for us so we didn't have to worry about anything. He's truly the sweetest. Read our N Seoul Tower guide for a more detailed account of our experience.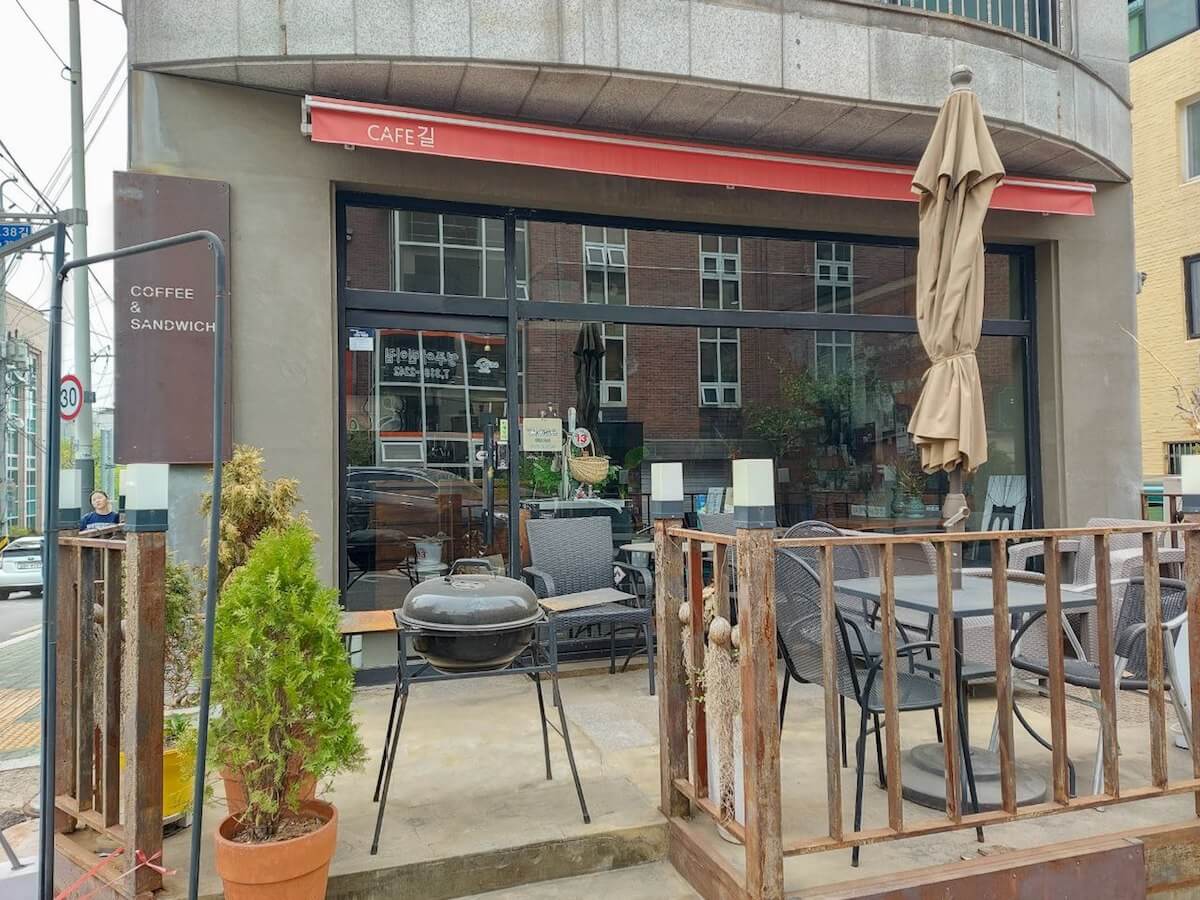 We're huge fans of the 2017 K-drama Strong Woman Do Bong-soon so we were eager to visit the actual cafe where her family sells walnut pies.
Unfortunately, Do Bong-soon Cafe was closed when we arrived so we went to a hidden cafe in the area named Fluffy Clouds instead.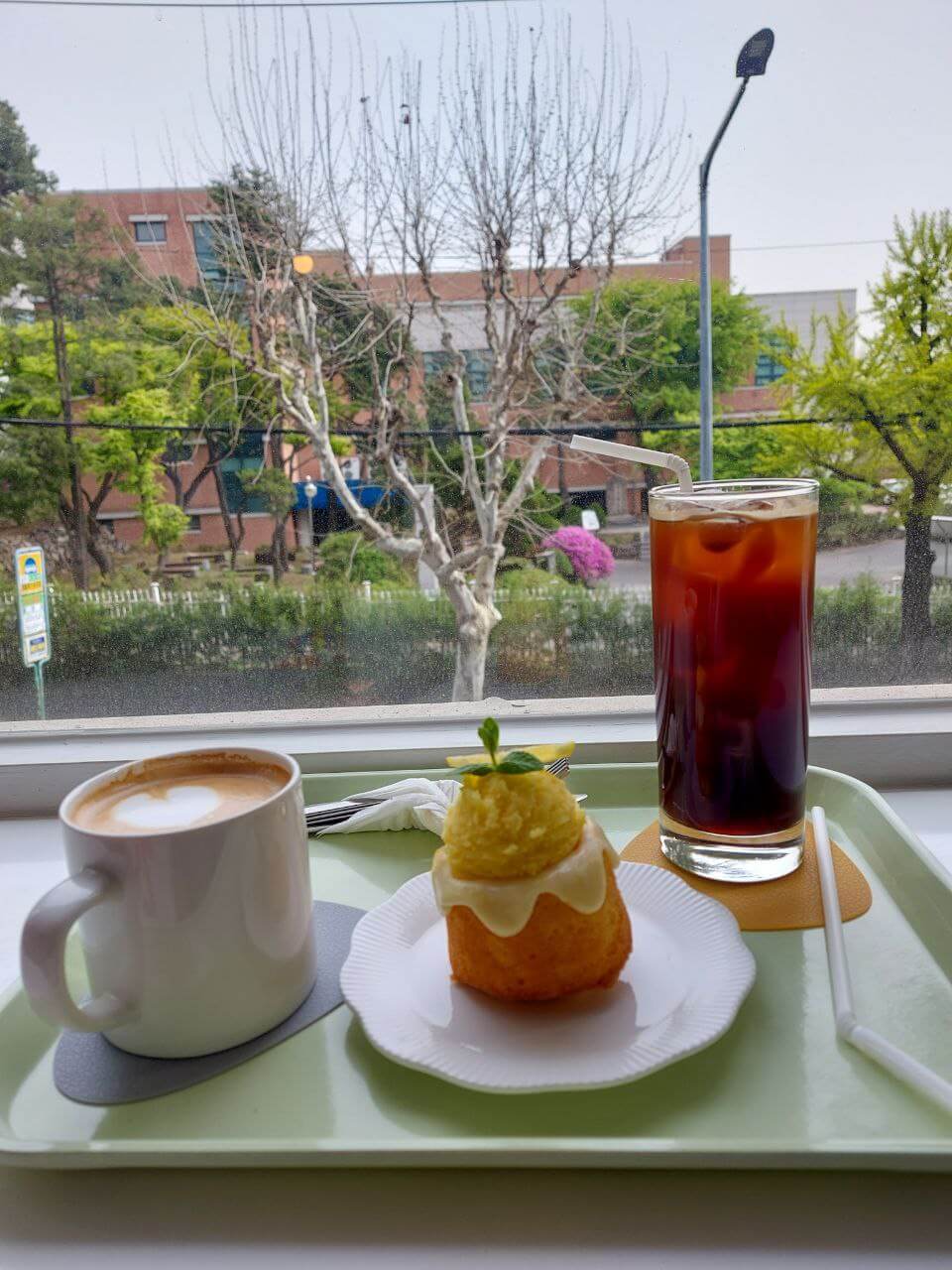 We whiled away the afternoon at Fluffy Clouds, a picturesque cafe located on the 2nd floor of 255-14, Huam-dong, Yongsan-gu in Seoul. It's just a walking distance from Do Bong-soon Cafe and worth hitting up after visiting N Seoul Tower.
Itaewon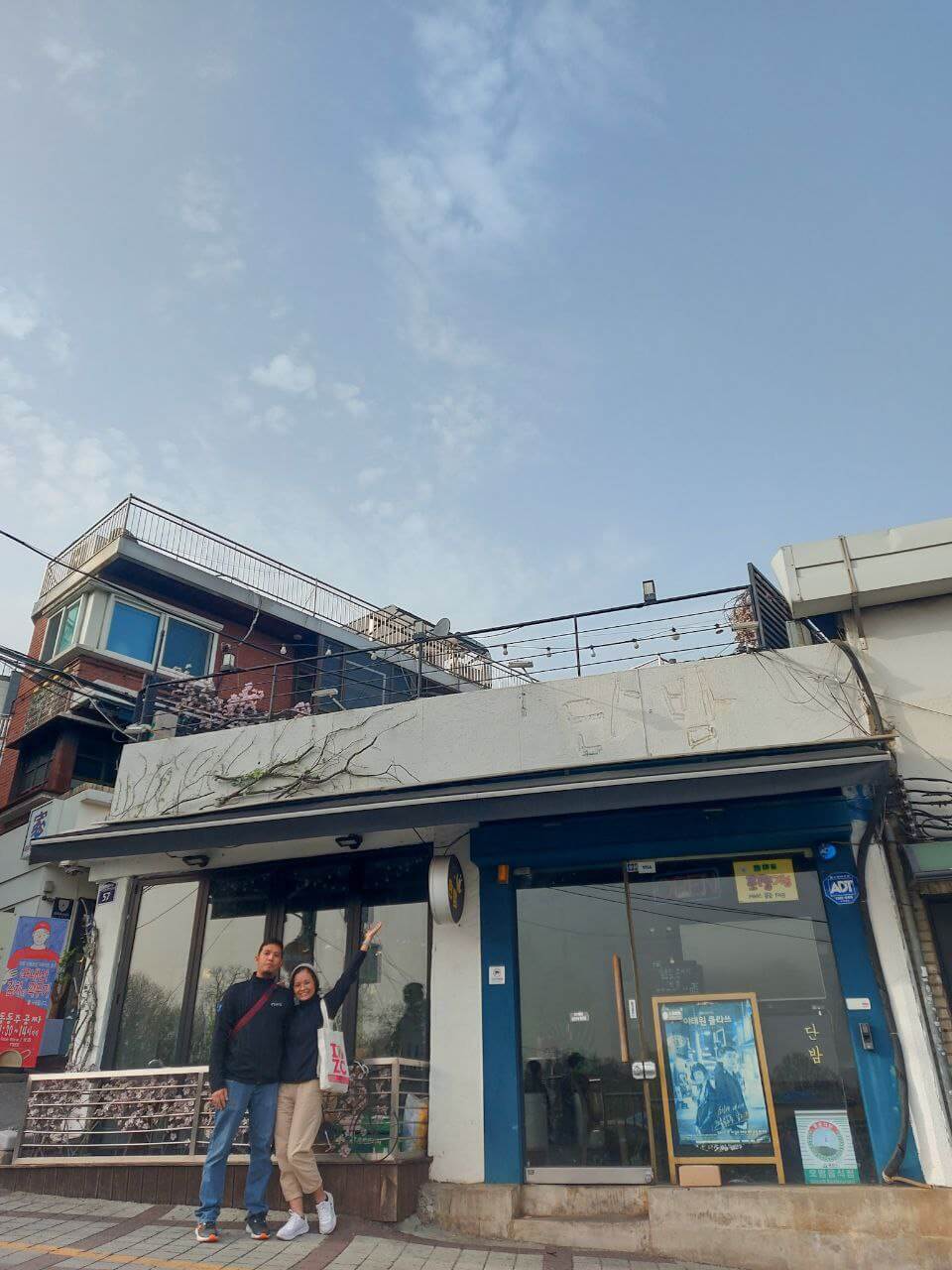 Then, off we went to Itaewon to visit Danbam restaurant in the 2020 K-drama Itaewon Class starring Park Seo-joon and Kim Da-mi. It's not so obvious that we're K-drama fanatics, eh?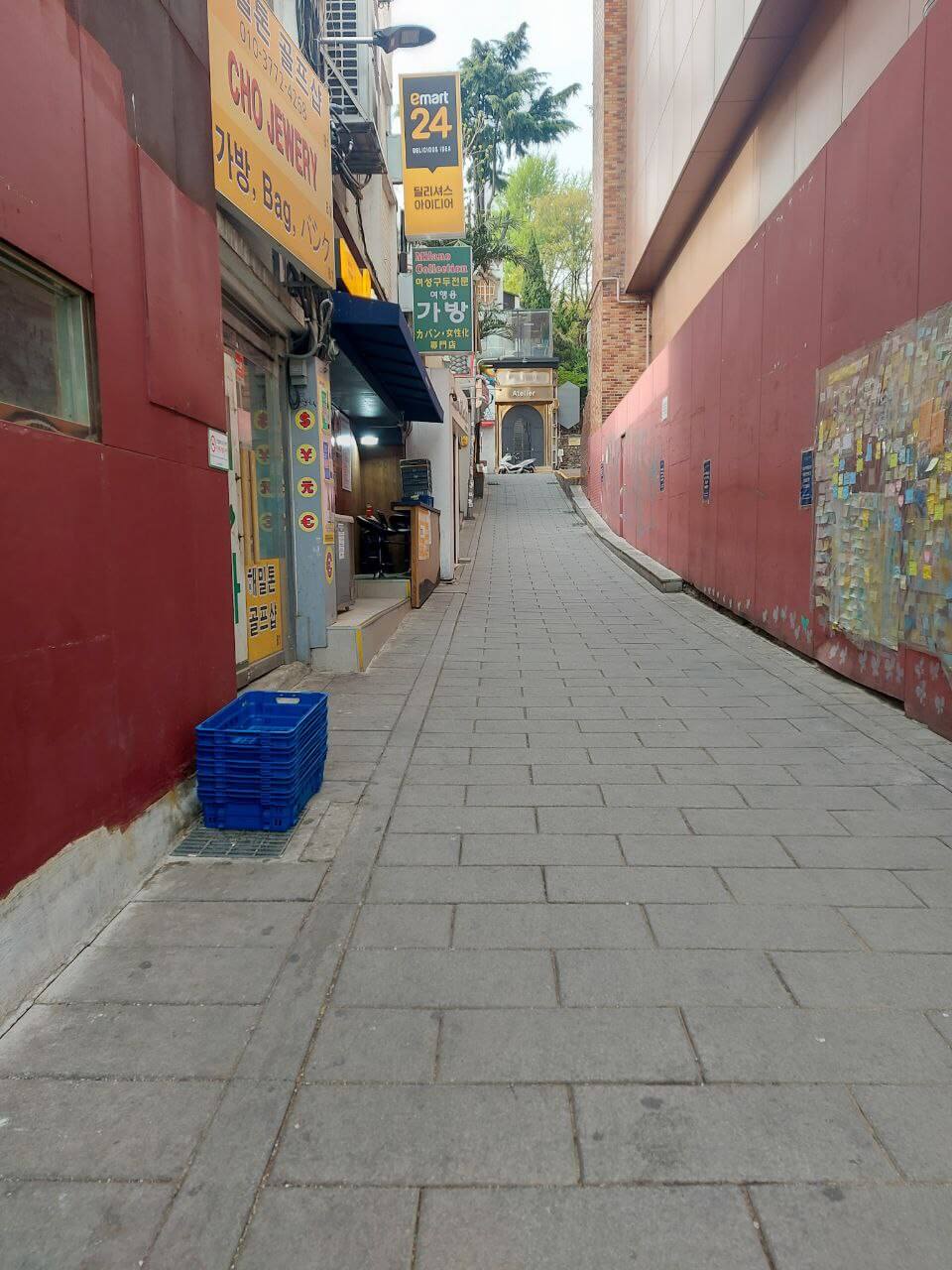 We also passed by the narrow alley where the 2022 Seoul Halloween tragedy happened. On the right side of the wall, we saw notes and letters for the victims. May their souls rest in peace. 🙁
Myeongdong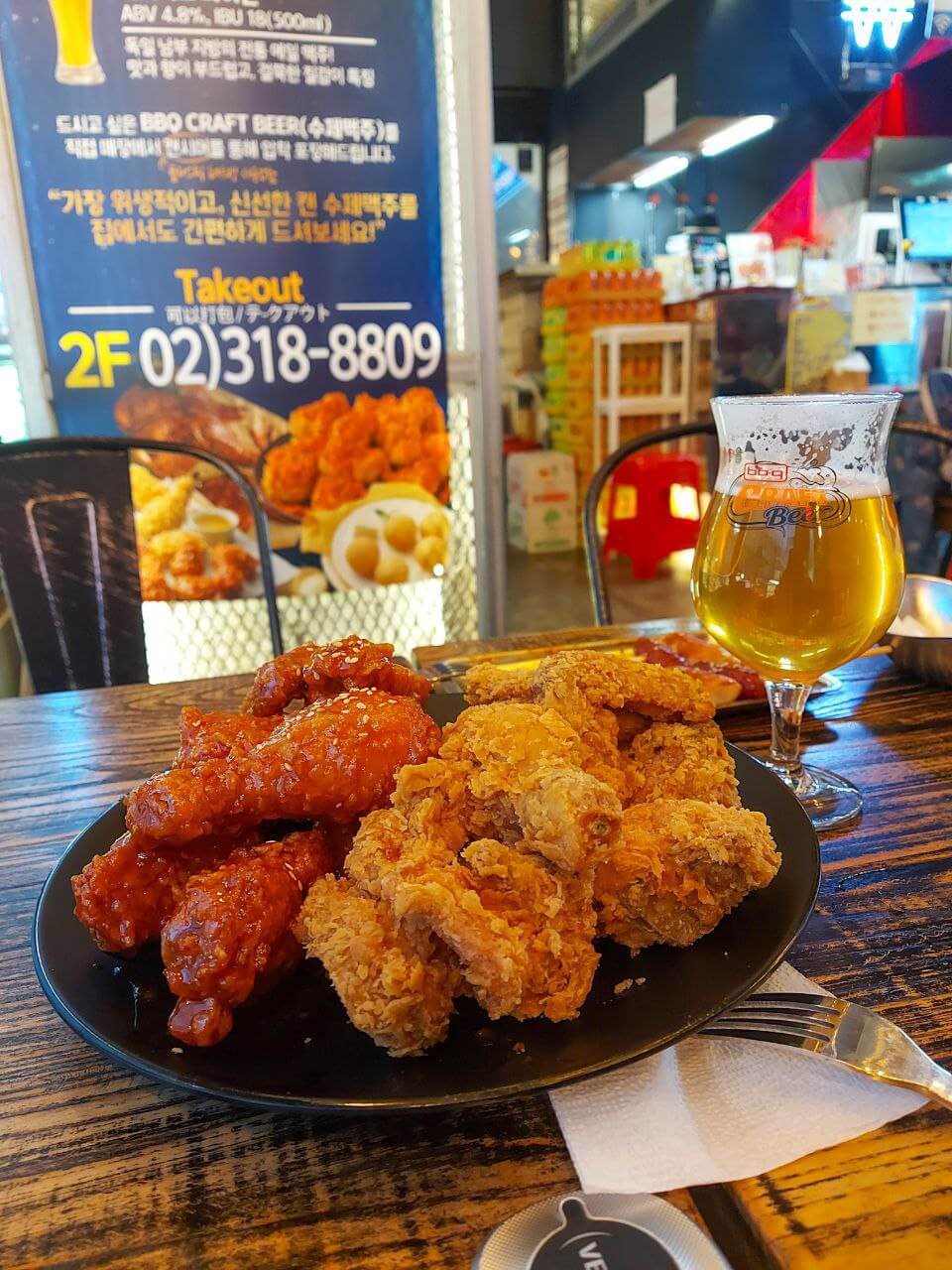 Come dinner time, we indulged in authentic chicken and beer from the famous BBQ Chicken & Beer restaurant in Myeongdong. Korean Fried Chicken or "KFC" is one of the Korean street food you should definitely try when in Korea. Our stomachs were full and happy!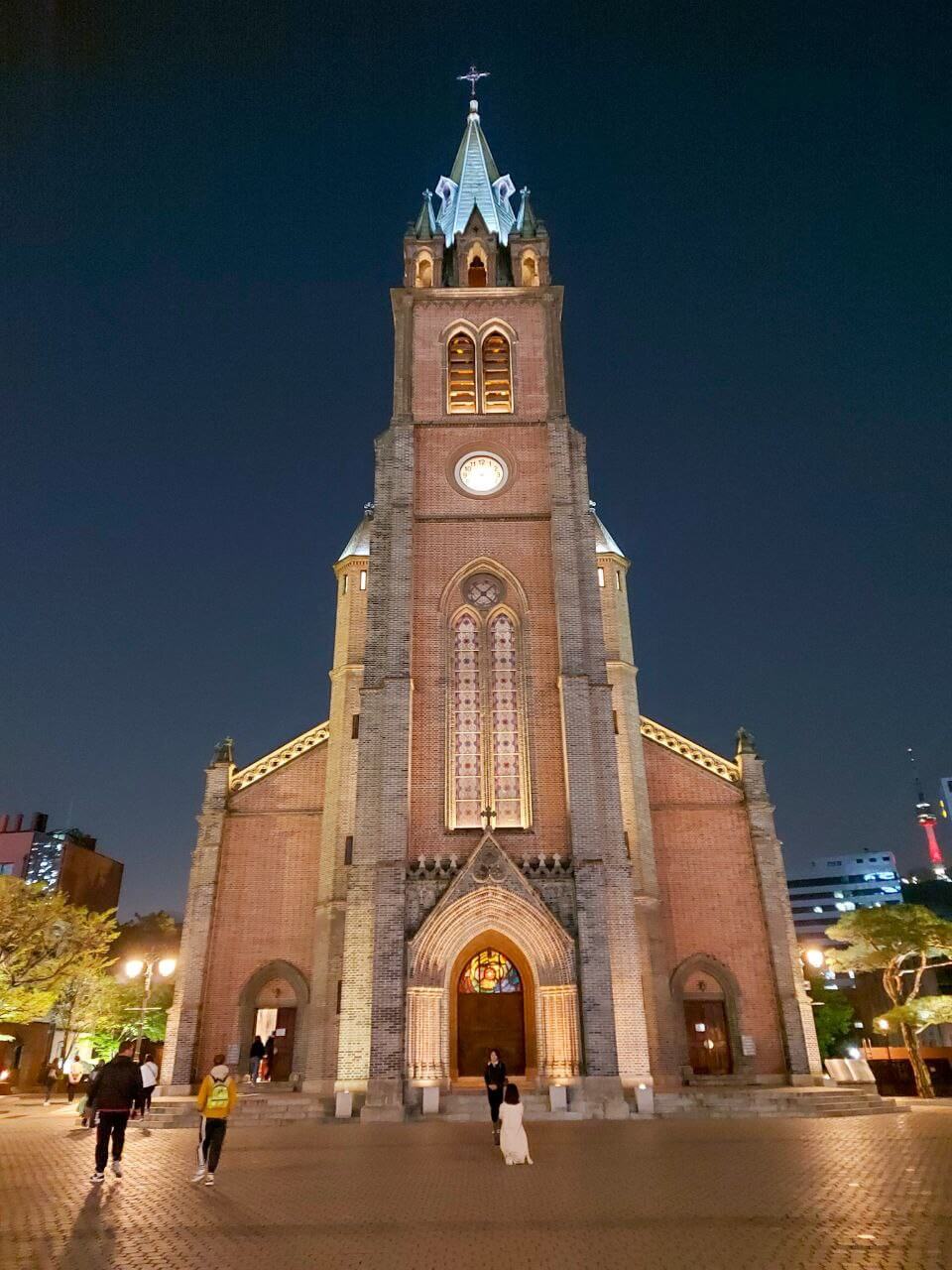 And since we're already in Myeongdong, we didn't pass up the chance to see the Myeongdong Cathedral. While we didn't get to enter this Catholic church, just seeing it from the outside made us gaze in awe, especially when the structure illuminates at night. Just look at that stunning photo!
Dongdaemun Design Plaza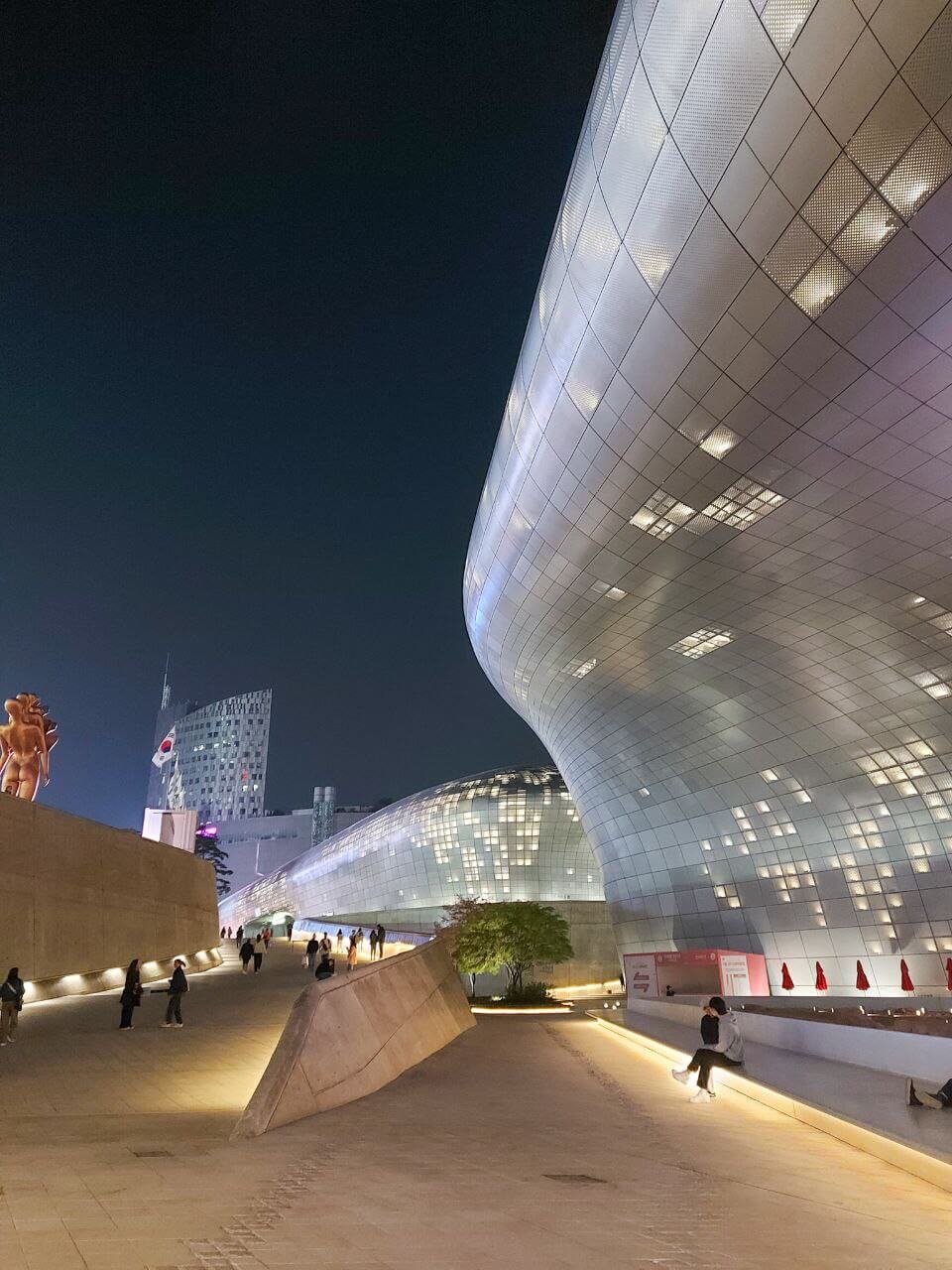 Our hotel is located in Dongdaemun so might as well drop by Dongdaemun Design Plaza (DDP) to see its splendor at night. The design is so futuristic, it feels like we're in a totally different world.
DDP also means Dream, Design, Play. True enough, the entire space embodies those concepts as it hosts exhibitions, conferences, shows, and other events. Families also come here to let their kids play at the indoor playground.
Day 2: Seoul's neighborhoods
On our second day, we veered away from the touristy things and explored Seoul's neighborhoods to immerse ourselves in more local experiences.
Hongdae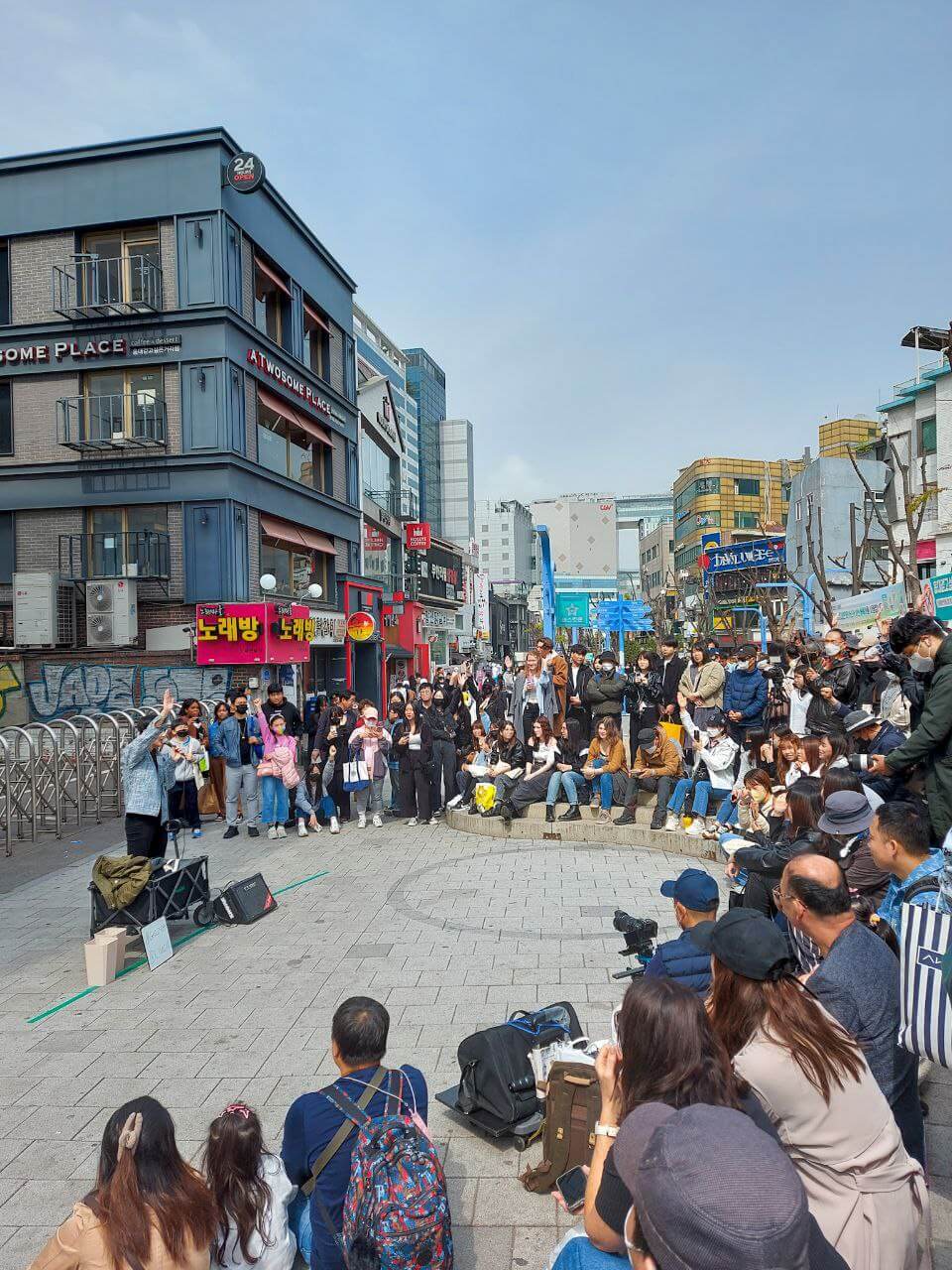 Hongdae is an artsy and trendy neighborhood where you can find many young adults and university students. We could really feel the youthful vibe of Hongdae — from the boutique shops and cafes to the street performances.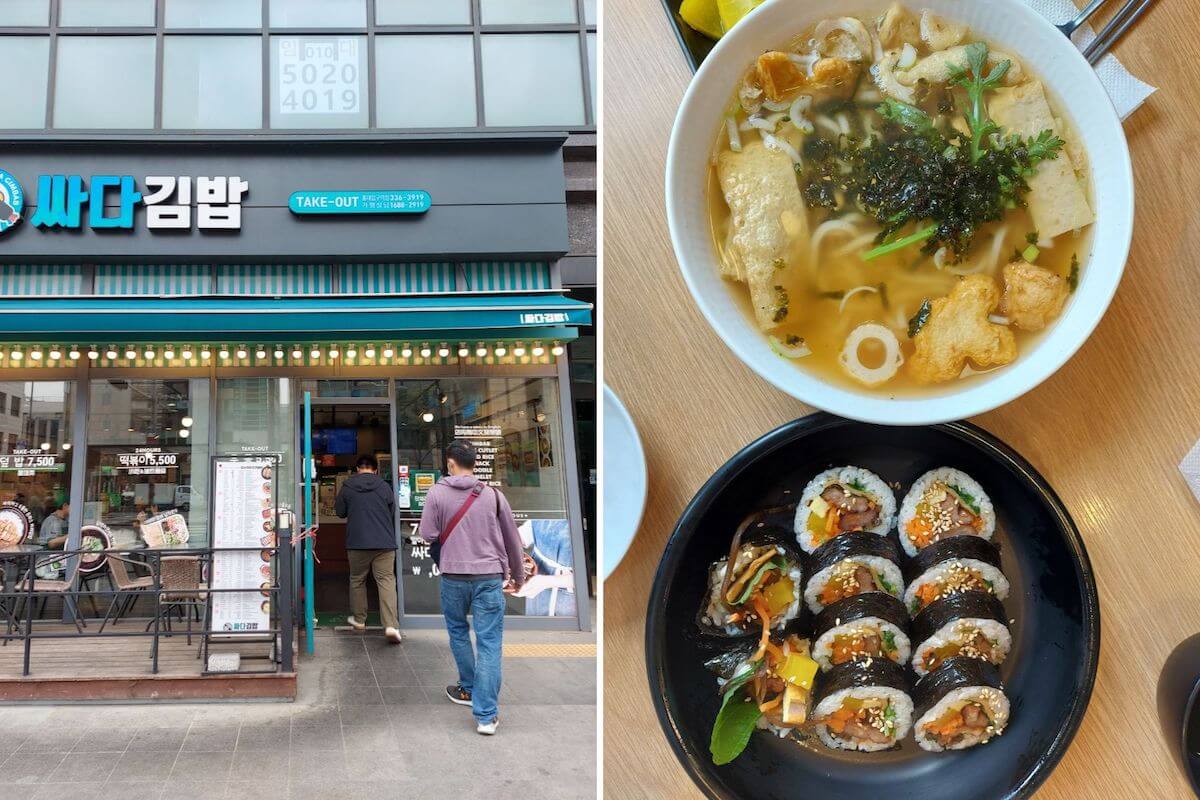 For lunch, we had kimbap and odeng (fish cake) from Ssada Gimbab near Hongdae Station. It's a restaurant that specializes in kimbap, and we recommend you try it when in Seoul.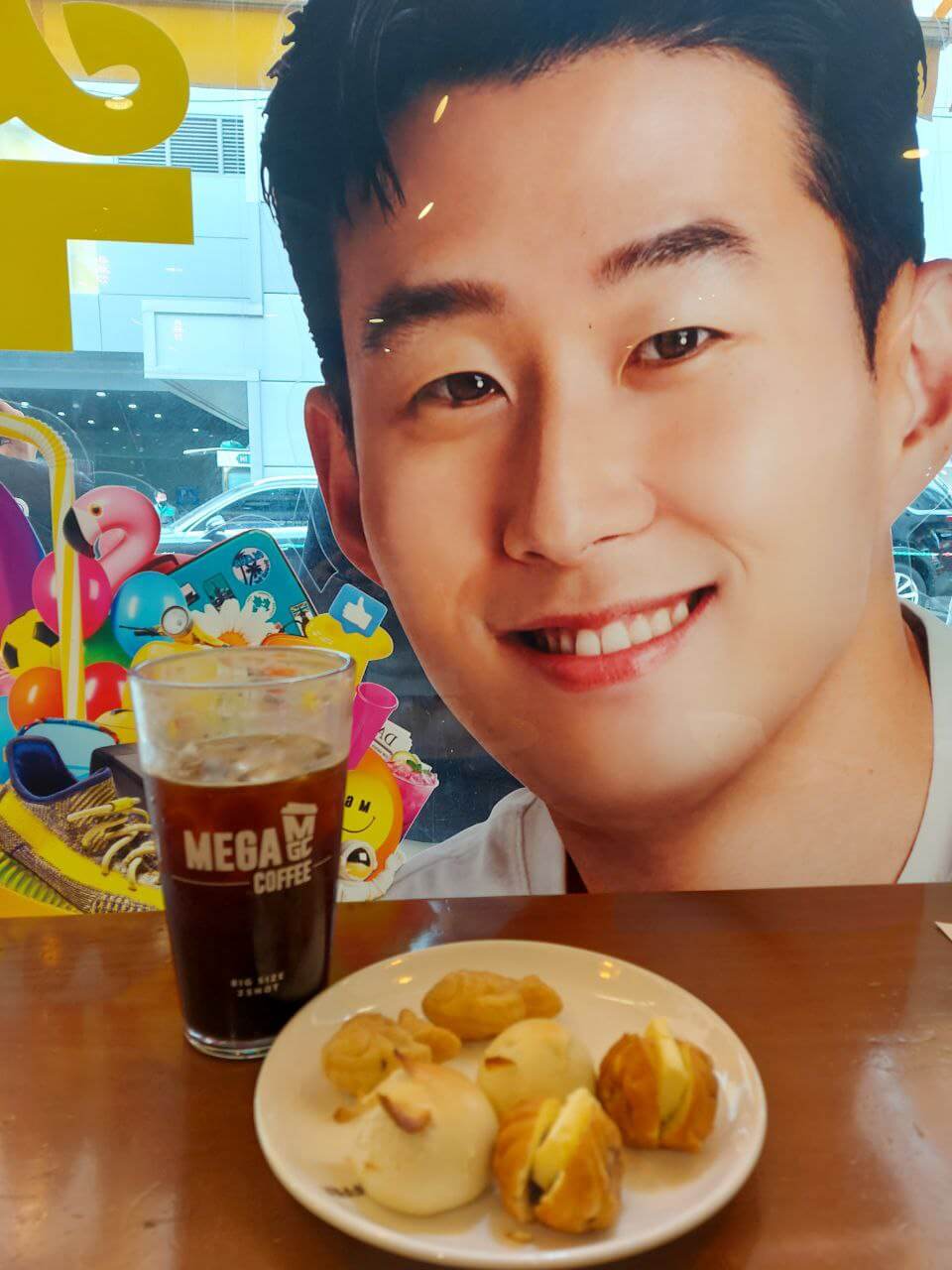 There are plenty of cafes in Hongdae but this one caught our attention. Who wouldn't be curious with the Korean football star player Son Heung-min as the face of MEGA Coffee? Yum! We meant the food. *winks*
Ewha Womans University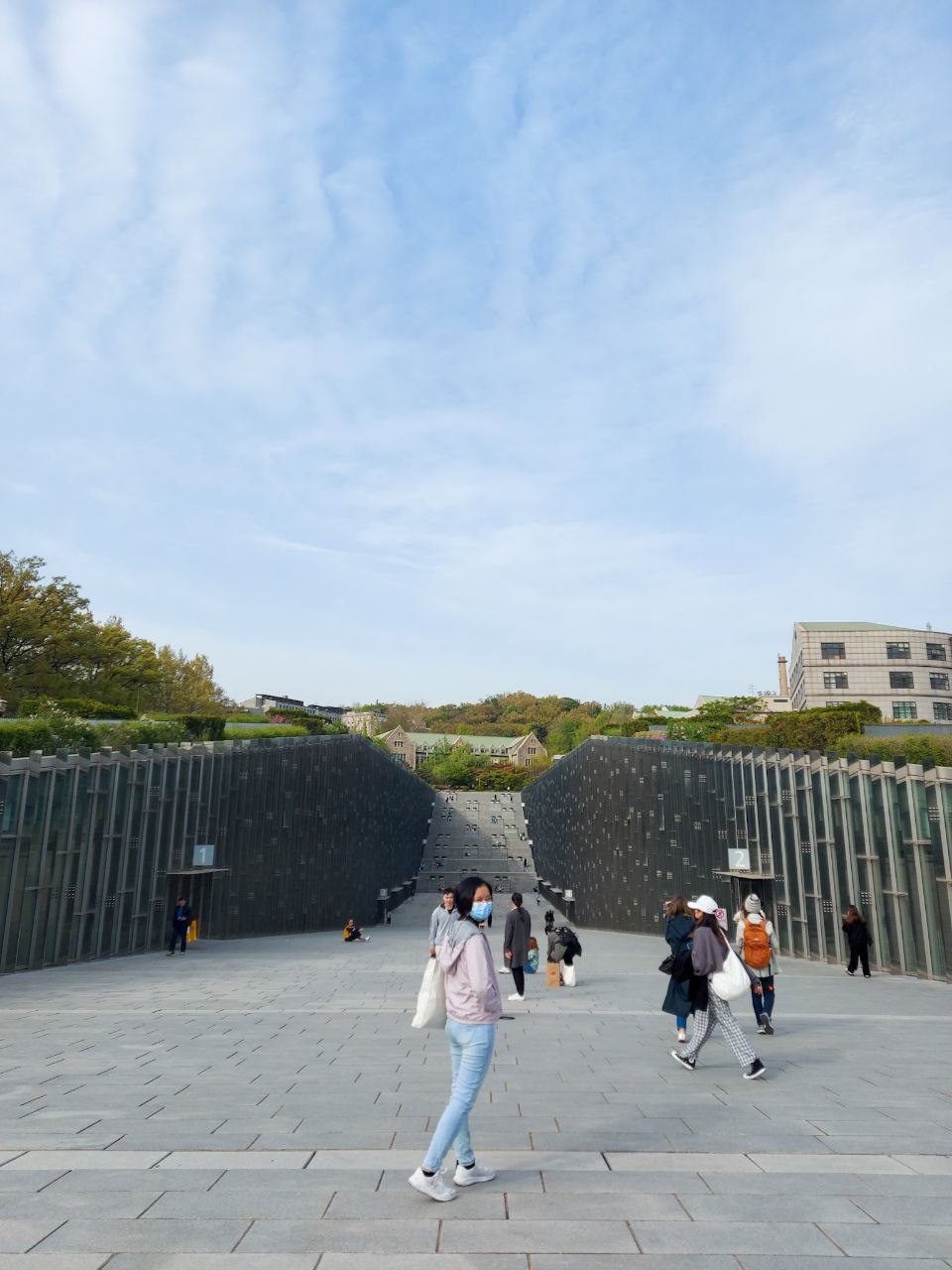 Ewha Womans University may not be an attraction per se, but it's still worth visiting. After all, it is South Korea's first modern school for women, and the only university in Korea with a partnership with Harvard University. In fact, many of Korea's female leaders graduated from this university. Isn't that inspiring?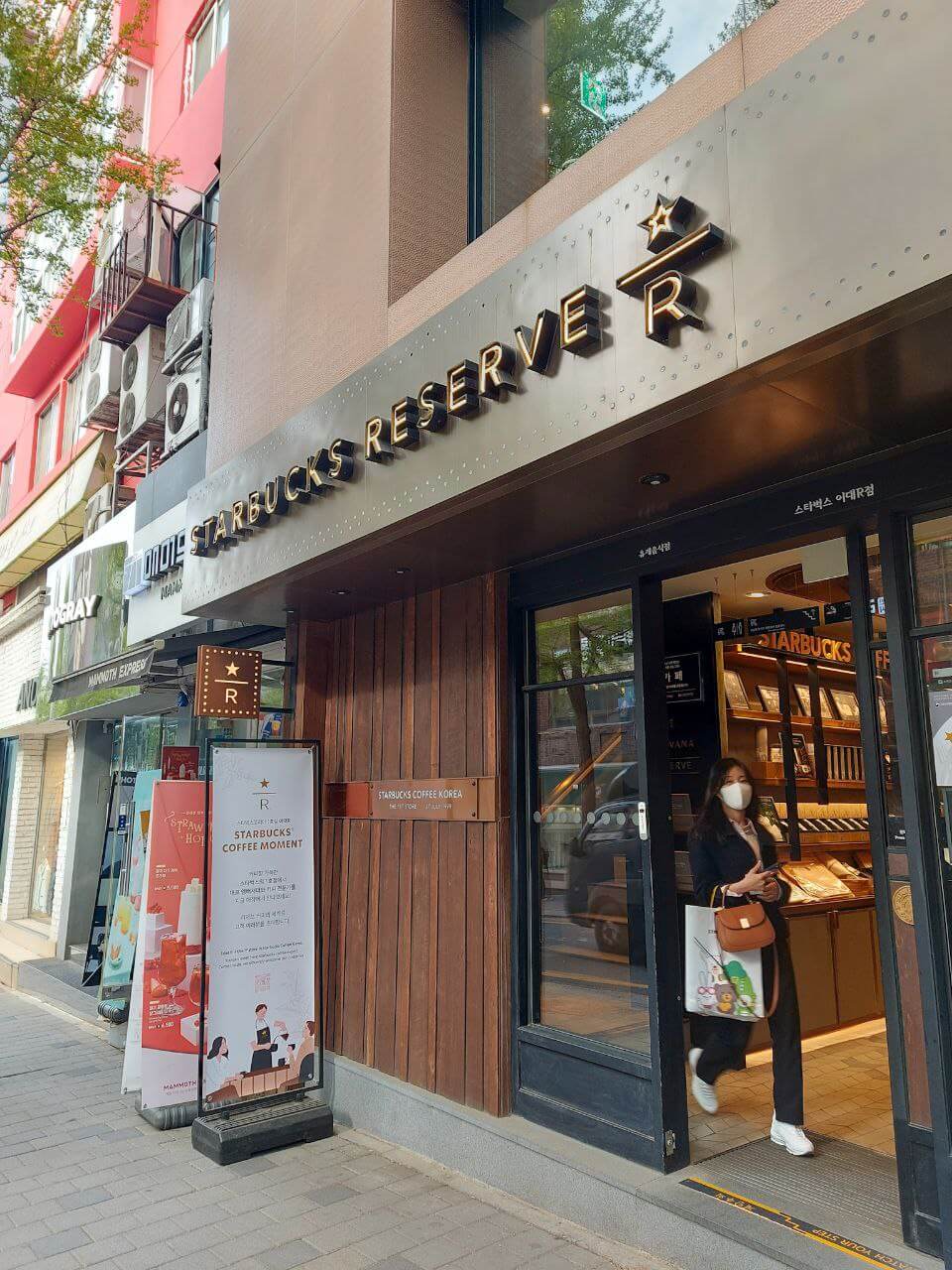 Academics aside, Ewha is such a beautiful university worth your IG snaps. You can also find some trendy shops and cafes nearby including the very first Starbucks in Korea which opened in 1999.
Yeonnamdong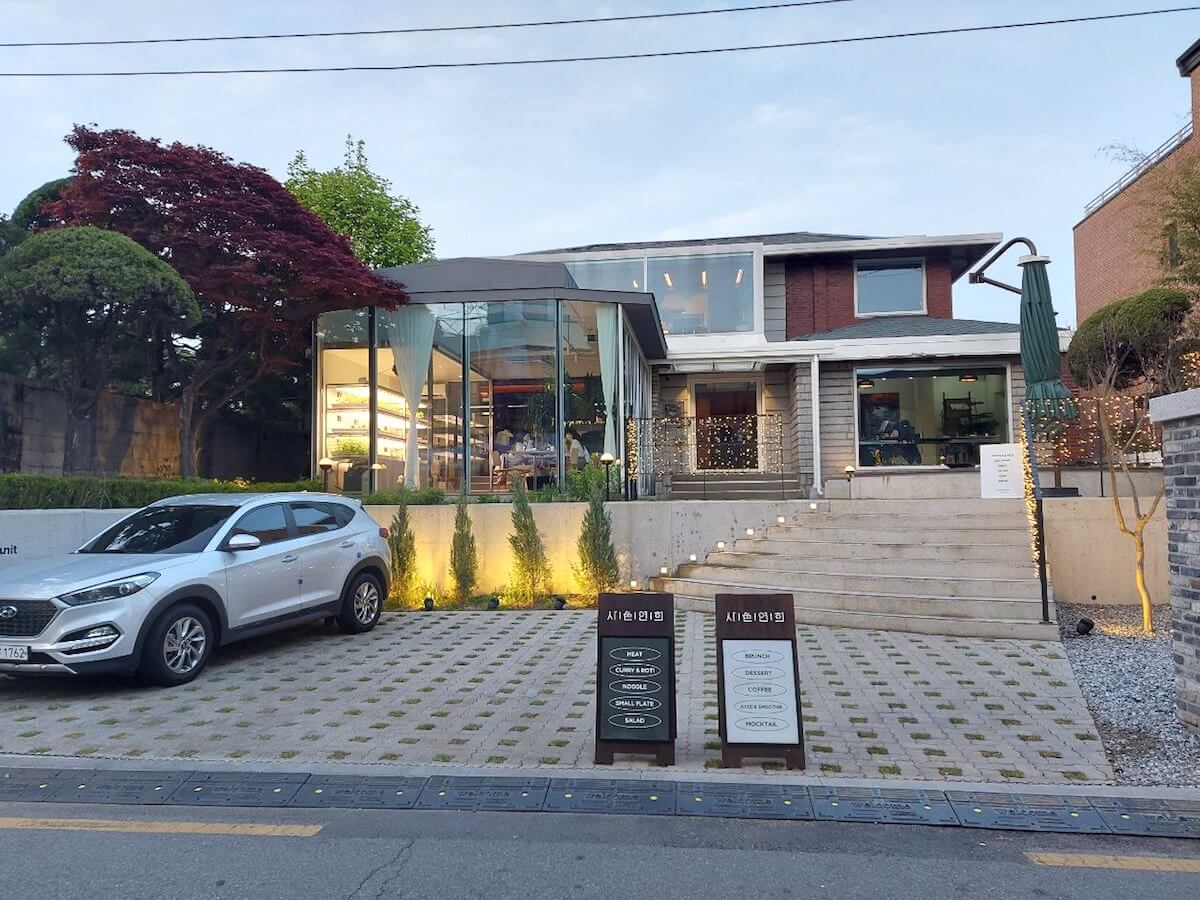 Another neighborhood near the university area is Yeonnamdong. This up-and-coming neighborhood near Yonsei University is peppered with hidden gems — from artisan shops to quirky cafes and restaurants.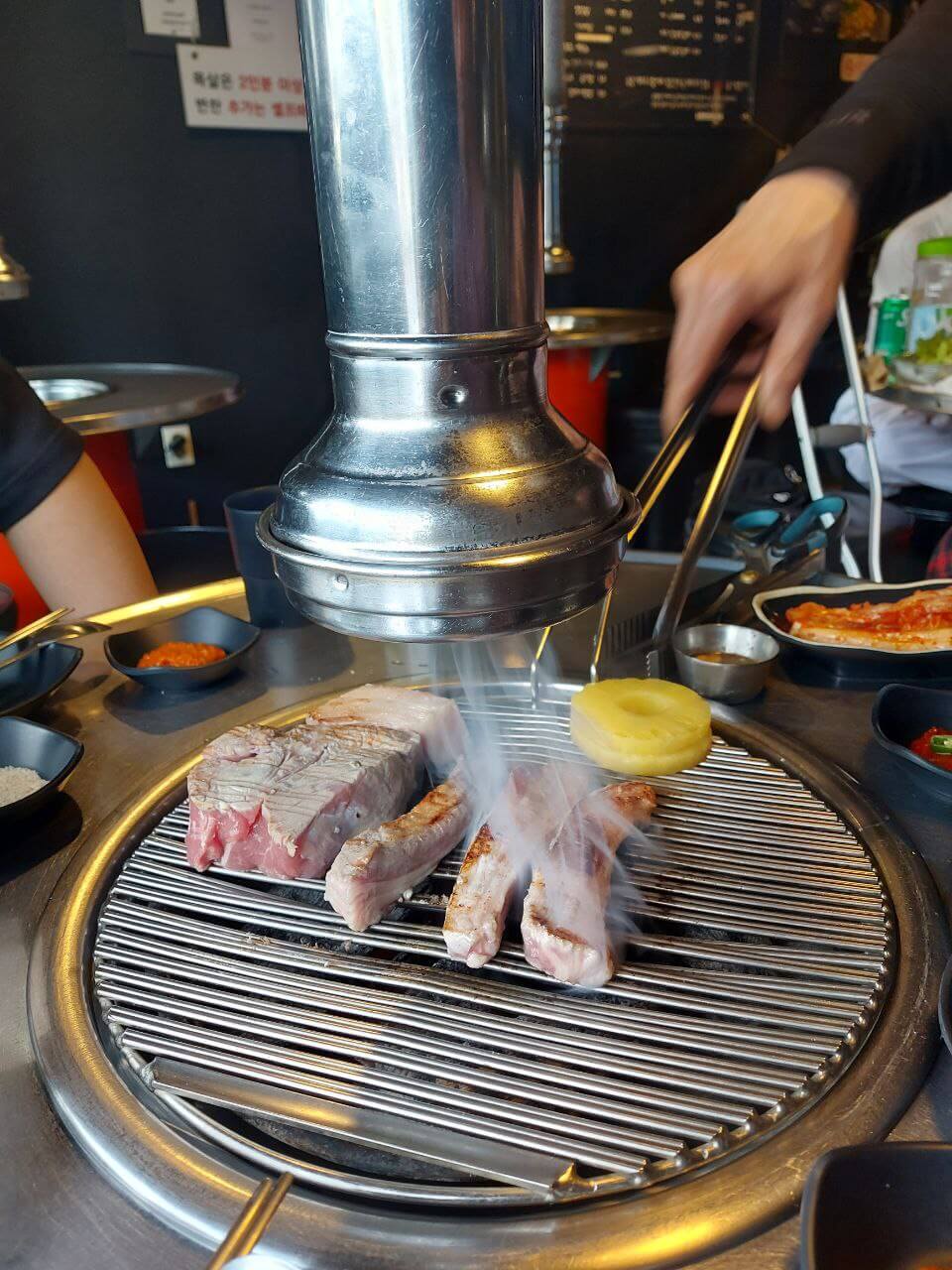 For dinner, we had the most delicious samgyupsal we've ever tasted! We ate so much that we had to walk around the area first before proceeding to eat again in a pojangmacha (tent bar) where we sampled more Korean street food like sundae (Korean blood sausage).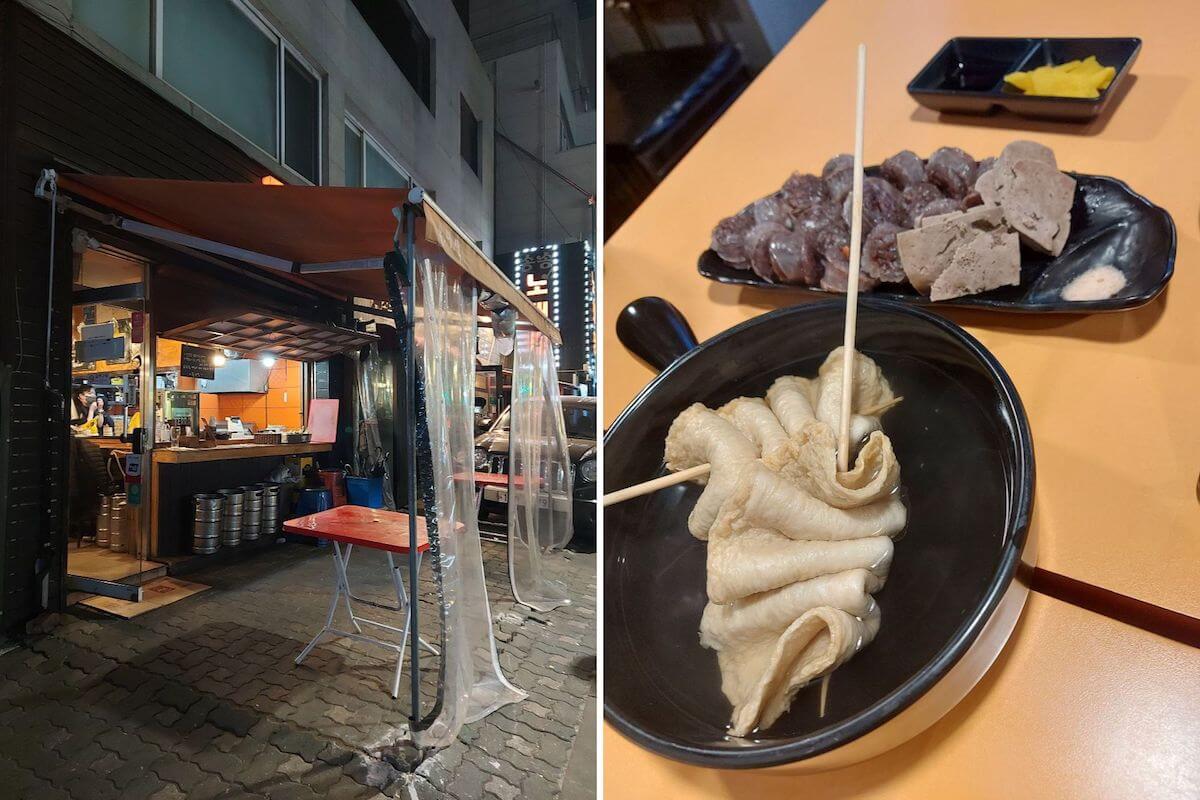 Although we were still so full, we just had to try dining in a pojangmacha. We're sure you're familiar with it as it is often featured in K-dramas where the main character, usually going through a crisis, eats tteokbokki or other street food while drinking soju.
Day 3: Lotte World and more food trip in Seoul
Our third day in Seoul was allotted for Lotte World, one of Korea's most popular theme parks. But before that, we explored another interesting neighborhood where our friend lives.
Sinchon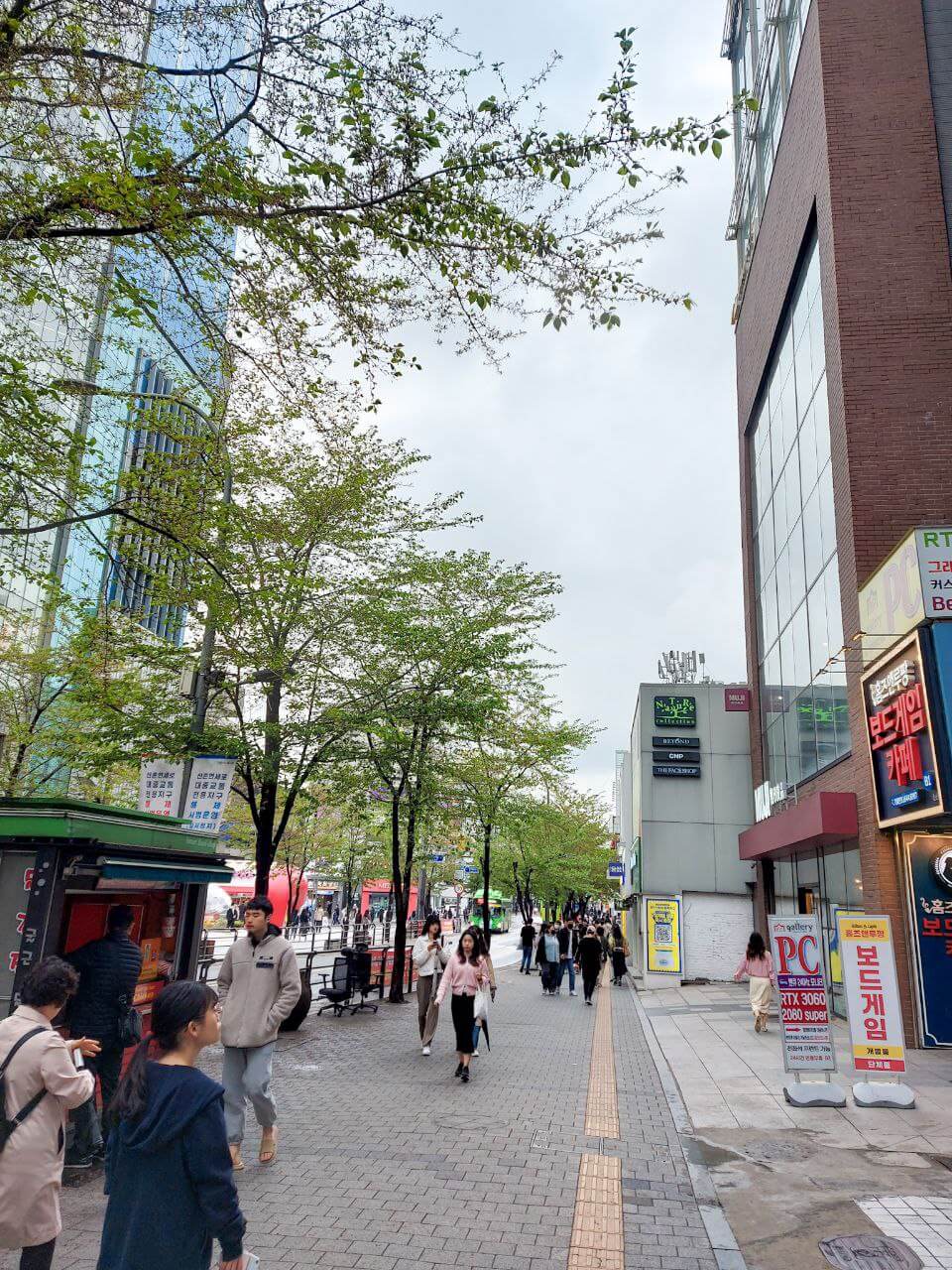 Sinchon may not be as popular as Hongdae, but this neighborhood also boasts a vibrant nightlife culture, especially for the young crowd.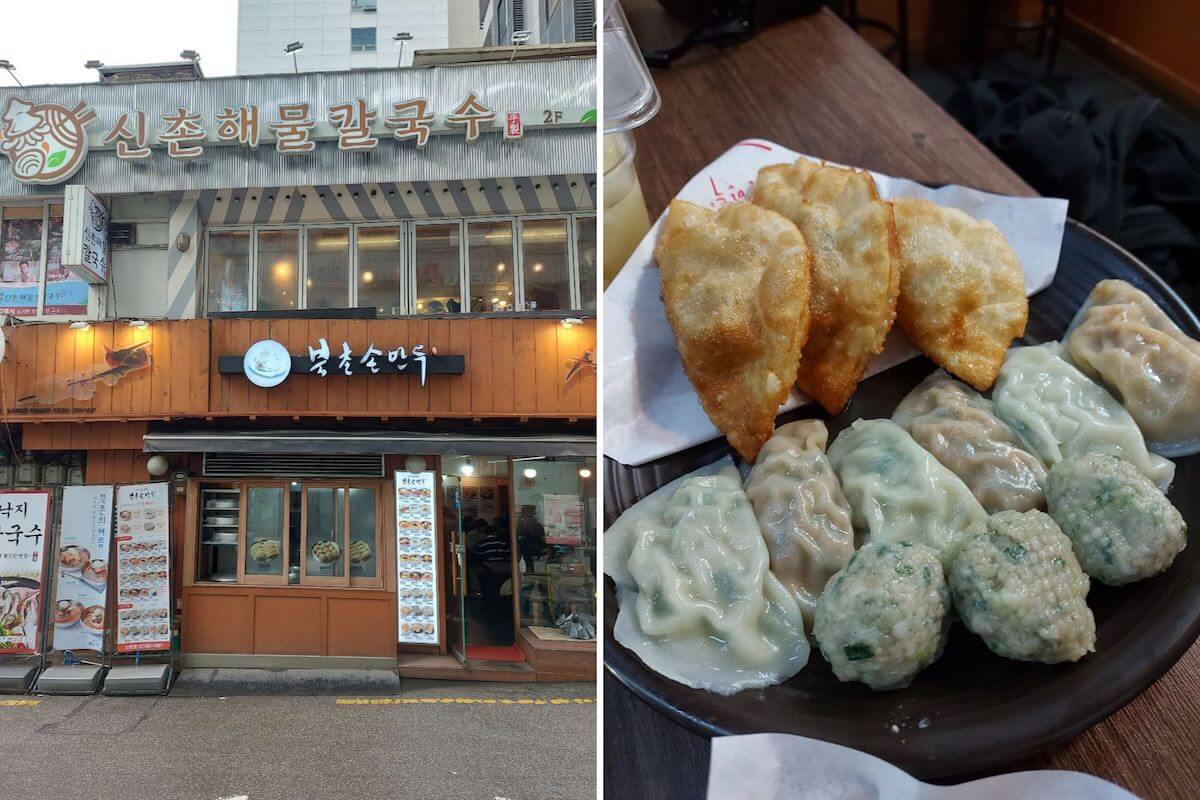 We came across cool cafes and local restaurants here like Bukchon Son Mandu Sinchon No. 2, where we tried different types of mandu (Korean dumplings) including fried, steamed, and noodle soup. So filling!
Lotte World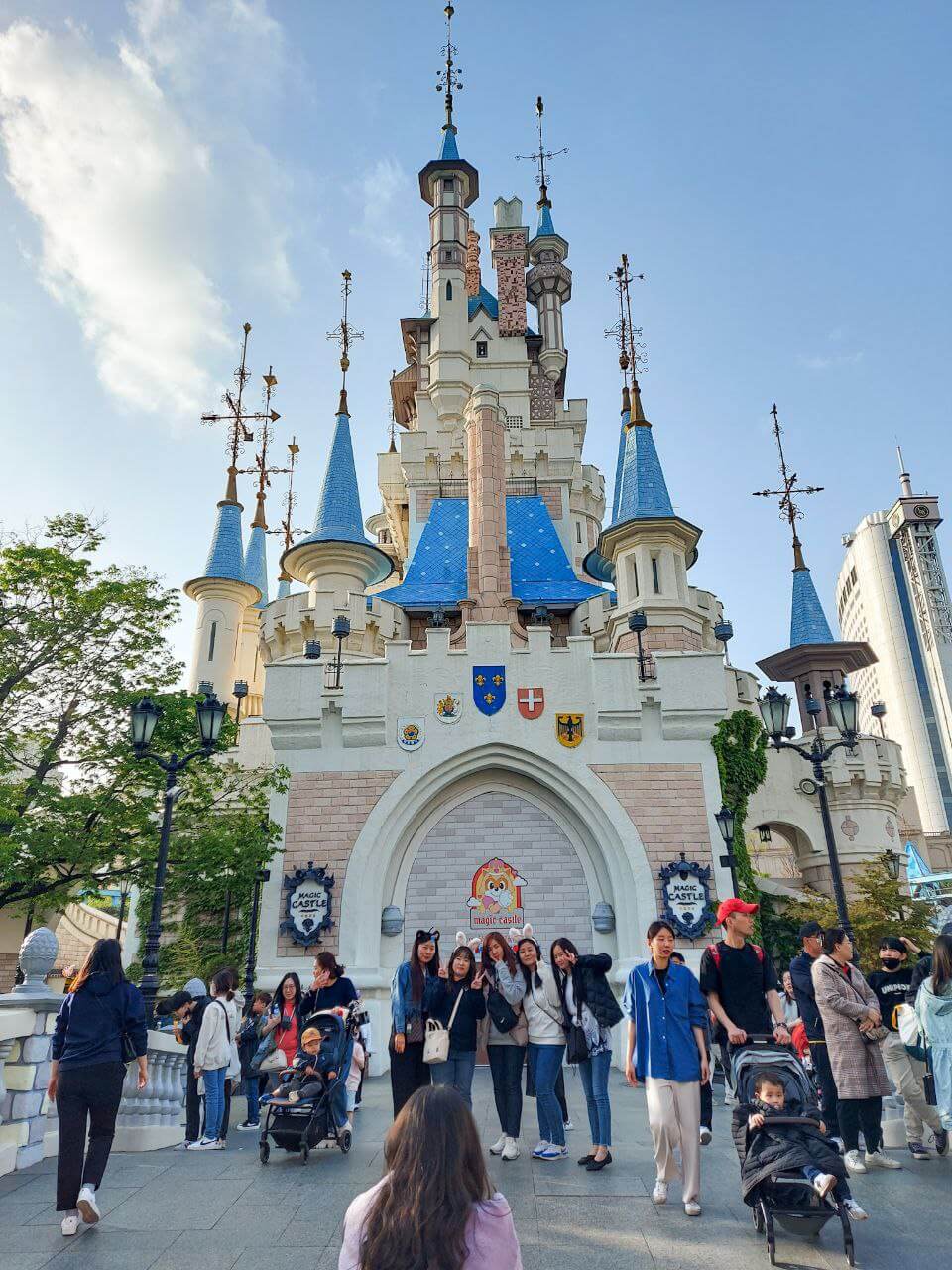 Lotte World in Seoul is surely a happy place for the kids and the kids at heart. With over 20 rides and attractions, it is one of Korea's top theme parks you have to visit, especially if you are traveling with your family.
You may read our Lotte World Seoul guide for everything you need to know about this famous theme park in Korea.
Jongno
We got famished after exploring Lotte World so our friend brought us to this very local restaurant in Jongno, a district in Seoul where you can find the Gyeongbokgung Palace, Cheonggyecheon Stream, and Gwangjang Market.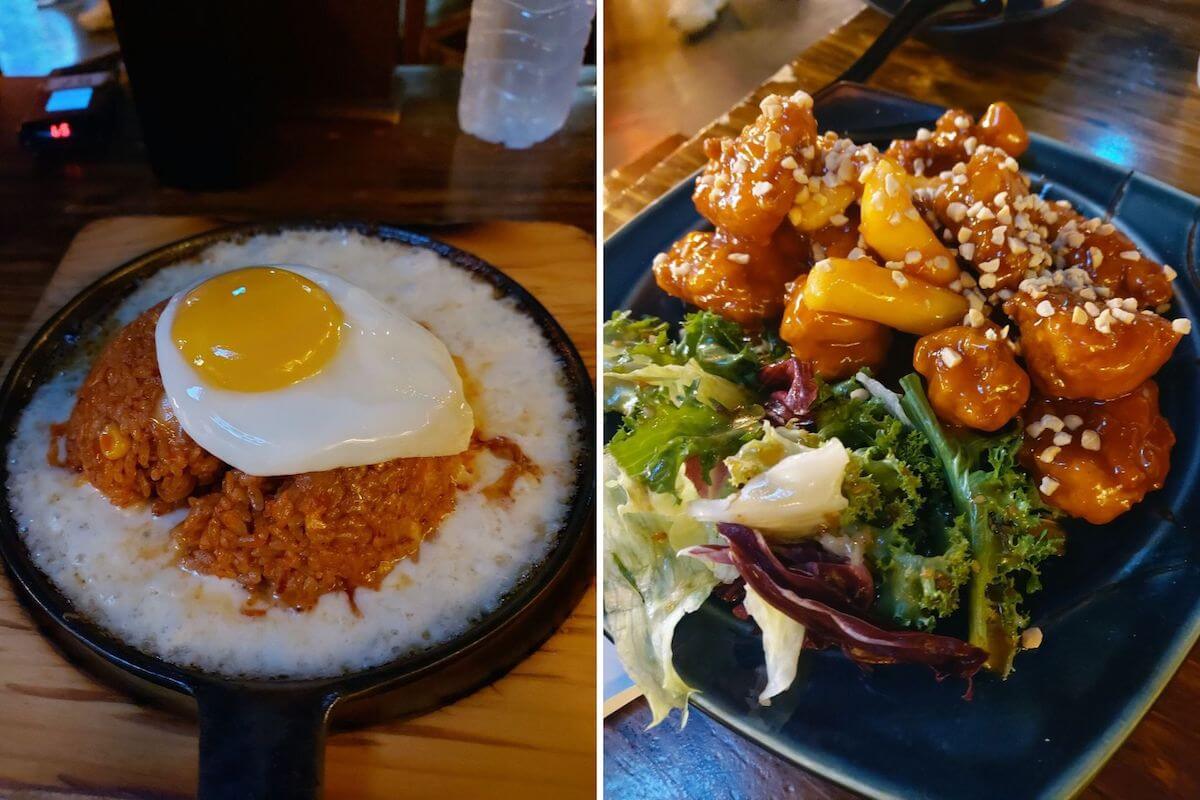 We had dinner at Kodachaya, a Korean concept market restaurant where you can order food and drinks from different small stores. They have several branches in Korea, but the one we tried was their Jonggak Branch in Jongno District.
We tried their kimchi rice, tangsuyuk (sweet and sour pork), and dakgangjeong (sweet crispy Korean fried chicken). They're all so mouth-watering! You have to try dining in Kodachaya for a truly local food experience in Seoul.
Day 4: More local activities and shopping in Seoul
Our Korean friend Amy invited us to explore a public park near our hotel. We played badminton with her son and strolled around the area where greenery and lovely flower blooms greeted us.
Silgaecheon Ecological Park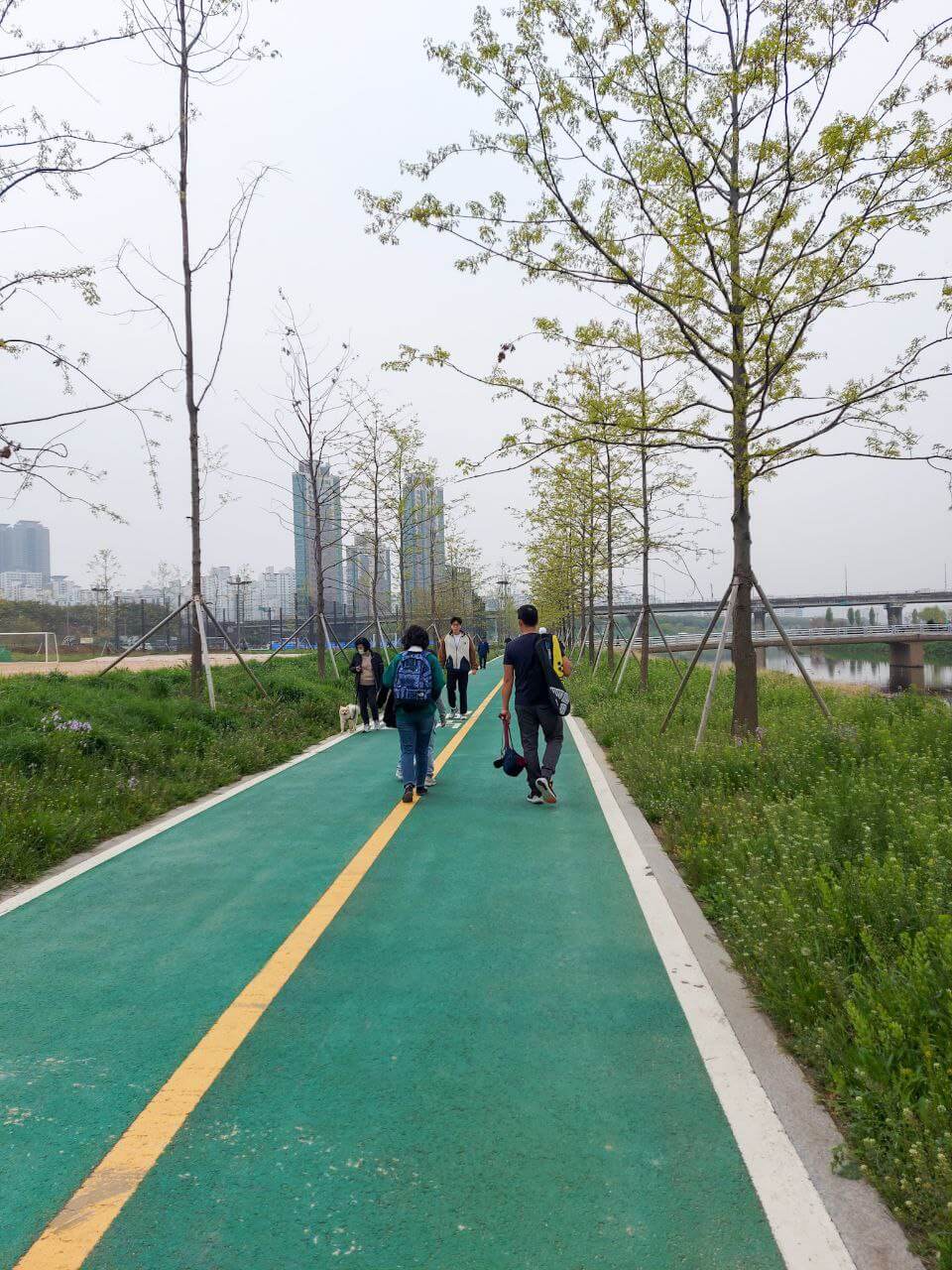 We had an early morning stroll at Silgaecheon Ecological Park, a public park in Seoul where locals spend the weekend hiking, playing sports, exercising, or simply relaxing with nature. We're the only tourists here, so it's a breath of fresh air and a truly local experience for us.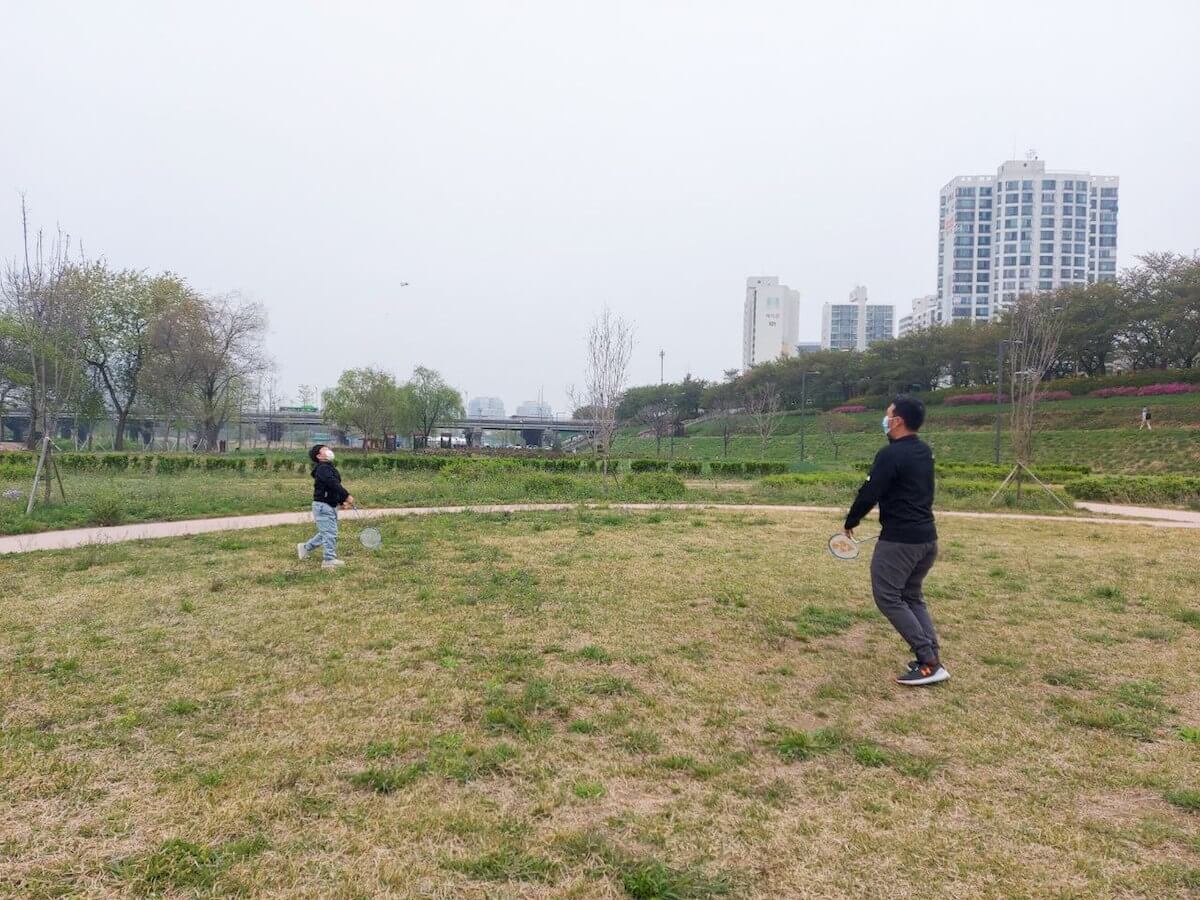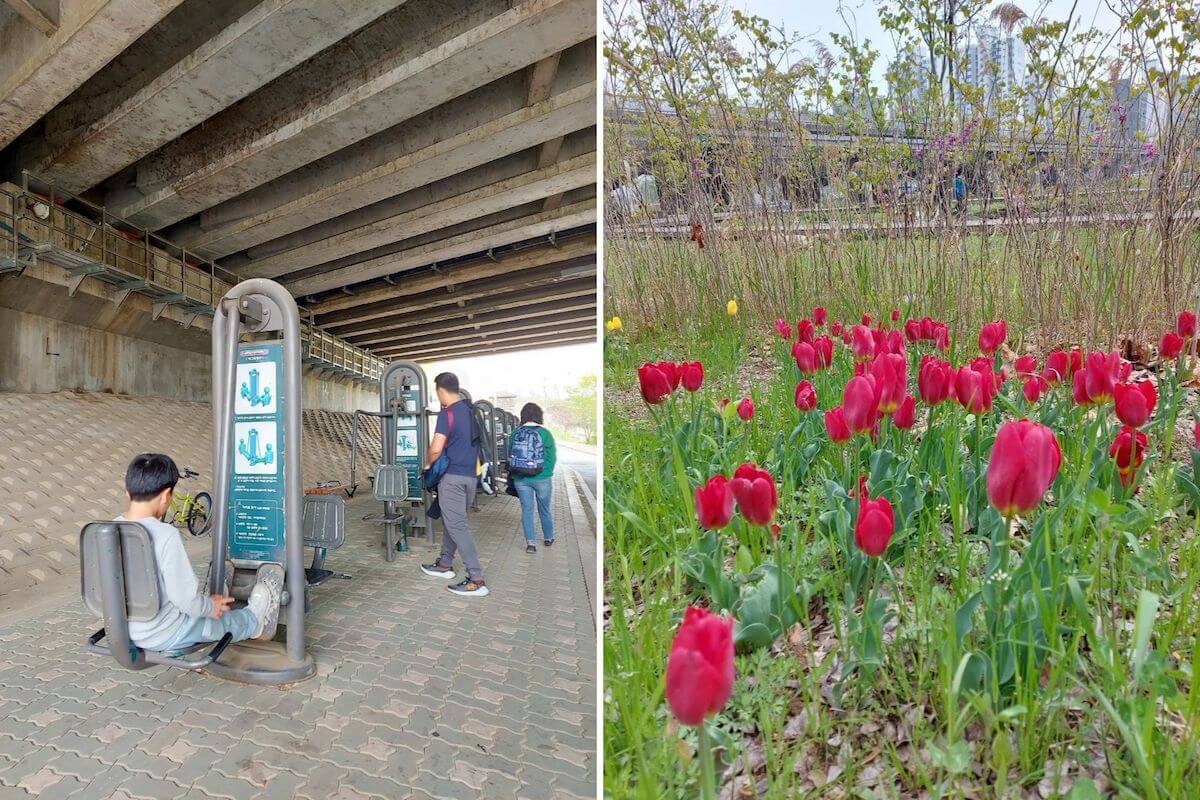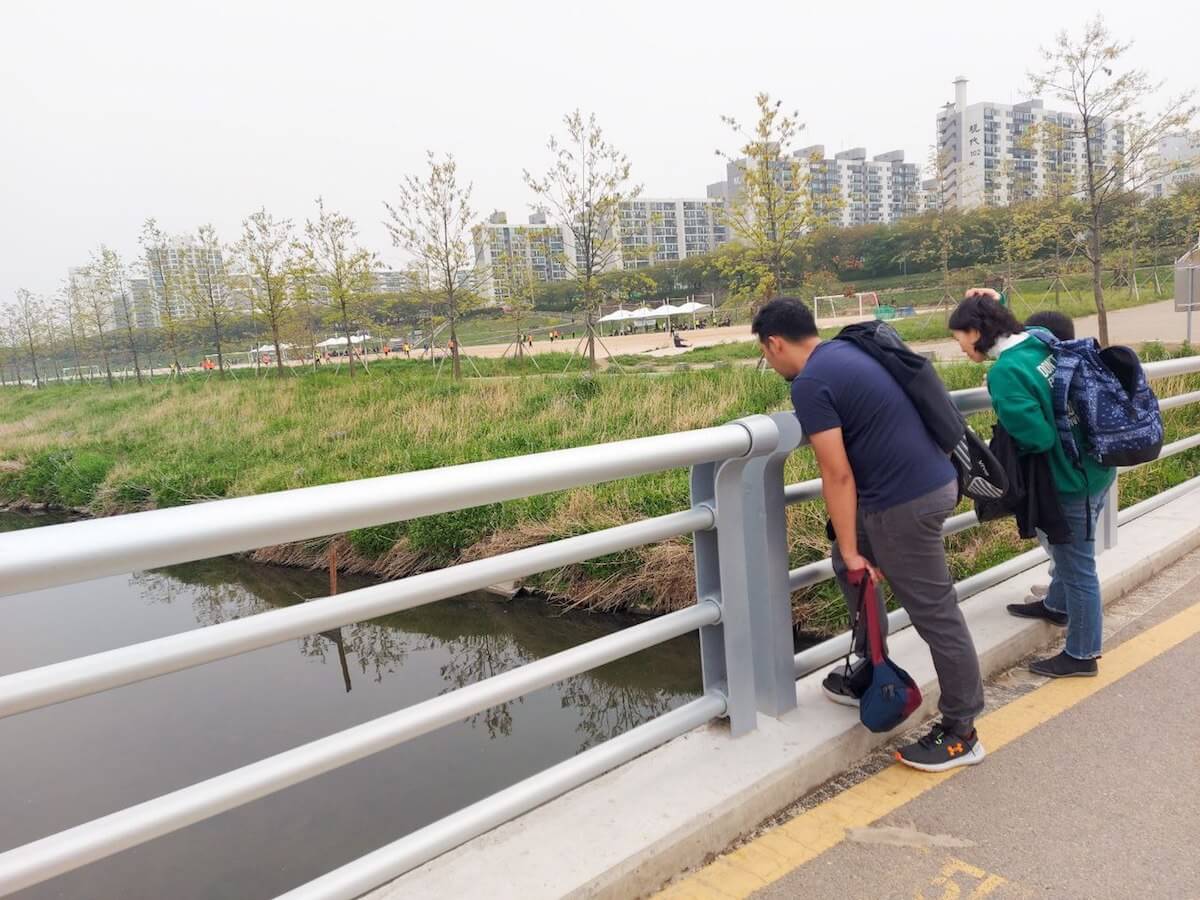 We ended our morning exercise with brunch in a nearby cafe named J Brown. Thanks to Amy and his son for allowing us to experience a very local activity in Seoul. Amy told us, if only we had more time, she would have brought us to their province where we'd harvest some crops from the farm. It would have been so much fun, but at least we have something to look forward to next time.
Yeongdeungpo Traditional Market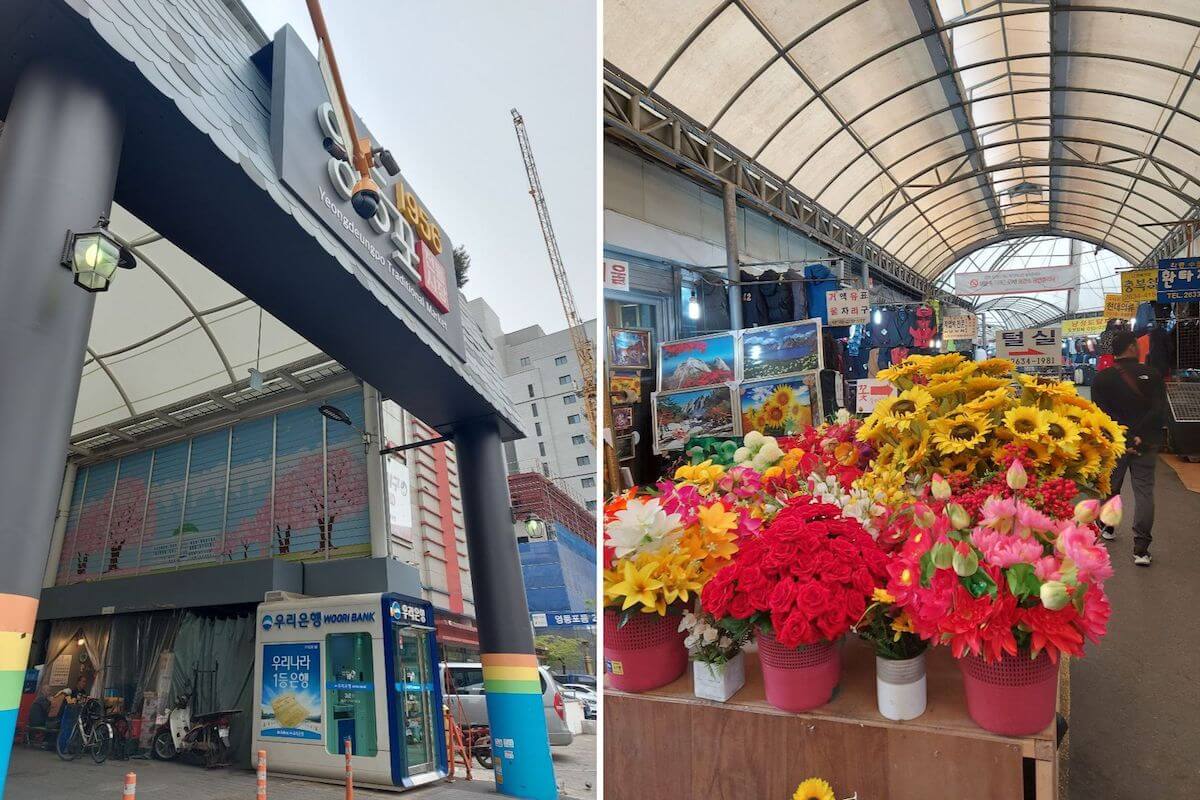 After parting ways with Amy and his son, we saw this traditional market near the area and decided to check it out ourselves. Inside Yeongdeungpo Traditional Market, we saw locals selling clothes, flowers, and other goods. Again, we're the only tourists here, so it was quite an immersive local experience.
Hongdae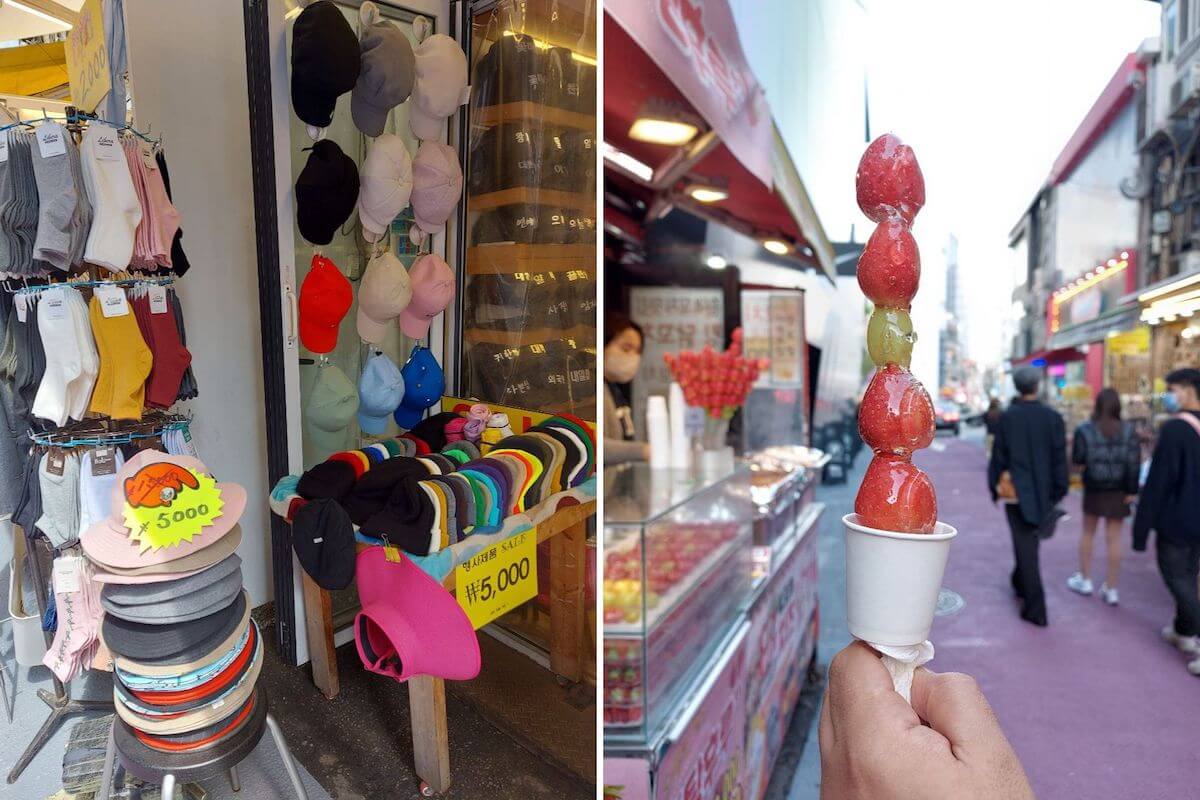 We went back to Hongdae to shop for Korean souvenirs including Korean bucket hats. Out of curiosity, we tried a candied fruit skewer mostly made of strawberries.
Digital Media City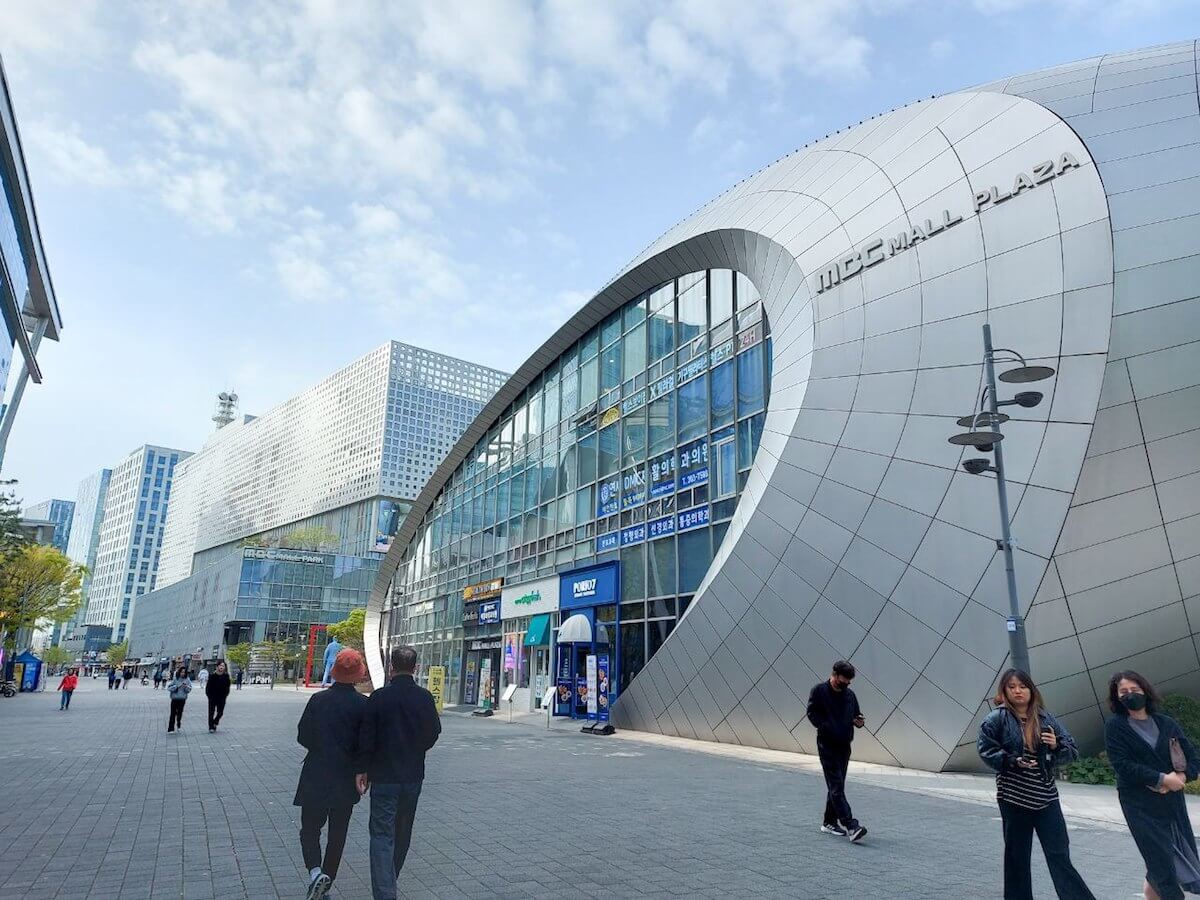 This was a last-minute addition to our itinerary. Since we're such huge fans of Korean shows and K-dramas, our friend recommended that we visit the Digital Media City if we still have enough time and energy. So we did, and we didn't regret it!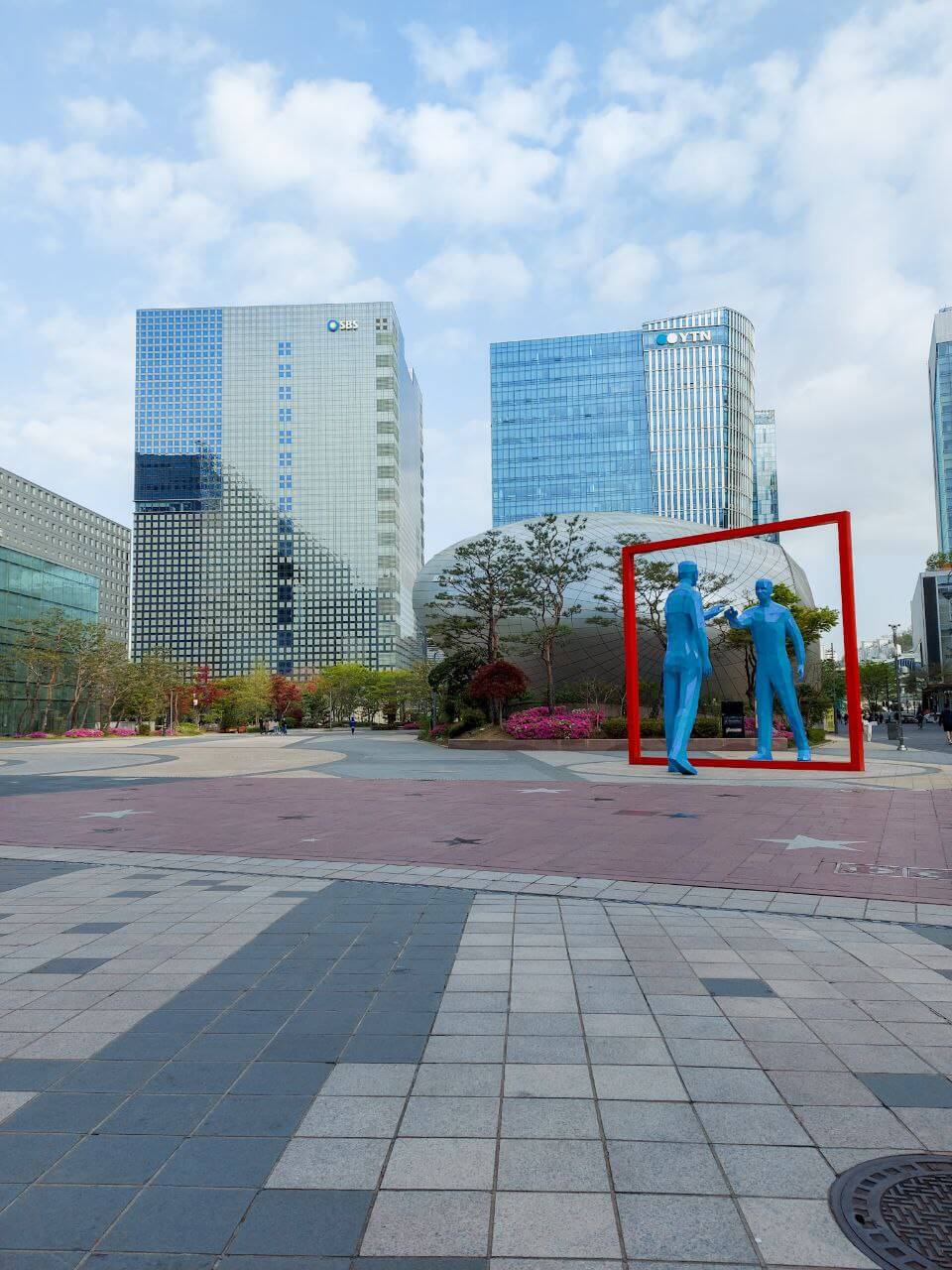 This is where you'll find the large media networks in Korea such as KBS, SBS, MBC, and YTN. Aside from these gigantic media buildings, you'll also find cool cafes, parks, and malls here.
Myeongdong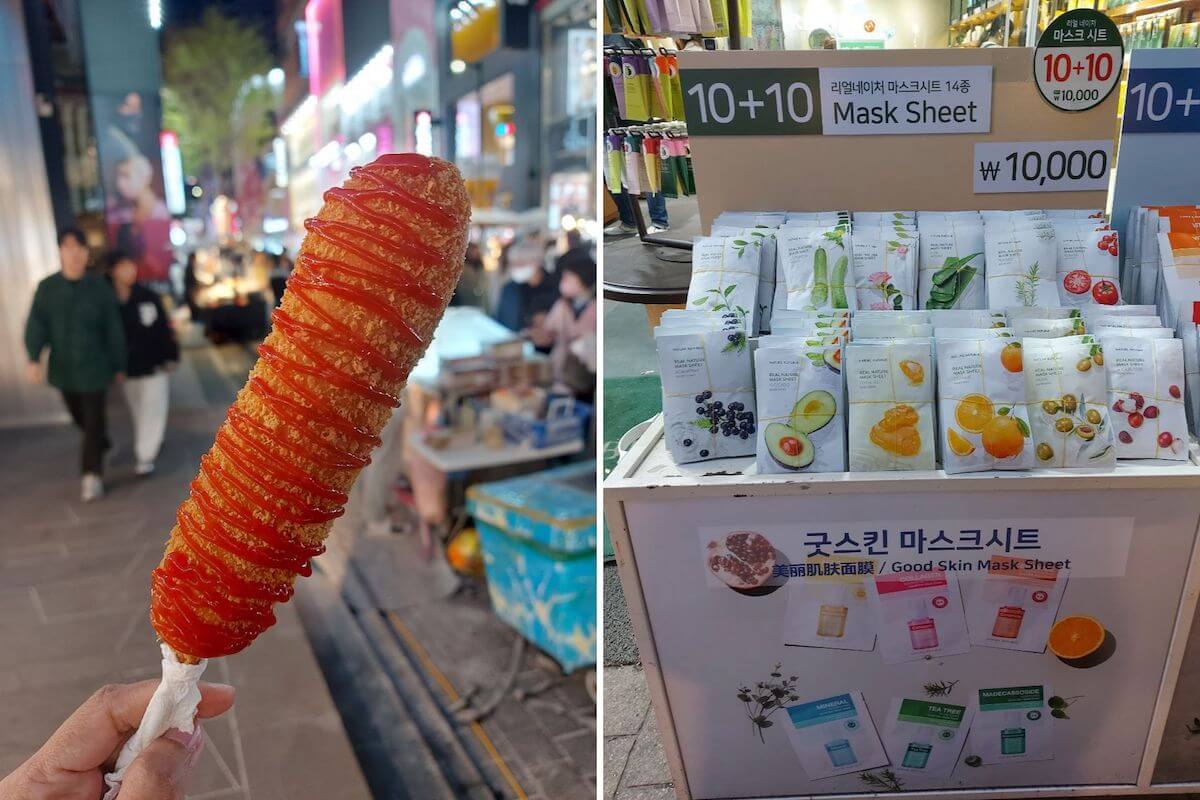 Then, we went back to Myeongdong for more Korean street food and skincare shopping.
Day 5: Incheon
Our last day in Korea was supposed to be intended for more Korean pasalubong (souvenir) shopping and preparing for our departure, but we ended up doing a different thing.
We decided to visit Incheon and see what's there since many people only treat it as a jumping-off point to Seoul. We're guilty as charged. So off we went on a spontaneous Incheon adventure!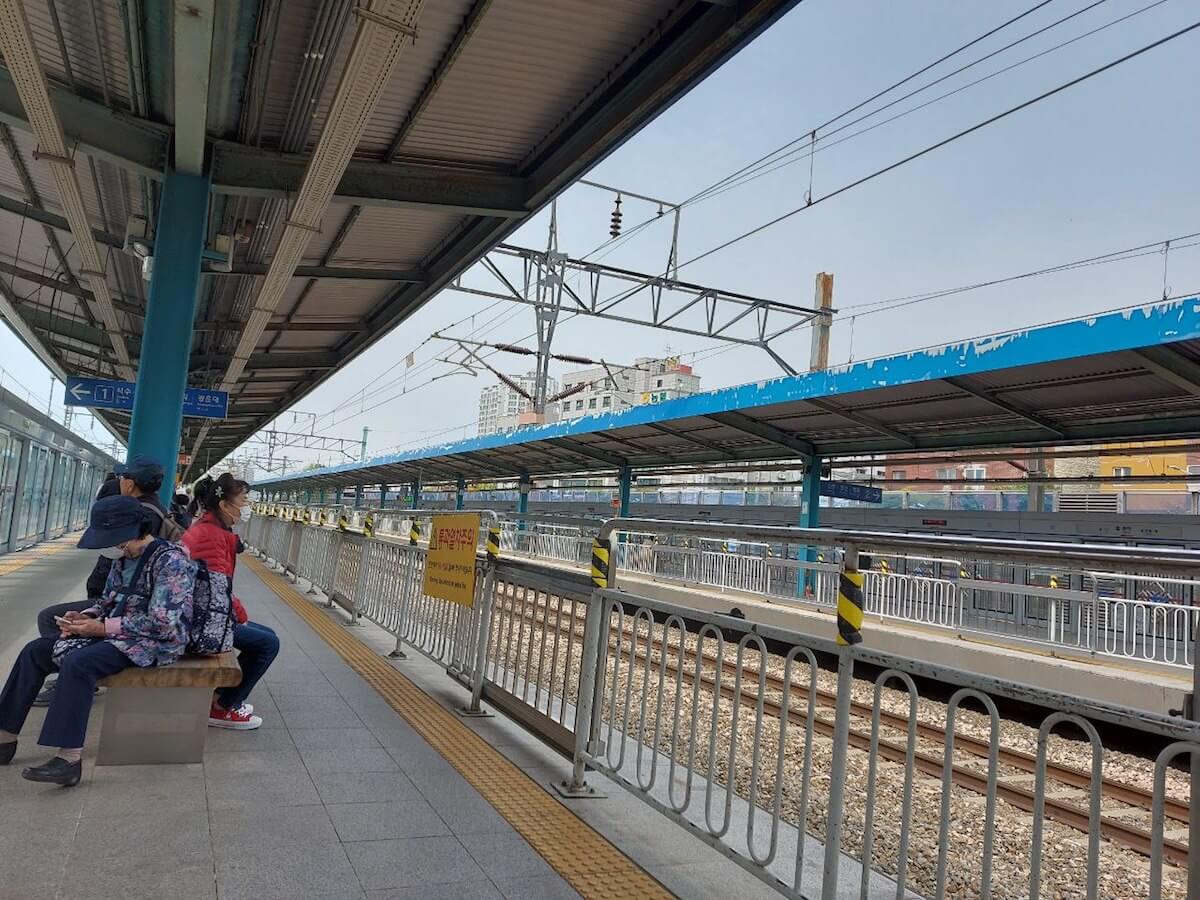 Alas! We took the wrong train and got lost along the way. At this point, we're already questioning ourselves if we made the right decision to detour to Incheon carrying all our heavy luggage.
Incheon Central Park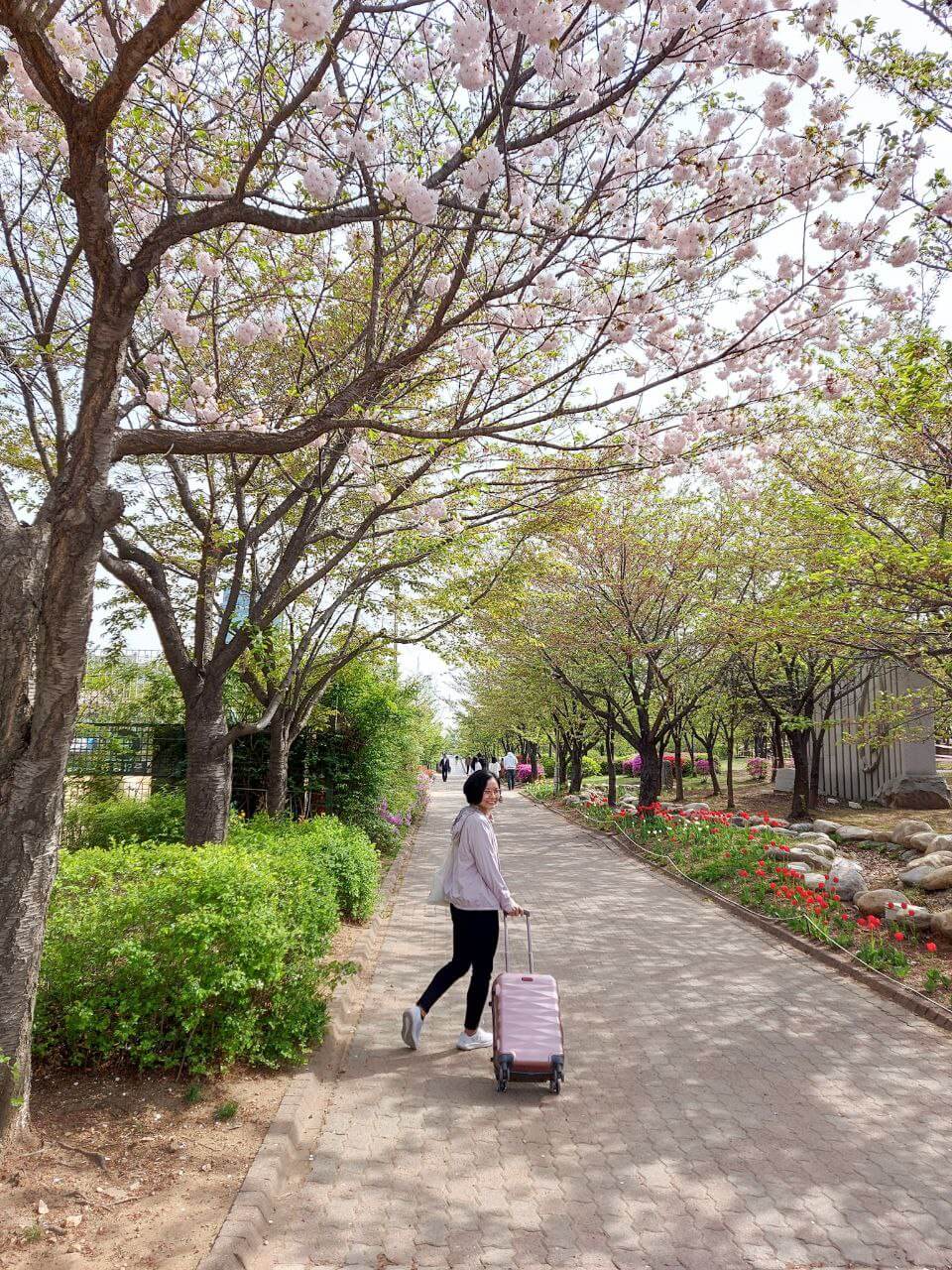 After all the heavy lifting and a lot of patience, we finally arrived at Incheon Central Park. As it is already the end of spring in Korea, we didn't expect to spot some late bloomer cherry blossoms. Yay! Our effort paid off.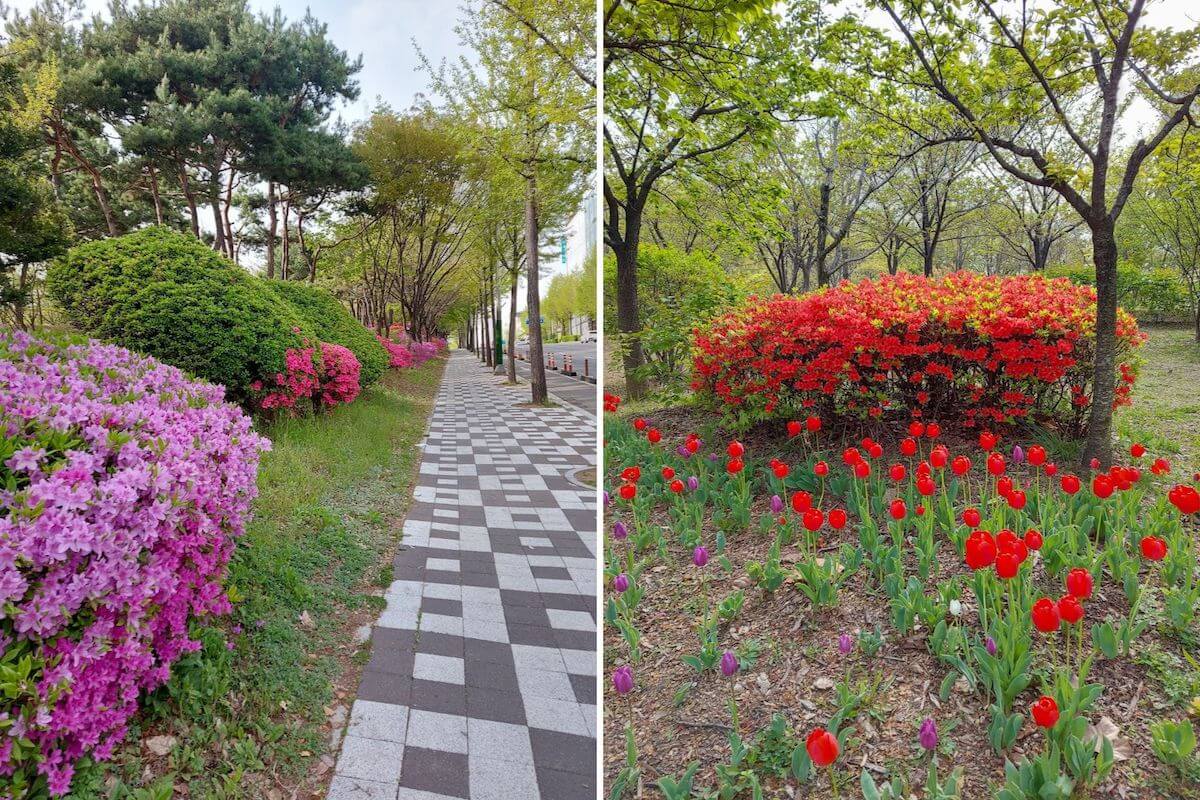 After strolling around Incheon Central Park, we took a coffee break in a random cafe across the park. Their coffee, bread, and pastry were so yummy. You gotta try for yourself!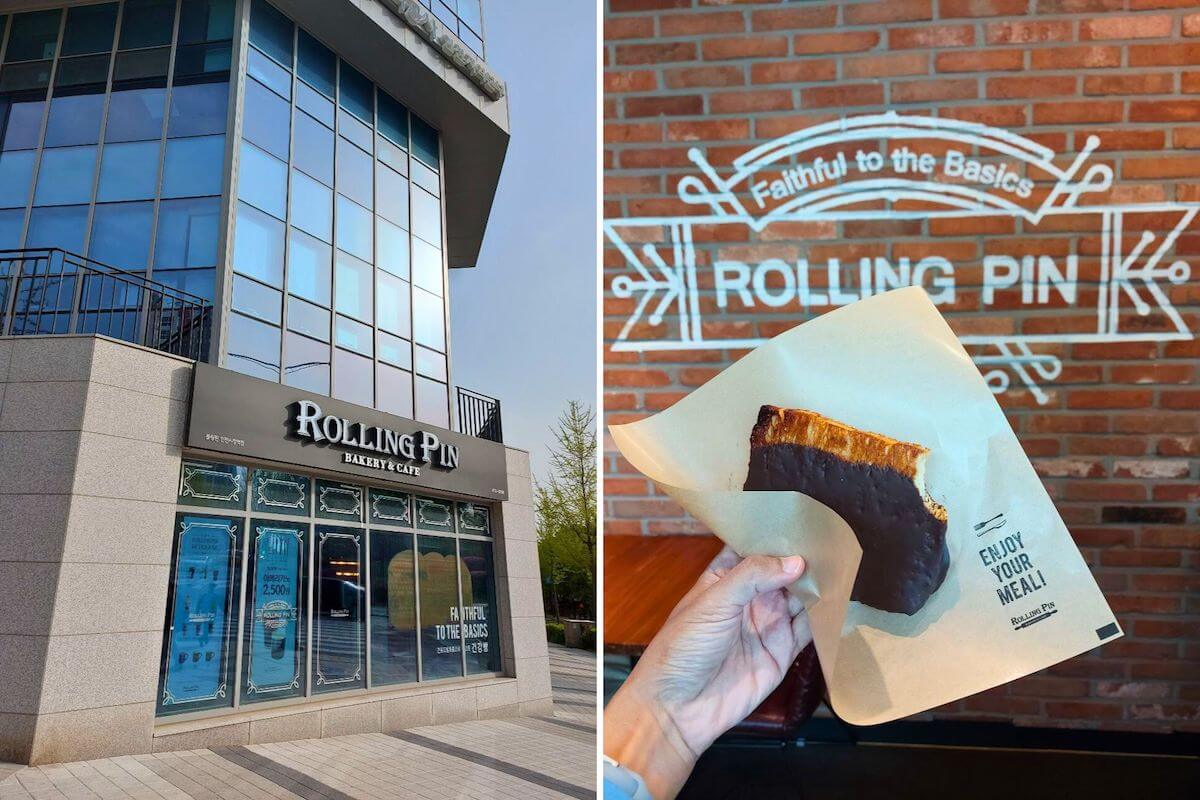 We wouldn't have experienced these beautiful things in Incheon if not for our crazy, spontaneous idea. It was all worth it!
Tip: It's a little tricky to explore Incheon on your own. We suggest that you sign up for an Incheon Day Tour to explore the top attractions with a guide, transfers, and admission.
You see, we didn't follow our planned itinerary down to a tee, but spontaneity added more flavor and fun to our Korea spring trip. And, we would not have experienced some truly local things and activities if not for our dear friends Kevin and Amy. 감사합니다 (Kamsahamnida).
We can't wait to be back soon!