2023 Lotte World Seoul Guide: Tickets, Attractions & Tips
Opened on 12 July 1989, Lotte World Seoul is one of the biggest and most popular theme parks in South Korea. On our Korea winter trip, we didn't visit this famous Seoul attraction. But on our Korea spring trip, we made sure to add it to our itinerary.
Initially, we thought that Lotte World is just another family-friendly theme park. But we were surprised to see its own unique charm. In fact, we saw many haksaeng (students) donning cute Korean school uniforms and screaming their lungs out on the nerve-wracking rides. It's definitely a massive recreation complex for everyone!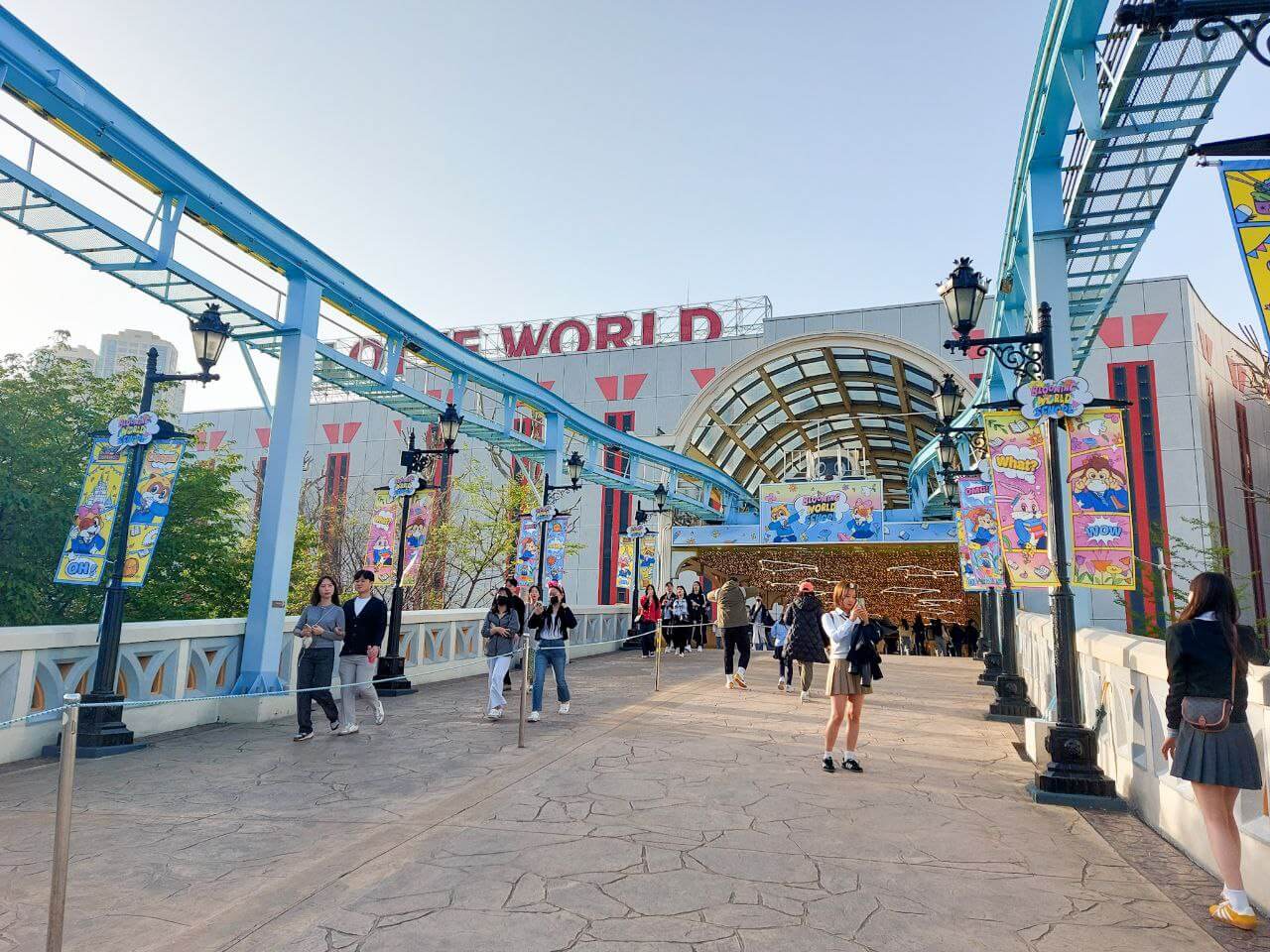 Our good friend Kevin took us around Lotte World, and we could not thank him enough. In return, allow us to take you around this fun theme park so you know what to expect by the time you come here yourself.
From tickets to top attractions and rides, here's everything you need to know about Lotte World in Seoul, South Korea.
Lotte World tickets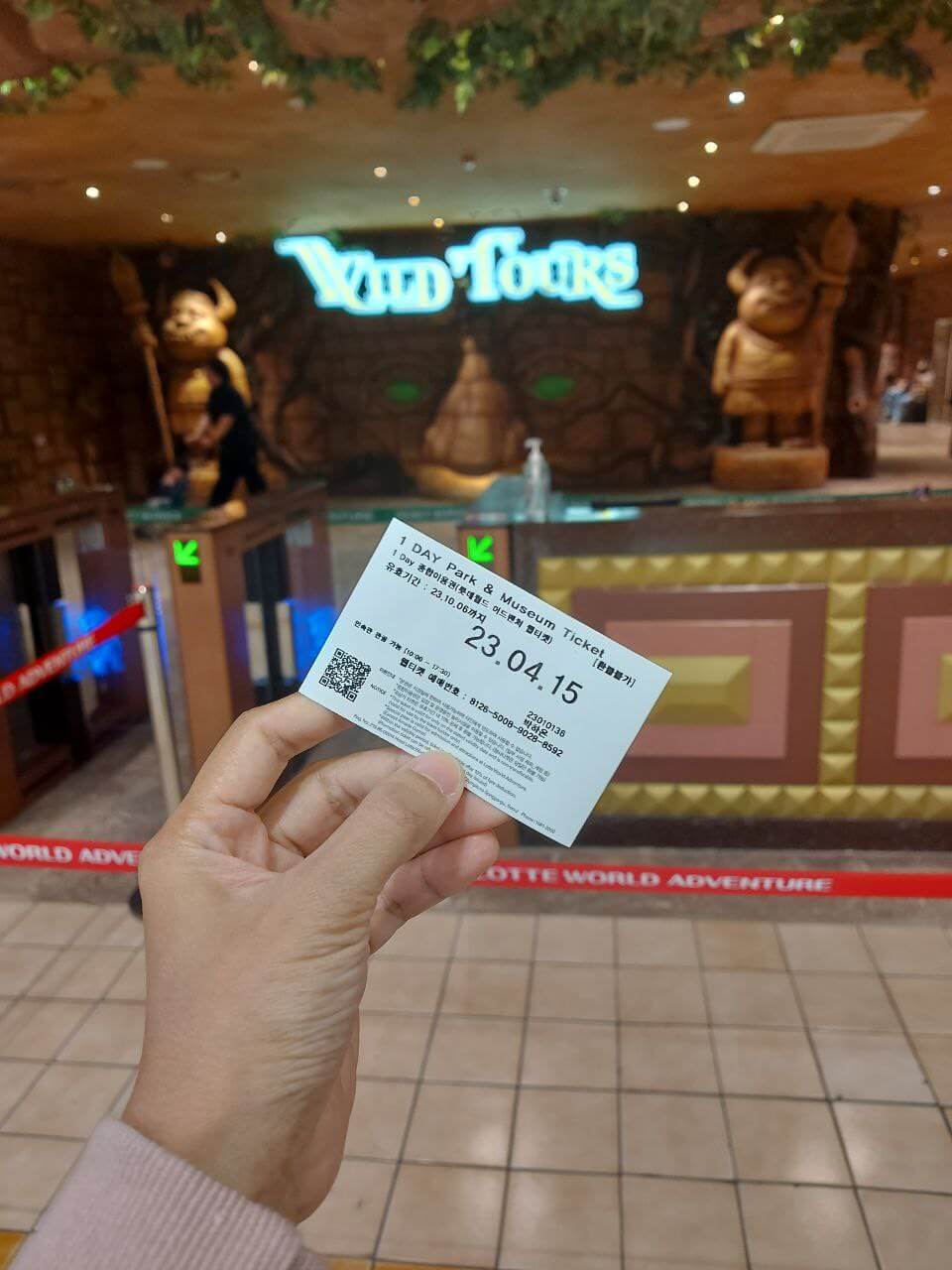 Lotte World entrance fees 2023
You have several options to buy your Lotte World tickets: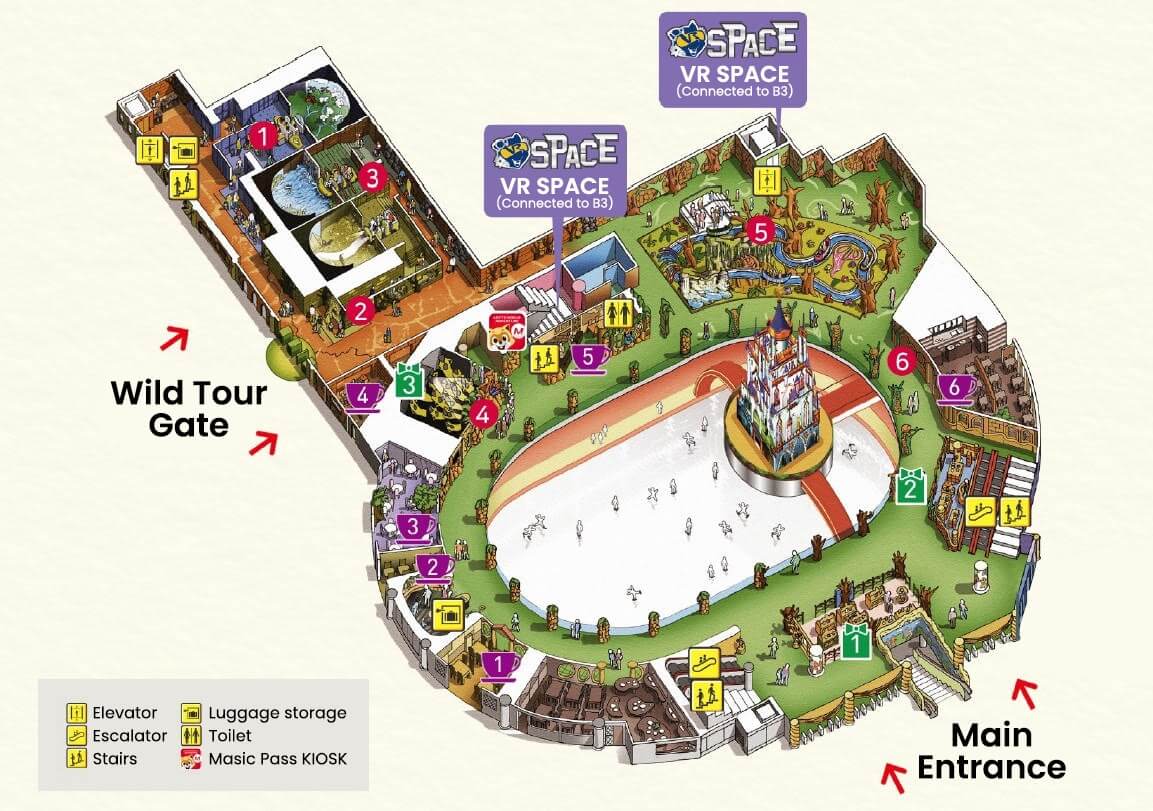 Purchase the Lotte World Daily Pass from Klook for ₩41,000 (US$32 / ₱1,700) inclusive of admission to Lotte World and Folk Museum.
Tip: If you love aquatic animals, we suggest that you buy the Daily Pass + Lotte World Aquarium for ₩48,000 (US$38 / ₱2,000). You can save as much as ₩14,000 (US$11 / ₱600) because the Lotte World Aquarium already costs ₩21,000 (US$16 / ₱900) if you buy it separately.
Notes:
You need to exchange the Klook e-Voucher for an actual ticket at Lotte World Wild Tour Gate (refer to map above).
Children three and below are free to enter Lotte World.
Option 2: WAUG
WAUG is South Korea's number one activity booking platform so you are assured that their offers are curated well, especially for tours and activities in Korea. WAUG's Lotte World ticket starts from ₩38,900 (US$37.50 / ₱1,657), which already includes access to Lotte World and Folk Museum.
You can also walk-in and buy your tickets on site. However, it may cost you more. For instance, an adult price for a day pass costs ₩62,000 (US$49 / ₱2,700). See full list of Lotte World ticket prices from their official website.
What's included in the Lotte World ticket?
In general, a Lotte World day pass ticket is inclusive of the following:
One-day admission to Lotte World:  Lotte World Adventure (indoor area) and Magic Island (outdoor area) as well as some selected rides
Folk Museum ticket
What's NOT included in the Lotte World ticket?
A Lotte World day pass ticket usually does not include the following premium attractions as you would have to buy separate admission tickets for each:
Lotte World Indoor Ice Skating Rink
Lotte World Magical Forest
Mirror Maze
Game Factory
Haunted House
Terror Cemetery
Aside from the aforementioned attractions, guided tours, school uniform rentals as well as food and drinks are also not included in the Lotte World admission ticket.
Lotte World operating hours
Lotte World Seoul is open from Monday to Sunday, 10am to 10pm. However, the Lotte world opening hours could change depending on several factors like the weather condition and system inspections. Do check the updated Lotte World operating hours prior to your visit.
How to get there
Lotte World is located at 240 Olympic-ro Songpa-Gu in Seoul, South Korea.
To get to Lotte World, you may take the following public transport:
By train: Take Metro Line 2 and 8 to Jamsil Station, Exit 4.
By bus: There are several buses that take you to Lotte World. You can take the Green Bus, Express Bus, Blue Bus, or Airport Bus. Refer to this list of specific bus numbers.
Visit Lotte World's official website for more details on how to get there.
Lotte World map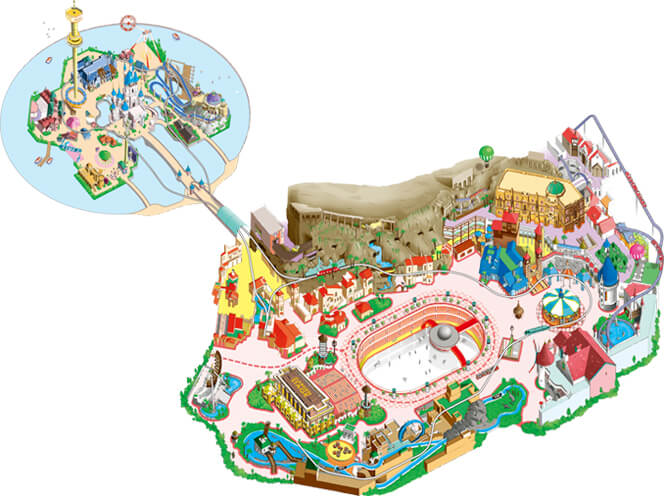 Before you go to Lotte World, you can download the Lotte World guide map. This way, you get to familiarize yourself with the entire area, strategize your exploration, and maximize your time. Lucky for us, we were with a friend who navigated and guided us here.
Rides and attractions
Lotte World is composed of two main parts: Lotte World Adventure (indoor area) and Magic Island (outdoor area).
The entire theme park is so huge that you would probably have a hard time picking which attractions and rides to experience first. We're recommending a few popular ones, but feel free to cherry-pick based on your interests.
Lotte World Adventure
Lotte World Adventure is the indoor part of Lotte World where you can find the ice skating rink, stage for performances, arcade games, indoor rides, and some dining options.
Here are some of the popular Lotte World Adventure rides and attractions:
Ice Skating Rink
Open all year round, the indoor ice skating rink was the first Lotte World attraction that caught our attention as it is located right at the center of Lotte World Adventure. While we didn't end up ice skating ourselves, it's truly a sight to behold and a good spot to take some IG-worthy snaps.
World Monorail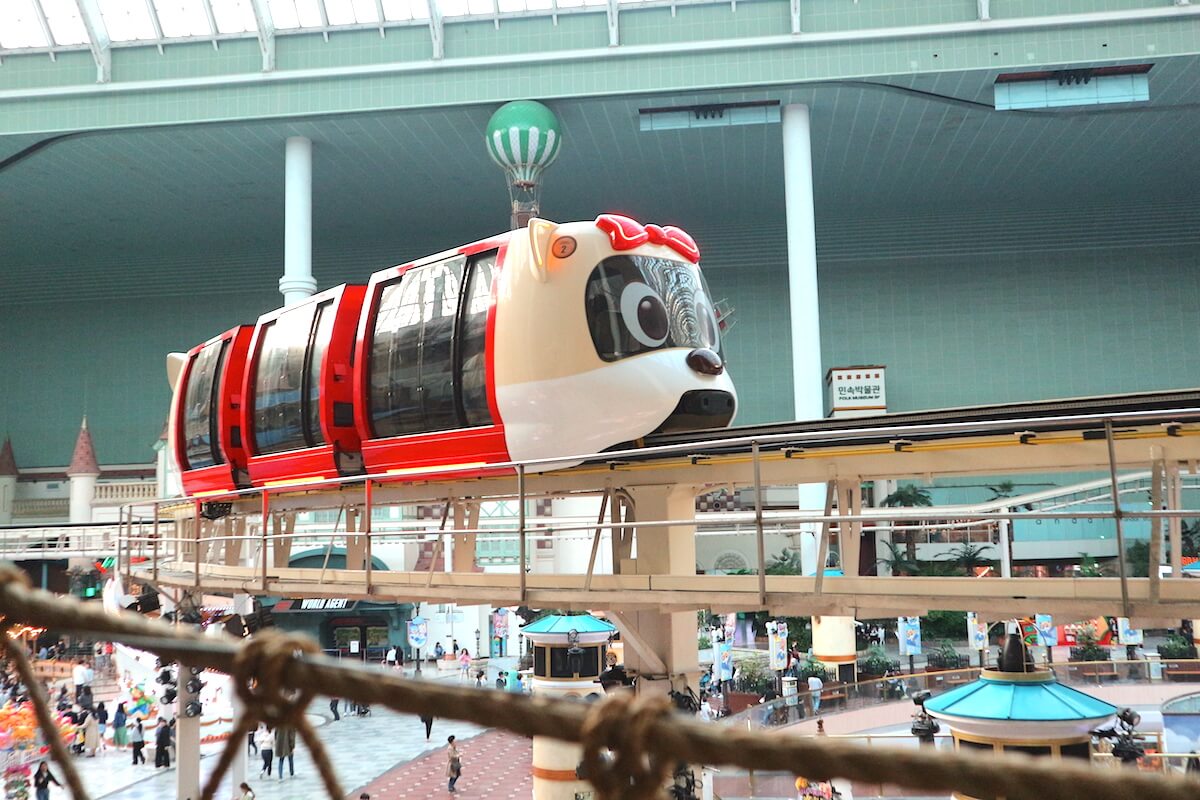 Hop on this adorable skytrain to explore the indoor part of Lotte World. It'll surely give you a different perspective of Lotte World Adventure.
Balloon Ride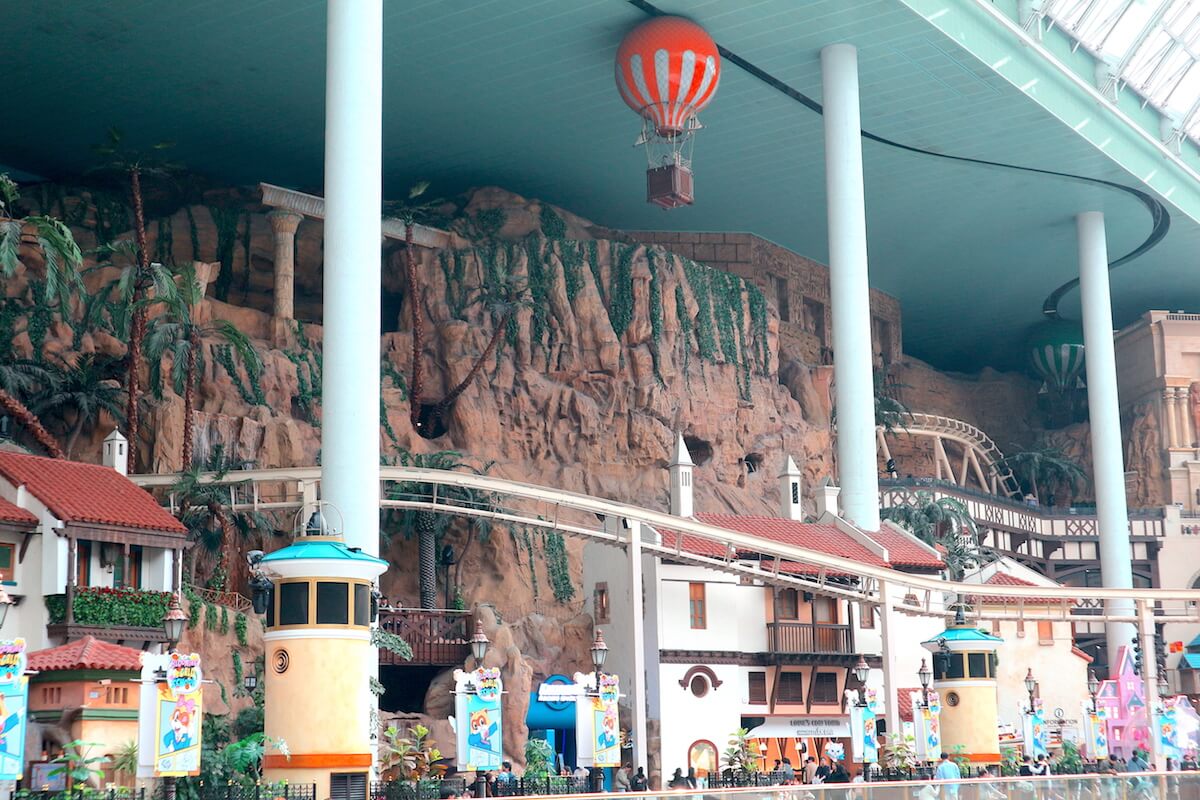 It's as if you're riding a hot air balloon up in the air! The balloon is actually attached to the ceiling and goes around the area slowly to give you a bird's eye view of the indoor park.
The Conquistador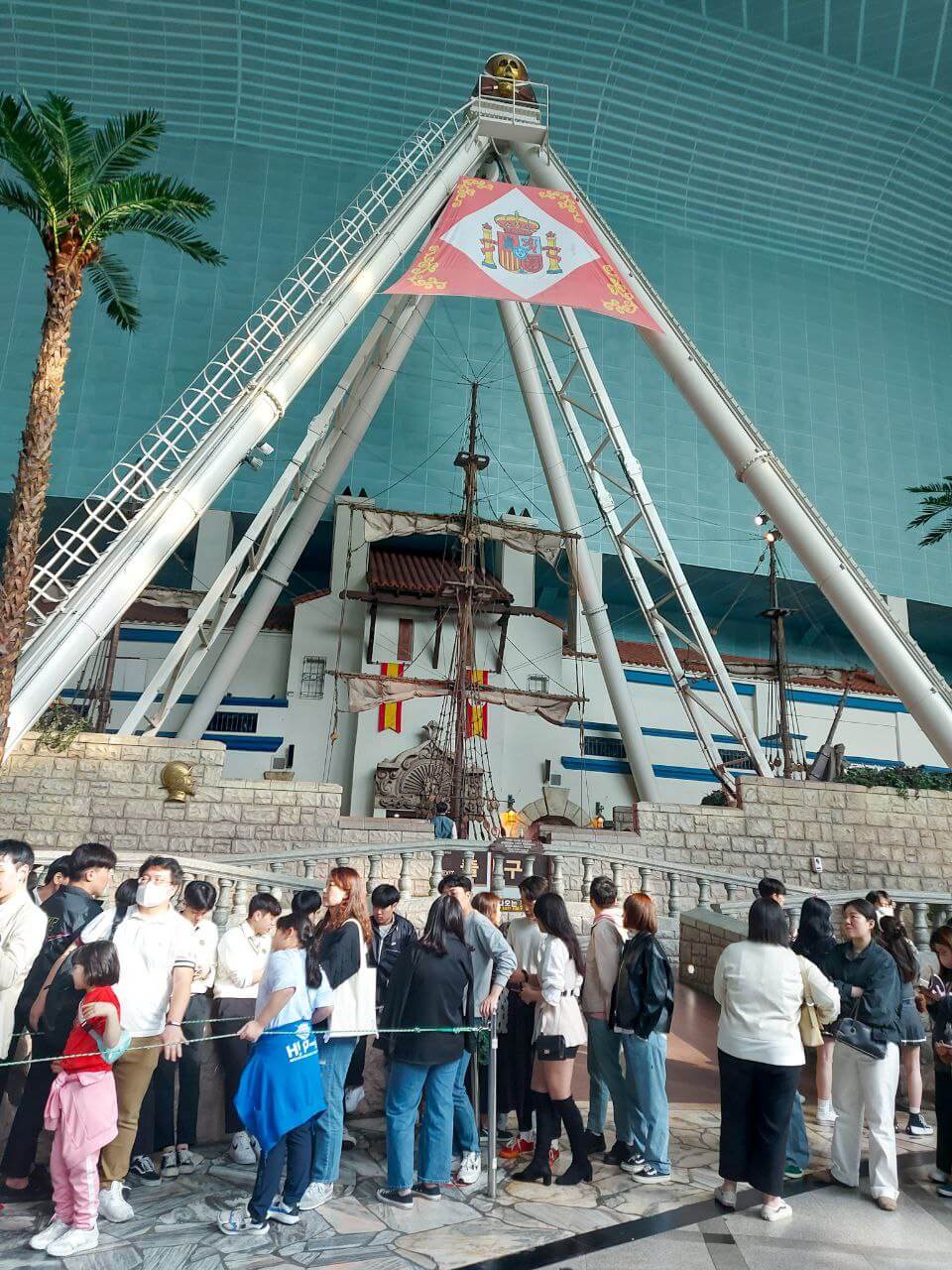 At first, it may not be intimidating to look at. But mind you, this Spanish pirate ship ride will leave you hanging on for dear life as it swings from one side to the other like a perennial pendulum.
French Revolution

It's a different kind of roller coaster experience as you slither through different parts of Lotte World Adventure. Of course, the 360-degree rotation will make you scream your head off.
Flume Ride

Splashing into the water on a log boat sounds a lot like fun! This exciting ride also takes you through a jungle-like environment from the Jurassic period.
Bumper Car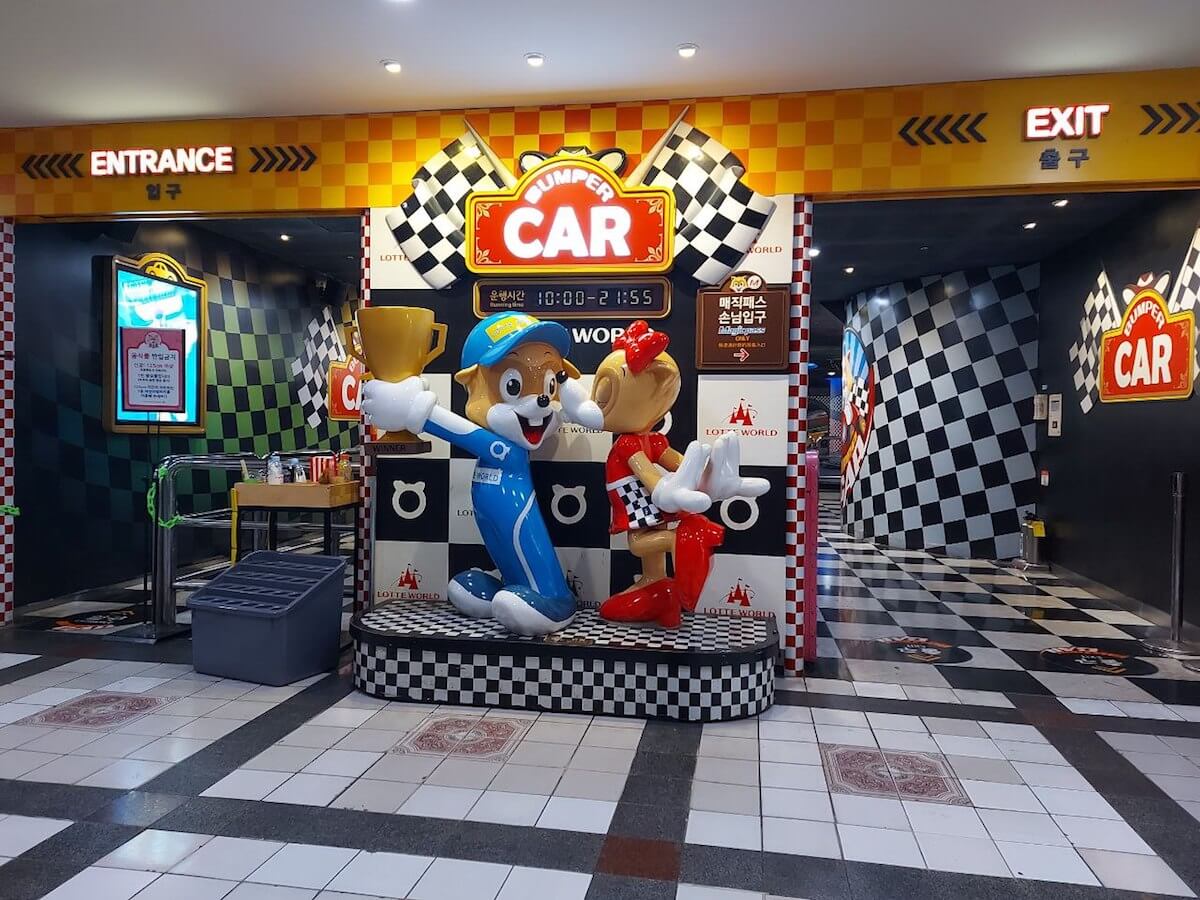 Get your adrenaline pumping as you collide with fellow riders. Remember to keep your cool all the time.
Camelot Carousel

Take a break from the death-defying rides and get aboard the merry-go-round. Pick your white horse and live in your own magical world.
Game Factory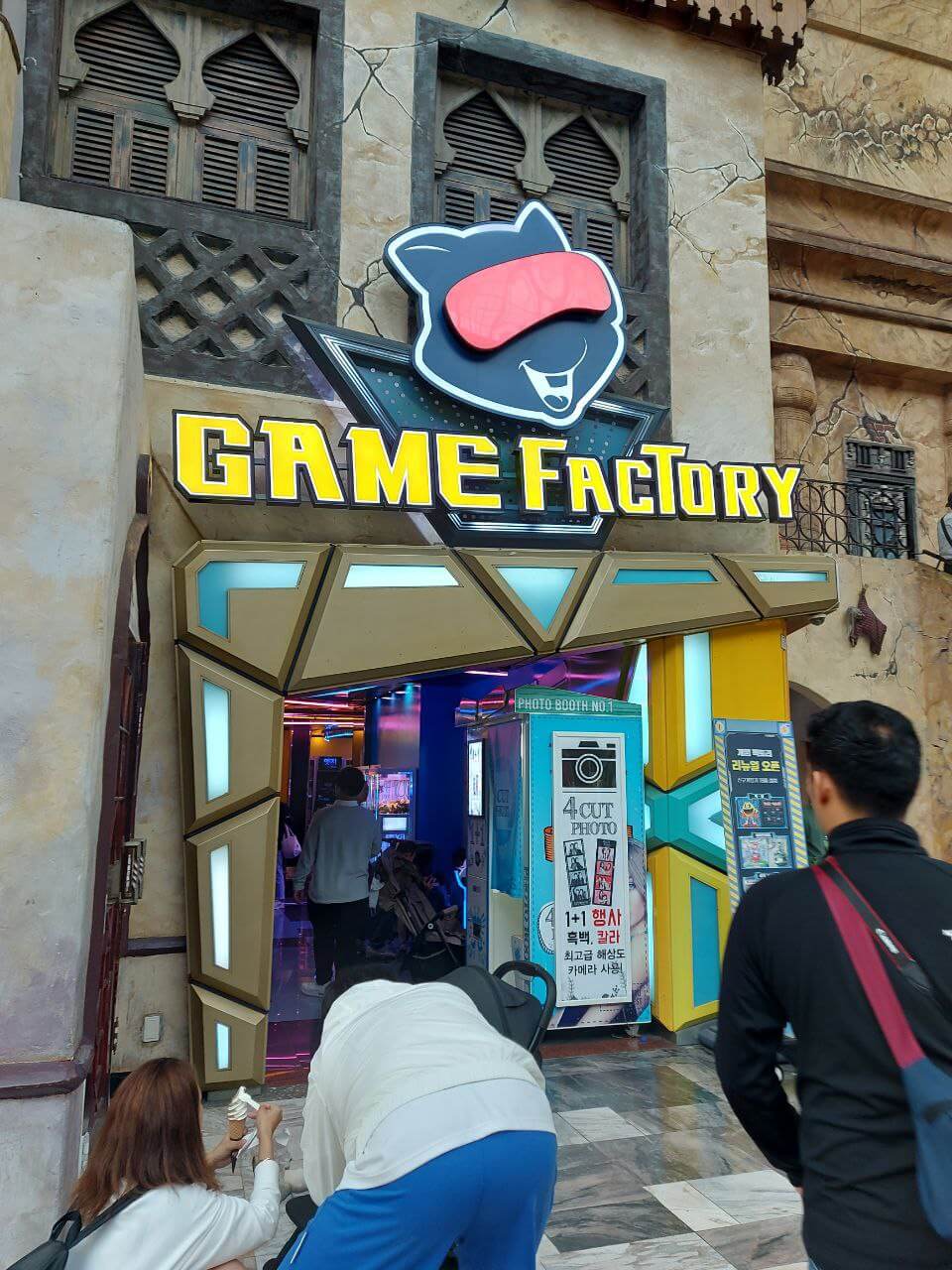 Unleash your competitive spirit by playing different arcade games, shooting guns, air hockey, claw machines, and more. Game on!
Magic Island
Magic Island is the outdoor part of Lotte World where you can find the Magic Castle, thrilling outdoor rides, and food stalls to buy some snacks and drinks.
Here are the top Magic Island attractions and rides:
Magic Castle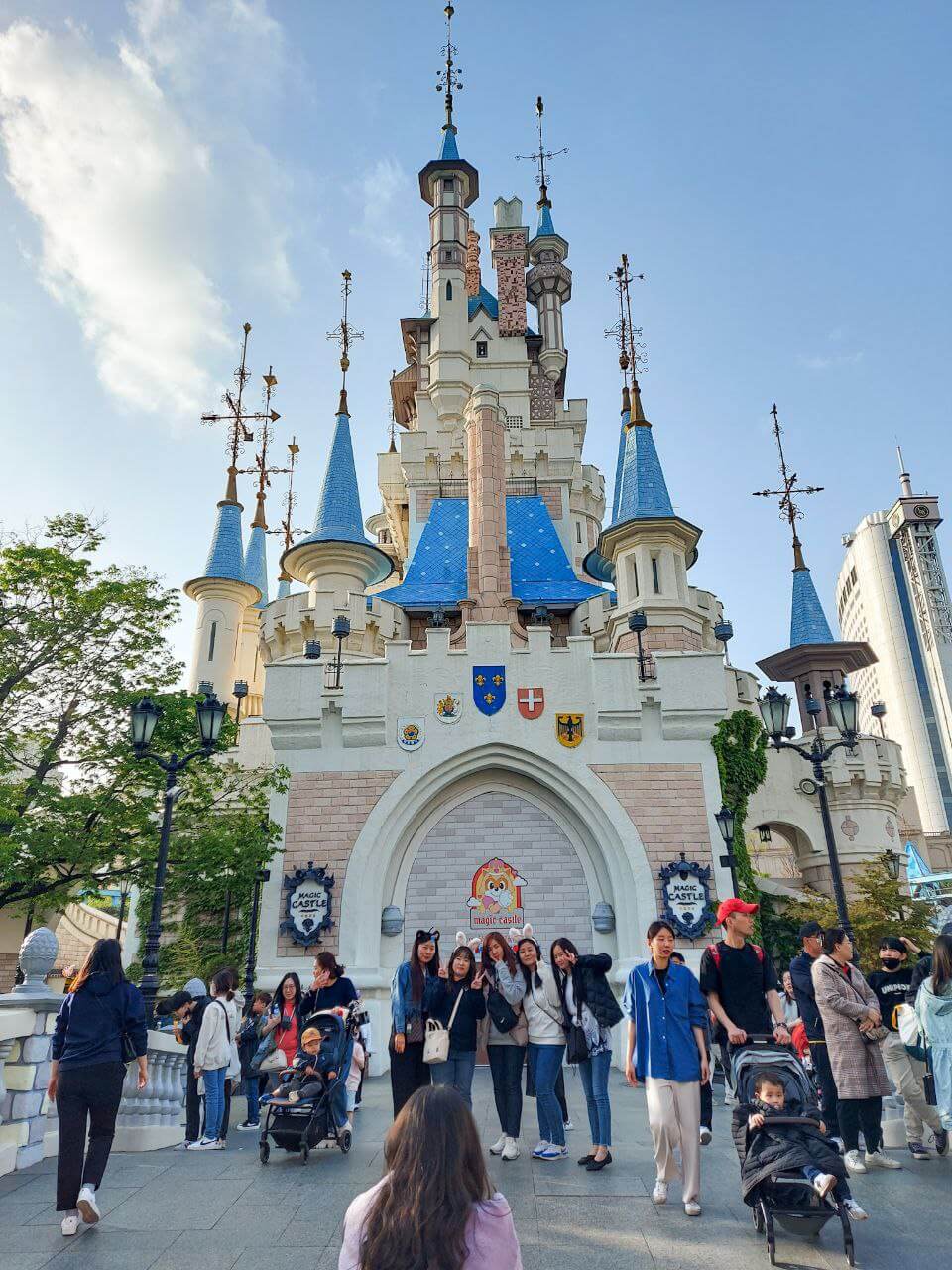 What's a fantasy world without a castle? Strike a pose and keep a memory of this quintessential Lotte World structure.
Atlantis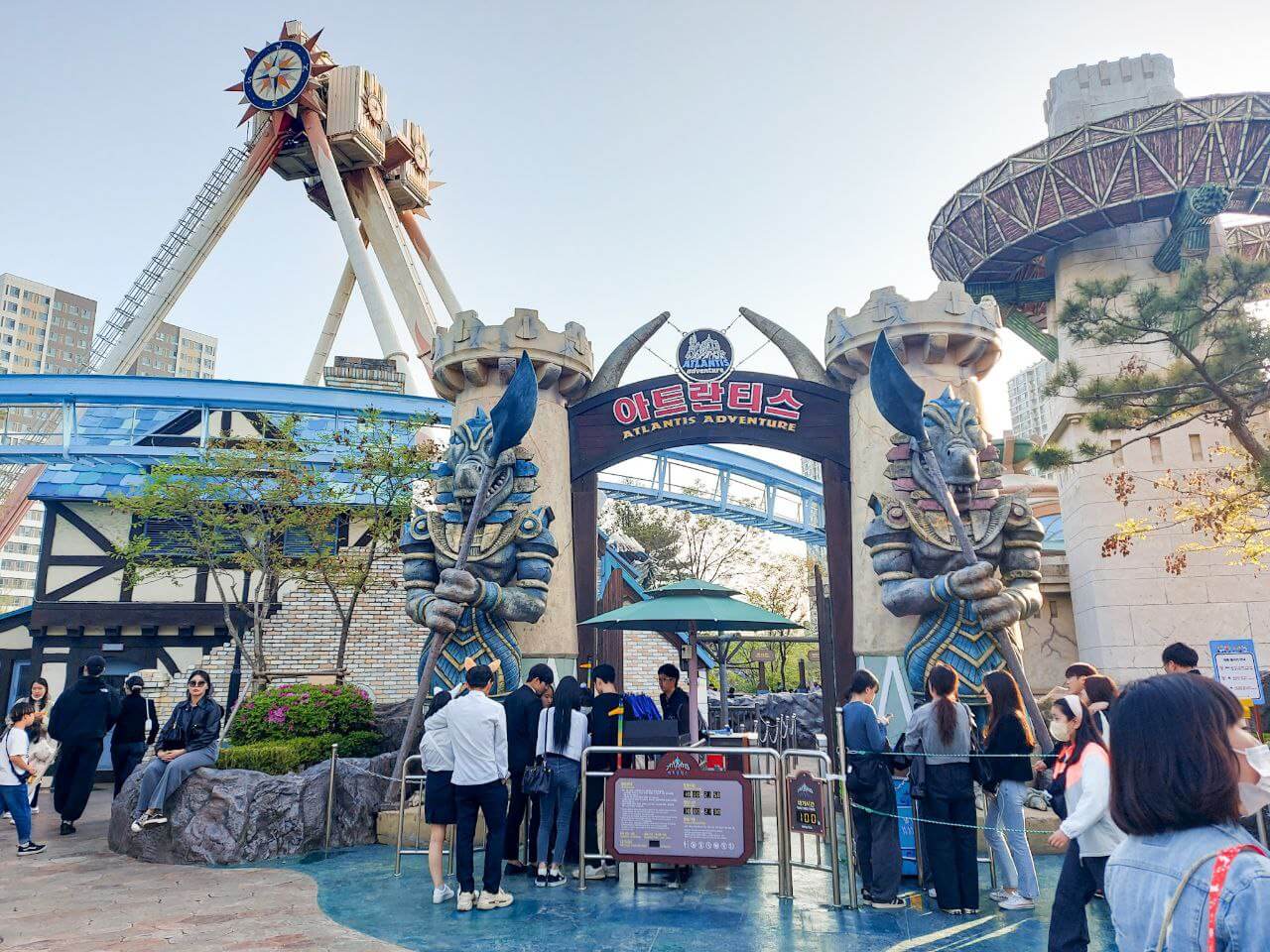 This is the French Revolution and Flume Ride combo so you can just imagine the heart-stopping experience on this ride.
Bungee Drop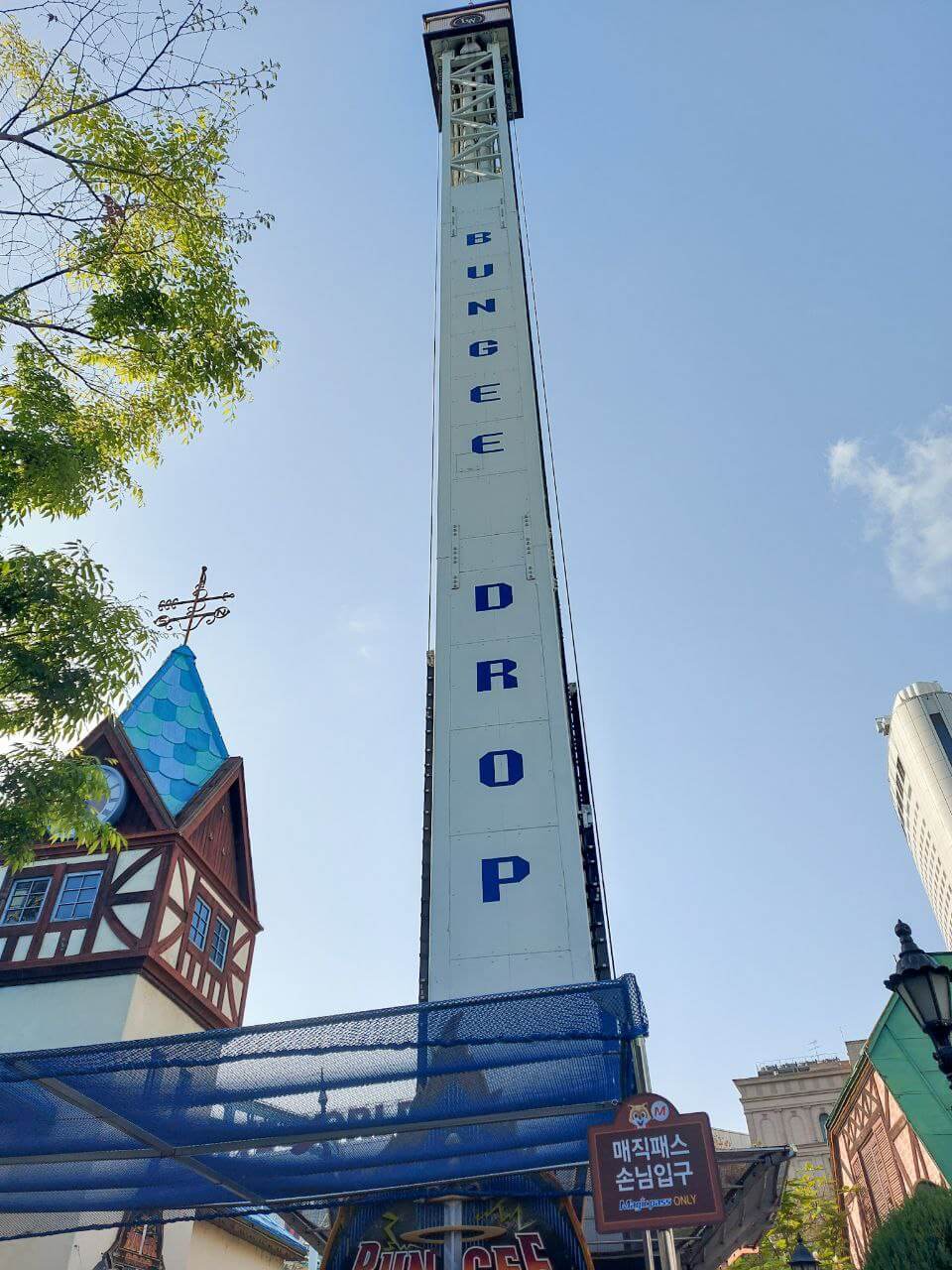 Picture yourself being dropped suddenly from a tall structure not once, but multiple times! Can you take the challenge?
Gyro Drop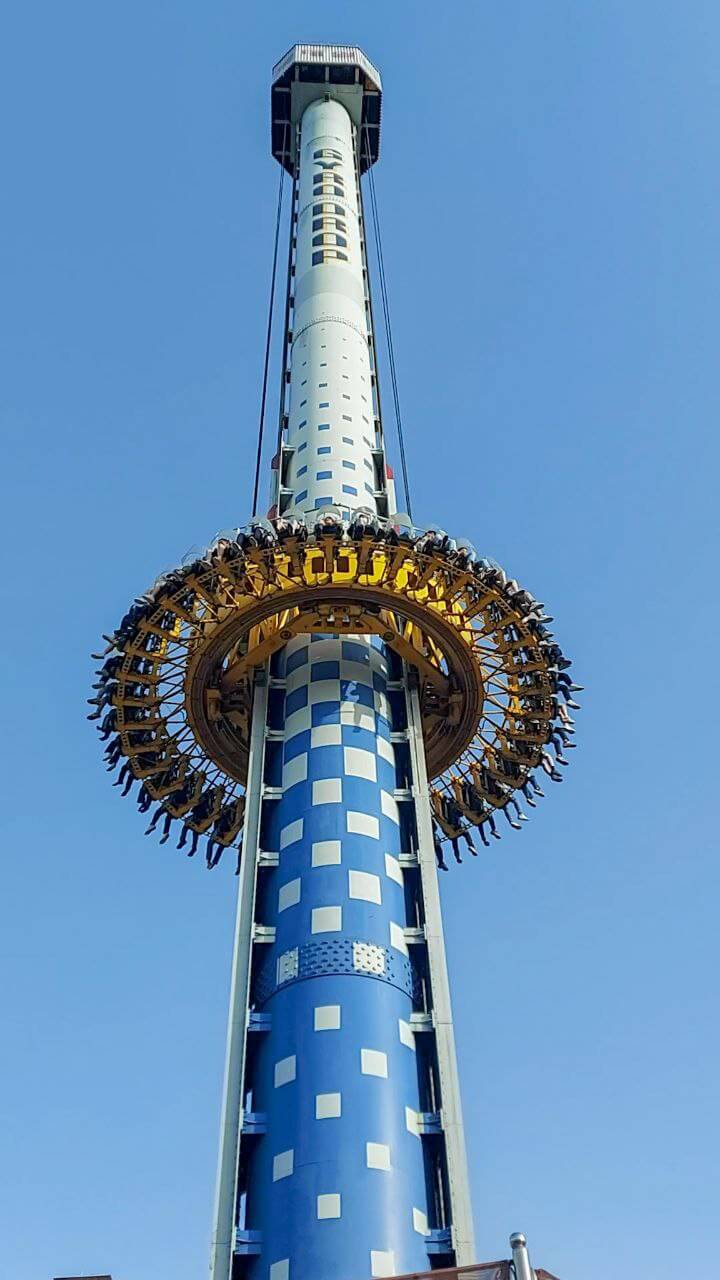 If you think Bungee Drop is terrifying enough, wait until you ride the Gyro Drop. It's a longer free-fall and it spins! This one's truly not for the faint of heart.
Gyro Spin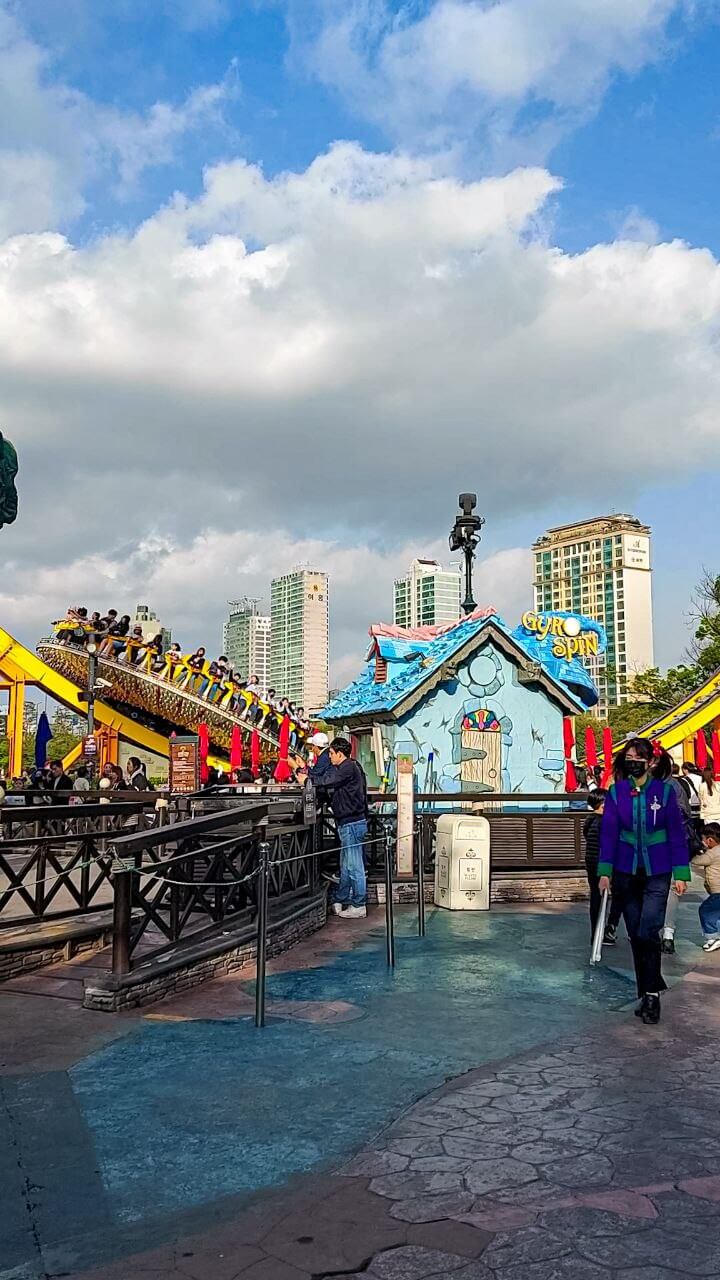 It's tagged as Asia's first non-vibration anti-noise spin ride – whatever that means, it'll literally make your world spin like hell.
Gyro Swing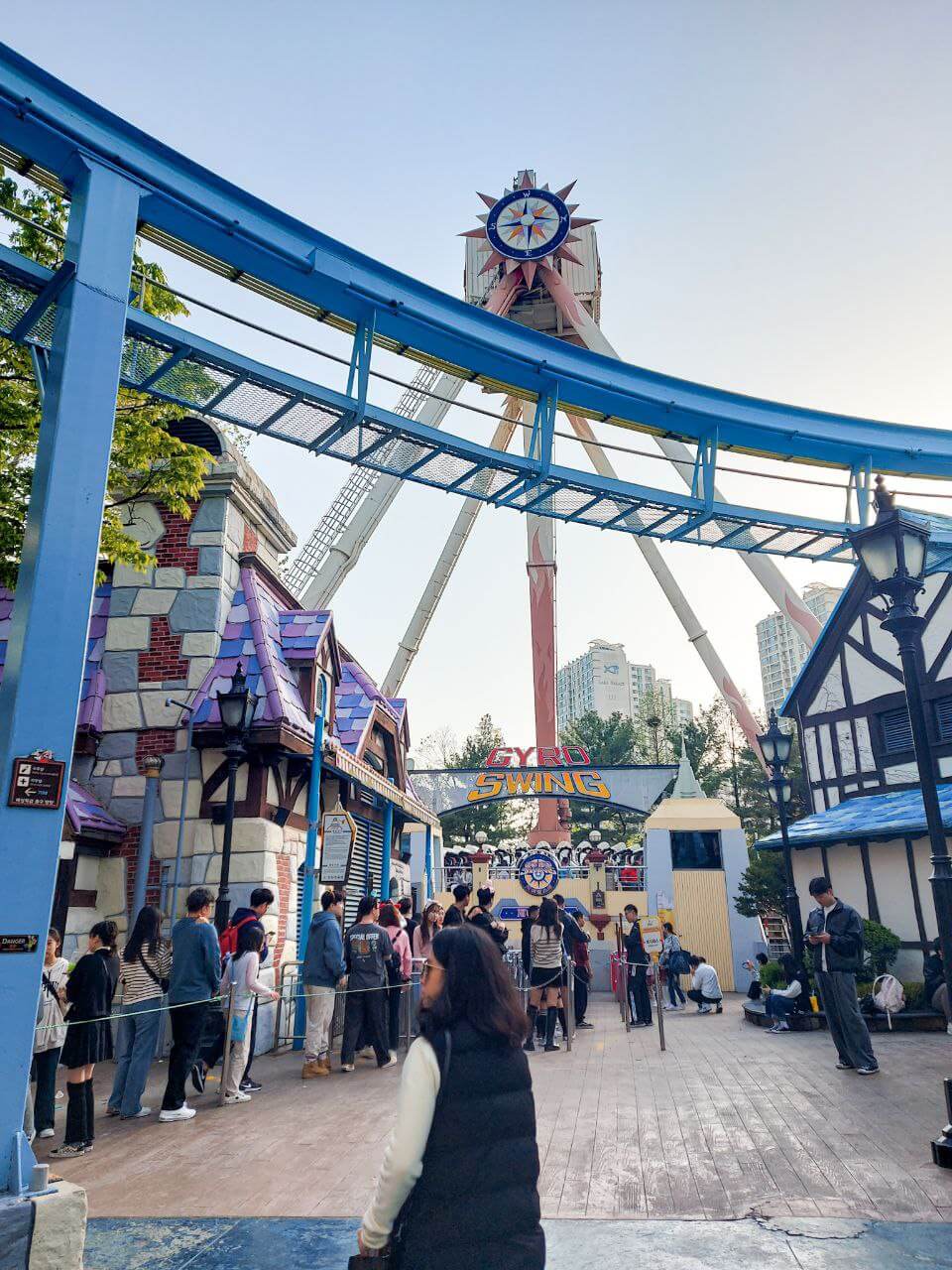 How about a spin and swing combo? We don't know about you, but just the thought of it makes us dizzy already.
Swing Tree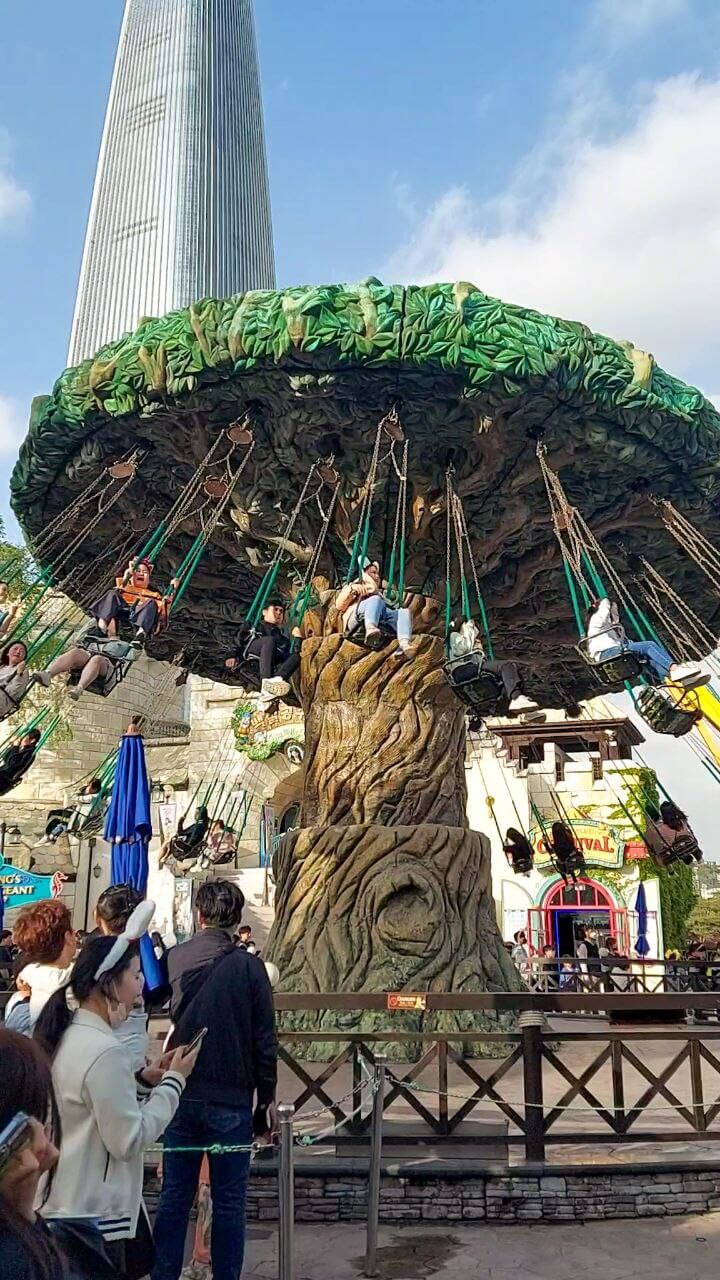 It's a rotating giant swing, but it's not as extreme as the Gyro Swing.
The Comet Express

True to its name, it's as though you are riding a comet in the dark outer space. And yes, it's a roller coaster with seats that rotate 360 degrees.
Moonboat

This one's for couples who want to cap off the day on a romantic moon-shaped boat.
These are just some of the many Lotte World attractions and rides that are in store for you. Feel free to experience the rest if your time permits. Do note that not all attractions are included in the day pass. Some attractions and rides have separate admission fees.
Friendly reminders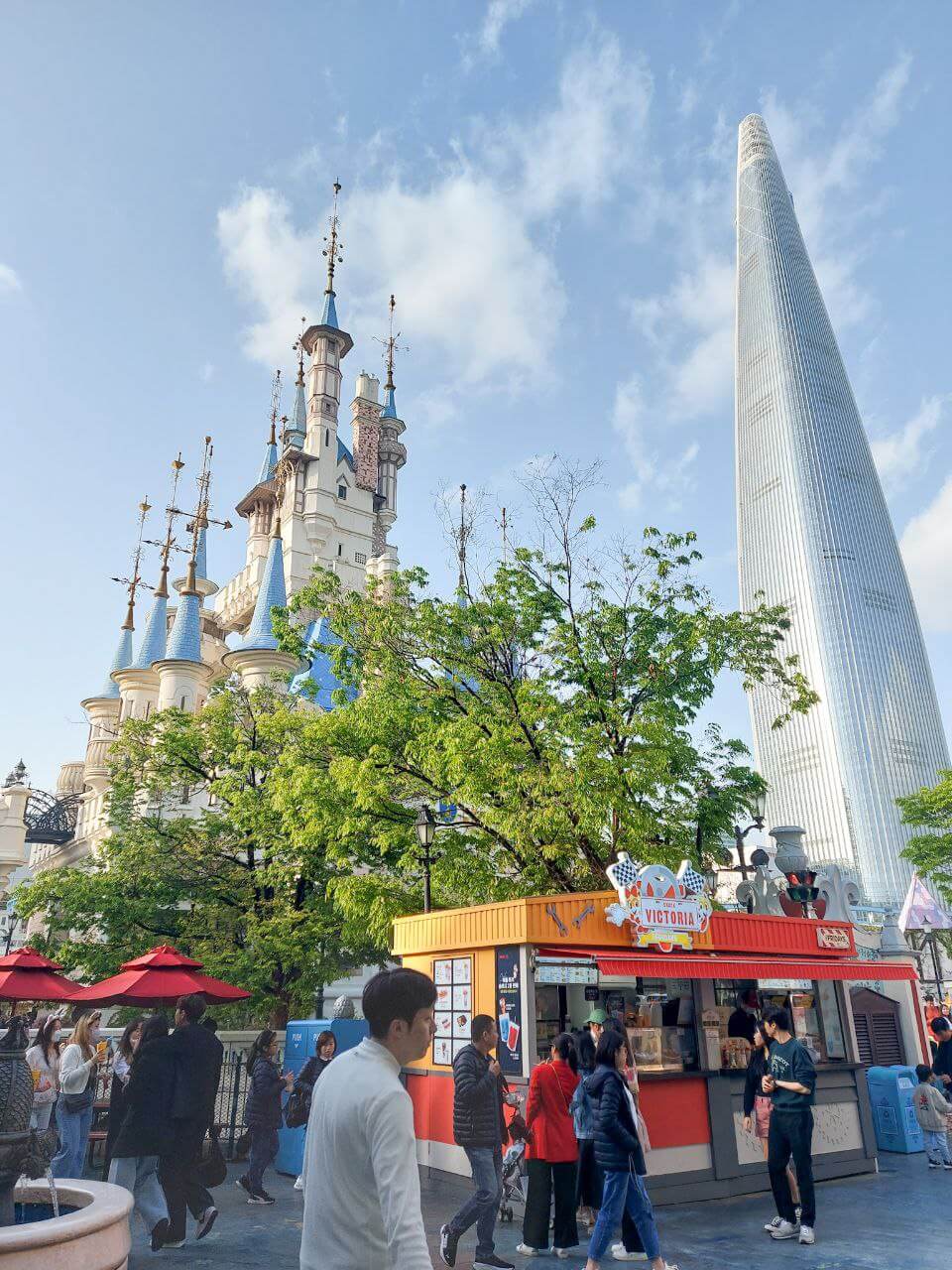 Wear comfy clothes and shoes apt for the season.
Although you can rent and wear a Korean school uniform, cosplaying that covers the face and is disturbing is not allowed.
Pets are not allowed inside the park.
Filming is not allowed for wedding and commercial purposes.
You also cannot bring tripods and drones.
Bringing of dangerous items or weapons is strictly prohibited.
Lotte World is smoke-free but there are designated smoking areas.
You can only eat your lunch box food at designated picnic areas.
Familiarize yourself with the Lotte World rules and regulations before your visit.
That's a wrap! Hope you'll have an incredible Lotte World Seoul adventure like we did. And, if you are already planning your Korea trip now, you might want to read our Korean visa guide, N Seoul Tower guide, Korean street food list, and Korean souvenirs list, too!
*Special thanks to Kevin, our dear friend who showed us around Lotte World and many parts of Seoul we haven't visited before. 감사합니다 (Kamsahamnida)!