Winter in Korea: Our 5-Day Itinerary, Experience, Costs & Tips
Growing up in the tropics, we always dreamt of having a snowy winter adventure. Achievement unlocked when we finally experienced winter in Korea before the pandemic. Allow us to revisit our trip and share our 5-day Korea winter itinerary with tips and cost breakdown. We hope this will help you plan your own trip to Korea during the winter season, which lasts from December to February. Happy trip planning!
Tip: Before going to South Korea, secure your internet connection with Klook's South Korea Unlimited data SIM (eSIM). No need to get a physical sim since you can just download it on your phone. It's fast, easy, and convenient.
Things to prepare before your winter trip to Korea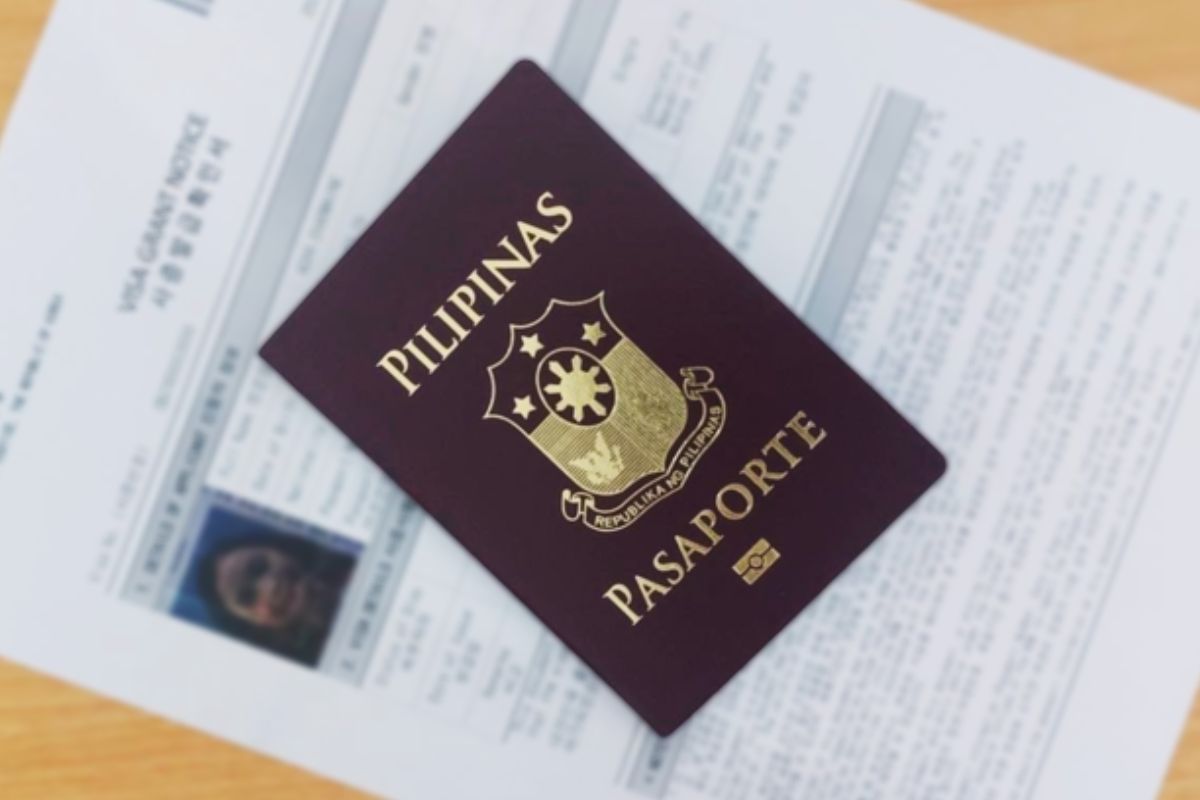 1. Korean tourist visa – Before anything else, you should already have your South Korea tourist visa. We do not advise that you buy your flight tickets or book your hotels before applying for a Korean visa. Please refer to our Korean visa guide (Manila Embassy), Korean visa guide (Cebu Consulate), and Korean visa online appointment guide for your Korean tourist visa application.
2. Passport – This is pretty self-explanatory. Make sure that it has at least six months validity. Otherwise, you need to renew it. Read our DFA passport renewal guide.
3. Flight tickets – Book your flight tickets once you already have your Korean tourist visa.
4. Hotel booking – You can reserve your accommodation but you don't have to pay yet. You can find some hotels on Klook or Agoda, which allow free cancellation of up to 48 hours.
5. Q-CODE – Make sure that you have already applied for your Q-CODE before arriving in South Korea.  You will need to present the generated QR code upon arrival at the airport. Get your Q-CODE here.
6. Travel insurance – While this is not required, we advise that you still get a travel insurance since you'll never know what will happen. Better safe than sorry! You may check out AXA's Smart Traveller insurance.
7. Winter clothes – Need we say more? It's freezing cold during winter in Korea so layer up. You can buy winter clothes from Uniqlo, Terranova, Lazada, Shopee, or from your local ukay-ukay shops.
Our planned 5-day Korea winter itinerary
Day 0: Arrival in Busan
10pm – Touchdown at Gimhae International Airport in Busan
11pm – Late check-in at our Busan accommodation
Day 1: Busan
9am – Breakfast
10am – Explore Busan
Day 2: Seoul
9am – Breakfast
11am – KTX train (Busan to Seoul)
2pm  – Check-in at our Seoul accommodation
3pm – Explore Seoul
Day 3: Gangwon Province
Nami Island
Elysian Gangchon Ski Resort
Day 4: Seoul
Culture and heritage:
Gyeongbokgung Palace
Bukchon Hanok Village
Namsangol Hanok Village
Changdeokgung Palace
Deoksugung Palace
Gyeonghuigung Palace
Heunginjimun
Shopping:
Myeongdong
Insadong
COEX mall
Lotte Mart
Day 5: Incheon City
9am – Breakfast
11am – Checkout from our Seoul accommodation
12nn – Arrival in Incheon
1pm – Explore Incheon
8pm – Check-in at Incheon International Airport
Our actual experience during winter in Korea
Day 0: Arrival in Busan
Upon arrival at Busan's Gimhae International Airport, we immediately bought our T-money card from 7-Eleven. We then used our T-money card to ride the subway going to our Busan accommodation.
Tips:
Get your T-money card as soon as you arrive in Korea. You can get one from 7-Eleven or subway stations. If you are arriving in Seoul, it's better to buy your T-money card from Klook in advance. You can then pick up the actual card from the Klook kiosks located at the airport.
Save a copy of the Busan subway map and familiarize yourself with the subway lines. Alternatively, you can also download NAVER Map so you can access the subway and bus schedules real-time.
Day 1: Busan day trip
Gamcheon Culture Village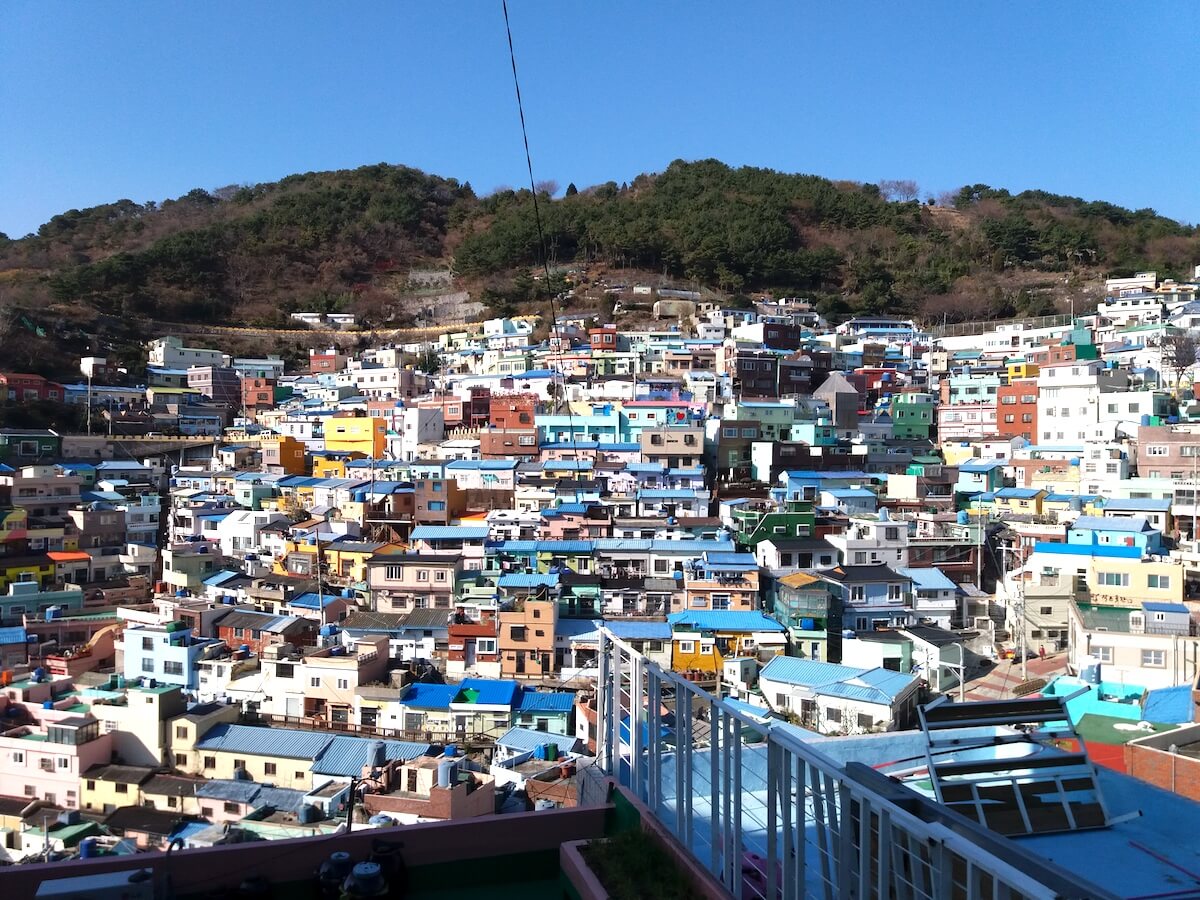 Gamcheon Culture Village is one of Busan's top attractions featuring colorful houses, creative murals, artisan shops, and local cafes. Although we got lost on our way there, we still had a good time exploring the nooks and crannies of this vibrant neighborhood.
How to get there: Ride the train Line 1 to Jagalchi Station. Exit 1 and take the bus Seogu 2 or Seogu 2-2 going to Gamcheon Culture Village.
Jagalchi Fish Market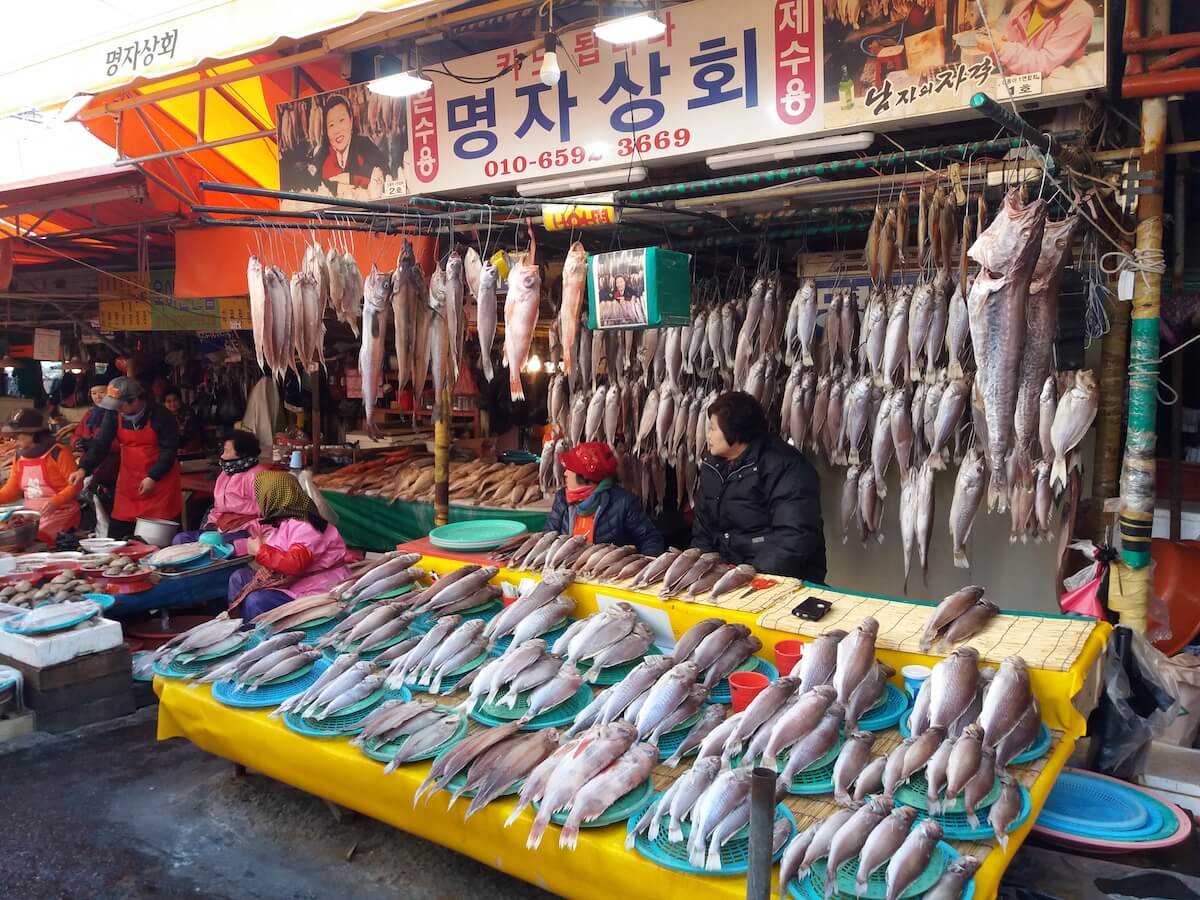 Do you know that Jagalchi Fish Market is South Korea's largest seafood market? We didn't regret adding this to our itinerary because we got to immerse in Busan's local food scene.
How to get there: Ride the subway Line 1 to Jagalchi Station. Take any exit and walk to the Jagalchi Market.
Beomeosa Temple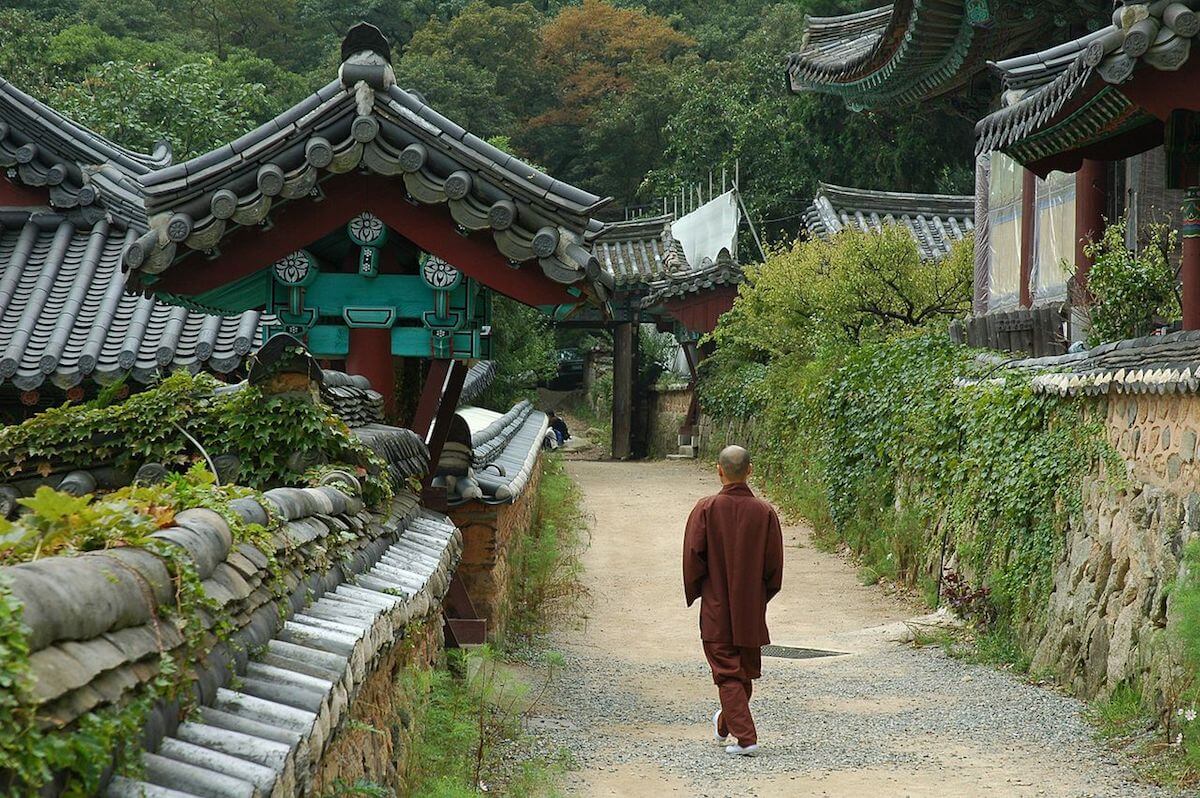 Beomeosa Temple is a sacred Buddhist temple on the slopes of Geumjeongsan, a famous mountain in Busan. We thought we can easily reach the temple but to our surprise, it's quite far from the center of Busan. We almost missed the last bus but it was quite a surreal experience here at night.
How to get there: From Busan Station, take the subway to Beomeosa Station, Exit 5. Then, walk along Cheongnyongyejeon-ro and ride Bus 90 going to Beomeosa Temple.
We only had a day to explore Busan and we felt that it was not enough. We'll surely be back to discover more of Busan's gems.
Day 2: Seoul at night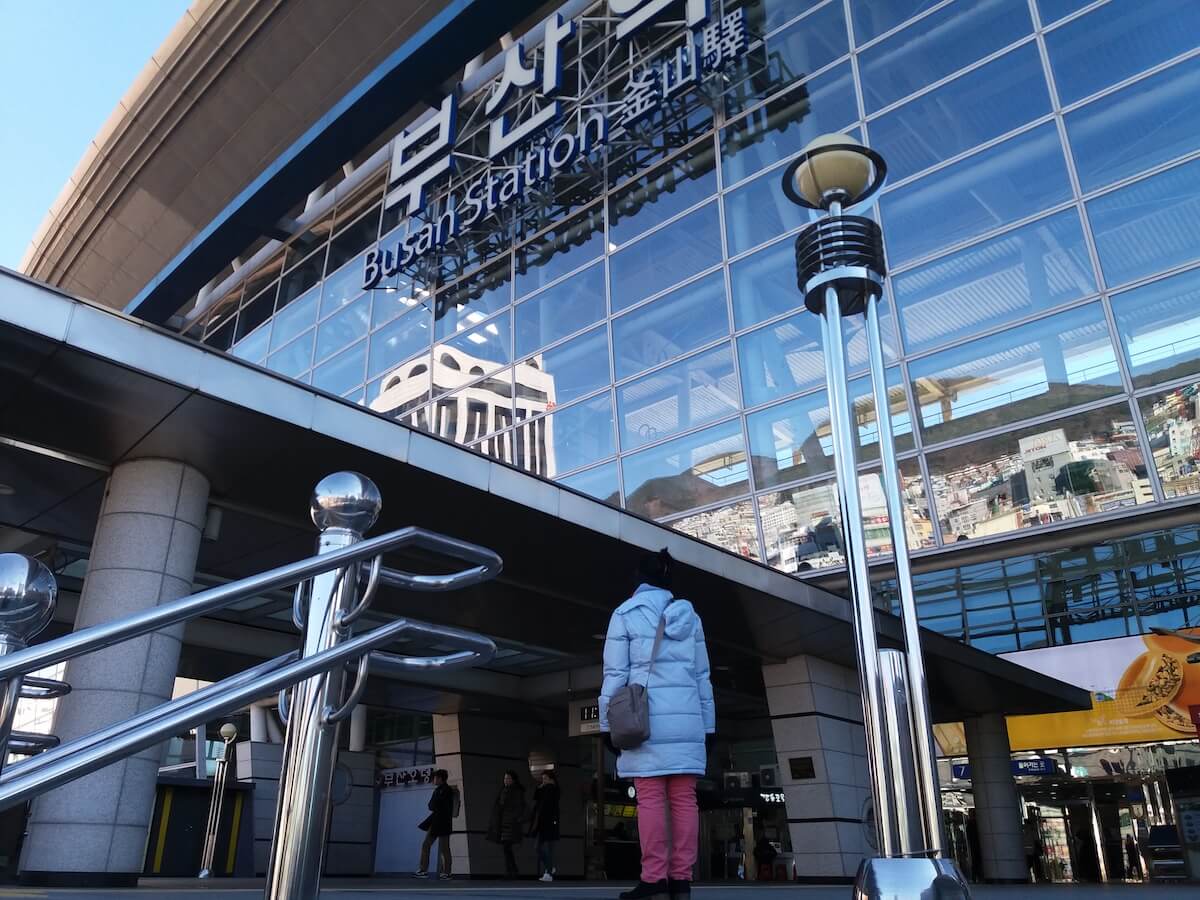 After checking out from our Busan accommodation at 9.30am, we went straight to Busan Station so we can ride the KTX bound for Seoul.
Tips:
Check out this Seoul subway guide to familiarize yourself with the subway lines.
The KTX train seats get fully booked easily, especially on weekends, so book your KTX ticket at least a day before. Learn from us — we had to endure a three-hour train ride to Seoul standing at the back of the train because we were only chance passengers.
To avoid such inconvenience, we highly suggest that you buy Klook's Korea Rail Pass ahead. You can get unlimited train rides to over 600 stations operated by KORAIL including the KTX train.
Hello Seoul!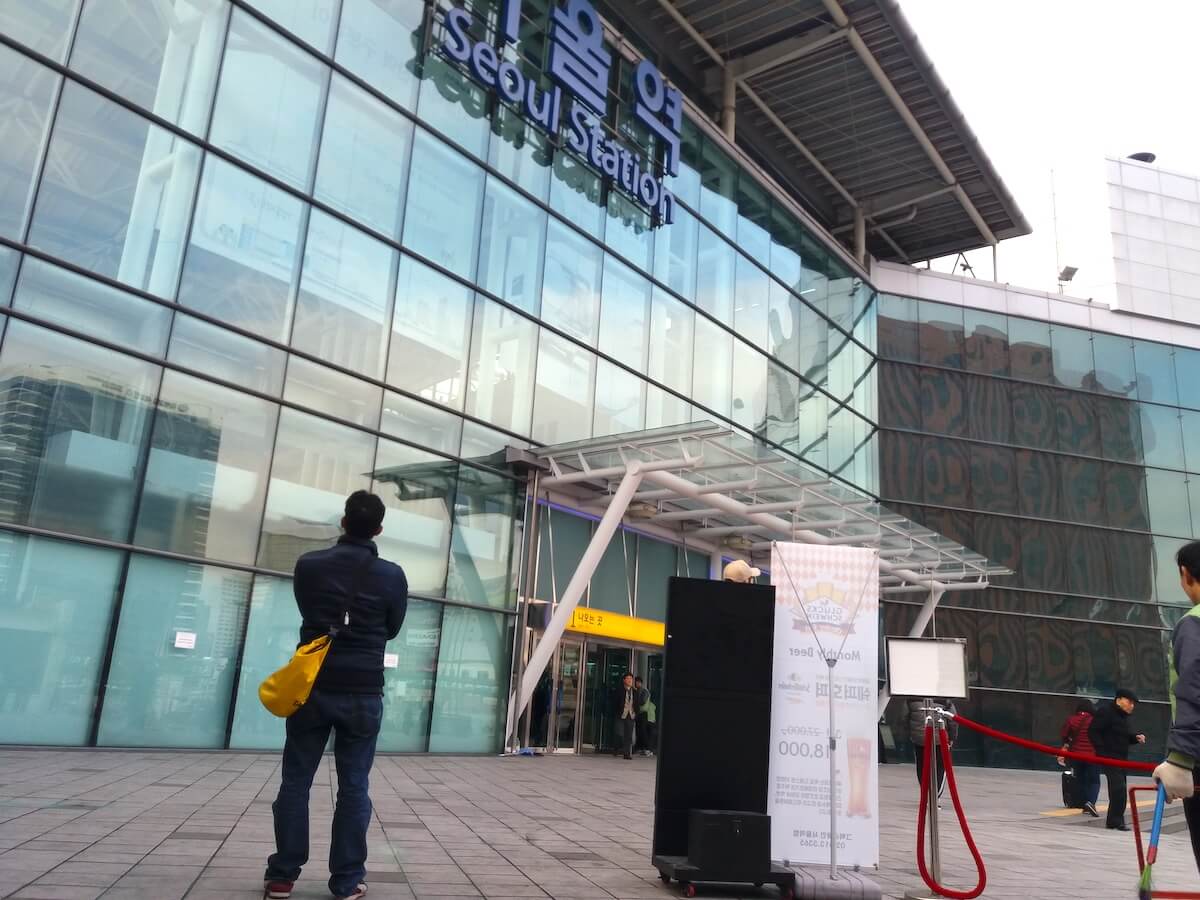 We finally arrived in Seoul in one piece after standing like a zombie for three gruelling hours. Amy, our Korean friend fetched us from the Seoul Station and helped us locate our Seoul accommodation.
We're so lucky to have picked a Seoul apartment with a super friendly host. His name is BK and he welcomed us with coffee and even played his traditional Korean flute. Unfortunately, his apartment is now unlisted. We would have loved to recommend it to everyone visiting Seoul.
63 Building

After dinner, we visited 63 Building, one of South Korea's tallest skyscrapers overlooking the Han River. It has exactly 63 levels with 60 floors and 3 basements. We went to its observatory on the 60th floor to see a panoramic 360-degree view of Seoul at night. There's also a gallery where we admired different pieces of artwork.
Han River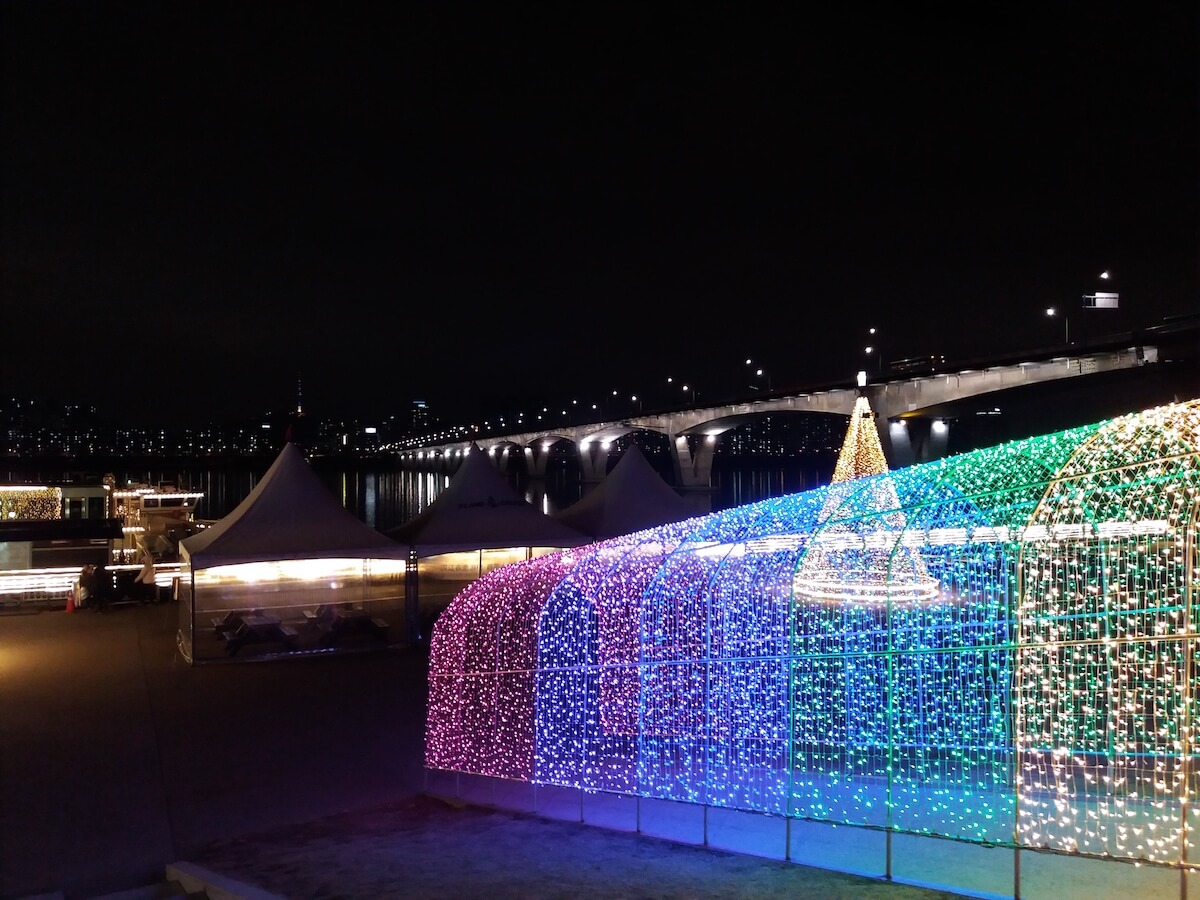 We then proceeded to stroll along the Han River, one of the most romantic and relaxing spots in Seoul which is usually featured in K-dramas. We capped off our first day in Seoul and thanked Amy for touring us around the city at night.
Day 3: Winter holiday in Gangwon Province
What's winter in Korea without actually seeing snow? We headed to Gangwon Province, specifically Nami Island and Elysian Ski Resort, to see, touch, and feel real snow.
Nami Island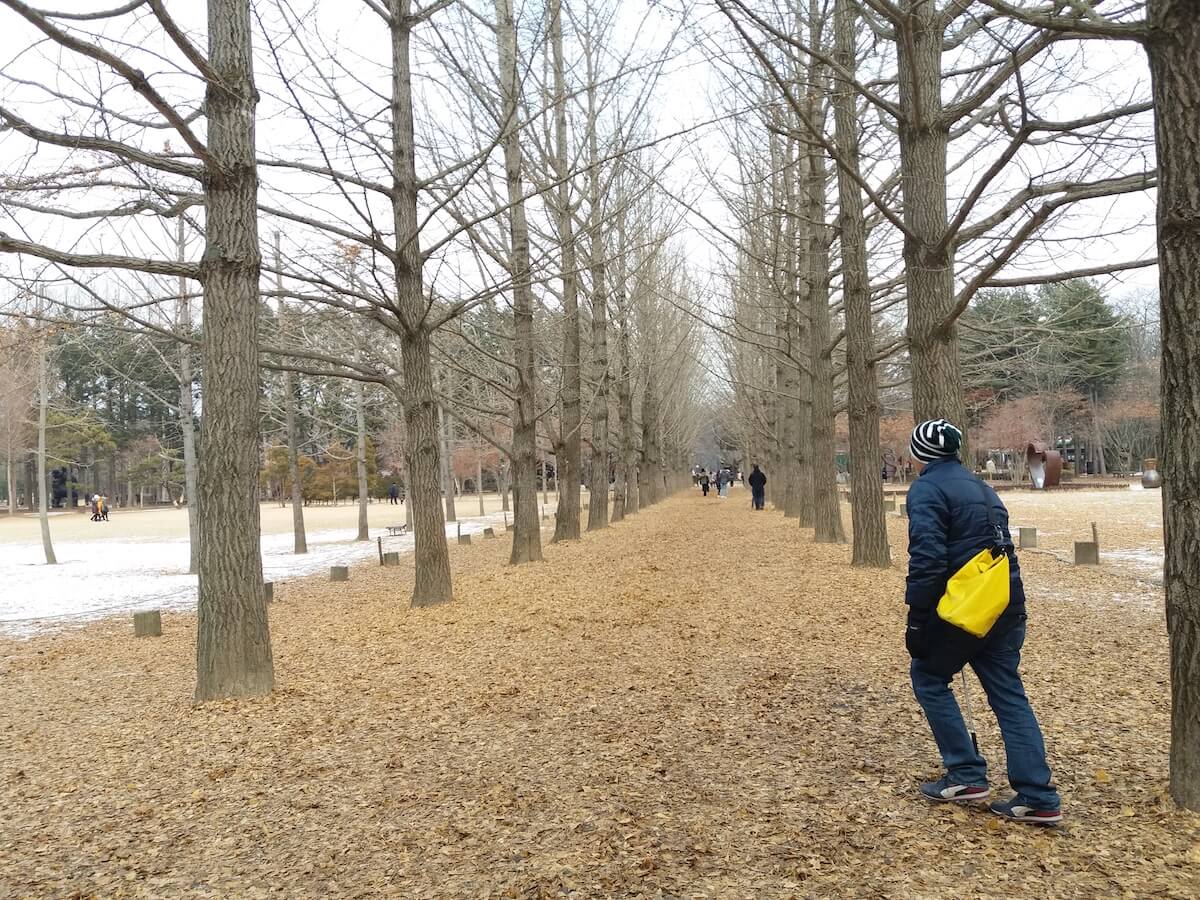 Nami Island became so popular because of the iconic Winter Sonata K-drama in 2002 starring Bae Yong-joon as Kang Joon-sang and Choi Ji-woo as Jeong Yoo-jin. Many fans flock to Nami Island to recreate the scenes that were shot here. Even if you're not a K-drama fan, you'll still enjoy the island even during winter in Korea with its jaw-dropping natural scenery which changes with the season. You can even rent a bicycle and cycle around the island.
How to get there: From Yongsan Station, take the ITX Cheongchun Line to Gapyeong. From Gapyeong Station, ride the bus to Nami Island ferry terminal where you can ride the ferry to Nami Island.
Tip: It's a little tricky to commute to Nami Island especially during winter in Korea, so we suggest that you sign up for a Nami Island tour which already includes round-trip transfers and admission tickets. You may also get to visit other attractions such as Petite France and Garden of Morning Calm.
Elysian Ski Resort

Skiing is one of the top things to do in Korea during winter. We would have wanted to check this off our bucket list at Elysian Ski Resort but our bodies didn't cooperate. We still had fun sightseeing and playing with the snow though.
How to get there: From Nami Island, ride the Metro Rail to Baekyang-ri Station. Then, hop on the free shuttle to Elysian Ski Resort right outside the station.
Day 4: Seoul city tour
It was already our fourth day and we wanted to enjoy whatever winter activities that could still fit our remaining time. We initially wanted to do ice skating but all the sites we went to were closed or not operating. When we asked for recommendations from our host, he immediately suggested some local experiences and even went the extra mile to accompany us and tour us around. Wow, we were so lucky indeed!
Tip: For a hassle-free trip around Seoul, you can try the Seoul City Tour Bus. It is a hop-on-hop off tour bus that will take you to the top tourist attractions in Seoul.
See some highlights of our experience:
Noryangjin Fish Market

Our host invited us for a lunch at Noryangjin Fish Market, one of South Korea's oldest and largest seafood markets where you can eat an actual live octopus. Our host haggled for some fresh catch and had them cooked in a restaurant. The octopus, though, wasn't cooked — we ate it raw with its chopped tentacles still moving. It was quite a bizarre yet cool experience. It wasn't as scary as we imagined. Surprisingly, it was delicious!
Yongsan Station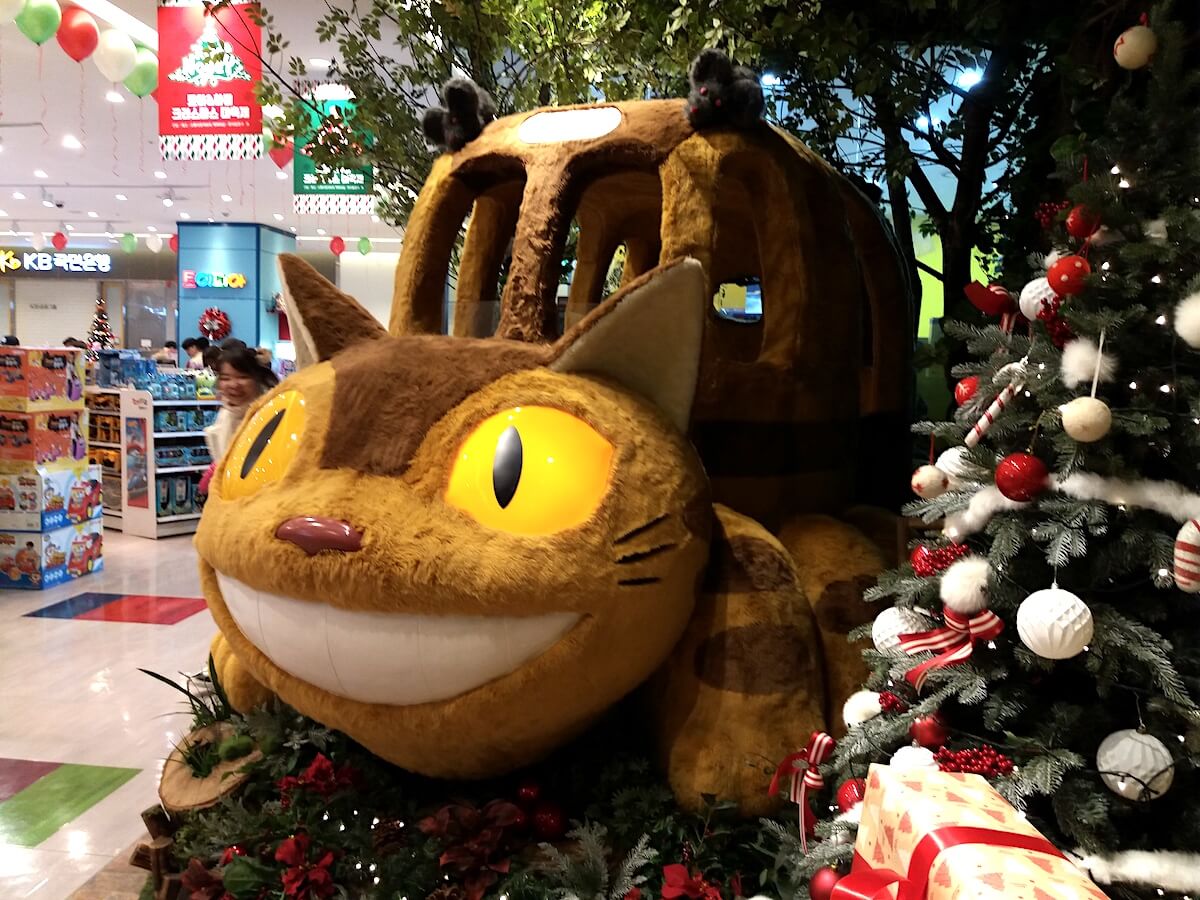 We didn't expect that Yongsan Station is an attraction in itself with its many shops and electronics market located here. Again, thanks to BK for letting us see what tourists like us won't normally notice.
From Yongsan Station, we went to City Hall Station and started our walking tour to some of Seoul's top attractions. We were surprised that we can actually follow a trail that will lead us to these spots on foot.
We've created a map if you want to follow our footsteps:
City Hall (Seoul Plaza)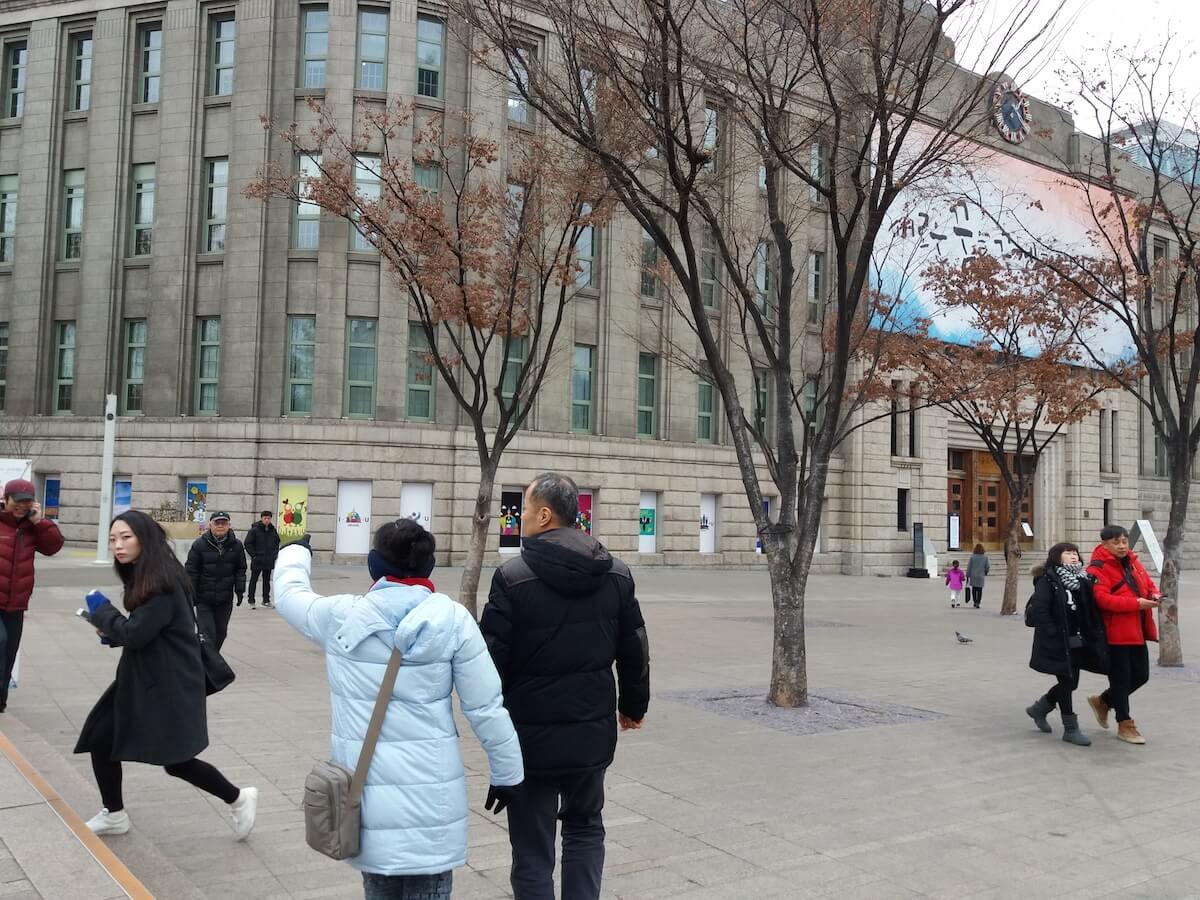 After exiting City Hall Station, we saw the Seoul Plaza located in front of Seoul City Hall. During winter in Korea, the plaza is supposed to turn into an ice skating rink. Unfortunately, it was temporarily closed when we went there.
Cheonggyecheon Stream

We walked along Cheonggyecheon Stream, which features art and light installations, turning this public space even more magical at night.
Insa-dong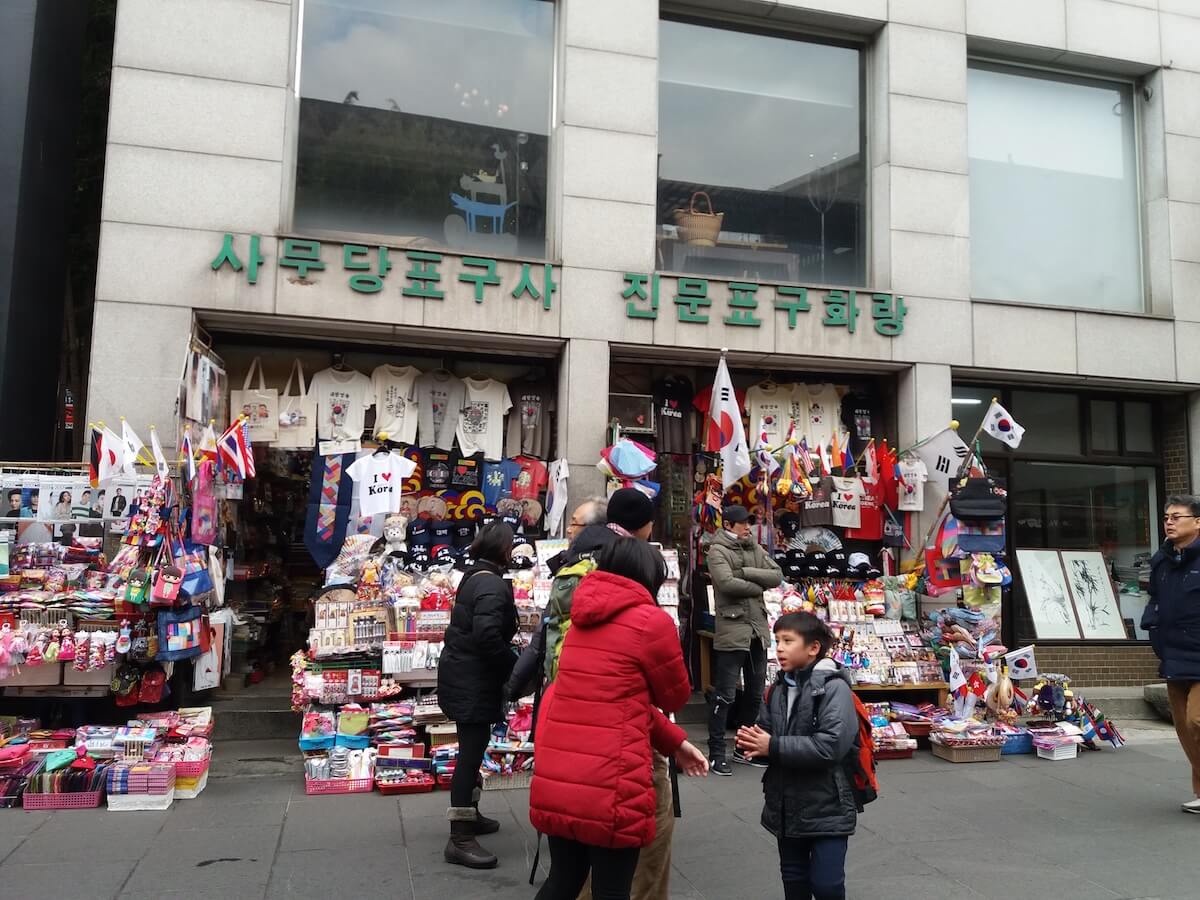 We reached Insa-dong and bought some Korean souvenirs such as bags, socks, and Korean street food items like Dragon's beard candy.
Bukchon Hanok Village

From Insa-dong, we took the shortcut going to Bukchon Hanok Village, a Korean traditional village that'll make you feel like you are still living in the Joseon Dynasty. BK brought us to this quaint cafe with a rooftop that overlooks the hanok village and its surroundings. 
Blue House (Cheong Wa Dae)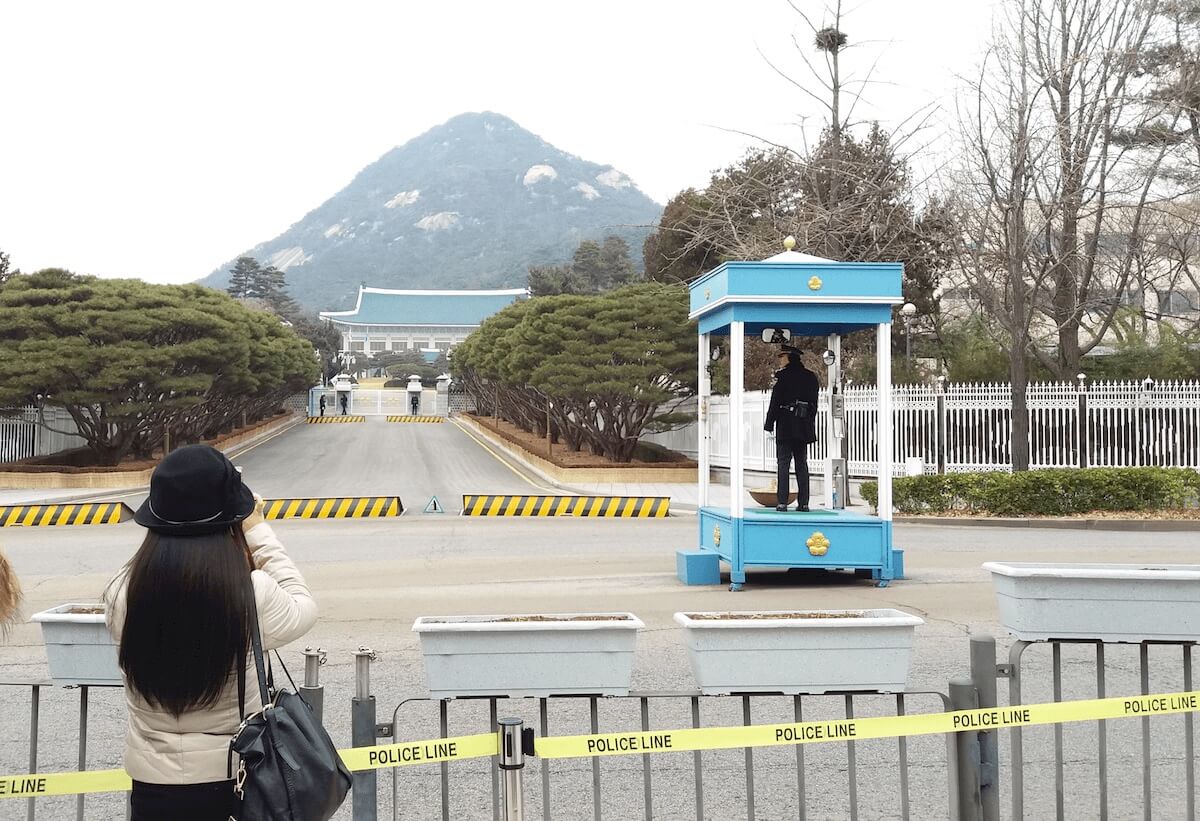 Cheong Wa Dae also known as the Blue House is the official residence of the South Korean president. We cannot go beyond the police line as there were security measures due to ongoing demonstrations at the time.
Gyeongbokgung Palace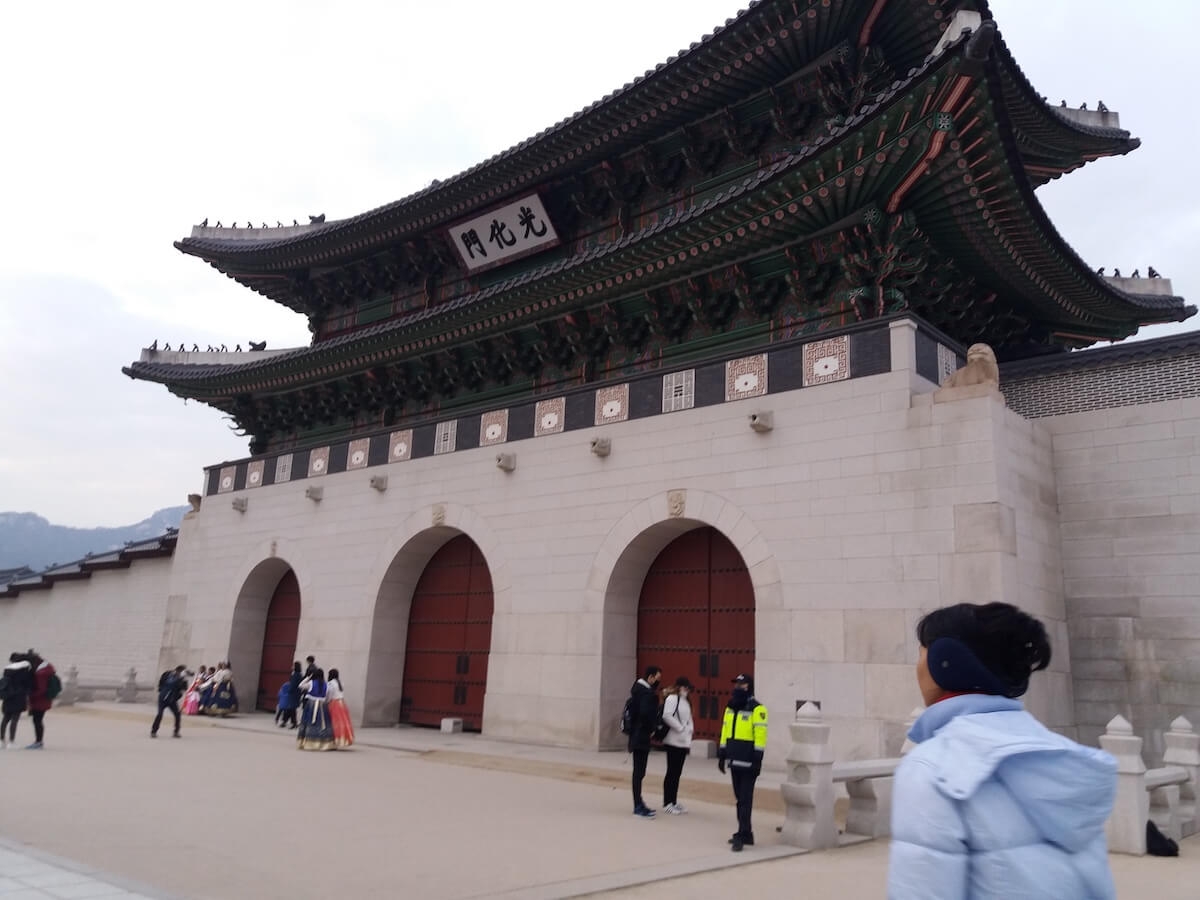 Built in 1395, Gyeongbokgung Palace was the royal palace of the Joseon Dynasty. Today, it is one of Seoul's top tourist attractions drawing many tourists from around the world. This is also a perfect spot to rent a hanbok and relive old Korea.
BK already left us here so we can explore on our own. We're very grateful for the company and for making us explore Seoul like a local.
Deoksugung Palace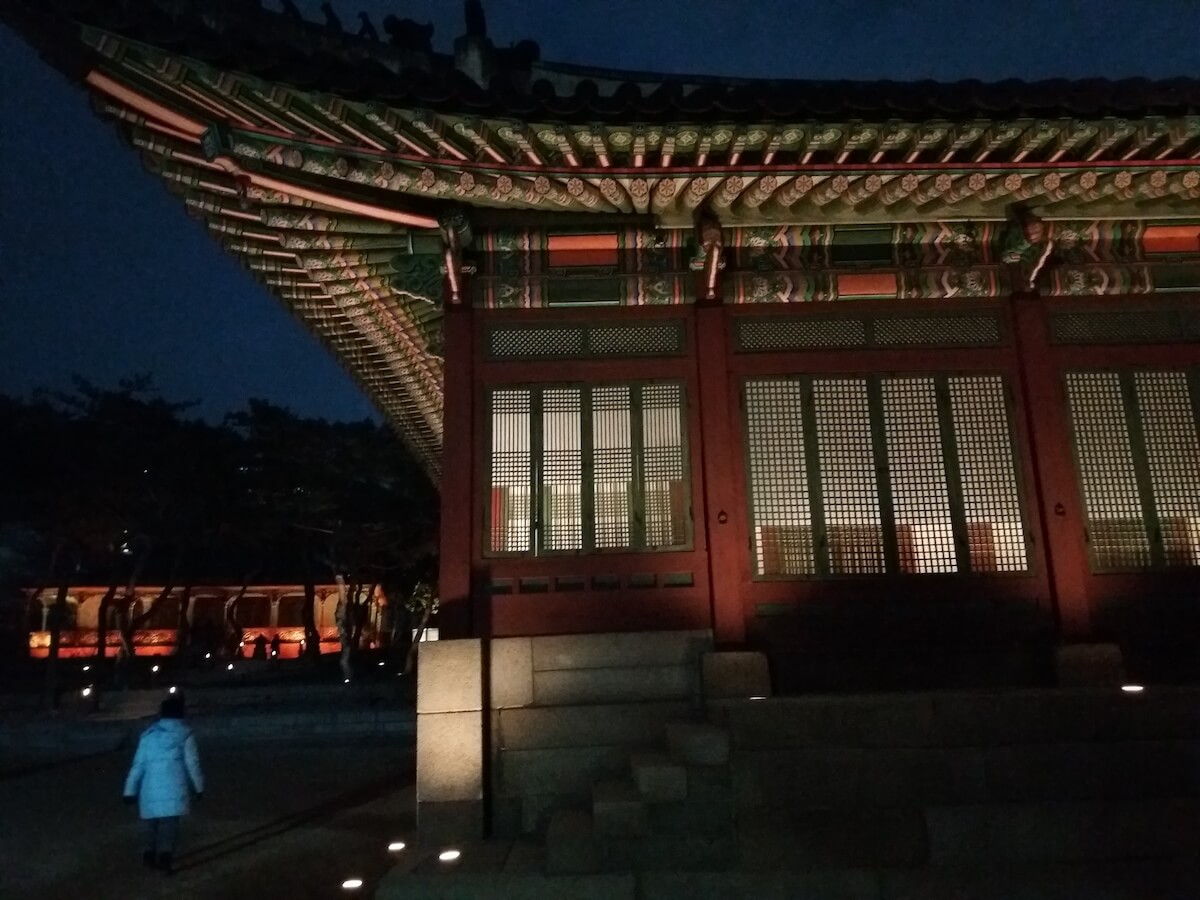 If the Blue House is the current residence of South Korea's leader, Deoksugung Palace was the residence of the members of the royal family during the Joseon Dynasty. We only managed to explore it at night but it's still magnificent.
Gangnam

Gangnam is one of Korea's richest districts dotted with luxury shops, restaurants, and nightlife spots. It was no longer part of our DIY walking tour but we got curious because of Psy's popular "Oppa Gangnam Style" song.  We were too exhausted to have fun in Gangnam so we called it a day after strolling around the area for a bit.
Day 5: Souvenir shopping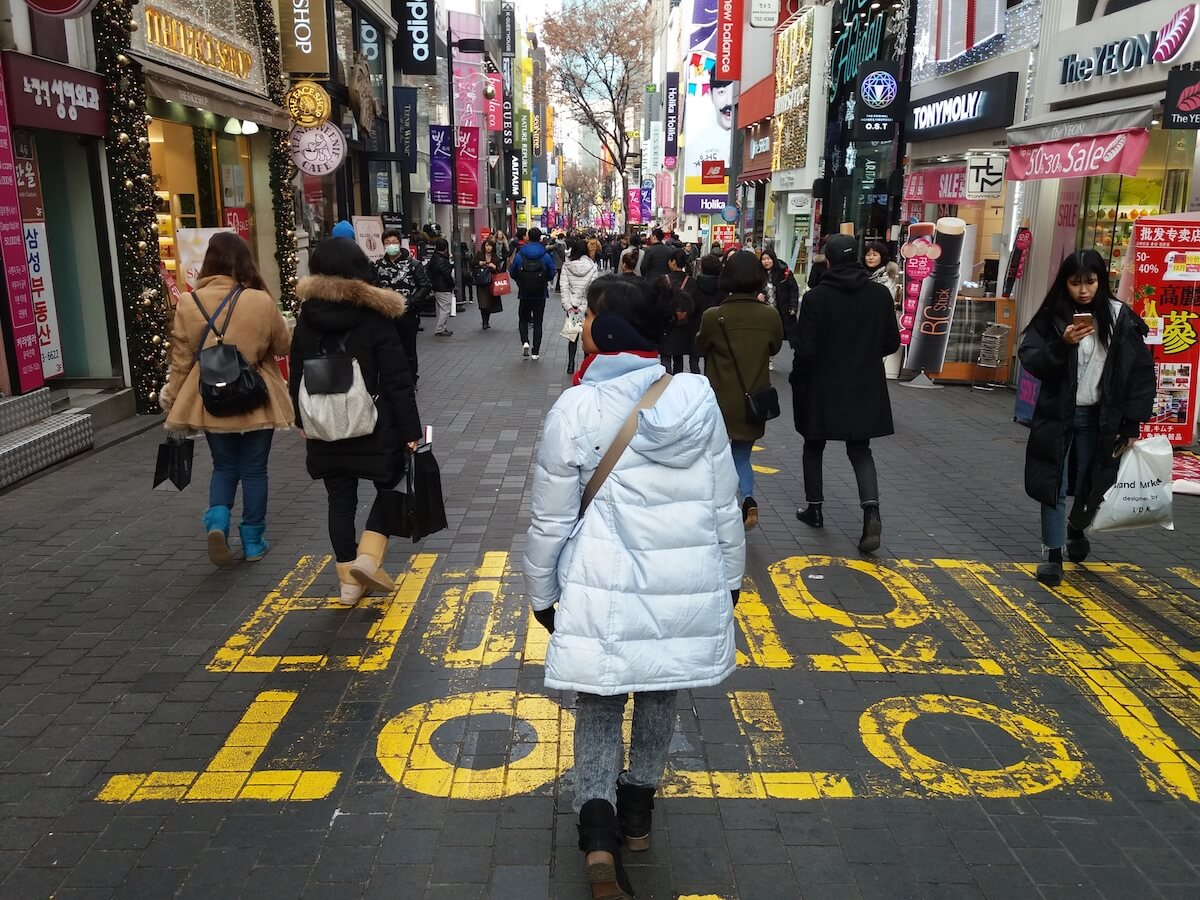 We allotted our last day to shop for Korean pasalubong (souvenirs) at Myeong-dong and Insa-dong. For skincare and beauty products, Myeong-dong is the best place. For trinkets and more items, we bought them at Insa-dong.
Due to time constraints, we were no longer able to explore Incheon City and other top Korea attractions like N Seoul Tower, COEX mall and Lotte World. We'll surely be back to explore these parts of Korea.
Korea trip cost breakdown (per person)
Transportation = ₩111,900 (₱4,800)
T-Money Card = ₩2,500
T-Money Card Load = ₩30,000
KTX to Seoul = ₩50,800
Train to Gapyeon = ₩5,800
Ferry to Nami = ₩8,000
Train back to Seoul = ₩6,800
Arex to Incheon Airport = ₩8,000
Locker (Busan Station & Seoul Station) = ₩2,500 (₱100)
Entrance fees = ₩4,000 (₱170)
Gyeongbokgung Palace = ₩3,000
Deoksugung Palace = ₩1,000
Food = ₩95,850 (₱4,000)
Shopping = ₩41,500 (₱1,800)
Accommodation = ₱5,617.5
Busan = ₱1,712.5 per person
Seoul = ₱3,905 per person
Flights = ₱6,751.30
Manila to Busan (Cebu Pacific) = ₱3,149.50
Seoul to Cebu (Cebu Pacific) = ₱3,601.8
Philippine travel tax = ₱1,620
Total cost = ₱24,859
In 5 days, we basically spent a total of about ₱25k each. That's relatively affordable considering it's already all-in. Feel free to tweak our Korea winter itinerary based on your interests and budget. We managed to save and squeeze in as many spots because of our local friends. We could not thank them enough for making our first trip to Korea a truly memorable one.
감사합니다 Amy and BK for your kindness, hospitality, and friendship. Till we meet again!
After winter, you may want to experience spring in Korea, too! You may refer to our 5-day Korea spring itinerary to help you plan your trip.