Inflatable Island Subic Guide 2023: Tickets, Amenities & Tips
Inflatable Island is one of the top family-friendly destinations in Subic Bay along with Zoobic Safari, Ocean Adventure, and Adventure Beach Waterpark. Spanning 4,500 sqm, it holds the record as Asia's largest floating playground! That fact alone will surely entice you to bring the whole family and barkada (friends) for a splashin' adventure!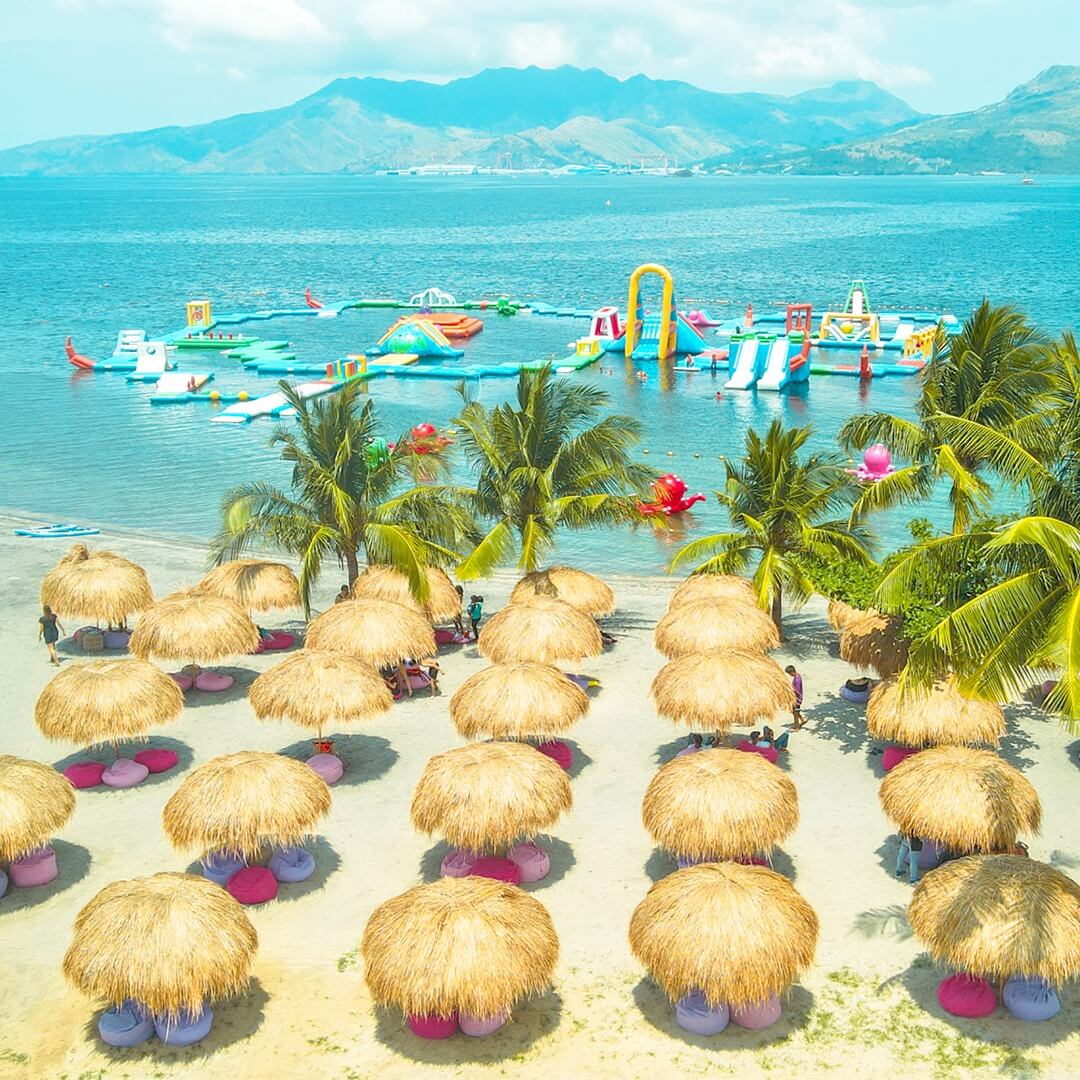 Aside from the floating playground, Inflatable Island is also famous for its colorful atmosphere with cool beach huts, bean bags, and aesthetic amenities. Every corner here is truly IG-worthy!
Officially opened in April 2017, this pastel paradise underwent a series of upgrades, especially after it temporarily closed during the COVID-19 pandemic. Now, it is back to give everyone a fun tropical experience like no other.
If you and your family are planning a trip here soon, here's everything you need to know — from where to buy tickets to friendly tips.
Inflatable Island admission
So, how much is the entrance fee in Inflatable Island? See price list below:
Inflatable Island entrance fees 2023 (online rates)
(₱999) ₱899 – Beach Club Pass (+₱500 worth of food & drinks)
(₱1,399) ₱1,299 – Spray Pass (Half-Day Inflatable Play + Beach Club Pass)
(₱1,499) ₱1,399 – Soaked Pass (All-Day Inflatable Play + Beach Club Pass)
Notes:
There's no age restriction, but there's a height requirement to access the floating playground.
Kids 3.4 feet and below are not allowed to use the floating playground, but they are free to explore the resort and the beach.
Tip: If you buy your Inflatable Island tickets online, you can get as much as ₱100 discount on admission tickets. For instance, instead of paying ₱1,499 for the Soaked Pass, you will only pay ₱1,399, which already includes all-day access to the floating playground and Beach Club with ₱500 worth of food and drinks. Imagine if you are paying for many people. That's already a lot of savings!
What's included in the Inflatable Island tickets?
Depending on the type of pass you choose, the tickets usually include the following:
Floating playground access (except for Beach Club Pass)
Beach Club Restaurant inclusive of ₱500 worth of food and drinks
Beach access
Pool access
Tiki Hut Lounge (first come, first served)
What's NOT included in the tickets?
The following are NOT included in your day pass ticket:
Food and drinks other than the ₱500 consumable
Accommodation
Other personal expenses
Inflatable Island operating hours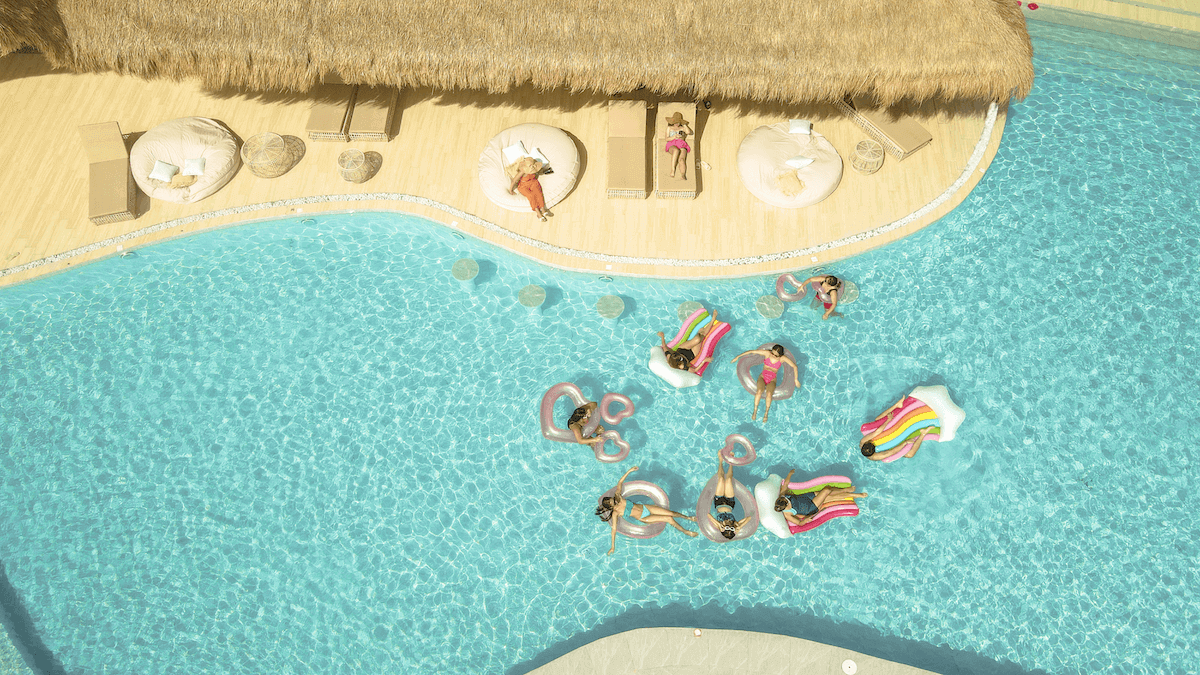 Inflatable Island is open daily, Monday to Sunday, 7.30am to 6pm. Visit their official FB page to see if there are schedule changes.
How to get there
Inflatable Island is located in Subic Bay along the R7W9+M57, Olongapo – Bugallon Road in Olongapo City, Zambales, Philippines. It is approximately 2.5 to 3 hours away from Metro Manila.
By bus
If you want to commute from Manila, you can take a bus that goes to Olongapo City. You may opt to ride the Victory Liner from Pasay, Cubao, or Caloocan terminals. Once you reach the Victory Liner bus terminal in Olongapo, find the Blue Jeep Terminal and ride the jeep that goes to Inflatable Island. You can inform the driver or conductor to drop you off at the Inflatable Island Beach Club.
*Bus fares may cost around ₱220 – ₱285 per person. Check the most updated bus fares and schedule on this Victory Liner Terminal Guide.
By car
If you prefer to drive your private car, you can go through NLEX-SCTEX and take the Subic Exit. Once you enter Subic Bay, turn right to Rizal Highway. Drive straight until you reach the second stoplight where you'll turn left on Burgos Street. Then, turn right to Canal Road and drive straight until Dewey Avenue. Then, exit to Kalaklan Gate going to Zambales.
Once you reach Zambales, turn left to Olongapo-Bunggalon Road and drive straight until you reach Inflatable Island Beach Club.
For easy navigation, pin Inflatable Island on Waze or Google Maps.
Inflatable Island Beach Club amenities and facilities
Here are the top amenities and facilities you can enjoy here:
1. Floating Playground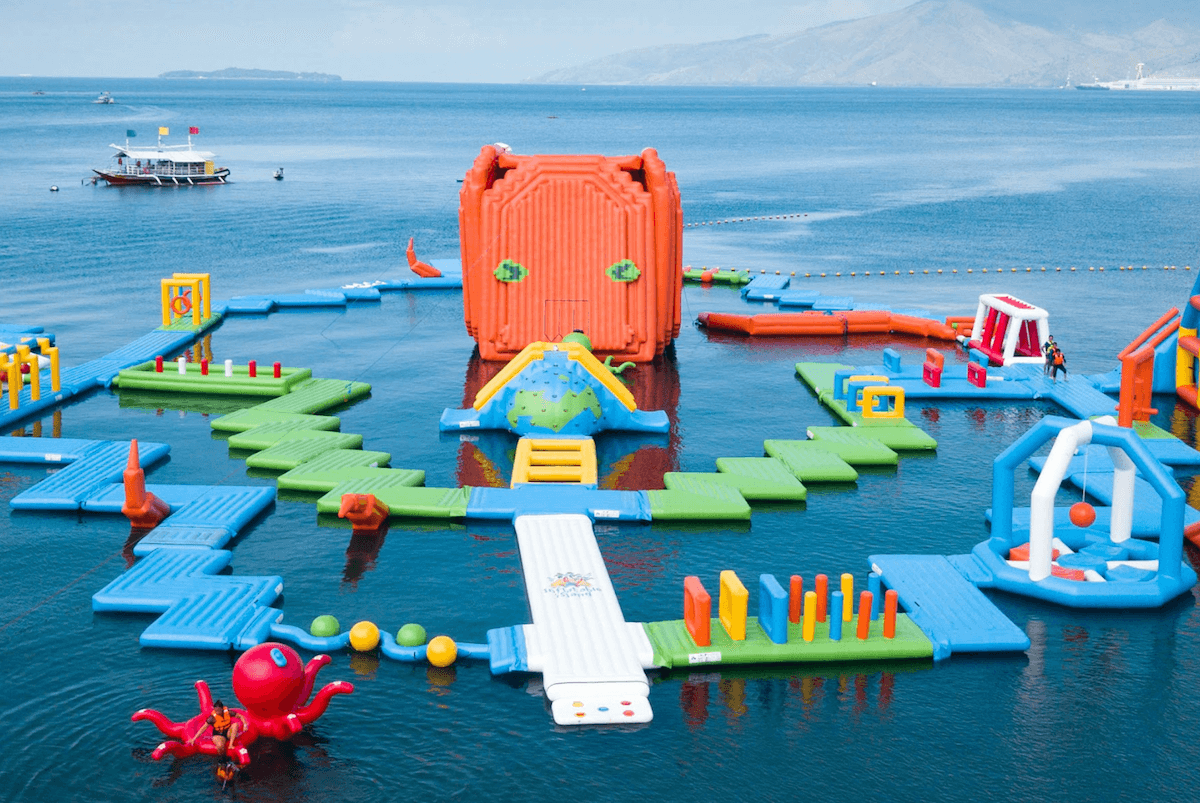 The highlight of your Inflatable Island experience is the floating playground, of course! Swim, slide, jump, or catapult from one float to the other. The theme here has since evolved, from Unicorn Island to OctoHedz Invasion.
Whatever the theme is, you'll surely have a whale of a time in the largest floating playground in Asia!
Entrance Fee: Access to the floating playground is already included in the Soak Pass and Spray Pass.
2. Beach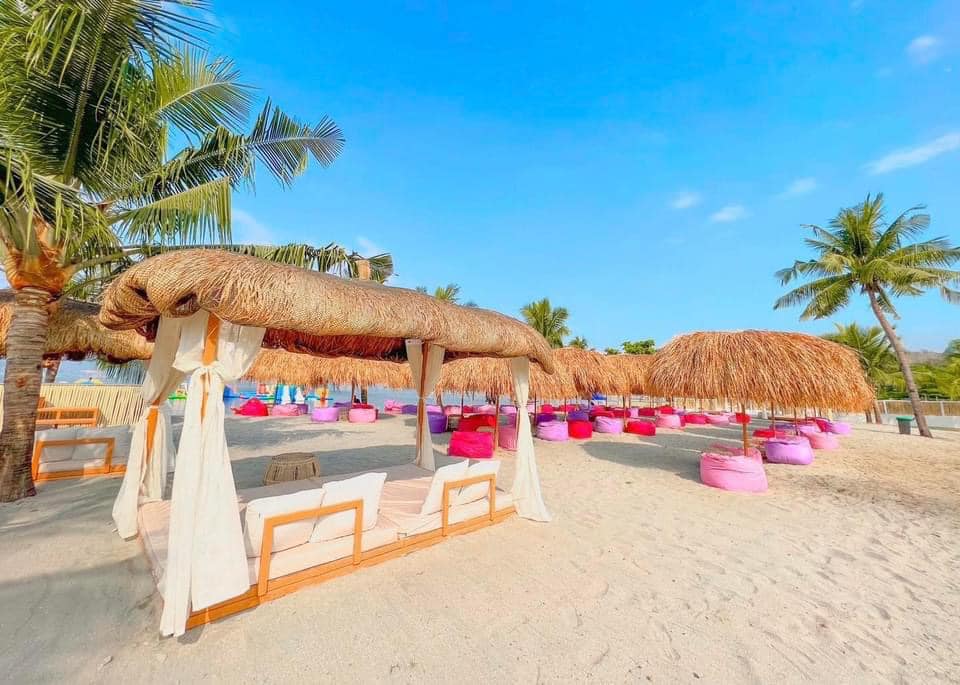 If you simply want to sunbathe or chill by the beach, you can also do so here. Tiki hut umbrellas and bean bags are at your disposal. Life's a beach!
Entrance Fee: Access to the beach is included in all types of passes. You may also rent a beach hut with a California king bed good for 8 pax for ₱2,500 (weekdays) and ₱3,500 (weekends & holidays) inclusive of ₱500 consumable food and drinks.
3. Swimming Pool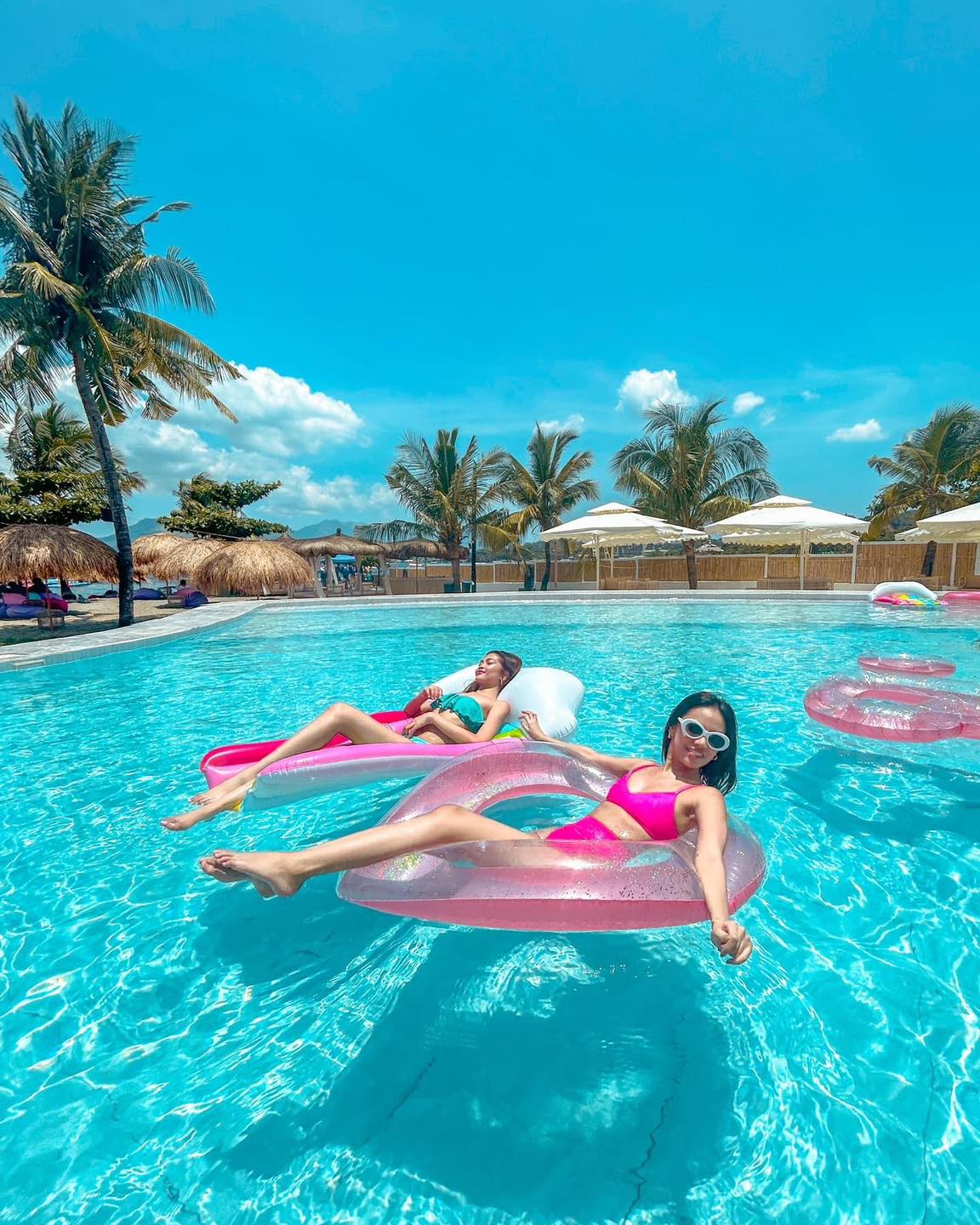 Float your worries away in this relaxing swimming pool. If you want some privacy, you can even rent a private pool for you and your gang.
Entrance Fee: Access to the swimming pool is already included in your Inflatable Island ticket. A private pool with a California king bed good for 8 pax costs ₱3,500 (weekdays) and ₱4,500 (weekends & holidays) with ₱500 worth of food and drinks.
4. Beach Club Restaurant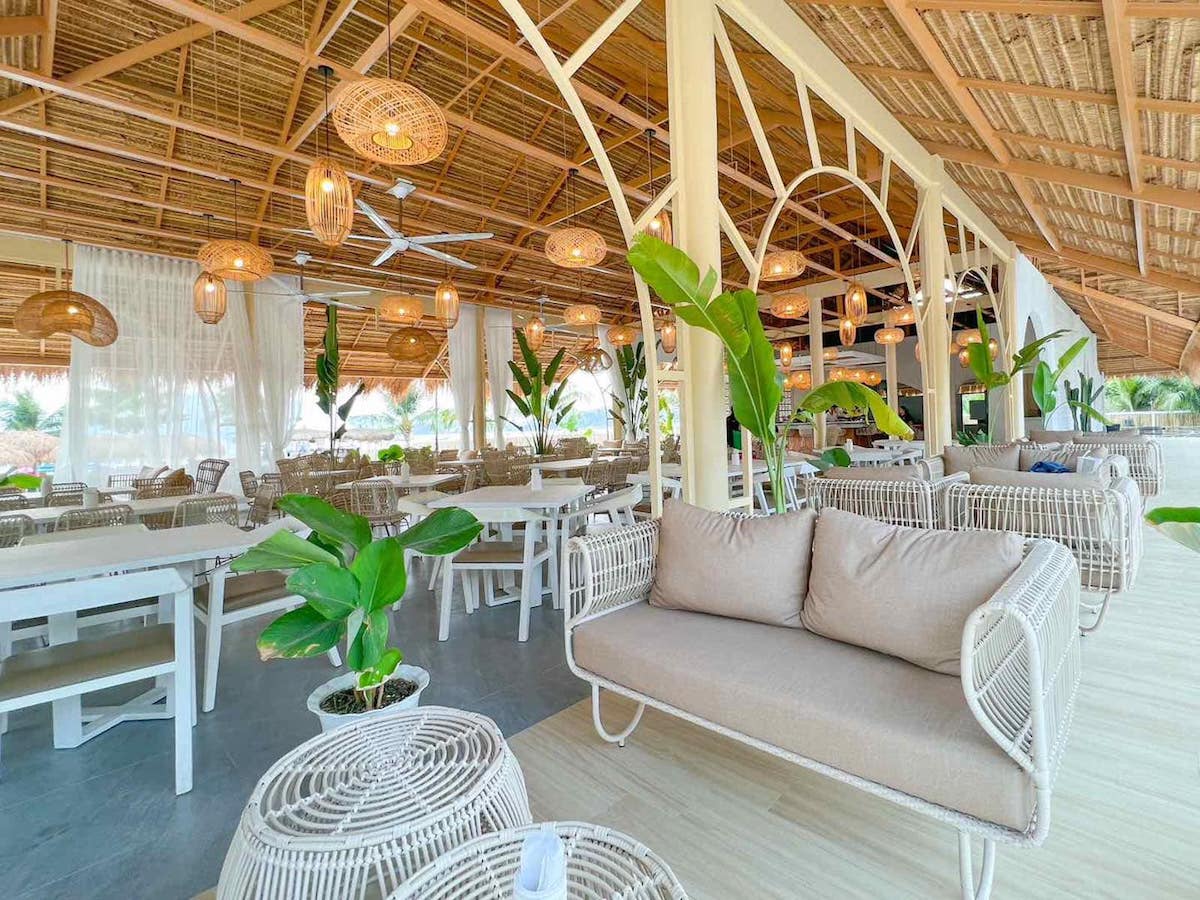 Grab a bite or have some refreshments at the Beach Club Restaurant. Take your pick from their menu, which includes Bilao Boodle, Island Grills, Chefs Specials, Club Classics, and more. Beat the heat with some fruit shake or Carmen's Best ice cream.
Entrance Fee: Access to the Beach Club Restaurant is already included in your day pass. You can use your ₱500 F&B voucher or order more food and drinks here.
Friendly reminders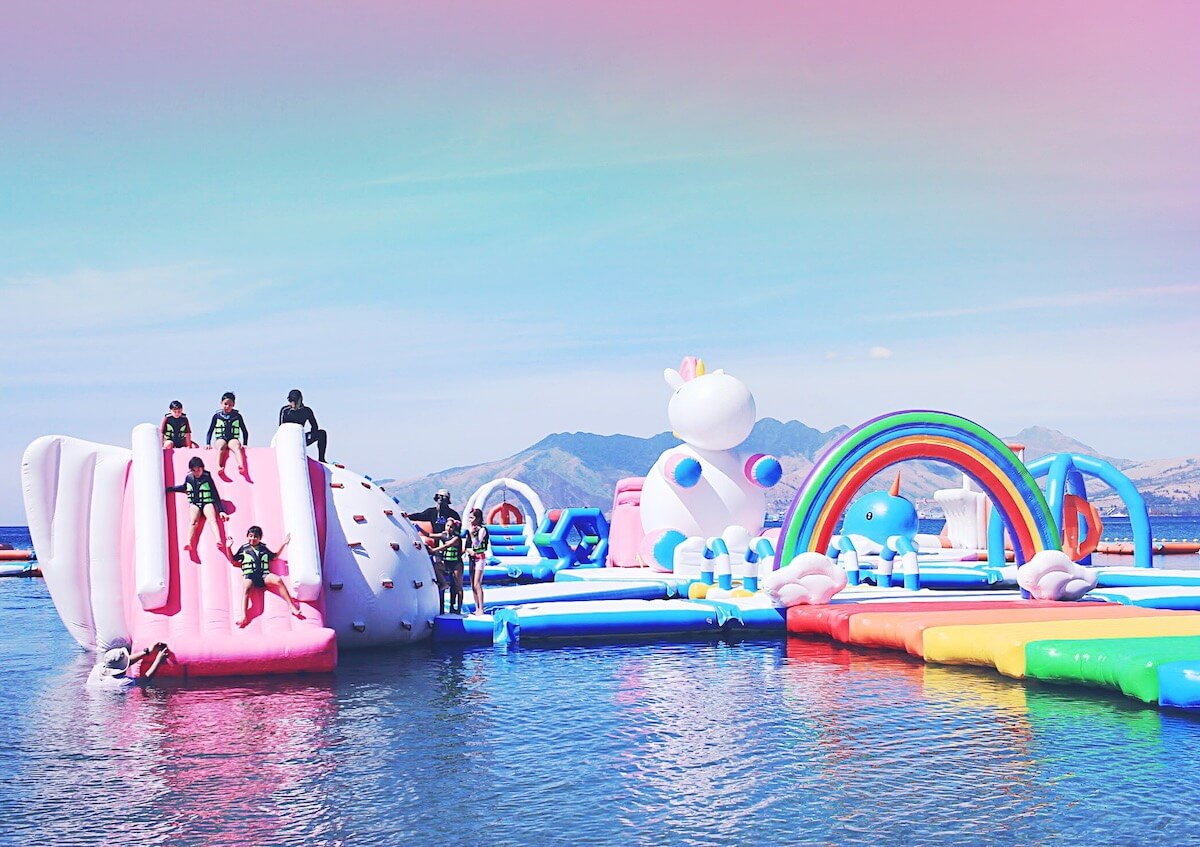 Since it is a beach destination, you should wear proper swimming attire such as swimsuits, rash guards, board shorts, or swim leggings, especially on the floating playground. Outfits with sharp objects such as earrings, necklaces, and other accessories are prohibited on the playground. You may, however, wear anything you want on the shore.
You cannot bring outside food and drinks. You can only buy from the Beach Club Restaurant.
Smoking is prohibited but you may do so in the parking lot.
Children below 3.5 feet, pregnant women, and those under the influence of alcohol are not allowed to use the floating playground for safety concerns.
Follow the health and safety protocols and read the guidelines before your trip.
That's everything you need to know about Inflatable Island Subic. Have fun under the sun!
Looking for more family-friendly places in the Philippines? Take your clan to these theme parks in the Philippines including Enchanted Kingdom, Sky Ranch Tagaytay, Manila Ocean Park, Cebu Ocean Park, and Anjo World.