Cebu Safari and Adventure Park Guide: Our Experience, Tickets & Tips
This summer, we visited the Cebu Safari and Adventure Park in Carmen to meet and greet some wildlife animals and take in nature's beauty. This family-friendly tourist spot in Cebu was our much-needed break from the daily grind.
Fuelled by business tycoon Michel J. Lhuillier's passion for farming, together with business partner Eduard J. Loop, Cebu Safari and Adventure Park came to life. Spanning 170 hectares, it is by far the Philippines' biggest safari and zoological park, even bigger than Zoobic Safari in Subic. Cebu Safari officially opened in 2018. However, due to the pandemic, it temporarily closed and finally reopened in September 2020 with health and safety protocols in place.
This open-air zoo in Cebu is home to over a hundred species of plants and animals. During our trip, we saw various wildlife creatures including white lions, tigers, cheetahs, zebras, giraffes, orangutans, and crocodiles, among many others. Aside from the Wildlife Park, Cebu Safari also has an Adventure Park where you can go ziplining, ATV riding, sky biking, and more adventures. We'd definitely love to experience them on our next visit.
Read on to find out more about Cebu Safari and Adventure Park. We made this guide to help you plan your own adventure soon. Have fun!
Cebu Safari admission
Cebu Safari entrance fees 2023
Weekdays: ₱900 (adult);  ₱450 (child)
Weekends & Holidays: ₱1,100 (adult); ₱550 (child)
Note: Children below 2 feet are free of charge while children above 3 feet will pay the adult rate.
Tip: Skip the line and book your Cebu Safari tickets on Klook ahead of time. This is an open-date booking, meaning you can use the voucher until 31 Dec 2023.
What is included in the Cebu Safari regular ticket?
Admission to the park
Bird Show
All animal exhibits including the White Lion Safari
African Savanna tour
Michel's Garden
Gardens of the World
Tram rides in the park
Macaw Bird Feeding (if you book on Klook)
What is NOT included in the Cebu Safari regular ticket?
Transport to and from Cebu Safari and Adventure Park
Meals and drinks
Adventure Park rides (ATV Ride, Zip Line, Sky Bike, Giant Swing, and Cave Exploration) as they have a separate package and fees for that
Cebu Safari operating hours
The Cebu Safari and Adventure Park is open from Monday to Sunday, 8am to 5pm including holidays. The last admission is at 1.30pm.
How to get there
Cebu Safari and Adventure Park is located in Barangay Corte in Toril, Carmen, Cebu. It is approximately two hours away from Cebu City. Refer to this Cebu Safari Google map for directions.
To reach Cebu Safari, you can either drive a car or take public transportation.
If you opt to drive a car from Cebu City, you can drive up north until you reach Carmen National High School located along the National Highway in Carmen. You should see a big sign along the highway leading you to the corner going to Cebu Safari. Turn left, follow the signs, and you should reach Cebu Safari after 8km or about 15-20 minutes from the main road.
If you plan to commute, go to Cebu North Bus Terminal and take a bus that goes to Carmen. Tell the bus conductor that you'll alight at Carmen Plaza. Then, you can ride a van for ₱100 per pax which will take you to Cebu Safari and Adventure Park.
Tip: If you want more convenience, you can rent a Klook private transfer that will take you directly to Cebu Safari from your place in Cebu City or Mactan. It is already a round trip service with a driver so you don't need to worry about your transport.
Cebu Safari map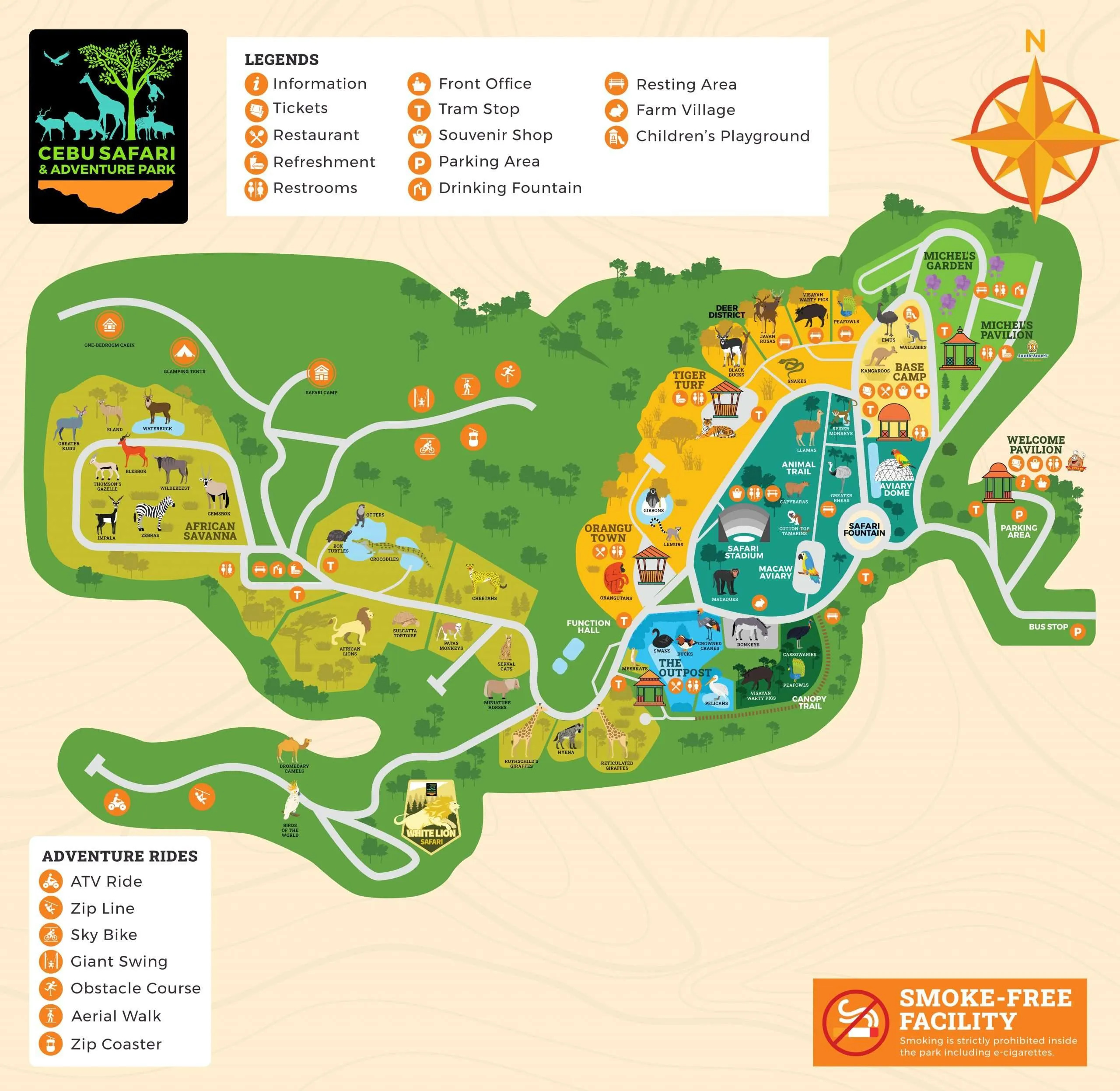 Before anything else, save the Cebu Safari map to familiarize yourself with the Cebu Safari and Adventure Park. This will help you strategize on how you should go about your excursion, which takes approximately three hours to complete.
Cebu Safari attractions and our actual experience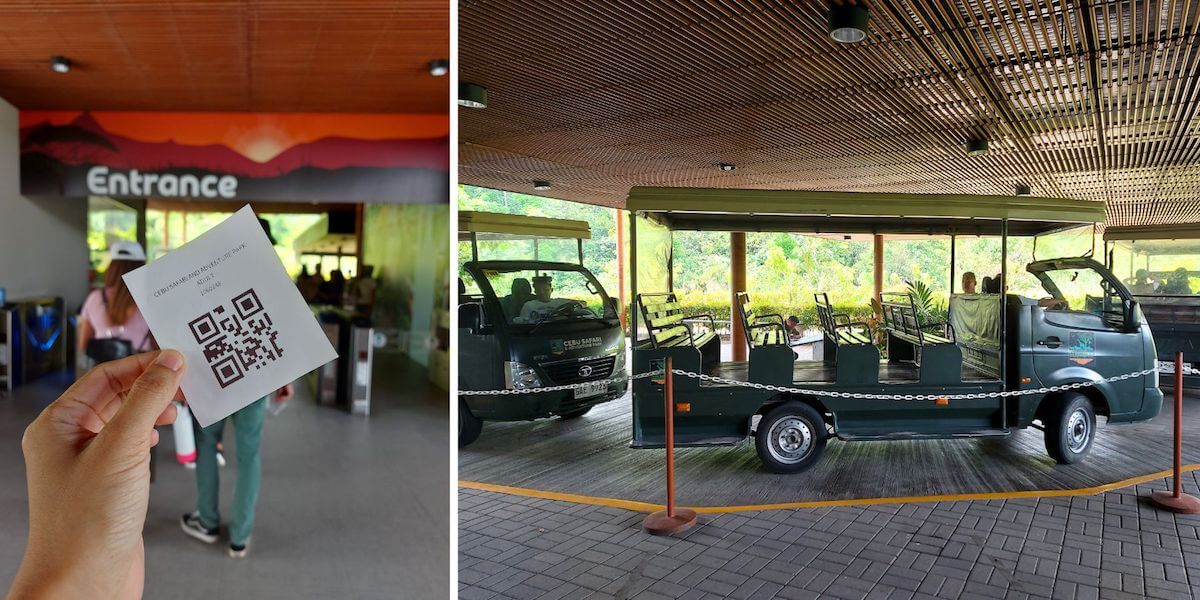 Allow us to walk you through our Cebu Safari journey. Let's go!
Aviary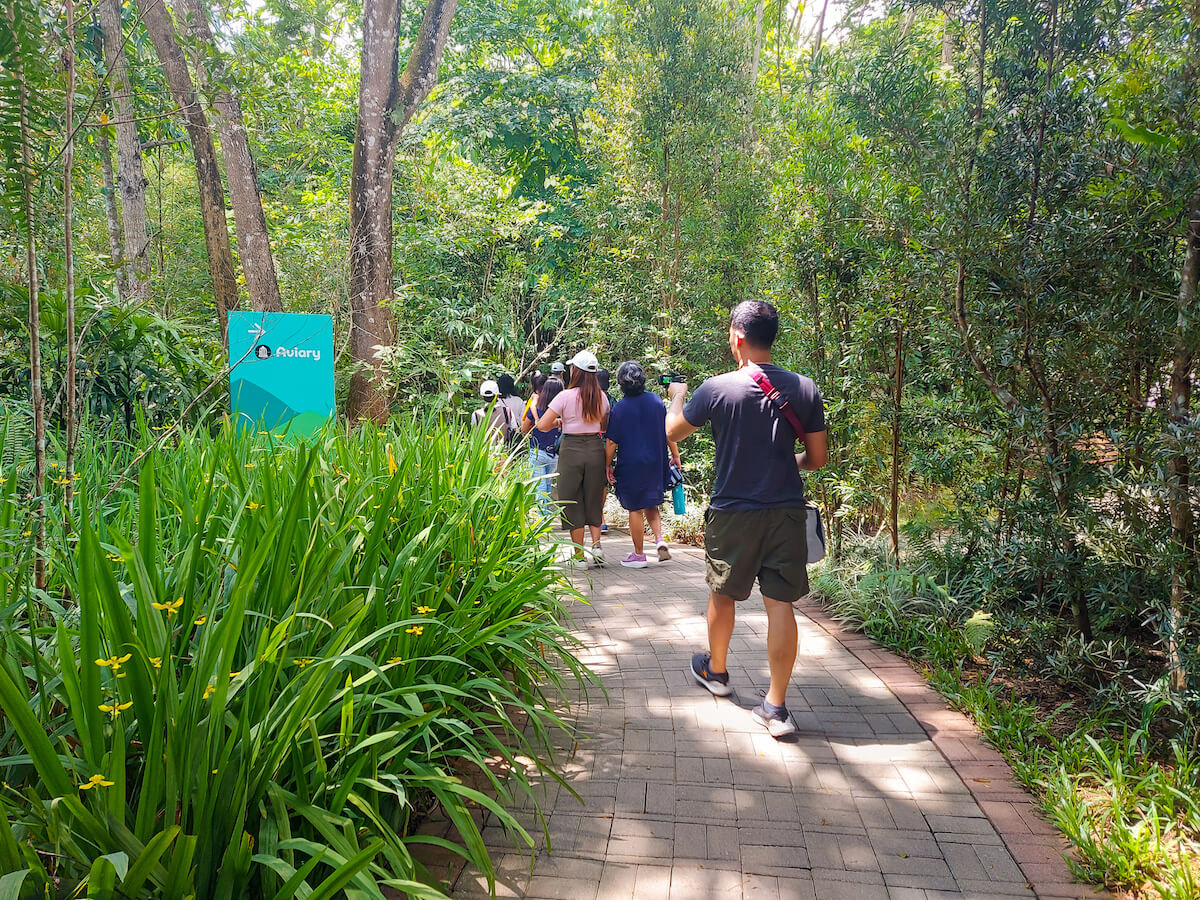 The first stop of our tram ride was the Aviary. Here, we found different species of birds including black-capped lory, chattering lory, rainbow lorikeet, Victoria crowned pigeon, brown cuckoo-dove, coleto mynah, and eclectus parrot.
White Lion Safari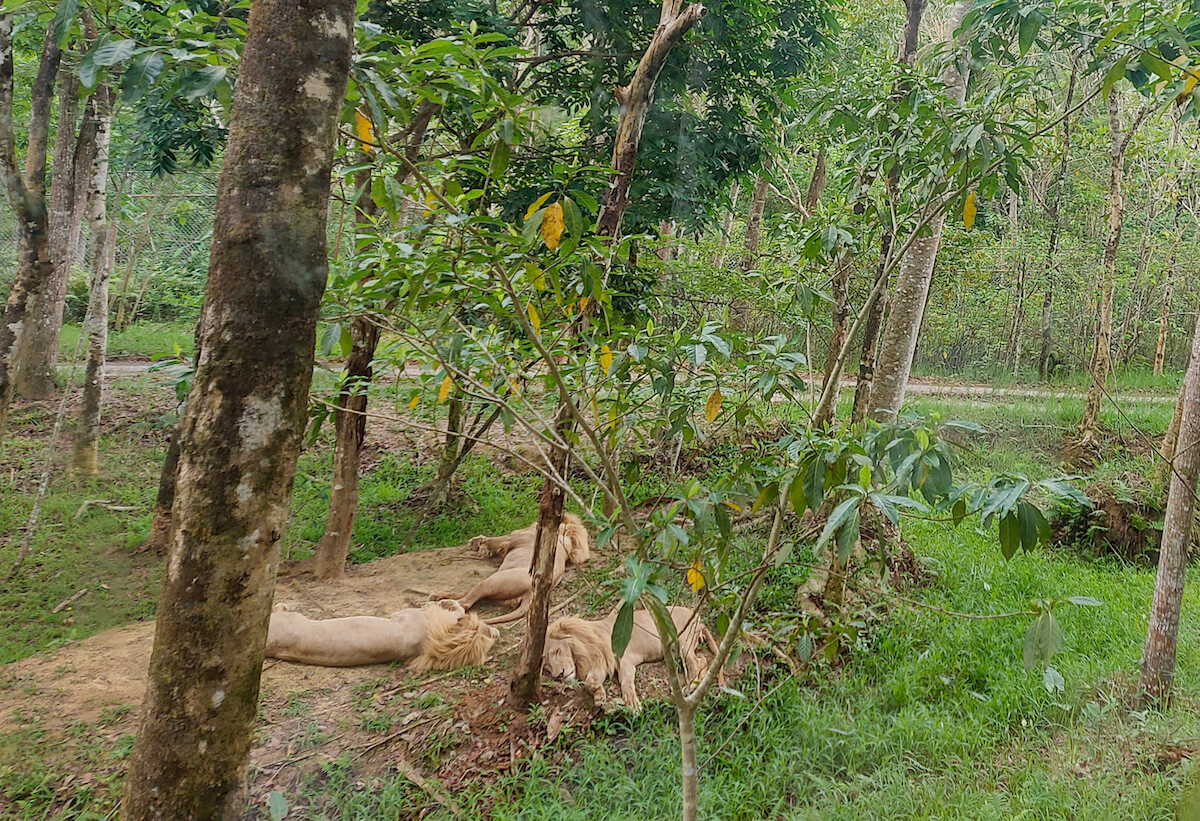 Next stop was the White Lion Safari. We had to come here immediately as it is only open until 12pm. You might be wondering why these white lions aren't white at all, and why they are sleeping in broad daylight. According to our safari guide, the white lion's skin adapts to the environment, hence the light brown color. They are also generally active at night and sleep in the morning most of the time. Now we know!
Dromedary Camels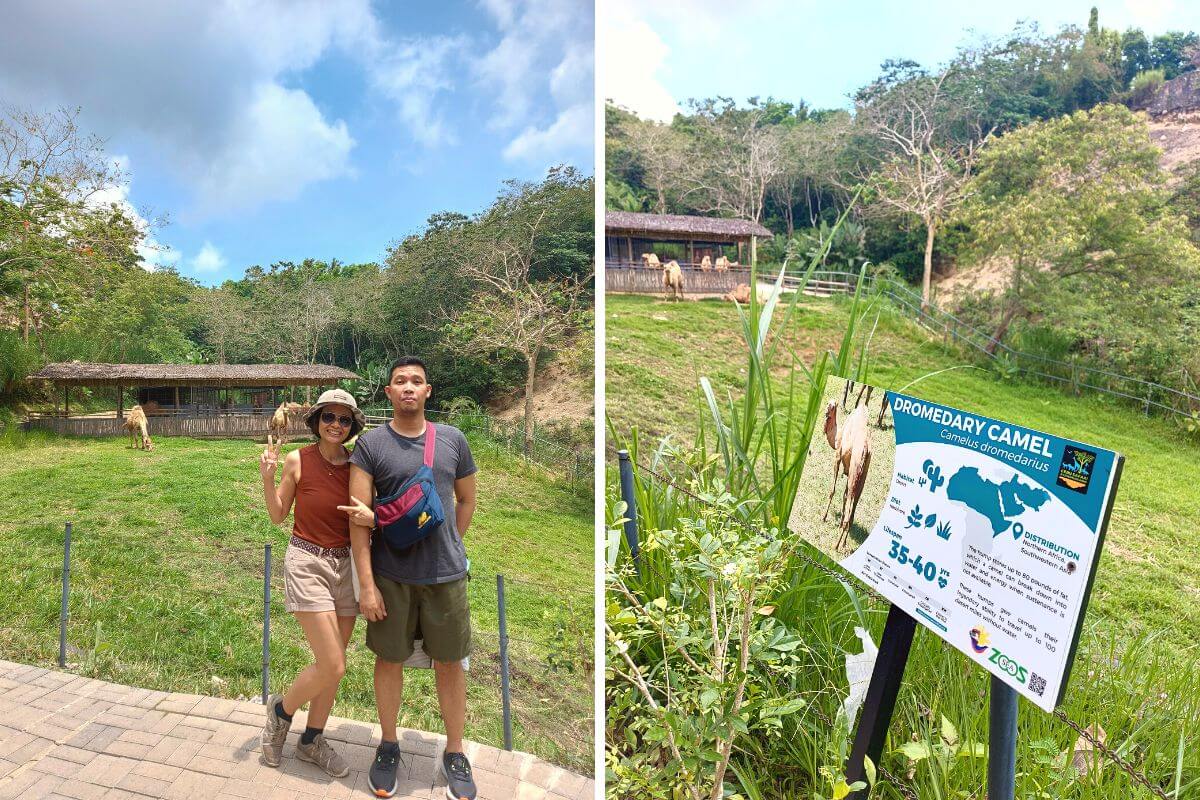 Also known as Arabian camels, these dromedary camels only have one hump as their distinct feature. They are mostly found in Northern Africa, Southwestern Asia, and the Middle East, particularly in the Sahara Dessert.
Birds of the World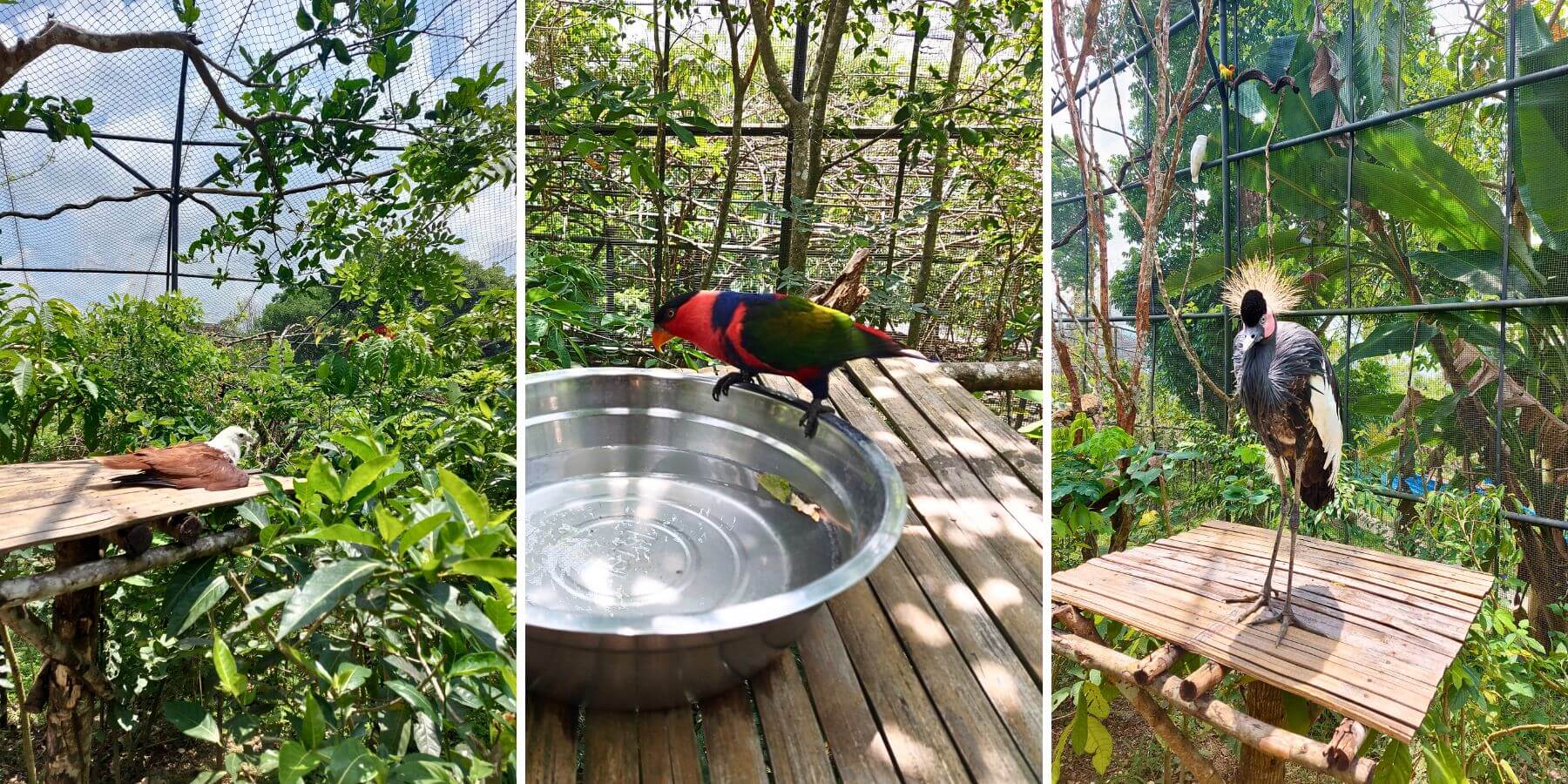 We thought we already saw enough birds at the Aviary, but there's more at the Birds of the World. We were wowed by the different bird species here including our very own Philippine hawk eagle, brahminy kite, scarlet ibis, Goffin's cockatoo, and demoiselle crane, to name a few.
African Savanna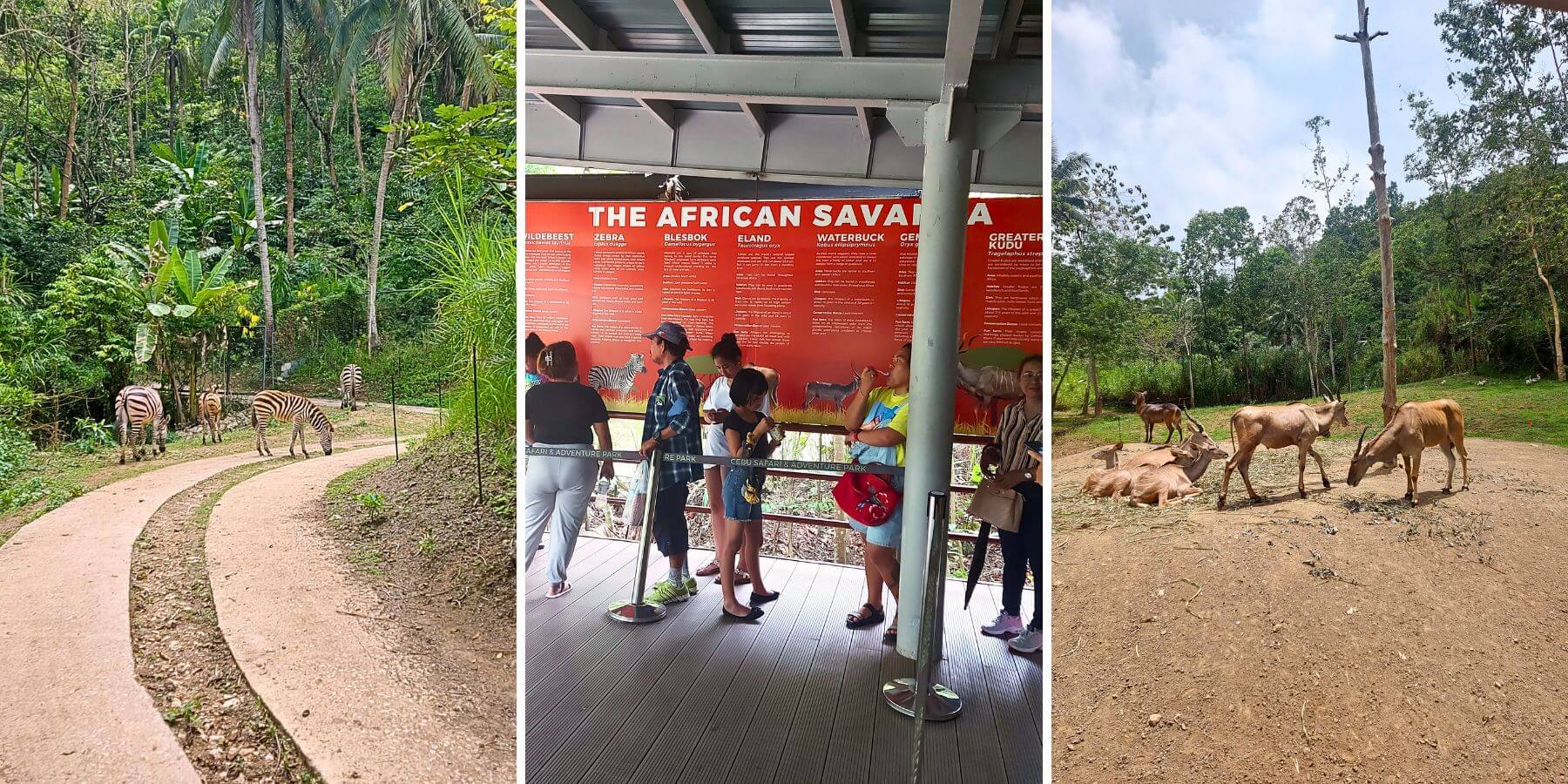 One of the highlights of Cebu Safari is the African Savanna. It features a few of the African wildlife including zebras, elands, wildebeest, Thomson's gazelles, waterbucks, gemsboks, blesboks, and impalas. Be sure to confirm with the guides on the final schedule. When we went there, it opened at 12pm because it was a weekday. We had to fall in line and wait for our turn to hop on the guided tram that'll take us inside the African Savanna.
Crocodiles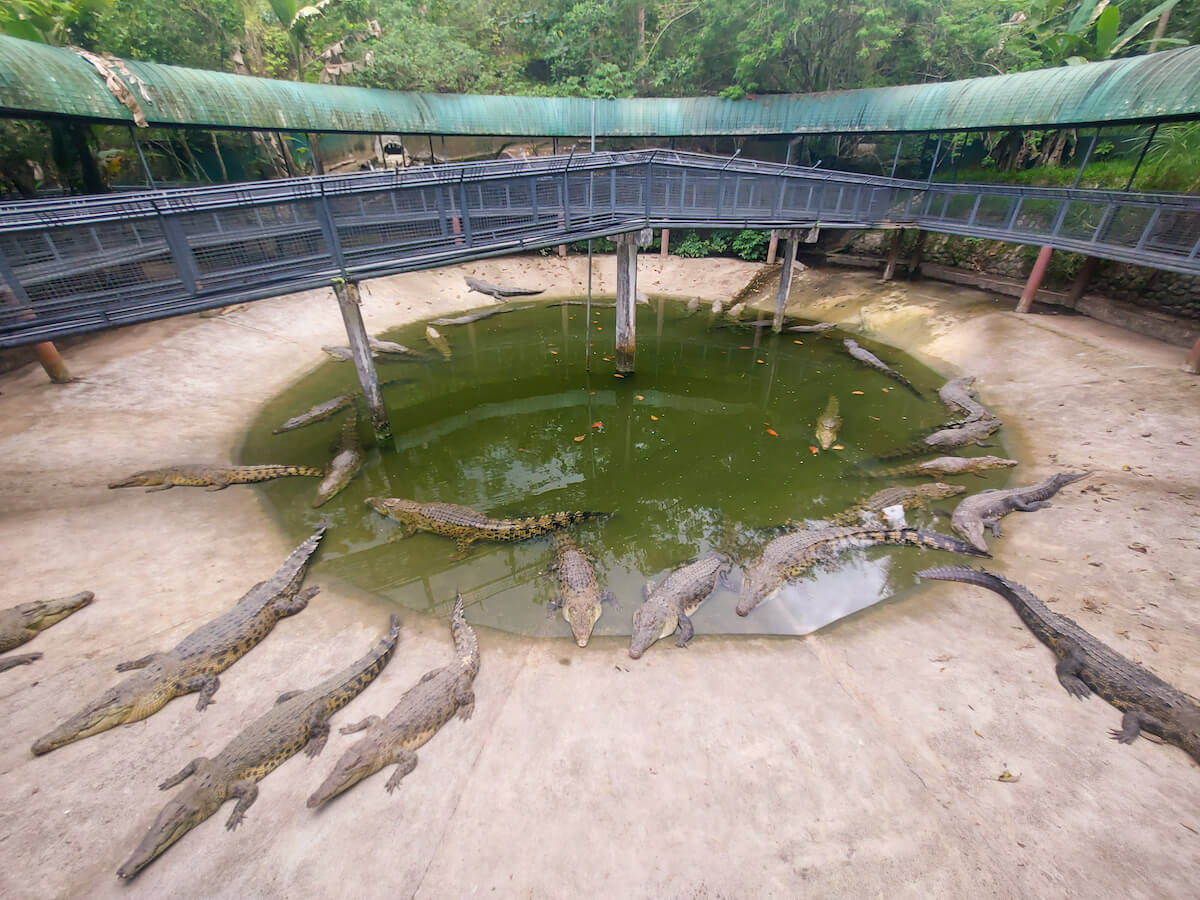 Say hi to these seemingly catatonic saltwater crocodiles. Don't be fooled by their silence though; they can be ferocious at times. We saw the action firsthand!
Giraffes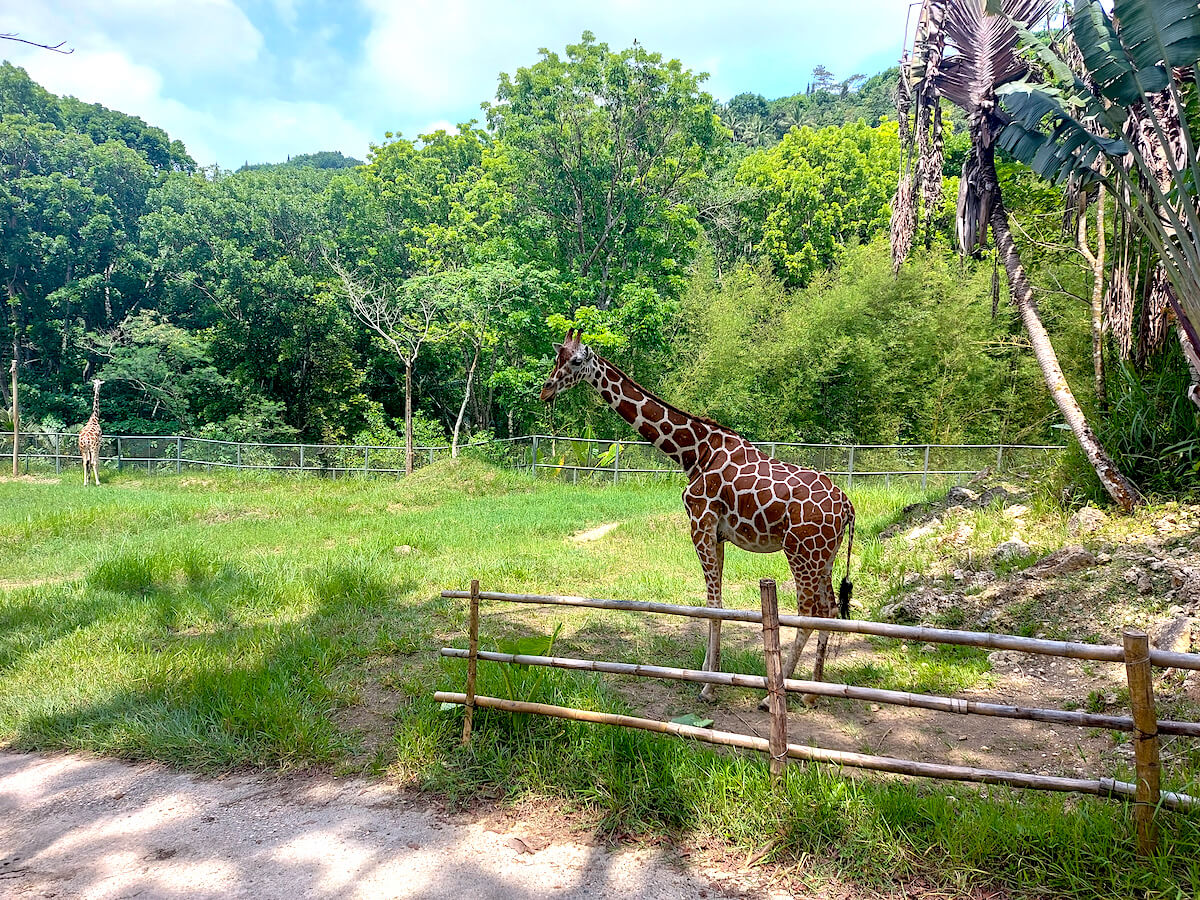 What's a safari without giraffes? With such long necks, they are considered the tallest land mammal in the world. Don't forget to snap a photo with them. They are probably the most photogenic here.
Orangu Town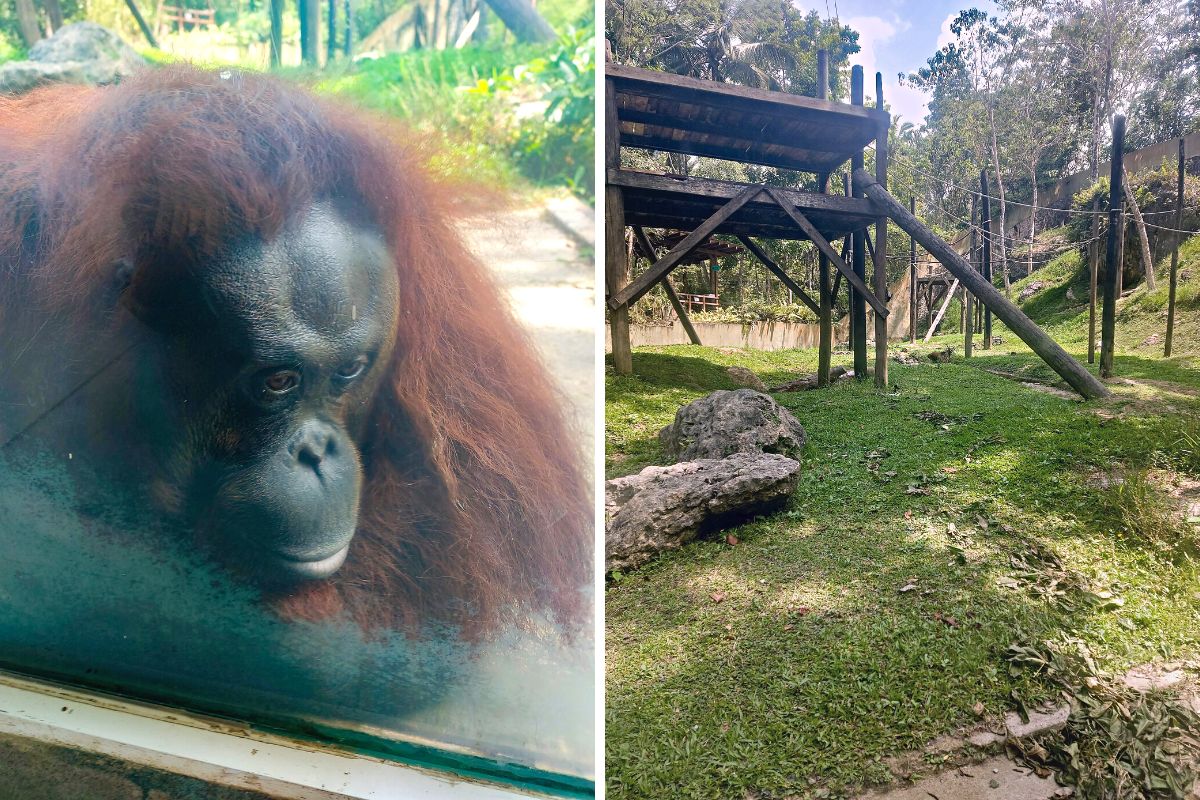 Awww… So adorbs and acts very much like a human. What could be in this orangutan's mind?
Bird Show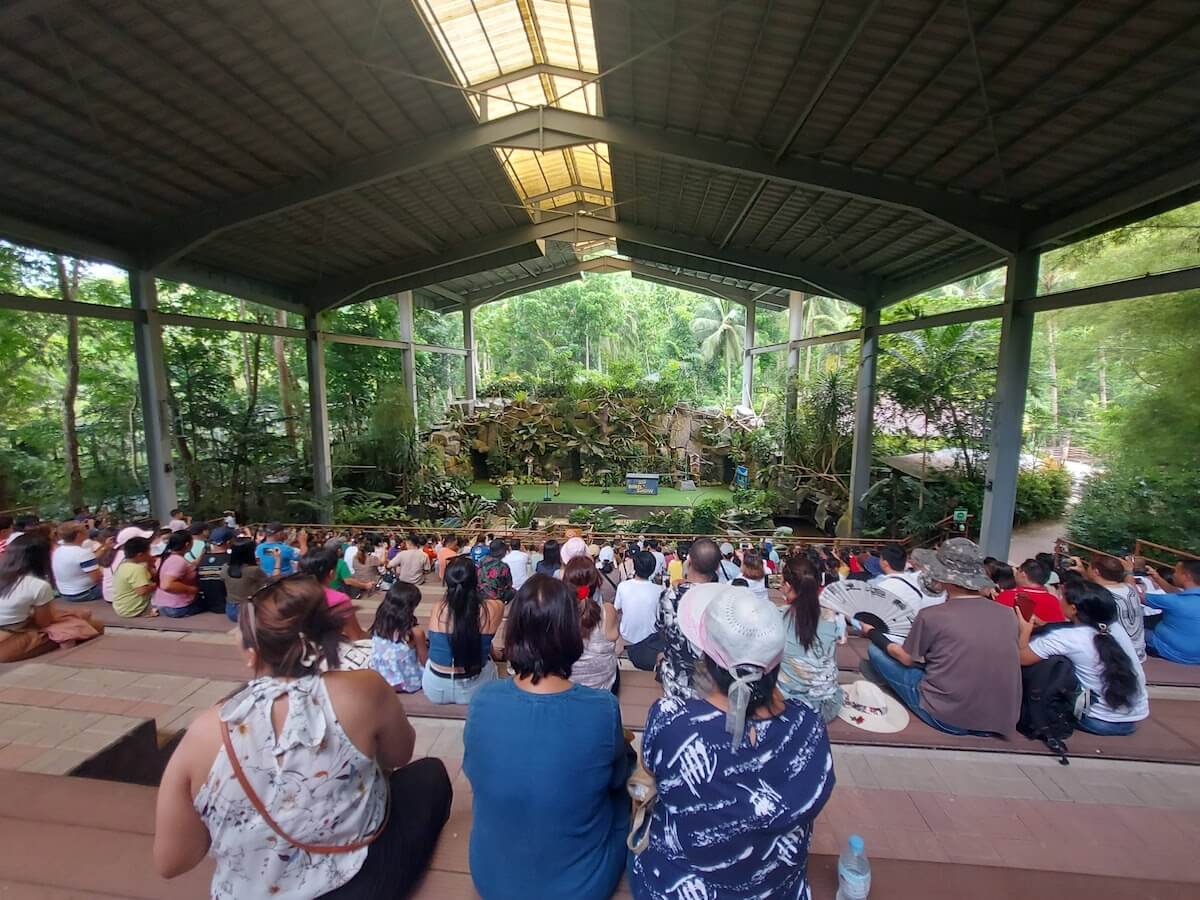 After we had our lunch at Pizzeria Michelangelo Ristorante Italiano, we proceeded to watch the Bird Show at 1.45pm. The cute, intelligent macaws and lories did a few stage tricks and birds such as the Philippine sea eagle and Philippine hawk showed off their flying skills. It's truly an interactive show you shouldn't miss while you're here.
More animals — meerkats, kangaroos, tigers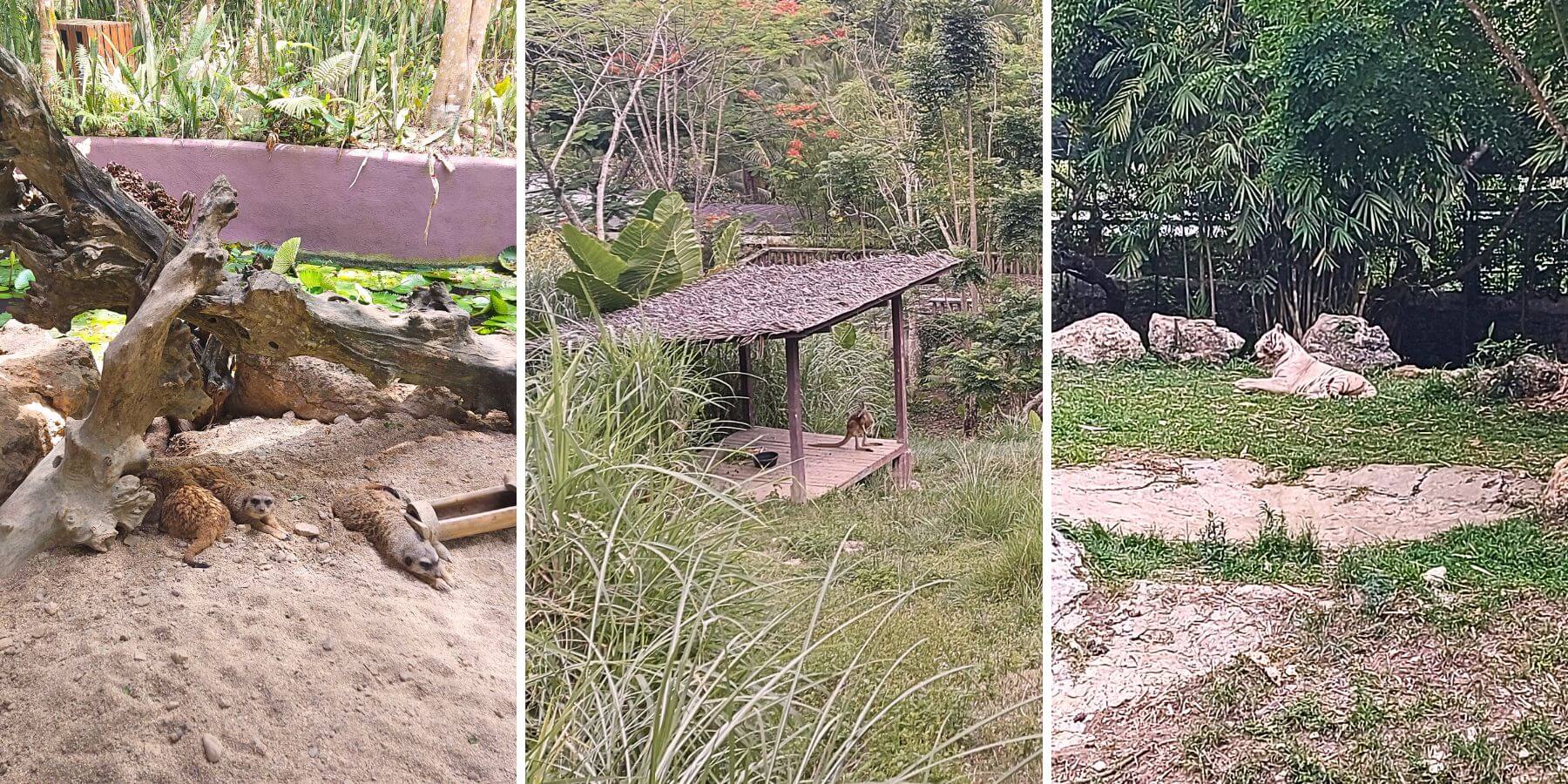 We found meerkats hidden beside The Outpost. Visitors can easily overlook them because they are usually taking a nap under the large driftwood. The roos were also elusive. When we went there, two of them showed up, then left after a few minutes. The white tiger's regal beauty is worthy of admiration, too. The pictures do not give justice to how majestic these creatures are, so you should see them for yourself.
Gardens of the World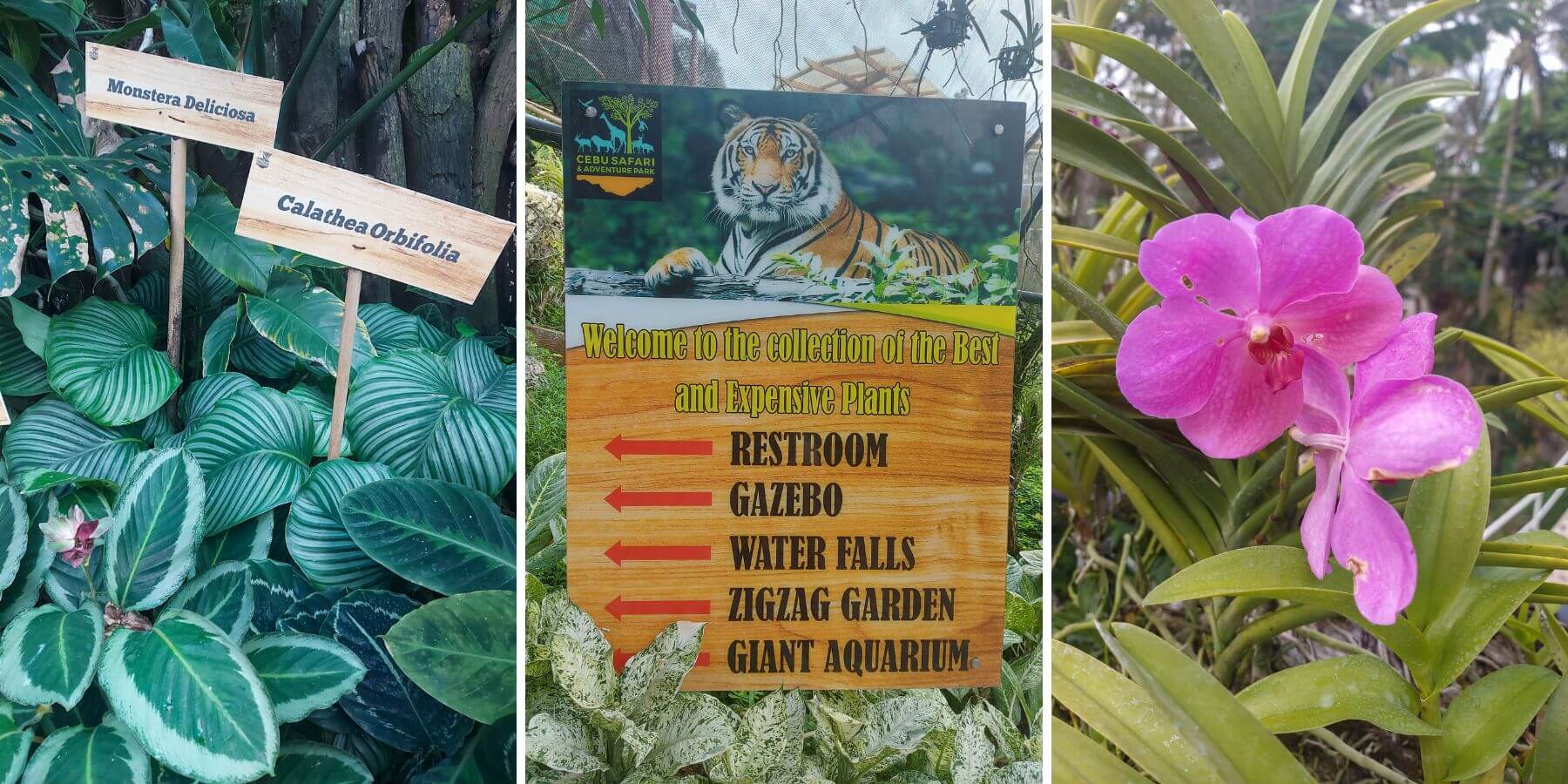 Our last stop before the rain poured was the Gardens of the World. We were astounded by the beautiful, rare, and expensive species of plants we found here. And, according to the caretaker, the most expensive plant in the lot is the variegated Philodendron billietiae, which was bought from Thailand and costs ₱1.5 million. Can you believe it? We'll leave it to you to find this rare gem!
Frequently Asked Questions (FAQs)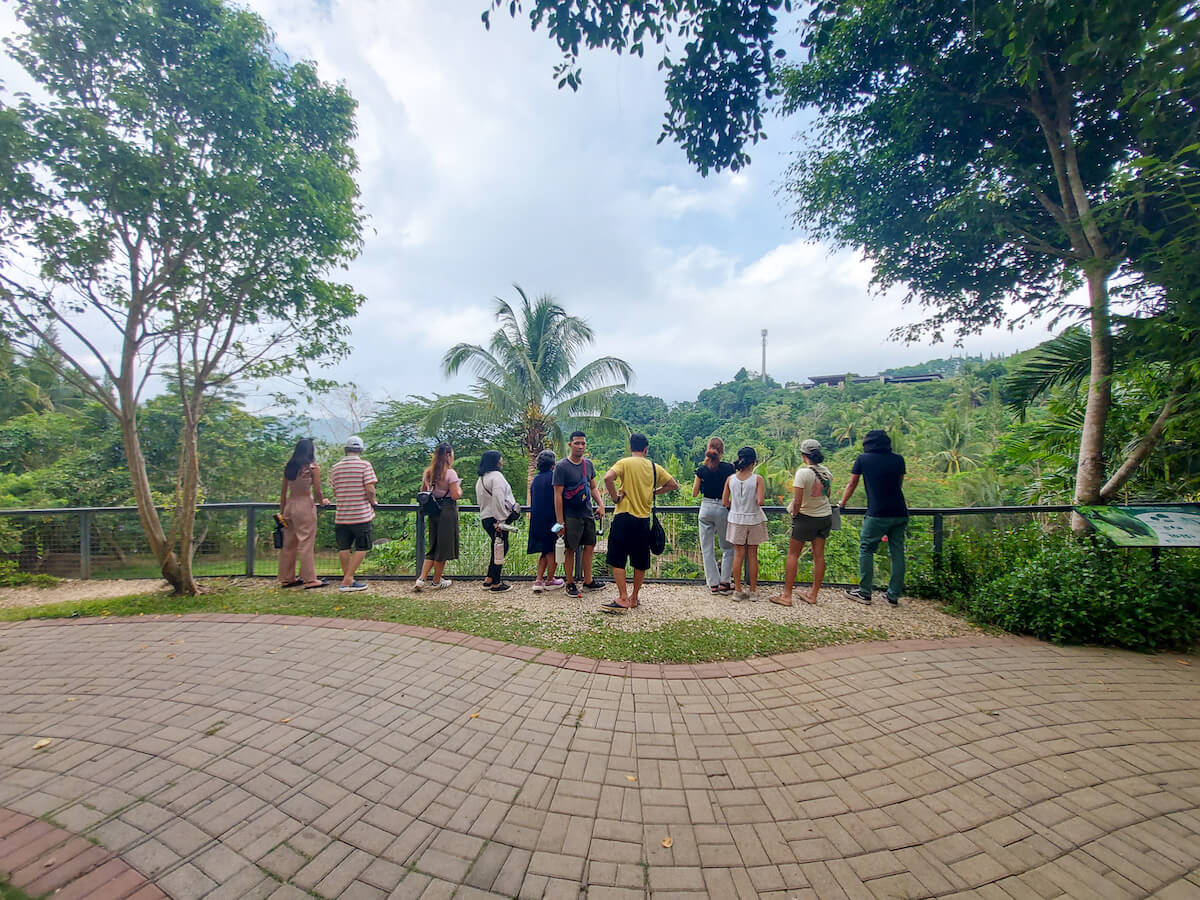 1. What to wear at Cebu Safari and Adventure Park?
Wear clothes that are light and comfy. We also recommend that you wear a pair of good walking shoes since you will walk most of the time here. Minimize your accessories. You will be asked to remove your earrings and necklaces when entering the bird sanctuary. Some birds get attracted to shiny items and they might pecked at them.
2. Are there Senior Citizen and PWD discounts?
Senior Citizens and PWDs can get a discount but they will need to buy the tickets at the counter and show valid IDs.
3. Can I bring outside food and drinks?
No, you can't bring outside food and drinks. Someone will inspect your bag upon entry and if they find food and drinks inside, you will be asked to leave them or throw them away. However, you can bring your own drinking water given they are well-kept in a tumbler. Bottled waters are not allowed.
4. Are there Cebu Safari restaurants and cafes?
You can dine at any of the Cebu Safari restaurants and cafes such as The Outpost, Base Camp, and Pizzeria Michelangelo Ristorante Italiano. The Serengeti Bar & Cafe is also open for dining from 6pm to 10pm, but on a reservation basis. The two other restaurants, Michel's Pavilion and Tiger Turf, are still closed as of writing.
5. Can I stay overnight at Cebu Safari and Adventure Park?
Yes, you can book a stay at any of the Cebu Safari accommodation options: Safari Cabins, Safari Camp, and Glamping Tents.
6. Can I take photos and videos?
Definitely! You can take Cebu Safari and Adventure Park photos and videos so long as you won't disturb the animals. Refrain from using flash photography and don't make loud noises that might disrupt the animals and their habitats. Before you start your journey, a staff member will take your photo and you can have it printed for ₱250 when you exit the park.
7. Are pets allowed?
Unfortunately, pets are NOT allowed inside unless they are service animals with valid IDs.
8. Can I smoke inside?
Smoking is strictly prohibited. If you are caught, you will be asked to leave the premises immediately.
That's it! We've pretty much covered everything you should know before you visit Cebu Safari and Adventure Park. Hope you'll have a memorable safari adventure like we did!
Already visited Cebu Safari and Adventure Park? Bring the fam to other theme parks in the Philippines including Cebu Ocean Park and Anjo World.