Anjo World Guide 2023: Our Experience, Tickets & More!
You know what they say, "Once is never enough", and that's exactly the story of my life with Anjo World. I have lost count of the number of times I went to this amusement park in Cebu. But every visit still felt like the first time, even when I come in with different people every time, the thrill was just as intense.
As one of the best tourist spots in Cebu, it's like a place stuck in time, where you can relive the adventure over and over again. I simply couldn't get enough, even with the unlimited rides! It's a place I always recommend to my friends and family, and every time they invited me with them, I just can't say no!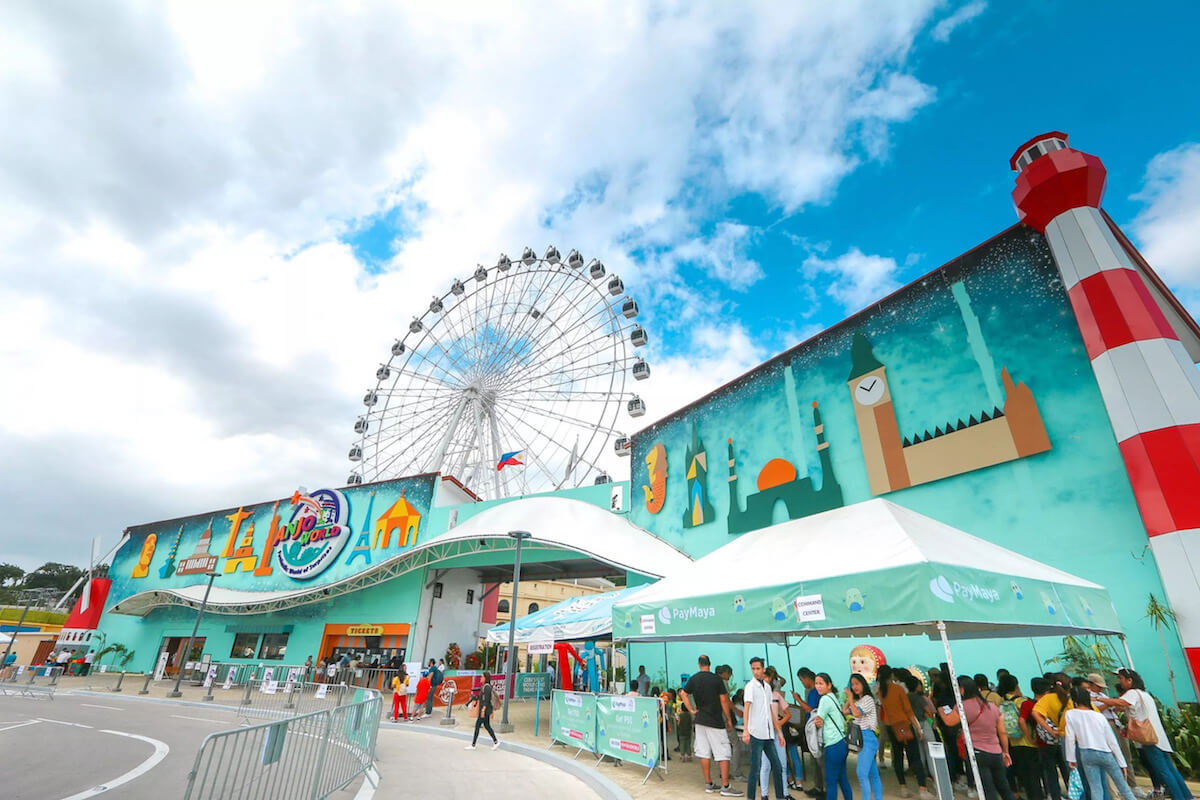 Situated in the heart of the Visayas, Anjo World proudly holds the title of being the largest theme park in the region. Anjo World made its debut in 2019, making it Cebu's first theme park and one of the top theme parks in the Philippines. Following months of closure due to the pandemic, it reopened its doors in September 2020, equipped with enhanced safety measures to ensure visitors' well-being.
Whether you're a first-time adventurer or a seasoned theme park goer, let me present to you this guide that can hopefully serve as your compass to navigate the wonders of Anjo World.
Anjo World tickets
Anjo World offers ticket options for different budgets and preferences, ensuring that visitors can find the best fit for their adventure. They often offer special promotions, discounts, and packages, especially during certain times of the year or for specific groups such as students, senior citizens, or large families, so watch out for those!
Anjo World entrance fees 2023
Tip: If you buy your Anjo World tickets on Klook, you can enjoy as much as ₱50 discount on each admission ticket. For instance, the Day Adventure Pass (Weekday) on Klook only costs ₱500 instead of ₱550. And, if you want to experience Snow World, we recommend that you buy the Day Adventure Pass + Snow World combo ticket since the Snow World ticket alone already costs ₱300 if you buy it separately. With the combo ticket, you get to save as much as ₱100. Imagine how much savings you can get if you are traveling with a big group?
Notes:
Weekday rates are applicable for Mondays to Thursdays
Weekend rates are applicable for Fridays to Sundays, and holidays
Kids below 34 inches (86cm / 2.8ft) are free to enter Anjo World but may only take limited rides
Only kids three years old and above are allowed to enter Snow World
Visit Anjo World's official website and follow their Facebook page to stay up to date on these Anjo World tickets and promos.
Anjo World operating hours
Take note of the Anjo World opening hours:
Wednesday to Friday, 12nn to 8pm
Saturday to Sunday, 10am to 8pm
Refer to Anjo World's updated park schedule before your visit.
How to get there
Anjo World theme park is located in Belmont One, Cebu South Road, Upper Calajoan in Minglanilla, Cebu. It is about one and a half hours away from Cebu City, and 15-30 minutes from Starmall in Talisay City.
You can reach Anjo World by car, MyBus, or by jeepney.
MyBus provides a convenient and hassle-free single-trip ride to Anjo World. You can ride at any MyBus stops/terminals located in Fuente, Parkmall, SM City Cebu, SM Seaside, and Talisay. If you come from the Cebu airport, you would need to drop off at SM City Cebu and ride another MyBus to Minglanilla.
If you opt to go to Anjo World by jeepney, here are several routes:
From IT Park, ride the modern jeepney bound for Minglanilla or Naga.
From SM City Cebu, you can take a jeepney (10H) bound for Bulacao or Pardo. Then, ride another jeepney (43/44) going to Minglanilla or Naga.
From Ayala Center Cebu, ride the 12L jeepney and alight at Punta Princesa. Then, transfer to another jeepney going to Minglanilla or Naga.
From CIT, Punta Princesa, or Bulacao/Pardo, ride a jeepney (43/44) to Minglanilla or Naga.
Then, tell the jeepney driver to drop you off at Anjo World or at Petron Gas Station in Calajoan, Minglanilla.
Anjo World map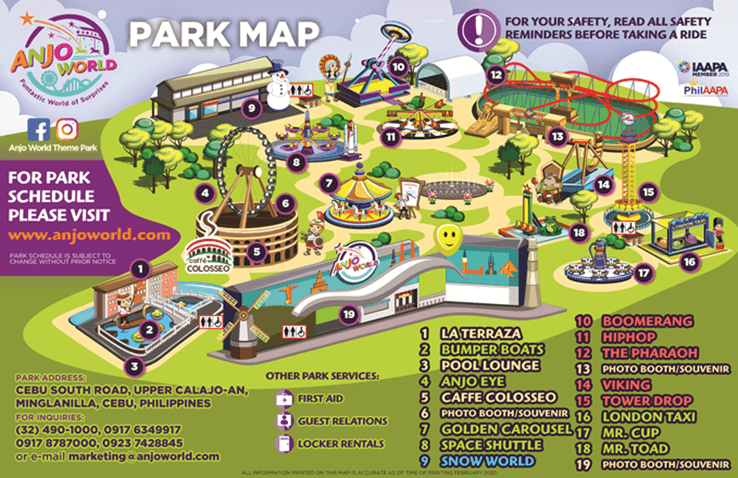 Make the most out of your journey of rides and entertainment by saving this Anjo World map. This way, you can familiarize yourself with the place and plan out your trip ahead of time if you need to.
The timeless Anjo World experience
As I have said in the beginning, I can somehow never say no to Anjo World. Here are some of the rides and experiences that kept me coming back for more!
Anjo Eye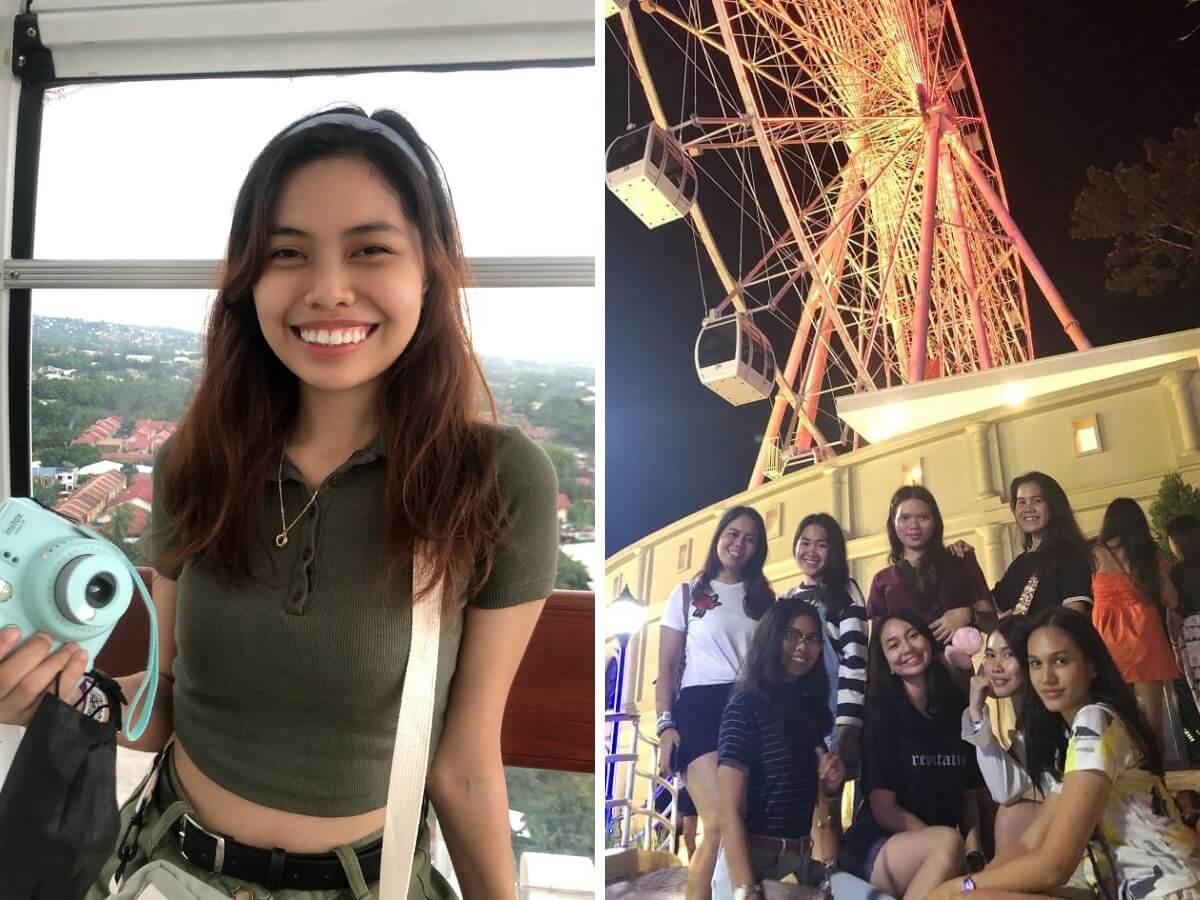 Rising gracefully to the sky, the Anjo Eye stands as a towering landmark, visible from various vantage points within Minglanilla, Cebu. It offers a mesmerizing sight, especially when illuminated at night, transforming into a colorful beacon that adds to the park's enchanting ambiance. Marked as the tallest Ferris wheel in the entire Visayas region, this iconic Ferris wheel offered us a 10-minute breathtaking experience that provided us with stunning panoramic views of Anjo World and the surrounding areas.
Snow World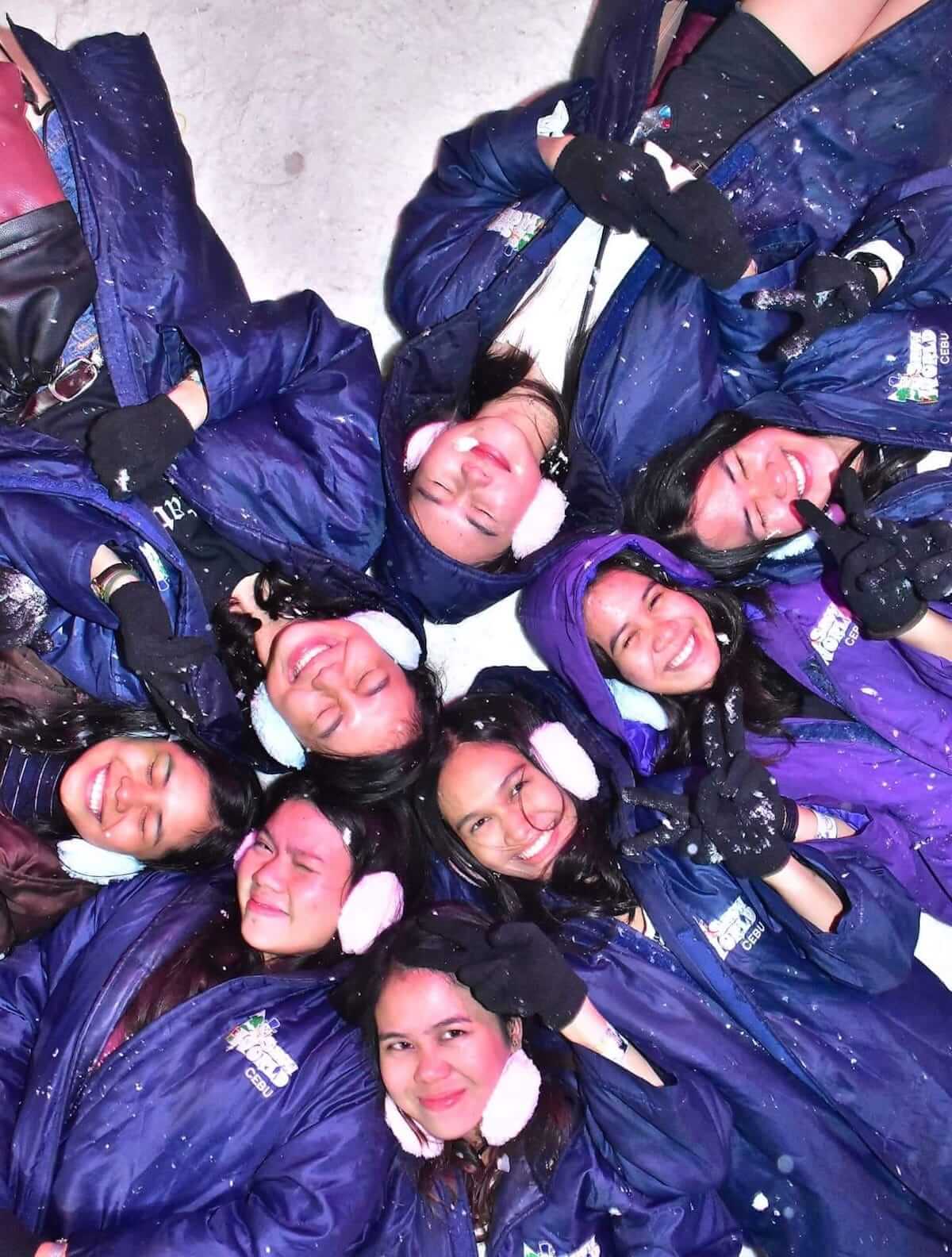 Snow World in Anjo World is a dream come true for most Filipinos. A soft touch of winter magic where you can escape from the ordinary and embrace the joy of winter, even in the hottest of our days.
One thing to keep in mind though, is that you have to wear gloves, an ear cover, and a jacket — all of which are available for purchase at Snow World Cebu. However, I would also recommend wearing an extra layer of clothing because it is as close to freezing weather in there.
Closed shoes or rubber shoes should also be worn, but if you forgot to, shoe rental is also available. Taking your phone inside Snow World is also prohibited, but there are photographers inside and printed pictures are up for purchase.
It was a fun experience overall, especially the ice slide and witnessing (literally) cool ice sculptures for the first time. So, don't miss the chance to immerse yourself in Cebu Snow World, an enchanting realm of snow and ice! The entrance fee for Snow World Cebu starts at ₱350, but you can get a discounted price of ₱300 on Klook.
Just remember, embrace the cold adventure, even if it means your shoes might get a little wet!
Tower Drop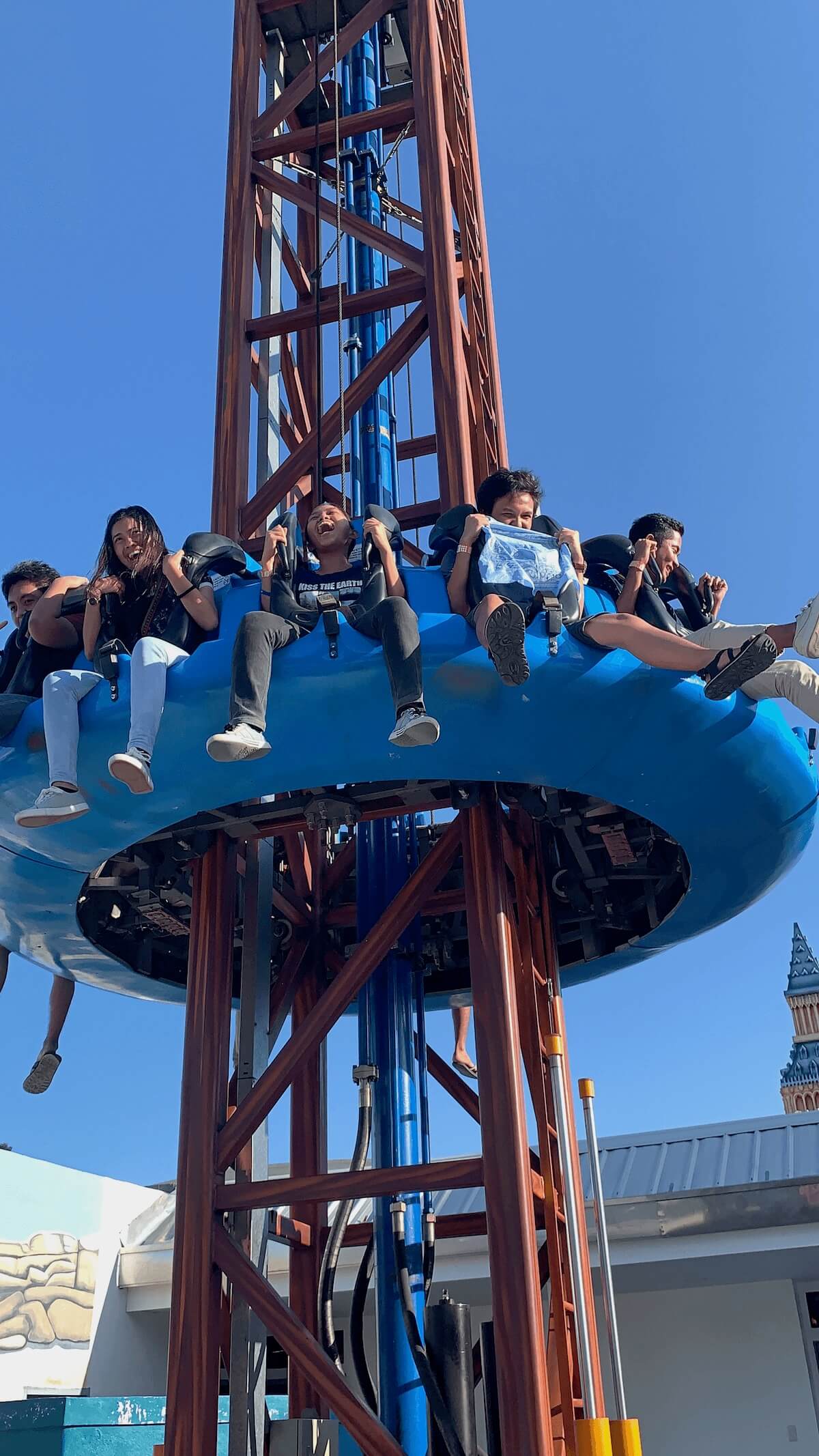 The Tower Drop was more than just a ride; it was an intense emotional journey. As I reached the top of the tower, I felt momentarily at peace, even letting out anything and everything I always wanted to say at the top of something, and I finally had that chance. But that serene moment was abruptly interrupted by the realization that I was about to experience a heart-stopping plunge. And you know what? It was so satisfying!
As I soared downward, everything seemed to fall away, and I couldn't resist screaming at the top of my lungs, releasing all the excitement and joy within me. It was a rush like no other, and I relished every single second of it! To me, this ride was hands down the best one in the park. It struck the perfect balance—not overly scary to give me jitters, yet far from boring.
Bumper Boats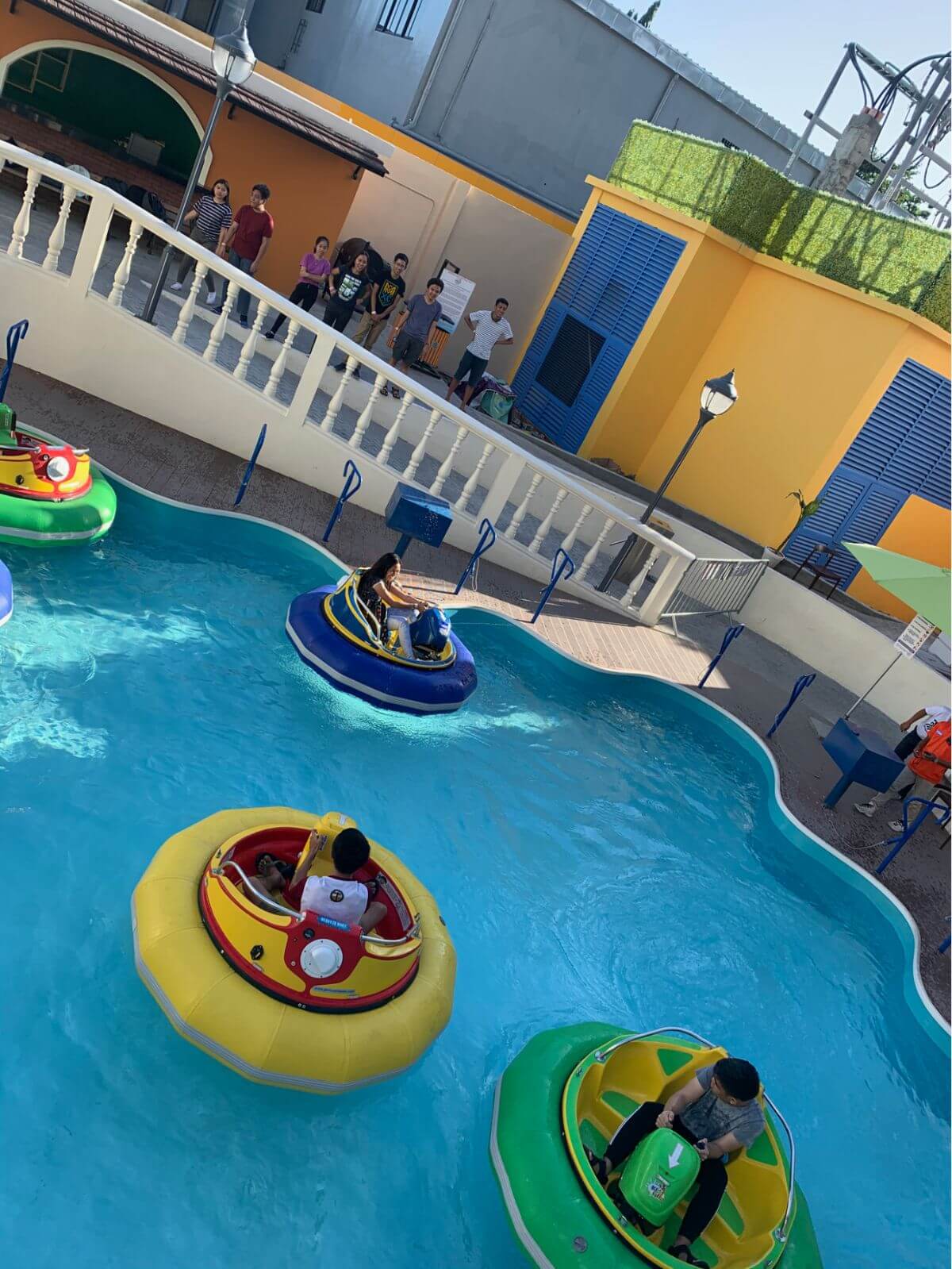 If you want to just chill and be seated in colorful boats equipped with water cannons, this might just be for you! The Bumper Boats attraction at Anjo World is an excellent way to beat the heat and add a unique twist to your day at this Cebu theme park. It's a chance to unleash your playful side and engage in some lighthearted fun with your loved ones.
Whether you're seeking a break from the fast-paced rides or just looking for a delightful water adventure, the Bumper Boats at Anjo World surely won't disappoint. Just make sure to bring some extra clothes because you're sure to get wet after all the water cannon battles.
Golden Carousel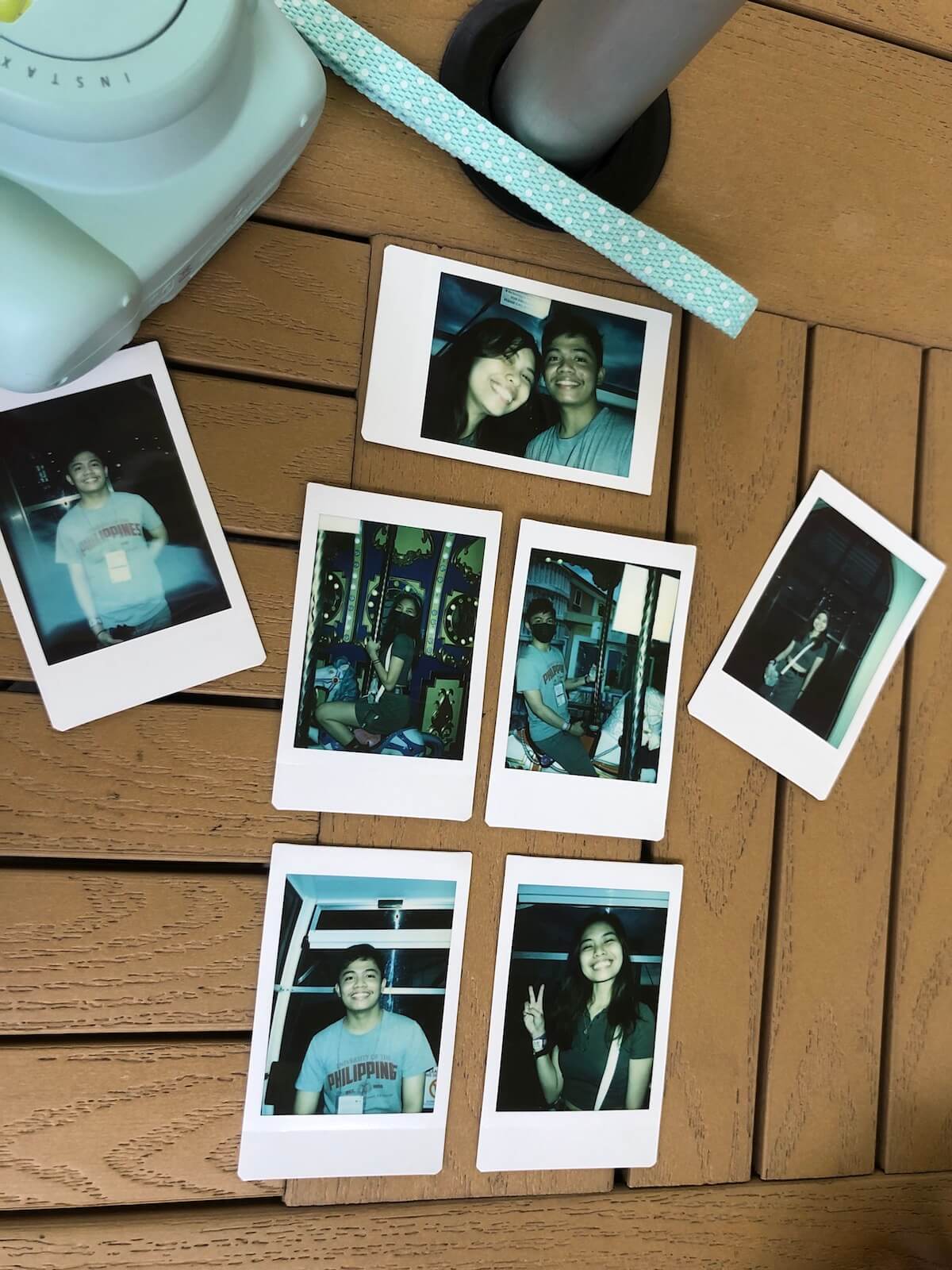 The Golden Carousel in Anjo World is a timeless attraction that captures the essence of classic amusement park fun. I only ever got to ride a small carousel when I was a kid inside some malls in Cebu, but here I am, in a huge majestic golden carousel ride with the love of my life.
It was like a portal to a world of innocent joy and delight. It brings people together, bridging generations as young and old share the simple pleasures in life, a reminder to cherish the magic of the present and embrace the childlike wonder that resides in all of us.
Funtastic Arena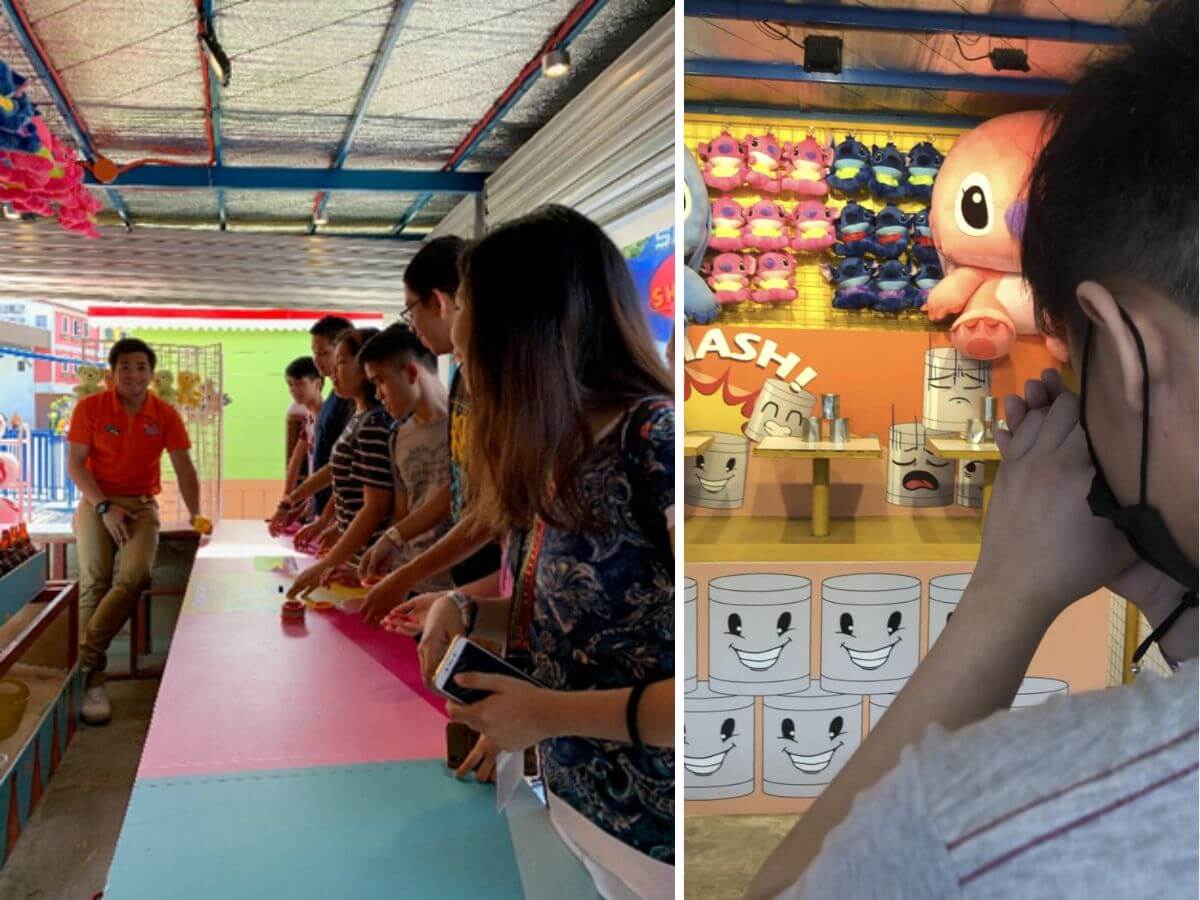 We finally got to relive the classic midway games that we always see in movies set in carnivals. The Funtastic Arena is the heart of joy and entertainment in Anjo World, where cherished memories and prizes await.
Although pricey, it was a great experience especially if you're a fan of carnival games and winning. We never got to win the prizes though, but hey, it was romantic to see how hard my boyfriend wanted that teddy bear for me!
The Pharaoh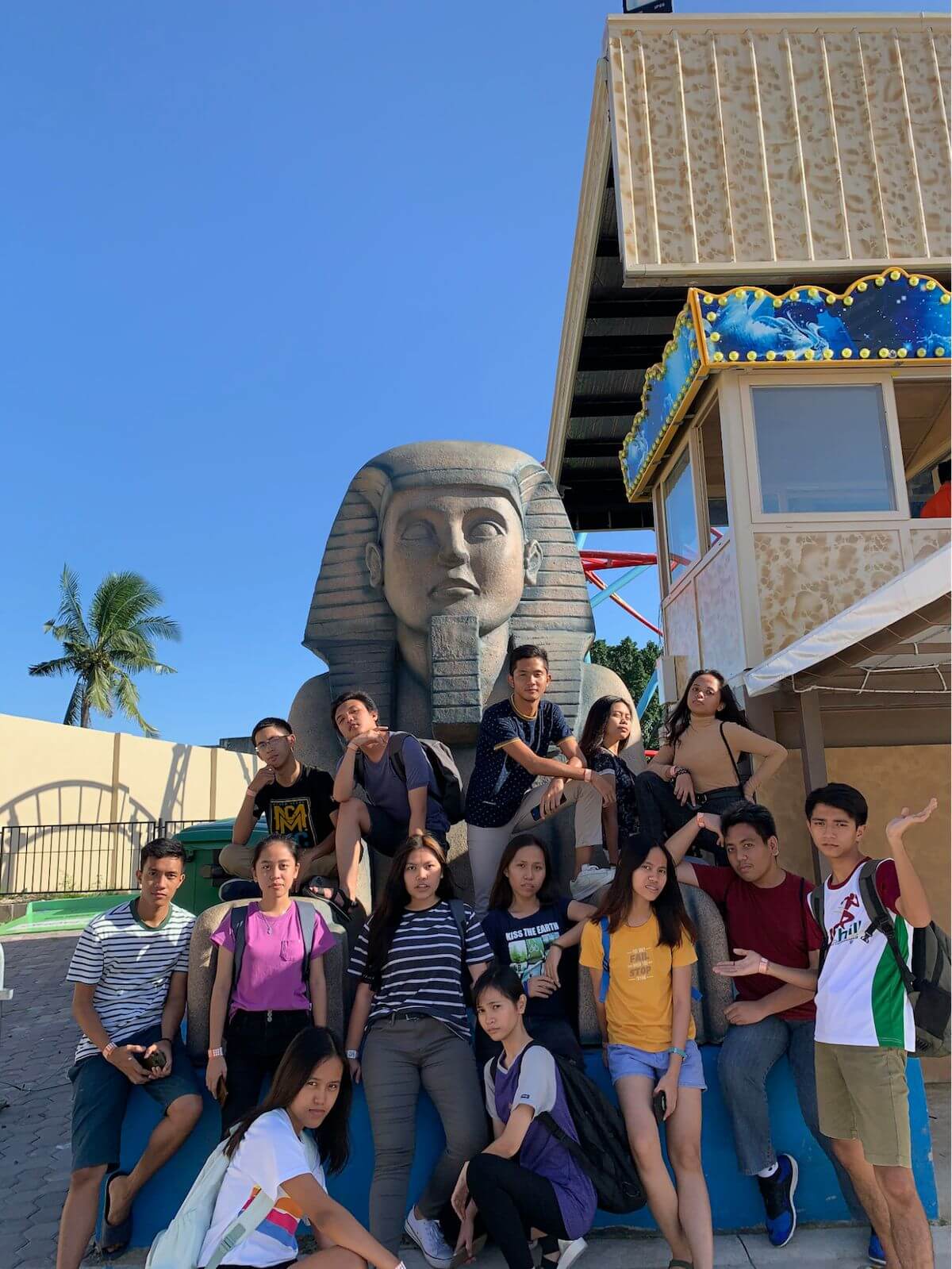 The Pharaoh is the first spinning coaster in Cebu and stands as one of the extreme rides in Anjo World. It's a must-try for adrenaline enthusiasts seeking an electrifying and dynamic roller coaster experience. The Pharaoh will really take you on a whirlwind of hair-raising twists, turns, and drops. The sensation of spinning combined with the exhilarating coaster elements creates a roller coaster ride like no other.
As we laughed and screamed with exhilaration, the coaster had a thrilling but quick journey, leaving us with a sense of wanting more. Though the ride may be short, its impact is undeniable, and it's the kind of experience that I wanted to relive again and again.
Boomerang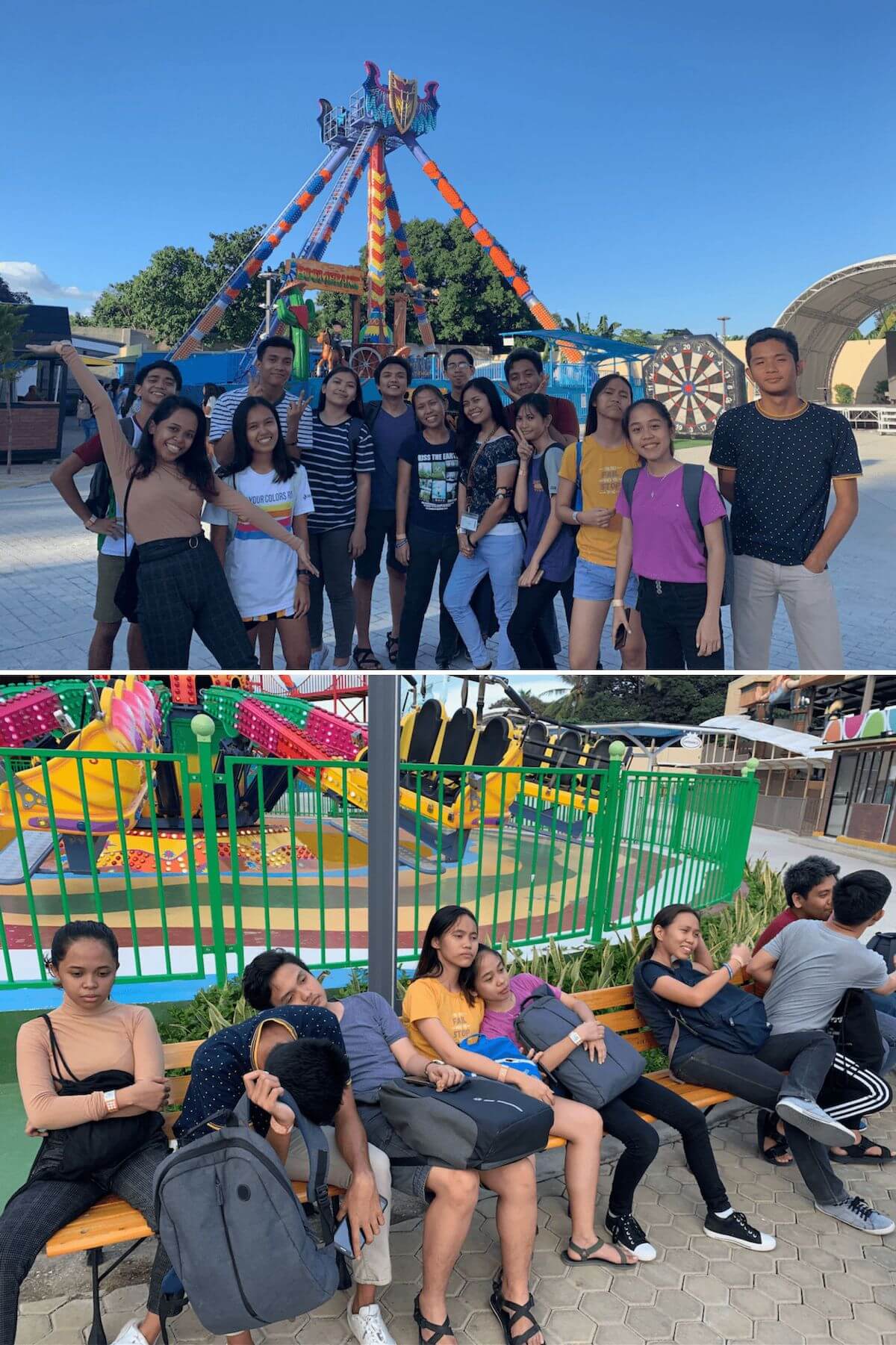 Another one for adrenaline junkies and thrill-seekers, the Boomerang ride is an absolute must-try at Anjo World. Its exhilarating twists and turns will leave you with a rush of adrenaline and a lasting memory of the ultimate pendulum ride experience. Spinning and being thrown around, it felt like being in a real boomerang's POV!
But despite the thrill it offers, the Boomerang ride might not be everyone's cup of tea. Due to its intense maneuvers, it can make some riders, like me, feel dizzy or disoriented. As a result, I would recommend that you ride the Boomerang last, especially if you're sensitive to motion. This way, you can fully enjoy all the other attractions before taking on this whirlwind adventure.
And there we have it! These are just some of the many fun rides and experiences you can try out in Anjo World. Make sure to check out the rest of the rides and attractions at Anjo World's official website and don't miss out on any single one!
Friendly reminders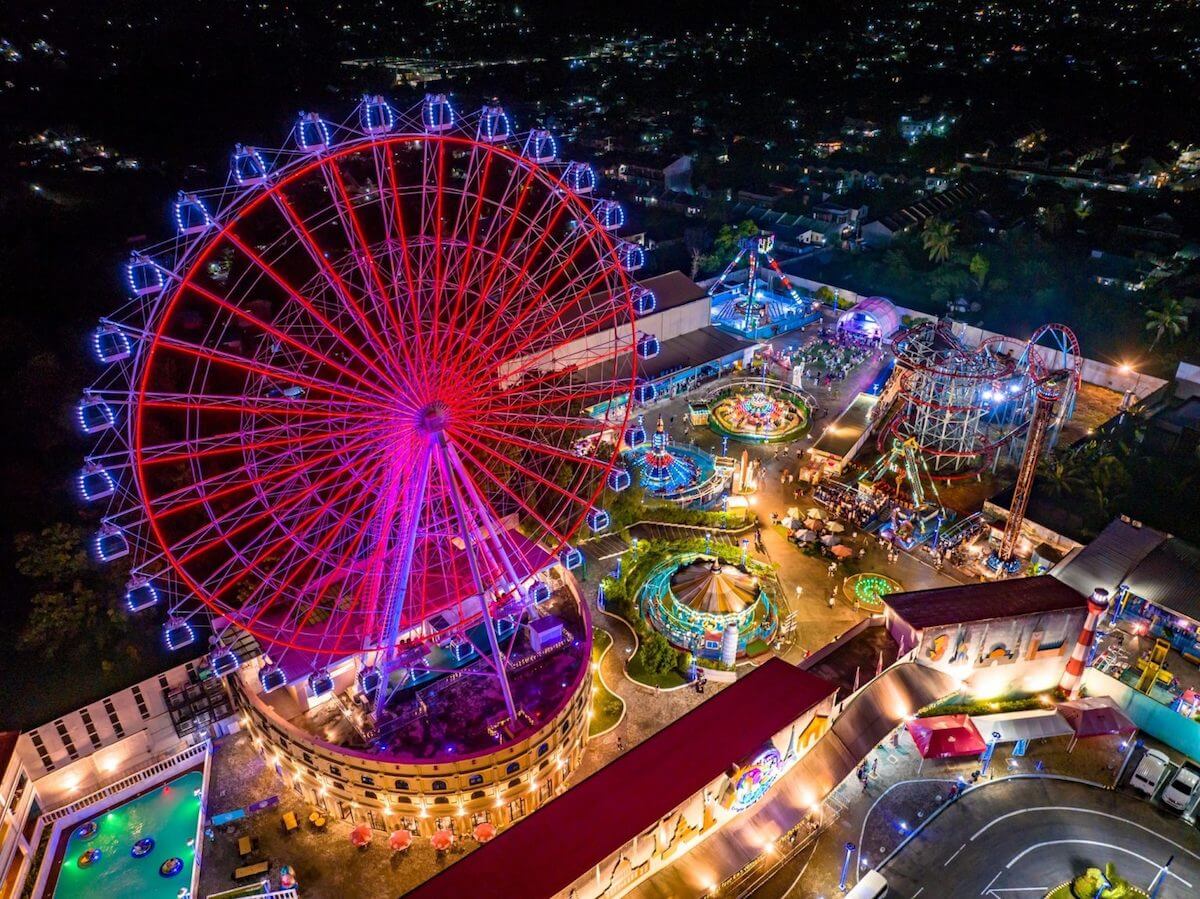 Don't forget to bring extra comfortable clothes to fully enjoy your day at Anjo World. You might want to change into something cozy after experiencing some of the water rides or outdoor attractions.
Food and drinks are not allowed within the premises. But don't worry, Anjo World offers snacks and refreshing beverages inside, so you can keep yourself energized throughout the day.
As much as we love our furry friends, pets are not allowed inside Anjo World. However, service animals with valid IDs are an exception and are welcome to accompany their owners inside.
Safety is a top priority at Anjo World. Be sure to follow all ride instructions, height requirements, and safety guidelines to ensure a secure and enjoyable experience for everyone.
My journey in Anjo World always reminded me that life's adventures are worth taking and how amazingly satisfying it feels to scream to your heart's content. The feeling of soaring and conquering fears stayed with me long even after all the rides have ended (also made me hungry and crave for some Cebuano delicacies like lechon).
If you are seeing this, well then, this is your sign to take on this chance too and secure your Anjo World tickets!
Looking for more family-friendly attractions in Cebu? Explore Cebu Ocean Park and Cebu Safari and Adventure Park as well!